The coronavirus has changed the way we do business, possibly forever.
If yours is among the countless small businesses that have been affected hard, it's time to look at new strategies to adapt your marketing to this new reality so you can not just survive, but thrive.
And creating digital products with online tools is one of the easiest ways to do this.
Don't worry if you've never done it before. Today's technology makes it so easy that even a child could do it with proper instruction! 
How to Create Digital Products to Grow Your Small Business During a Pandemic
Read on to discover five examples of small business industries creating products to offset losses – and how you, too, can create digital products to grow your small business during (and after) the pandemic.
1) Restaurants: Offer Virtual Cooking Classes👩🏽‍🍳
If, prior to the pandemic, your Thursdays through Sundays were set, you may now be facing a drastic drop in your restaurant's income. Fortunately, there are ways to boost your revenue, even without needing to let patrons inside your premises.
Like all other businesses in a crisis, restaurants must find ways to make money without increasing the overhead. As a restaurant owner, one of the easiest ways to do this is by offering virtual cooking classes to your patrons.
You can use an online course platform like Thinkific, Udemy or SkillShare to create and market your cooking courses. You can also use live online cooking classes where students can interact with the chef.
Offering virtual cooking classes comes with a wealth of benefits, such as:
Adding a little extra revenue to your business
Separating you from the competition
Connecting with new patrons outside of your local area
Providing value to your regulars and boosting brand loyalty
Lowering overhead costs (compared to traditional classes)
Giving your chef the opportunity for interaction outside the kitchen
Although this may not replace your normal income at first, it's a much-needed option that can help your business weather the storm and even grow your small business now and in the future.
Bottom line: The current global pandemic has forced restaurants to operate in a new way. Those establishments that are surviving are only doing so because of local patrons that walk by in the neighborhood.
But by taking your restaurant into the virtual world, you are no longer limited to just your local area. You can now reach customers around the globe and make money whether your restaurant doors are open or not.
Examples of popular virtual cooking classes:
Masterclass
These instructional cooking videos feature world-renowned chefs such as Gordon Ramsay, Wolfgang Puck, Massimo Bottura, Alice Waters and Gabriela Cámara. The topics they teach range from "Cooking Restaurant Recipes at Home" and "Mexican Cooking" to "Wine Appreciation" and "Gardening" (to grow your own vegetables).
You don't have to be a famous chef to make this strategy work for your own restaurant. Just do what you do best – online.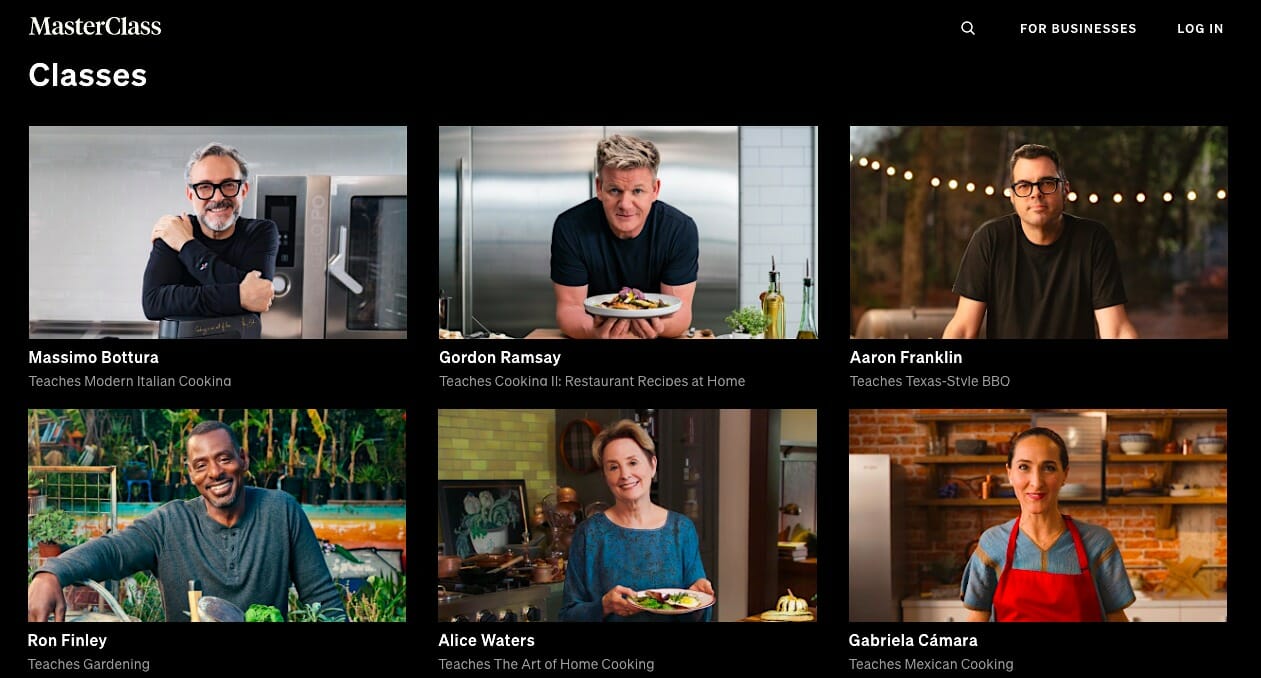 Kitchn Cooking School
Kitchn Cooking School is a 20-day/20-lesson course that makes cooking easy and fun, hosted by "two of our smart, funny editors — Grace and Meghan." You can join the class at any time and they have a Facebook group and Instagram hashtag so that you can chat with the other students.
This course covers a new topic each day and teaches everything from knife skills to planning to cooking, and even how to throw an awesome dinner party.
This is something that you can do for your own restaurant as a way to connect with, engage and monetize your current and new customers.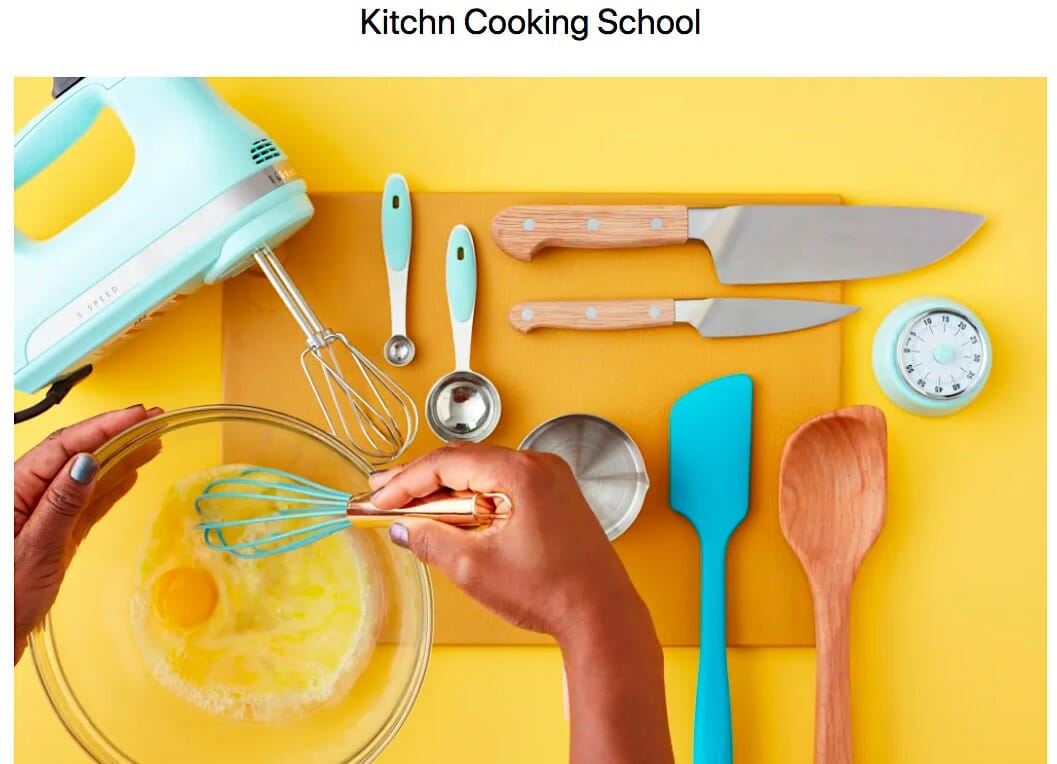 Related Content: Social Commerce: The Easiest Way to Turn Social Engagement into First-Time Buyers
2) Salons: Offer Live Hair Tutorials 💇🏻‍♀️
In this last year with many businesses closed for quarantine, tons of people were looking for guidance on how to cut and style their hair at home. And if there's anything that online entrepreneurs and influencers have taught us, it's that there is always a way to make money from your talents and experience. 
A pandemic-friendly business idea for salons to make money is to offer live hair tutorials to your clients. Tons of pro hair stylists and salons are offering online hair tutorials at scale with webinar platforms to help supplement their income and/or continue to grow.
If you own a salon, you will now have to shift your focus from getting more clients to your salon to teaching clients how to cut and style hair (their own or another's), choose and use the best hair products, and general hair maintenance.
Offering live hair tutorials comes with the following benefits:
It allows you to target ideal new clients and expand your clientele
It helps to build brand awareness on social media
New clients can easily find you on Google

if you follow best practices for SEO or advertise the classes you're offering.

You are no longer confined by your geographic location
A strong online presence will encourage new salon clients to book

as they'll be more aware of your business.

You can leverage the power of online reviews for referrals
In the beauty industry, live video is one of the best ways to promote your business because your services are all about the visual (would you rather someone tell you how to style your hair or show you?). You can talk about hair care, give advice on the best products for your clients to buy, or even offer one-on-one consultations for personalized hair care advice.
Whatever it is that you have to offer, if someone is willing to pay you to learn it, then use this opportunity to create a new revenue stream for your salon.
Examples of popular video hair tutorials:
Missio Hair
Missio Hair offers hairstyle inspiration and tips on how to create awesome, long-lasting, beachy waves. They also have guides on how to oil-train your hair and weekly tutorials on Instagram for how to create professional-looking results.
Their YouTube channel is reserved for longer, more in-depth videos, and there is even a mini-series on styling kids' hair. If you're looking to do the same, there are plenty of incredible YouTube tools and templates to help you get up and running with your own channel.
Josh Wood Colour
This is the YouTube channel for anyone interested in getting personalized hair color, which is tailored for the individual.
The Josh Wood Colour team will teach you everything you need to know about freshening up your dye job at home, color and style tutorials, how to overcome all major challenges, and even how to create Halloween hair colors. The channel also has regular Q&A sessions in a series called DO Try This at Home.
You can use the Josh Wood Colour hair tutorials as inspiration to find what would work best for your own clientele.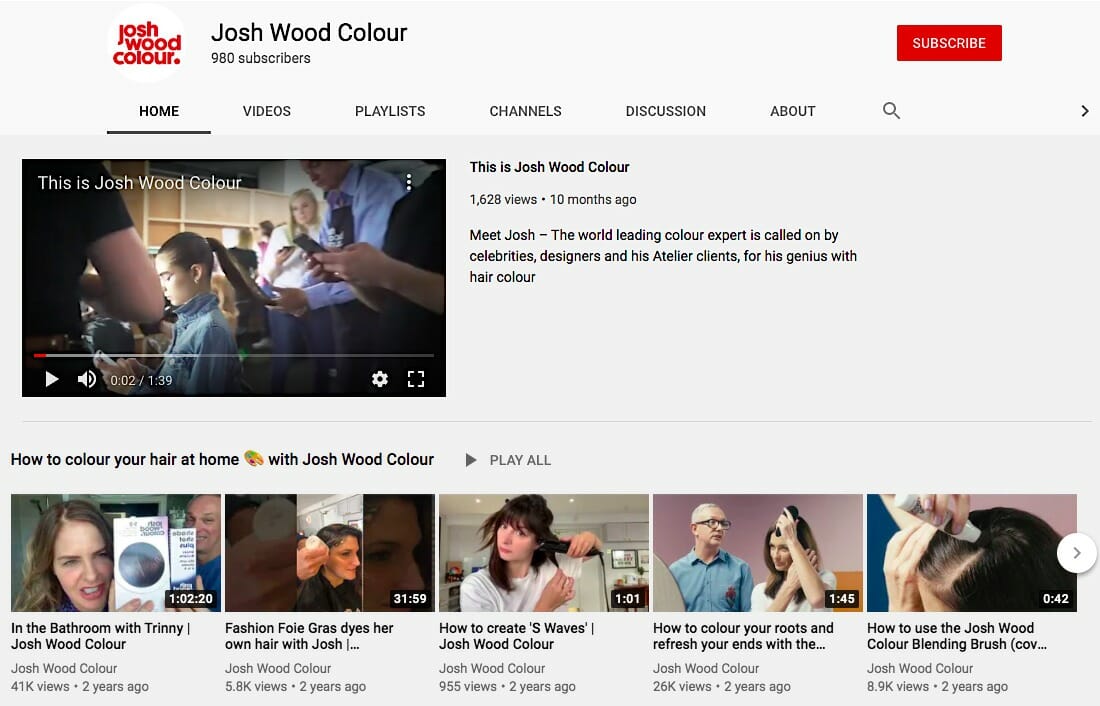 3) Gyms: Offer Online Library of Workouts 🏋🏿
Gyms are one of the businesses that have been facing a lot of uncertainty this past year, but savvy brands are looking for new avenues to bring in income from digital class offerings. As a gym owner, if COVID-19 has forced you to look for new ways to supplement your income, consider creating a fitness content library and offering it to your patrons behind a membership.
There are tons of ways you can use this opportunity to build and monetize a fitness content library. For someone who's just starting out, the best way is to create a membership site using a tool like ClickFunnels or ThriveCart and then organize your workout videos in a way that is easy for your members to find what they need.
As your fitness content library grows, it will become more and more important for you to maintain a logical structure.
In your brick-and-mortar gym, it's easy to make sure everything is accessible. Customers can quickly find the trainer, class or equipment they need. But on a membership website, it may not be so easy to keep things organized. And if customers can't find what they're looking for quickly, they will bounce from your site and go look for it elsewhere.
So make sure you categorize your videos properly by using relevant and specific categories. Also, depending on your audience's needs, you can put your content into different segments, such as:
Intensity
Level
Duration
Training effect
…and so on.
Examples of workout content libraries:
Barre Body Online
This fitness studio's major selling point is its super organized workout library. Their customers are empowered to find and use the right workouts to suit their requirements. The popular Australian studio boasts unlimited on-demand and live classes in yoga, cardio, weights, dance and natal that start at $1 per day.
Tags are applied to each video on the site, making it easy to filter so customers can find specific workouts based on factors such as:
Training focus
Duration
Level
Music
Equipment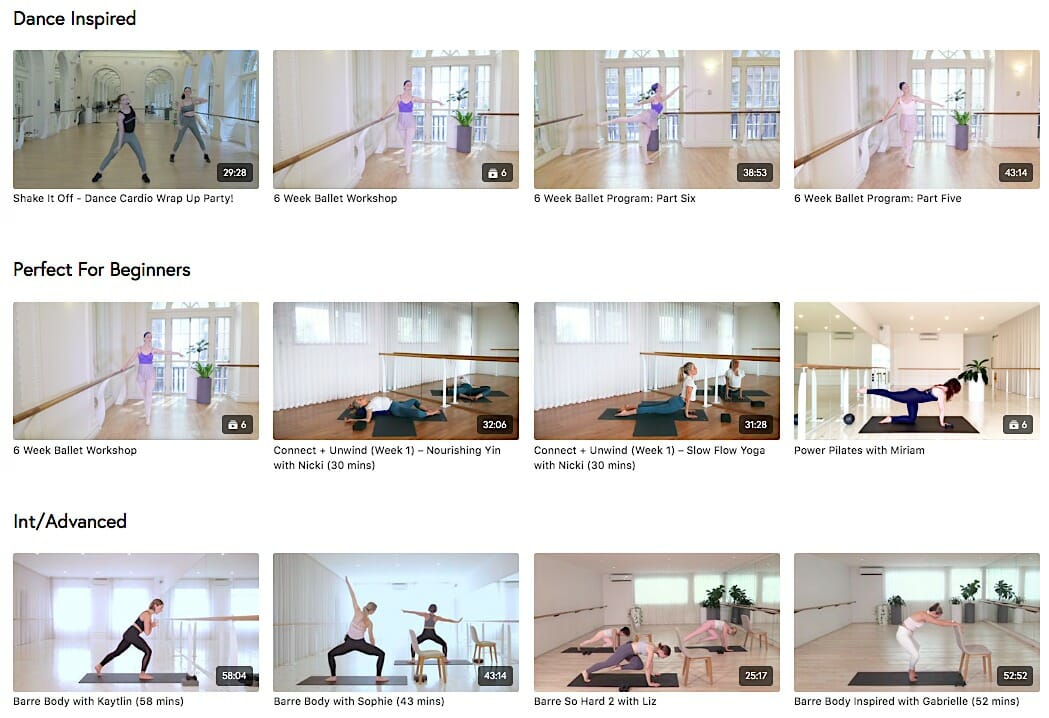 Crunch Fitness
Crunch Fitness started with one gym "in a humble basement studio in New York City's Greenwich Village in 1989 as a welcoming place for a diverse group of people to get fit." They're known for their fusion of fitness and entertainment in order to make exercising fun.
This is yet another example of a workout business that has built a successful online workout library. Membership is priced at just $10 per month with a 90-day free trial. They offer a wide variety of classes on their YouTube channel, like trainer tips, one-minute classes and pole dancing workouts, so you will find lots of opportunities to try different things outside of your comfort zone.
Dive Deeper:
* Using Webinars to Generate More Sales
* How to Build a Strong Personal Brand Using Webinars

4) Entertainment Venues: Offer Livestream Shows 💃🏾
Entertainment is one of the industries that has been hit hardest by the pandemic.
The businesses that survived are those that have taken the changes in stride and adapted by offering new products and services designed to grow businesses in a digital era. For instance, some entertainment venues offer live stream shows. But trying to transition events from in-person to digital is often an overwhelming task. Thankfully, modern technology makes it easy to create profitable online events.
Examples of virtual concerts and live streams:
Notting Hill Carnival
The Notting Hill Carnival is a community event in West London that turned into a famous street party in which one million people attend every year. For an entire weekend in August, various entertainers thrill large crowds with music, costumes, dance, etc. 
When the lockdown hit last year, you might think an event like this would go belly up. Instead, the event took place entirely online:
You could tune in to three channels: Parade Channel, Sound System Channel and the Main Stage Channel.
Calypso, soca and steelpan streams from the likes of Ms Desire, Brown Sugar and Panash.
The carnival finale included an afterparty on BBC Radio 1Xtra.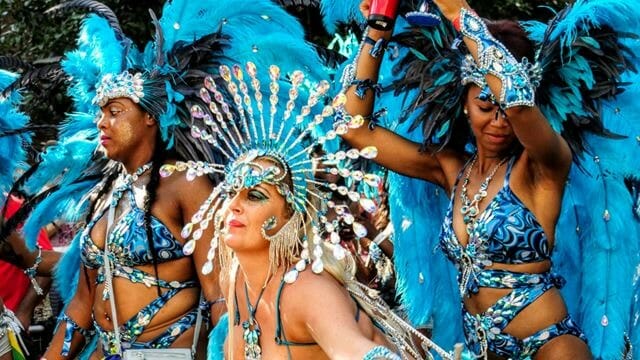 Dave Chappelle
Popular stand-up comedian Dave Chappelle typically spends a lot of time touring his live routines in crowded venues across the world. But when the month-long quarantine extended for a year, he and other comics who perform best to live audiences (ever told a joke on Zoom with everyone's mics muted?) had to figure out a solution.
So Chappelle hosted socially distanced outdoor comedy shows to groups of just 100 people in his hometown of Yellow Springs, Ohio. The audience wore face masks and sat at well-spaced tables in front of small stage in his neighbor's corn field. He had to deal with the occasional noisy plane flying overhead, and he even started his show by asking the audience if this setup was weird for them, adding "Normally I wouldn't show you something so unrefined. I hope you understand." They did, indeed!
Videographers captured the half-hour show and uploaded it to YouTube, and if the comments are any indication, his "unrefined" show was a huge hit.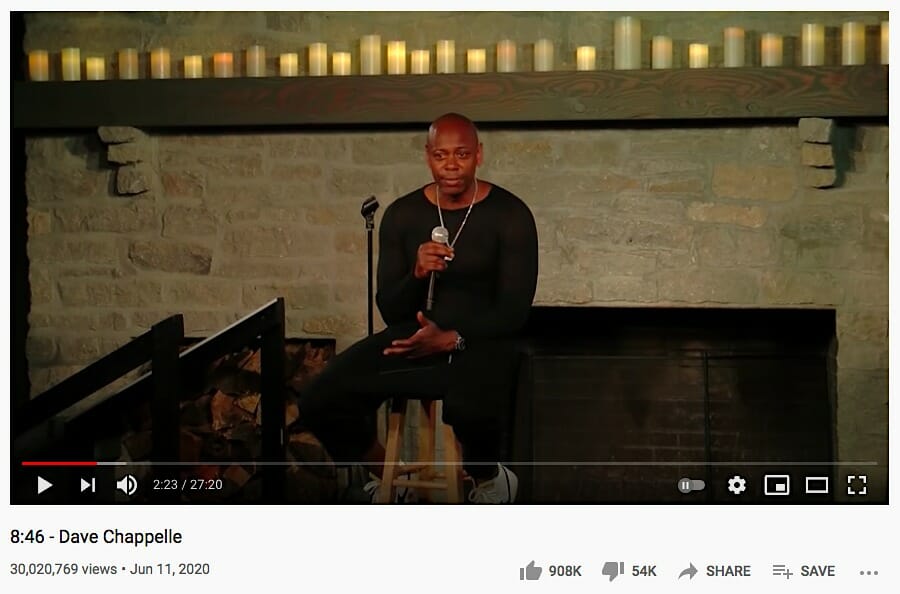 If you are in the entertainment business, this is something you should consider. People need their live entertainment fix. They are searching for online concerts, live stream shows, and any other type of live lockdown entertainment that can bring their favorite entertainers to their living room. 
Although restrictions have abated, selling tickets and hosting livestream shows is a monetization method that can propel your business forward in the post-pandemic world.
Dive Deeper:
* How to Make Your Live Video a Guaranteed Success
* How to Use Live Video (Facebook & Instagram) to Grow Your Business
* Quick Tips to Optimize Your Facebook & Instagram Live Broadcasts

5) Spas: Offer Online Beauty Classes 💆🏻
Now more than ever, people are searching for easy, affordable and effective ways to improve their beauty, health and well-being. And with so many spas closed, many are turning to online education as a way to learn how to perform many of their wellness and skincare rituals at home.
This opens up a world of opportunities for spas that can offer online courses on how to give DIY facials or massages, implement skincare routines, etc.
On Udemy, there are tons of courses being offered, and it's a great place to find inspiration on the right type of virtual course to offer to your audience. You can give online classes on a variety of wellness routines and processes, including:
General or specialized skincare
Facials or facial therapy
Body massaging
Relaxation techniques
Nail care
…and so on.

Online beauty classes and tutorials are also one of the best ways to drive traffic to a shop selling beauty products. With the pandemic keeping most of spas closed, selling products (which normally would have been used on clients) online is a good way to sustain a business.
Examples of spas that offer online classes:
The Beauty Academy
The Beauty Academy offers a full facial treatment training course so you can improve the appearance and condition of your skin from home. They include comprehensive study materials and video tutorials so that you can master some of the most requested services in the wellness industry.
You'll study with an experienced tutor who will be available to help you via email. It's fully accredited by IPHM which "allows you to gain insurance to work from home or mobile upon completion!"
This is a digital marketing strategy you can copy for your own spa business as a way to bring in some much-needed revenue, regardless of the lockdown situation.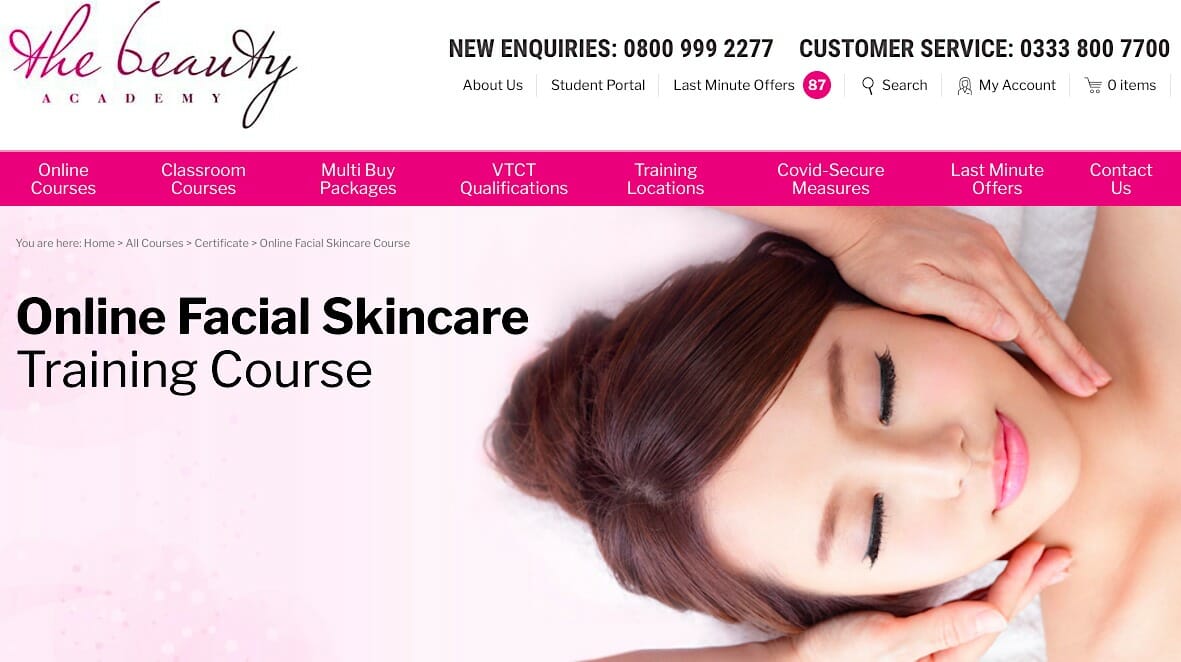 Sakina Di Pace
Highly experienced acupuncturist Sakina offers an Udemy course on facial cupping for beginners. Priced at just $11.99, this course teaches students everything from cupping therapy to face yoga, massage and skincare. A platform like Udemy presents great opportunities for you to take any experience and knowledge that you have and turn it into an online class that students will happily pay for.
If you have your own website or blog and don't want to make courses yourself, you may want to consider using private label rights (PLR) from a reputable instructor in an effort to sell courses to your audience. How the licensing process works:
Select the courses you want from a list of 130+ online courses.
Fill out a short form.
After you license the courses, you get the original videos via DropBox within 24 business hours. You can edit them however you like and sell them on your own website.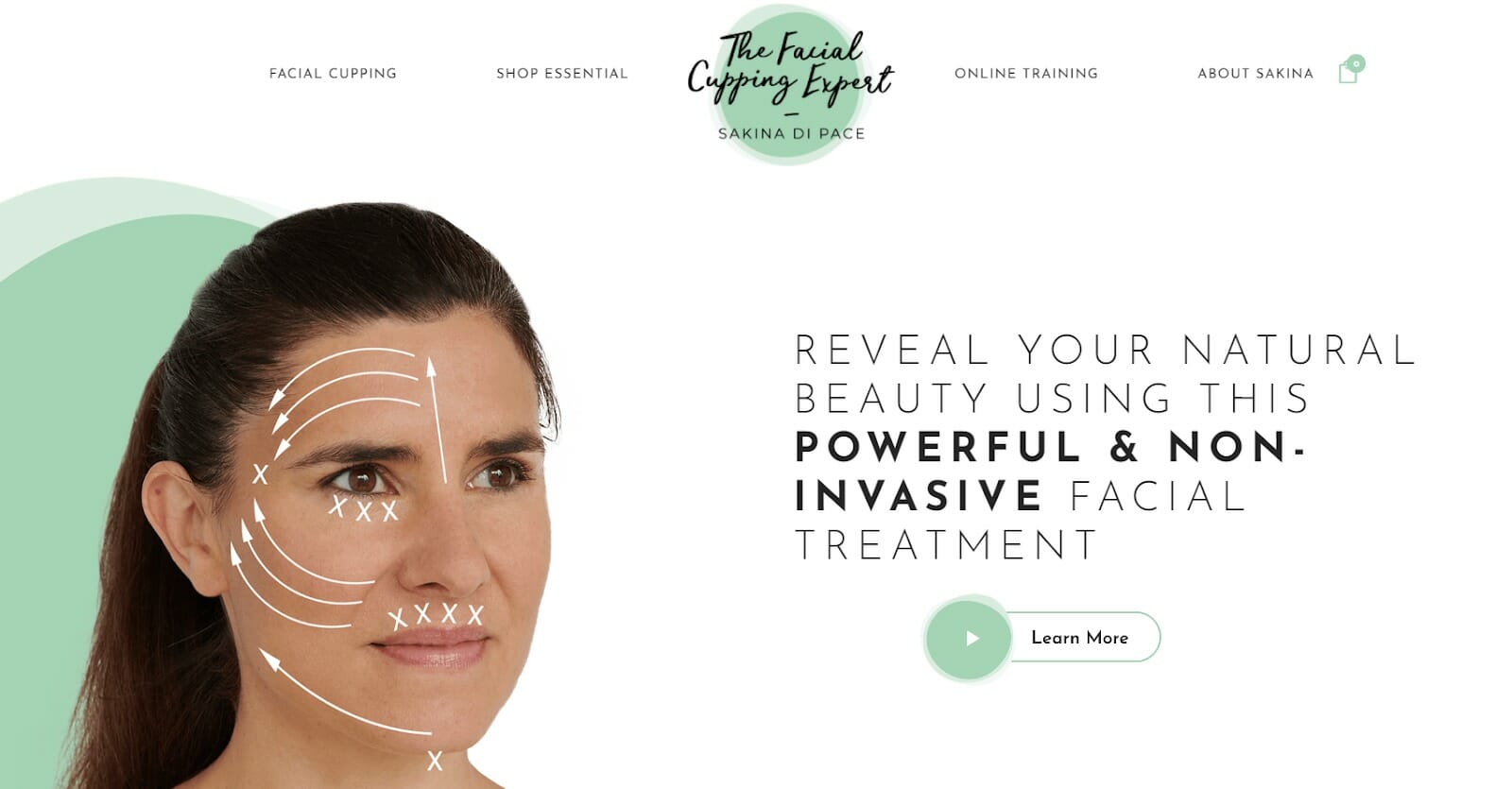 Optimizing for Views
While the strategy to optimize your content is different depending on your digital product, understanding the process is crucial to its success.  
Whatever it is that you're looking to offer, it's important that you take the time to optimize your offering for the best possible exposure to increase awareness.  After all, no one will be able to sign up if they're unable to find you!
Below are some resources that will help you better understand how to make your content get discovered:
Website Optimization: This post walks you through how to better optimize a website for search engines.
Webinars: This post explains not only how to run a successful webinar, but also how to drive traffic to your webinar pages to encourage signups. 
Online Courses: These is a very in-depth guide explaining how to market an online education company. 
Summary
Creating digital products is a strategy that is rapidly growing. As you have seen from this article, it's possible to find new opportunities to supplement your income if you are willing to go the online route. Many of these ideas are so simple that even college students can do these side jobs while attending classes.
In addition to bringing in more money to your business, these ideas can also help you build more community around your brand and boost loyalty from your customers.
Regardless of the industry you're in, you can use the ideas in this article as inspiration to help your business continue its growth during (and after) the pandemic