How to Use Success Gaps to Get More Clients
How do you define success? How do your customers define success?
While the two definitions may be in the same area, they're probably not identical. In fact, the area in between those two goals represents something called the success gap – and if you can close this gap, you will set yourself apart from your competition and on a path to growth.
What Are Success Gaps?
According to Lincoln Murphy of Sixteen Ventures,
"The success gap occurs when your customer functionally completes the tasks necessary in your product to do the thing they want or need to do, but yet they could still fail to reach their desired outcome."
You may be thinking that if someone's product is so great, how could their customer possibly fail. Well, there are a lot of reasons:
The customer doesn't have the technical skills to use the product effectively
The customer doesn't have the related skills (writing, marketing, data analysis, etc.) needed to use the product effectively
The customer doesn't know what their goals for using the product are
Those are just a few examples, but there are endless reasons why a customer might not achieve their desired outcome by using your products or services – even if what you're selling meets all their requirements.
For example, let's say your product is email marketing software. You want customers to sign up for your service and send emails through it regularly. That's your goal. Your customer wants email campaigns that lead to opens, clicks and conversions. That's their goal. Using your software is going to give them the mechanism by which they can achieve that goal, but it's not going to ensure their success.
Dive Deeper:
The Risks of Not Closing Success Gaps
You just sell the product. What the customer does with it is their problem, right?
That's true to a certain degree. But if your competition effectively closes that gap, who are those potential customers going to sign up with? If your competitor can say "Not only can I provide you with the software for your email marketing campaigns, but I can show you how to improve your strategy and drive conversions" and you can't, the customer is not going to sign up with you.
Worse, if your customers don't achieve success with your product or services, who will they blame? You, most likely. And then not only have you lost a customer, but you may have to deal with reputation management on top of lost revenue.
We all want our clients and customers succeed. If they succeed, they're happy, and if they're happy, that means more leads and referrals for you. That's why closing the success gap is so important.
Click To Tweet
How to Close the Success Gap
Closing success gaps for your clients and customers is a three-step process:
Find out what your customers need in order to be successful.
Create content that addresses their goals and challenges.
Partner with people who offer related services or products.
Step #1: Find Out What Your Customers Need to Be Successful
If your product isn't new, then you've likely received at least some feedback. And that feedback is valuable, whether it's positive or negative. Consider the following:
What questions have customers had about your product?
What complaints have customers had about your product?
What are the differences between the customers who praise your company and the ones who complain about it?
Maybe the ones that praise your company have been referred to it by someone who has used your product. Maybe someone had a third-party trainer. Maybe the happy customer for your email marketing software has someone on staff with 10 years of experience, while the one who is complaining has none.
Don't just look at your feedback, either. See what people are saying about your competitors. Do they have the same problems? The same questions? Once you've compiled all the feedback, you're probably going to have a pretty good idea of what your customers think they need to succeed.
But what about the things they don't know they need to succeed? That one's trickier to figure out. Sure, some of it is a no-brainer – if your business is email marketing software, your customers probably want to know about writing effective subject lines and the best time of day to send emails. But they also might want to know about analytics, not just for emails but for their website and social media channels.
Sending your customers a survey via email or starting a social media discussion is a great way to find out what their pain points are or what they just need a little more help with. Or you can hang out on Reddit, where business owners congregate to ask each other questions about everything under the sun.
Once you know what your customers want and need in order to be successful, you're ready to move onto giving them those things.
Dive Deeper: 
Step #2: Create Content That Addresses Their Goals and Challenges
There are two types of content that are important to filling the success gap: onboarding content and complementary content.
Onboarding content is what you use to communicate to your customer how to best utilize your product or service. This could be as simple as an FAQ or as complex as a series of video tutorials.
Complementary content is what you use to provide value to your customer, showing them not just how to use your product or service, but how doing so will help them achieve their desired outcome.
My friend Syed Balkhi has a company called OptinMonster, which is an email collection tool: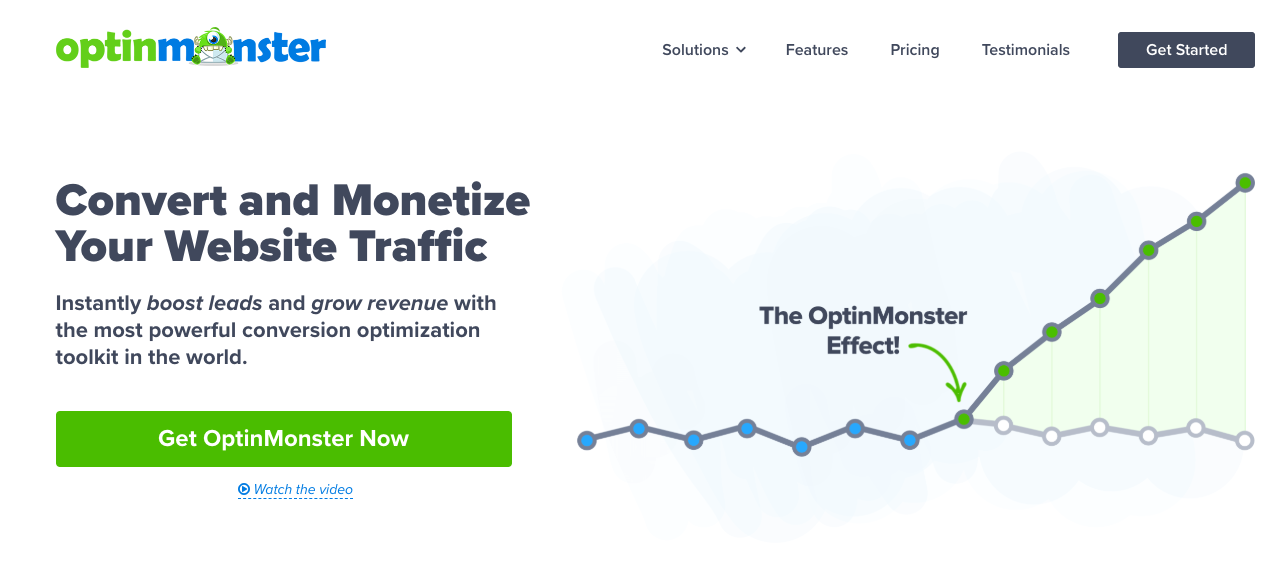 Back in February, he was a speaker at the Traffic & Conversion Summit in San Diego, where he talked specifically about managing success gaps.
In his speech, he shared an example of a time when he asked his team how they defined success. According to them, "Success is when people sign up for a trial or they buy the product and start using it." But to Syed, that was product activation, not success. Instead, he pointed out all the different things they needed in order to be truly successful, from faster websites to content creation to SEO and more.
In Syed's case, closing the success gap meant creating content that would help their customers with all these different needs – and the benefit went both ways. The customers received valuable information, and OptinMonster wound up with a ton of useful content that helped them bring in even more traffic and customers.
But there's another way to think about success gaps: maybe you're the gap. Look at a company like HubSpot, which is a CRM, but they create a ton of content about Bitcoin. That doesn't seem to make much sense, right? But if people are interested in buying and selling Bitcoin, maybe they'd also be interested in a CRM. HubSpot discovered some overlap there and figured that they could fill in the gap between Bitcoin users and their desired outcomes through content. You can do the same.
If I think about Single Grain, we offer a lot of services, but we also create a lot of content around marketing. Our clients may hire us for social media advertising, but that doesn't mean they aren't interested in learning more about everyday social media marketing and how to grow their following. It might not make sense for them to pay us to do that for them, but if we're providing them with content that gives them tips and ideas, we're providing value for their overall marketing strategy, as well as generating more top-of-funnel traffic.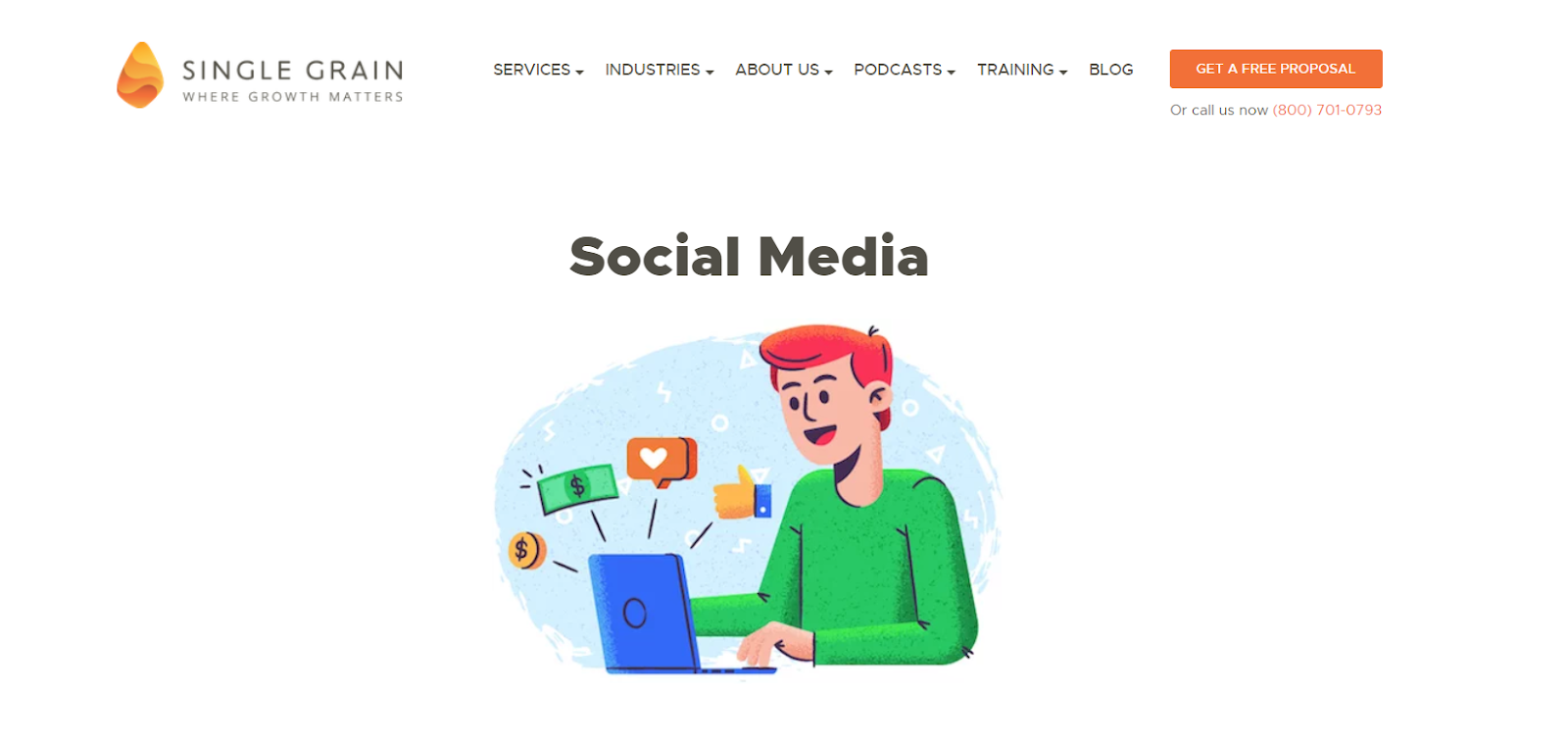 When I say content, I'm not just talking about blog posts, either. Video, podcasts, email, social media – it all provides value for your customer. And the more you can get that content out there, the easier it is for your potential customers to find you and realize how much you have to offer them, versus your competitors.
Even better, once you've created all this content, you have the opportunity to repackage it and use it in a variety of other ways. Remember that onboarding content? Instead of just creating a how-to guide for using your email marketing software, for example, you can also create an online course for new users that covers all the technical aspects of using your software, but also educates the user on how to write great marketing emails.
Dive Deeper: 9 Ways to Repurpose Your Old Blog Content
Step #3: Partner with People Who Offer Complementary Services or Products
As much as you may want to, you probably can't offer your clients everything they need to achieve their desired outcome. That's where channel partners come in.
In Syed's case, he knows that his customers need a fast website and web hosting. Instead of telling a potential customer to go get their website up and running and come back when they're done, it makes sense for him to partner with a hosting provider who can do it for them. That way, he gets that customer on board early and keeps them throughout the entire process.
Another benefit of having channel partners is that there's probably overlap in your customer base. They may have your customers already. The same way you can offer their services as an add-on, they can offer yours. This opens a lot of doors for customer acquisition you might not otherwise have access to.
Essentially, you're filling in gaps for their customers in the same way they're filling them in for yours – and neither of you have to become a full-service agency to make it happen.
Success Gaps Are an Opportunity
I know you probably have a lot on your plate already, and the idea of taking on more work – and make no mistake, there is a lot of work involved here – to fill in success gaps may seem overwhelming. Remember that you don't have to do it all at once. Work at your own pace. Do one thing at a time.
The good news is, once you've picked your customers' brains, created useful content for them and lined up some channel partners, those success gaps will be filled. Then you can sit back and watch potential customers convert to actual ones – all because you've given them something that your competitors can't.
Success gaps aren't a flaw in your business strategy; they're an opportunity to rise above the rest of your industry and offer your customers a true end-to-end experience.