4 Ways to Create Great Links that Boost Your Website's Ranking
[Free Consultation] Are you spending money on advertising but not getting the results you want? Are you looking for more sales and leads but have no idea where or how to start? Get help from our world-class marketing experts in a free consultation call.
Click Here To Schedule Your Free Consultation Now
I've already gone over five tactics for getting high-quality backlinks from reputable sites with great domain authority. But what, exactly, goes into a great backlink?
Great Backlink Parameter #1: Domain Authority
First off, the more people linking to you, the better you're going to rank. Google's even stated it. It's one of the most important factors when it comes to search rankings, but every link is not the same.
Think of links like the presidential election. If the president says, "Hey, you should vote for this candidate," that has way more weight than if I say, "Hey, you should vote for this candidate." Why? Because the President of the United States is in a position of authority, especially when it comes to politics.
Domain authority plays a big role in determining the quality of your link.
Click To Tweet
Domain authority is ranked from 0 to 100. The higher it is, the more powerful and popular (and thus better) the link will be. But it's not a linear scale, where each point has an equal weight. It's more like a Richter scale, where each point is an order of magnitude higher than the point before it. Getting a domain authority above 60 is actually really hard for most sites.
Great Backlink Parameter #2: Link Relevance
You also have to look at how relevant the link is. For example, if Neil Patel, a marketer, tells you in one of his posts to check out Single Grain, that's a really relevant link.
Neil is a marketer and Single Grain is a marketing agency, so Google will recognize the relevancy. On a non-SEO level, it's also much more likely that a reader will actually click on a link if it's relevant.
This isn't to say that all relevant links from high-authority sites will matter. You should also understand the distinction between dofollow and nofollow links.
Dofollow links will "pass" the authority from the page or blog post on a high domain authority site to the site that's being linked to (e.g., your site). Most websites and online publications use dofollow links by default, so you don't have to worry about tweaking your links.
Nofollow links will not give the site that's being linked to any SEO boost. These sites can be high-traffic and high-authority, but it might not make sense to get an SEO boost from being mentioned in those sites (like a popular forum, for example).
It's important to note that Google is really good at detecting when someone is manipulating their links, too. For example, when Neil was getting started with QuickSprout, he figured out a way to get some dofollow links into forums. But Google caught on and pinged him for it, warning him that they detected spammy user-generated links on his site.
Related Content: How to Get Premium Backlinks When No One Knows Who You Are
Great Backlink Parameter #3: Link Placement
You should pay attention to the placement of your links. Let's use guest posts as an example, because they're easy to understand.
For every guest post, you'll have the piece itself, as well as a header or footer, usually for the author byline. For example, this is my byline on Entrepreneur.com:

While it's easiest to simply put a link in the byline, reuse it each time, and call it a day, backlinks outside the body of a piece aren't typically as powerful as backlinks that are directly in the body of a blog post.
Either way, these types of links, called "editorial links," are much harder to get and manipulate, which is why Google places such a premium on them.
Great Backlink Parameter #4: Taking It Slow
A lot of people don't realize this, but there's actually a "speed" aspect to your link quality.
If you're starting a new site and building too many links too quickly, Google doesn't like that.
Click To Tweet
It's grounds for getting your site torched or penalized by search engines.
For example, if you understand how backlinks work pretty well and want to really go full throttle with a new site and brand, you may be tempted to mix quantity with quality and build as many links as possible within three months. However, even if you are following the rulebook pretty closely, Google may get suspicious.
Try "Lending" Out Links
Here's a pro tip. The next time you think you have a great piece of content on your hands, try reaching out to some high domain authority publications and sites and "lend" them a link. Try saying, "Hey, you know what? We got this great press piece" or "We're doing something amazing. You should cover it."
I also try to mention a few other players in the space who also rank really high for the keywords that I'm trying to go after, so hopefully they link out to them as well. While this may seem counterintuitive, it works wonders because of the way Google compares similar links.
For example, if the website links to me for a specific digital marketing topic, like marketing automation, they might also link to Wikipedia and a few other web pages that also rank in the top hundred results for that keyword. Then, to Google, you're in similar neighborhoods. Google will be like, "Oh, this article on Single Grain is very relevant to the Wikipedia article that's also ranking for marketing automation and it's also really relevant to this Search Engine Land article."
Get Links from the Top 100 Results
I had a buddy in the forex space (foreign exchange market) and he started ranking on the second page for the keyword "forex" with less than 10 links. You know what the trick was? He Googled the keyword "forex" and other forex-related keywords, and he would hit up all the web pages that already ranked in the top one hundred results for that keyword. Then he convinced those sites to link to him, too.
I'm not recommending that you buy the links (like he probably did), but if other web pages that rank in the top one hundred results for your target keyword link to you, your rankings will skyrocket.
Try Building Resource Pages with Chapter Subpages
One final, black hat SEO tactic you can try to execute in a white hat way is the link wheel. Back in the day on Web 2.0, before Google really cracked down on the practice, it was relatively easy for you to create a multitude of sites around the same target keyword, and have all of them to crosslink to each other. Today, Google punishes this kind of link manipulation, but you can still go about it in a white hat matter.
Related Content: How To Rank Using Black Hat SEO Tactics in a White Hat Way
For example, let's take a look at a site like Help Scout. If you Google "customer acquisition" or "what is conversion rate optimization?" Help Scout and Qualaroo pop up.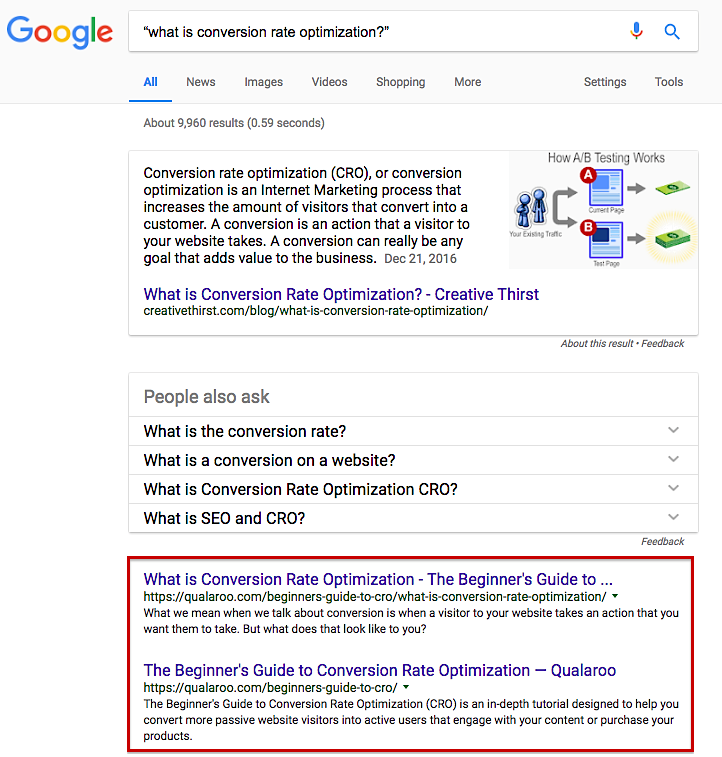 You are going to see that some people have "resource pages" where there's one main page and they're crosslinking to each of the chapters (which are separate pages), and those chapters are also linking to the main page as well.
Guess what? This is a white hat link wheel. And it's just one example of a black hat tactic that has been turned into a legitimate white hat strategy.
So there you have it. These are the ways that Google determines what qualifies as a high-quality link.
This post was adapted from Marketing School, a 10-minute daily podcast in which Neil Patel and Eric Siu teach you real-life marketing strategies and tactics from their own experience to help you find success in any marketing capacity. Listen to the podcast version of this post below: