The NFT space is growing rapidly, and OpenSea is just one of the many marketplaces where you can buy these non-fungible tokens. Along with the security of these assets, they also provide utility. Many early adopters are proponents of OpenSea because it's easy to use.
OpenSea offers millions of collections. People are clamoring to get their hands on everything from Crypto Punks to Bored Apes, so if you haven't dived in yet, it's time.
Here's how to buy your first NFT on OpenSea in just five easy steps.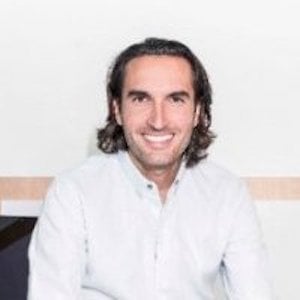 Yaniv Masjedi
CMO, Nextiva
Their expertise has helped Nextiva grow its brand and overall business
What Is OpenSea?
OpenSea is one of the largest digital marketplaces for purchasing NFTs: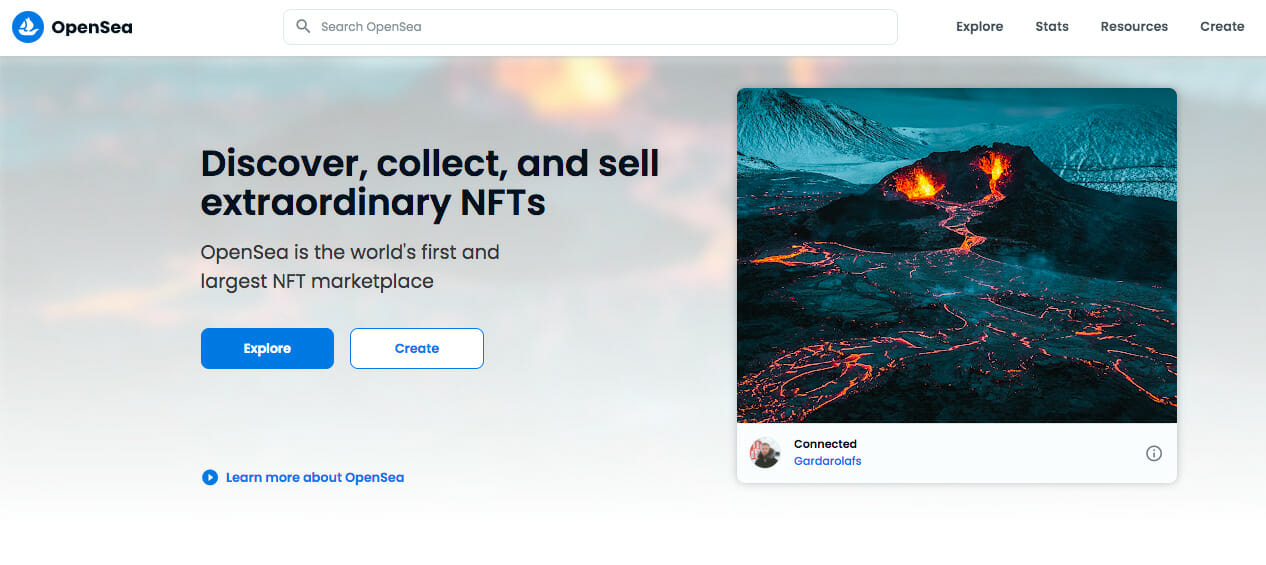 It was founded in 2017 and features millions of collections from over 600,000 users. They offer an interface that's easy to navigate. Signing up and connecting your wallet is seamless, making purchasing NFTs easier on this platform than many others.
Not only can you buy NFTs on OpenSea, but you can sell, trade and gift them, too. They offer a community of like-minded users who understand the value of the space and want to preserve the essence of the experience.
OpenSea's vision is to offer OpenEthereum protocols and interoperable standards to enable new liquid economies for buying, selling and trading NFTs. In addition, they're building tools to allow their users to trade freely, host digital work from creators, and develop an integrated marketplace.
Learn More:
* Top 5 OpenSea Alternatives
* 5 Best NFT Marketplaces for Beginners in 2023

How to Buy Your First NFT on OpenSea
If you're looking to buy an NFT on OpenSea, the process is relatively straightforward. It's easy to get started, and there's hardly any learning curve at all.
Here's how to set up your account and get started.
Step 1: Connect Your Wallet
Before you can use the OpenSea platform, the first step is to connect your wallet.
A digital wallet is just the name given for a specific online wallet where you store your cryptocurrency. There are different crypto wallets for different cryptocurrencies, so you need to ensure that your wallet supports the currency you'll be buying your NFTs with, such as:
Ethereum (ETH)
Bitcoin Cash (BCH)
Dogecoin (DOGE)
Binance Coin (BNB)
You can do this right on OpenSea. Simply click on the Account button in the top right and then click Profile: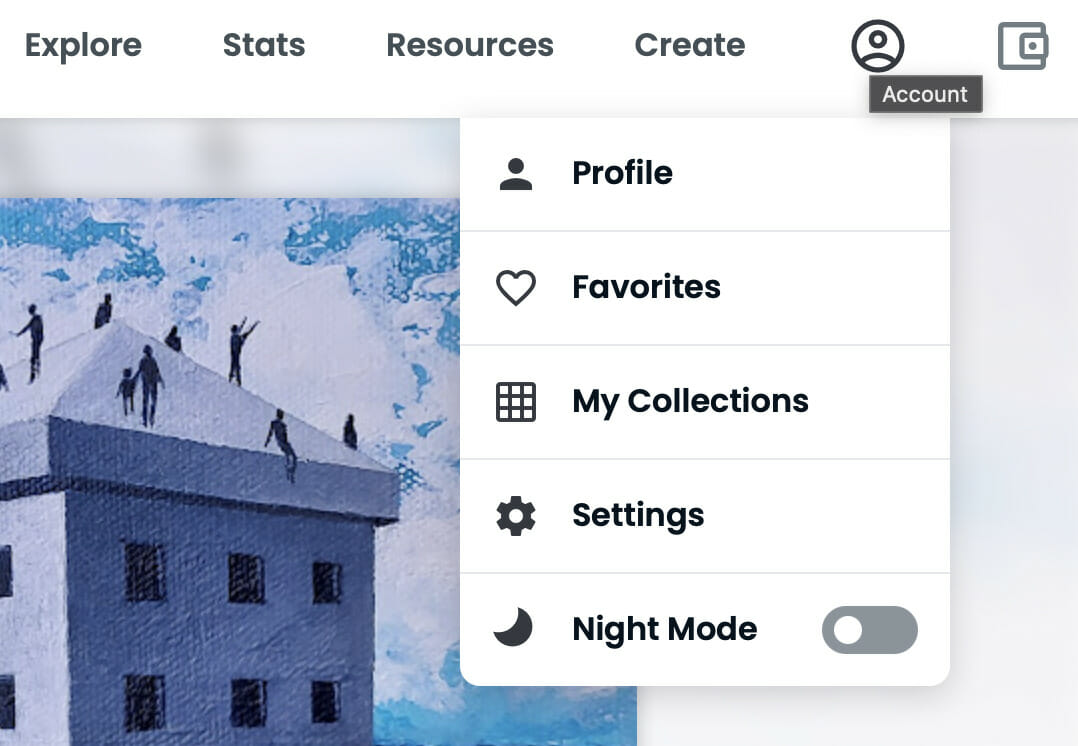 If you've already connected your wallet in the past, this will allow you to do so again. It may have even saved your login information.
If you haven't connected a wallet before, this will prompt you to choose which wallet you want to connect: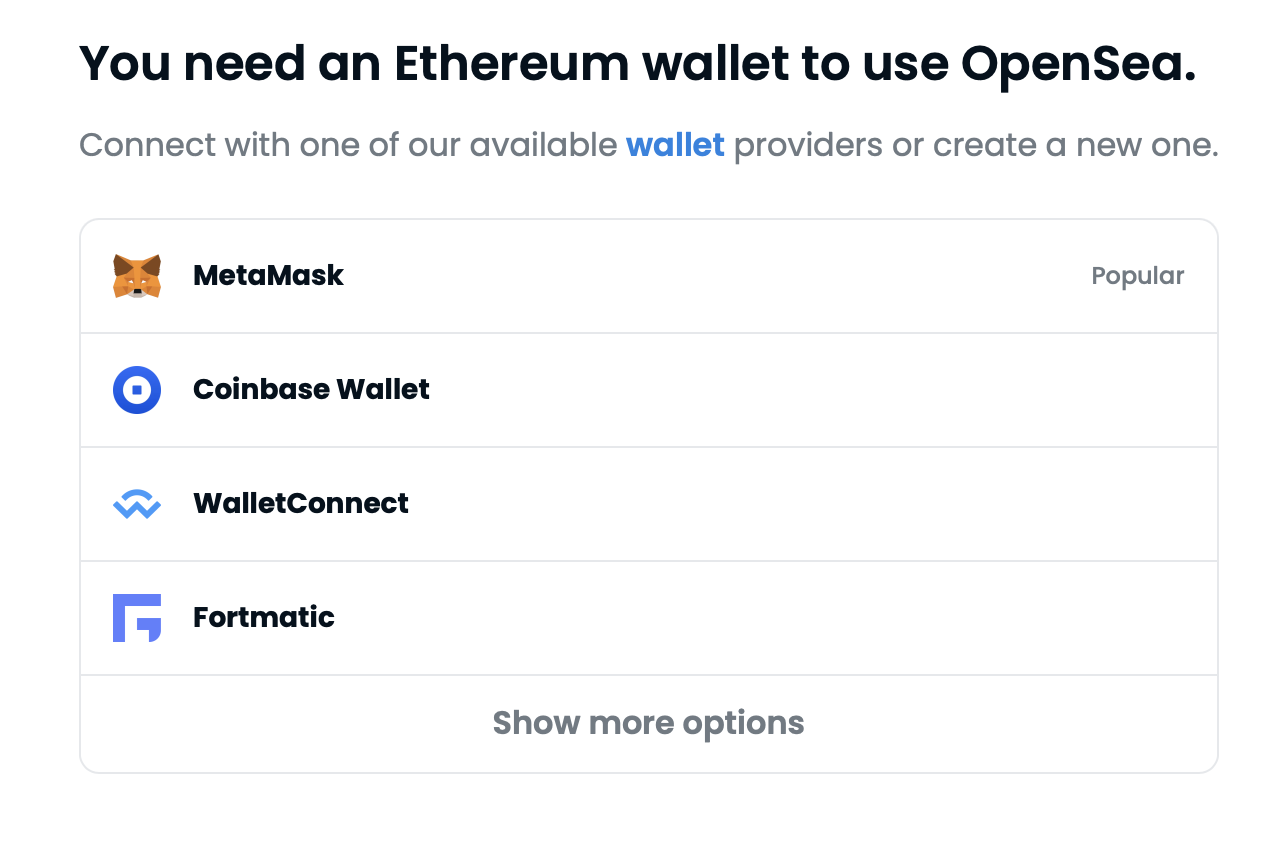 Don't worry, if you don't already have a wallet, it will guide you through the steps to set one up. The process is different based on the wallet you choose, but each is very straightforward.
Once you create your wallet, you can connect it. You must do this using either the Firefox or Chrome browser. No other browsers are supported at this time.
Step 2: Shop for NFTs
After connecting your wallet, you're free to shop millions of NFT collections from hundreds of thousands of artists. You can browse by category, including art, collectibles, domain names, music, photography, sports, trading cards, utility, and virtual worlds.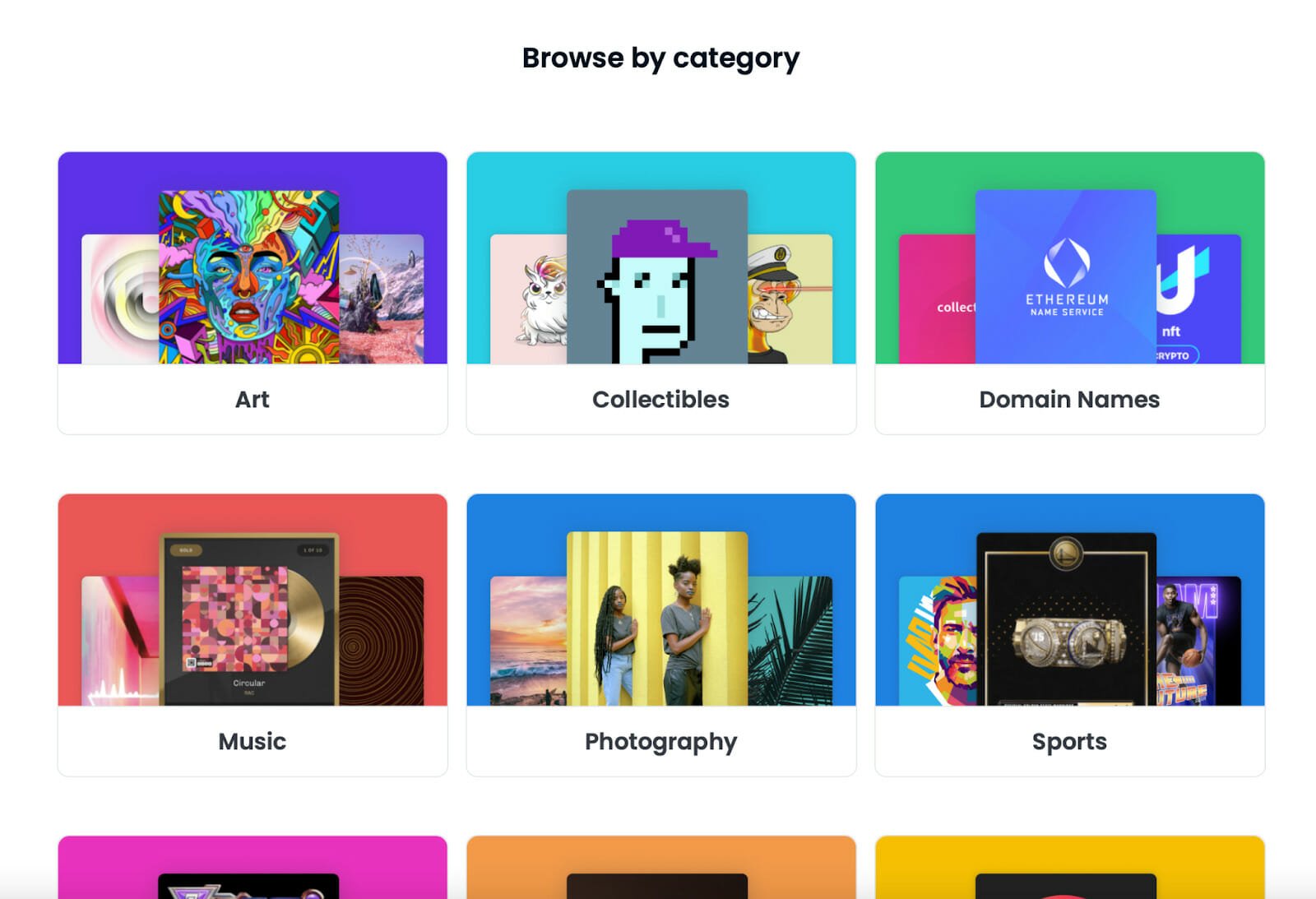 If you'd prefer to see everything at once, you can also click the Explore button on the top menu. This will take you to a page where you can explore all collections. You can also use the search function to find exactly what you're looking for by keyword, artist, name, or collection.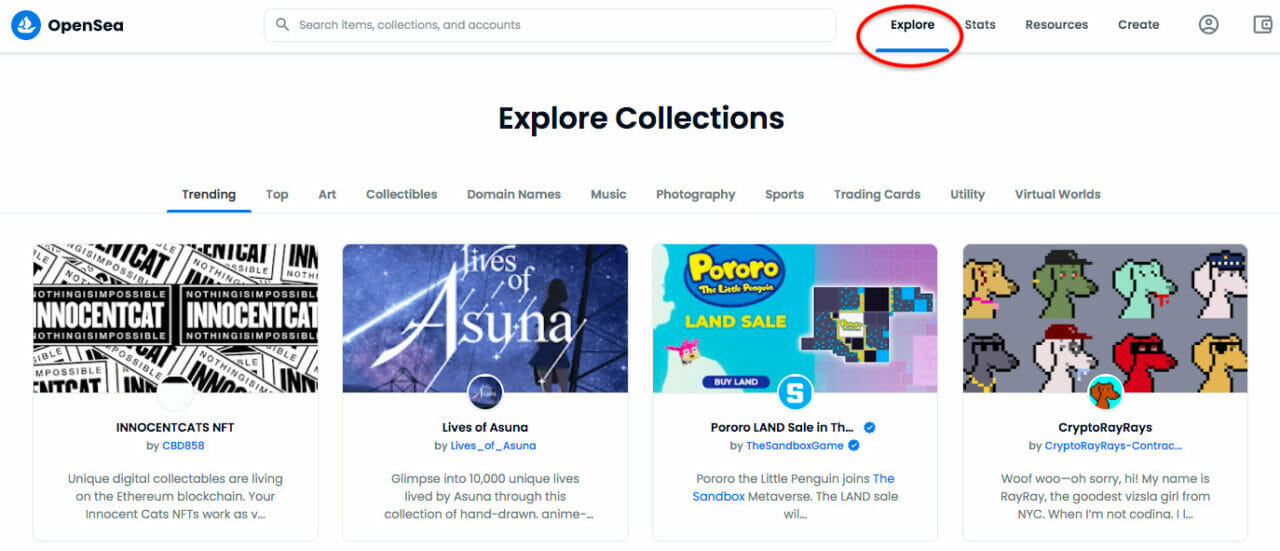 Learn More:
* How Gary Vee Sold 1 Million Copies of His Book Through NFTs
* 5 Examples of Brands Using NFTs to Monetize Their Work

Step 3: Learn More About the NFT
Once you find an NFT you think you would like to purchase, it's important to learn more about it. Simply click on the card that displays a synopsis of the NFT. This will expand your view and give you more detail.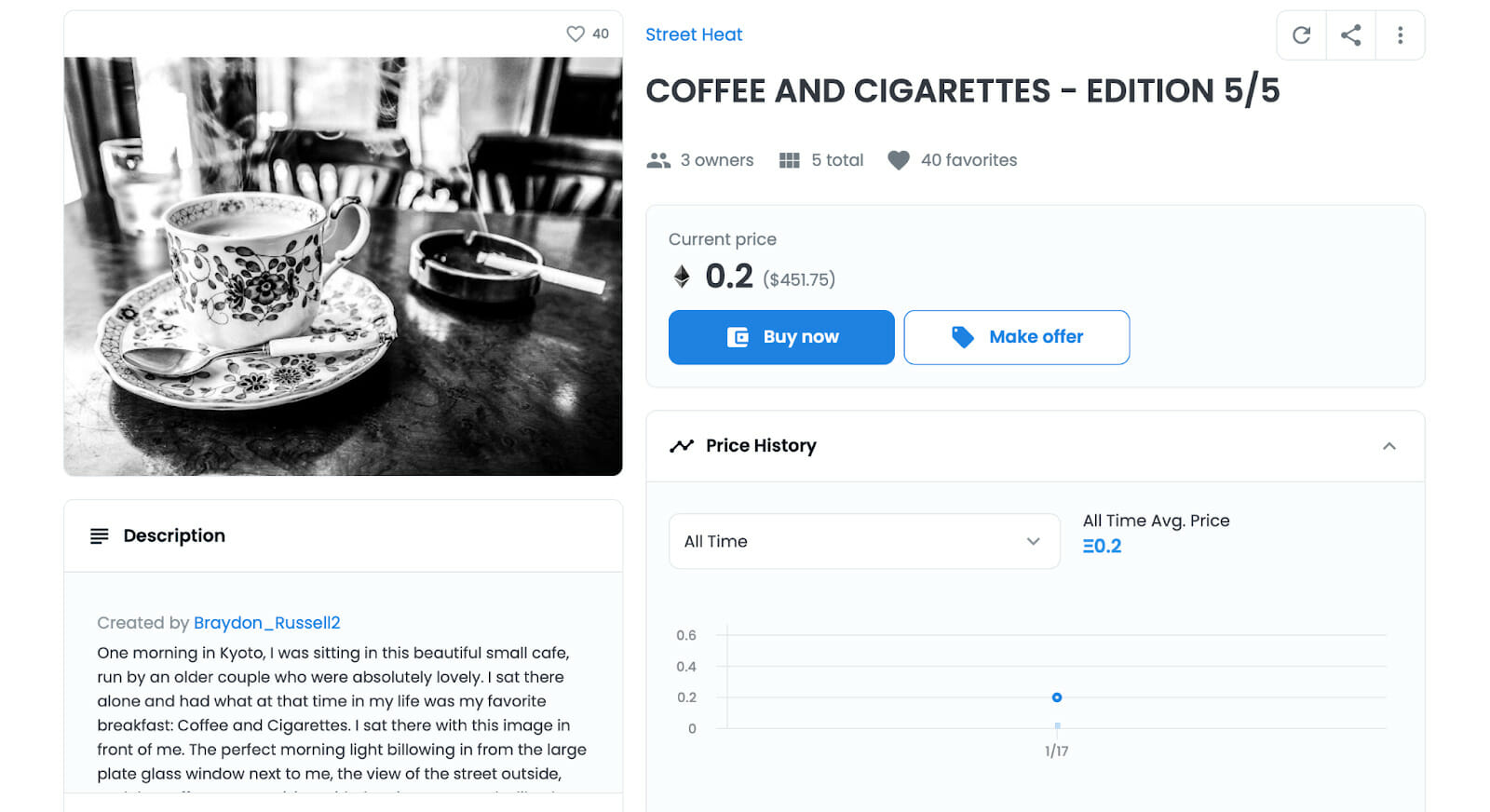 This view includes things like the description, current price, price history, media type, file size, about the artist or collection, item activity, and more. This will give you a better idea of what you'd be getting when purchasing the NFT. In some cases, it will also display how many copies of the NFT are available for purchase.
Different media types will display different fields. For instance, if you're considering a digital music file, you can listen to a sample of the file before you purchase, while a virtual world will provide more detail on the physical location of the world.
This is an important step in your purchase journey because it can clue you into scammers creating similar items of popular NFTs that aren't authentic.
Step 4: Make Your Purchase
Most NFTs offer two different purchase options.
The first option is to make an offer. The Make Offer or Place Bid button lets you confirm your wallet first and then place your bid.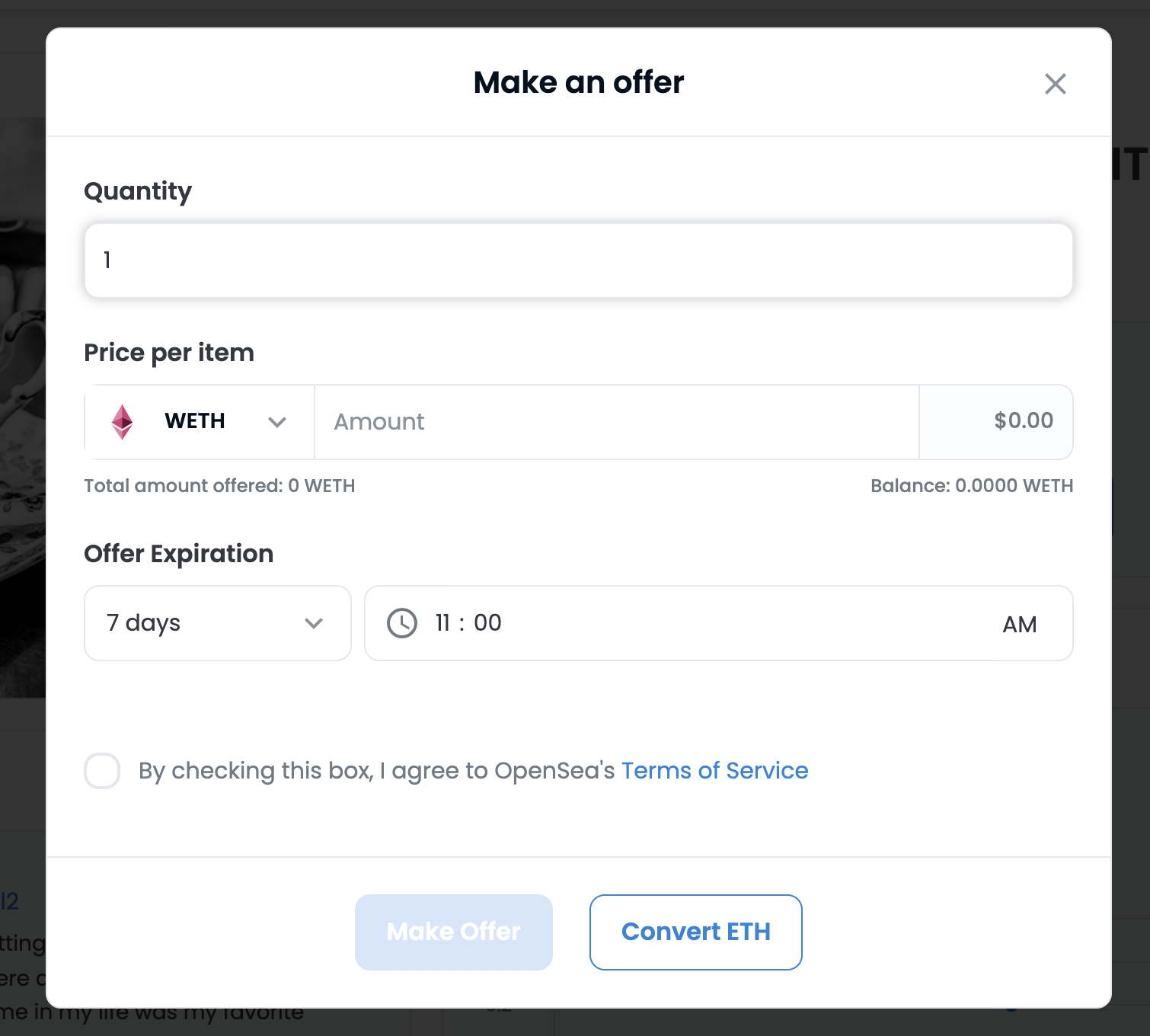 You input your maximum bid per item in your preferred currency and then set an expiration with this option. Then, click the Convert ETH button to convert this bid from your preferred currency to ETH.
After clicking the Make Offer button, you can sit back and wait for the seller to accept your offer. Keep in mind though…
If you choose a popular NFT with a lot of activity, you may want to keep a close eye on it and continually increase your bid to outbid the other interested parties.
The second option is to purchase the item right away is by clicking the Buy Now button. This method requires you to pay the list price for the item as dictated by the artist.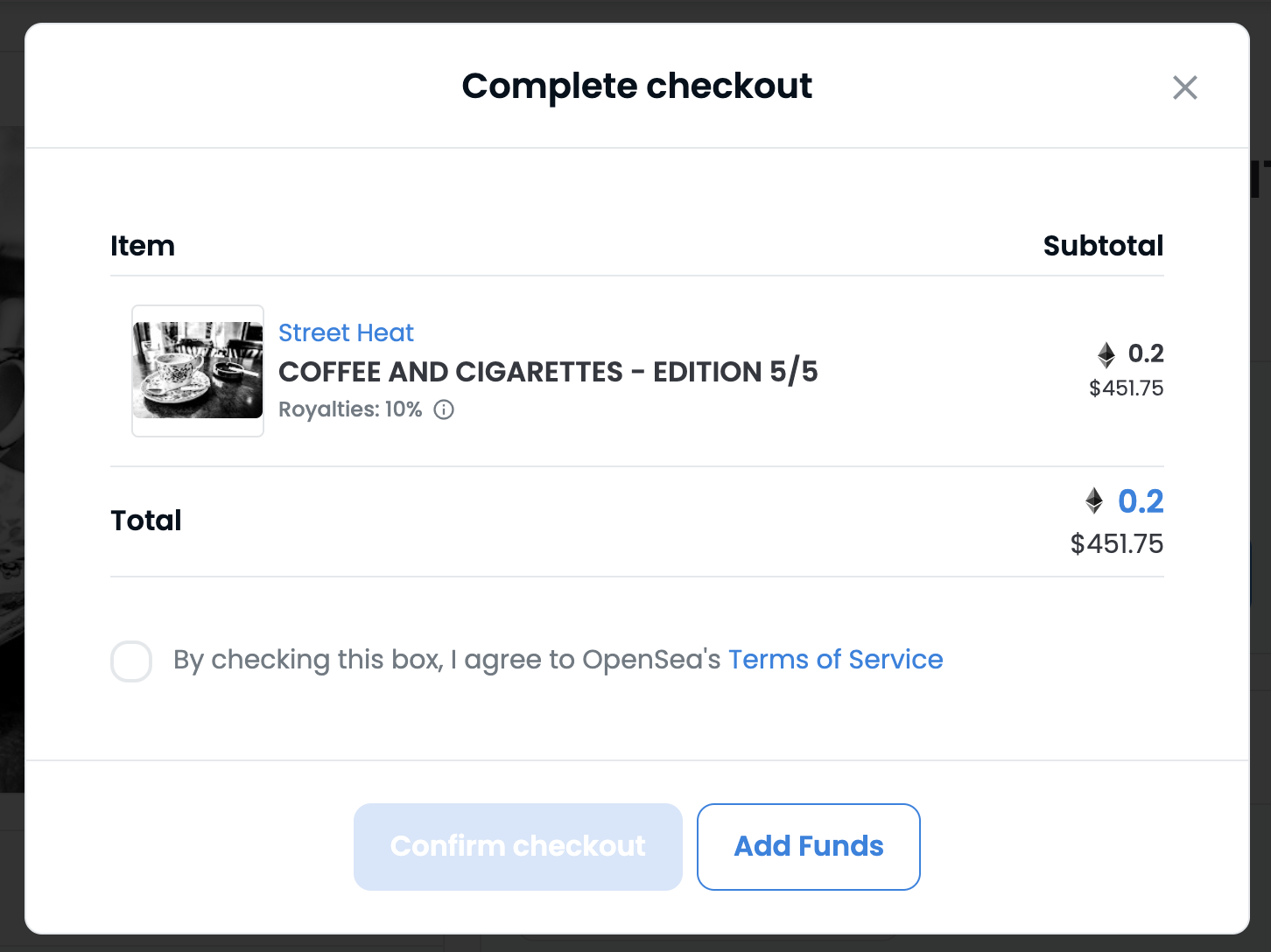 Simply confirm the terms of service and then either add funds or click Confirm Checkout. Adding funds allows you to transfer money into your wallet, while confirming your purchase will use the funds in your wallet to purchase the item.
Both actions will take you through several steps to confirm that you know what you're purchasing and how much you're willing to pay.
Step 5: View the NFT in Your Wallet
Once you confirm your purchase, you're able to view the NFT in your wallet. Go back to your Profile and click In Wallet to see it. If you don't see it yet, it could be due to a delay in processing time.
And that's it! You've just purchased your first NFT! 🎉
Learn More:
* What Are NFTs and How Do They Help Business?
* How to Promote Your NFTs the Right Way
* NFT Strategy: Everything You Need to Know to Get Started

What You Need to Know When Buying an NFT on OpenSea
There are several things OpenSea thinks it's important for you to know before purchasing an NFT on their marketplace. Understanding these non-fungible token myths will keep you from making a mistake you can't undo.
Myth 1: Security Alone Drives Demand
Inexperienced users often believe that the inherent securities of the NFT ecosystem are what drives demand. In fact, many platforms operate under the assumption that users will care about the scarcity of their favorite NFTs on the blockchain and that they would buy them for this reason alone.
However, NFT demand is driven by traditional forces like provenance and utility that drive other consumer items.
Utility is easy to understand. People buy NFTs because they serve a purpose. Whether it's a piece of enjoyable music or a ticket to a conference, they'll buy it because it gives them something in return. Even purchasing a piece of art that they can show off is one reason people are buying up NFTs left and right.
Provenance is a bit harder to understand but equally important. The very nature of an NFT is its provenance (i.e. a record of ownership to indicate authenticity). Encapsulated in the NFT itself is information such as where it came from, who created it, who owned it in the past, and an entire history of its uniqueness. The stories continue to get more complex over time, and as the NFT space matures, this will begin to provide even more meaningful significance to purchasers. It may even impact the value.
Myth 2: Smart Contracts Make Assets Last Forever
Early on, people believed that once a smart contract was executed, the assets attached to that contract would last forever. However, they failed to understand that entities like mobile applications and websites are what enable these interactions. When a website or mobile app ceases to exist, so does the portal for this interaction. Assets lose their worth when this happens.
Perhaps the future holds more hope for fully distributed deployment of decentralized applications in a way that makes them virtually unstoppable, but right now, there's no way to ensure this.
Learn More: What Is Web 3.0? The Future of the Internet
Myth 3: Hiding the Mechanics Will Solve all Problems
A few years ago, several NFT projects hid all of the technology behind their NFTs and simply provided username/password authentication for hosted wallets. This made the process similar to centralized apps, which are more familiar to new users. As a result, the onboarding experience was more streamlined. However, it took away the interoperability of the entire NFT ecosystem.
The current community prefers projects that tap into the existing NFT structure and ecosystem. While they may sacrifice usability, for now, these projects are more viable long-term.
Final Thoughts on Buying an NFT
The NFT market is still in its infancy. It's not for everyone, even if you're fascinated by the industry's potential. You should weigh these pros and cons carefully before deciding to invest in or purchase an NFT on OpenSea. As time goes on, there may be more options out there that benefit their users in a variety of ways. At the very least, these myths should be considered before investing in an NFT on OpenSea.
So if you want to start buying rare digital items, make sure you do it safely and with the proper knowledge.