10 Best Mobile Advertising Tools to Help You Promote Your Business
Mobile advertising is one of the most effective, but least utilized marketing channels.
Most of us have seen those annoying banner ads that pop up at the bottom of our mobile devices or take over the whole screen when we open an app or visit a website, generating lots of accidental clicks and frustrated users.
Thankfully, mobile advertising has progressed far beyond banner ads, and there's huge opportunity for marketers who are ahead of the curve.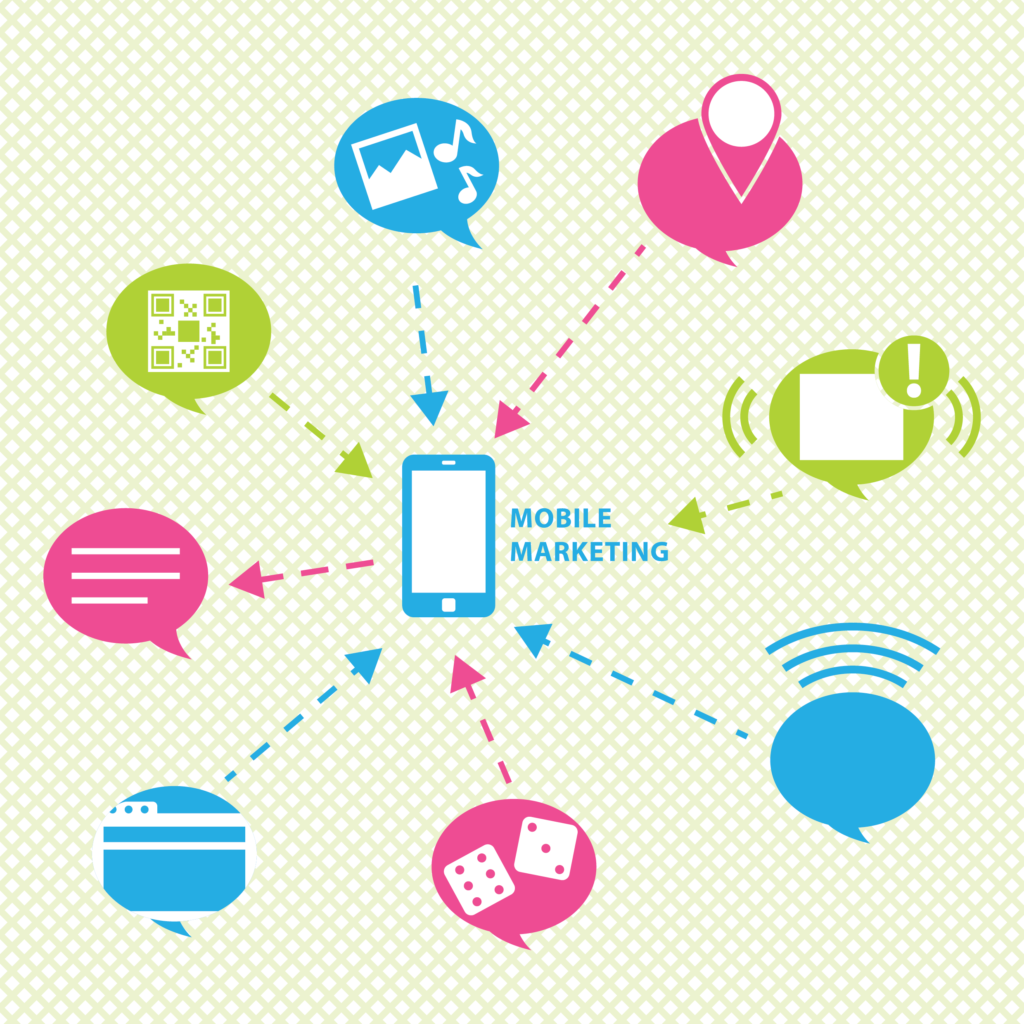 In fact, according to AdWeek, consumers are spending 25% of their time on mobile, while businesses are only putting 12% of their ad budgets towards mobile advertising.
This means there's a pretty big discrepancy between customer behavior and how businesses are marketing to them — and more money on the table for businesses who can adapt.
In this post, we'll go through the 10 best mobile advertising tools and how you can leverage them to adapt your marketing to the mobile environment before everyone else.
Adjust is a mobile analytics company that allows marketers to understand the ROI of their different campaigns.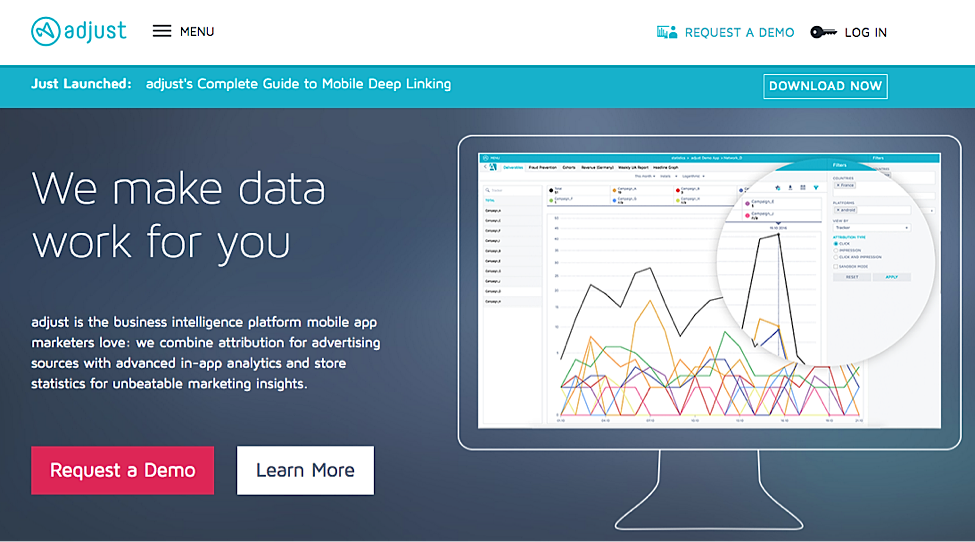 They offer features like mobile attribution (knowing where your users are coming from), behavioral segmentation, and finding patterns in App store reviews. This way, you can measure user behavior at every step in your funnel — from the time they become aware of your product to the time they leave you a glowing review on the app store!
They also help with areas like:

User acquisition and retention. They have

 an

adjust tracker link

in their software which you can use to track users from the moment they start interacting with any of your campaign ads. According to them, the software links all user activity to the initial click, so you're able to see how specific types of users interact with your marketing campaign, as well as your app.

That means that you can track how many times specific types of users open your app, how many are retained, and more.



Retargeting and re-engagement.

It's a well known fact that it's easier to upsell existing customers than acquire new ones. That's why one of the most efficient ways to get more engagement on your app is not by acquiring new users, but re-engaging those who have already downloaded your app.

Adjust allows you to run and track retargeting campaigns in many forms, including push notifications, SMS marketing, advertising through other similar apps, and more.
Tune helps marketers keep track of their mobile ad campaigns across multiple networks and publishers.
One of the tools that Tune provides is the "Mobile Marketing Console," which allows marketers to measure engagement and track data at every step of the customer journey.
Related content: How to Optimize Your Content Strategy with the Buyer's Journey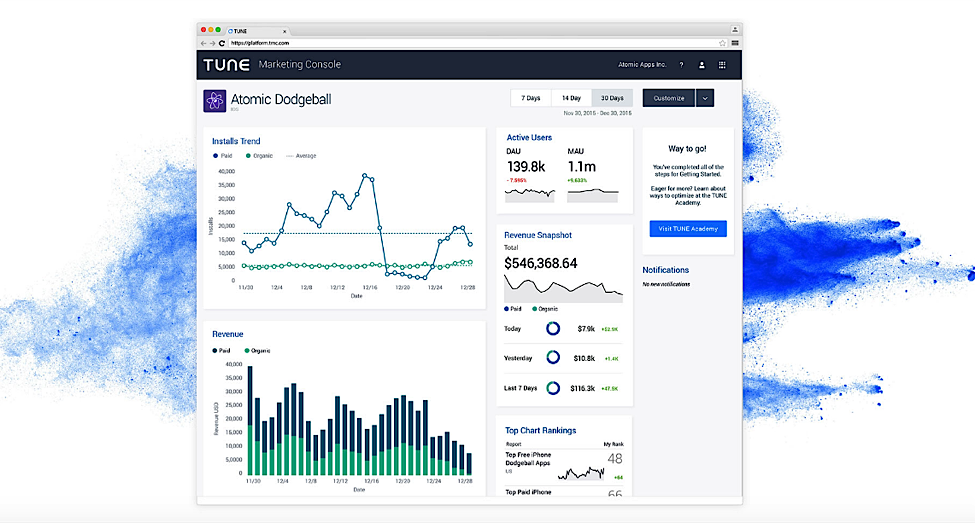 The marketing console offers features like:

Attribution analytics.

Through attribution analytics, you can get an accurate measure of impressions, clicks, installs, and other in-app, user-generated events that acquired through each one of your marketing channels. This way, you'll know exactly which channels are giving you the highest ROI.



In-app marketing.

If you're trying to boost retention or drive specific metrics for your own app, Tune helps you do this through in-app marketing. You'll get tools to segment your audience, run A/B tests, deliver in-app messages at the right times, and more.
Business intelligence.

Tune also offers data visualization tools that make it easy for anyone to look and interpret complex data sets. Tune's data stream delivers valuable high-quality reports for mobile marketers.  
AppsFlyer offers a similar product to Tune — they help marketers gain more comprehensive insight into the performance of their mobile ads. If you have your own app that you're trying to market, this could be the product for you.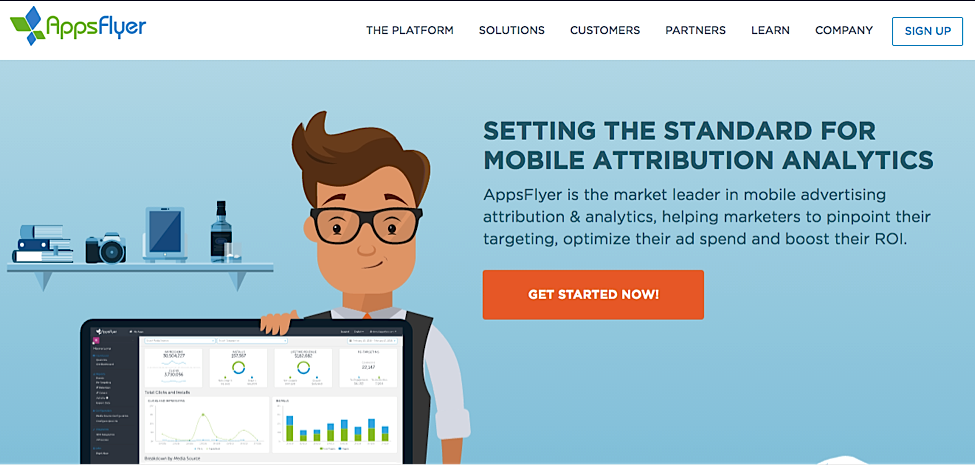 Through AppsFlyer, you'll gain insight into the following:
Real-time data.

You'll get a comprehensive list of real-time data for your business, including clicks, number of installs (organic and non-organic), conversion rates, a full funnel view, and the ability to track other custom in-app metrics that you might be curious about.



Measuring user retention.

The most important thing to think about when running a mobile app is how you'll keep users coming back in the long term. AppsFlyer allows you to run cohort analysis on different user groups that come in through your different marketing channels, which lets you track which channels are bringing the most loyal users.



Retargeting attribution.

When users become inactive, there are different ways you can re-market to them so that they start using your product again. For example, you could run Facebook ads to inactive users, send them push notifications or e-mail them. Through retargeting attribution, you'll get a sense of which retargeting campaigns generate active users.



API services.

If you have additional data on your own internal business intelligence system, you can use AppsFlyer's API services to import your own data through a

push / pull API

.
The biggest challenge most marketers have is identifying the ROI of their marketing campaigns, but these comprehensive tools will help you solve that problem.
Tatango helps agencies launch mobile SMS marketing campaigns for their clients and provides everything that a business needs to run a successful campaign, including:
Short Code Provisioning.

Short codes are short-form phone numbers that are used by businesses that send out mass messages. Getting a short code is not always a simple process — you need to find a business that's a certified Short Code Provider from the

Common Short Code Administration

.

Because Tatango is a top short code provider, they're able to provide short codes for businesses in a matter of days instead of months.



Software.

Tatango also provides user-friendly software applications that you can use to deploy your messaging campaigns.

Their software platforms offer a variety of features for marketers, like subscriber segmentation, customized workflows, A/B testing, built-in reporting, and more.



Strategy.

In addition to all the technology, Tatango also provides mobile messaging experts who can help advise you on how best to structure your mobile messaging campaign at every step. Their support team works 24/7.



Compliance.

When you work on something like mobile messaging, which has lots of laws and compliance requirements, it can be confusing to figure out what you should and shouldn't do in your campaigns. The last thing any business wants to worry about is legal repercussions for their marketing.

Tatango handles all compliance requirements for businesses without giving you complicated guides or documents to read before working on your campaign.
Kiip is a company that helps brands advertise to customers on mobile in a way that people love.
Through Kiip, brands can take advantage of moments of happiness in the UX of a variety of mobile apps and present their ad at that time. For example, a local business can present a coupon code for a free energy drink in a fitness app once a user completes their first run.
Because the advertisement is being presented at a moment of delight, it helps brands build positive associations in the minds of users.
Users experience a stronger emotional response during a "moment of delight," which helps build a more positive association with the brand and increases the likelihood that the user will take action on the advertisement.
This way, users see advertisements as "rewards." Kiip's partner brands see a 1,278% growth in awareness, along with a 9% engagement rate.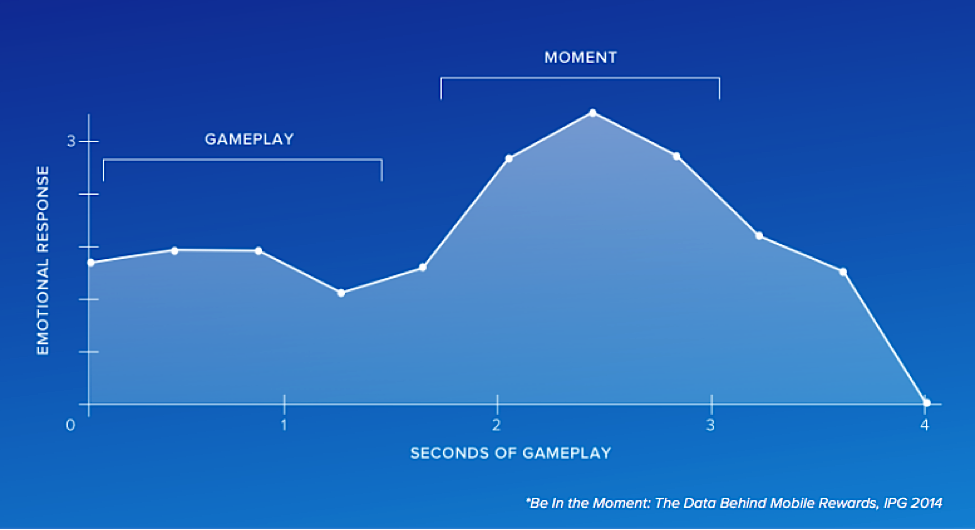 Facebook should be one of the first things you think about experimenting with if you're going to start running mobile ads for your business because 60% of Facebook users access the site on their mobile device.
Learn more: Facebook Lead Ads: Everything You Need to Know To Increase Mobile Conversions
Advertising on Facebook's mobile platform also provides better overall returns for marketers. Click-through rates are 12x higher on mobile compared to desktops. This could be because the smaller screen size on mobile devices tends to focus people's attention more than a desktop computer, on which users can have multiple tabs open (i.e. more distractions).
There are a few ways to get your ad onto mobile news feeds:
Sponsored Page Ads
When posting anything on your business's Facebook page, you have the option to run it as an ad and get it in front of people who are not your direct followers or friends. You can use sponsored page ads to run offers or generate more engagement and you can reach both mobile and desktop users through these types of ads.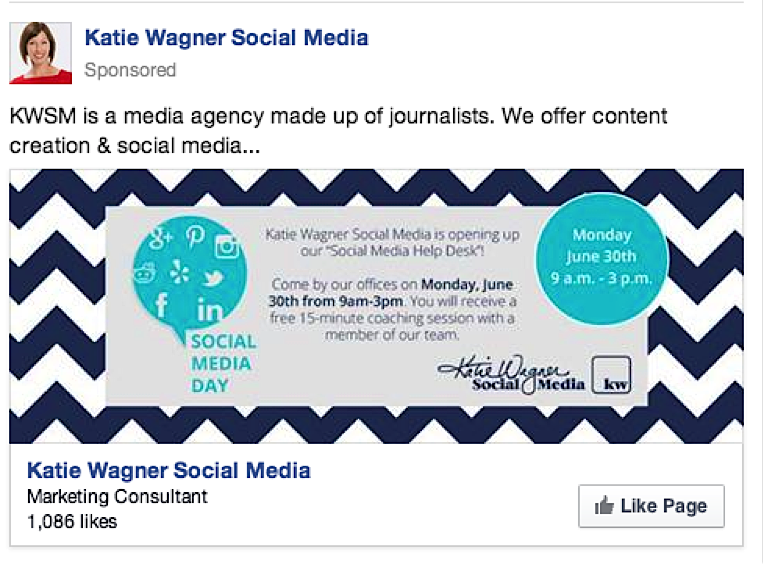 Source: Katie Wagner Social Media
Promoted Posts
Promoted posts are similar to sponsored page ads, but the difference lies in that promoted posts can't be shared outside your fan network on Facebook while sponsored page ads can be presented in the feeds of those who may not be your existing fans.
Mobile App Install Ads
If you have a mobile app for your business, running mobile app install ads could help you increase the number of installs you get for your app directly through Facebook. These ads guide users to your app download page.
When running the ad, you can choose what kind of operating system and mobile devices your audience has to keep everything as specific as possible.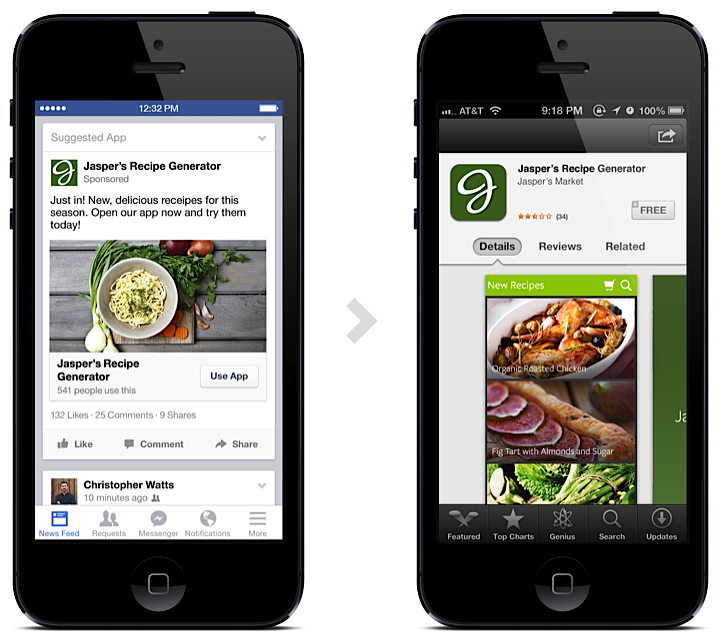 Source: Mobile Marketing Magazine
The best place to run mobile advertisements are apps that are commonly used when people are on the move. Yelp is one of those apps.
Yelp gets about 86 million unique visitors every month. Many of them are searching for local restaurants, nightlife activities, and similar.
If you have a small business that's dependent on a physical location, you can boost sales by making sure that your Yelp information is up to date. You should also incentivize existing customers to leave you a review on Yelp.
78% of customers turn to review sites like Yelp to find local businesses in their area and 85% of customers who make a purchase at a business they found on Yelp do it within a week, so you should definitely incentivize existing customers to leave you a review here.
According to the Harvard Business Review, each positive Yelp review translates to a 5 – 9% increase in revenues. The effect was found to be greater for businesses that are not big brand names. For companies that don't already have a massive brand, reviews are the only way for potential customers to know whether they can trust you or not.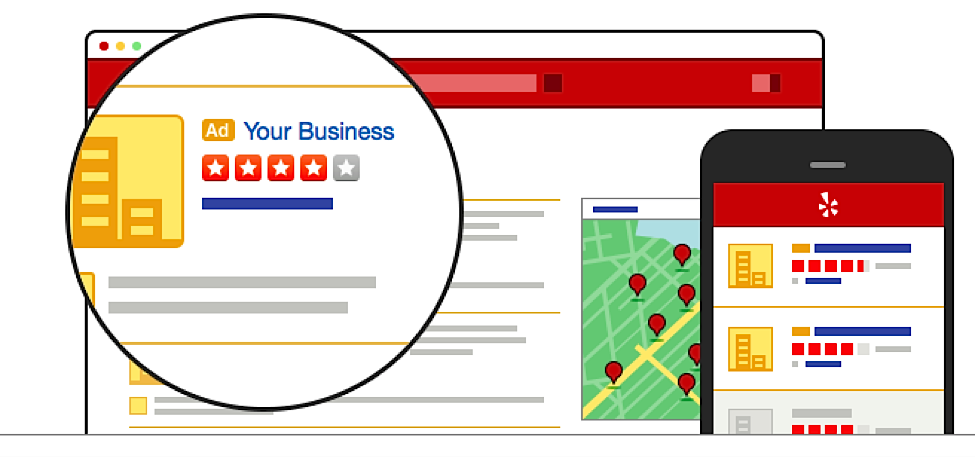 If you have a local business, you can run targeted location-specific advertisements to get premium placement within Yelp search results, as well as your competitors' business pages. Yelp promotes advertisements across all their platforms, which is even more helpful for marketers since over 50% of Yelp's search traffic comes from mobile.
Learn more: How to Get More Reviews for Your Local Business
Adagogo is the ideal tool for small businesses with modeset marketing budgets. Some more comprehensive marketing platforms can cost hundreds (or even thousands) of dollars a month, but Adagogo allows you to deploy mobile ads across thousands of sports and news apps for a reasonable price.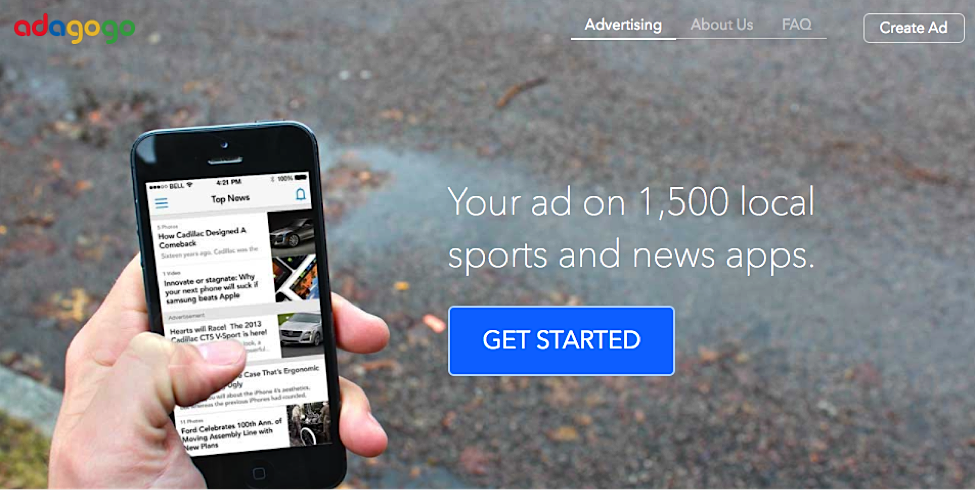 Marketers can create ads quickly and target them to specific locations to increase conversions. Adagogo has a network of 1,500+ news, weather, and sports apps that have audiences in specific locations across the U.S.
You can either display your ad within a certain region or only display it to smartphone users within a certain radius of a given address.
Adagogo's pricing is based on impressions — 1,000 views for $25, 2,500 views for $50 — so this type of pricing makes it affordable to test mobile ads on a small budget.
Localytics is a mobile analytics company that helps businesses track engagement on their own mobile apps. They track a lot of data to help you boost engagement across the customer journey, such as:
Sessions and Events
By tracking sessions and events, you can get a good sense of how users are interacting with your app. Localytics lets you track when, how long, and how often people visit your app.
This allows you to measure whether your mobile app updates are resulting in higher user engagement, what types of behavior predict higher levels of engagement, new users vs existing users, and more.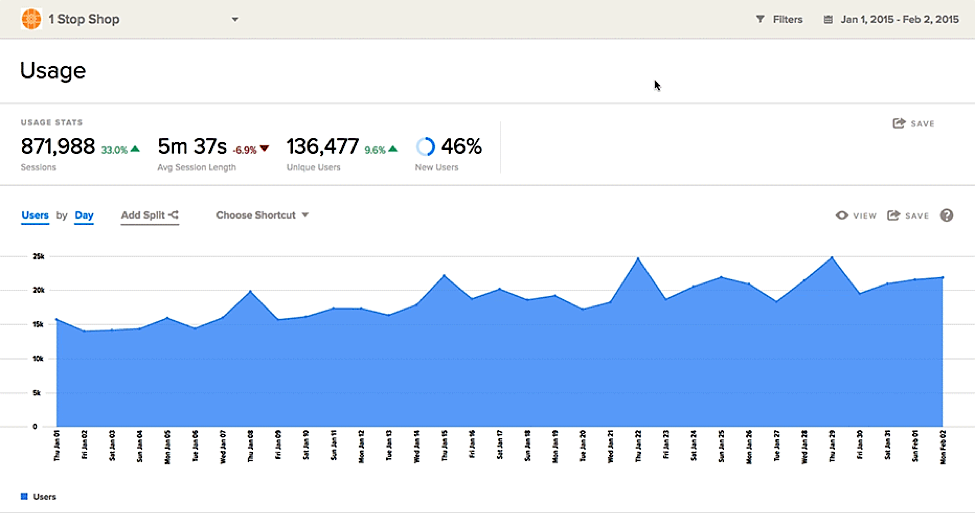 Through features like attribute tracking, you can track different user interactions with custom attributes, so you can see what types of activities are driving conversions.
Retention
Localytics helps you track conversions through funnels, so you can identify the "flow" of activities that users go through in order to optimize the right parts of the funnel for a better experience. By having analytics around your mobile app funnel, you'll be able to patch up drop-off points and increase success rates.
Localytics also has features to help businesses with things like:
LTV

User CRM

Uninstall tracking

Web analytics

Message targeting by geographic location and audience similarity

Predictive analytics to predict churn before it happens

Push notification delivery

In-app nurturing, re-marketing, and A/B testing

API and partner integrations
Related content: Using Google AMP to Boost Site Speed and Mobile Optimization
Criteo helps marketers deliver personalized ads on different devices for their customers.
Using machine learning technology, they're able to predict when users are more likely to engage with a particular ad. Using the Criteo Engine, they analyze behavior from over 1.1 billion users per month, which continuously sharpens their predictive analytics ability.

Based on their insights, they help businesses launch targeted advertising campaigns on the right mobile apps. Because they have a network of 12,000+ advertisers, they're able to help businesses get premium ad placement on the right products. The ads can appear across desktop and mobile platforms, as well as social networks.
This tool can help you re-engage app users as well through personalized content.
Conclusion
Mobile marketing is a huge, untapped source of revenue today. Consumers spend over 25% of their time on mobile, but business are only allocating a small part of their advertising budget for mobile devices.
As always, businesses that are ahead of the curve will capture the most revenue before every company starts advertising on mobile. The tools we talked about today make it easier for you to start testing mobile ads for your business, no matter what your budget is.
What are the best mobile marketing tools that you've used? Leave your responses in the comments below!