Amid all the changes in digital marketing over the past decade, social media has not only endured, but evolved each year to keep its place as one of the most powerful channels in modern marketing.
But for all its promise, social media is far from easy. Constant updates, fierce competition, and rapid shifts in markets, consumer interests, privacy regulations and, of course, technology all come together in a melting pot that is as frustrating as it is potent.
To help you keep an eye on what you need to know about social media marketing, we've compiled this list of trends – both new changes and continuing shifts in recent changes.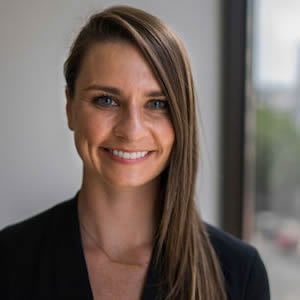 Jacqueline Foster
Demand Generation Marketing, Lever.co
We can count on them to bring new ideas to the table consistently
7 Social Media Marketing Trends You Can't Ignore
Social channels such as Facebook, Twitter or LinkedIn are no longer just social networks; they've transformed into marketing platforms in order to generate more traffic to your website and revenue from your product or service.
This type of marketing is not new – Facebook launched Pages for businesses as well as Facebook Ads (ad placement shown in the left column below) in 2007, for example: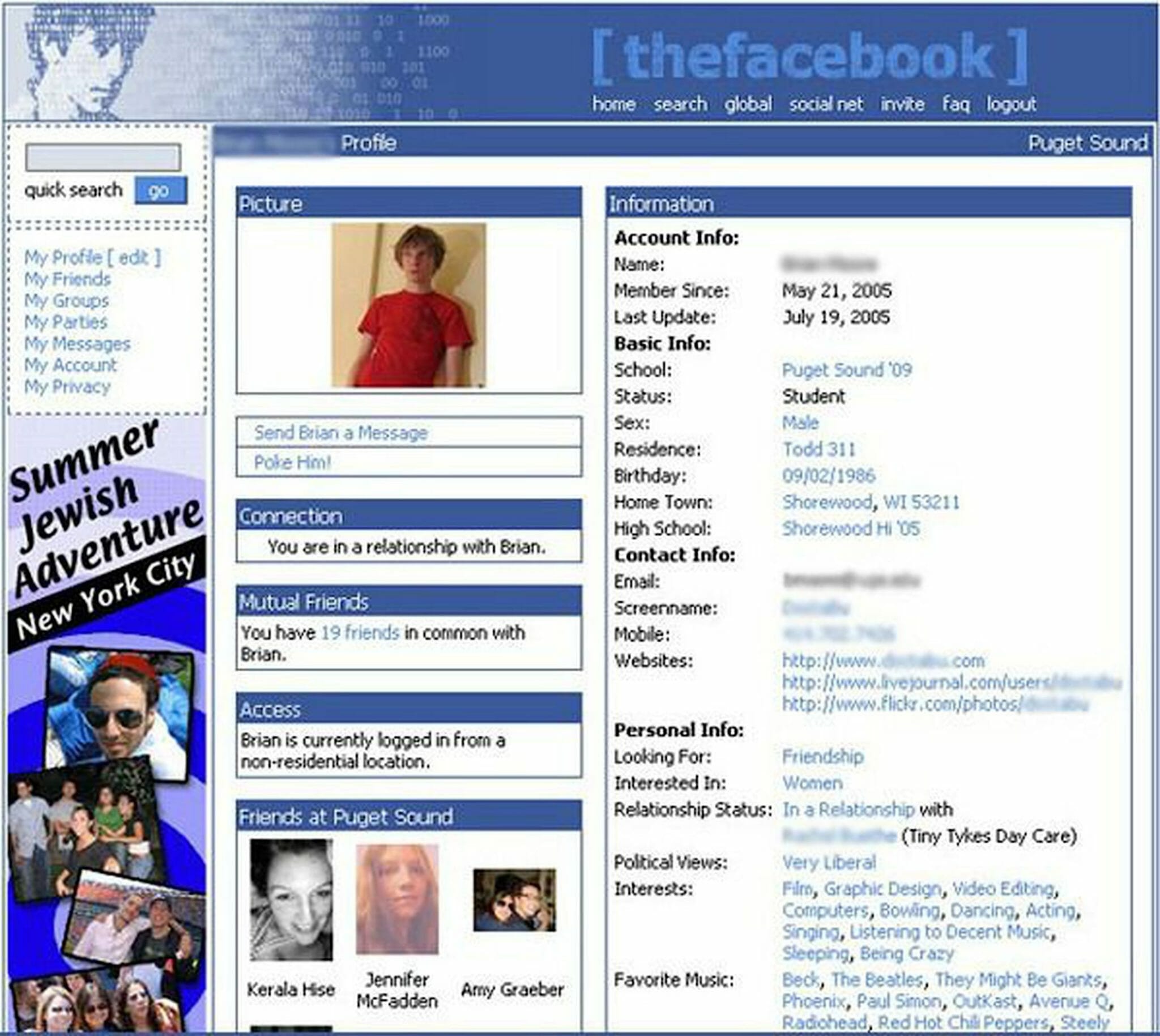 But in the thirteen years since, many brands are still not using social media networks to the extent that they can. This is poor business sense since, after all, social media is now one of the first places that people go when researching brands and interacting with them. In fact, 54% of social media users go to a social platform when looking for new brands and their products.
Here are the eight social media marketing trends that you should implement into your overall digital marketing strategy.
Dive Deeper: The Impact of Social Media on Business
Trend #1: Video Content Will Dominate Social Feeds
If we're honest, video content is already dominating social media. Here is a look back at the impact of video marketing as: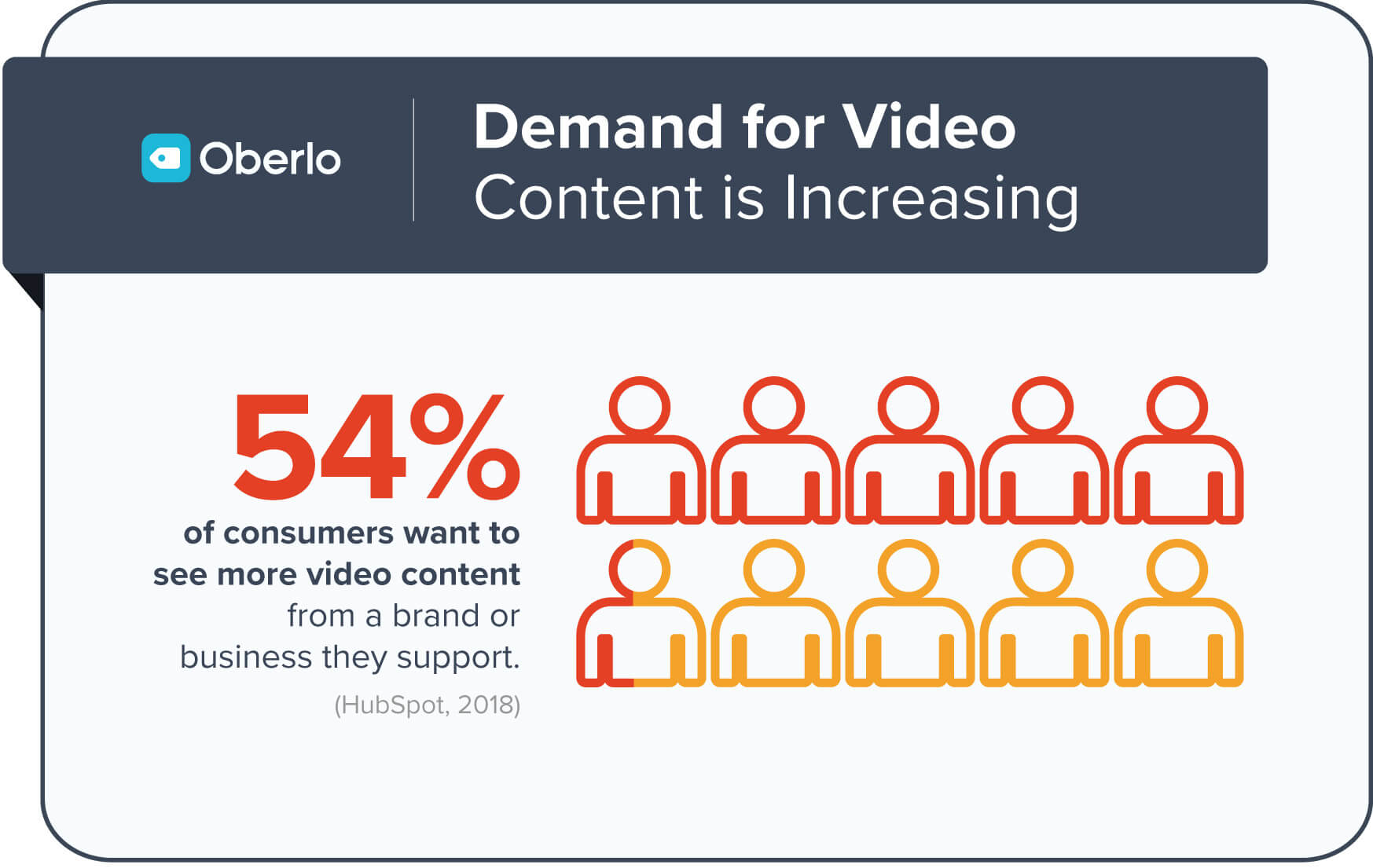 HubSpot reports that 85% of businesses now use video as a marketing tool and by 2022, as much as 82% of all Internet traffic will be video content.
So 2020 is the year that your brand needs to step it up and implement more video marketing across all social media platforms!
Click To Tweet
It's abundantly clear that video content is the future. Brands that continue to sit on the sidelines are making a huge mistake, and they will find it difficult to catch up with their competitors if they don't adapt sooner rather than later.
Dive Deeper:
Trend #2: Stories Will Take Center Stage
Social media Stories is basically a kind of news feed, but one that is visual rather than text-heavy.  The short video clip format popularized by Snapchat was once thought to be a mere adolescent's fad, sure to (or maybe hopefully to) die out quickly. Instead, it raged against all expectations to become one of the fastest-growing social media trends of the last ten years.
And now everyone wants in on the action. Facebook couldn't buy Snapchat, so they rolled out a copycat Stories feature on Facebook, WhatsApp and Instagram: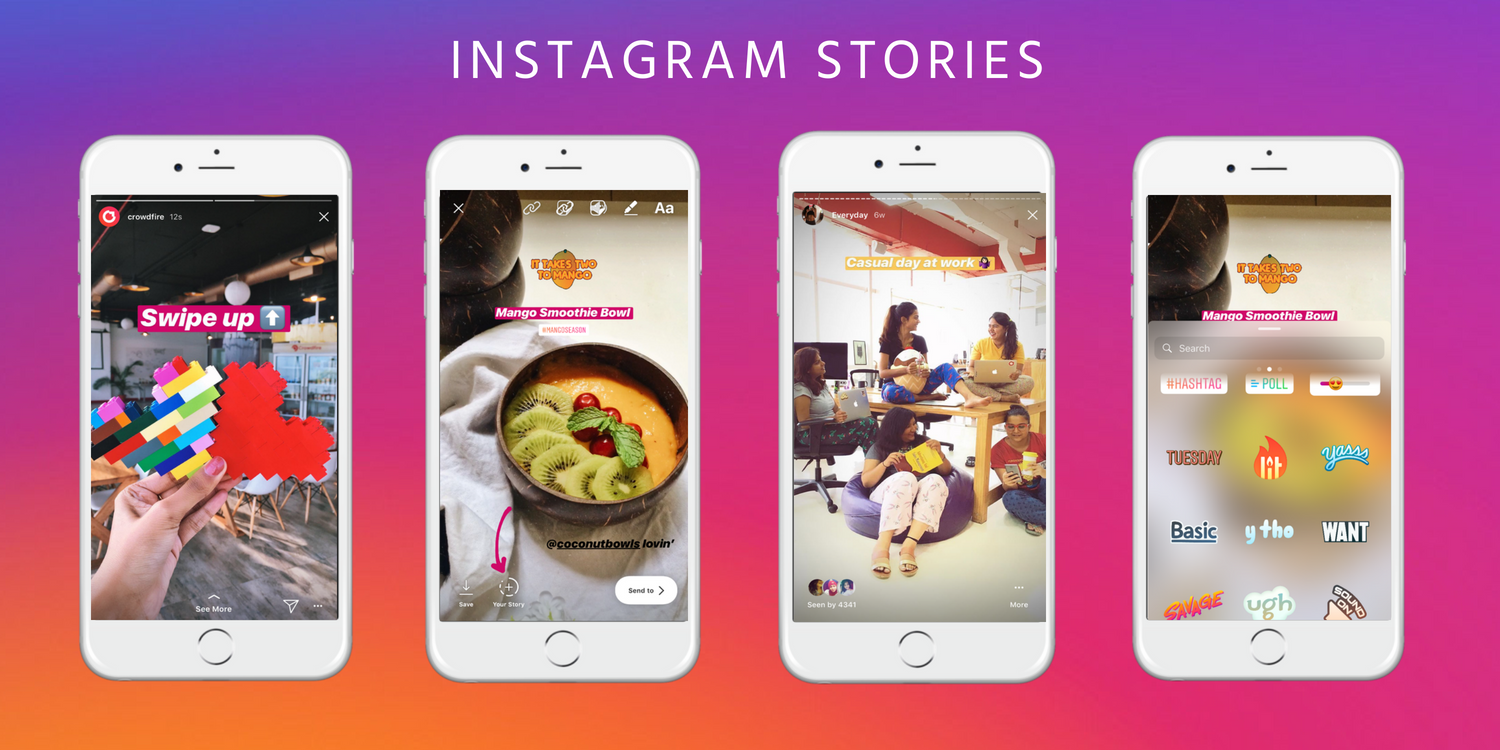 YouTube has its own version, too: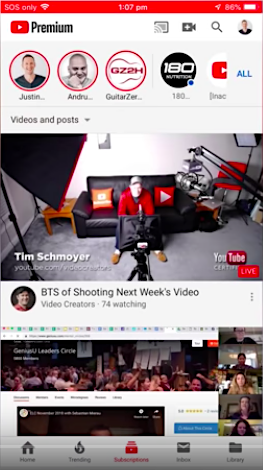 You can hardly blame these other social networks for copying Snapchat, as it presents incredible opportunities for marketing:
With video content now royalty in the marketing realm, the disappearing Stories format is the perfect channel to build rapport with followers. Marketers can capitalize on people's innate fear of missing out (FOMO), which affects 69% of Millennials, driving many of them to make purchases.
Another great feature is the ability to add polls or ask questions, which allows marketers to gather insights from their audience, building engagement through simple interactive content.
Ephemeral content makes people feel comfortable with sharing more of their unedited, less-than-perfect moments without the fear of being judged. Therefore, it opens the stage to more genuine marketing that resonates with wider audiences. In 2023, more brands will get on board with Stories.
Dive Deeper:
Trend #3: More Companies Will Use Influencer Marketing
Influencer marketing is another well-established tactic that is not going anywhere in the foreseeable future. Indeed, 63% of marketers plan to increase their existing budget for influencer marketing because the ROI is that good – $5.20 for every $1 spent: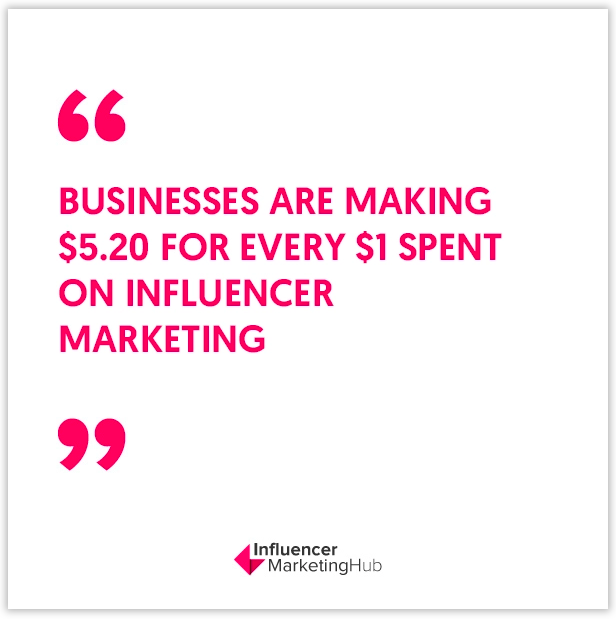 The reason that influencers work so well is that consumers are wary of ads and untrusting of faceless corporate brands. As such, they place more trust in someone they know – even if the relationship is entirely online. Social proof comes in many forms, whether it's friends and family, acquaintances or the customer reviews section on an e-commerce store. In any case, consumers give more weight to these reviews than they do to a brand.
Social media is the influencer's realm, and the beauty of it is that you don't have to be a massive corporation with deep pockets to avail of its benefits. Small and medium businesses with a limited budget can tap into the power of influencer marketing by partnering with micro-influencers (those with between 1,000 and 1,000,000 followers).
Instagram may be hiding likes, but that shouldn't harm the platform too much. Statista projects another big year of growth for influencers on it:
Ali Parmelee explains that micro-influencers are more powerful for a brand's purpose than, say Ryan Reynolds, because:
"[Micro-influencers are] more accessible because people love to see themselves in these aspirational ads, and that more niche, everyday-person influencer makes that much easier."
With that in mind, the continued growth of influencer marketing – especially with micro-influencers – is destined to be one of the biggest social media trends.
Dive Deeper:
Trend #4: Augmented Reality (AR) Will Go Mainstream
When it comes to futuristic technology in marketing, AR is arguably the most exciting trend right now. Augmented reality is defined as:
"…a technology that incorporates digital elements into the actual line of sight. As the name suggests, augmented reality is an effort towards enhancing reality with the help of digitally generated images and features."
By 2022, the augmented and virtual reality market is expected to reach a market size of $209.2 billion, up from a mere $14.1 billion. Pokemon Go and Snapchat filters and lenses are probably the best-known examples of AR in "everyday" use, but think of how else brands can better use this technology: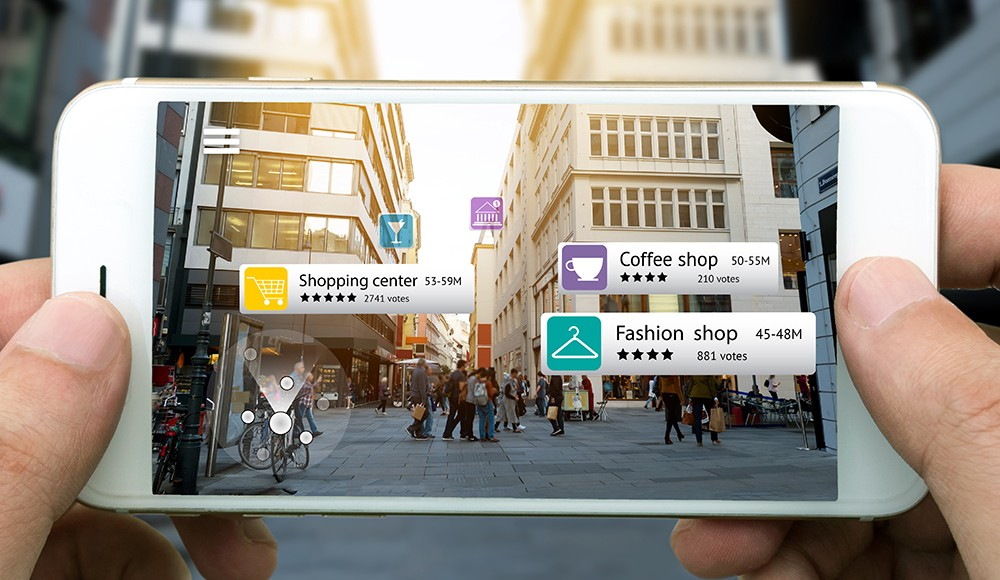 When it comes to AR and social media, adoption has been slow, but as the technology evolves to offer more than just mere games, applications for e-commerce, personalized marketing and product discovery are gradually picking up.
Facebook's AR Studio is a "powerful tool designed to make stunning interactive experiences for the Facebook camera" with which you can "distribute your content to more people across new surfaces including Instagram, Messenger and Facebook Lite."
Augmented reality allows you to transform the customer experience in a way never before seen – a truly interactive shopping experience.
Cosmetic brand Sephora uses AR (along with VR and AI) with their Sephora Virtual Artist app. This technology allows users to "try on" different types of make-up products without ever stepping foot into a store; all they have to do is upload a photo of their face to the app. Sephora is an innovative example of how you can use augmented reality to personalize and improve the customer experience: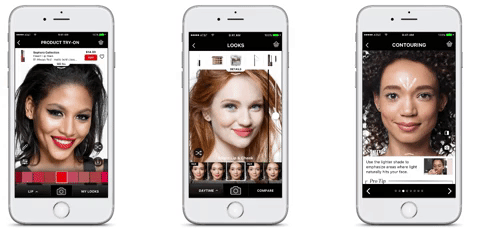 Some of the ways that brands and marketers can use augmented reality to promote their products or services include:
AR virtual stores on social media: Turning social shopping into a more unique and immersive experience.
AR and live events: Allowing your global audience to attend your brand's event from wherever they are in the world.
AR videos: Create interactive AR videos to show your customers how to use your products (like an interactive product demo or explainer video).
AR for better brand awareness: At this point the technology is new enough that an AR experience is highly shareable – which means great word-of-mouth marketing.
AR technology opens the doors to vast opportunities for marketers, and as its capabilities improve, barriers to entry fall, so you can expect big strides for this channel.
Trend #5: Social Commerce Will Be Massive
The merging of e-commerce and social media was always a matter of time, and 2020 will be the year that their marriage goes mainstream.
Gen Z spends up to 3x more time shopping on social media than the average consumer and most of this is done on Instagram and Snapchat, where influencers are a massive driving force. In 2019, 42% of 18-34-year-olds used social commerce regularly: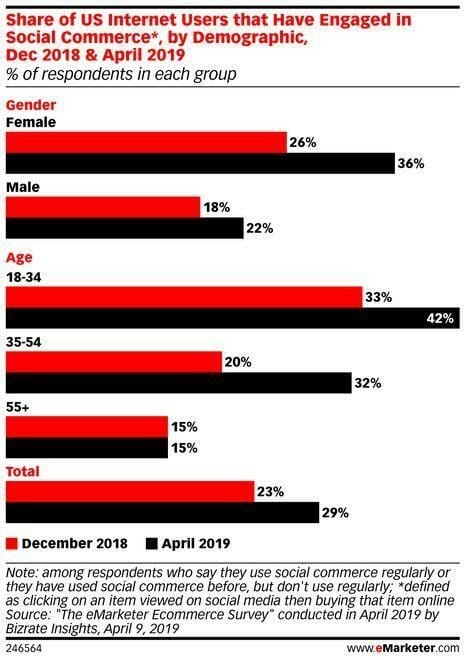 Giving consumers the option to buy products without having to leave the social platform – such as shoppable posts – is a huge step forward in offering a better user experience for Internet buyers. Instagram is leading the way with this: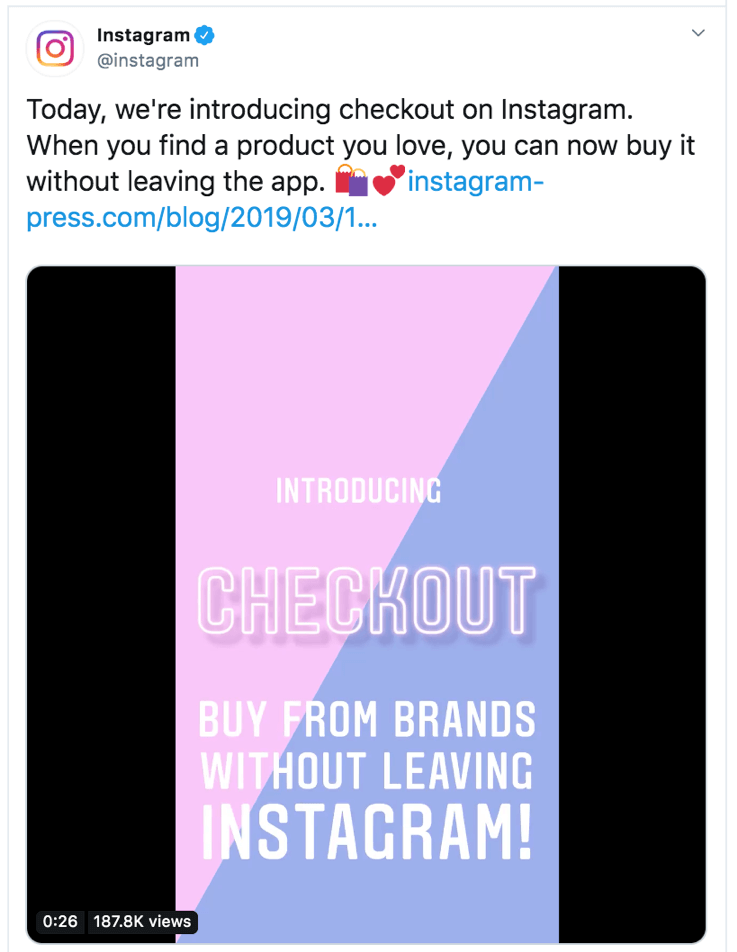 Moreover, it's a move that is readily welcomed by consumers, as studies show that 87% of online shoppers believe social media helps them make purchasing decisions: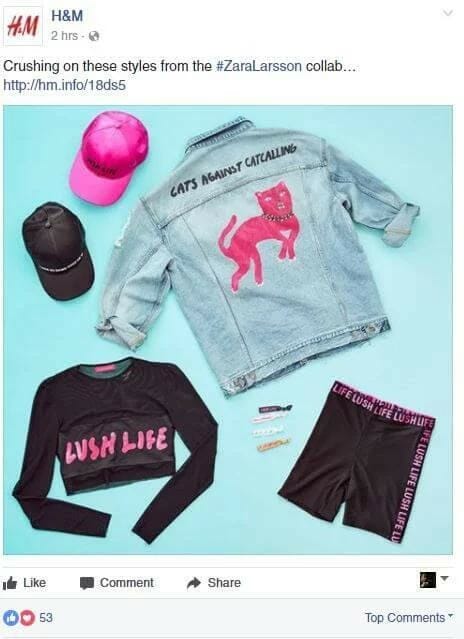 The growth of social commerce will help marketers create shorter sales funnels and give consumers access to a smooth and quick buyer's journey that is sure to increase customer satisfaction.
Dive Deeper:
Trend #6: Customer Service Will Be all About Chatbots
There was a time when the idea of communicating with a robot was a hair-pulling anathema, as people would rather avoid the pre-recorded flowchart-like experience and talk to a real human instead.
Now though, people want to interact with chatbots. Why? Well, advanced technology means that chatbots are smarter, quicker, always available and more effective than the clunky software systems of old:
90% of businesses report faster complaint resolution with chatbots
56% of people prefer to message companies rather than call customer service.
Chatbots can save 30% on customer support costs.
Little Ice, or XiaoIce in Chinese, is Microsoft's biggest chatbot success story: She's Weibo's (China's largest social media platform, with 445M+ monthly active users) top influencer and has over 850,000 followers. People who follow XiaoIce interact with her more than 60x every month. She even passes, on average, the Turing test for ten minutes, which means that users don't realize that she's a bot for the first ten minutes of chatting with her.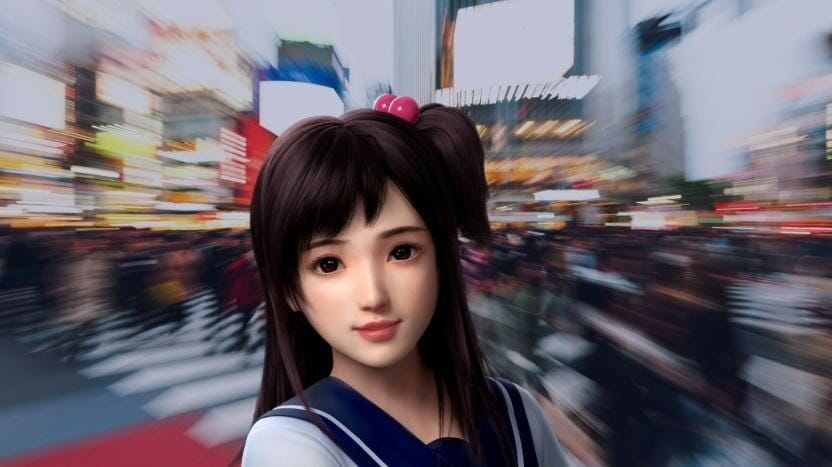 When business owners see that chatbots can communicate with several customers at once, work without breaks or pay, and never get tired, they're bound to give the technology a try. In 2023, there's no better time to experiment with chatbots, as they will help you improve the customer experience, nurturing trust, and adding to your bottom line.
Dive Deeper:
Trend #7: Many Users Will Go on a Digital Detox
As of January 2019, Smart Insights reported there were almost 3.5 billion social media users around the world – about 45% of the human population. You can expect that to grow.
However, despite all the social media trends we've discussed so far, there is also a chance that fewer people will use social media:
35% of adults in the UK have cut back on social media
Reasons cited are trust issues (26.2%) and concerns over privacy and data protection (21.4%)
8% of users have both deleted their accounts and removed mobile apps
27% of users stopped using social media because they felt addicted to it
29% of people deleted their social media account because they felt overwhelmed by it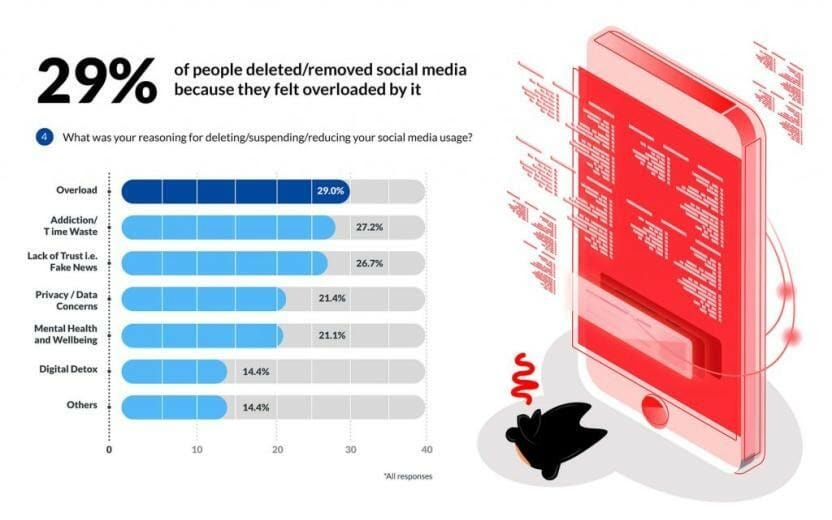 After the Cambridge Analytica scandal, 44% of users aged 18-29 deleted the Facebook app from their phone, and although Facebook has mostly recovered, the exodus has continued across many platforms. All the apps, screens, social pressure and privacy concerns are coming together, making people worry about their personal information, their mental health or simply the time they're wasting on social media platforms.
In our digitalized world, marketers have come to count on the fact that most people own a mobile phone and use apps every day, but this digital detox strategy will have to change in order not to further overwhelm people and drive them to delete your app.
Wrapping Up
So there you have the top social media trends.
As Gen Z and Millennials lead a new wave of social commerce and engage in interactive video content and augmented reality apps, marketers will need to step up their game to stand out on social media.
It's certain to be a big year of innovation and evolution, with many brands finally taking the leap to try new digital marketing strategies. How will you make your mark on social media?