ClickFlow as a Clearscope Alternative
[LIMITED SPOTS] Want To Uncover Your True Potential and Achieve Financial Freedom? We invite you to join a FREE Masterclass with award-winning business leader, Eric Siu, where he shares his 5-Step Blueprint to Starting Your Dream Online Business That Gives You Freedom & Fulfillment.
Click Here To Reserve Your Spot Now.
Ranking on Google is harder than ever. As a result, more and more businesses are forced to update and refine their search engine optimization strategies to get and stay on page one of the SERPs. Indeed, a forecast indicated that SEO spending would surpass $80 billion by the end of 2022.
This huge amount of competition means that getting organic traffic to your site these days is no easy task. If you want a solid chance at ranking, you'll need to use some of the new and innovative tools that have been developed to polish your SEO game. Your competitors will be using them, so you should, too.
ClickFlow and Clearscope are two of the new SEO tools that are leading the pack. Both of them can help whip your content into shape in different ways.
Here, we're going to go over the ways that ClickFlow can be a bit easier on your wallet while still providing incredibly powerful tools that not only rival, but surpass, Clearscope in many ways.
What Are ClickFlow and Clearscope Used For?
Both ClickFlow and Clearscope are designed to help businesses refine their SEO efforts and make their content more robust from an SEO perspective.
Even in the face of growing SEO interest, many businesses are utilizing what Clearscope refers to as "SEO Lite." It's a very simplistic way of approaching SEO: find a keyword, place it in your title, write it 2-3 times in the body, and then include it in your meta-description.
While this approach will get some results, content that uses this strategy will have trouble competing with pages that utilize advanced tools that monitor for LSI (latent search intent) keywords, A/B testing, heading keywords, and more into account.
Put simply, ClickFlow and Clearscope both provide deeper insights into Google's algorithm and allow users to get a pretty good idea of how their content will rank even before they post it. That way, you won't end up writing content and then waiting six months just to find out that it's not successful  — you'll be able to tell right away.
Dive Deeper:
* 10 Effective SEO Techniques to Drive Organic Traffic in 2022
* Ecommerce SEO Case Study: How Primary Arms Increased Organic Revenue by 47%

What Do ClickFlow and Clearscope Have in Common?
Both ClickFlow and Clearscope have a very similar content editor/optimization page.
In ClickFlow, it looks like this: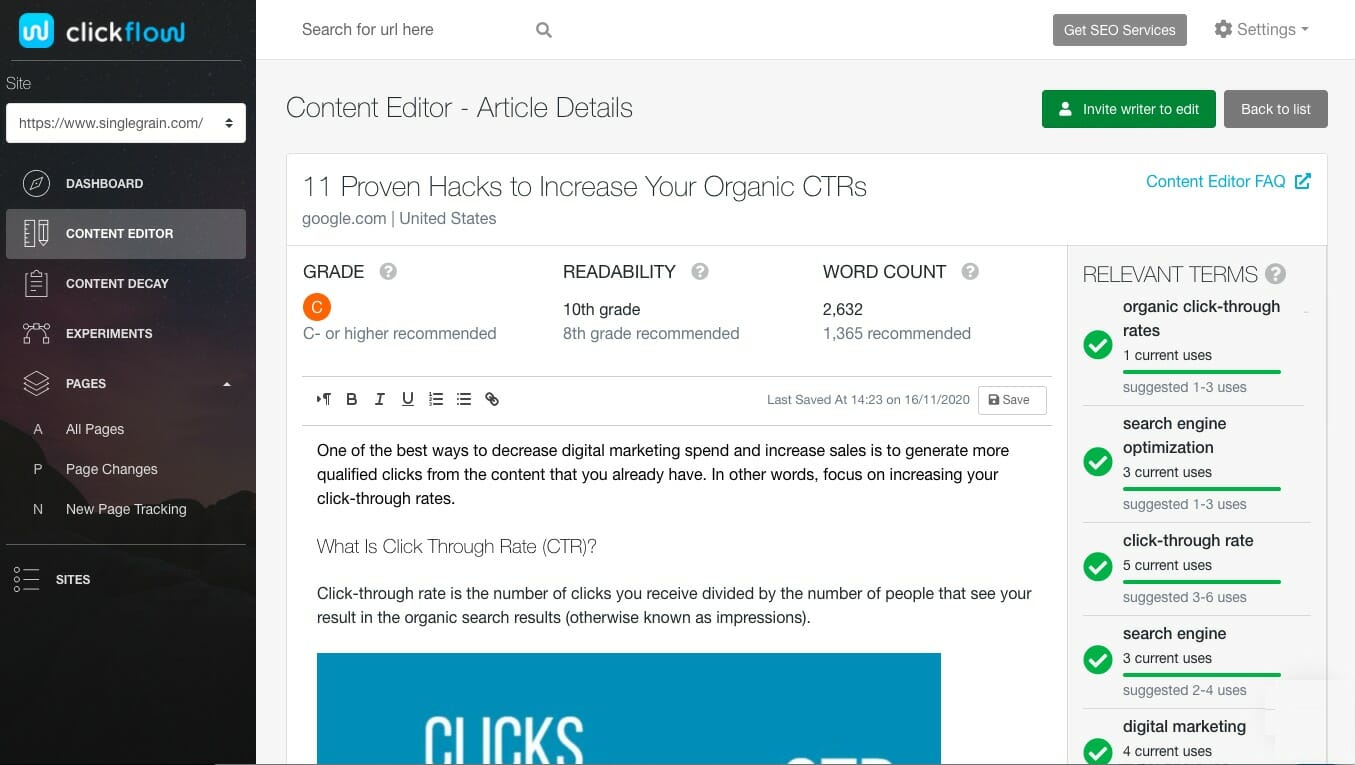 In Clearscope, it looks like this: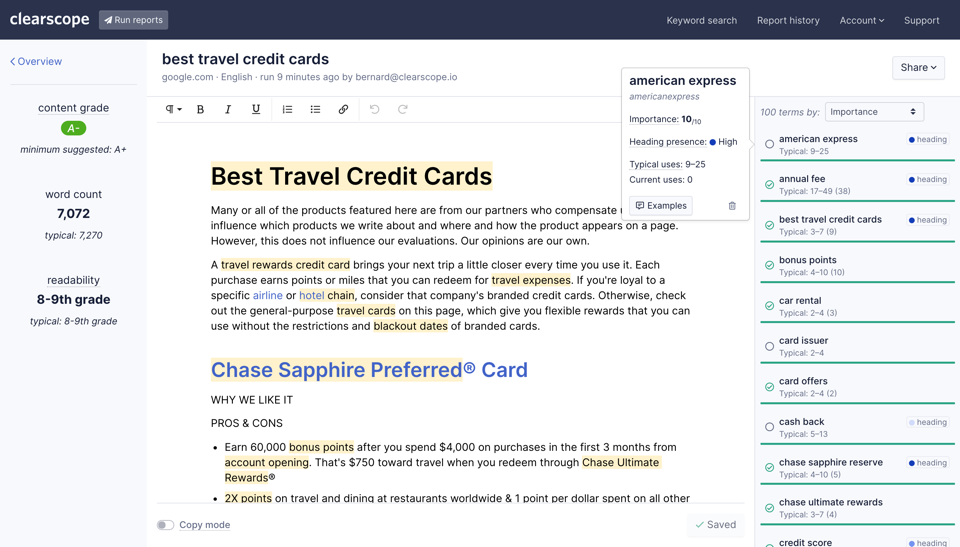 In both tools, this screen is where you'll get suggestions on what relevant terms (LSI keywords) to include, which are based on competitors' articles. Adding these into your content will boost your content's grade, which is a measure of how it will perform on the SERPs.
Why does this work? Well, Google's algorithm is designed to help searchers find relevant content, and a single keyword simply can't tell the full picture.
For example, you could search for "best balance transfer credit card" and find a page that includes the keyword in the title, headers, and a few times in the intro paragraph. Sounds like the content would be relevant, right?
However, once you get past the first paragraph, the rest of the article turns out to be about evidence of Bigfoot, and you realize you've stumbled onto a strange corner of the internet by mistake.
By including related terms like "APR," "transfer fee," or "monthly payment," you're showing Google that your content is relevant on more than just a surface level — it'd be incredibly hard to write a solid piece of content about credit cards without these terms, after all, and it'd be even harder to write an article about Bigfoot that includes them!
Essentially, ClickFlow and Clearscope can help you find "hidden keywords" that will help your content rank higher. Then, they will grade you on how well you're using those keywords, which reflects your chances of ranking highly on the Google SERPs (search engine results pages).
Want to grow your organic traffic by 20-100%? We built ClickFlow, a suite of SEO tools designed to increase your organic rankings and scale qualified traffic for your website. Click here to learn more and get started.
How Do ClickFlow and Clearscope Differ?
While both ClickFlow and Clearscope offer a content editor/optimizer, Clearscope doesn't go much beyond that. Clearscope is pretty much entirely focused on its content optimizer window, and provides almost no other features.
ClickFlow, on the other hand, offers several additional SEO features that help you not only write and optimize content, but track it over time to make sure that it stays competitive for the long haul with more clicks and traffic.
ClickFlow's Additional Features
Now that we have a solid grounding in terms of how these tools compare and contrast, let's put ClickFlow under the microscope to see what it offers in comparison to Clearscope.
SEO Element Testing
If you have experience with digital and performance marketing, you'll likely know how important A/B testing is.
In short, A/B testing lets you run experiments on elements of your marketing campaign. For example, if you're running an ad, you could make two versions with slightly different wording. Then, you'd run both at the same time, see which performs better, and focus on the winner.
Generally, A/B testing is used for ads, landing pages and CTAs, but ClickFlow allows you to A/B test your SEO elements as well. It syncs up with Google Search Console and helps you do things that GSC cannot do from an SEO perspective, such as improving the click-through rate of a page.
You can A/B test:
Titles
Meta descriptions
Page elements like headers and subheaders
Keyword changes that might affect the ranking of your pages
You can also run grouped URL tests (perfect for large sites that want to run tests for several URLs at the same time, making the process much faster)
ClickFlow will then tell you how these changes will affect your SERP ranking.
After running a test, ClickFlow will save your results so that you can keep track of how you're improving over time.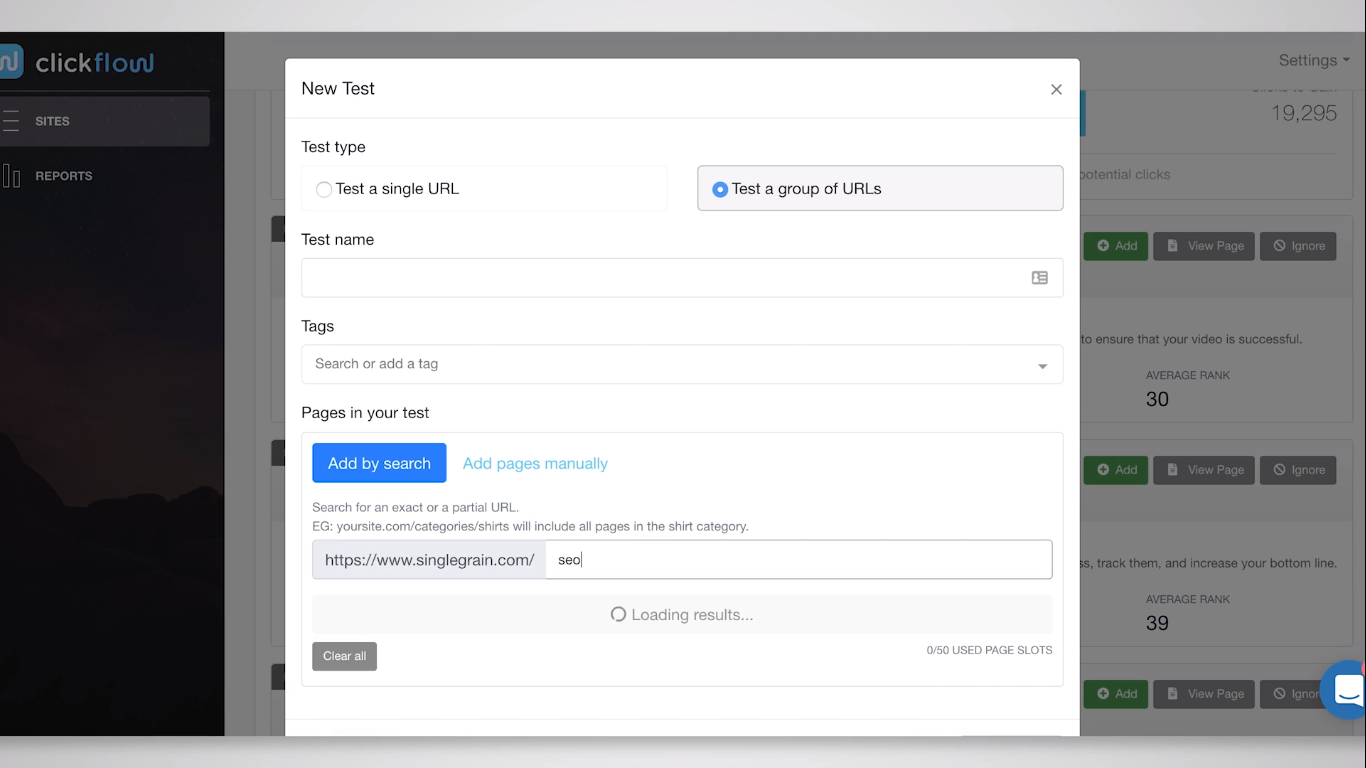 Dive Deeper:
* What Is A/B SEO Testing?
* 8 Quick SEO Wins You Can Get by Using ClickFlow
* How to Run A/B Tests that Actually Increase Conversions

Content Decay
Unfortunately, even if your content starts out strong and ranks highly, that can change over time. Lots of SEO-focused content builds upon current content using the Skyscraper Technique, so content that isn't frequently updated will naturally start to fall further down the rankings over time.
Usually, businesses won't notice that their content is slipping in the rankings until they do a manual check. That means that their content may experience significant traffic drops before they notice something's up.
ClickFlow attempts to nip this problem in the bud by making content decay clearly visible. When using ClickFlow, you can navigate to the Content Decay tab to view the pieces of content that are in need of a refresh.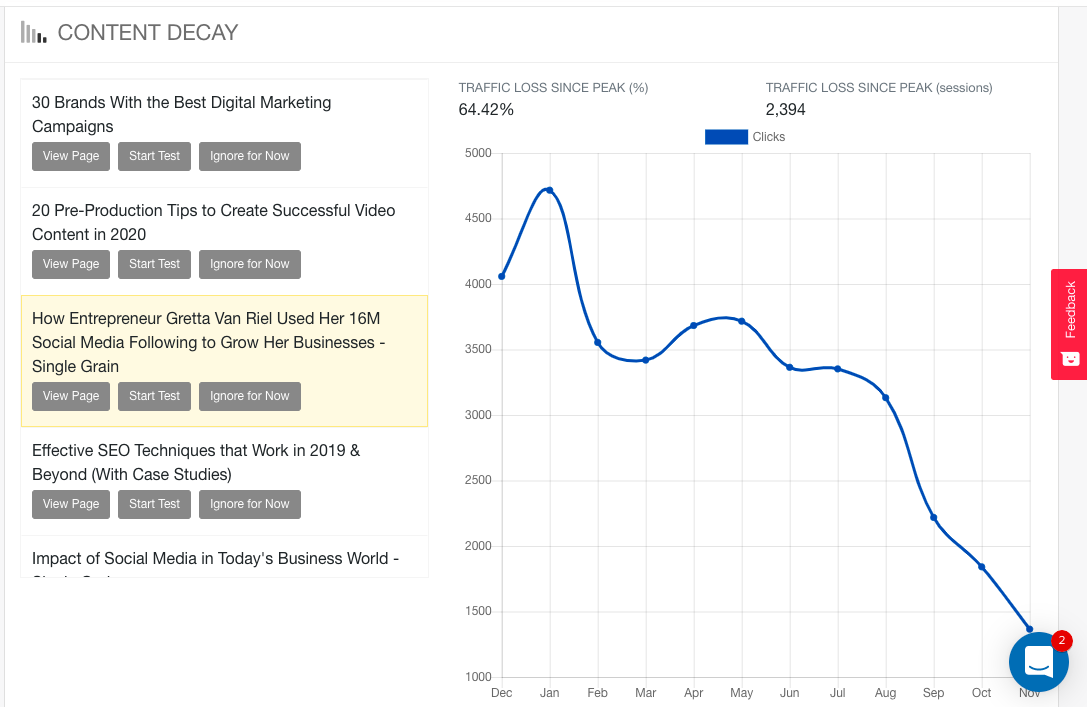 To do this, ClickFlow connects to your Google Search Console account. Then, it will pick out the best content decay opportunities for you.
When you click on one of the opportunities, you'll see a graph of your traffic over time. Perhaps most importantly, Content Decay displays your traffic loss since peak traffic as a percentage. It will also tell you your traffic loss since peak traffic in terms of lost sessions.
Check out this 2-minute video to see how Content Decay works:
Dive Deeper:
* What Is Content Decay and How It Affects Your SEO
* Why You Should Update Content – Or Risk Losing The Traffic You Have [Case Study]

Change Monitoring
One of ClickFlow's greatest strengths is that it doesn't treat SEO as a simple snapshot in time. Instead, it treats strong SEO as a process that occurs over time.
That means that ClickFlow monitors for changes over time and notes the adjustments that lead to increased traffic. As a result, you can get a better idea of what sort of changes impact your SEO and apply those strategies to all or some of your content.
ClickFlow notifies you whenever there's a new growth opportunity for you to improve your ranking in the SERPs: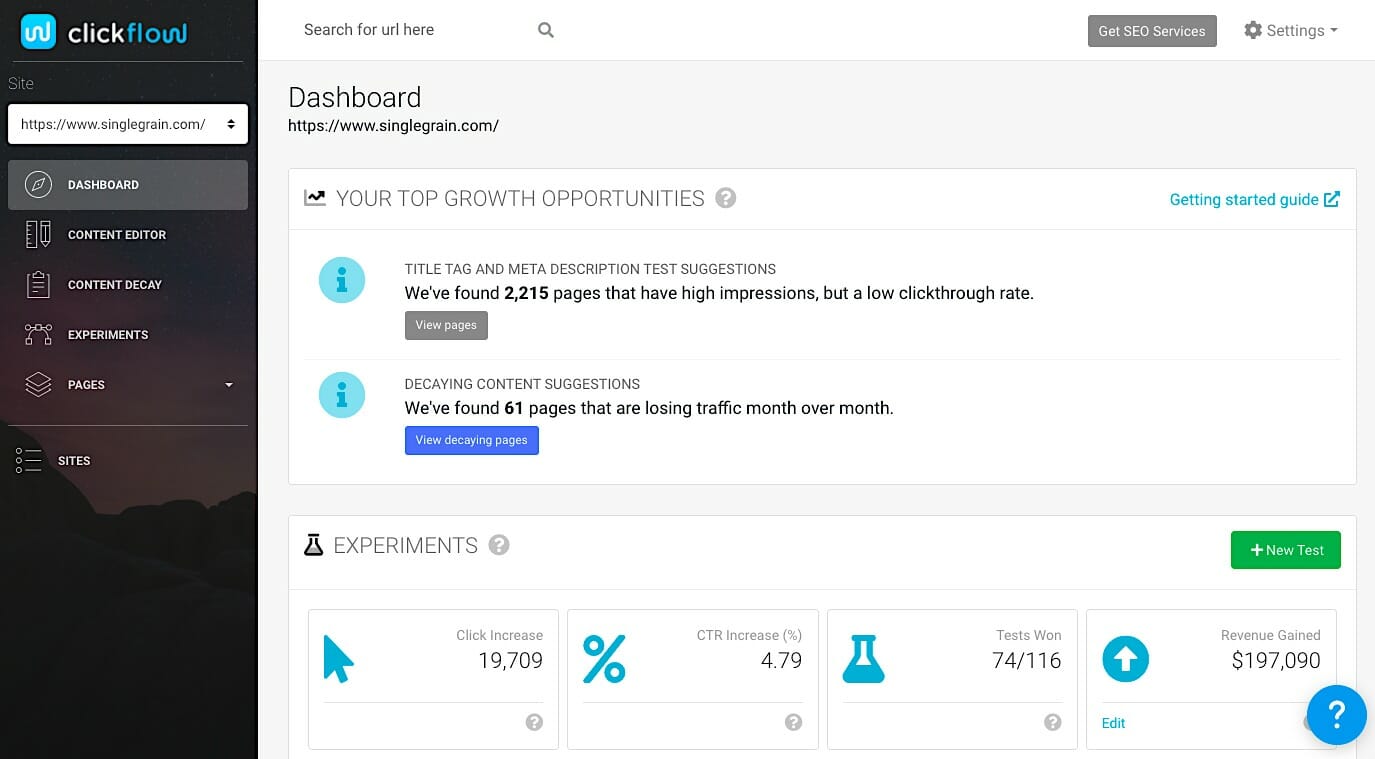 Dive Deeper:
* How to Decide What SEO Tests to Run
* SEO Strategy for Startups: How to Win in 2022

Keyword Tracking
As you've probably noticed by now, SEO isn't stagnant. To really be successful, you need to monitor your content over time and make changes according to your findings.
Keyword tracking is another way that ClickFlow helps you do this. It provides a list of the top 50 keywords you're ranking for and allows you to see whether you're losing strength in any one of them: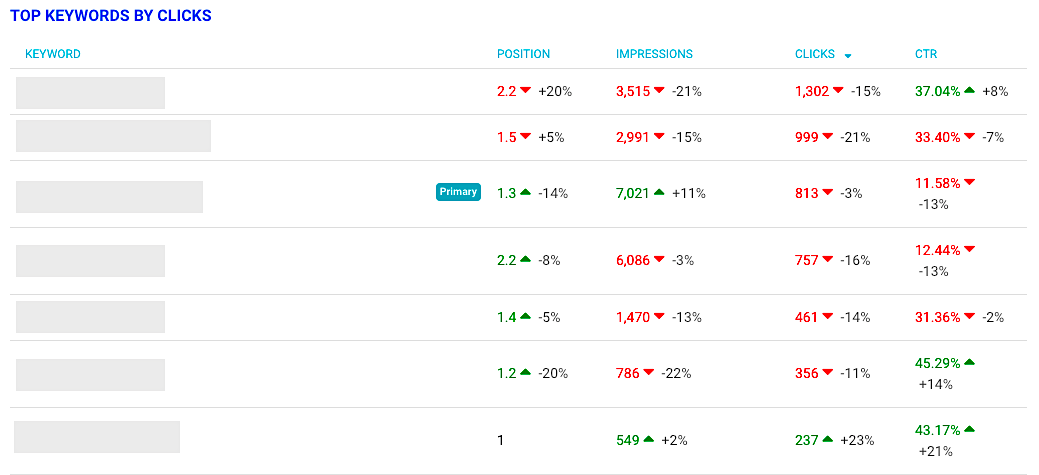 Based on this, you can readjust your strategy to bolster keywords that are falling behind. Or, you can decide that some keywords just aren't working out for you and redirect your time and money away from them to focus on content with a higher ROI.
Dive Deeper:
* The Best Way to Track Your Keyword Rankings in 2022
* How to Use Google Keyword Planner for Content Creation
* Why You Should Use Long-Tail Keywords in Your SEO Campaign

Clearscope vs. ClickFlow: Key Takeaways
Clearscope and ClickFlow have a lot of overlap, but they are also quite different beasts.
Clearscope focuses entirely on the content creation process and doesn't provide many features outside of that. With Clearscope, you will get a powerful content optimizer, but you won't be able to use it to track the progress of your SEO efforts.
ClickFlow, on the other hand, offers a more holistic approach to content strategy. Not only does it offer a robust content editor, but it includes tools that help you view your SEO efforts as a process that evolves over time.
In this way, ClickFlow provides additional strategic benefits that help you fill in weak spots and identify strengths. Essentially, it offers tools that allow you to experiment with your content in many different ways and derive actionable insights from the results of your tests.
Pricing:
ClickFlow starts at $109 per month for the Starter plan (only if you have less than 10K/month organic traffic; over 10K/month organic traffic, you'll need to contact the company for customized pricing).
Clearscope has a steep price tag of $350 per month for the Professional Plan, which may make it out of reach for many marketers and small businesses.
Summary of How ClickFlow Can Help You:
Run Grouped URL Testing: If you have a large website, running single tests can be overwhelming. That's why ClickFlow allows you to run tests using the group testing feature where you can test multiple URLs at once.
Automatic Reporting: ClickFlow automatically records each test that you run so that you can check how much success you have had with this tool over time.
Stay Up-to-Date on Opportunities: ClickFlow sends you notifications every time there's a new opportunity for you to boost CTRs and improve ranking in the SERPs.
Revenue Calculator: The results of your tests are recorded automatically and are displayed in a revenue calculator that shows how much your company will benefit from the increased traffic.
CTR Goal: In the suggestions tab, ClickFlow shows you the average click-through rate for the top 100 pages. You can set your CTR goal and check how many clicks you can gain by improving the click-through rate by a certain percentage.
Identify Top-Performing Pages: See how each page on your site is performing over time, the top 50 keywords for each page, average position in the SERPs, impressions, clicks and CTR. This can help you identify your top-performing pages quickly and gives you more ideas for writing better titles.
Highlights Best Content Decay Opportunities: ClickFlow connects to your Google Search Console account and shows you a graph of your traffic over time. Content Decay displays your traffic loss since peak traffic as a percentage and shows you your traffic loss in terms of lost sessions.
To learn more about which SEO tests you should run on your website, read this article.
Want to grow your organic traffic by 20-100%? We built ClickFlow, a suite of SEO tools designed to increase your organic rankings and scale qualified traffic for your website. Click here to learn more and get started.
Watch this 4-minute ClickFlow demo video to get a better idea of how it can help you increase traffic!