Podcasts are a unique medium. And that's why podcast advertising is so powerful.
When people listen to podcasts, they're able to connect with hosts in a way that's hard to replicate on any other platform. There's a strong level of intimacy that's built between hosts and listeners.
In this post, we'll talk about how to craft and run podcast ads on podcasts that are the best fit for your specific audience.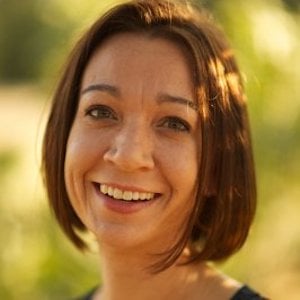 Kim Cooper
Director of Marketing, Amazon Alexa
Single Grain enables us to increase our impact without increasing our headcount
Podcast Advertising Numbers
The rise in podcast advertising stems from a rise in popularity in the medium itself. Consider these numbers:
40% of American adults and teens have listened to a podcast at some time or another
67 million Americans listen to a podcast on a monthly basis
42 million Americans listen to a podcast on a weekly basis
As the popularity of podcasts grow, advertising on podcasts is expected to grow, too – and at a rapid rate over the next two years. According to Bridge Ratings, podcast ad spend will cross the half-billion mark ($534 million) by 2020. For 2018, spend is expected to hit $316 million.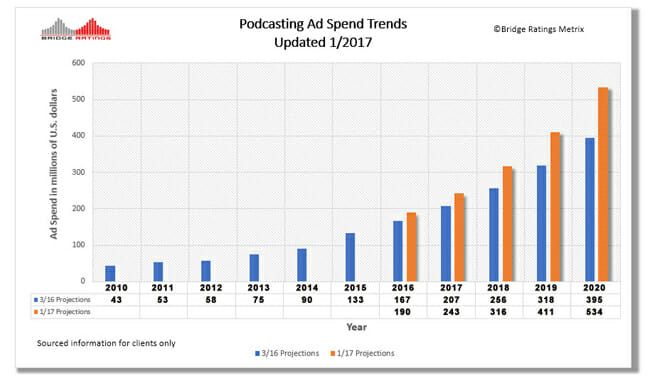 Podcast ads are different from ads on other platforms. For instance, unlike platforms such as YouTube, it's impossible for listeners to download software to "block" podcast ads. There is no "adblock" for podcasts. The context around podcasting also makes it difficult for listeners to ignore the ads. More than 25% of podcast audiences listen during their morning commute or while doing other tasks (like chores or working out). That makes it inconvenient to manually skip the ads.
Secondly, listeners actually enjoy listening to ads: 67% of podcast listeners don't mind sponsorship messages (compared to 6% of TV or commercial radio listeners). Part of the reason is because of the bond that listeners develop with their favorite hosts.
Podcast audiences don't feel like they're listening to an advertisement; they feel like they're listening to a recommendation from a friend. This makes podcast ads a powerful tool for marketers.
Click To Tweet
How to Run a Podcast Ad
Step 1: Understand the Jargon
There are terms for different types of ads that are helpful to know before getting started.
Pre-roll ads are 15 to 30-second ads at the beginning of a podcast and are placed either before or after the host introduces the show. Pre-roll ads are a bit more formal than the others, and usually feel like an advertisement.
Mid-roll ads are 60 to 90-second ads that are typically run during the middle of an episode. The host will pause the show to talk about the product, similar to a commercial break on a TV or radio show. But in this case, instead of a marketer advertising the product, the host will advertise it. Mid-roll ads feel the most native, but are also the most expensive out of all the ads.
Post-roll ads are 20 to 30-second ads that run at the end of a podcast. Because post-roll ads appear when the show is over, driving listeners to a CTA can work especially well. Listeners will still be engaged with the show, but won't have to keep it top-of-mind as it's ending. They're more receptive to going to a website, remembering promo codes, etc.
"Live read" ads are ads that fit naturally into the flow of the podcast. The host promotes the product live on the show during the "commercial break", then picks up the show afterwards. Live reads also allow opportunities for the host to go off script and include a personal story or some anecdote that ties into the product. Live reads feel like they're part of the show's content.
"Recorded read" ads are pre-recorded ads that are read by the host and inserted into the show at appropriate times. Pre-recorded ads still leave room for anecdotes from the host, but don't feel as native as a live read does. Recorded reads can be effective for lengthier ad copy, or ad copy that seeks to achieve a particular set of outcomes. The only downside is that because the ad feels more like a "commercial", it makes it a bit easier for listeners to tune out mentally.
Further Reading:
Step 2: Find a Podcast Network
When you craft a Facebook ad or a YouTube ad, you're able to use an "ads manager" tool within the platform to create and distribute your ad.

But when it comes to podcast ads, it's not possible to use platforms like iTunes or Stitcher to create and distribute your ads. Instead, marketers use podcast networks. These specific networks act as middlemen, matching advertisers with podcasters.
One example of a podcast ad network is Midroll, which helps advertisers run podcast ads on shows that match their specific audience. The biggest benefit of going through podcast networks like Midroll is that advertisers get access to podcast hosts who may otherwise reject them if they reached out independently.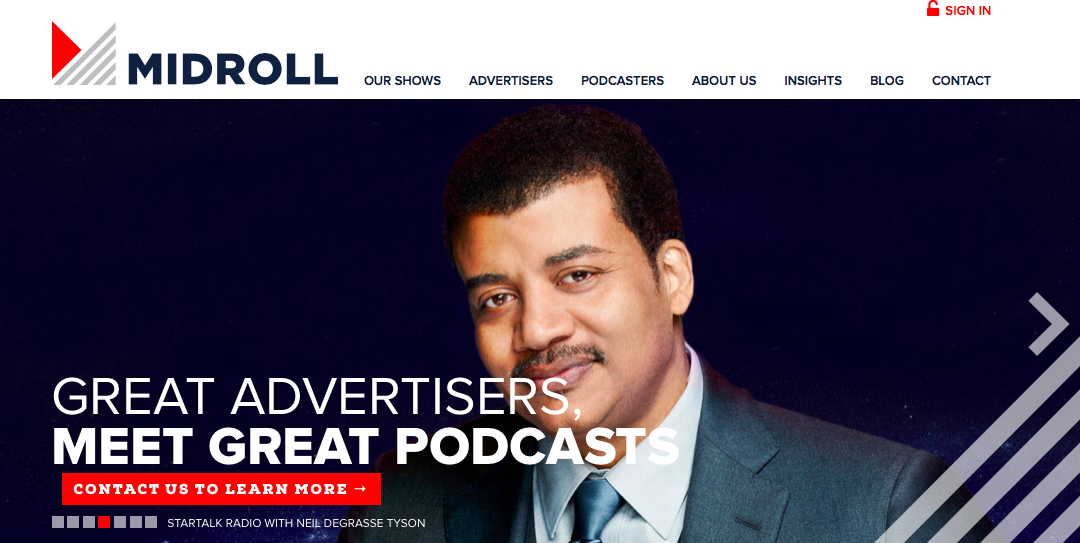 Hosts like Neil DeGrasse Tyson and Bill Simmons have made money by promoting content from Midroll advertisers. And companies like HBO, Toyota, T-Mobile, SquareSpace, and more have used Midroll to deploy ads across a variety of podcasts.
Midroll provides a "create-a-campaign" flow for podcasts, similar to how Facebook or YouTube provide flows for creating ads on their platforms.
For example, advertisers are able to create campaigns and define which type of ad they want (pre-roll, mid-roll, or post-roll):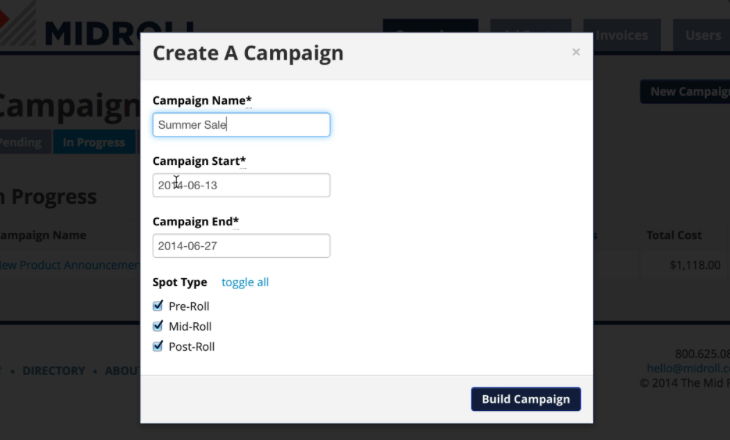 Advertisers can also select start dates and end dates for the campaign, just like a normal paid ad.
Next, advertisers can select which podcasts they'd like to advertise on: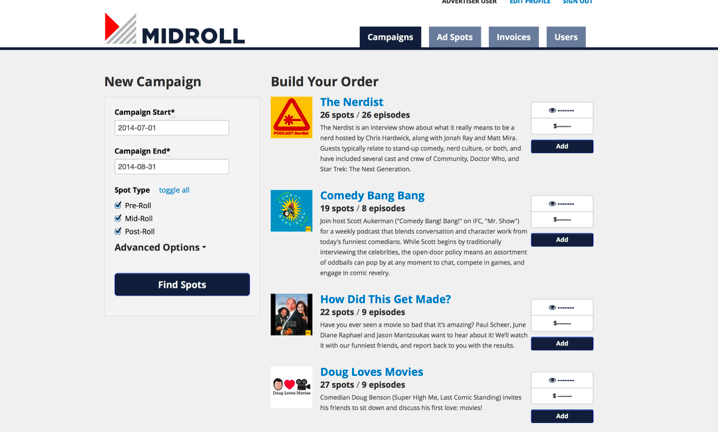 Finally, once the campaign is live, advertisers can log in and check the cost, number of downloads, and cross check how many listeners completed the CTA that was mentioned in the ad.
Step 3: Craft Your Criteria According to Best Practices
When deciding on your ad criteria (i.e. length, style, where to place the ad, etc.) it's important to keep a few best practices in mind:
Timing. Although the average podcast is about 30 minutes, people typically listen to just 22 minutes per podcast. This is important to keep in mind when deciding on ad placement for any podcast. For example, if you're buying a post-roll ad at the end of a 3-hour podcast, you might not get many people to complete your desired action. Instead, you might buy a mid-roll ad on a podcast that lasts for 45 minutes to capture listeners right before they're about to tune out.
Length. On Apple's podcast app, listeners have the ability to fast-forward or rewind by 15-second increments. Given that the vast majority of people use Apple's podcast app to listen to shows, the length of your ad makes a difference. For example, if you produce an ad that's 10 seconds long, it won't be as easy to skip as a 30-second ad.
Style. The way an ad is delivered has a huge impact on its effectiveness. The main reason that podcasts work so well is because many of them are delivered in an authentic, spontaneous way. It's more intimate than a pre-recorded ad.For example, Mack Weldon, a men's clothing company, bought a spot on Wolfpop's "I Was There Too" show. Mack Weldon gave the show's host, Matt Gourley, complete freedom to advertise the product any way he wanted. The result? Gourley delivered a very NSFW, profanity-laden ad on his show. And it doubled sales for Mack Weldon.
Further Reading:
The ROI of Podcast Advertising
Podcast advertising isn't just for branding. It can also be immensely profitable.
For example, Bombas, a company that makes athletic leisure socks, used Midroll to distribute their podcast ads.
According to VP of Marketing Kate Huyett, Bombas had a tough challenge – they had to convince people that buying a special pair of socks would really add value to their lives. Most people look at all socks as being the same. So how could a company like Bombas differentiate themselves?
According to Kate, podcast ads that are read by hosts feel more like a recommendation from a friend than a Facebook or Instagram ad. Doing it this way created a stronger desire to check out Bombas and people overcame the initial skepticism that the product wasn't different from anything else that was out there.
The case study also mentions that the format of podcast ads made it easier for Bombas to tell their story. The company is driven by a social cause – for every pair of socks the company sells, they donate a pair to sock charity companies which help people suffering from abuse or poverty.
Heartfelt stories like this are easier to get across in a podcast because of the intimate, personal nature of the medium. Listeners feel as though hosts are their friends, which makes it easier for them to relate to personal backstories.
And it's paid off. According to Bombas, all data suggests that their podcast advertising efforts have been profitable.
They measure ROI through "vanity URLs", which are URLs that are custom-made for the show. For example, they offer a promo codes or discounts to listeners who visit bombas.com/showname, and sign up with their email. These custom promo codes help them track the sales they get from each specific podcast.
For Bombas, 50-60% of revenue comes from paid traffic, and podcast advertising makes up between 15-40% of that.
Mack Weldon, the other Midroll advertiser we mentioned above, says that podcast advertising doubled their sales. Their "secret" was to let the hosts be themselves. Instead of providing an ad script, they let podcast hosts promote their product in whatever way they see fit for their audience. They trust that the host knows the audience best.
When hosts are free to be themselves on a live read, the ad sounds more native to the show, and listeners are more likely to stay tuned.
Related Content: Podcast Advertising in 2023: What's Next?
Conclusion
In many ways, podcast ads are the closest thing to paying for word-of-mouth marketing. When listeners tune in to a podcast over time, they build a sense of intimacy with the host. And when that host promotes a product, it feels like that recommendation is coming from a good, trusted friend – especially when it's done through a live read.
Entire companies are being built on the back of podcast advertising, like Onnit which grew to $28 million in revenue primarily by getting ad spots on major podcasts.
If your company has a story to tell, podcasts can be an effective (and profitable) way to get in front of the right people.
Check out our 10-minute Marketing School podcast, with hosts Neil Patel and Eric Siu!
For more in-depth entrepreneur interviews, take a listen to our Leveling Up podcast!
Need help with podcast advertising? We'll get your products and services in front of a captive audience with our podcast advertising services. And we have a competitive edge: Our CEO puts out two 5-star rated podcasts (so we know this niche inside and out!). Get a free consultation here!