It's official. Podcasting has gone mainstream.
In 2019, more than half of Americans have listened to a podcast, up from 44% just one year earlier:
Today there are more than 750,000 podcasts available, spanning every subject from comedy to entrepreneurship.
Podcasts have emerged as both a viable media channel and an effective marketing one. As the field continues to grow, so will the opportunities for content creators.
Here are some of the big trends we're seeing, and where we think it's going to go next.
A Brief History of Podcasting
Originally, podcasting technology began as an extension of the RSS news feeds created by web developer Dave Winer. Former MTV VJ Adam Curry had been encouraging him to find a way to publish RSS feeds with multimedia, so in 2004, Winer launched a podcast called Morning Coffee Notes, and Curry launched his Daily Source Code show.
In 2005, Apple introduced "podcatching" software and a podcast directory to iTunes, and that's when podcasting really started to take shape. Early podcast pioneers included Ricky Gervais, Adam Corolla and Chicago Public Media, which introduced the still-popular show, This American Life.
Podcasting was humming along until 2014, when the true crime podcast Serial debuted. By the end of the first season, the show had been downloaded more than 68 million times. This marked a turning point for podcasts, as people who had never listened to one before tuned in for Serial and then discovered whole networks of content that they hadn't previously known existed.
And although Serial is still the most downloaded podcast in history, it's NPR that currently boasts the largest unique monthly U.S. audience of any podcast.
Dive Deeper:
What Are Premium Podcast Networks?
Though podcasting began as a largely free venture, there's been some movement recently by premium podcast networks that aim to offer a more unique or curated experience – for a fee.
Luminary, one example of these premium podcast networks, wants to be the Netflix of podcasting. They operate on a freemium model: you can listen to all the shows you can get everywhere else for free, but if you want exclusive, original content, you'll have to pay a fee of $7.99 per month.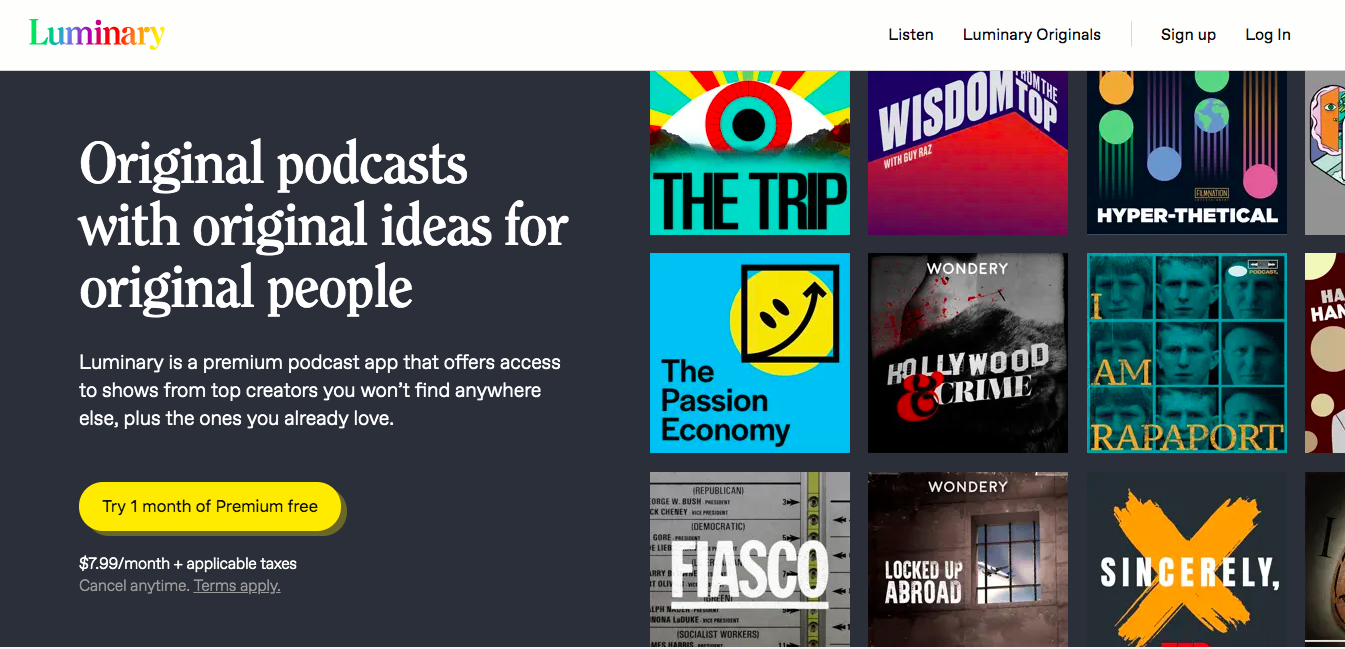 The fee is worth it for many listeners. Luminary's premium content includes 30+ podcasts hosted by personalities like Trever Noah, Lena Dunham and Russell Brand, plus shows devoted to history, politics and the ever-popular true crime genre.
Luminary's business mirrors Netflix's early days, when they first began earning attention for producing high-quality, original shows like Narcos and House of Cards. Luminary's premium content is also ad-free, and they've invested a lot of resources into discoverability for podcasts, something that other podcast networks struggle with. The algorithm will recommend podcasts you might like based on what you listen to and what your interests are.
Since regular podcast listeners tend to be more affluent, it makes sense to launch a subscription-based service: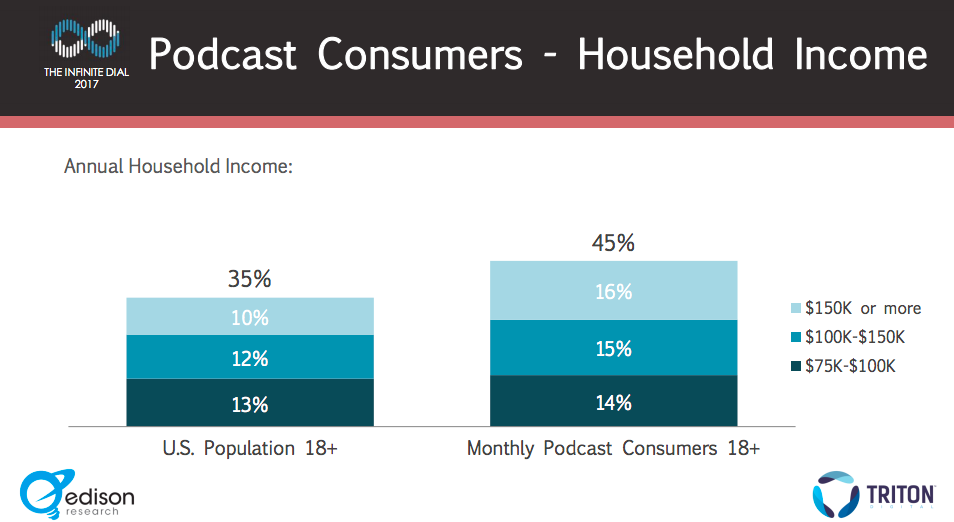 Podcasters like Bret Easton Ellis who have fled the free networks to launch fee-based podcast content on sites like Patreon may find better homes for their shows within premium networks such as Luminary, which is why I expect to see more and more of them popping up in the future.
Podcasting Is Big Business
Investor Mary Meeker has been releasing her highly anticipated Internet Trends Report every year since the '90s. One of her earliest entries discussed the gap in the monetization of Internet users, which closely parallels what we've been seeing in podcasting as well. But with more and more players entering the field, that's starting to change.
If you still have doubts about podcasting becoming a viable media channel, consider this: Luminary raised $100 million dollars for its launch. That's a lot of dough.
As podcasting becomes more mature, more companies are scrambling to get in. Earlier this year, Spotify purchased Gimlet Media, home to podcasts like Reply All and Homecoming, and Anchor, a service for easily making, distributing and monetizing podcasts, in a deal said to be worth $340 million dollars. It seems that Spotify is in the audio business now, rather than just the music business.
A recent Stratchery article about Spotify's acquisitions describes their three-pronged approach to conquering the podcast market:
Anchor will provide Spotify with a way to capture new podcasters
Spotify Advertising will become uniquely positioned as the dominant ad provider for the entire podcasting industry
Gimlet Media becomes the brand under which Spotify launches exclusive products
According to Spotify's CEO Daniel Elk, quoted in the same article:
"What we're doing here and what we're excited about is really building the market, it's at a very, very different stage of maturity. So we're investing in that and we think we can be one of the tent-pole players in that space."
Pretty smart, right?
Interestingly, Apple hasn't made any moves to take advantage of the 500,000 podcasts available on iTunes. This has allowed these other companies to sprout up and do things that Apple isn't doing. They may not outpace Apple in terms of volume, but they're finding ways to generate revenue that the tech giant hasn't even bothered to try.
Dive Deeper:
More Avenues for Podcast Monetization
Podcast advertising and Patreon don't usually generate enough income for podcasters to quit their day jobs, but the more popular the medium gets, the more opportunities arise for people to make money from it. Here are a few ways to do that.
Podcasters Are Throwing Events
Much like the music industry, many podcasters are making money not just from people listening, but through live events. My Favorite Murder puts on shows all around the world, and Marketing School — Eric Siu and Neil Patel's podcast — just threw its second live immersive conference.
Podcasts Are Expanding Past Audio
Podcasts are also being developed into other media channels as well. For instance, 2 Dope Queens spawned an HBO show, while Gimlet Media's Homecoming was developed into a series for Amazon Prime, starring Julia Roberts.
Often, the more media channels a popular story is broadcast on, the more motivated people are to seek out information about it.
With HBO's recent miniseries, The Case Against Adnan Syed, for example, many viewers hadn't actually listened to the Serial podcast before. Not only did many of these viewers go back to listen to the podcast's original material, many probably also tuned in to the Undisclosed podcast, which picked up the case where Serial left off.
Building Off of Pop Culture Phenomenons
Another great example of this is all the Theranos content that's come out or gone into production recently. First, there was the book Bad Blood: Secrets and Lies in a Silicon Valley Startup, which became both an ABC podcast and an HBO documentary. Each of those vehicles became a marketing channel for the other two — and an effective one at that.
Podcasting Is Becoming Integrated into Daily Life
The great thing about podcasts is that you can listen to them anywhere. The not-so-great thing is that they aren't integrated with all of our technology: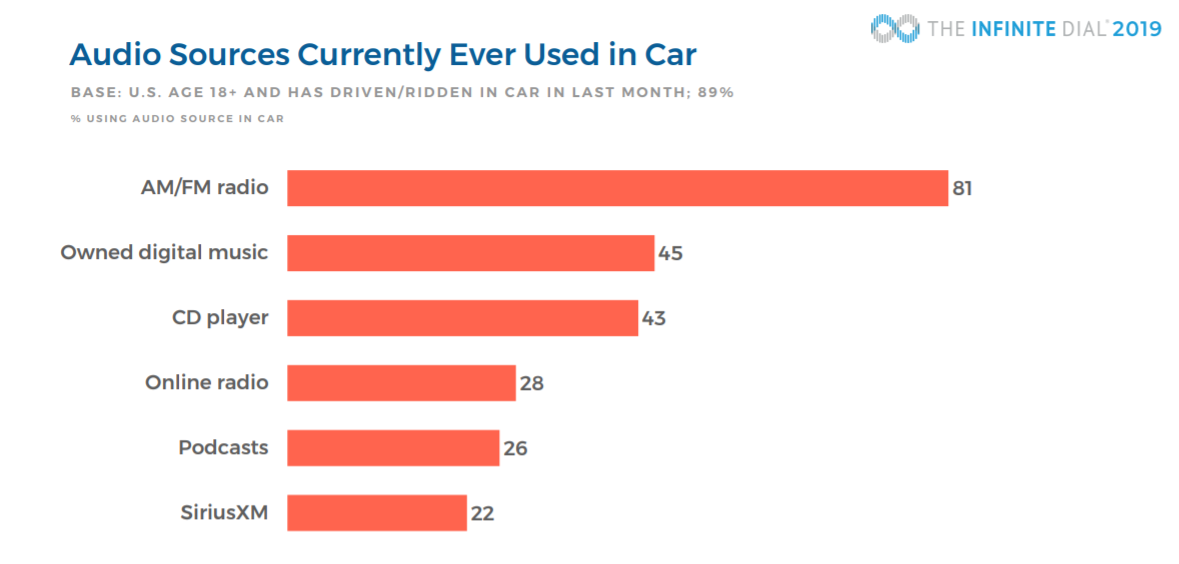 Roughly 26% of U.S. adults listen to podcasts while driving, presumably through their smartphones and/or Bluetooth.
At home, though, most people would probably prefer to listen to podcasts through their smart speakers, including Amazon Alexa, Google Home or Apple HomePod. But the technology isn't quite there yet.
You can say, "Alexa, play the Marketing School podcast" and it will, but with other shows, it's often hit or miss. Although you can usually play the big ones (like all the NPR shows), many of the smaller shows don't come up. The same goes for televisions: You can get some podcasts on smart TVs or through a Roku, but it's still limited.
As podcasts become more mainstream, I'm guessing that we're going to start seeing more integrations with all of our devices. Ideally, these integrations would be streamlined enough that you could have your smart alarm clock wake you up with the latest episode of your favorite podcast, or you could listen to it on Google Home while you get ready for work. Your devices would then tell you when a new episode becomes available.
Although we're not quite there, we're moving toward a world where you can listen to any podcast you want, wherever you want and on whichever device you want. As a result, creators will likely start thinking about the impact of different formats.
For example, maybe you want your hour-long marketing podcast to live on Spotify, but you also want to cut it down into several quick tips podcasts that can be easily digested through Google Home. These are the kinds of questions that future creators will likely be asking themselves as podcasting technology advances.
Learn More:
AI's Influence on Podcasting
Finally, although it isn't talked about that much, artificial Intelligence (AI) has the potential to affect every aspect of podcast creation, delivery and consumption. Consider these applications:
Helping Content Creators Come Up with Topics Relevant to Their Audience
One of the hardest parts of hosting a regular podcast is coming up with fresh ideas — and coming up with fresh ideas that will appeal to your audience is even harder. Machine learning tools like HubSpot's Content Strategy Tool can help creators discover themes that are popular with their listeners and people like them.
Personalizing Ad Experiences on Podcasts
If you listen to a lot of podcasts on the same network, you'll probably hear the same few ads over and over again. Remember how MailChimp was a running joke during the first season of Serial?
AI will eventually allow podcast ads to be targeted to user interests and demographics, minimizing the repetition of delivering the same Blue Apron or Casper ad over and over. This is better for consumers and it's better for brands too, as 80% of customers are more likely to purchase a product or service from a brand who provides personalized experience.
Improving Podcast Recommendations and Content Notifications
Podcast networks that have robust discovery features are going to win out over those who don't, because the better they are at recommending relevant content, the longer users will stay on their network.
It's simple, really. The same way that Netflix emails you when they add a new movie they think you'll like, the podcast networks of the future will be able to do the same, whether through email, push notifications or even through your Alexa.
Learning Users' Listening Habits to Deliver the Right Content at the Right Time
In theory, AI will allow podcast networks to do better than just delivering content you'll like — they'll be able to deliver it when you want it.
For example, if you always listen to podcasts on your drive to work at 8:30 in the morning, you could get notifications that there are new episodes ready for download at 8:00. That way, you won't be scrambling to do so while you're on the road.
Or maybe you have a particular podcast you listen to on Saturday mornings while you do laundry. AI can figure that out and remind you when you wake up that you have new episodes to listen to.
The Future of Podcasting
As a podcaster myself, I'm excited to see where this industry will go next. Based on what I'm seeing right now, I'm guessing that the future holds many more big players in the space, more money available to creators and better technology for listeners (even more so if Apple decides to invest heavily in podcasting).
I also think we are going to get better content as creators figure out more ways to monetize podcasts and as premium networks look for their next podcast stars.