Marketing is all about delivering messages. More specifically, it's about delivering the right message, to the right people, at the right time, at the right place.
While many marketing and copywriting techniques are timeless, it's an industry that is ever evolving as we learn new things or, as in this, new technology is developed.
Web push notifications represent the latest of innovations in communicating with your customers. They build on the experience of the services that came before it like SMS, email, and application push notifications. The result has been a unique and powerful channel, ready for marketers like yourself to tap into.
Related Content: Marketer's Guide to Reddit Advertising
What Are Web Push Notifications (WPN) Exactly?
Web Push Notifications, or WPN, live in an interesting middle ground compared to the other popular marketing channels. They allow users to subscribe to notifications from a specific website through their browser.
How are they different from other web notifications? Easy. They push – just like any app notification on your smartphone.
But what does that mean? Unlike traditional web notifications, which require the user to keep the web page open in order to receive notifications, WPN can be delivered at any time regardless of what tabs are open. The only two requirements are that they've consented to receive notifications and that they have their internet browser open in some capacity.
With those two criteria satisfied, you can send your customers notifications all day long (though we recommend being a little less annoying).
They also work on some mobile browsers like Chrome and Firefox. When a user subscribes through their phone, the notification appears in the notification tray just as any native app would. Unfortunately, at this time, iOS doesn't support WPN and while it does seem to be in the pipeline, there is no clear sign of when they will available.
Why Use Web Push Notifications?
At first, it might seem like WPN are just like any other channel and their place in marketing not obvious. But they provide some considerable advantages when looking at the main alternatives.
Real-Time Communication
One of the biggest benefits is real-time communication. Especially in e-commerce, speed of communication is becoming increasingly important to consumers, both consciously and even subconsciously.
This allows you to serve time-sensitive notifications exactly when you want to engage with the user. Perhaps you want to solicit feedback quickly after providing a service or you want to send a special 8-hour promotion in the afternoon. The user will get your message within seconds.
This is very different from email where it may take users hours, or even days before they see your message. This, accompanied with the fact that our inboxes are more overloaded than ever is why some are claiming email's days as king are coming to an end. It's not going away, but you can't keep relying on email the way you used to.
Cheaper and Easier to Implement
While other push channels provide you with similar control, WPN distinguishes itself as being cheaper and easier to implement than most. We'll get to how you can use them soon, but you'll quickly see it's much easier than building your own native application. In fact, it can be as easy as setting up your email list was!
Natural, Native Delivery
Another key strength is that you're reaching out to customers in a natural, native environment. Whether it's their phone or desktop, you don't need them to log in anywhere or do anything special to get in touch.
This low-friction delivery is what contributes to WPN's extremely high "open-rate," or view-rate, which is the percentage of subscribers that actually see your message after it's sent.
Simple, Intuitive Engagement
Engaging with notification is frictionless too. All users need to do is click on or tap your message to launch your website or other content. This helps distinguish from channels like SMS which are much more difficult to engage with due to the platform's closed-nature.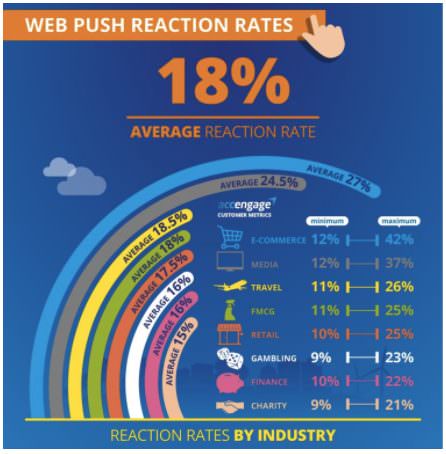 No Personal Information Required
And last but not least, web push notifications are growing in popularity because they allow you to communicate with your customers without requiring their personal information. No need to persuade them to hand over their phone number or even their email address. All they need to do is give you permission to contact them throw their browser.
Since the browser handles all the delivery and settings, customers reluctant to trust you with their private contact information may be more willing to subscribe to notifications.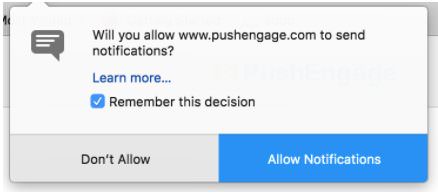 The Challenges of Using Web Push Notifications
But web push notifications aren't all rainbows and sunshine. There are some limitations you'll face when relying on WPN. Let's take a look at how those limitations stack up against the competition.
Starting from Scratch
Unlike some marketing channels, WPN do not have a way for you to add subscribers by yourself. This means you won't be able to port over your email list to get started. You'll need each customer to opt-in from scratch.
That means it may take some time before you have enough subscribers to really justify your ROI, but remember, marketing is a long-term game. If you are consistent with it, you'll get there soon enough. Use this time to learn and experiment with the subscribers you have so that once it reaches critical mass, you'll already be on your push-notification A game.
One quick tip – email your list to let them know you're rolling out push notifications. Tell them why and how this new channel will improve their experience. Priming your readers to look out for this update will make them more likely to opt-in when they visit your site the next time.
At least you know those who do subscribe will be fresh, engaged users.
Related Content: The Ultimate Guide to LinkedIn Ads
Timing
Timing is always important. But because of the real-time nature of your notifications, it becomes mission critical here. You need to send the notifications when your customers are most likely to read and engage with you.
That means when they're online and not too busy. Try pinging customers to tell them about your 2-day sale at 4:00 AM and see how well that goes.
This may all seem obvious at first, but many people forget to think about timezones. While it may be no big deal for an email to arrive at 6:00 PM in New York and 3:00 PM Los Angeles, it can be a huge buzzkill for WPN.
You'll also want to think extra hard about the type of content you're delivering. Try catching them with inspiring content in the morning or funny laughs in the afternoon. Send your promotion out right before lunch hour to make sure subscribers have a few minutes to check it out during their break.
But if you notice, while it can be a pain to have to put even more thought into your scheduling, this also gives you much more control over when your readers will actually see your message.
Can't Be Stored or Searched
This is probably the biggest downside to any type of push notification. They can't be stored, searched or accessed by the subscriber later like email can be. This means that if your customer doesn't have time to check out your promotion until tonight, they may forget about it completely or lose the coupon code you sent them.
However, there is a silver lining. This instant, but temporary, lifespan allows you to leverage urgency, a powerful psychological trigger that pushes readers to take action based on their fear of missing out on an opportunity.
Requires SSL
If your site isn't secure (displaying https:// instead of http://) with an SSL certificate, you will not be able to use it to send web push notifications. While it's not too complicated to get your site secured properly, the cost and effort may be a deterrent for some.
The silver lining here? You really should have your site secure anyway for SEO purposes. If using WPN is what pushes you over the edge to finally get your SSL certificate, then I have no regrets. Sorry, not sorry.
Related Content: Creating a Winning SEO Strategy for E-commerce Companies
How to Push Notifications
Getting Subscribers
As mentioned above, the first step to implementing any WPN strategy is getting subscribers.
Ironically, this is one area where I constantly see marketers screwing up. Taking the easiest and laziest route will only get you modest results.
Since the browser is responsible for delivering the notifications and there is the potential for spam and abuse, companies like Google and Firefox tightly control the inflow of new subscribers.
Each prompts the visitor with a basic, non-customizable notification window asking them if they would like to allow or block notifications from your site. There isn't much you can do about that. But what you can do is control when users see that prompt.
By default, the prompt will appear immediately, but as you can guess that isn't the best way to go about asking a new viewer to let you start sending them direct messages…
"Hey there stranger! Nice to meet you! I know you have no idea who I am yet, but please let me send advertisements to you 24/7!! Thanks!!"

Instead, you should consider putting the prompt on a delay or trigger. Delayed prompts show after a certain amount of time. This gives your visitor a minute or two to read your site and build up the momentum of trust before asking them to deepen the relationship.
Triggered prompts work by displaying the prompt only when the visitor completes a certain action – say visits a page, agrees to receive push notifications in a different prompt (that you control) or some other action of your site.
Note that clicking "ALLOW" doesn't actually approve the notifications, it simply launches a dialogue box that contains the standard browser prompt. While it does add an extra opt-in step, it provides an excellent opportunity to frame the dialog.
If possible, it's always best to try and fit the browser's default prompt into your flow as naturally as possible.
Creating the Notification
Push Notifications normally have 4 elements – the title, the message, the URL and your logo. The character limits for each of these tends to vary from platform to platform, between 40 and 120 characters for the message.
The URL represents the destination you'll be sending users to once they click on your notification and your logo helps customers quickly identify where the message is coming from.
Since you have so few characters, your objective is to spark interest and demonstrate value right out of the gate. Ask a question or provide a punchline. Use anything that makes them want to know more, but provides enough information so they can decide if it is relevant or not.
Managing All This
You'll need to be a bit technical to implement web push notifications on your own. But there are many services like PushEngage and OneSignal that can help you implement them. Both are free to start and PushEngage promises to keep it that way as long as you're a customer. They only upsell you on support and services.
For those of you running on WordPress, OneSignal also has a completely-free plugin to implement your push notifications.
The benefits of using a tool like this extend well beyond easier implementation. Many function as push-notification CRMs so that you can track and segment your audience like you would in Aweber, MailChimp or any other decent email CRM out there.
Another great benefit of using a platform like this is they allow you to set up and modify automation rules and notification drip campaigns more easily.
Related Content: The Marketer's Guide to Link Building
Monitoring Metrics
It's important to track your campaigns' success. That's why it's important to keep an eye on your key marketing metrics and tied them to specific business goals. Don't just look for a high CTR, which tells you people are interested in your offer.
Make sure to use UTM parameters to track the traffic entering via push notification. Then track how those users behave once they're on your site and if they're converting the way you'd like (sales, leads, shares, whatever moves the needle).
Once you start collecting data on your campaigns, use that information to tweak and optimize the next batch.
Conclusion
Web push notifications may be the fastest growing marketing channel of today. This is because it has some clear advantages over its predecessors.
But, it's important to keep in mind that every channel has its advantages and its place (yes, even print advertising). So don't dump your email list just yet. WPN can and probably should play a key role in your long-term strategy. But make sure to play on its strengths and supplement its weakness with different channels.
As our society and markets become increasingly complex it's only going to become more and more important that we focus on maintaining multiple touch points with our customer base.