Building a strong team that helps your company succeed and grow is always a tall order, and adding "remote" to the equation for your e-commerce business can make it even more challenging.
Remote working is a trend that has already been growing among startups and forward-thinking companies — not to mention with the aid of new technology, cloud-based SaaS software and faster Internet connections — and now with the COVID-19 pandemic shaking up the world, remote working is not only our new reality, but is certainly the way forward from now on.
Truth be told, these days you don't really have a choice but to finally ride the remote working wave.
In fact, recent research suggests that the amount of people who work remotely at least once per week has grown by 400% in the last ten years. That means:
36% of people work remotely at least once a week in 2023
9.5% of people worked remotely at least once a week in 2010
What's more, 42% of employees with a remote work option plan to work remotely more often in the next five years.
As an e-commerce brand, if you're comfortable asking your customers to trust you to deliver high-quality products without seeing you face-to-face, you should be able to do the same with your team. And while building a virtual team for your business won't be easy, going fully remote holds plenty of perks for both you and your employees.
You can use a pulse survey to make sure that your employees are happy and engaged. It's one of the most effective ways to get immediate and honest feedback from them while working remotely.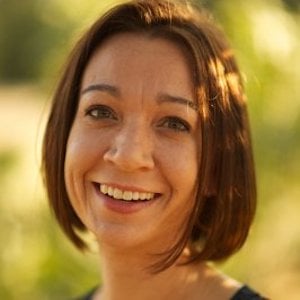 Kim Cooper
Director of Marketing, Amazon Alexa
Single Grain enables us to increase our impact without increasing our headcount
The Advantages of Building a Remote E-Commerce Team
If you run an e-commerce business, you may already be comfortable with managing a team of people who are not in the same office as you. But if you're having any doubts about embracing remote working for your company, just consider the following advantages:
Major Cost Savings on Office Real Estate, Fuel and Other Overheads
Being a fully remote company allows you and your team to save money on automobile fuel, office real estate and other overhead expenses associated with a physical office space.
For example, if you commute 10 miles one way for work and you work in the office five days a week, you probably fill up your car once a week. If you get 20 miles per gallon and the average price of gas is $2.60 a gallon, you'll spend $624 a year just on gas. However, if you work from home even two days a week, you'll only spend $374.40 a year, saving you $249.60.
In fact, according to a study by Global Workplace Analytics, if a company allowed an employee to work from home just half of the time, it would save, on average, $11,000 per employee, and each employee would save between $2,000 and $7,000 (not to mention the other costs, as shown in the image below):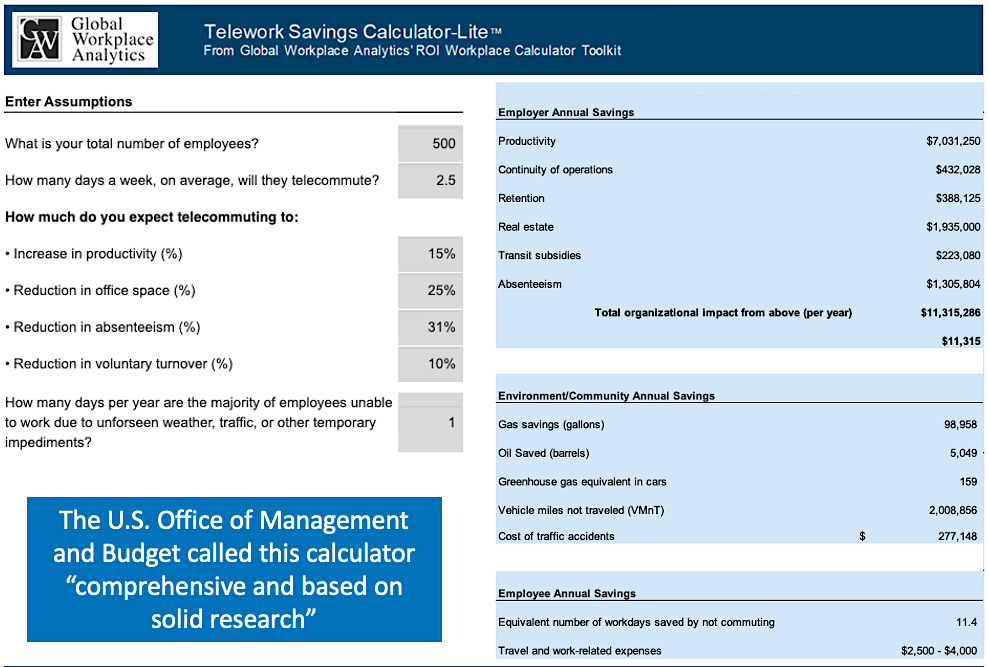 Plus, in terms of non-financial benefits, there's the time that everyone saves due to the lack of a daily commute, which can be used to get extra work done or even improve one's work-life balance.
Access to a Global Pool of Top Talent
As a business owner, by embracing remote work, you have a much better shot at getting the best talent from around the world.
When hiring remotely, besides the candidate's qualifications, skillset and experience, make sure to look for qualities that are indispensable in remote work, such as:
proactive in communication
self-motivated
able to prioritize and hit deadlines
trustworthy
And even with the right skills and experiences, not everyone is cut out for the remote work life, so here are some must-ask interview questions:
How do you stay focused on your tasks?
What collaboration and workflow tools have you used?
What do you need in your physical workspace to be successful in your job?
Do you have any side projects you're working on?
What are some of the challenges you've faced working remotely? How did you overcome them?
How do you switch off from work?
If you're not entirely sure about a candidate after a face-to-face round of video interviews, but you feel they could be the right fit, don't hesitate to arrange a follow-up interview to clarify your doubts.
Conducting remote tests and interviews is pretty seamless with the right tools, including:
Increased Productivity and Lower Absenteeism
For the majority of employees, working from home has many benefits:
77% of remote employees say they're more productive when working away from the office
52% are less likely to take time off
30% reported accomplishing more in less time
23% are willing to work longer hours to get more done
Plus, businesses can save around $2,000 per employee on office rent.
All of this is because when working from a location of their choice, such as their home or a neighborhood café, teams typically experience lower stress levels, fewer distractions, a more cozy work environment, working hours that better suit each person (not all of us are early birds!), and more productive (i.e. to the point) video meetings.
Simply put, a productive team means that more work gets done in less amount of time. Couple this with the fact that remote employees are less likely to take leaves of absence, and you can be sure that remote work is a clear win-win for your e-commerce business. Check out Hubstaff's article 14 Best Productivity Tools for Your E-Commerce Team for more ideas.
Related Content:
* 11 Best Video Conferencing Software
* 7 Questions to Make Sure Your Next Marketing Hire Is a Slam Dunk
* How to Conduct Effective Interviews to Get the Best Hire
* How to Use Dux Soup & LinkedIn to Scale Your Sales and Recruiting Efforts

5 Steps to Building a Virtual E-commerce Team
Now, let's take a look at five important and actionable aspects of building a virtual e-commerce team that translates into a booming business.
1) Create a Well-Defined Team Structure
While every business is different and the number of roles that constitute your e-commerce team will vary depending on the size of your business, at a minimum, the following six roles are necessary for the success of your team (whether they are fully remote or in the office):
Director of E-commerce: This person will guide the team in achieving monthly goals and tackling unforeseen challenges, such as the COVID-19 pandemic.
E-commerce Project Manager: This team member keeps all essential schedules and processes in order and ensures proper communication with retailers and suppliers.
Creative and Marketing: These team members will create engaging, high-quality content for all the online channels and execute marketing campaigns.
E-commerce Business Analyst: This person keeps track of and communicates objective key results (OKRs), key performance indicators (KPIs), and competitive benchmarks, along with actionable strategies for business growth.
Tech and IT: The technical side of the team ensures that correct site architecture, e-commerce software and technology operations are developed, implemented and operating smoothly.
Customer Service: Of course, you need someone to answer customer queries and oversee customer satisfaction post-purchase.
Of these six positions, creative and marketing-related roles can be effectively filled by freelancers at first, and later on by full-time employees as you scale. Roles like customer service and business analysts are best kept in-house.
At the heart of a thriving business is a synergistic team wherein every member knows exactly what they're doing. So it's crucial to clearly communicate expectations and responsibilities to your new team members. This is where a well-defined job description outlining everything unambiguously will be invaluable.
Below is an example of an appalling job description for an entry-level software engineer role: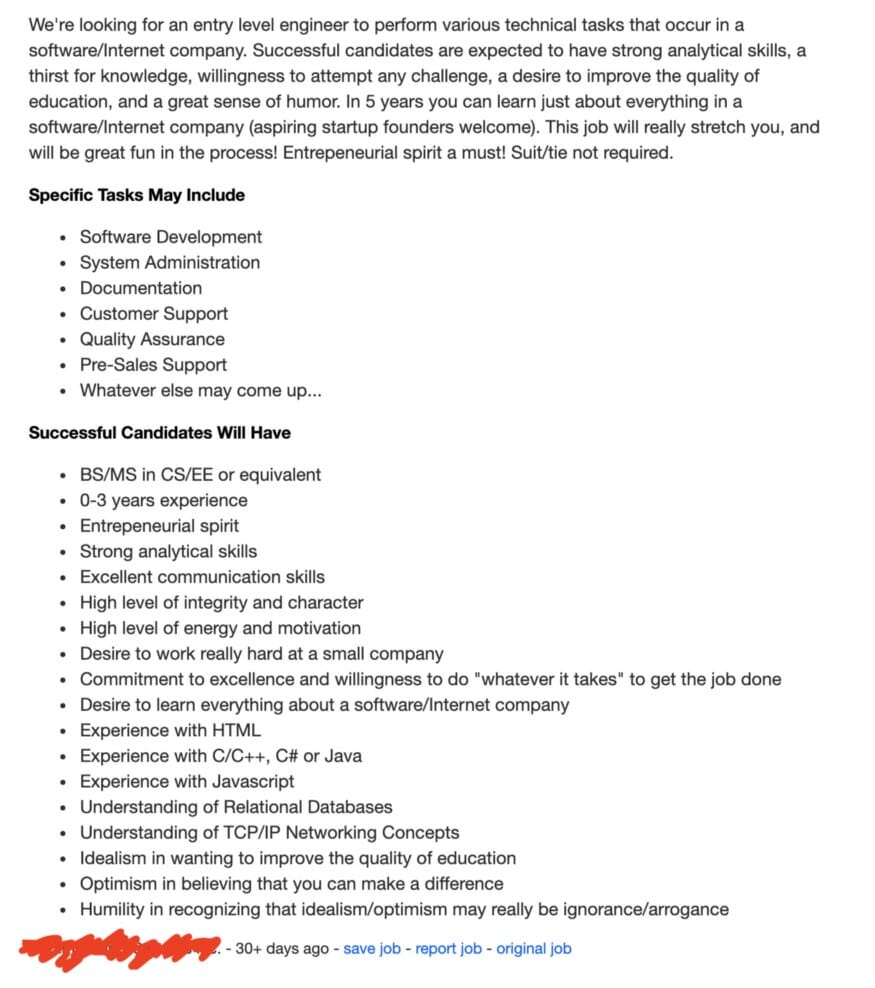 "Whatever else may come up," "entrepreneurial spirit," "humility in recognizing that idealism/optimism may really be ignorance/arrogance" – you don't want such vagueness and superficial gibberish in your job description!
Plus, for an "entry-level engineer" position, this ad lists specific tasks that are for a variety of other positions (and not entry level), such as developer, SysAdmin, customer support team, QA team, and sales engineer.
Instead, you must create a very clear job description that defines what skills and experience is expected of the candidate while succinctly giving information about the company – what it does, the type of people working here, and whether you value diversity and equal employment opportunity. This job description is a good example of this: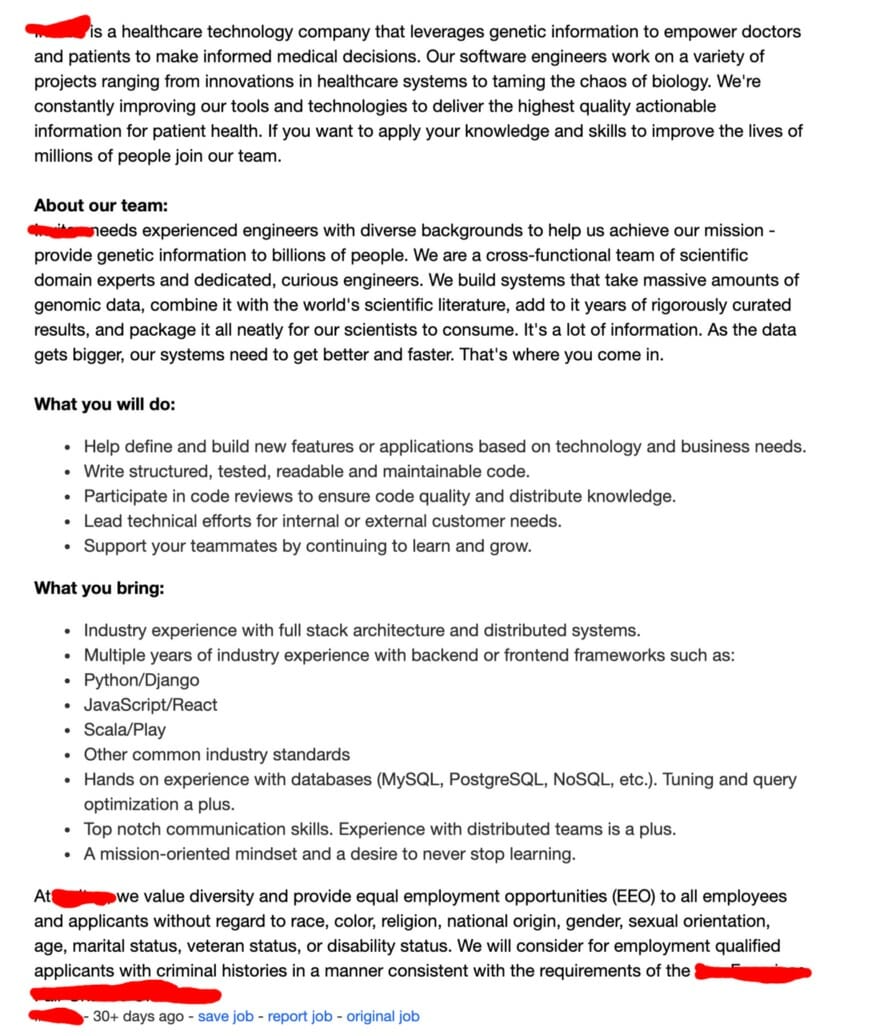 Moreover, The Telegraph recommends that "You need to have very clear contractual models in place for remote working. These can be based on time, outputs, engagement, results – but ensure that everyone knows what the deal is."
In other words, it's increasingly critical to ensure that your team knows what's expected of them – including the time that everyone needs to be available online for real-time collaboration.
Here's a remote working contract from Hubstaff, a remote company themselves that provides time-tracking software, that you can use as a guideline to build a contract tailored to your business.
Related Content:
* How to Onboard New Hires
* When Does It Make Sense to Hire Sales Reps for Your Business?
* How to Find and Hire a VP of Growth for Your Business

2) Find the Right Candidates
Building a high-performing remote team isn't the same as building one that's in-office. There are a few vital skills that you need to prioritize, irrespective of the position you want to fill:
Communication: Your remote e-commerce business's success pretty much hinges on ensuring effective and open communication. Your virtual workers must have excellent verbal and written skills so that there's no communication gap. Provide all the necessary guidelines and tools needed for internal communications.
Self-motivation: You don't want to be micromanaging your remote team, so hire people who have a proven history of self-starting and staying motivated without supervision.
Tech-savvy: It's best to hire someone who is capable of troubleshooting their webcam issue or fixing basic code issues if the site's blog goes down. Plus, if you're relying on an enterprise-level platform like Shopify Plus for your e-commerce business, it goes without saying that every new hire must be proficient with that platform.
We'll cover communication and collaboration tools in section four below, but on the topic of technology, these tools for remote workers (who don't have their own IT departments) can be invaluable:
Once you are crystal clear about who you're looking for and the duties and responsibilities that need to be managed by the new-hire, you'll need to find qualified candidates.
You can find the top talent for most roles on established remote hiring platforms like:
These platforms are great for posting jobs and hunting for people with the exact background and skillset you need.
3) Hire on a Probation Period
If you haven't already considered this, it's a great idea to hire remote employees on a trial basis first. Just be crystal clear about this from the outset of the interview process or you may have some legal issues on your plate.
The new employee needs to be aware that they will join on a probation period (most probation periods tend to be within 4-6 months, depending on the job), and if both parties are happy with the way things go, the hire becomes official.
As Devesh Sharma of DesignBombs explains:
"You see, as a small-to-medium-sized e-commerce business, hiring a new team member is a big deal – an expensive decision that impacts everyone already on your small bandwagon, so you need to be certain they are the right fit before you commit long-term." 
But rather than just hire them and check back in several months later, it's wise to create a 90-day plan to help them get up to speed. Ragav Haran shares this 3-tier plan: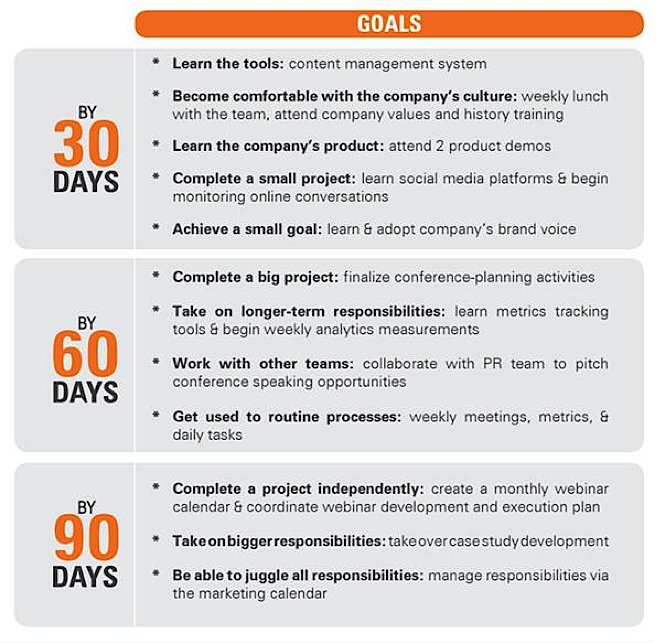 4) Have the Right Tools in Place
You wouldn't hire an in-office employee for your e-commerce brand and then not provide them with a desk and computer.
Similarly, you can't hire a remote employee and skimp out on providing them with the tools they need to get the job done efficiently. So, along with well-defined communications expectations, you must provide the right tools that will save hours of back-and-forth and tons of frustration.
Sure, you can always use good ol' email, but you'll likely agree that email isn't the best for quick two-way (or more) communication. Rather, why not opt for a fun, somewhat informal remote working experience where your team can openly communicate and share feedback with individuals or groups with specific work topics?
Consider using communication and collaboration tools like Slack and Asana that have a fun vibe, while being feature-rich and cost-effective.
Benefits of using Slack for your remote team:
Great for real-time communication for one-on-one conversations or with everyone on your team, and provide fun GIFs and emojis for quick responses.
Has video and voice calling, drag-and-drop file sharing, screen sharing, and integrations with other remote working tools like Google Calendar: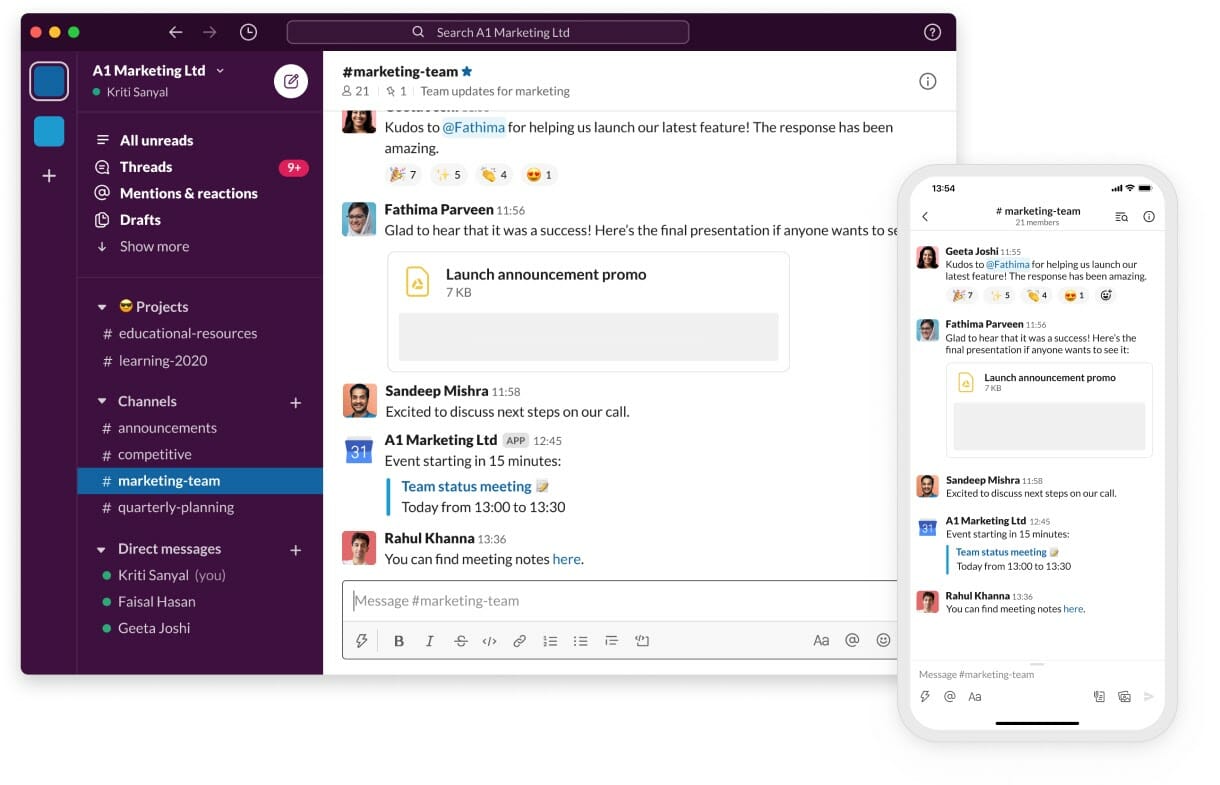 Users can quickly and easily set their availability status: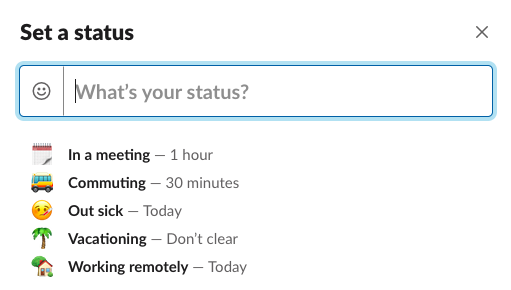 Benefits of using Asana for your remote team:
Great for organizing and assigning tasks in the form of kanban lists, timelines and boards: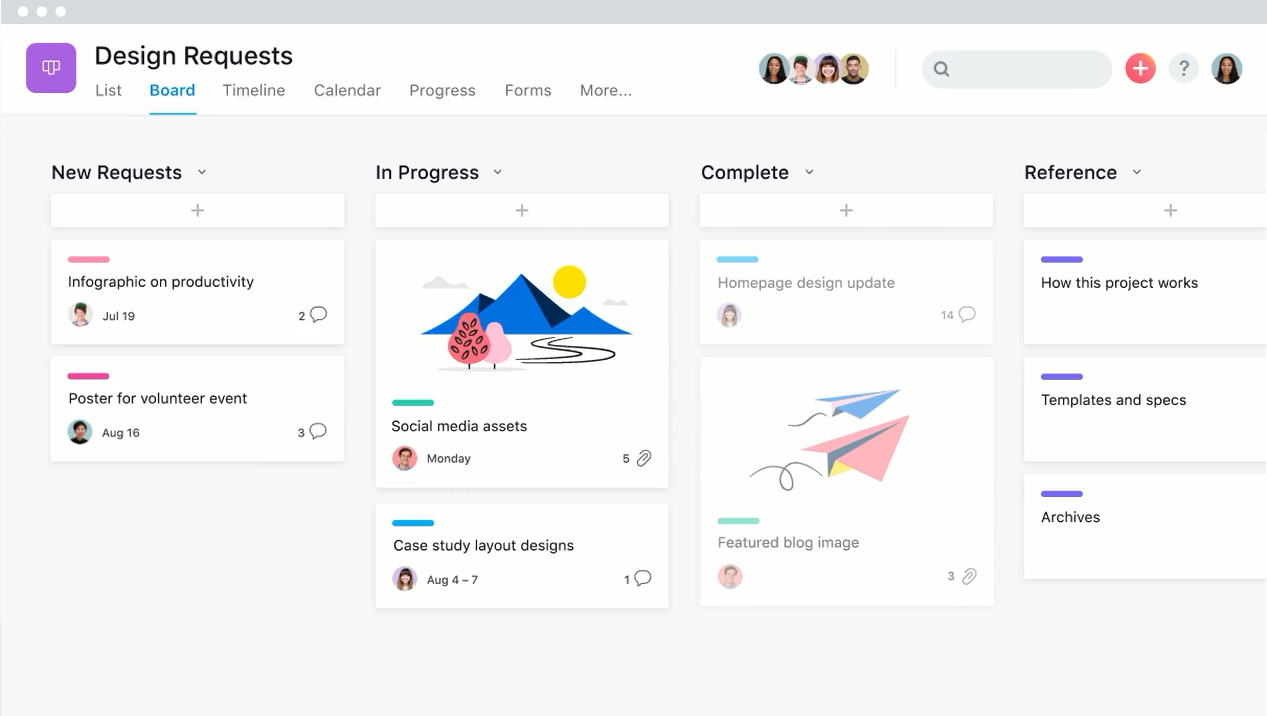 Easily organize and plan workflows and projects so you can keep your team's work on schedule:
Powerful integrations with other apps such as Slack, Adobe Creative Cloud, and more.
Acknowledge the fact that when your teams are collaborating via apps rather than at a physical office, it's essential that the tool being used fits the culture you're trying to cultivate. Allowing a more relaxed approach for team communication, with the usage of memes and GIFs, will result in better transparency and team unity.
Furthermore, put security protocols in place to ensure that teams are working securely and don't compromise either their own computer or your business.
Here's how to stay safe online:
Related Content:
* How to Keep Your E-commerce Site Secure Against Cyber Threats in 2023
* 6 Tips for Securing Your Data from Cyber Attacks as a Remote Worker
* How Poor Website Security Negatively Impacts SEO Rankings
* How to Create an E-commerce Website Step by Step

5) Cultivate a Positive Remote Working Culture
There's more to a thriving remote company than the work itself – the working experience and company culture are just as important:

Apart from enabling open communication, a positive remote working culture is all about providing flexibility to your employees and showing that you trust them to get the job done.
Although routinely checking in on your employees is all right, remember that every individual has their own way to handle their workload. Understand that many of your employees may be working with young children, active pets or other housemates who are working remotely in the same house.
Ultimately, what should matter is your employees' output, not the exact number of hours they put in to complete their work.
Make it clear that you trust their work ethic and value the team's output instead of fixating on the fact that they didn't log on to Slack at 9 a.m. sharp. And if a team member is not delivering the work or quality they're expected to, just ask them if there's anything you can do to help. Not seeing these people in the office every day means that you can't always detect their mental or emotional state.
Single Grain sends out a short and anonymous employee survey via Emplify once a month or so to gauge each worker's well-being so that management can better understand the challenges and specific needs of everyone who is now working from home. Based on the collective answers, the company provides one day off for the entire team each month (outside of any vacation or sick days).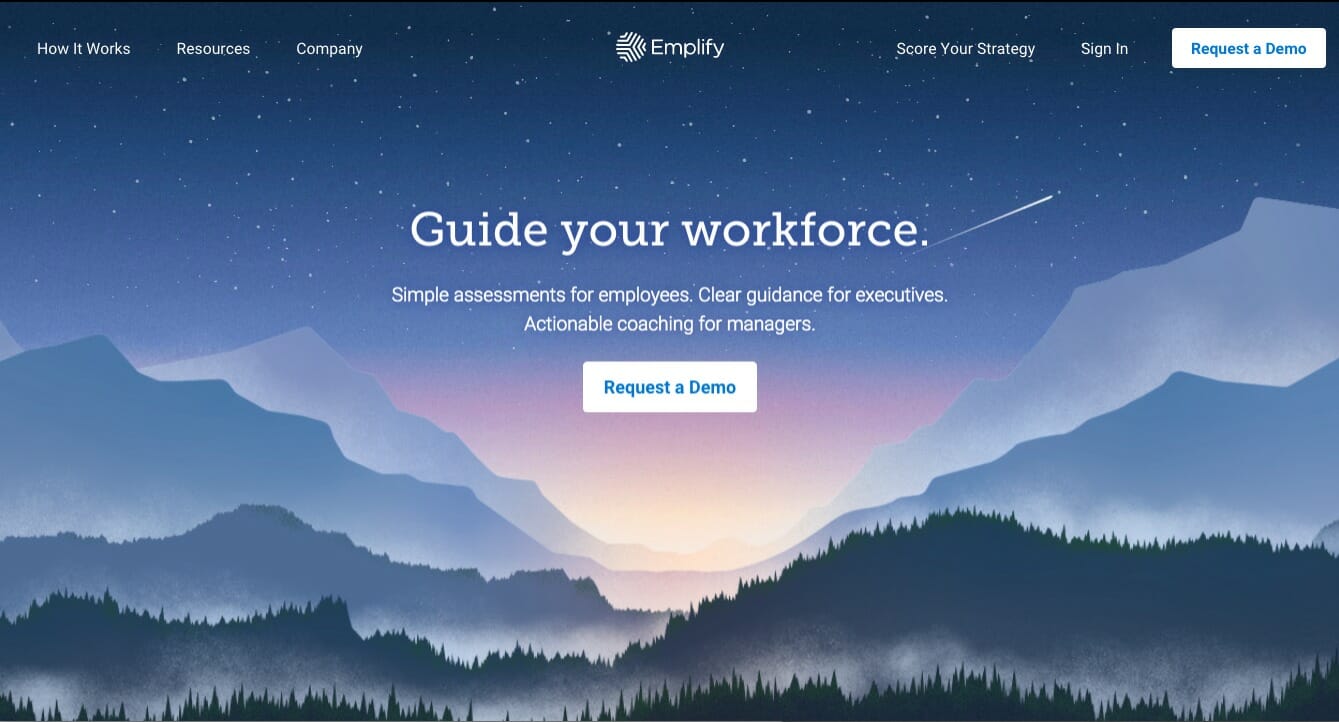 And on a day-to-day basis, it's a great idea to encourage healthy activities, such as taking regular breaks away from the workstation, working out, and getting enough leisure and rest. It shows that you care about your team, not just the profits that they bring in.
Especially in a remote setting, creating a sense of team spirit and camaraderie can be quite tricky. A good way to strengthen the sense of solidarity and togetherness in your team is to host fun team-building activities from time to time, like virtual happy hours and competitive online gaming.
Last Word on Remote E-commerce Teams
Like it or not, it seems that the COVID-19 crisis is not going away anytime soon, which means that remote working is only going to evolve and become more mainstream.
If you wish to keep growing your e-commerce business, you simply have to adapt to the new way of working and focus on building a successful remote e-commerce team.
Apply the guidelines discussed above and you're almost sure to build a thriving team that truly wants to work for the brand's success.