10 Actionable Tips to Make Your Content Drive Sales
Do you want higher engagement on your website? What about driving more traffic? Would you like to increase the number of conversions?
Three questions. One answer. Content.
Content brings the horse to the water, so to speak, but in this case, you can make it drink. According to CMO council, the leading benefits of using enriched or personalized content include but are not limited to:
Higher response and engagement
Timely and relevant interactions
More affinity with customers and word-of-mouth
Increased conversions
Persuasive communications
Distinguishing one brand from another
Improving retention rates and brand loyalty
Better brand recall and recognition
Getting more prospects
Indicating a compelling product or brand narrative
Enhanced appeal to Millennials, Generation Z, and other audience members
Personalized content also builds credibility, augments the brand voice, develops relationships with target audiences, and helps them make an informed decision.
The only catch is that you need to know 'how' because there is no silver bullet when it comes to crafting the perfect content.
Furthermore, contradictory to what many people think, the same content strategy doesn't fit every brand or business. It essentially depends on your target audience, what resonates with them, how they interact/engage with it, and what makes them get closer to the sales funnel.
That said, here are 10 tips to help you master the art of using content to drive sales.
Free Bonus Download:
Get a list of 13 quick tricks to increase your conversion rates right now – actionable advice condensed into a PDF that will increase your conversion rates today!
Click here to download it for free right now!
1) Don't Just Stick to One Content Format
What does your content arsenal look like? Does it contain only sell sheets and brochures?
These may be important for your business, but alone, they can't help you attain your main objective because although they provide information, they don't provide value to your customers.
Ideally, you need to have a mix of a content for attracting, engaging, and converting your audience. These include detailed guides, infographics, e-mails, white papers, case studies, videos, and so forth.
The right content mix brings several benefits to the table, which include but are not limited to: boosting brand awareness, getting qualified leads, building authentic relationships with customers, driving more traffic, and getting repeat business over time.
Let's take a look at what you can include in your content mix.
E-mails
E-mails are a powerful and cost-effective tool for online businesses. This format creates a bond with the reader, which can last longer than you think. Moreover, they can be customized and used as frequently as you want. When creating content for your e-mails, keep them brief, to the point, and try to include an offer or two along with a CTA button that does all the talking.
Additionally, ensure that they are timely and in sync with your marketing objectives and have the most captivating subject lines to target massive ROIs and drive sales.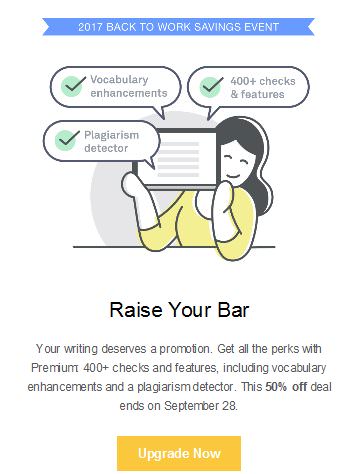 Related Content: 14 Ways to Kickstart Your Mobile Email Marketing Campaign
Long-Form Content
There's no substitute for creating original content that is published on some of the leading online websites and publications. This establishes your brand or business as an authority in the industry along with increasing your visibility.
Well-researched long-form content is one of the best ways to ensure that you get coveted bylines that grab the attention of potential clients — and sometimes it will be the only way to earn your clients' confidence.
And if you're wary of your audience's attention wavering, you should know that according to Curata, long-form posts tend to generate about 9 times more leads as compared to the short-form posts:
Infographics
Infographics belong to the family of easy-to-consume content that's immensely popular. They provide just the right amount of information in a visual format that help drive your customers closer to the sales funnel.
If you create a well-designed, in-depth infographic that appeals to your target audience, you can easily benefit from it for a long time. Moreover, you can use these on your social channels as many times as you want! And keep in mind that this type of content is shared on social media 3 times more than other types.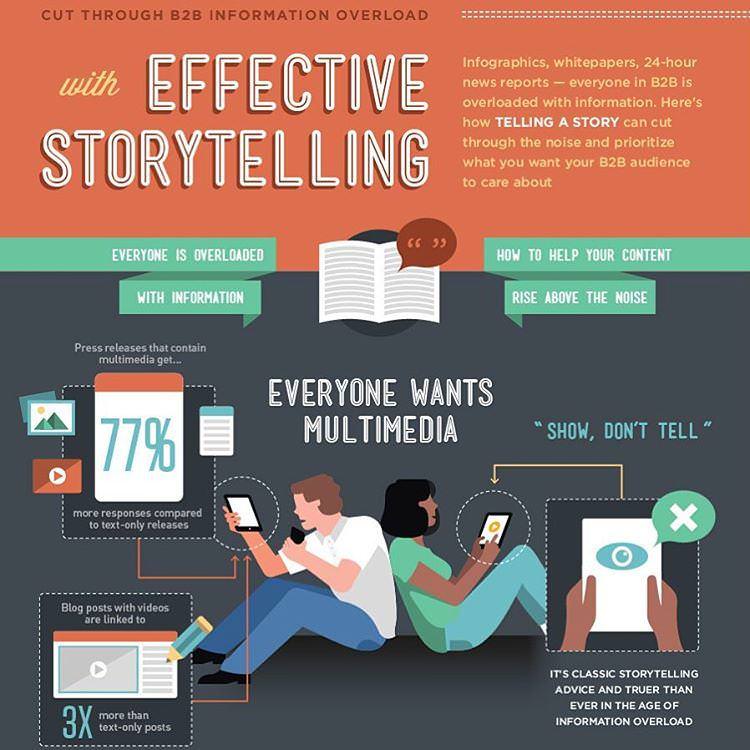 White Papers
This one's practically a no-brainer. White papers clearly demonstrate your industry knowledge and establish your expertise. Make a bunch of some awesome white papers that you can use as you follow up with your potential clients.
The more detailed they are, the better they will represent your business, answer your target audience's initial queries, and indicate your business' competency.
Case Studies
Case studies are usually found on a business' website and are detailed accounts of how your product or service solved a client's problem, including the challenges you tackled together. The more stats and numbers you provide, from both before and after you helped them, the better.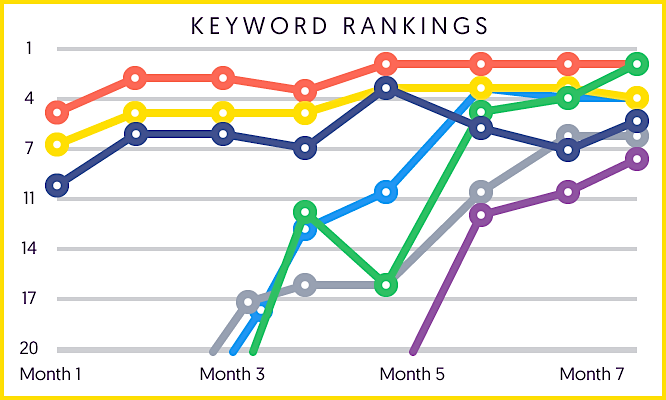 Video Content
If you've been contemplating about using video content for your brand or business, the best time would be now. Videos enhance your narrative by adding the much-needed visual element and capture your target audience in multiple ways.
Consider these facts about video content:
4x as many people prefer to watch a product video rather than read about it
62% of B2B marketers say that video was effective in their content marketing marketing strategy last year
Putting the word "video" in e-mail subject lines increased click-through rates by 65%
With a number of tools and technologies for creating spectacular videos, there's no way you should let this chance go!
Learn More: 12 Engaging Types of Video Content that Viewers Love to Watch
2) Be Platform-Specific
Adweek recently released a list of the top 10 fastest-growing topics on LinkedIn, which are:
Change readiness
Geomodeling
Direct banking
Basin modeling
Trade station
Digital cable
Industry-analyst relations
Structured trade
Food-service distribution
If you want to target your audience on LinkedIn, these are some of the topics that you can write about. Similarly, for other social platforms such as Facebook, Twitter, Instagram or Snapchat, research and figure out which topics or type of content are currently trending on each platform so that your content will resonate with your audience.
Facebook Trending Topics: On a desktop computer, this is listed on the right-hand side of your News Feed. On a mobile device, tap the search bar at the top of your screen to see them. Trending Topics on Facebook are usually categorized by these subjects: Top Trends, Politics, Science & Technology, Sports & Entertainment.
Twitter Trending Topics: On a desktop computer, you can find trending topics on the Home Timeline, Notifications, Search Results, and Profile Pages. On a mobile device, you can find out what's "Trending Now" by clicking on the search icon on the top menu, and on Twitter's mobile app, you'll find them on the trends section of the explore tab.
Google Trending Topics: Simply go to Google Trends and either type in a topic in the search bar at the top, explore topics on the "All Categories" drop-down menu, or scroll through "Stories Trending Now" on the home page.
This takes us to the next point….
3) Amp Up Social Listening
When you want to dig deep into real-time conversations or past conversations taking place in your niche and discover the sweet spots and pain points of your customers, social listening is the way to go. With the aid of various social listening tools, you can easily get the work done.
Here is a huge list of some of the best tools to use for this purpose, which will help you create content based on what everyone is actually talking about.
Free Bonus Download:
Get a list of 13 quick tricks to increase your conversion rates right now – actionable advice condensed into a PDF that will increase your conversion rates today!
Click here to download it for free right now!
4) Fuel Imagination
Nothing can beat content that fuels the imagination of the masses. Use content creation tools, technology, and techniques — and, of course, creative expertise — to give your customers something of value that keeps them coming back for more.
Rev up your imagination to think of content that's as creative and memorable as Mars (the popular candy brand),  which teamed up with budding horror directors to create four impressive "Bite Sized Horror" films. Each commercial is presented by a top-selling candy that appears briefly at the beginning of these 2-minute chilling films, which ran during Halloween.
This is a new way of advertising in which the product is not, in fact, the main focal point of the content. Aside from a brief "presented by [candy]" appearance at the start, you never see the product again. And yet, I dare you to forget these top-quality short films and, consequently, the Mars brand.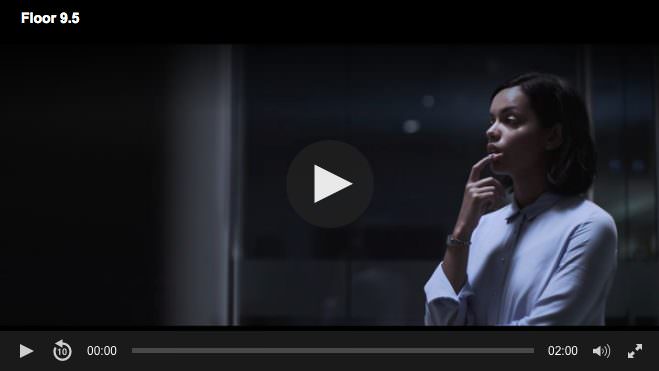 5) Optimize Content for Voice Search
As of 2016, Google handles over 2 trillion searches per year.
And 20% of mobile search queries are voice searches.
Statista indicates that 43% of people who use the voice search function do so because it's faster than than going on a website and typing in their query: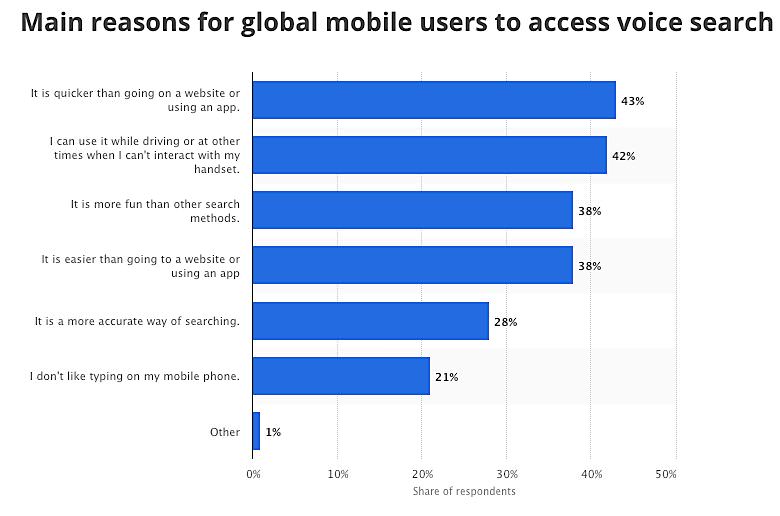 These statistics and the rise of chatbots — voice-based personal assistants such as Cortana, Alexa, Siri, and OK Google — make it evident that we are heading towards a future that's going to be dominated by voice search.
If you want your content to appear in these search results, you need to make sure that they are specifically optimized for voice search. That means understanding natural speech patterns, identifying the common questions or phrases that people are most likely to use while voice-searching for your content, and using long-tail keywords.
Because a lot of voice queries are locally-based ("Where is the closest post office?"), you should also be thinking about local content such as an FAQ page, using descriptions and alt text for the images, and updating your Google My Business listing.
Taking these measures will ensure that your content gets featured first when it people use speech-recognition technology to find something online, therefore getting a head start on your competition.
Related Content: Google Adds 30 New Languages to Voice Search
6) Use Interactive Content
According to Content Marketing Institute, using interactive content makes for more engaging, educational, and differentiated content experiences. The top five types of interactive content that are used by marketers include calculators, contests, quizzes, assessments, and interactive infographics. Add 360 videos and live videos and you'll have even more options to explore.
CMI's report states the three main business benefits:
Interactive content is a two-way street that provides you with better insight into what consumers are trying to achieve. This is "the difference between watching customers as they stroll through a store and having a conversation with them."
A study showed that interactive content increased content sharing from 17% to 38% and conversions from 36% to 70%.
When asked "How have your B2B content consumption habits changed over the past year?" 91% of survey respondents answered, "I prefer more interactive/visual content that I can access on demand" — which had increased from 88% the previous year.
Take a look at this chart from CMI that indicates the ideal interactive content for each stage in the buyer's journey (the yellow highlights the top response for that type):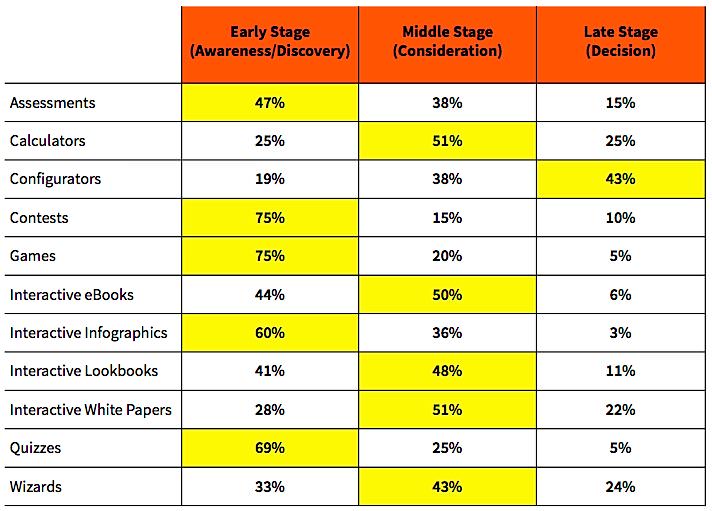 Learn More: 7 Types of Interactive Content—Why & How to Use Them
7) Personalize Content
According to an IBM Digital Experience Survey, 56% of marketers believe that personalized content promotes higher engagement rates, which helps customers remember the brand. Technology such as machine learning allows businesses to personalize content or products, not to mention ads, in ways that simply weren't possible in the past, and allows brands to do a much better job optimizing the buyer's journey.
The best examples of brands successfully providing personalized content are Facebook, Netflix and Amazon.
Facebook reminds users about their "Friendaversary" (friend anniversary) with a personalized short video or brings up fond memories from the past with specific photos. It also alerts people about the latest features they can use to have a superior experience on the platform.
Netflix, of course, provides personal movie and TV show recommendations that are tailored from all the internal data on you, including what you've watched or abandoned and reviews you've given or surveys you've taken about which subjects, genres or actors you like. Amazon does the same thing with products.
Related Content: How AI Helps Add Personalization to Your Email Campaigns
8) Tell Stories
Nowadays, a lot of brands are using storytelling to sell their products and services. People have been using storytelling, from oral to written, for as long as humans have been around.
When you think of novels, films and television shows, it's obvious that we love telling and hearing a good yarn. And even thinking of campfire stories, you probably visualize a bunch of spellbound listeners hanging on to every word of the storyteller.
Stories allow the audience to experience the actions and emotions of that which is being related in a way that is much more engaging than simply reading about it in a text book. A good story helps you strike an emotional chord with the audience and connect with them on a deeper level.
Luxury brand Chanel uses copious amounts of storytelling on its website, which even makes use of chapters, to explain its rich background.
Weave your stories around your brand and its value propositions and to really make an impact on your customers.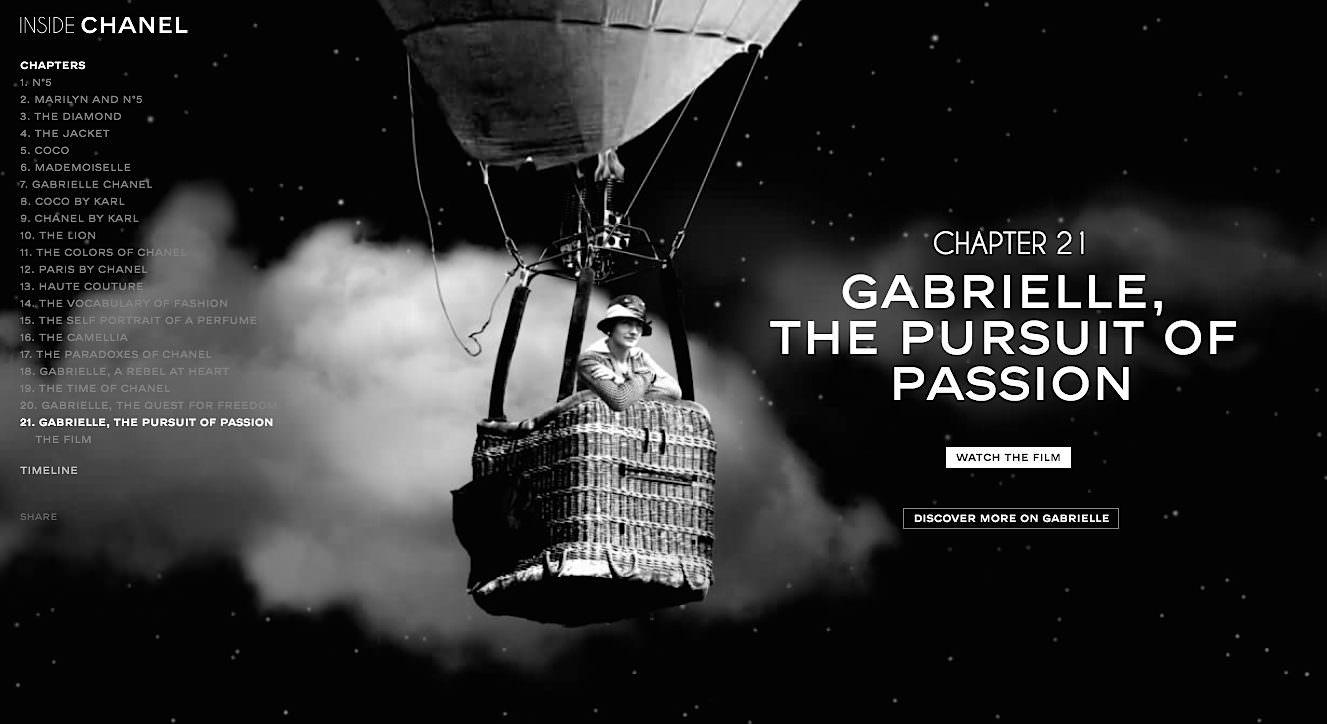 9) Don't Just Create, Curate
According to Curata:
82% of marketers curate content.
16% of marketers curate content every day.
Over 50% of marketers that curate content say it has increased their brand visibility, thought leadership, SEO, web traffic and buyer engagement.
41% of marketers that curate content indicate it has increased the number and/or quality of their sales-ready leads.
This says a lot about the importance of content curation. Instead of spending all your time, effort, and money on creating original content, you can take a breather and work on curating it on various platforms.
Free Bonus Download:
Get a list of 13 quick tricks to increase your conversion rates right now – actionable advice condensed into a PDF that will increase your conversion rates today!
Click here to download it for free right now!
10) Utilize User-Generated Content
Electric carmaker Tesla doesn't have any traditional advertisements. Between a great product and reputation and Elon Musk's 7.5 million Twitter fans, the company pre-sold 400K of its Model 3 electric cars without anyone even taking a test drive.
Recently, a fifth-grader noticed the lack of ads and suggested that they run a contest and the company announced that they loved the idea and would air the winning commercial.
Why did Tesla opt for utilizing user-generated content? The answer lies in the fact that it will make the brand earn more goodwill, enjoy better online presence, and get a huge number of its target audience involved (talk about interactive content!).
Take the cue and initiate some user-generated content for your brand as well.
Here's the winning fan-made commercial:
Conclusion
When it comes to sales, content has always been a solid scaffold — it's just that the type of content has changed. By using some or all of the tips listed here, you can use content to enjoy better engagement, increased conversions, more insight into the buyer's journey, more brand loyalty, and greater customer word of mouth — all of which lead to getting more prospects.
What's your take on this? Let us know in the comments!