Are you stuck in a rut with your brand, feeling like the name, logo or website you've designed don't really fit the products you're selling or the audience you're targeting? If so, it could be time for a rebrand — two words that often spark fear in any business owner.
A business rebrand means overhauling the entire brand you've created. Your website, logo, brand name and website copy will all need to be revised, but it's worth the upfront investment if you're left with a brand that better reflects your business.
In this guide, I'm sharing the tell-tale signs that it's time for a rebrand, along with five success stories of business who've rebranded (including Single Grain!).
How Do I Know When to Rebrand?
That's a huge question to ask.
A brand overhaul takes lots of time to create and implement — not to mention the aftereffects you'll need to deal with once your new branding comes to life.
Here are three of the most common reasons for businesses to rebrand.
1) Your Existing Branding Isn't Clear
The most important element of your business' brand is that it must give people a great and clear first impression. If it doesn't hit the mark straight away, confusion could set in — which will definitely decrease the chance of anyone purchasing from you. Why would someone spend money on a product or service that they don't understand?
But how do you know how people react to your business? You could get this feedback from user testing or surveying your audience. Ask people to share the first thing that comes to mind when they see your existing brand. If the results aren't as you expected and people think of something totally different to what you offer, a rebrand is needed.
Take a look at these logos — what's your first impression?

PathMark is a supermarket chain, but you couldn't tell that from their logo alone.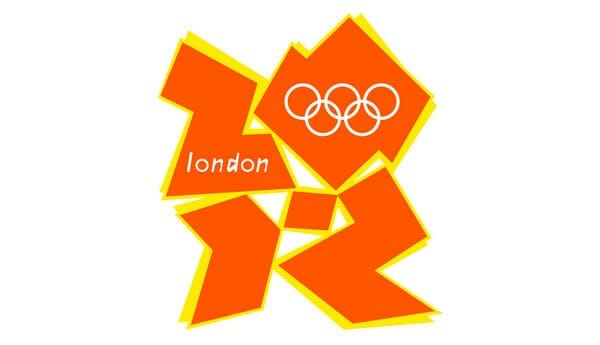 This is the logo for the 2012 London Olympics, which caused so much confusion and disgust that 48,000 Brits signed a petition to have it redone.
Dive Deeper:
2) You Aren't Separated from the Competition
It's common for brands in a specific industry to follow certain branding trends.
Tech companies, for example, are not only known for their love of the color blue, but it is actually the most popular brand color for the industry: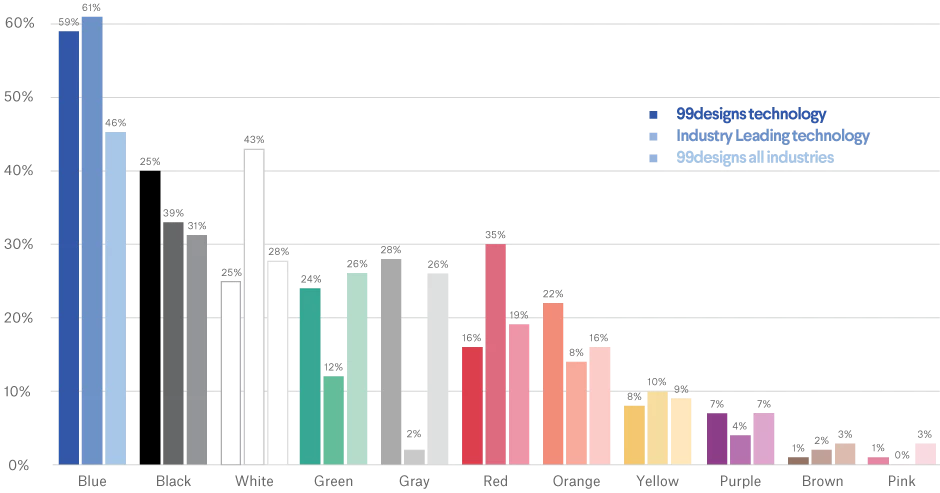 Almost all the big platforms use that color in their branding — including Facebook and Samsung: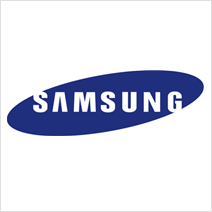 It's tough for a new technology company to differentiate themselves with their branding if it's also blue, but going against the norm and rebranding using a different color could solve that problem. A technology brand with pink branding would be much more unique, right?
Use this color generator from 99designs, Pantone and Adobe to discover more suitable colors for your brand: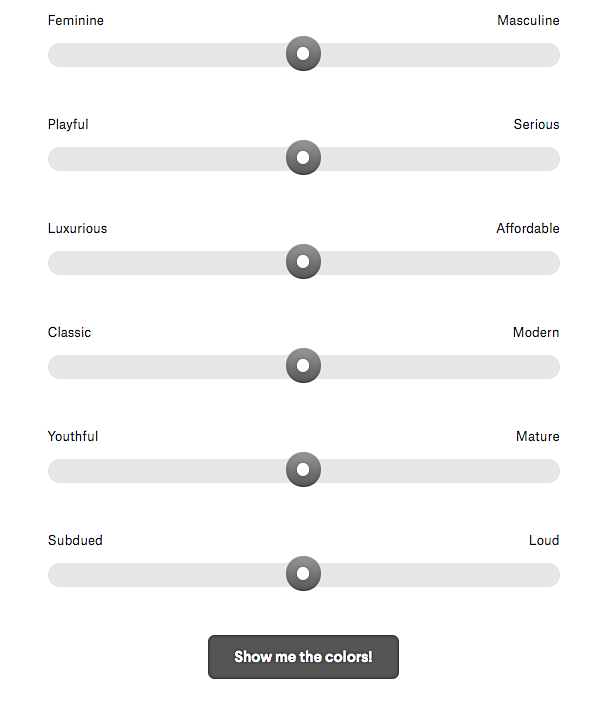 3) Your Branding no Longer Reflects Your Business
It's common for businesses to evolve over time. The original list of products or services you offer can change as you get to know your customers, and staying with the branding you designed when you first launched could be doing more harm than good.
Databox recently changed their logo because their existing design was "not a reflection of what we do, nor where we want to head." Their new and improved logo now combines two of the most obvious features of their product: data and boxes. As per #2 above, they added a splash of purple "to move us a little bit away from the cliche blue scheme."

5 Examples of Successful Business Rebrands
Chances are, a large percentage of the brands you come into contact with every day have undergone a rebrand at some point.
Here are five success stories of business who have recently rebranded:
1) Single Grain: Why We Added a SaaS Product to Our Business
Single Grain is a full-service digital marketing agency, right? But when I took over the company about five years ago, we only offered SEO services: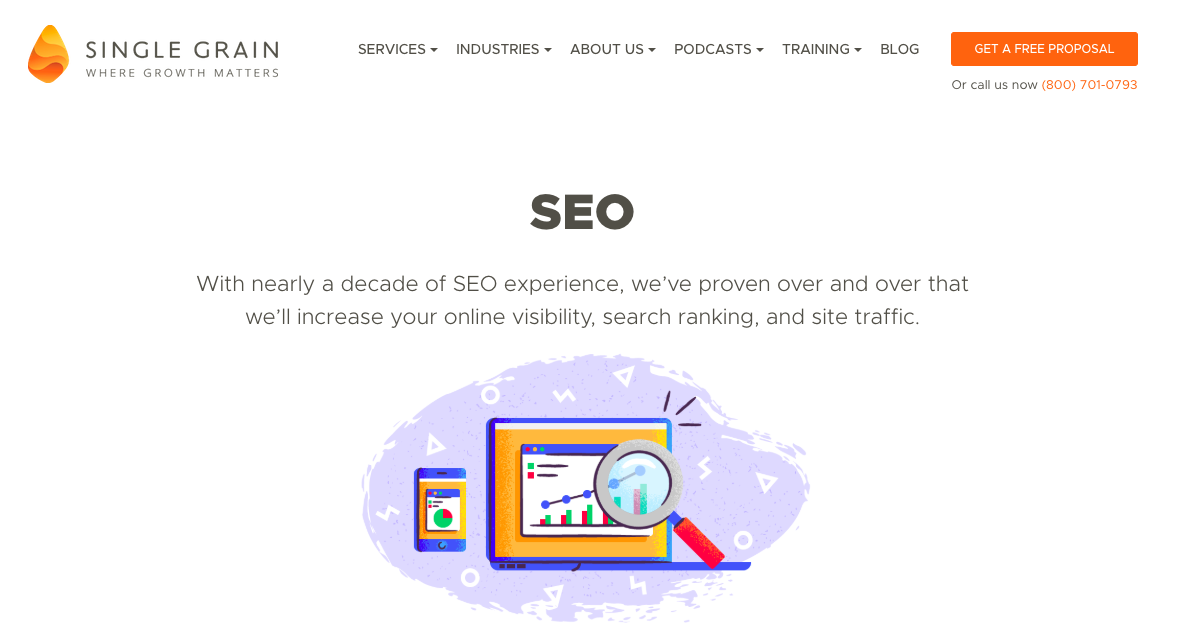 Single Grain was sold for $2 upfront ($1 for Sujan's shares and $1 for Neil's), and I had to pay through profits of the company. Sujin didn't want to continue with the business anymore, but because the business model was being hit by a big algorithm shift in Google and we were just an SEO company, what we did no longer worked.
Even though Single Grain was only getting about 4,000 visits a month, it was a little established already because the site had been around for a while. We just kept publishing more and more high-quality content, and the site started to grow faster and faster.
From that, Single Grain evolved into a media company, too. If you look at the blog posts we publish…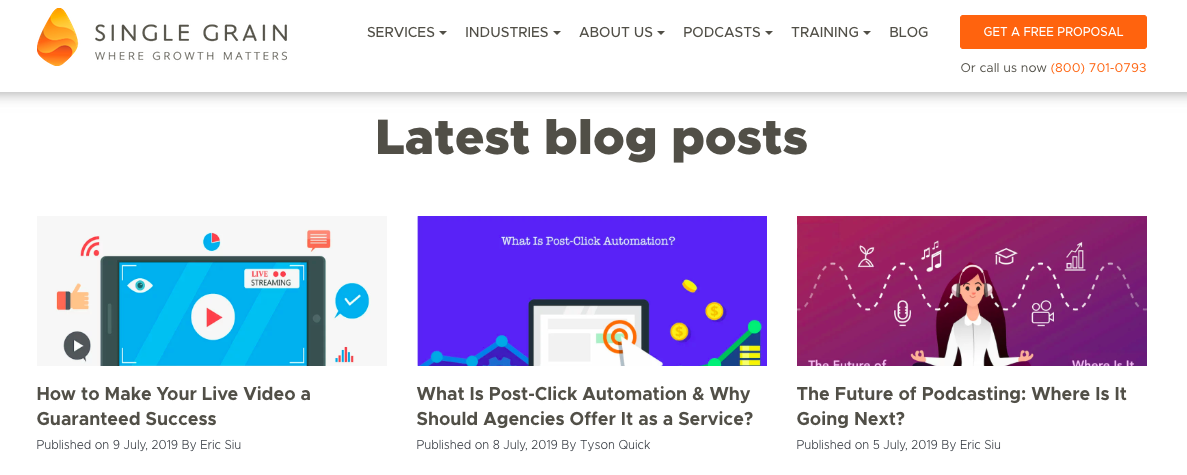 …the podcast we host, and the speaking gigs that we're doing, Single Grain is also like a publication. That's beneficial for us because it opens up the doors to another revenue stream. A massive reason for this is because agency revenue is tough; clients come and go. It's often tough to manage that feast or famine flow — not knowing when clients will come or decide to take their marketing in-house.
Dive Deeper:
2) Nintendo, Amazon and Virgin: Shifting the Business Model
Nintendo is a great example of rebranding after shifting focus. They're infamous for their gaming consoles (including the Switch and DS), but they originally started by selling playing cards.
The same happened with Amazon. A brand now known as the biggest e-commerce website in the world, Jeff Bezos originally launched by selling books — and nothing else. They eventually started adding more products to their website until they became the full-fledged e-commerce store that we now know.
Fast forward to 2019, and they've sprouted even more: They bought Whole Foods, own an SEO tool called Alexa, sell smart speakers like the Amazon Echo, and own a bunch of private label brands:

The same thing happened with Virgin. Richard Branson originally set up shop to sell records, but decided he wanted to make aircrafts, too. He got really competitive in that area and created Virgin Airlines — a story that continued to replicate and now results in over 400 companies, including:
Virgin Media
Virgin Health
Virgin Holidays
The moral of this story?
When you start a business, if you want to take it further, don't feel afraid to do it because your branding limits the products or services you sell. If you have some stable ground with your original business and then start expanding into other areas, a rebrand could do a world of good.
3) CVS: Rebranding to Align with Your Corporate Citizen Mission
Keep in mind that branding is more than just your logo. It's also what your brand is saying.
A great example of this concept in action is CVS. They used to sell tobacco products despite their official name being "CVS Health" — a brand name that obviously didn't align with the cigarettes they were selling.
So CVS decided to change some text in their branding to make it align with their vision. They said that the sale of tobacco products was inconsistent with their purpose (helping people on their path to health), and stopped selling those products in their stores:
4) Moz: Rebranding to Diversify Your Offerings
Moz is one of the most well-known SEO companies. You might recall that their brand name used to be "SEOmoz" — remember their old site?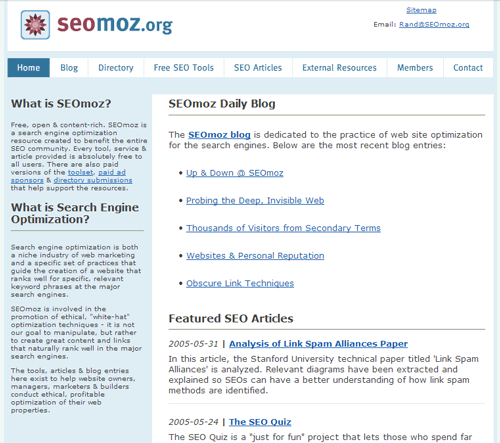 But they decided to rebrand themselves because they didn't want to just focus on SEO. They wanted to go into social media, too.
In a statement to announce the rebrand, CEO Rand Fishkin said:
"Calling ourselves 'SEOmoz' is no longer transparent and authentic. With products like Fresh Web Explorer, FollowerWonk, GetListed, and the beta of Moz Analytics (alongside the vast array of non-SEO content we publish), we're no longer purely an SEO software company. Pretending otherwise is disingenuous, and that violates our core values."
As we mentioned earlier, brands evolve. SEOmoz decided to change their brand name to reflect the change — a move you shouldn't be afraid of making if your existing name is limiting the customers you attract or the products you sell.
Dive Deeper:
5) Time-Warner Cable: Rebranding to Lift a Reputation
Cable companies are notorious for their poor reputations. Most people hate them because they care more about making a profit than serving the customer. That's why they only offer deals to new customers instead of current customers, and their service is generally poor.
Because of this poor reputation, "Time-Warner" decided to rebrand to "Spectrum." This resulted in much of the negative publicity and negative online comments disappearing and gave Time-Warner a fresh slate. They got to start over with a new brand name without a reputation that was causing them issues and build a new reputation from scratch in the form of Spectrum.

A similar thing happened with Listerine. Their solution was first developed to clean wounds, soothe insect bites, and treat fungal infections such as athlete's foot and dandruff. Then in 1921, Listerine started advertising for halitosis (bad breath).
They changed their branding as a result and focused on the mouthwash, which is now their best-selling product, and the one thing they're known for.
3 Important Things to Consider When Rebranding
Are you ready to start your rebranding journey? Before rushing off to make your changes, here are three important things to consider:
1) Choosing a Brand Name
The name of your business is arguably the most important element of your entire rebrand. It's one of the things that gives your audience their first impression and it's the name you'll have across everything your company touches — including your website, marketing materials, social media profiles and letterhead.
So, what can you learn from our brand-naming story?
Brainstorm a list of words that relate to what you're selling
Run those by a branding expert, or simply ask for feedback from others
Double-check that those words don't have another meaning or sound like something else (especially if you're using multiple words)
And beware of cross-lingual misunderstandings, like this Swedish company's logo ("Locum"):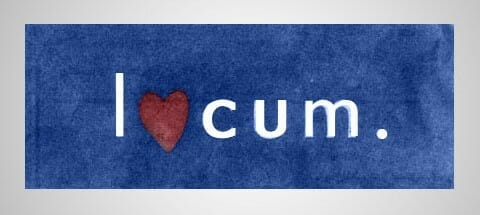 2) Get Real, Unbiased Feedback
You won't know how your audience perceives your brand unless you ask.
A superb way to do this is to get real, unbiased feedback from people who aren't already aware of your business using tools like Suggestion Ox or Poll Everywhere. Simply upload your new branding elements and ask for anonymous feedback of your brand.
You could ask:
What's the first thing you think of when you see our logo?
What type of products or services do you think we sell?
Do any other brands come to mind when you see ours? If so, which ones?
Collate all your survey responses and take a look at the most common responses. If people accurately guess that your branding reflects your business, great job! But if not, head back to the drawing board and see how you can improve.
Dive Deeper:
3) Roll Out the Changes Everywhere
You've done a complete overhaul for your brand, and you're ready to launch. Have you missed anything?
Use this rebranding checklist to make sure you haven't missed anything when it comes to rebranding:
Domain name
Website copy
Logo
Tagline
Letterhead
Social media profiles
Graphic templates
Email addresses and signatures
Directory listings
Final Thoughts on Rebranding
As you can see, rebranding is a huge pivot for any business — but one that might be needed. Take inspiration from the brands we've mentioned here and analyze whether it's time for your business to rebrand.
Whether you've evolved your products, want to diversify your offerings, or simply want to build your reputation from scratch, a rebrand could be the tweak that your business needs to attract more customers.