In today's complex landscape, reputation can be a fickle thing. It takes years to build the perfect image for your brand. You need to constantly commit to delivering excellent experiences to your customers and producing phenomenal advertising campaigns.
Yet it only takes seconds to bring your reputation crumbling down. We've all seen how detrimental something as simple as an ill-timed tweet or poorly written email subject line can be.
Reputation management companies take the stress of keeping your reputation "on track" off your shoulders. These agencies can analyze your target audience, audit your marketing campaigns, and protect you from PR nightmares.
In this article, we will provide a curated list of the top 5 reputation management companies.
---
---
What Is a Reputation Management Company?
A reputation management company is exactly what it sounds like – a company committed to managing and improving your business' reputation in every appropriate environment. These companies are both proactive and reactive, responding to issues with your reputation quickly, and taking steps to preserve or enhance your identity over time.
A company's reputation is dependent on a number of critical factors these days. In a digitally enhanced world, your audience develops their perception of your brand by looking at everything from customer reviews and testimonials to your website design and social campaigns.
Cultivating an excellent reputation means examining every part of your digital marketing and branding strategy, from your PPC campaigns to your blog content in order to determine how you can make the right impact on your target audience. With so many factors to consider, managing a positive reputation is often a full-time job.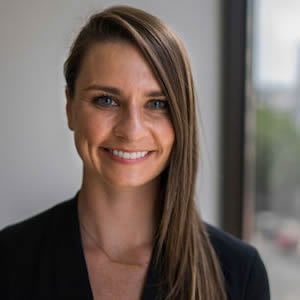 Jacqueline Foster
Demand Generation Marketing, Lever.co
We can count on them to bring new ideas to the table consistently
What Does a Reputation Management Company Do?
A reputation management company can handle all sorts of complex tasks on your brand's behalf. They can audit your existing reputation by looking at current marketing campaigns, brand assets and tone of voice, as well as giving you insights into how you can improve your reputation for the long-term.
While the exact activities of a reputation management company will depend on a variety of factors, you can usually expect your agency to get involved with:
Research: Building the right reputation for your brand takes extensive research. Your agency should be able to fully understand your marketplace, your target audience, your competition, and the kind of brand identity you're trying to build. They should also be able to use their research to give you data-backed insights into why certain reputation management strategies will work for your business.
Reputation audit: A reputation audit involves looking at all the assets you already have online that are influencing perceptions about your brand. This could include reading reviews on third-party sites, checking and updating your website, and examining your social media presence.
Reputation strategy: With a comprehensive overview of your existing reputation to guide them, a reputation management company will be able to offer insights as to how you can improve your image or adapt it to suit your branding goals. They may advise updating your brand assets like logos, colors and web design. They could also work with you on adjusting your tone of voice in marketing campaigns.
Content creation: To support the development of your new reputation, your agency will help you create content that showcases the right information about your brand. They'll leverage things like user-generated content to boost your credibility and specialist advertising campaigns to draw attention to the defining characteristics you want to champion in your brand. They can also give you guidelines to follow for future content creation.
Relationship management: Reputation management companies can often work with you on developing relationships. They can reach out to media outlets for positive coverage on your brand, generate publicity, and request reviews from customers. They also assist with taking care of your customers and giving them great experiences.
Related Content: 3 Steps to Create a More Effective Reputation Management Strategy
The Benefits of Hiring a Reputation Management Company
Your reputation is one of the most valuable asses you have. According to studies, businesses with more reviews earn up to 54% more money than their competition, because customers are constantly looking for evidence of which organizations they can trust.
Whether you like it or not, you have a reputation. Failure to manage that identity simply means your reputation could end up being more negative than positive. A reputation management agency can help you take control of the impression you're giving both online and offline. Used correctly, these companies deliver benefits like:
A stronger brand identity: A reputation management company can help you identify the kind of characteristics you want people to identify when they interact with your brand. They can help you build your brand identity to have a specific impact on your target audience and improve your chances of connecting with the right people.
Disaster management: It's easy for a reputation to be damaged, no matter how cautious you are with your marketing campaigns. Fortunately, reputation management agencies know how to ensure that you bounce back when something goes wrong. They can mitigate disaster and preserve your relationship with your audience.
Better relationships: Reputation management companies are experts in building relationships. They can strengthen your connections with your target audience and help you to deliver a better level of memorable service. They can also assist with developing relationships that lead to earned media, by connecting with relevant publications.
Improved ROI: Reputation management companies know how to optimize your brand assets and marketing campaigns to generate the best possible results. They can enhance the quality of your campaigns, make sure you're targeting the right customers, and eliminate any marketing efforts which might be making the wrong impression.
Peace of mind: A reputation management agency can offer peace of mind by giving you expert advice and guidance when you need it most. They tell you exactly what you should be doing and when to improve your brand's image, and can even help you deal with complex situations, like addressing your audience during a pandemic.
Related Content: 7 Steps to DIY PR: Building Relationships with Journalists without a PR Firm
What to Look for in a Reputation Management Company
There are countless PR and marketing companies who claim to offer an excellent reputation management service. However, there's no one-size-fits-all to getting the right results. While the exact things you should be looking for in a reputation management company will differ depending on your company, some of the most important points to look at include:
A Service That's Both Proactive and Reactive
In the past, reputation management used to be a primarily "reactive" process. You'd have a team on hand to try and fix the issue when your company did something wrong or rubbed your audience the wrong way. Although these agencies can still help with mitigating disaster, they can also take proactive approaches to protecting your identity.
Asking customers to share feedback through reviews, creating and optimizing your review profiles, and responding to customer comments are just some of the things these agencies can do to guide the conversation about your brand from day one.
A Strong Focus on Relationships
Great reputation management companies will be focused heavily on building relationships for your brands and strengthening your community. They'll help you to take care of your customers by responding to queries and concerns and addressing feedback whenever it happens.
A good reputation management company will also be able to help you with content development strategies which assist in showing your value to your audience. They can create high-quality content on your behalf based on the feedback received from customers, and even share posts with relevant publications to help expand your brand reach.
Ongoing Support and Monitoring
While some of the things your reputation management company does to support your brand might not be long-term projects, like re-building your website or updating your logo, others will. A lot of the work involved in reputation management needs to happen consistently, behind the scenes, as you're running your company.
The chances are you'll need to build a long-term relationship with an agency who can focus on monitoring third-party websites, dealing with reviews, and generally navigating the conversation about your company on your behalf. Your agency should provide an ongoing service capable of dealing with everything from publication outreach to press relationships.
Digital Marketing Expertise
Because your reputation management company will be assisting with "proactive" reputation building, they'll also need to be experts in digital marketing. A good reputation management company will know how to present your company on all the right channels, from social media to search engines. This means they'll need a good knowledge of things like:
Influencer marketing
Social media marketing
Search engine optimization
Pay-per-click advertising
Content marketing
To ensure that you stay one step ahead of the competition, your reputation management company will usually produce regular reports and use analytics to demonstrate how the marketing campaigns you're using are influencing audience perception.
Transparency and Communication
Finally, a great reputation management company is a team you're likely to work with for an extended period of time to build and preserve your identity in a competitive world. This means you need to feel as though you can trust the company you're connected with.
Look for an agency that can show you their plan for bolstering your reputation ahead of time and explain in clear language why they believe this strategy is right for you. Focus on an agency capable of answering all your concerns and questions whenever they arise, and avoid any companies who aren't committed to frequent, clear communications.
Related Content:
* 14 Effective SEO Techniques to Drive Organic Traffic in 2023
* Social Media Marketing for Business Owners: How to Get Started in 2023
* Influencer Marketing Strategy: The Ultimate Guide to Growing Your Business with Brand Partnerships

Top 5 Reputation Management Companies
Reputation management companies come in a variety of shapes and sizes. Some reputation management brands are "PR" companies, who handle all forms of public relations and provide reputation management as an accompanying service. Other companies offer reputation management as a comprehensive brand-building and marketing strategy.
To help you start narrowing down your options, here are some of the top reputation management companies available right now.
Specializes In: Social media, content creation, reputation management
Top Clients: Salesforce, Airbnb, Lyft
Pricing: Custom based on your requirements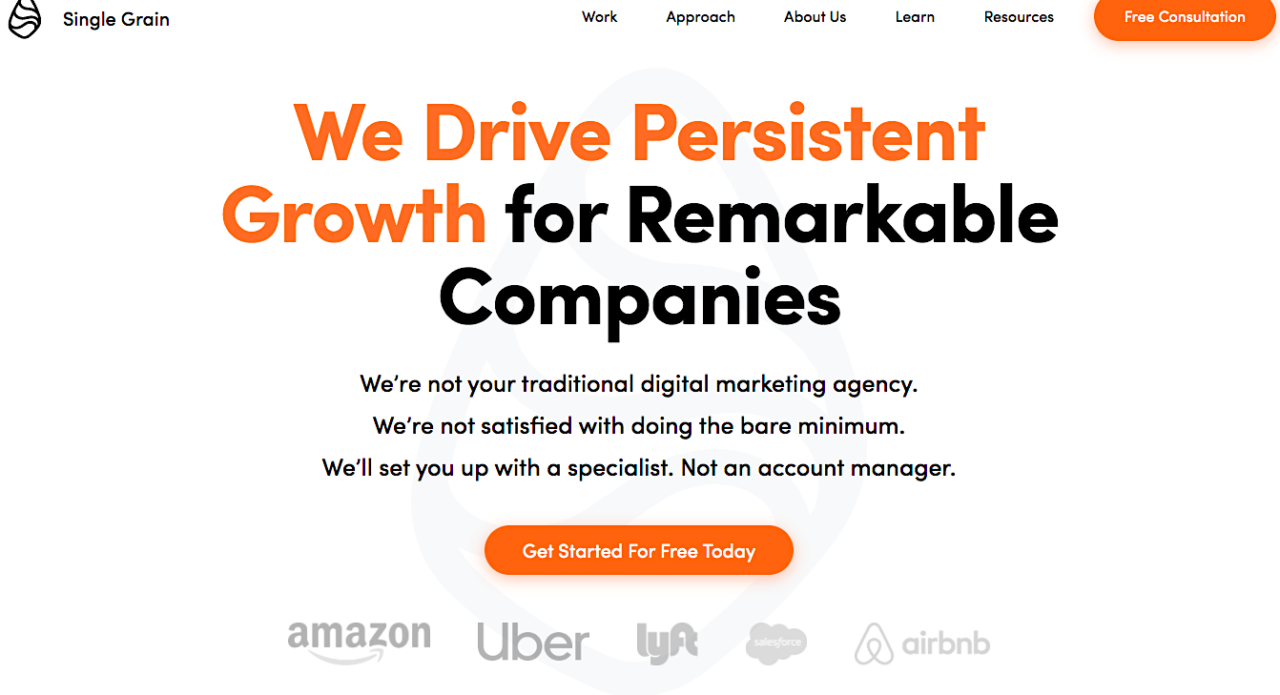 Single Grain is far more than your basic reputation management company. This full-service digital marketing agency offers a comprehensive approach to making the right impression on your audience. With in-depth consulting and research to help you build the perfect strategy from scratch, Single Grain can ensure that you always make a lasting impact.
Part of what makes this agency special is its custom approach to marketing and branding campaigns. Every company the brand works with will receive a fully bespoke experience based on the exact needs of the client. Their teams of dedicated marketing, PR and social media experts will work with you every step of the way and show you exactly how each of your reputation management strategies are impacting your brand.
With Single Grain, you get a specialist ready to become a dedicated part of your team, rather than just another account manager. Plus, the company has years of experience assisting with all kinds of content creation and growth management.
Check out this 10-minute video on branding from Single Grain CEO Eric Siu:
Specializes In: Reputation management, growth marketing
Top Clients: Facebook, Viacom, TechCrunch
Pricing: Custom based on your requirements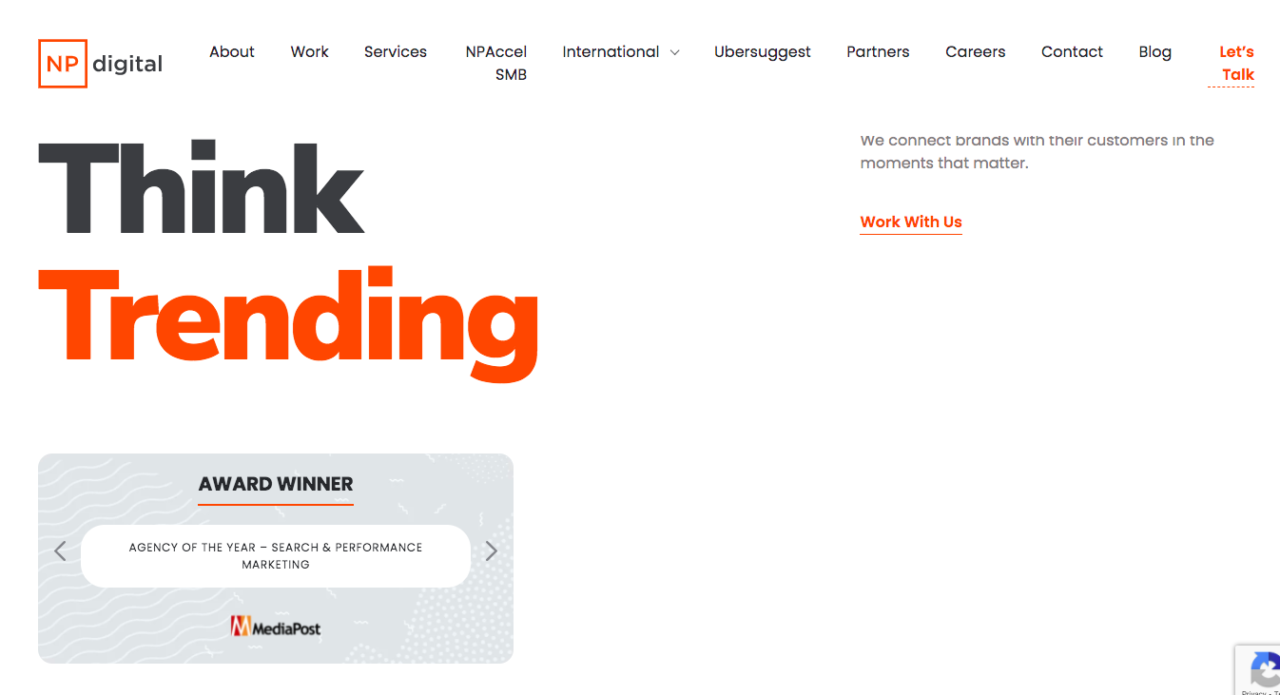 NP Digital is the digital marketing company created by marketing guru Neil Patel. Similar to Single Grain, this company offers a variety of services for growing companies, including social media marketing, content marketing, and press management.
The organization focuses its work on data and revenue creation, building highly customized plans for customers based on their specific goals. With NP Digital, you can expect an award-winning team of professionals helping you with everything from understanding your target audience to assessing and out-shining the competition.
NP Digital's custom marketing campaigns will help to build the kind of reputation you want your company to have through things like paid search campaigns, content marketing and link building, influencer marketing, and even affiliate marketing strategies.
Related Content: 7 Steps to Getting Started With Affiliate Marketing for Your Business
Specializes In: Reputation management, content creation
Top Clients: WhiteHat, Harbortouch, Sternberg Law Firm
Pricing: Custom based on your requirements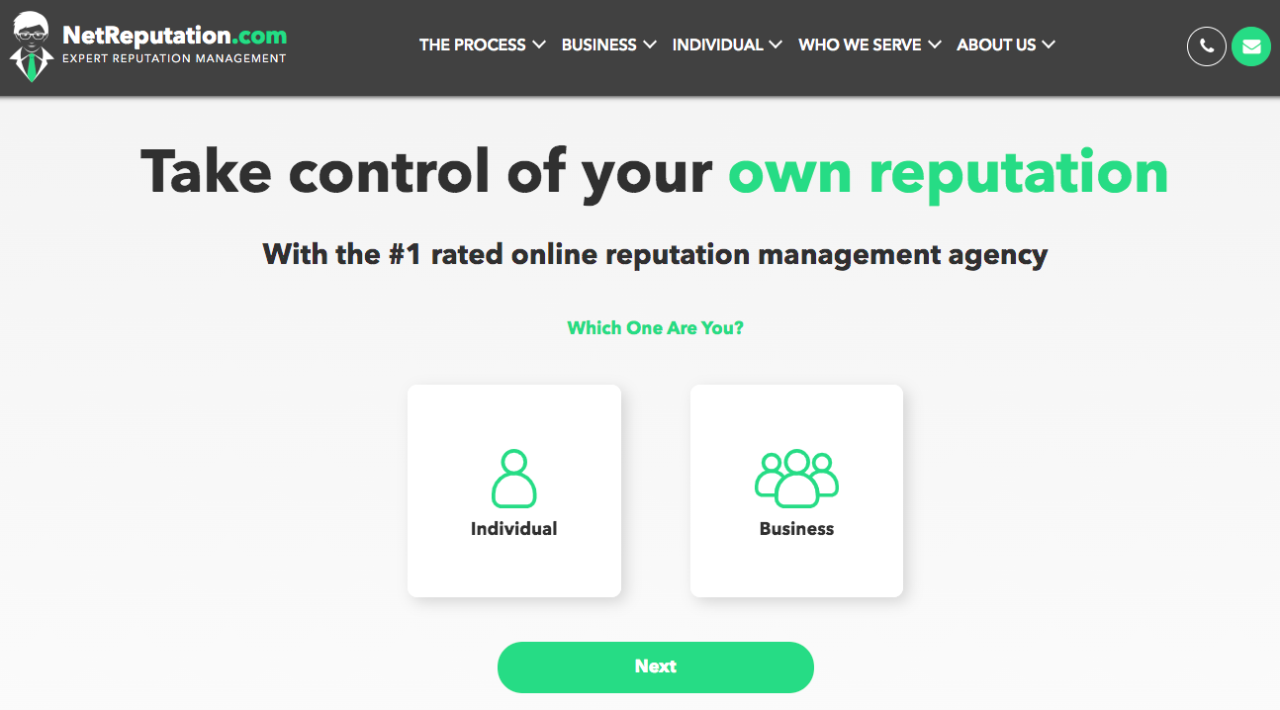 If you're looking for a reputation management company with specialist focus on reputation and nothing else, then this is the company for you. NetReputation is one of the top-rated firms in the reputation management landscape, with awards from Newsweek and Bloomberg.
The company uses a team of specialists and experts to build a positive reputation for your business online, assisting with everything from content creation and content removal to PR crisis management. This is the kind of company you'll want on your side when something goes wrong with your brand reputation. They work to replace negative content with positive reviews, and even monitor mentions on your behalf.
NetReputation will work with you to build your brand's reputation online, assessing your current identity, and making changes to your strategy to highlight your most valuable characteristics. They're also experts in review management and removals.
Looking for a full-service marketing company?
The Absolute 20 Best Marketing Agencies in 2023 [a searchable resource]

Specializes In: Influencer marketing, reputation management, link building
Top Clients: Wix, BigCommerce, Kajabi
Pricing: Custom based on your requirements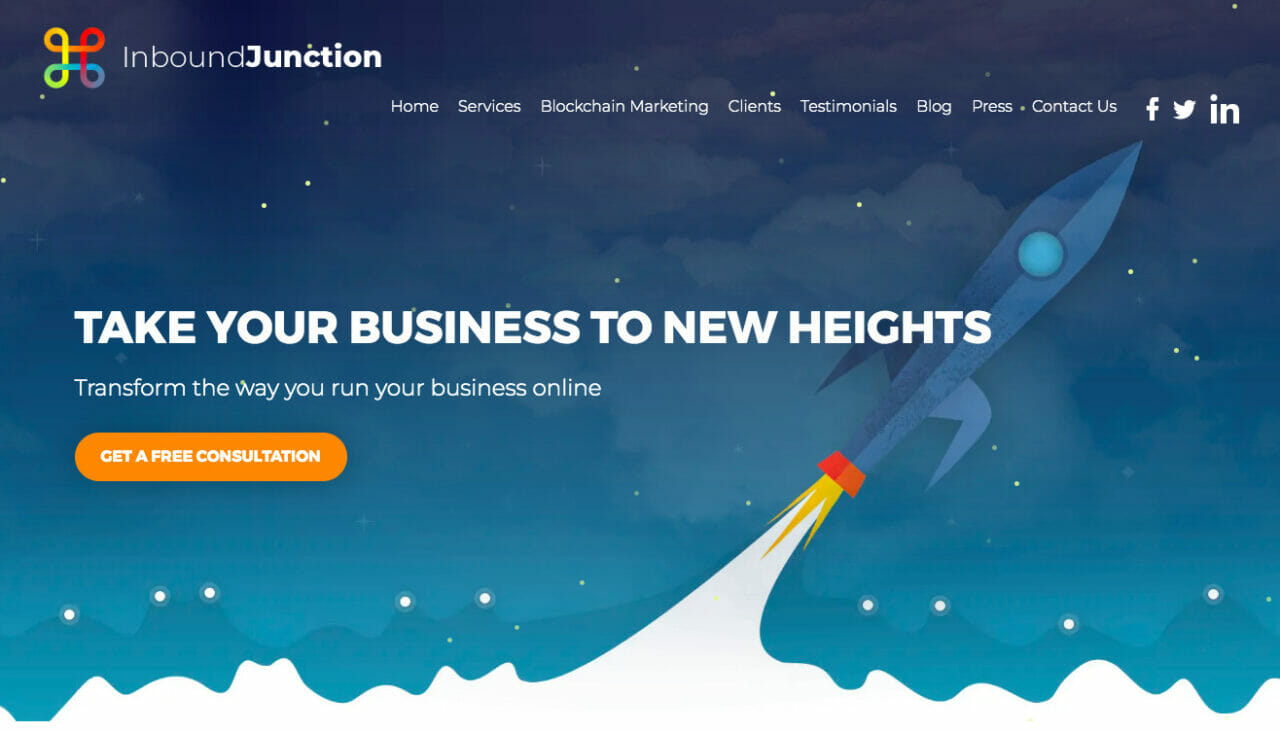 InboundJunction is another well-known brand in the reputation management landscape, capable of making your business stand out for all the right reasons. The company has extensive experience building trust and brand awareness through public relations and content management. They can also assist with things like thought leadership and content amplification.
The online reputation management offered by InboundJunction involves working with the brand to take control of the conversation people are having about them online. They can help promote positive insights about your company, while squashing any negative feedback.
InboundJunction also offers a range of other complementary services which can assist in strengthening your reputation, like SEO and link-building campaigns, as well as support with producing product reviews.
Related Content: The Ultimate Guide to Link Building with Content for SEO
Specializes In: Reputation management, content creation
Top Clients: Nationwide construction, Max Mechanical, Quick Roofing
Pricing: Custom based on your requirements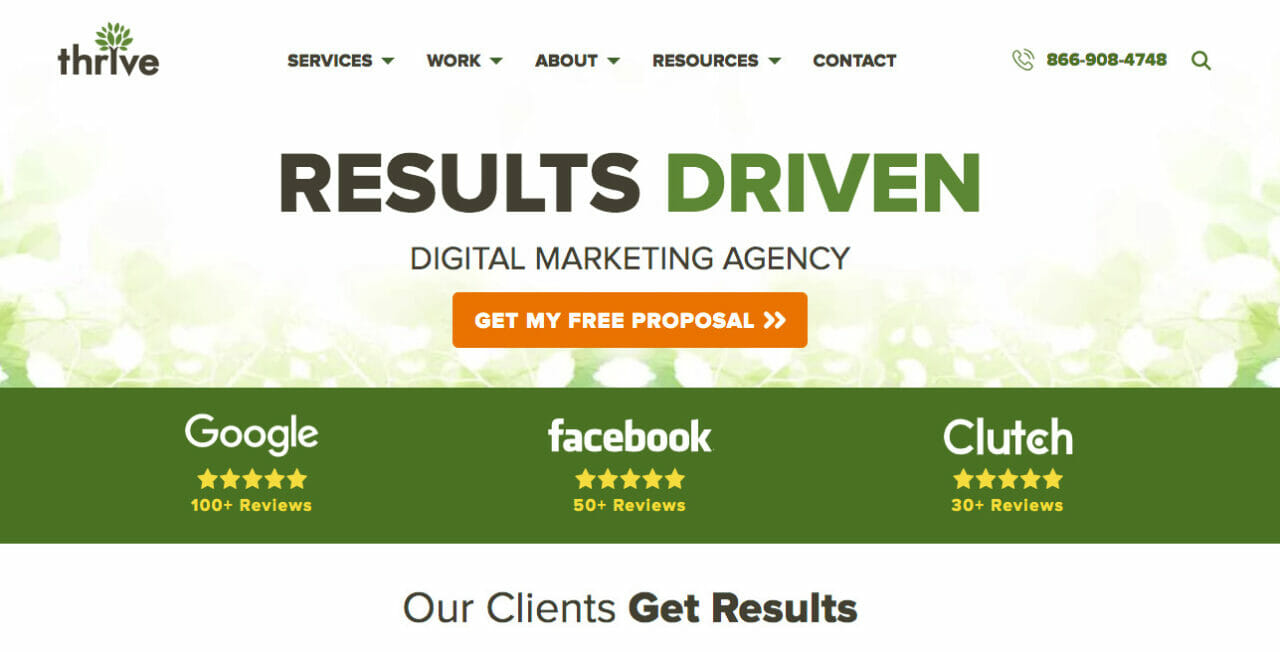 Concentrating more on small businesses than huge enterprise companies, Thrive is a results-driven digital marketing agency with a host of reputation management and repair services. They can assist with everything from monitoring conversations about your business to performing comprehensive competitor analysis.
With access to exceptional content marketing skills and tools for building more impactful marketing campaigns online, Thrive will ensure that you have everything you need to send the right message. The company can even help with handling customer relationships on your behalf.
The company will assist with review generation and online reputation repair when something goes wrong with your brand identity. Thrive is also excellent for gaining assistance with social media marketing and SEO.
Related Content: How a Brand Persona Plays Into Effective ROI
Ready to Hire the Right Reputation Management Company?
A good reputation management company can be a crucial investment when it comes to protecting your business in today's complex digital landscape. These fantastic agencies can assist with everything from building better customer relationships to protecting your brand when something goes wrong with a wayward campaign.
Schedule your FREE consultation with Single Grain's reputation management experts to discuss your needs.👇