As a website owner, tracking your shares is vital to your marketing strategy. And all savvy marketers know that promoting and repurposing content on social media is an effective way to expand your digital presence.
But there are times when marketers run into issues, such as tracking shares on social media and other "dark" places.
In this post, we'll explain what is dark social and other "dark" places where your audience may share your content, how to track it, and how to do dark social marketing.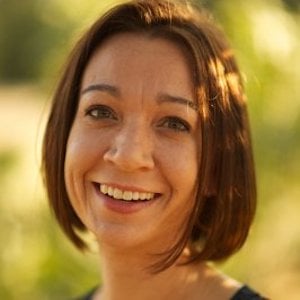 Kim Cooper
Director of Marketing, Amazon Alexa
Single Grain enables us to increase our impact without increasing our headcount
What Is Dark Social?
Dark social is when a user shares your content on a private channel, i.e., one that generates no tracking information. Many social media channels, such as LinkedIn, are common dark social examples, but dark shares aren't limited to social media.
The term "dark social" dates back to 2012, from an article in The Atlantic by Alexis C. Madrigal, who says that this is how big of an impact dark social was having on the paper at the time of writing: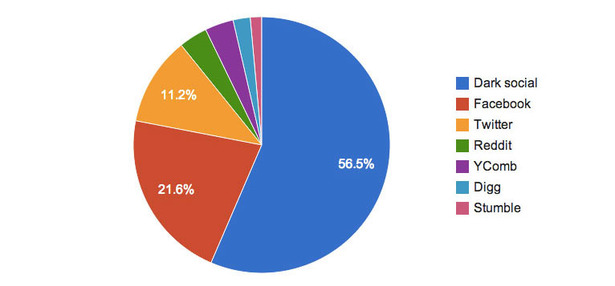 This sharing activity was "dark" because it occurred in private or semi-private spaces, away from the visibility of traditional web analytics tools. Madrigal introduced the term to draw attention to the challenge faced by marketers and analysts in understanding the true extent of social sharing and referral traffic.
Even though a lot has changed on the web since 2012, dark social is still a problem. One could argue it's an even bigger problem due to the complexity of the internet and all the new websites, apps, and social media platforms.
After all, 84% of shares happen on dark social, so tracking these shares can better educate marketers on their audience: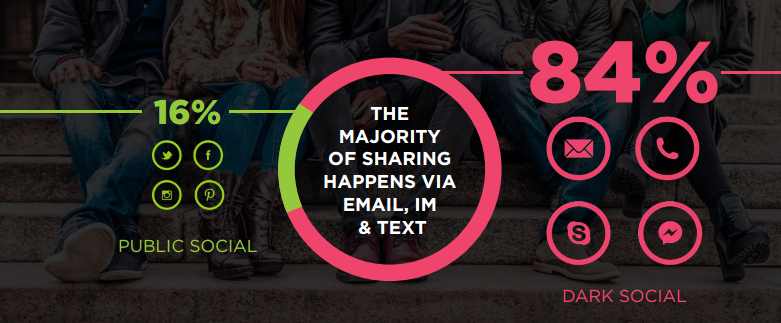 Why Do People Share in "Dark" Places?
Many people share content on different websites and apps: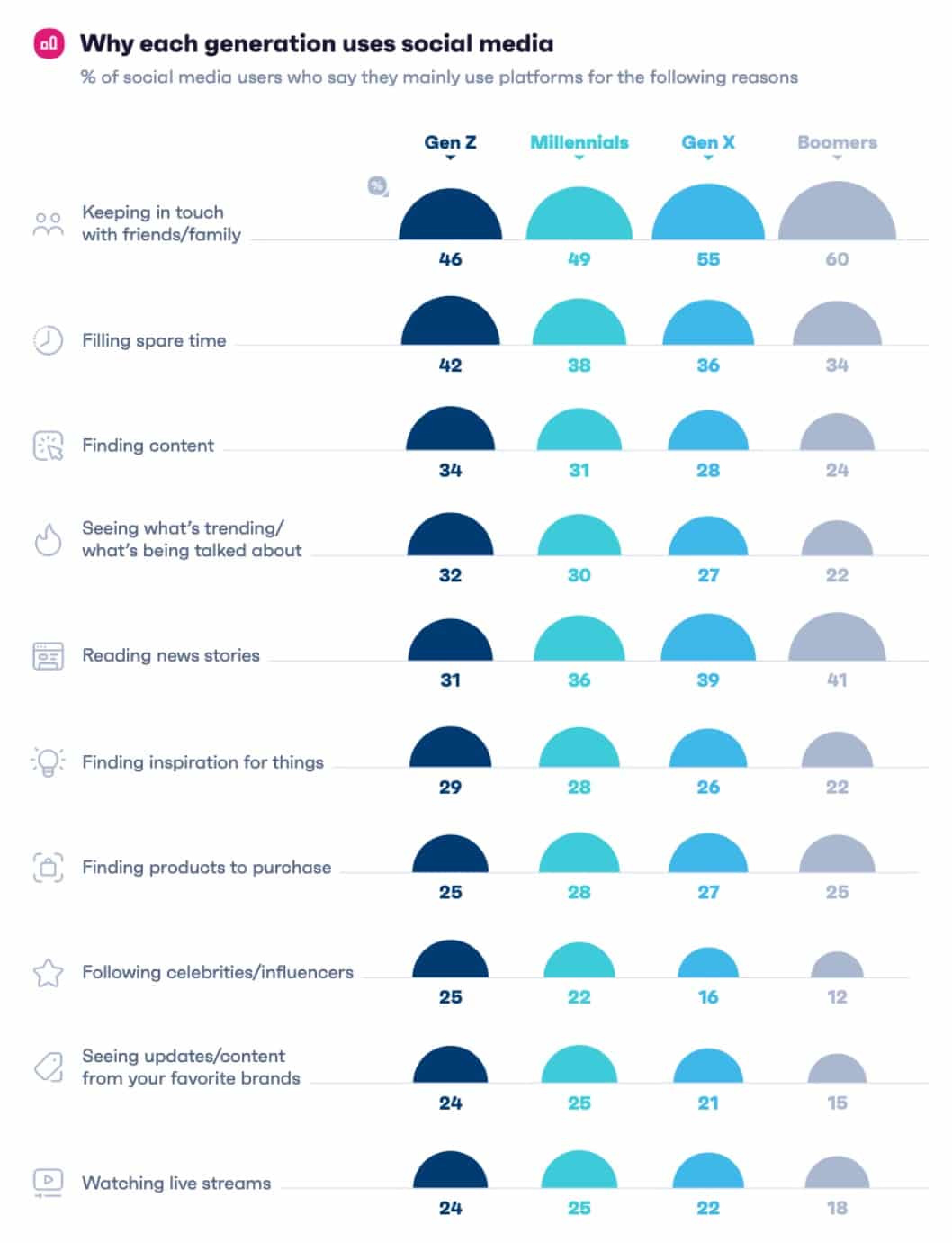 People may share your content via text and private messaging. Social newsfeeds are another common place where users share web pages – so much so that 94% of users share content on social media. They may also share to amuse and inform their followers, to simply share posts they find helpful, to start a conversation or draw attention to their social profiles.
Why Does Dark Social Matter so Much to Brands?
The main reason dark social matters is because of how often users share content on untrackable platforms, specifically social media, email, and messaging apps.
This information that marketers can't trace is vital to their strategy. Marketers use demographics to create accurate customer profiles, knowing how to target their audience in future advertising and marketing campaigns.
Tracking dark social content becomes vital when users share links that lead to a product or service or content about your products and services.
According to Forbes, the more content one consumes, the closer they are to becoming a customer. And if your consumers share your products over messaging apps and email platforms, you're missing information about the lead generation process.
Dive Deeper: Best Lead Generation Tactics for Content, Email & Social Media Marketing
Dark Social Examples
To give you a better idea of dark social and its impact on marketing, it's important to know the most prominent dark platforms where users may be sharing your content: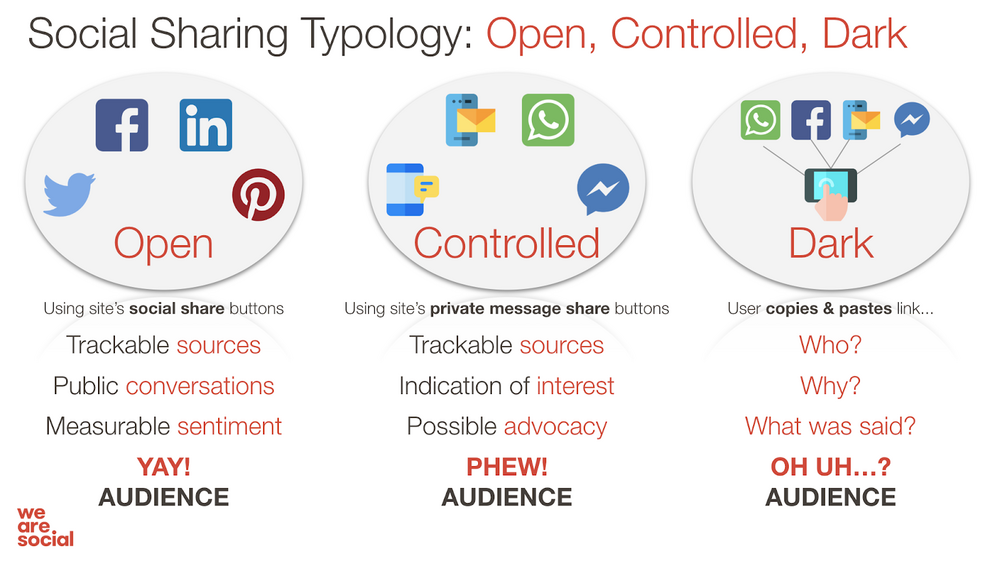 Here are some common examples of dark social platforms.
Email Traffic
As one of the most traditional digital methods of communication, it should be no surprise that email tops this section. In addition to sharing messages and files, many users may send links to their recipients. This can include a colleague sending you a link to the latest marketing report or a loved one sending you a link to a new online store.
Native Mobile Apps
Many users also share content on native mobile apps, notably social media. You may even be sharing a dark link without realizing it!
Take the popular "link in bio" that you may see on Instagram and TikTok: 53% of creators and 46% of businesses use a link in their bio. If you don't know which social media users are clicking the link in your bio, you have less access to this consumer data.
Why can't you track traffic from apps? The short answer is privacy – especially if your consumers use Apple devices. In 2020, iOS released 14.5, which included Apple's App Tracking Transparency. With this feature, users can choose whether or not an app can track their web activity.
Since 96% of users disable app tracking, marketers can't see who visits their website from any iOS app.
Secure Browsing
Because of more online privacy concerns, more users are safeguarding their identities and data online.
There are many ways that users are doing this, including the use of a Virtual Privacy Network (VPN):
1.5 billion global internet users browse with a VPN.
VPNs protect valuable data, such as personal information and IP addresses. They safeguard users against attacks, especially when on public WiFi, but put restrictions on the data that marketers can access.
More internet browsers are now creating their own safe browsing technology. In addition to Brave, a private, secure and ad-free web browser for PC, Mac and mobile, Mozilla Firefox now has privacy tools where they don't save user information. This will make it harder for marketers to track data from Firefox users.
Private Messaging Apps
Messaging apps are another popular place where users share content. Facebook Messenger, WhatsApp, Telegram, Slack, and WeChat are all popular examples of messaging apps. Classic SMS text messages can also be a form of dark social: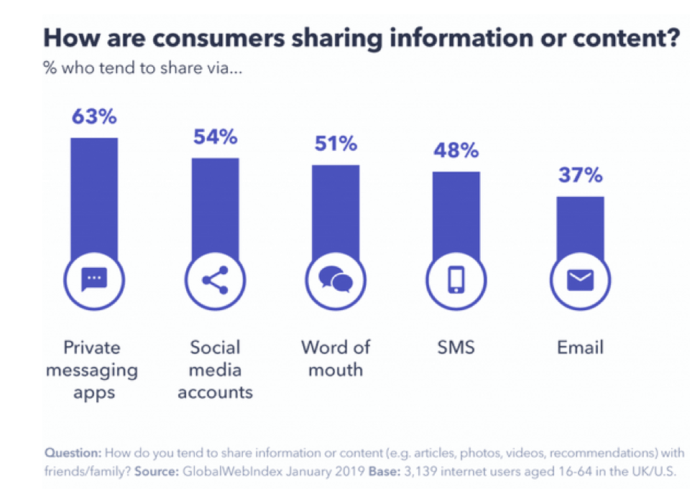 In one study, analytics expert Steve Lamar found 100% of dark social links come from messaging apps (though Facebook Messenger only accounted for 75%).
How Does Dark Social Compare to Other Traffic Sources?
Some of the most popular examples of website traffic include:
Direct traffic – when web traffic doesn't come from any other channel (i.e., a user types your website in their search browser).
Organic traffic – when a user visits your site from a page on a search engine results.
Paid search – when the web traffic comes from a paid ad, usually a PPC campaign.
Referral traffic – when a user visits your website from a "referring" source, such as a backlink on another website.
The main factor these web traffic sources have in common is that they're trackable. You can see who found your website from a Google search, paid campaign, or backlinks.
Direct traffic may also pose a problem in dark social. For example, a consumer saw your post on TikTok and decided to visit your website. There's no way of knowing if a specific TikTok video brought a consumer to your website, making it harder to measure the effectiveness of your social media marketing campaign.
How to Do Dark Social Marketing
If you think tracking web traffic from social media is a lost cause, here's the good news: You can do dark social media marketing to track users from native apps and other platforms where that traffic may be hidden.
Some popular examples include:
Brand-owned closed communities: Closed communities, such as an invitation-only Facebook group, allow companies to interact with customers and track engagements and web traffic, all without the complex data tracking from social media traffic sources.
Other social networks: These include branded subreddits and Quora threads that may be open. Reddit is an easy way to share content, new products, company updates, and more. Even though Reddit hides private information, you can still use this platform to learn your customers' interests and behaviors better.
Employee advocacy: You can encourage your employees to act as spokespersons for your brand, a trend called employee advocacy. For example, B2B brands utilize this strategy often on LinkedIn. Encourage employees to share your content on LinkedIn. This way, you'll have a better snapshot of who's interacting with your content on social media.
Private messaging marketing: As long as you're not intrusive, SMS and DM marketing is a great way for consumers to learn about your deals and continue retargeting leads. You can include a coupon code in your text message and use it for promo monitoring.
Related Content: Social Media Marketing for Business Owners: How to Get Started in 2023
How to Track Dark Social
There's no need to be afraid of the dark! While the previous dark social media marketing strategies are effective, you'll still want to know how to track dark social media traffic: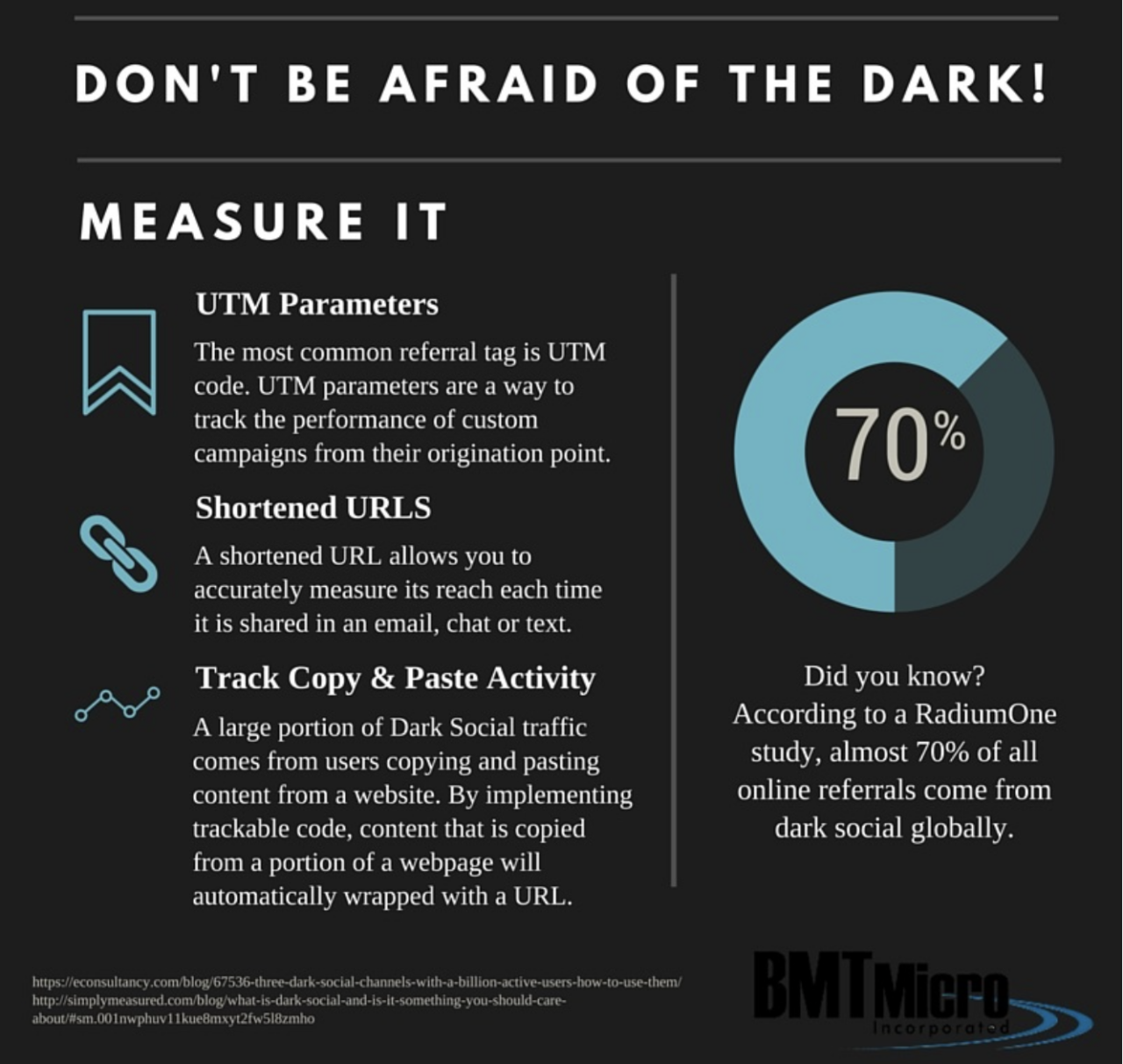 Here are a few easy ways to track dark social.
Shortened URLs
Shortened URLs are popular on many social media platforms, notably Twitter and others with character restrictions.
Marketers also use shortened URLs to track the clicks and shares they receive from users. Shortened URLs can help marketers gain insight into the effectiveness of their social media marketing campaign and if their content is converting leads.
Businesses can use a tool like Bitly to create shortened URLs:

Referral Traffic
There are many ways you can track website referrals on social media. Influencer marketing is a perfect example.
Influencer marketing is a simple way to not only increase your reach on social but also to track social media traffic. When you supply a coupon link to your influencers, you can use this code for coupon monitoring.
Google Analytics
If you're one of the 28.1 million websites that use Google Analytics, you can track dark social by making a simple change to your platform. As stated previously, most dark social visits are direct traffic, meaning users see your post on social media and then visit your website. You can narrow direct traffic to get a better idea of where your audience is coming from.
To do this:
Sign into Google Analytics and go to Audience > Overview.
Click on Add Segment and select Direct Traffic. De-select all other options.
Scroll down and click Apply.
Marketers should also filter out any website name or link that's memorable, such as your home page URL: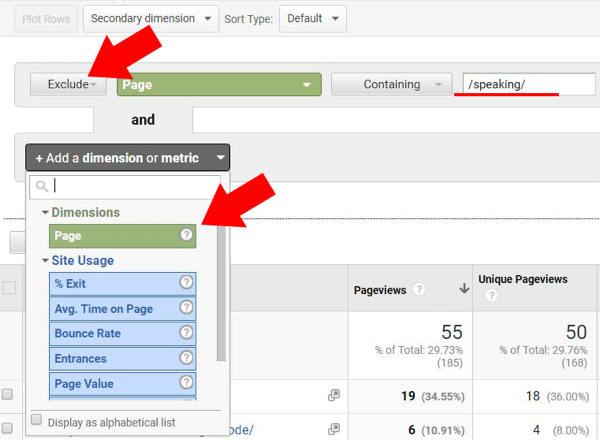 To do this:
Go to Behavior > Site Content > All Pages.
Click Advanced and change the first filter to Exclude.
Select Page, and type in any URL you find memorable.
UTM Codes
UTM codes, also called UTM parameters, are a string of code that marketers place at the end of a URL: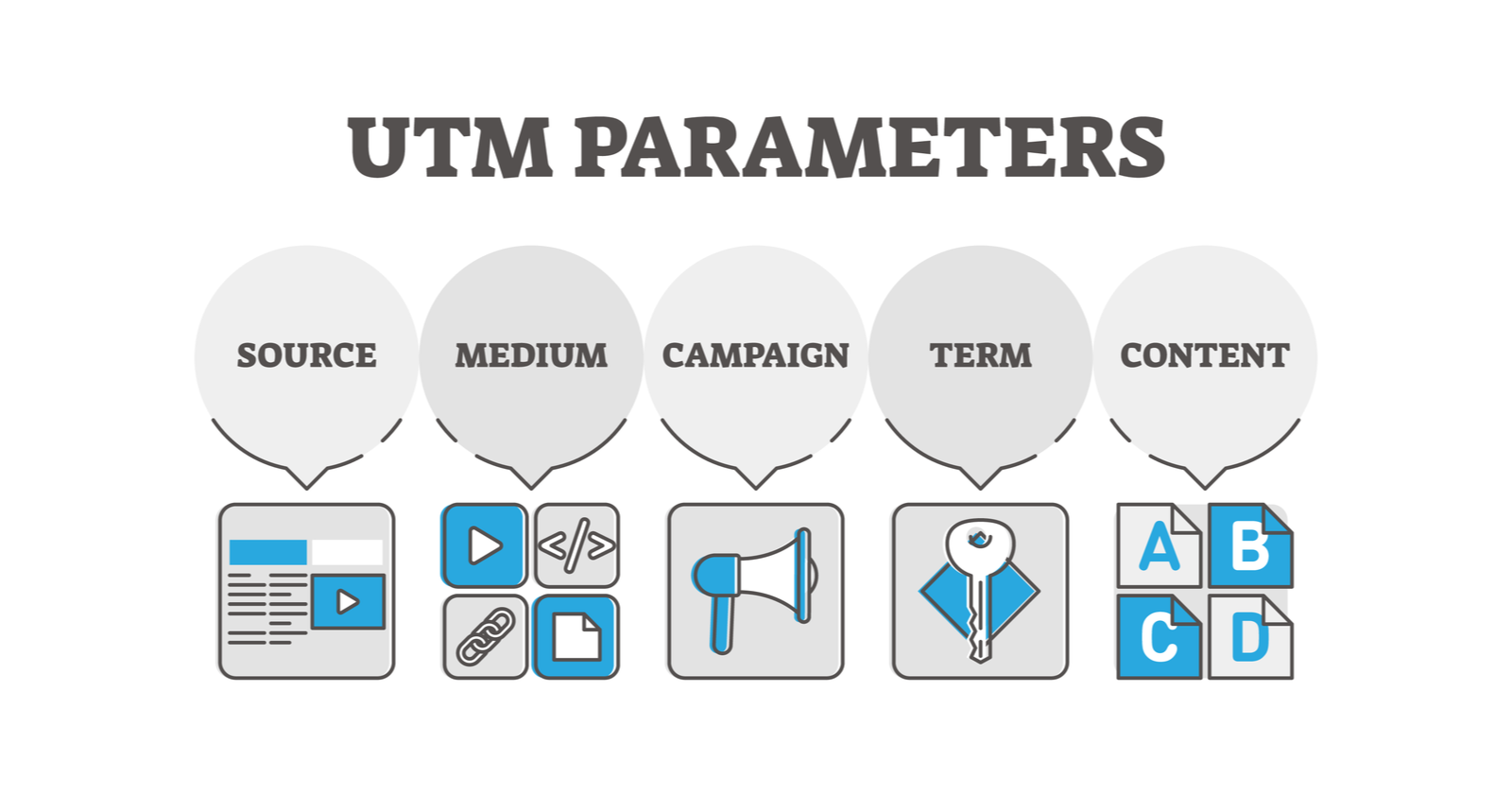 This parameter tracks the medium, source, term, campaign, and content that made the user click on your website.
Share Buttons
Instead of forcing users to copy and paste your web page URL, make sharing from your site easy by including buttons to post on social networks. You'll not only increase your reach, but can also easily track who's sharing your content on social media.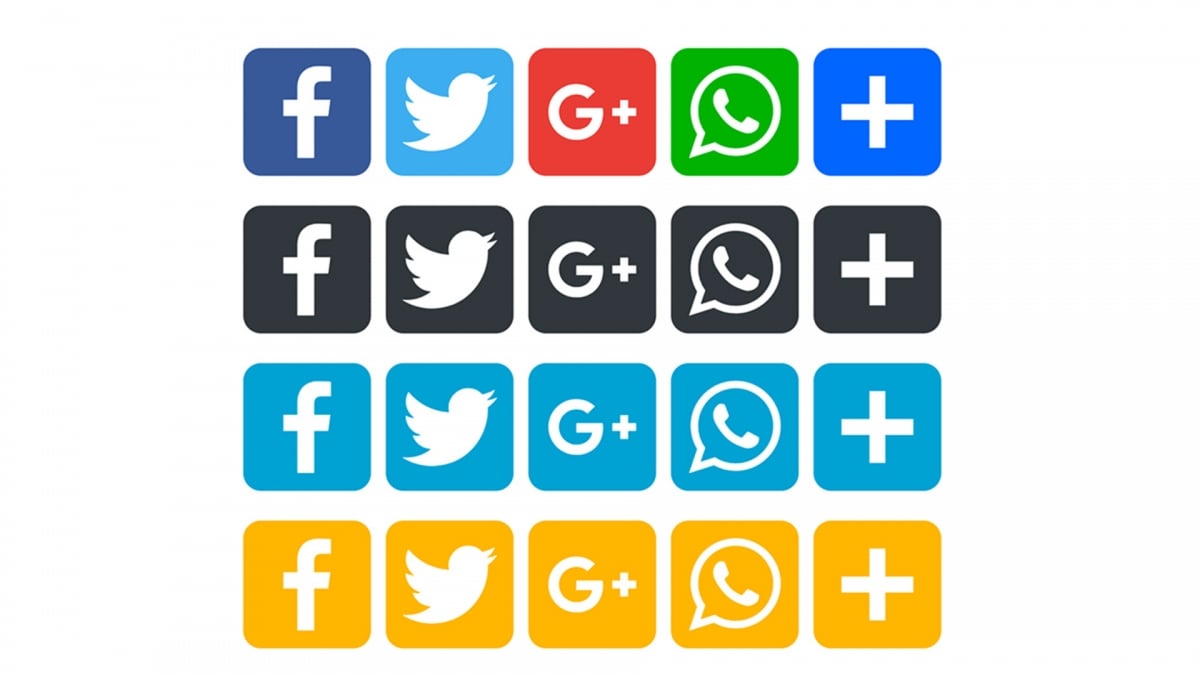 Include share buttons leading to popular social media apps, such as Facebook, Instagram, LinkedIn, and Twitter. It's also worth it to include email, SMS, and messaging app buttons.
Social Listening and Monitoring Tools
With social listening and monitoring, you will receive notifications when users mention your brand on social media: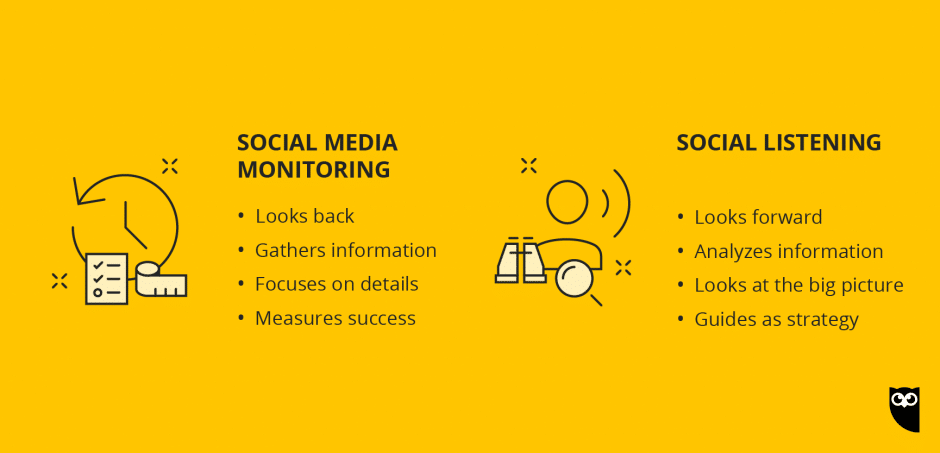 Major social media marketing platforms, such as Sprout Social, use AI to let brands search through mentions to uncover trends and insights from your followers.
This way, you can better identify audience demographics, interests and behaviors that captivate your consumers. Plus, social listening tools will introduce you to new influencers, which opens up more opportunities for referral traffic.
Referral Marketing
Instead of including a link to your website on social media, offer a referral program. Encourage your customers to refer their friends and families to your business: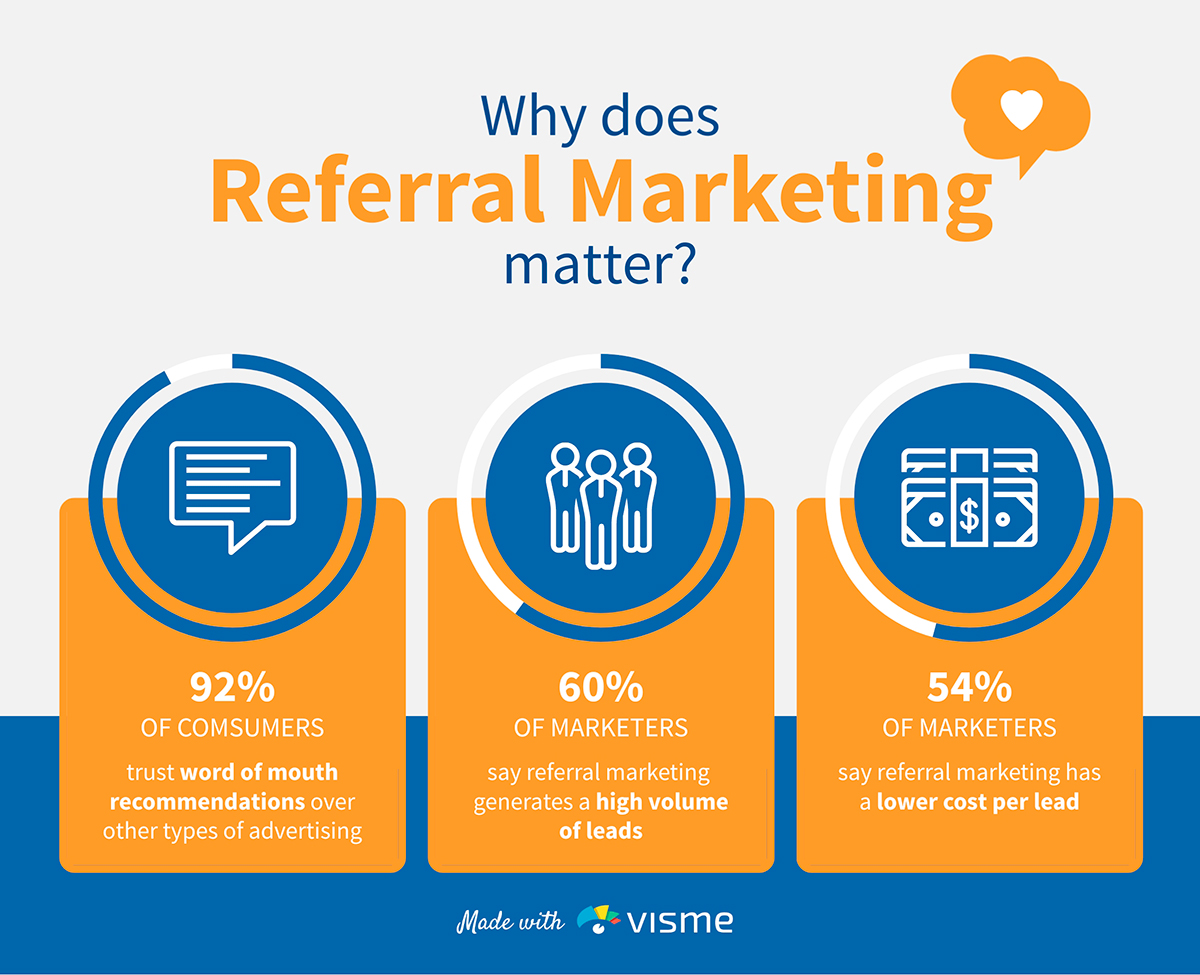 Referrals can still be difficult to track, so you may want to include an optional "How Did You Find Our Brand?" section.
Dive Deeper: 6 Referral Marketing Strategies to Boost Sales in 2023
Specific Dark Social Tracking Tools
While all these tactics can measure dark social traffic, you'll get the most accurate results using dark social tracking tools.
Dark social tools offer different benefits, such as social monitoring and analytics, so you can better identify your previously unseen audience. Many dark social tracking tools include some of the mentioned tactics, such as trackable social sharing buttons.
You have many dark social tool choices, such as ShareThis and GetSocial: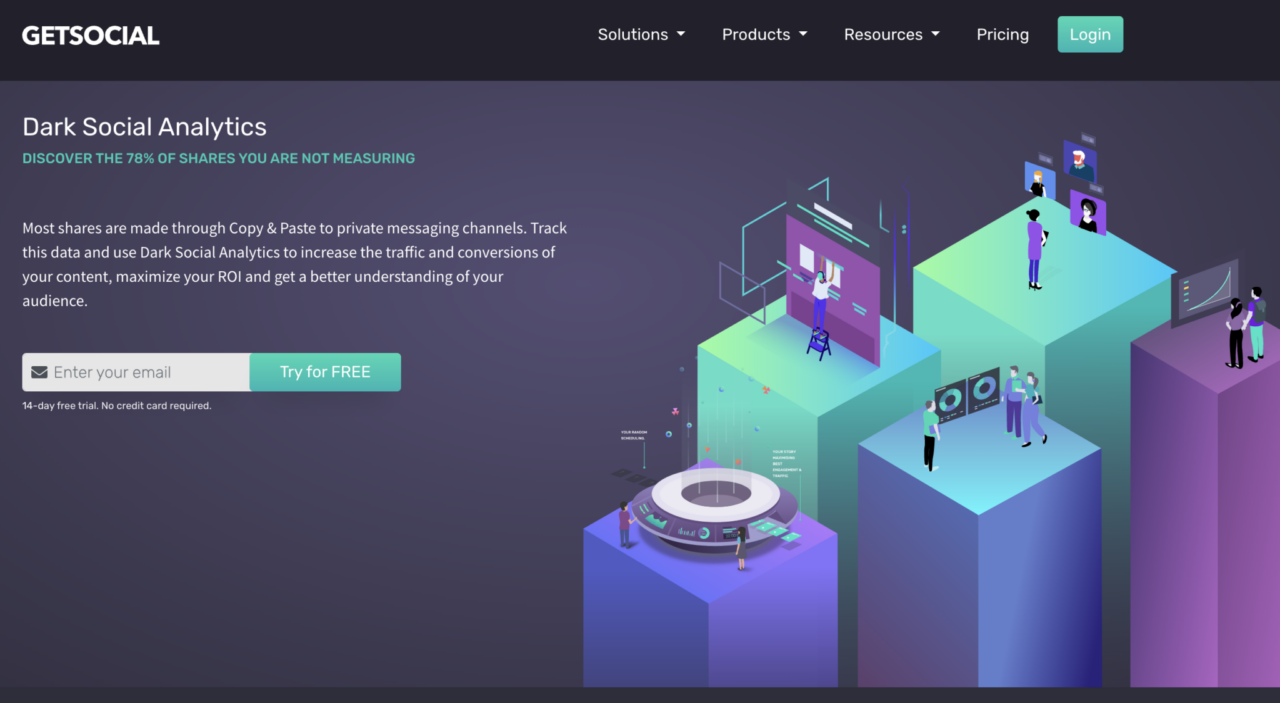 With these tools, you can track copy-and-paste shares to understand your audience better, how your web visitors are reacting to your content, and view pages that are performing well on dark social.
Wrapping Up: Dark Social Is an Unseen Marketing Opportunity
With dark social, marketers are losing insight into a large chunk of their audience. While this may seem discouraging, look at dark social as an unseen marketing opportunity.
Even though you may initially not see where your traffic sources are coming from, you can take the opportunity to connect with your customers via Facebook groups and branded subreddits.
Implementing different hacks in your marketing strategy, such as shortened URLs and UTM codes, will make it easier to track your dark social shares. You also have the option to use dark social software that offers many tools, such as social monitoring and analytics. This way, you can eliminate the mystery behind dark social.
If you're ready to turn dark social into an opportunity, Single Grain's

web analytics experts

 can help!

👇
Dark Social FAQs
If you were unable to find the answer you've been looking for, do not hesitate to get in touch and ask us directly.