Businesses running mobile ads on platforms such as Facebook, Google, Instagram, InMobi, AdMob, Flurry and others will be affected by the recent release of Apple's iOS 14 mobile operating system.  
In this article, I will discuss the changes that Apple made in its newest iOS release and what steps you can take as a business owner or marketer to support advertising on different mobile ad platforms.
Let's start!
---
---
What Is the iOS 14 Release?
iOS 14 is Apple's latest version of its mobile operating system and it was launched on September 16, 2020.
The major highlight of the iOS 14 update is how it handles user privacy and data use.
Apple has blocked the IDFA identifier (more on this in the next section) at the app level. Advertising agencies use this to test the effectiveness of ads, and unless users allow the running of the identifier on their device, it will remain blocked.
To maintain user trust in Apple devices and the company's high standards for privacy, security and content, the newest versions of Apple iOS 14.5, iPadOS 14.5 and tvOS 14.5 will prompt users and ask their permission to track them across apps and websites owned by other companies.
Here is what the prompt looks like: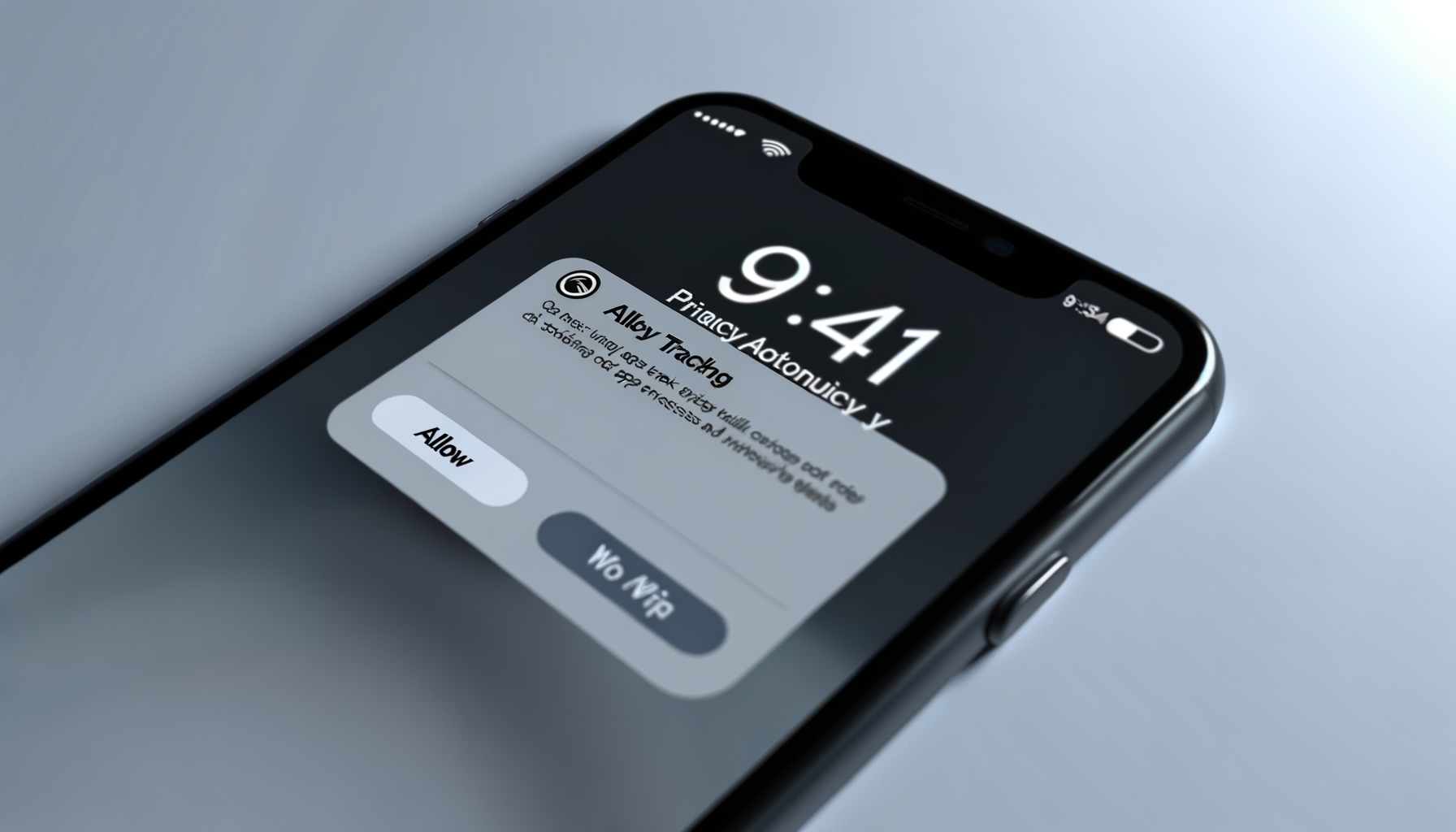 Around 70% of iOS users share IDFA with advertisers – but this number is expected to decrease to 15% or even 10% in the coming months.
Without IDFA tracking, it will be hard for advertisers to measure the effectiveness of their ads.
Related Content:
* Marketer's Guide to App Store Marketing
* 4 Essential Steps to Create a Go-To-Market Plan For Your Mobile App
* Apple Search Ads: How App Publishers Can Get to the Top of the App Store

What Is IDFA?
IDFA stands for Identifier for Advertisers. It is a tracking ID used by Apple devices such as the iPad, iPhone and Apple TV.
IDFA is similar to the Android Advertising Identifier (AAID). You can compare IDFA with a browser cookie: Just as browsers use cookies to track advertising IDs and user behaviors across different websites, IDFA tracks advertising IDs on Apple devices.
Advertisers track IDFA to deliver personalized advertising without revealing personal information: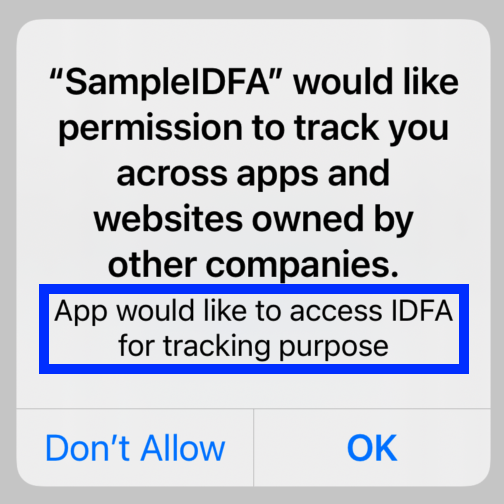 IDFA is used with browser cookies to deliver relevant and personalized ad experiences to an audience, which leads to higher ad conversions for advertisers.
Some Uses of Data Tracking
IDFA is used for data tracking. Here are some example use cases of data tracking:
Displaying personalized ads to users based on the data collected by the app or using data from other companies.
Sharing user data with data brokers such as email list providers.
Sharing advertising IDs with third-party advertising networks.
Measuring advertising effectiveness and reach by using a third-party SDK (software developments kits) in the app that combines user data from other sources such as the developer's app.
How This Change Affects Mobile Advertising
Various conversion events handle ad tracking, targeting and reporting. For instance, tools such as the Facebook Pixel receives and processes the conversion events on Facebook. Similarly, Google measures conversions with the help of Google Analytics for mobile apps.
Apple's recent data privacy policy is in accordance with their App Tracking Transparency (ATT) Framework. According to this policy, Apple will prohibit certain data collection unless the user opts in via the prompt. Since most people will opt out of tracking, events won't be adequately tracked, thus affecting ad personalization and conversion reporting.
In simple words, Apple's iOS update will give users the option to disable app tracking. Therefore, advertising companies won't be able to track user behavior.
Why Did Apple Change This?
Apple makes money selling hardware. In contrast, its major rivals, Facebook and Google, earn profits by selling ads. And every form of online advertising requires tracking user behavior.
Prior to this update, users automatically gave consent for information tracking to the app as soon as they installed it (the privacy policy of the app includes points related to user tracking). Now Apple requires developers to ask for permission before using specific information from other companies' apps and websites for advertising purposes, even if they already have user consent.
This is what Apple CEO Tim Cook said while delivering a speech on user privacy:
"Our Silicon Valley rivals are gobbling up everything they can learn about you and trying to monetize it. We think that's wrong. And it's not the kind of company that Apple wants to be."
Apple has decided to stop this practice and allow transparency in how companies collect and use user data. Therefore, this move has forced advertisers to make changes on their platforms to comply with the latest Apple guidelines or face rejection from the App store.
On another note, Facebook said:
"Apple's new iOS 14 policy will have a harmful impact on many small businesses that are struggling to stay afloat and on the free internet that we all rely on more than ever."
Why the Change Is Harmful to Small Businesses
Apple's new iOS 14 policy will have a negative impact on small business' sales. People who are running Facebook Ads to increase app installs will now have to charge for subscriptions because Apple's new policy is forcing companies to turn to subscriptions and in-app payments.
Apple does not receive any commission from Facebook Ads, although there is a commission for every app install from the App store. Therefore, Apple is trying to increase its profits by forcing small businesses to accept payments or exit the market.
What's more interesting is that Apple's own advertising platform is not enforcing the new changes. Nevertheless, Facebook has no option but to implement the changes suggested by Apple:
"We disagree with Apple's approach and solution, yet we have no choice but to show Apple's prompt. If we don't, they will block Facebook from the App Store, which would only further harm the people and businesses that rely on our services."
To track users' activity across devices, advertisers will now need the App Tracking Transparency Framework.
Related Content:
* 11 Companies That Are Doing Mobile Advertising Right
* How to Target Your Mobile Users with Push Notifications
* 12 Quick Fixes to Make Your Mobile Traffic Convert

Does Your App Need the App Tracking Transparency Framework?
If your app collects user data and shares it with other websites to track across apps and websites, then yes, you will have to use the App Tracking Transparency Framework.
There are three steps to start using the App Tracking Transparency Framework:
What Is the Apple SKAdNetwork?
Apple SKAdNetwork is an API that measures the effectiveness of ad campaigns while maintaining user privacy. You should configure it to comply with the Apple guidelines. It has three participants:
Ad network – which receives conversion notifications such as app installs.
Source apps – which display different ads provided by ad networks.
Advertised apps – which appear in the signed ads.
This figure explains the workings of the SKAdNetwork: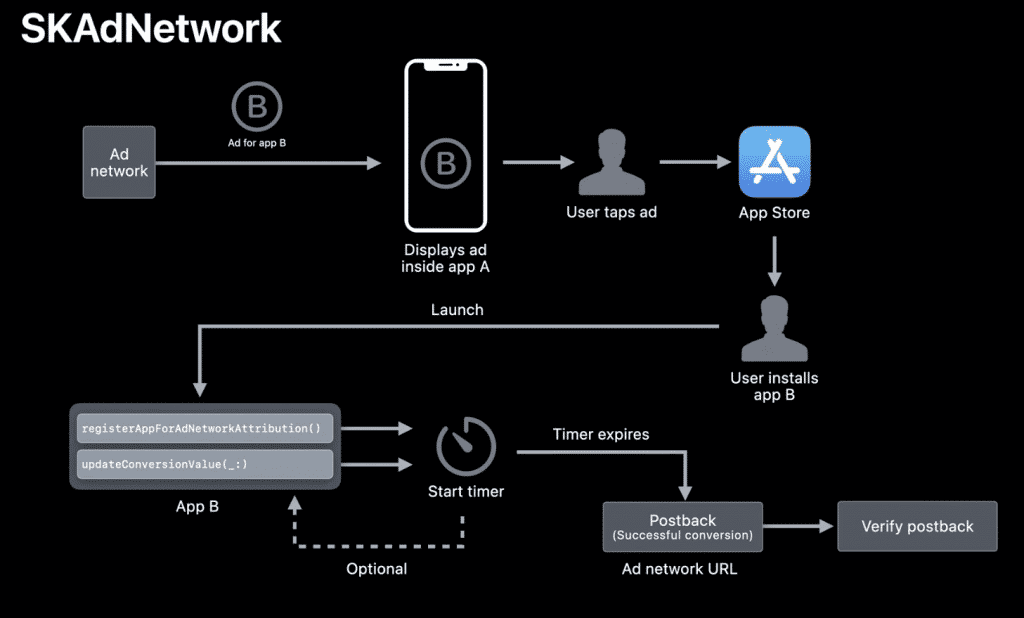 The SKAdNetwork receives metadata from ad clicks. Apple provides network IDs to registered mobile ad networks. The signed ads are provided to the source ads. The advertiser ads provide app install validation and update conversion values. The postback to ad networks will now contain up to 100 values only.
What Are the Impacts of iOS 14 Release for Mobile Advertisers?
No real-time reporting of ads: Real-time ad reporting won't be supported.
Loss of sales from ads: There will be more wasted ad spend because personalization of ad copy won't be possible. According to Facebook, there will be a 60% reduction in sales from ads.
Only click-based authorization support: No date-stamp parameter will be provided. Hence, only click-based attribution can be tracked.
100 campaign IDs per campaign: There will be a limit of 100 campaign IDs per network.
28-day attribution not supported: 28-day attribution or the 7-day view-through attribution won't be supported on ads reporting. All the historical data can be made available via the API.
Drop in revenue: There will be decreased revenue from app-install ads. Loss of remarketing ads will lead to a 50% drop in publisher revenue.
Delay in reporting: Data will get delayed since the new data collection process will take up to three days for configuration.
Delay in conversion tracking: Conversions can be tracked after a period of 24-48 hours of running a campaign.
No remarketing ads: Even if you create a retargeting audience, anyone who visits using an iOS 14 device won't see your ads.
Demographic tracking not possible: ID-based demographic breakdown won't be available.  
No ad personalization: Metrics such as age, gender, placement and region will not be supported.
Fewer custom audience: The size of the Facebook Custom Audience will decrease.
Probability rather than reality: Advertisers can use only probabilistic data to measure and optimize ad campaigns' effectiveness.
How to Measure Facebook Ad Campaign Performance for iOS 14 Users
Companies running ads on Facebook can start measuring Facebook Pixel conversion events using Facebook's Aggregated Event Measurement protocol. This protocol allows for the measurement of events from iOS devices but includes only eight conversion events per website domain. Ads that use events other than the eight events will be paused.
Here are the steps you can take to continue to measure the performance of your Facebook ad campaigns for iOS users:
Upgrade to Facebook iOS 14 version 8.1 for app conversion reporting and ad personalization. Facebook's iOS 14 version 8.1 supports Apple's SDK framework API to measure the performance of ads. You should have Apple's latest SDK framework installed if you still don't have it.
Verify your business using domain verification. This will help Facebook prevent misuse of your domain. Go to Business Manager -> Settings and click Domains. Then, click Add a New Domain and enter your domain name. The domain will be added to your assets. Now you can verify your domain using the DNS verification method or the HTML file upload. Once you have added the verification code, click Verify. Now you can add pages to your domain and apply the same process to your other domains.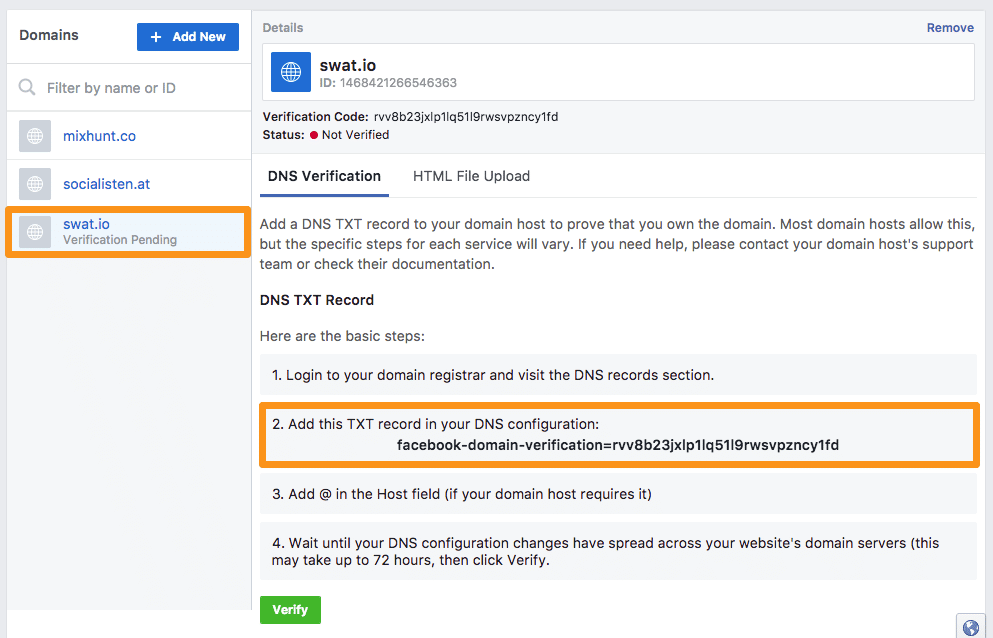 Configure all eight designed conversion events using the Facebook Events manager. You can configure SKAdNetwork events in three ways:

First, use the recommendations given by Facebook to configure events based on the available data. You should select this if you are using Facebook SDK.
Second, import the event configuration schema from the partner app (see more about this in the MMP section below).
Third, you can choose each event set individually. Depending on the customer actions, only the highest priority event will be tracked. For instance, if your customers add an item to the cart and purchase it in one session, only the highest priority event will be tracked. Therefore, the other events will show fewer numbers even though they are happening in the conversion cycle. Hence, you should only choose the highest priority event.
You don't have to worry too much about making changes in your Ad manager because Facebook will automatically configure the conversion events. You can, however, visit the Events Manager and add your preferred conversion event.
What if You Can't Verify a Domain on Facebook?
In case you can't verify a domain, you can track upper-funnel objectives such as landing page views or link clicks. A landing page view happens when customers land on your ad's destination URL. This event does not require domain verification.
However, landing page views tracking can only be used to improve the quantity and quality of traffic to your site. Similarly, a link click event happens whenever a prospect clicks on your ad. It only measures the number of times people click on your ad.
Related Content:
* 5 Facebook Ads Trends You Can't Ignore in 2023
* 30 Winning Facebook Ads and Why They're so Effective
* How to Get the Cheapest Facebook Ads Without Sacrificing Quality

What if You Work with a Mobile Measurement Partner (MMP)?
If you don't have the Facebook SDK, then you should contact your Mobile Measurement Partner and ask them to provide the unique URL. You can use this URL to import all the data from your partner app.
What if You Use the App Events API?
Configure SKAdNetwork in the Events Manager. Also, configure the Events Configuration Schema. Then ask your developer to share your OS and iOS version along with your app events. More information on share OS and iOS can be found in this developer resource.
Lastly, send the advertiser tracking-enabled flag along with app events. Here is a guide that shows how to enable and disable advertiser tracking.
Some Points to Note for Facebook Ad Campaigns:
Pause your campaign for three days before modifying or deleting the SKAdNetwork events. Once you have made the changes, don't forget to restart the campaigns.
Visit the Overview tab in the events manager to check whether your app is active and processing events correctly.
If you are not using the Business Manager account, make sure you are the owner of the app or the account you are using has permissions to make the changes.
Your Business Manager account should have permission to advertise for the app.
Bonus Tip for Facebook Advertisers
TIP: If you are running campaigns with conversion goals, then you can choose to remove iOS devices from the campaign and run your campaign on Android devices only.
This Android-only tip (suggested by Brett McHale on WordStream) is useful for companies that are looking to add hyper-personalized ads for maximum conversions: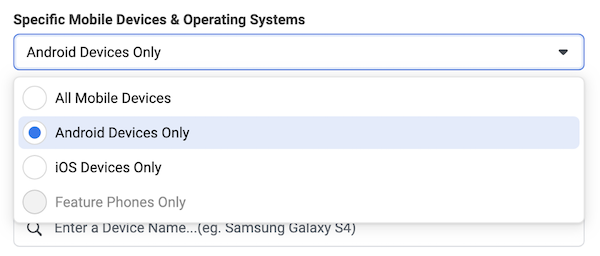 How to Measure Google Ad Campaign Performance for iOS 14 Users
If you are running Google app ads and using Google Analytics to measure your campaign performance, then here are the steps you need to take:
Install the latest Google Mobile Ads SDK for iOS (version 7.64).
Configure Apple's SKAdNetwork. Read this tutorial to enable SKAdNetwork to track conversions of mobile ads.
Upgrade to the latest version of Google Analytics for Firebase. Once upgraded, all your apps will automatically register for the SKAdNetwork, and you can start measuring conversions for contented users.
Limit your app install campaigns to 8 since the current limitations of the SKAdNetwok does not allow more than 8 campaigns per iOS app.
Use only tCPI (target cost per install) and tCPA (target cost per action) as your bidding strategy for iOS app install ads.
Related Content:
* 6 Google Ads Trends You Can't Ignore in 2023
* Google Ad Extensions: Everything You Need to Know
* How to Create Compelling Text Ads on Google (with Examples)

Getting Performance Reports for iOS 14 Users
Google will start using the modeled conversion model for all other channels, including search. Therefore, your Google Ads Manager's conversion column will now contain modeled conversions (see more below).
Similarly, app installs, conversion value installs, and in-app actions will also have the modeled conversion value. To specifically view the reporting data for SKAdNetwork, you can visit Reporting > Other > SKAN conversions: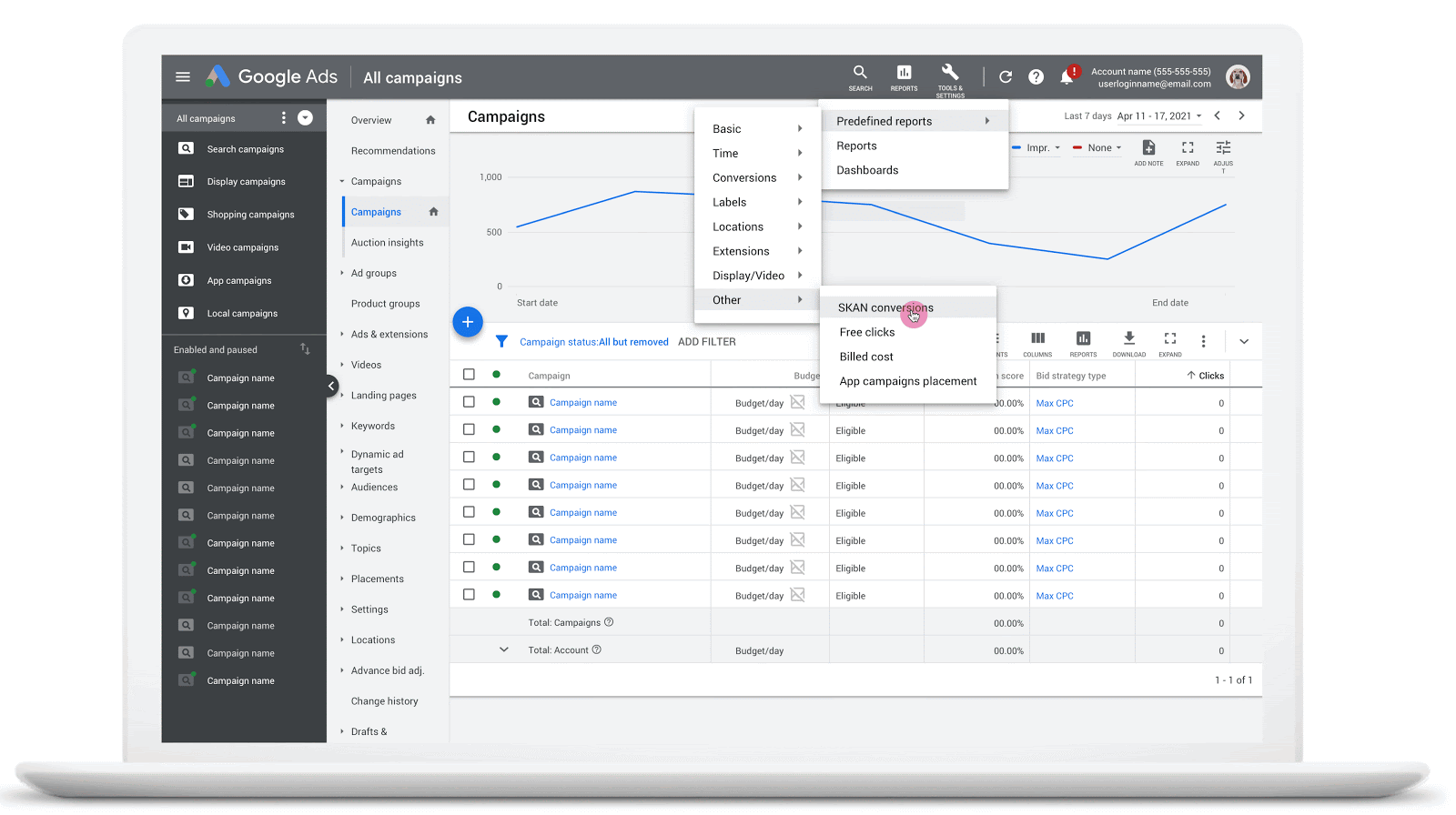 What Are Modeled Conversions?
Modeled conversions do not identify individual users to estimate conversions.
When Google cannot attribute ad conversions to a particular source due to user privacy limitations (as in the case of Apple), it uses modeled conversions to detect whether Google Ads initiated the conversion. Therefore, modeled conversions predict attributed conversions.
This offers a holistic and accurate picture of your advertising ROI. Automated bidding can be improved using modeled conversions since incomplete data might lead to biased learning which, in turn, leads to decreased campaign performance. Modeled conversions solve this problem and offer a complete report of your conversions.
Some Points to Note for Google Ads Advertisers  
iOS app campaigns are likely to see fluctuations in campaign volume, and the app campaigns for engagements will see a significant decrease. You should adjust your bids and budgets to achieve campaign goals.
If you are running the beta tROAS campaigns for iOS apps, you should pause the campaign and revert to tCPA campaigns.
Conclusion
App publishers will see a significant impact on mobile ad revenues due to the latest iOS 14 release. Take the steps discussed in this article to measure the performance of your mobile ad campaigns accurately.
Both Facebook and Google are trying hard to provide Apple with suggestions and data to improve the way iOS ads are tracked and measured. Meanwhile, as an advertiser, you should configure the SKAdNetwork and follow all the guidance offered by Google and Facebook to continue running and monitoring mobile ads' performance on Apple iOS.