As the dominating search platform, Google is an essential part of any successful digital marketing strategy. Google Ads have been proven to help improve online visibility and brand recognition, drive qualified leads, and achieve a high ROI.
But the execution of a successful ads campaign requires regular analysis and management. Carrying out a Google Ads enterprise audit will allow you to identify any issues that negatively impact your ad performance and the opportunities to improve them.
In this comprehensive guide, we'll discuss why such an audit is necessary, how to do one, and the five top software tools you can use to help you along the way.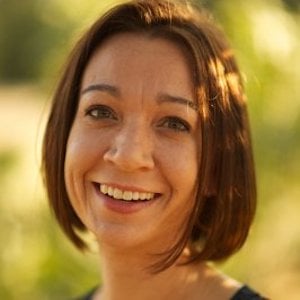 Kim Cooper
Director of Marketing, Amazon Alexa
Single Grain enables us to increase our impact without increasing our headcount
Why You Need a Google Ads Enterprise Audit
Given the sheer size of enterprise-scale advertising campaigns, scheduling a regular ads audit is simply a good habit to get into. This is an opportunity to take a complete and objective look at your campaigns to ensure everything is set up for optimum success.
That said, if your ad performance is declining or you're not seeing the return on ad spend (ROAS) you were expecting, it's time to stop and carry out the audit process sooner rather than later.
Doing so will help you identify the problems causing you to overspend on ads and pinpoint where your ad campaigns and ad groups can be further optimized for better conversion rates.
Dive Deeper: Google Ads Audit Template: Your Complete Checklist
How to Conduct a Google Ads Audit
So, now that you know why it's important, let's look at how the Google Ads audit process actually works.
1) Identify Your Goals and Objectives
Start by identifying your company's goals and objectives for using ads in the first place. Log into your Google Ads account to review the conversion goals your business wants to achieve with ads and determine whether they're still a good fit.
Ask yourself the following questions:
Have your priorities evolved since you first set your conversion goals?
Has your target audience changed?
Are you tracking the success of your ads beyond the initial click-through to see how the leads, sales, or traffic they generate contribute to your primary business objectives?
Once you're clear on what you're trying to do, you can focus the rest of your auditing efforts on analyzing all the elements of your ads account. Ensure that each step is set up to deliver results effectively, and if not, locate those all-important areas for improvement.
Dive Deeper: Google Ads Audit Template: Your Complete Checklist
2) Audit Your Campaign Structure
Even the average small business ad account can get unwieldy when not adequately structured, so you can imagine how easy it would be to let a large-scale enterprise account get out of hand.
This is why the next part of the auditing process involves reviewing your campaign structure, analyzing how your campaigns are organized, and identifying opportunities for improvement. This includes making changes to:
Target your audience better
Improve ad relevance
Optimize your budget
Pay close attention to how your ads are grouped and your campaigns structured.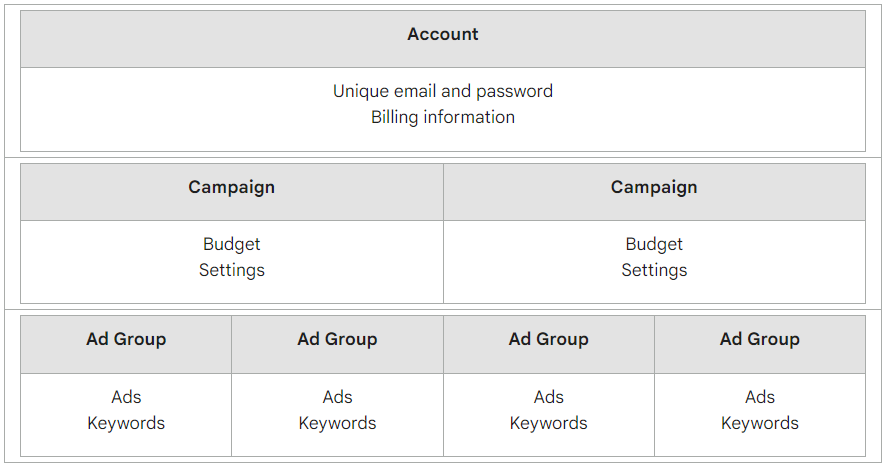 Ideally, you want a logical structure with thematically organized ad groups. This practice goes a long way to ensuring you're on-point when it comes to creating the highly-targeted campaigns essential to enterprise paid advertising.
That's not to mention the bonus benefit that a logical and coherent ad group structure makes managing and optimizing your campaigns easier, ultimately meaning greater efficiency.
3) Review Your Account Settings
If it's been a while since you last reviewed your Google Ads account settings, this next phase of the audit process will prove essential, especially if your goals or priorities have changed.
First, take a look at the location targeting settings:
Are they properly configured to target the right locations?
Are there missing locations or regions you're targeting unnecessarily?
Next, look at your ad delivery methods, ad rotation, and ad extensions:
Are they correctly and optimally configured?
How about your bidding strategy and your scheduling settings?
By staying on the lookout for issues such as incorrect audience targeting, poor bid strategies, and irrelevant ad extensions, you can establish a solid plan to improve them, bolstering your ad performance:

Dive Deeper: Google Ad Extensions: Everything You Need to Know
4) Evaluate Keyword Performance
Your keywords are the cornerstone of your enterprise advertising strategy, so each one must be right on the money in attracting precisely the right kind of clients.
Here, you can use tools like Google Keyword Planner and Google Analytics to discover which keywords are your high performers and which are costing you more money than they are generating, data that could prove invaluable when choosing where to allocate your ad budget: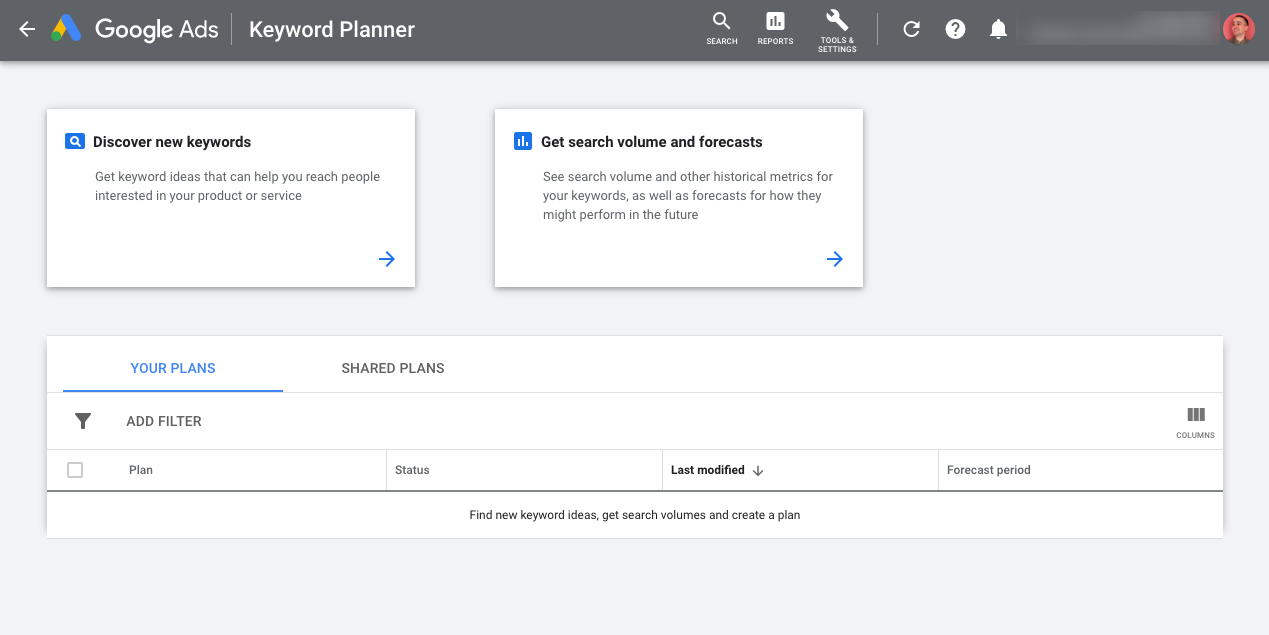 You'll also want to consider whether you use negative keywords effectively to avoid targeting an unintended audience.
For example, suppose you're trying to attract high-value enterprise companies to your accounting software. In that case, you don't want to be showing up in search results for "free accounting software." You can use a negative keyword to ensure that doesn't happen.
Elsewhere, ask important questions such as:
Are there keywords that generate a ton of click-throughs but practically no conversions?
Are you bidding the right amount for your keywords?
Are there keywords you want to show up in your ads but have a "no" status, meaning they're not appearing? If there are, have you checked that your negative keywords aren't stopping your positive ones from appearing?
Dive Deeper: How to Use Google Keyword Planner for Content Creation
5) Review Ad Formats, Copy and Design
Now it is time to review the ads themselves. Begin by assessing whether your chosen ad formats are best suited to your goals.
If you're going for brand awareness, could it be better to ditch those text ads in favor of something with a bigger visual impact? Would a video ad be more effective in conveying your message?
Consider using responsive ads to better tailor the ad experience to each individual searcher: You provide up to 15 headlines and 4 descriptions, and Google will build the ad to best fit the search query: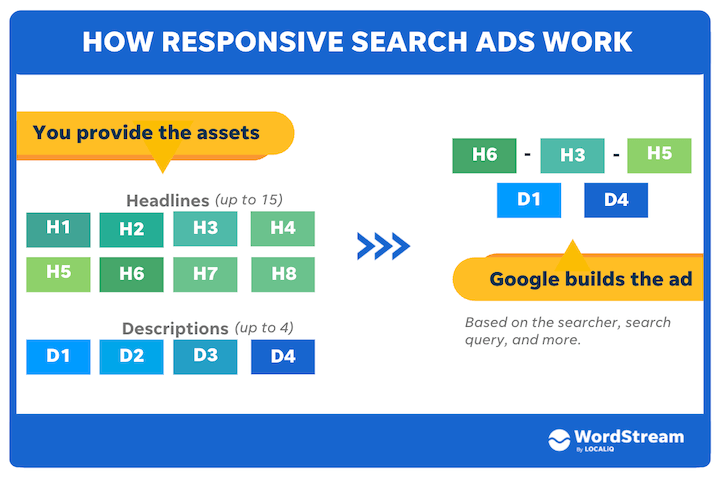 Once you've identified the most effective ad formats for your campaign, take the time to review the ad copy and design constructively.
Is your copy clear and concise?
Does it highlight a unique selling point?
Are the images and videos used in your ads relevant, on-brand, and high quality?
Even if you only went through this stage of the entire audit process, it would still be worthwhile as this is where you could identify a lot of quick and easy wins to boost campaign performance.
Dive Deeper: PPC Audit Cost Analysis: How Much Should You Expect to Pay?
6) Analyze Your Landing Pages
Landing pages may not technically be part of your Google Ads account, but they play a vital role in achieving the conversion goals you set for your ads.
Use our guide to landing page optimization as a checklist to ensure that your pages have all the elements necessary for successful conversions, such as:
A clean, straightforward design
A prominent and compelling CTA
Fully functioning forms or other interactive features
Landing page copy that focuses on customer benefits and drives them toward the CTA
Since all these elements directly affect your campaign performance, addressing any issues that may be holding you back is essential.
Dive Deeper:
* How to Design Landing Pages that Convert
* 5 Important Landing Page Elements You Should Be A/B Testing
* How to Improve E-Commerce Landing Pages with Paid Ads Data

7) Document the Auditing Process
The final and arguably the most helpful component of Google Ads audits is to thoroughly document the process as you go along.
After all, when you're targeting enterprise organizations, there are likely multiple teams (or at least multiple specialists) working on different parts of the campaign process.
Typically, this would be your sales and digital marketing teams, with copywriters, design specialists, and others all involved. There's also a good chance that upper managers must be kept in the loop.
As such, you'll need to take detailed notes at every stage of your account audit and present them in a comprehensive report with clearly defined recommendations for improvement.
Top 5 Tools to Manage Your Google Ads Audit
The good news is that each of the seven auditing steps listed above can be made much easier thanks to a wealth of helpful software.
Naturally, your Google Ads account itself will be the central platform you focus on, but you'll also benefit by integrating it with any of the following tools:
ReportGarden Ad Auditing Report
A complete Google ads auditing solution, ReportGarden's Ad Auditing Report is undoubtedly the most efficient tool for generating easy-to-follow reports on how to improve and optimize your ads.

You can access a seven-day free trial to generate your first report and get suggestions on all of the following:
Structure and organization of your ad groups
Highest performing keywords
Eliminating keyword conflicts
Conversion rate data
Ad copy
Landing pages.
Paid subscriptions range from $89 to $649 per month, depending on the number of accounts you need to manage.
Google Analytics
Never underestimate what a big difference even the free version of Google Analytics can make to your enterprise ad auditing.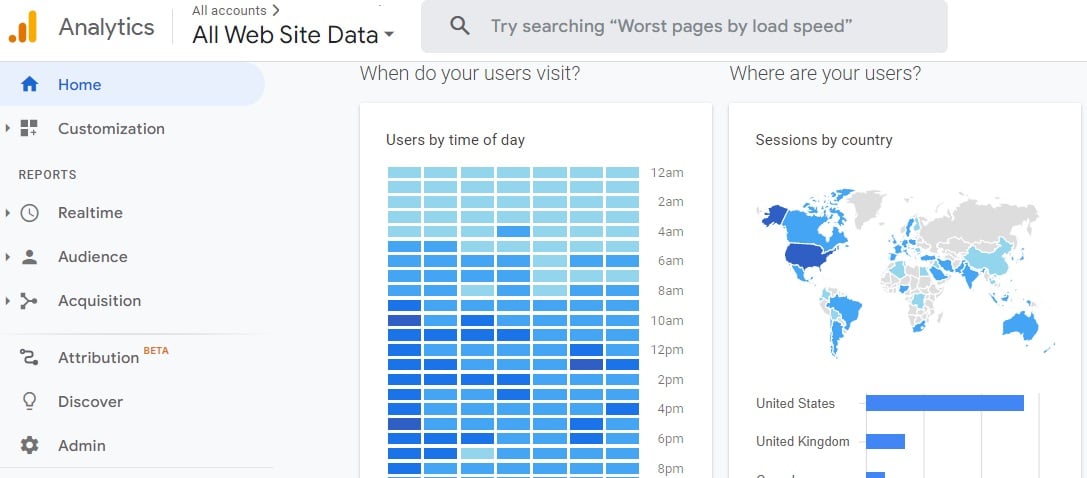 Though it's primarily used for evaluating website performance, using it to analyze metrics such as bounce rates, session duration, and goal completions can reveal areas where your campaigns may fall short so that you take the proper corrective steps.
What's more, Google Analytics is a powerful tool for understanding your target audience's demographics, interests, and behavior.
This data is invaluable for assessing whether your ad targeting practices attract the right demographics and identifying where you could further fine-tune your ad content to reel in your ideal customers.
Dive Deeper: Enterprise Paid Ads: A Guide to Landing High-Value Clients with PPC
Semrush
Semrush is a digital marketing industry favorite used by thousands of businesses to handle SEO, content creation and advertising.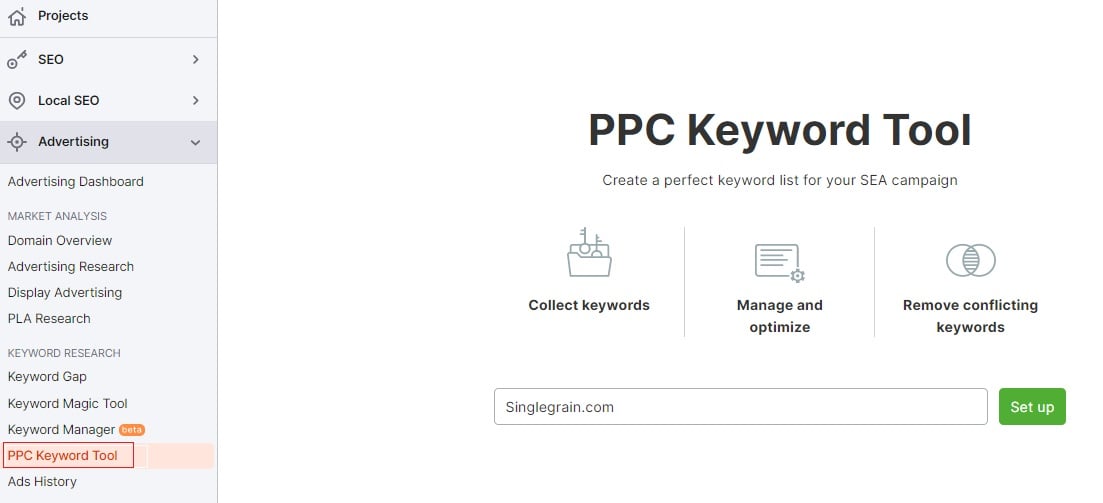 If you're already using this popular platform for keyword research or competitor analysis, we encourage you to click on the Advertising panel. You will quickly discover how valuable it can be as a tool for auditing and optimizing your paid ad campaigns.
The PPC Keyword Tool analyzes your site to help you:
Track down conflicting keywords
Identify negative keywords you can use to filter out unqualified traffic
Analyze which keywords are best suited to achieving your goals
Semrush's PPC tools are available with restrictions on the free plan. However, to make the most of it, you'll need a premium subscription which starts at $99.95 per month.
Dive Deeper: 5 Great PPC Tools to Crush Your Competitors
Adalysis
Adalysis auditing software is a handy tool for automated A/B testing of your ad groups, making it a breeze to find any ads that are underperforming.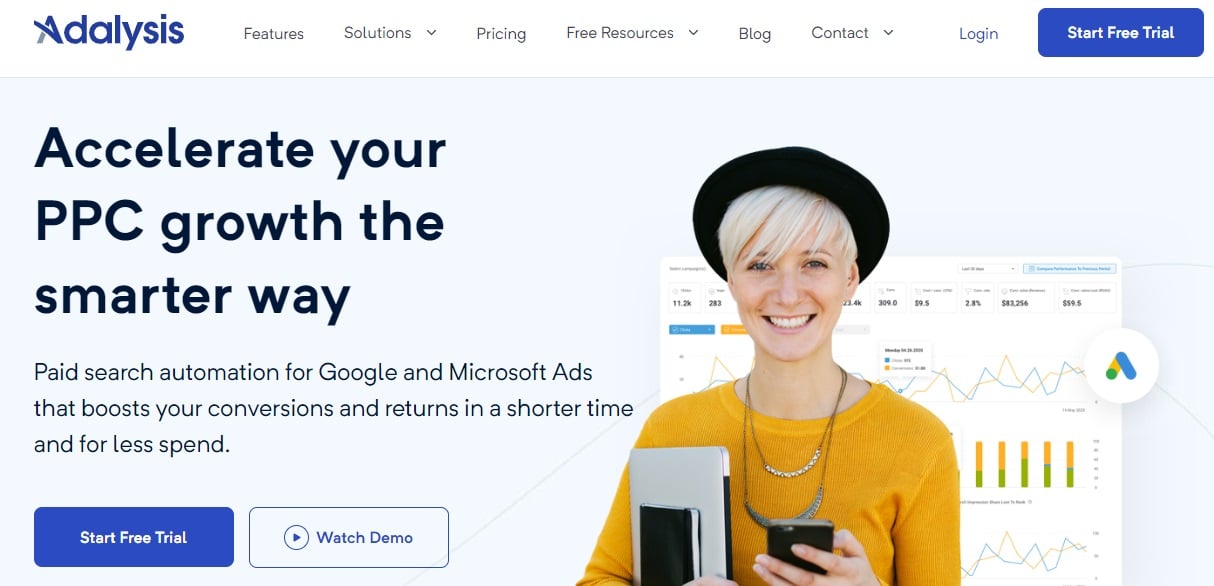 However, the real highlight is the excellent Quality Score Tracker, which monitors quality scores over time and highlights any fluctuations. That way, you can quickly identify what caused the changes in your quality scores and move to improve them.
This process can lead to higher-ranking ads, lower ad spend, and more traffic.
Costs for Adalysis range from $99 to $499 per month depending on your monthly ad spend. You can also test-run the service for free with a 14-day trial.
Dive Deeper: How to Run A/B Tests that Actually Increase Conversions
Optmyzer
Last but not least, Optmyzer is a useful PPC auditing tool explicitly designed for enterprise-scale advertising.

Integrating effortlessly with your Google Ads account, you can use it to generate reports on campaign performance packed with valuable data on conversions, click-throughs, and CPC (Cost Per Click Rates).
Elsewhere, the in-built A/B testing tools prove invaluable for pinpointing the exact elements of your ads or landing pages that are getting in the way of you generating more leads, sales, or traffic.
Optmyzer pricing starts at $228 per month for up to 25 accounts, with a maximum ad spend of $10,00 per month. A limited free trial is also available.
Conducting a Google Ads Enterprise Audit: Key Takeaways
If you've read this guide thoroughly, you'll now be armed with all the knowledge you need to conduct a successful enterprise account audit for your Google Ads, including the best tools to use and the main problems to look out for.
Here are a few key takeaways to quickly recap the main points:
Document everything: From your account structure to your landing page optimization, record the entire audit process so that key team members and stakeholders understand precisely what's needed of them to produce better results.
Review your goals and objectives: Enterprise advertising typically means setting multiple conversion goals. Are the goals you originally set consistent with your current objectives?
Audit your structure to make life easier: Ensuring each ad group is organized by theme or subject and arranged in a well-organized structure will lead to more efficient and effective ad management.
Old account and campaign settings may need updating: The most comprehensive account audits consider whether details like location settings and bidding strategy configurations align with current company goals.
Check for correct use of negative keywords: Are you using the right negative keywords to filter out unwanted audiences? Is a negative keyword stopping you from appearing for the positive keywords you want to rank for?
Use software to improve the audit process: Tools like ReportGarden and Adalysis are essential for identifying underperforming ads and opportunities to improve your Google ads campaigns.
Hopefully you learned how to do a Google Ads enterprise audit, but if you just want someone to do the work for you, Single Grain's Google Ads experts can help!👇