YouTube Analytics: How to Understand & Measure Your Progress
Did you miss the previous part in this YouTube SEO series? No worries, you can catch up right here: 7 SEO Tools for Better YouTube Marketing
Are you wondering who's watching your YouTube videos? What about which videos are performing the best? Your YouTube analytics can show you all that and more!
In today's guide, you'll learn which metrics are important and what they mean, as well as how to use this knowledge to create better videos that get more views so you can grow your business.
YouTube Analytics 101 class is in session! Let's dive right in.
Why YouTube?
Before we dive into understanding YouTube analytics, let's answer this basic question: Why should you even care about YouTube?
Many marketers think about how to optimize their content for Google search or how to use social channels like Facebook, but YouTube is the second biggest search engine on the web — so if you're not using it to its full potential, you're missing out on a great opportunity.
Check out these YouTube stats:
Total number of monthly active YouTube users: 1.9 billion
Total number of daily active YouTube users: 30+ million
Number of videos shared to date: 5+ billion
Number of videos watched per day: 5 billion
Number of videos uploaded per minute: 300 hours
Number of hours of YouTube content watched per day: 1 billion
How many Internet users are on YouTube: about 1/3 
The first video was posted in 2005 from the San Diego Zoo (this is just a fun fact!)
Because YouTube videos appear in Google search results, you can generate organic traffic to your site through both YouTube and Google with your videos.
Click To Tweet
Long story short, YouTube marketing is a crucial part of any good content marketing plan. And not tracking your analytics is a very common YouTube marketing mistake.
Convinced? Good. Now let's talk analytics.
How to Leverage YouTube Analytics
Once you create a high-quality video and optimize it for SEO, it's important that you understand how to use YouTube video analytics to monitor your progress.
You have to keep track of how your audience is finding your videos and how they're engaging with them so you can see which ones are performing well and which videos aren't being discovered in search.
Pro Tip: While YouTube SEO is somewhat important, most of your views will actually come from the "related videos" sidebar. It's more important to optimize for related videos than for SEO.
To see your analytics, log in to your YouTube Creator Studio (now called "YouTube Studio"):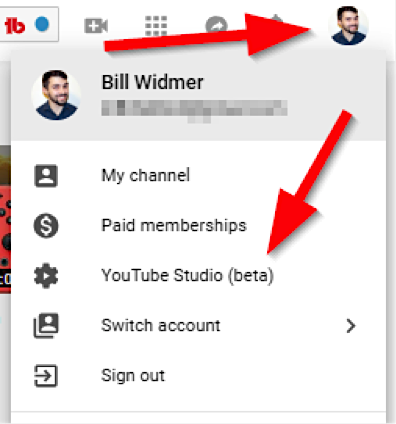 Next, click Analytics: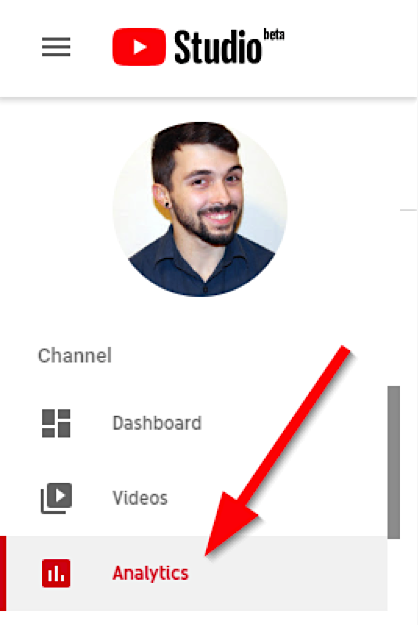 From here you'll see the a dashboard with your total view time, top videos, and the latest views on your videos: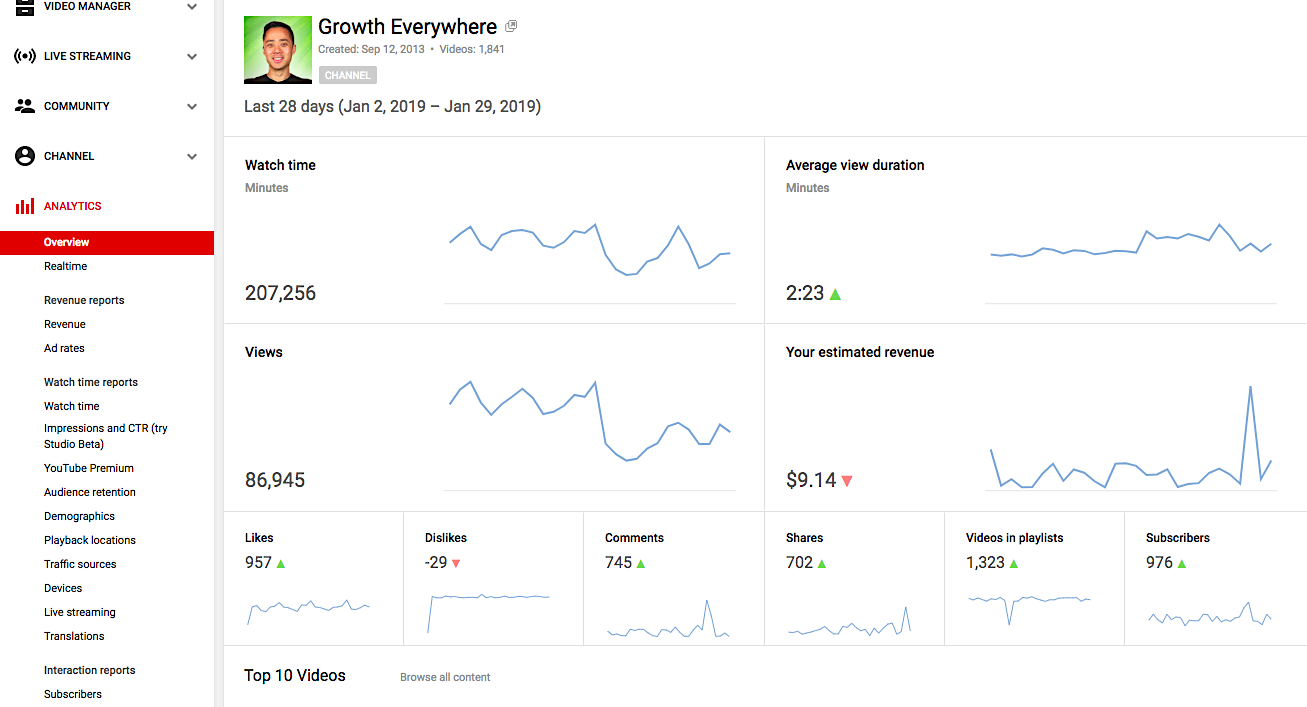 You can click on any video to get more in-depth stats on each, like this: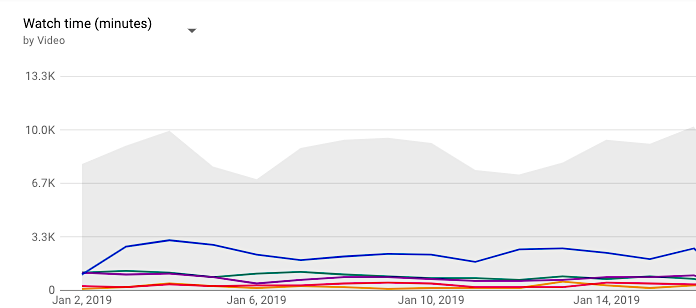 Let's break them down!
Learn More:
Views
When you log into your YouTube analytics tool, the first thing you'll see is the overall video performance of your channel and how popular your videos are among your target audience: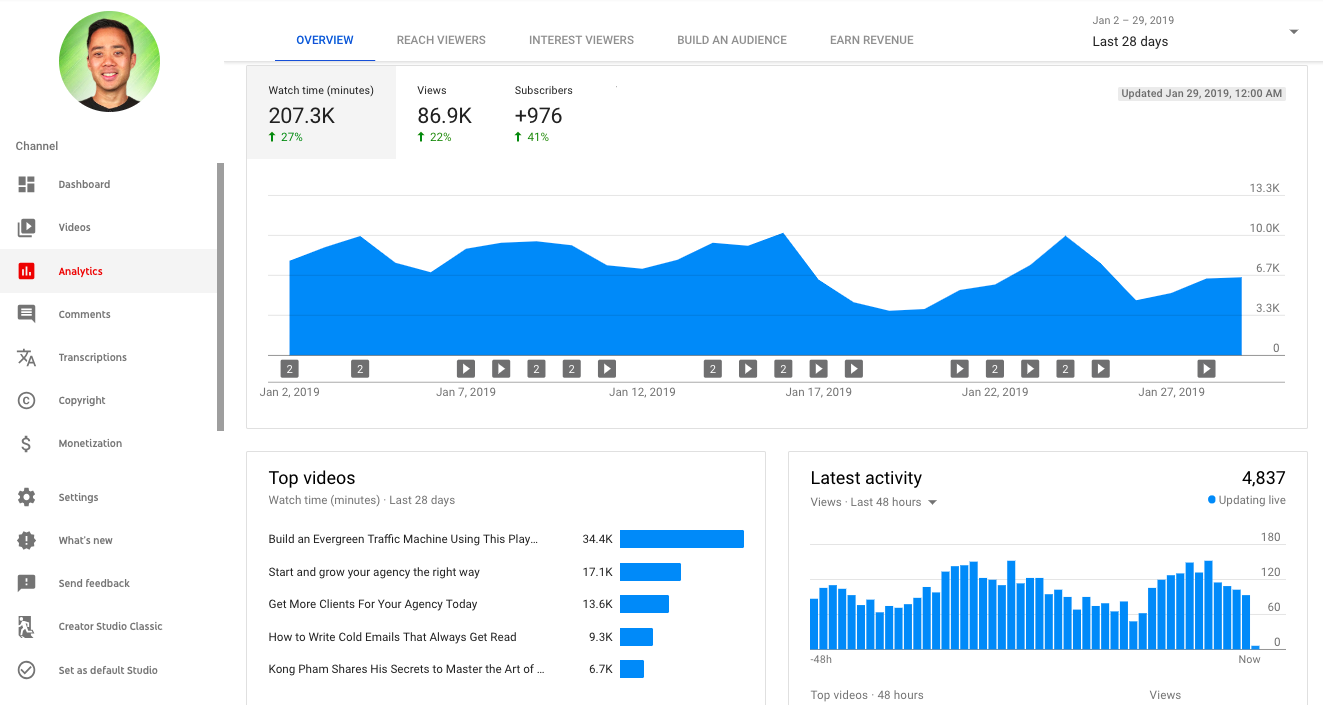 Here, you can get an overview of the following data:
Watch time:

This metric adds up the total number of minutes (total watch time) users have spent watching the videos on your channel. This shows how many minutes have been spent watching your YouTube videos in total, not the breakdown per video.

Views:

This metric measures the number of people who have clicked on your video link and watched your videos. It doesn't track whether users watched the entire video or not.

Average view duration: The average view duration lets you see if people are watching your video to the end or are stopping the video before it's finished. (See this by clicking "Interest Viewers" on the top menu of your dashboard.)
Demographics
YouTube analytics also gives you insight into the demographics of who is watching your videos. You can break down your views by gender or location: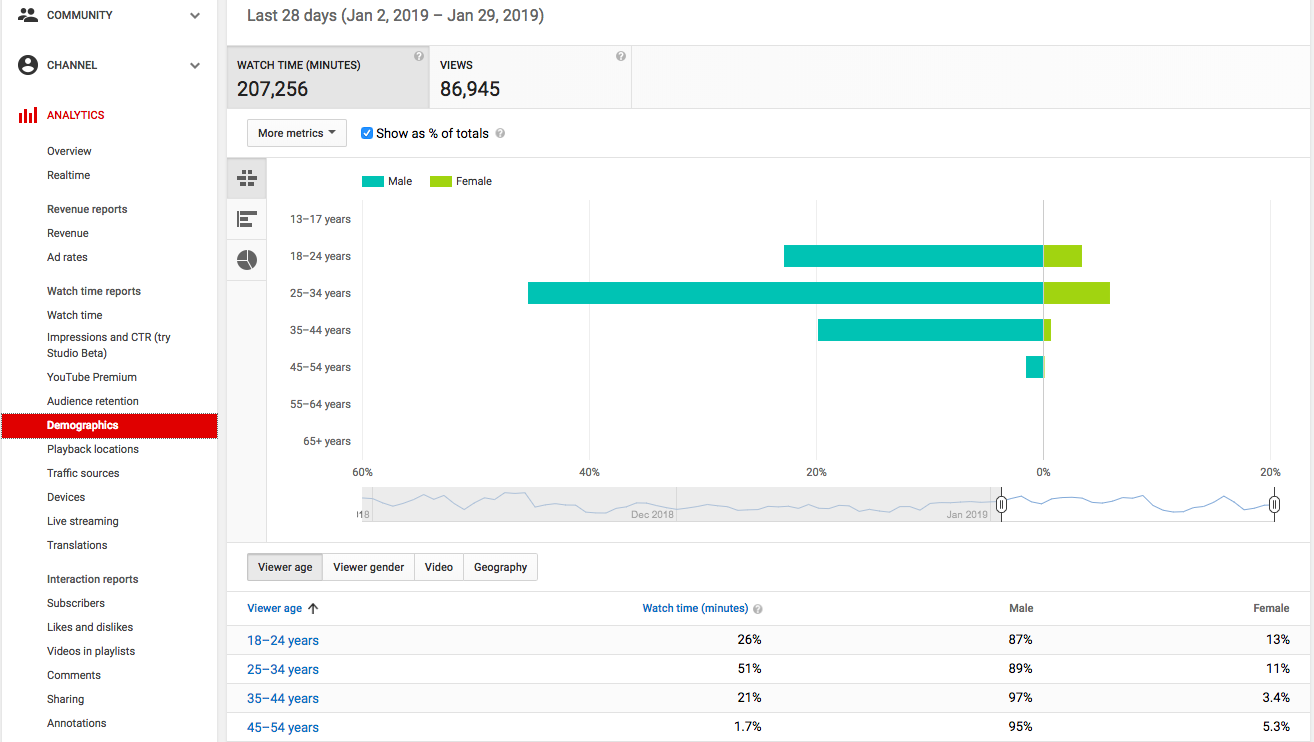 If you're running a business with a physical location or if you're focused on generating more local traffic, this could be helpful to see if you're getting to the right people.
Playback Locations
One of the most important factors to getting your video to rank high in Google is getting backlinks from other high-authority sites.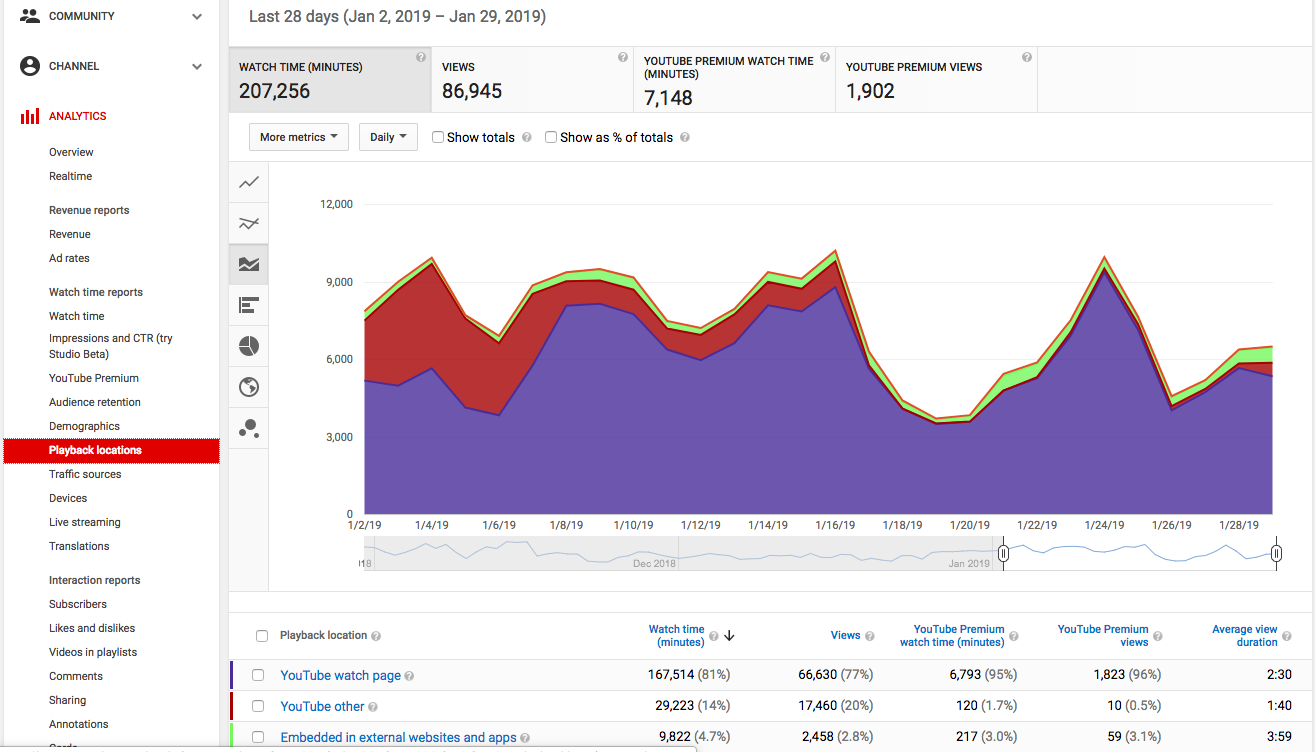 If you create a high-quality video that solves a specific problem for your target audience, you can expect your video to get shared across the web. "Playback locations" allows you to see which of your views are coming from YouTube and which are coming from video embeds on other sites.
You can also see the average time watched and average view duration.
Learn More:
Traffic Sources
If you understand how people are finding your videos, you can get a sense of which keywords are working and which keywords your audience isn't searching for. Knowing your traffic sources can help you refine your SEO efforts even further.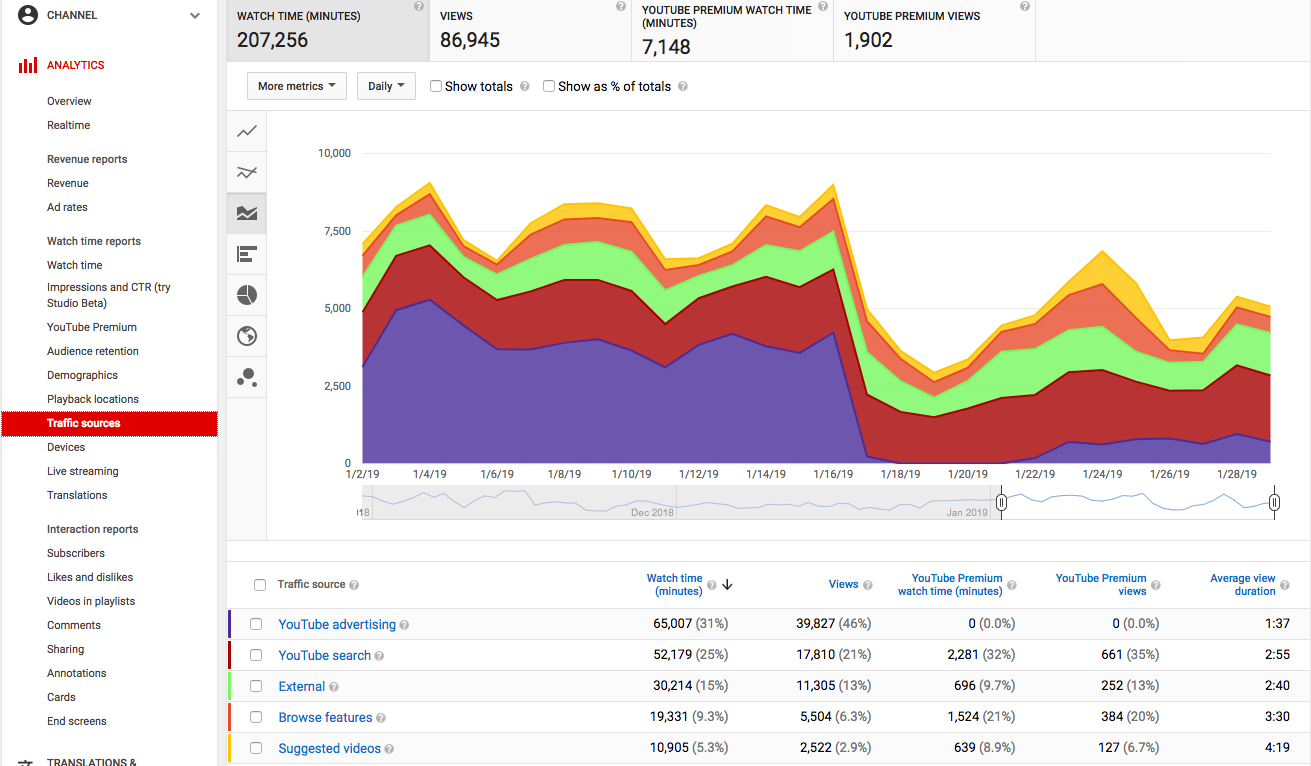 For example, you can see whether your videos are being found via YouTube advertising, YouTube search, external websites, browse features, YouTube's suggested videos, a YouTube channel page, a particular playlist, etc. Once you know which video strategy is working, you can double down on it.
Device Type
This section allows you to see which devices users are viewing your videos on.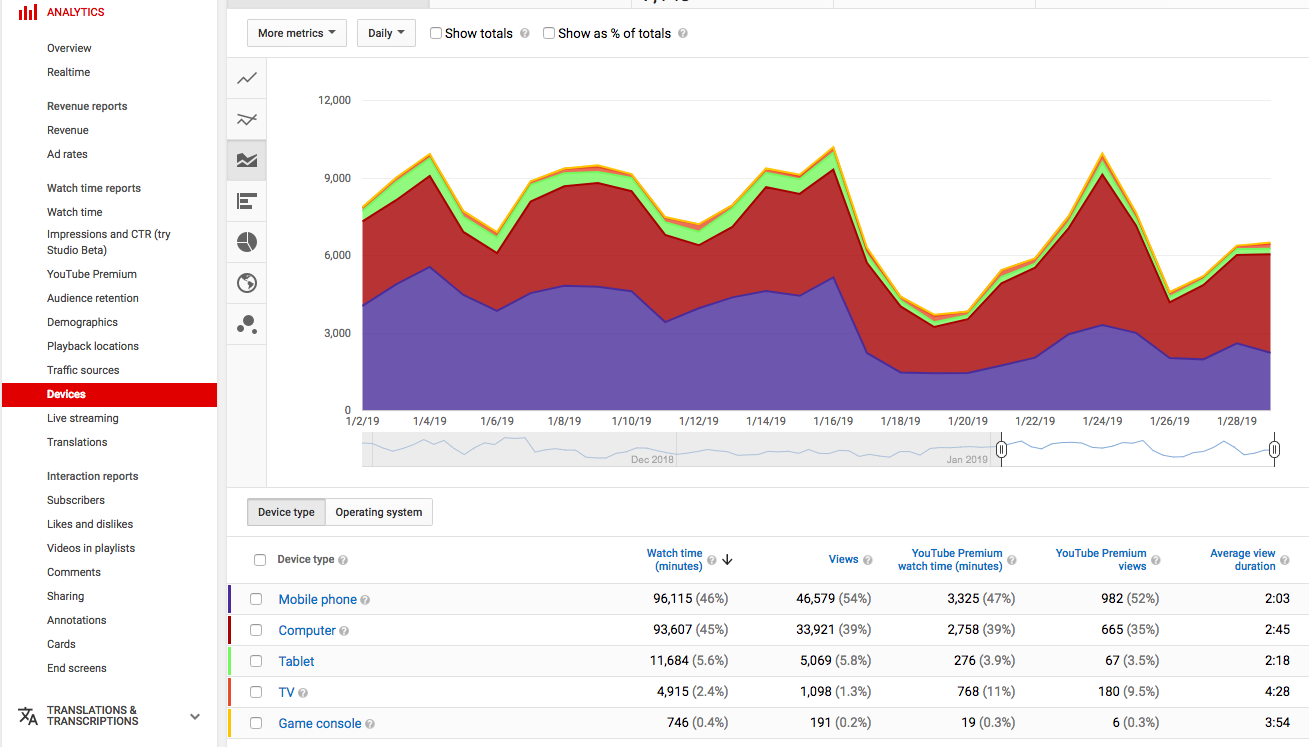 It's broken down by mobile phone, computer, tablet, TV or game console. This way, you can see whether you need to optimize your videos for a particular device.
For example, users that view videos on mobile might be looking for shorter content compared to someone searching for a video from their desktop computer.
When searching from a desktop, on the other hand, users might be okay with viewing content from a playlist, which offers a back-to-back flow of videos and means that you could get more reach with your videos by grouping them in YouTube playlists. This way, the next video in the playlist automatically starts playing once the current video is finished, which can boost your total number of watched minutes.
Audience Retention
While YouTube no longer shares an audience retention graph, you can still see how engaged your audience is with your videos by looking at how much of the video your viewers watched before bouncing from the page to look at something else.
To do that, simply click Interest Viewers and Average View Duration: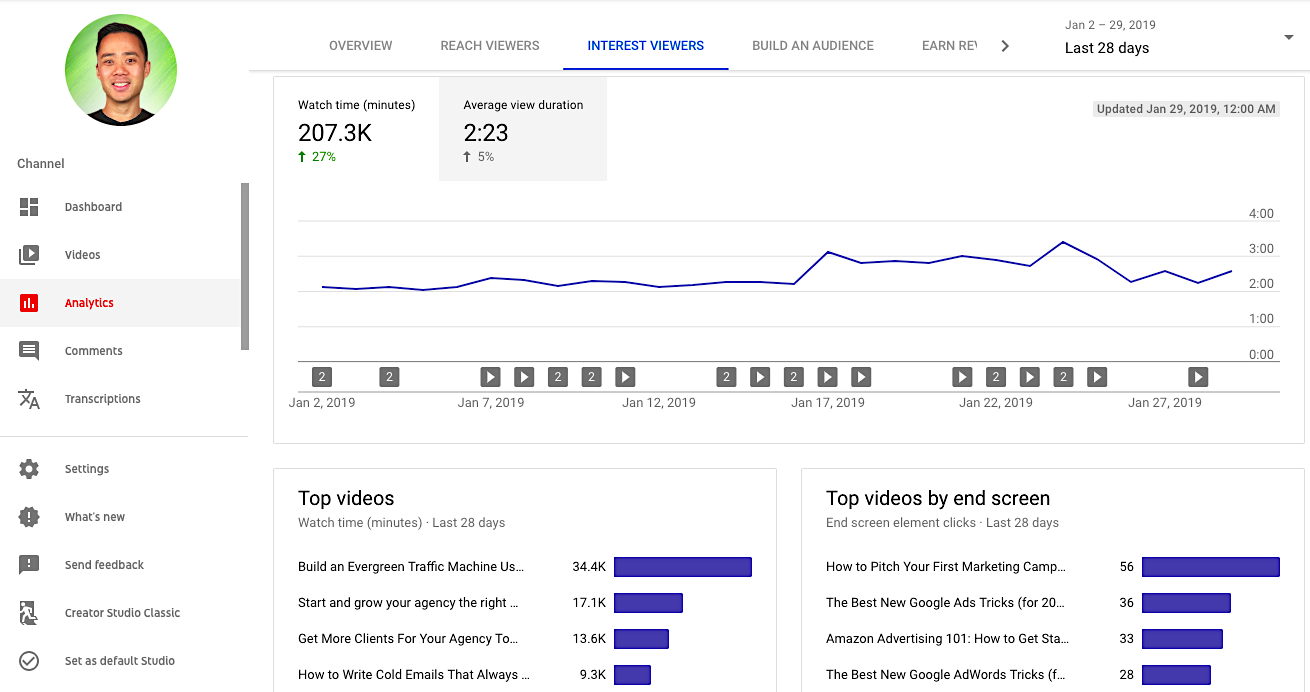 Learn More:
Subscribers
YouTube also provides engagement metrics, such as where your subscribers came from (source, geography), and the date you got each new subscriber. To view this data, simply click on Subscribers in the left column and then select "Lifetime" from the drop-down menu in the top right corner where you select the date range. Or click on a video to pull up the extra graphs, then click the drop-down in the top left and choose Subscribers.
User engagement is a high priority for YouTube when it comes to ranking your video within YouTube search, so pay particular attention to this data.
Click To Tweet
The total number of subscribers shows how many people have subscribed and unsubscribed to your channel within a set window of time. If you see that certain videos generate high numbers of subscribers, that's a sign that that type of video resonates with your audience and you should create more like it.
Pro Tip: You can send URLs directly to your subscribers through post messages! So the more subscribers you have, the more opportunities there are to drive leads to your business from YouTube.
Likes and Dislikes
YouTube makes it easy to see how people are responding to your content through likes and dislikes. A high number of likes shows YouTube that your video is resonating with people, so they'll prioritize it even higher in search and suggested videos.
To see this data, click the blue + in your advanced data, then select Interactions > Likes (vs Dislikes). Or click on "Likes and dislikes" in the left-hand column.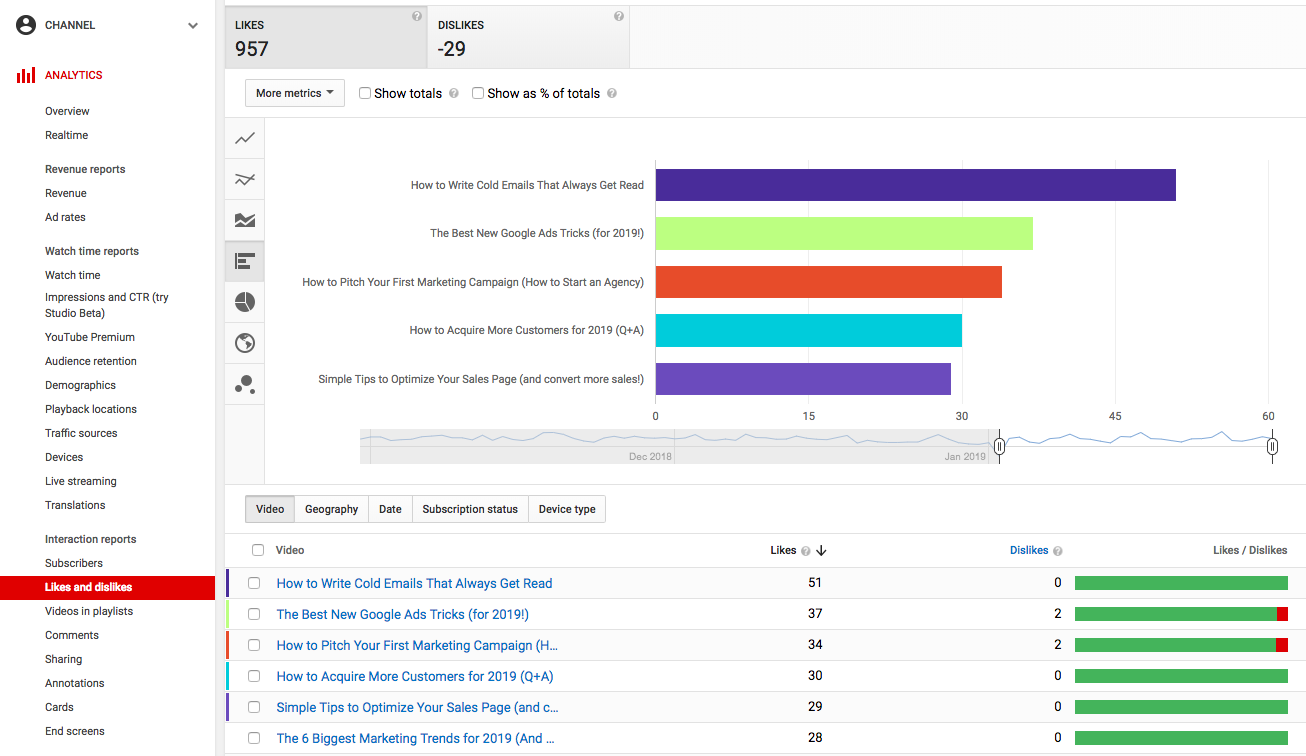 However, depending on the type of video you're making, your number of likes and dislikes may not completely map out the quality of your videos. For example, opinion-based videos could potentially get a high number of dislikes, but still be high quality.
Pro Tip: More people will subscribe, like and comment on your video if you actually ask them to. Don't be afraid to quickly mention at the beginning and end of the video: "If you like this video, give it a thumbs up and subscribe!" Just don't overdo it.
Playlist (formerly Favorites)
What used to be called the "Favorites" report is now called "Playlist."
Rather than seeing "Favorites added" and "Favorites removed," you'll now see the number of your videos that people added to a playlist. When users mark a video as a favorite by adding it to their playlist, it becomes part of their public YouTube profile, which helps expand the reach of your videos.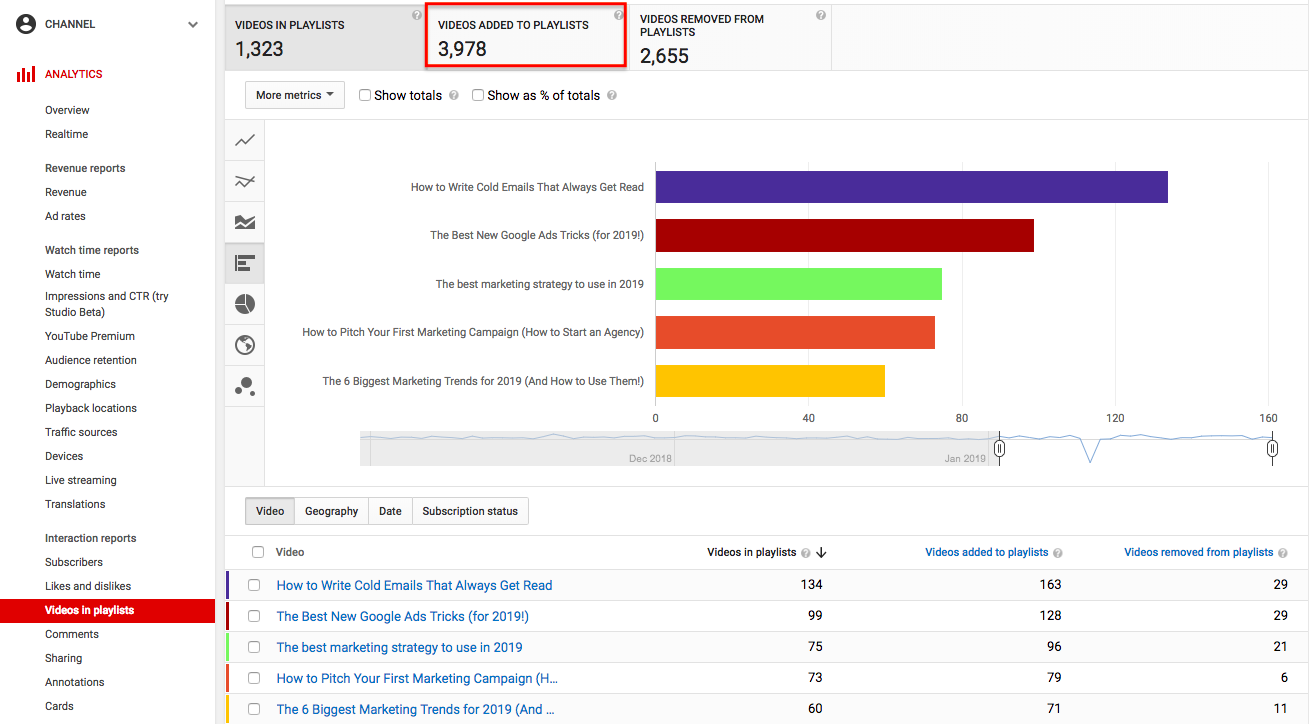 Comments
Comments are a great way to keep a tab on how engaged your audience is.
If your video is thought-provoking, hits home emotionally or solves a pain point, then chances are users will respond and let you know in the comments section. Keep in mind that many people will just "Like" a video rather than commenting since it's quicker.
To view your comments, click Comments in the YouTube Creator Studio sidebar (instead of Analytics).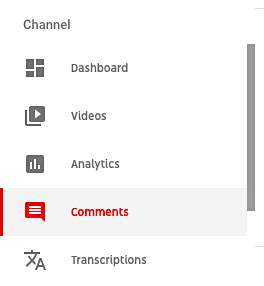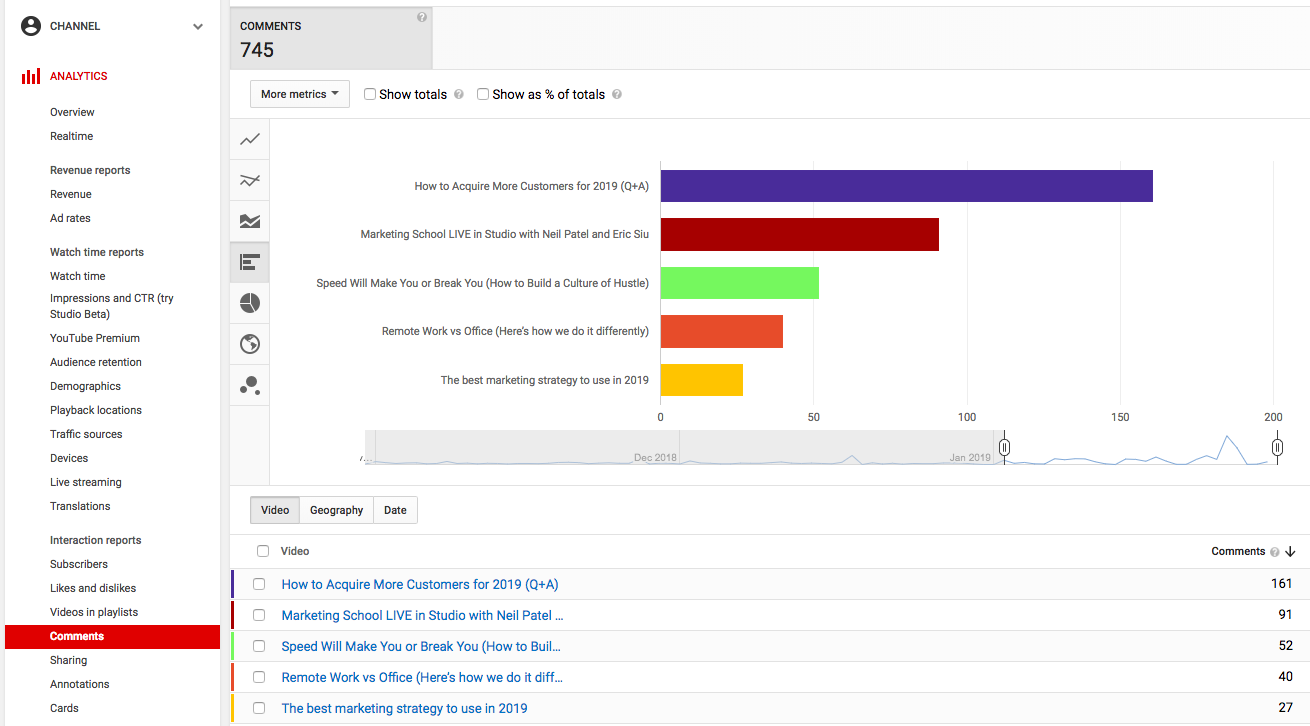 Sharing
This metric shows you the total number of times that your video has been shared, what social network it was shared on and the date on which it was shared. A high number of shares can result in a high number of backlinks (links to your video from external websites), which can help with ranking your YouTube video within Google.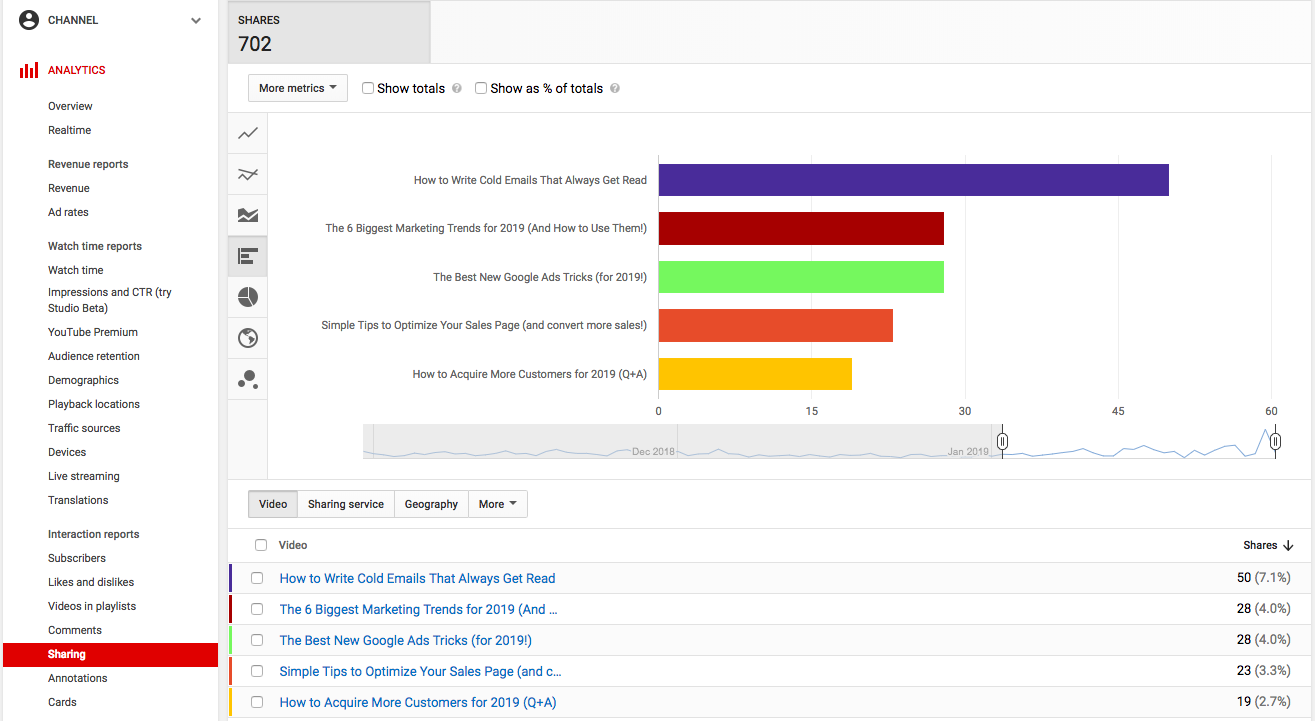 Learn More:
Cards
Cards are used as calls to action and can "inform your viewers about other videos, merch, playlists, websites and more." There are six types you can use:
Merchandise

Fundraising

Video

Playlist

Associated Website

Fan Funding
Learn how to use YouTube video cards to encourage your viewers to take an action: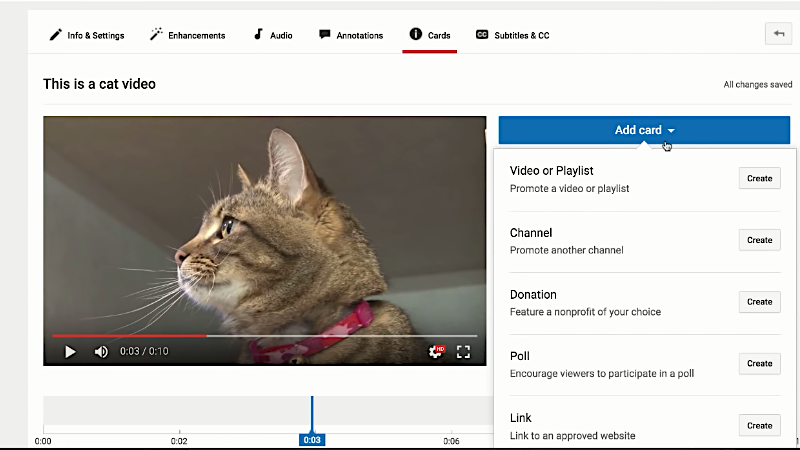 This is an example of what the end cards look like: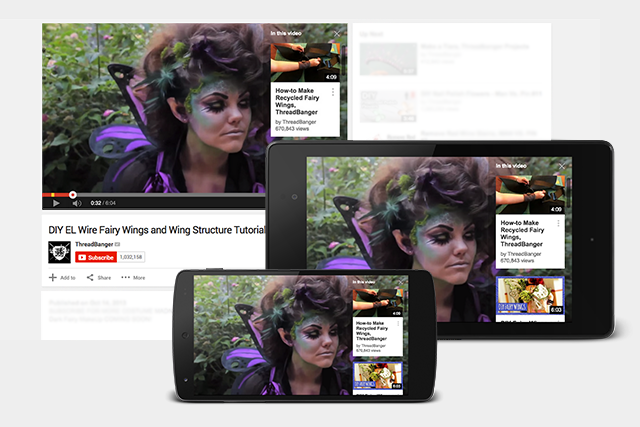 They also work on mobile devices. Learn more about using cards and tracking metrics here.
Conclusion
You've just learned YouTube Analytics 101. Congratulations!
You now understand not only how to see your key metrics like watch time reports, unique viewers, and traffic sources, but you also know how to use that information to drive your video strategy and grow your channel.
YouTube is one of the best platforms out of all social media marketing channels. Video makes up the majority of Internet traffic, and YouTube is the king of video.