The common point between a brand you like and the picture your mother just uploaded on Facebook is content.
We use content to communicate with each other. We use content to create stories, to sell a product, to create a campaign and to design a brand. Think about the last movie you saw, the last magazine article you read, the last pre-roll ad on YouTube you skipped so you could watch the video. That's all content.
People create and consume content every day.
But the difference between content created by us (the people) and content created by a brand is marketing – because marketing is the one element that gives a certain piece of content purpose
As Seth Godin said: "Content Marketing is all the marketing that's left."
I'm a big believer in questions. I ask other people as well as myself because I found that the best way to find a solution to a problem is to ask questions.
Expert researchers Julie Bugg and Mark McDaniel from Washington University in St. Louis have even studied this and concluded that questioning improves your ability to learn. This is how they developed the Benefits of Question Self-Generation and Answering.
So I will write this blog post by answering the 6 most common questions a beginner would ask about content marketing:
What is content marketing?
Why use content marketing?
Where content marketing meets the marketing plan?
How to measure your content marketing performance?
When to start with content marketing?
By the end of this post it's my hope that you will understand the basics of a content marketing strategy and how to use it to boost your business sales.
Are you ready? Let's get started!
1) What Is Content Marketing?
There are tons of definitions and other theories that try to embrace the real meaning of content marketing. I've done some research and found that the best definition is from the Content Marketing Institute website:
"Content marketing is a strategic marketing approach focused on creating and distributing valuable, relevant, and consistent content to attract and retain a clearly-defined audience — and, ultimately, to drive profitable customer action."
But if we look closer at this definition, we can pinpoint a few terms that help us understand the real meaning of content marketing.
A strategic marketing approach…

– Content marketing is not something you do without a strategic approach and a purpose in mind. I really love how they define it so simply – "a strategic marketing approach" – because as marketers, we need to understand that the difference between content and content marketing is exactly this: the strategic approach. Having a strategic mindset can also help us create something useful for the long-term rather than a quick flash in the pan.
….creating and distributing valuable, relevant and consistent content… – By creating the right type of content for the right audience at the right time on the right platform, you can produce and publish information that will create a trust bridge between your brand and your ideal customers. And you want to have a trusted brand, right?
…attract and retain a clearly-defined audience…

– With content marketing you can build a strong relationship and community so that your audience feels comfortable trusting you and is loyal to your brand. This means that content marketing is not a sprint; it's an entire marathon you must run to get the medal.  
…drive profitable customer action – Do you see that content marketing is not only about creating content and promoting it, but that the ultimate goal of your content marketing strategy is to sell a product/service? A strategic plan will help you drive sales without shouting at your potential customers, "Buy now!"
Everything you create is content, but everything you create with a purpose is content marketing. Click To Tweet
Image Source: Content Marketing Institute
In other words, the blog post you create is content, but the blog post you create to increase your website traffic, drive leads and build brand awareness in social media is content marketing.
So, if we want to summarize the definition of content marketing we can put it in the following sentence:
Content marketing is the use of any type of content to help meet a marketing goal.
Click To Tweet
2) Why Content Marketing?
These are the questions that your boss will ask you if you want to start investing more resources (time, money, human resources) in content marketing:
Why should we use content marketing?
Why is content marketing important for our business?
Why should we create all these blog posts rather than invest more money in advertising?
According to CMI, 89% of marketers are using content marketing in their organization and 85% of them attribute their success to high-quality content creation.
Did you know that content marketing can also save businesses?
Have you heard about Marcus Sheridan and his pool business? His company was hit by the recession in 2008 and he knew that if they didn't move fast in a creative way, they would be forced to close the business.
So they started getting to the root of the pool industry by – you guessed it – answering their customers' questions through their blog posts.
In an interview for Copyblogger, Marcus explained it in a very simple way:
"I realized early on that the golden rule of content marketing is simple: "They Ask, You Answer." My philosophy is that if anyone has asked me a question about my business, regardless of what it is, it's my job to answer that question — preferably on my website. This philosophy is what made River Pools so incredibly successful, and is also what drives much of the growth of The Sales Lion."
What if Marcus had invested more money in billboard ads or direct marketing? What if Marcus had printed flyers and created radio ads?
Obviously we don't know if these actions would have saved the business. But by offering something of value to his customers and potential customers, he started teaching people about the one thing in which he was an expert: the pool industry. So he answered all those questions he'd been asked over and over again – and Google loves well-answered questions.
This is just one simple example of why you should use content marketing.
Remember, with content marketing, you can:
grow your brand

sell more of your product

earn trust from your customers

earn respect and admiration in your industry
If you want to have an even bigger impact with your content marketing strategy, you should look at how to use visual content marketing. Often, a picture gets straight to the point in a very memorable (and sharable!) way. 
To ensure that your content marketing strategy is effective, here are four purposes that it should hit (not necessarily all at the same time):
Inspire

– With content marketing you can inspire your community, your industry and even your competition. Look at how

GoPro is using UGC

(User Generated Content) to inspire their community. They are posting others' content on their feed to inspire their followers. And when a GoPro customer creates that kind of content and uploads it to their social channels, their friends and family easily share it and talk about…you guessed it…the brand. You can also inspire people to make a decision, buy a product or help others.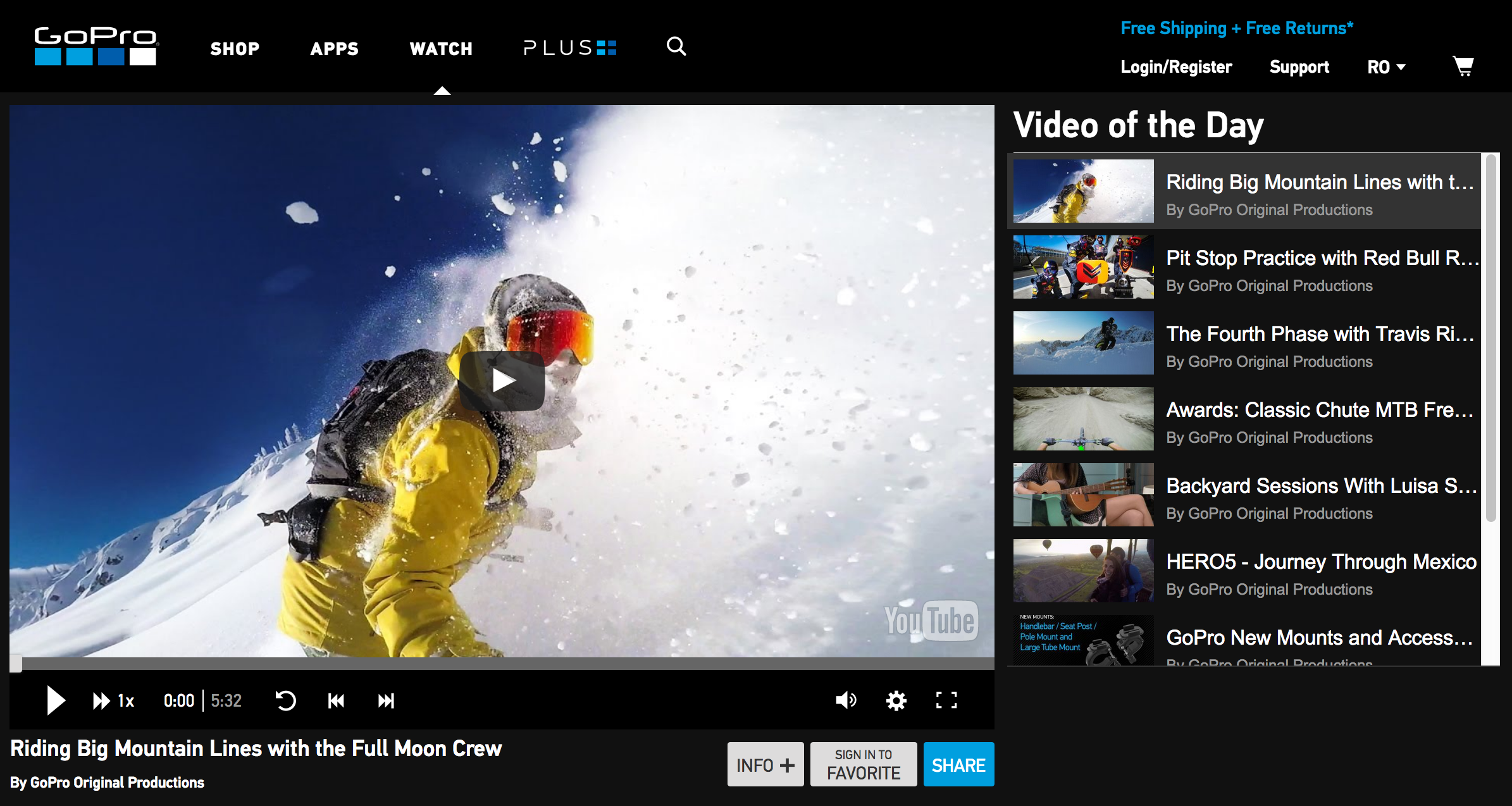 Inform

– Another brand that is doing a great job with content marketing is Red Bull. They launched their content division in 2007, called Red Bull Media House, and have an online and print magazine called The Red Bulletin (simple but smart branding, right?), which is

distributed to more than 5 million people

. They also sponsored the famous freefall from space project. There is no doubt that Red Bull is a media company that happens to sell energy drinks. This brand regularly informs their community about news in the sport industry, speaks with pros and influencers, and are inspiring the next generation of athletes.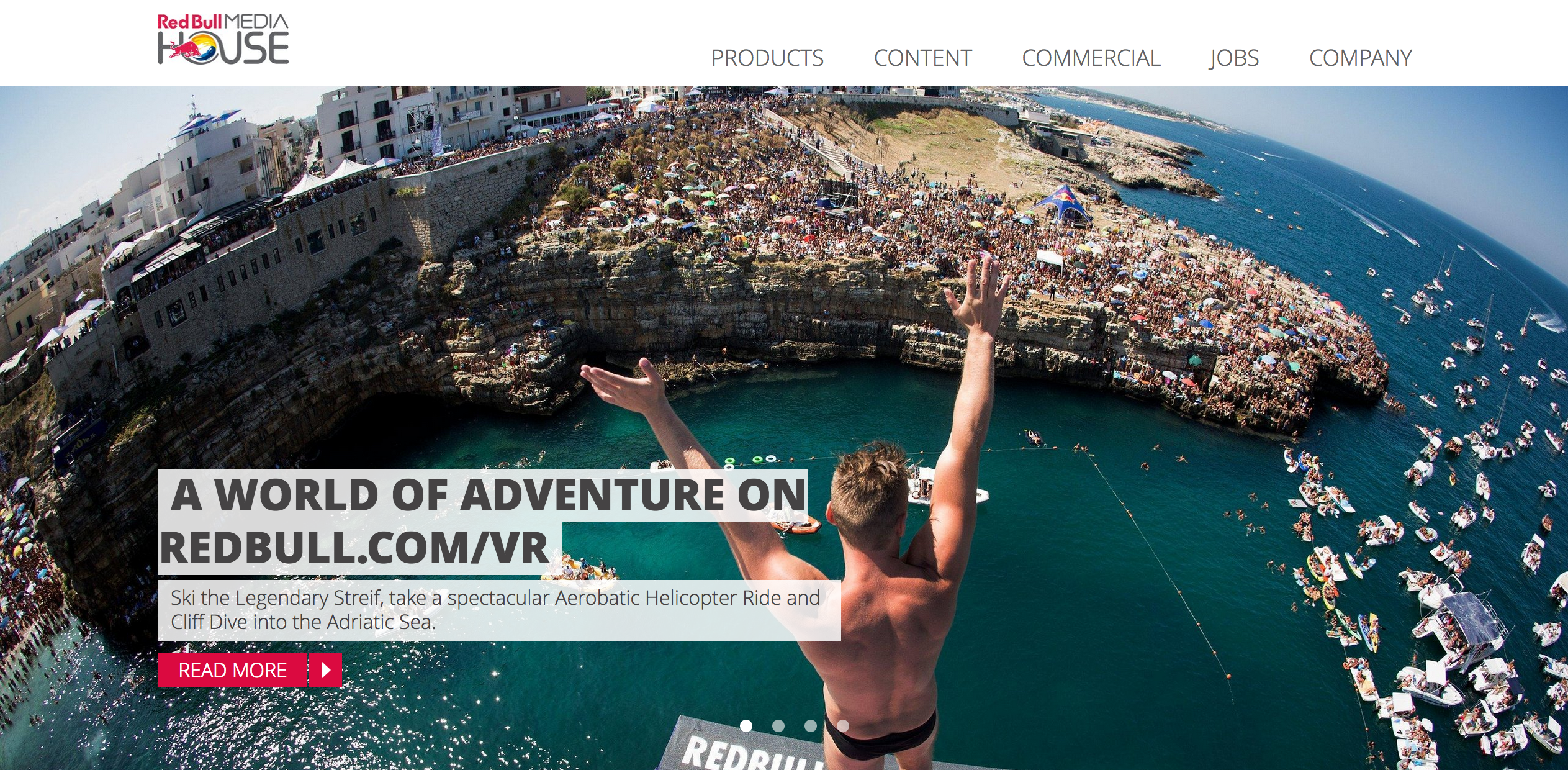 Educate

– When you start educating your customers, industry or potential customer, you'll see that they start to trust you, talk about you, and thus become your brand advocates. For example, when we started creating a yearly infographic about

the top social media ad size cheat sheet

, we saw some great results: people started using our product to create visuals for their social media networks, other publications used our content for their communities, and our blog traffic increased. And this was from only a few infographics that we've done!

Entertain –

Who said that content marketing needs to be boring? I believe that content marketing is a really interesting tactic that can bring you a lot of joy and also a lot of fun for your industry.
 Lauri Vuohensilta, a Finish factory owner who, with his wife, is behind the Hydraulic Press Channel (HPC) on YouTube. Soon after they launched, they started publishing videos about using their hydraulic press to crush different objects, including a video attempting to fold a piece of paper more than seven times with the hydraulic press.
After the video was submitted to Reddit, they received more than 2 million views in one day. Their YouTube channel became eligible for both silver and gold YouTube Play buttons. Today they have over 1.86 million subscribers on their YouTube channel. People love their content, buy their product and share the love with their community.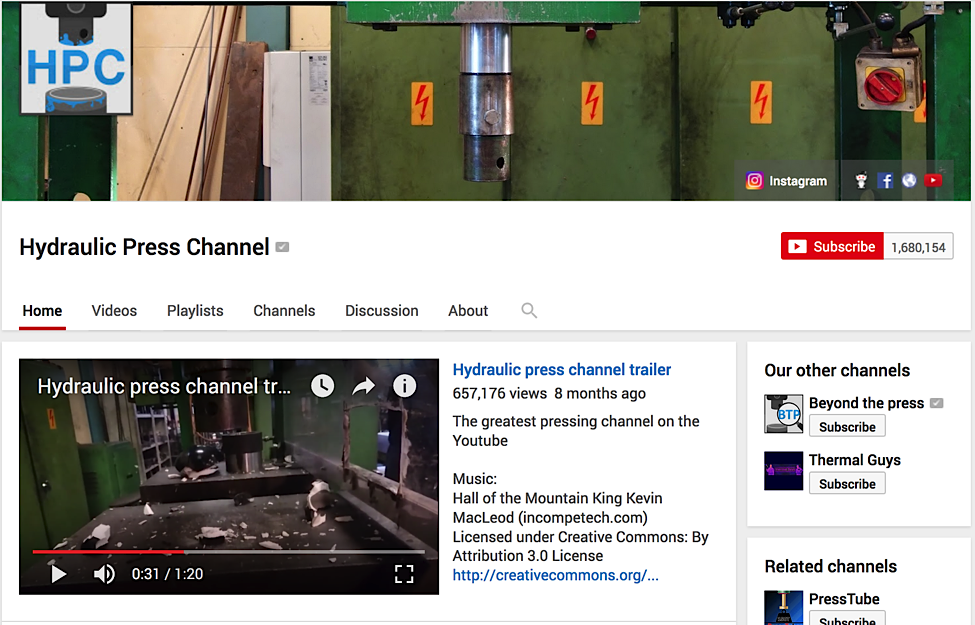 So we've talked about content marketing from the company's standpoint, but what about the people you want to target, the ones for whom you create the content?
3) Who Is Your Audience?
Before you start creating content, you need to know who you're creating it for.
I believe that this is the first lesson about content marketing: understanding who your audience is made up of.
If "everybody who has money to buy my product is my audience" is your answer, then you are going down the wrong path, because… 
When it comes to your audience, if you target everybody, you target nobody.
Click To Tweet
If you don't know who your audience is, then you will create content that doesn't speak directly to a potential fan or customer, and will therefore probably lose their attention. This is why you need to create a buyer persona for your content.
Image Source: Single Grain
Further Reading: The Complete Guide to Developing and Using Buyer Personas
There are two types of marketers out there: the ones who have heard about The Dollar Shave Club brand and the ones who haven't.
Click To Tweet
In March 2012, DSC launched a video called "Our Blades Are F***ing Great" in which the CEO (Michael Dubin) is talking about their brand, their product and why they are the best in the industry.
And they achieved this with just one video?
Well, not exactly. They achieved this with the right content, for the right audience.
Michael didn't create the video for everybody on earth. Starting with the title of the video, it's clear that he knows exactly who his target is: 18-24 year-old males on a budget. And then they branched out to women.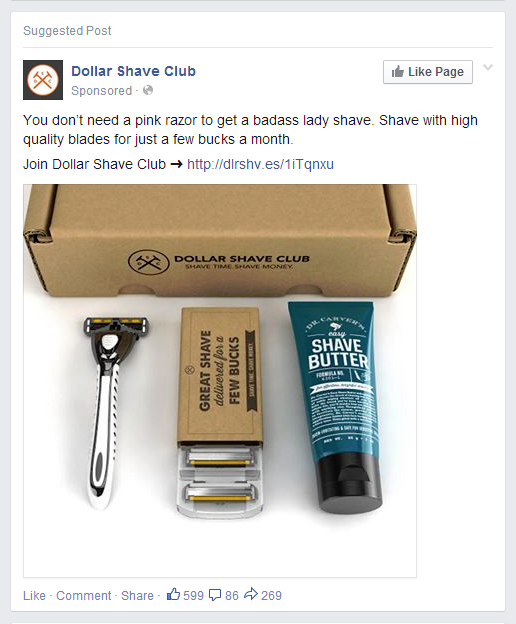 They went after the female demographic with their very well-targeted Facebook ad that says: "You don't need a pink razor to get a badass lady shave." Heather Cooan loved it and wrote about it in a blog post.
Do you see how important it is to know who your audience is?
This is why you need to start at the bottom and ask questions in order to reveal who they are. The best way to describe your persona is to create a list of common demographics that can easily characterize it:
Age

Gender

Location

Income

Education level

Ethnicity

Religion

Marital status

Number of children
You can find this information by using Alexa or Google Analytics, but then you may want to know a little more about them to further hone your marketing efforts.
So let's get a little deeper into building the persona. Let's see their psychographics (the study of people according to psychological criteria):
What are your biggest concerns?
What are your hobbies?
Where do you get your information (TV, online, radio)?
Which life goals (values) are most important to you?
What do you use the Internet for?
How many media devices do you use at the same time?
For these deeper insights, you can't use tools; you will have to talk with your community and customers specifically.
The easiest way to do that is to send them a personalized e-mail and ask them if they are available to have a short chat with you. Or you can try another approach: send them a flip book with a great piece of content and then ask them if they want to help your brand create a better experience for them.
Check out this cool example of a flip book (click on the image):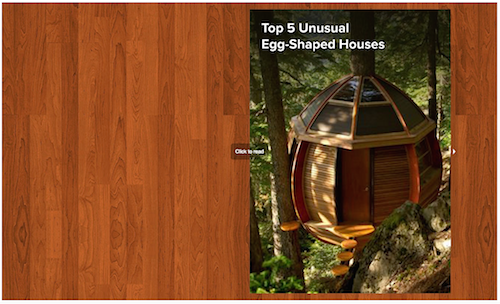 You can also find out more about your industry audience by using networks like Reddit, Quora and Twitter. Just type the name of your industry, for example "kitchen furniture," in the search bar and see what people are talking about, who are they, what their concerns are, and what you can do as a brand to help them.
There are three main aspects of content that you need to find out from them:
What is the best format they prefer to consume content (audio, text, video or others)?
How often do they consume it (daily, weekly, monthly)?
What length of content do they prefer?
Further Reading:
Guide Your Customers Through the Marketing Funnel With Interactive Content
4) Where Does Content Marketing Meet the Marketing Plan?
Let's clear up something:
content marketing is not marketing

marketing is not content marketing

social media is not content marketing

marketing is not advertising or branding or whatever else you want to call it
Every one of these is a tactic that needs to work together to have a better view of the overall marketing plan.
I see the marketing plan as the entire strategy on how to get the results. But the other tactics such as content marketing, social media, e-mail marketing, advertising or branding are the tools you use to get to the results.
Content marketing is not a standalone tactic for your business.
Before we look at where content marketing meets the marketing plan, we need to outline the value proposition of your content marketing – or, more simply put: the content marketing mission.
When you know what your content marketing mission is, you will know where to fit it into your marketing plan. So this is how you design your content marketing mission.
There are 3 questions that will help you create your mission:
Who is your core target audience?

This is what we discussed above. Do you see now how important is to have a persona for your content marketing strategy?

What will be delivered to your audience?

This is the value that you want to give to them. How will you build that bridge between you (the brand) and your audience?

What's the outcome that your audience will get from it?

I always say that it is not about your business – it's about your audience. When you are thinking about your audience when creating your content, it will be easier to capture their attention.
Creating a content marketing mission is just like creating a value proposition for a banner ad. There are three very important characteristics of a good value proposition:
It should be relevant for the customer
It should explain how specific benefits are delivered
It should be clear and easy to understand
Easy, right?
Now that you have sketched your content marketing mission, let's move forward and see how you can fit it into your marketing plan.
The previous three points where I recommend you fit content marketing into your marketing strategy is related to these next points:
SEO (Search Engine Optimization)

– You can't have good SEO for your website if you don't focus on relevant content for your audience and user intent. Check out these

effective SEO techniques

.

SMM (Social Media Marketing)

– It's not enough to just talk with your audience and let them know that you are present; you need to give them value, good information and make their life better. I recommend you check out Gary Vaynerchuk's book

Jab, Jab, Jab, Right Hook

to understand

how to give precious content to your community

before you ask them for something (money, e-mail, etc.).

Lead Generator – You can use content marketing to get more e-mail subscribers or to get more people to use your online product.
Related Content:
5) How Do You Measure Your Content Marketing Performance?
The interesting thing about content marketing is that everybody understands the term "content marketing" in a slightly different way.
For example, if you are an SEO specialist, you will see content marketing as a link building strategy, and will look at web traffic and keyword research. If you are responsible for e-mail marketing, you will use content marketing when you write the subject line of your e-mail, and analyze metrics on the open rate of your campaign or the CTA. Or if you are a social media marketer, it will be about engagement, followers and other social media metrics.
Until now, we talked about what content marketing is, why we need to define a specific audience for it, and how content marketing can help the overall marketing plan, but none of these are important if we don't measure its performance.
Here's why it's important to measure your content marketing performance:
To understand which type of content you create and distribute performs better for your audience.

So you can continue to test, explore and ultimately improve your content marketing in your buyer's journey.

In order to work together with the entire marketing team to set the right goals and get the best results.
But let's be more clear with this: if we don't measure our work, how can we know if we are doing something good, something bad or how to improve our efforts?
So, what are the performance keys that can help you measure your content marketing?
Reach. We can talk about how many unique visits your website got via your blog. With Google Analytics, you can easily get these results. Just go to Google Analytics –> Audience –> Overview. Here you can see your website sessions, page views, and other important metrics. Also, in the Audience category you can look up demographics, interests, technology or devices.
Engagement.

How many users engage with your content? Here you can look at performance like bounce rates (how much time the user spent on your website), the click patterns (the user journey on your website) or page views. These are the more technical keys, but what about the emotional ones? This is why I love to measure the comments on blog posts. How many people comment and what are they saying? Also, I look at how many social media shares a blog post has.
Awareness

. How many publishers/bloggers are talking about your brand, your website or your product? Think about the backlinks you got for a specific piece of content on your website. 

You can use

BuzzSumo

to monitor your brand mentions, content from a website, keyword mention, backlinks, competitor mentions or an author. I recommend that you focus more on the brand mention, backlinks and content from a website. This will help you stay updated on how many people are talking about you. 

Also, you can measure brand awareness on social media by how many followers you have on every social network you are using.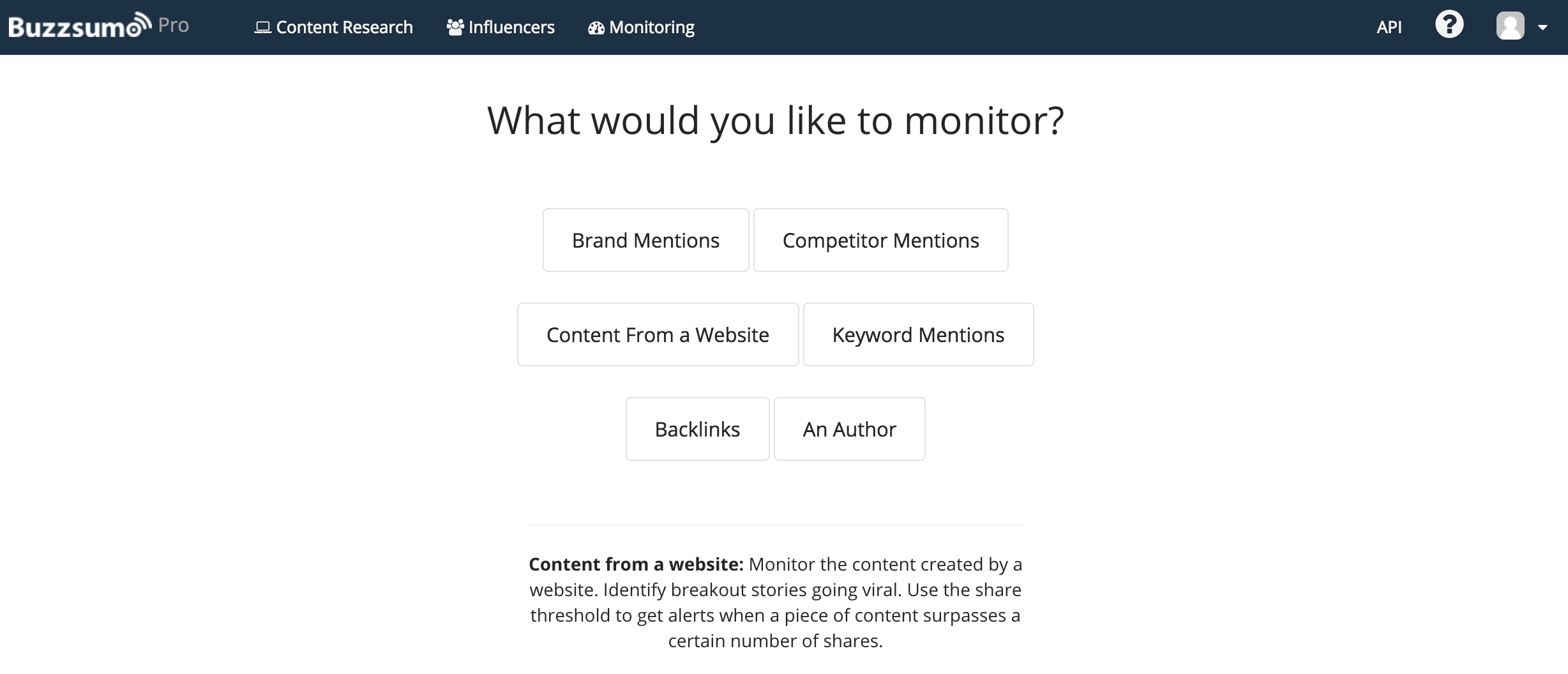 Also, I recommend that you start building your newsletter subscriptions by using your blog signups.
These are a few metrics that you should be using to measure your content marketing strategy. It's not something you can do in a day; it's something you have to do regularly to help you improve your content marketing plan and bring in the results you want to have.
As Andy Crestodina, Co-founder & Strategic Director for Orbit Media Studios said,
"If your website was a city, there would be a highway of visitors flowing through it. But if you don't know where that highway is, you don't know how to guide traffic. You don't know where to put the billboards."
This is how important measuring your performance on content marketing is.
Further Reading:
How to Measure the ROI of Your Content Marketing
6. When Should You Start with Content Marketing?
Right away, my friend.
The longer you wait, the more users your competitor will get more and you will be left behind.
Content marketing is not a sprint that you do today; it's a marathon you have to do every day to get better and make it to that finish line.
Conclusion
There is no one magical formula that will ensure successful content marketing. You just have to start doing it, test it, experiment with it, fail at it and improve it.
Further reading: