App Store Optimization (ASO) Strategies for New Mobile Apps Launching in 2023
Prior to 2020, the number of apps that were discovered via search or browse was on a downward trajectory, while referral was experiencing an upward trend.
But data collected last year shows that the percentage of people who find apps to download based on search activity is once again climbing. That means app marketers need to do all they can to optimize visibility and conversion within the Apple iOS App Store and Google Play.
As the creator of a popular and growing app that makes it easier for teens to earn their driver's licenses called DMV Practice Test by Zutobi, we wanted to share our specific experience and advice for effective app store optimization.
Here are six strategies to focus on when launching your new mobile app.
1) Pay Attention to Keyword Relevance, Not Just Keyword Traffic
Even though your goal is to expose many people to your app and persuade them to download and install it, you can't assume that if you simply populate your listing with high-traffic keywords you'll deliver on that goal.
First of all, those keywords with the highest traffic are extremely competitive and very difficult to rank for. But it's also the case that many of those keywords that appear to be popular and look appealing on the surface are interpreted differently by the people who use them in their searches.
For example, since the Zutobi app provides drivers ed courses for teens who are trying to earn their licenses, it may seem sensible to consider "license" as a viable keyword to use, as it ranks high in average monthly searches.
However, if you type "license" into your Google web search bar, your results will include information on renewing a driver's license, getting a license plate, or even entries that have nothing to do with driving at all: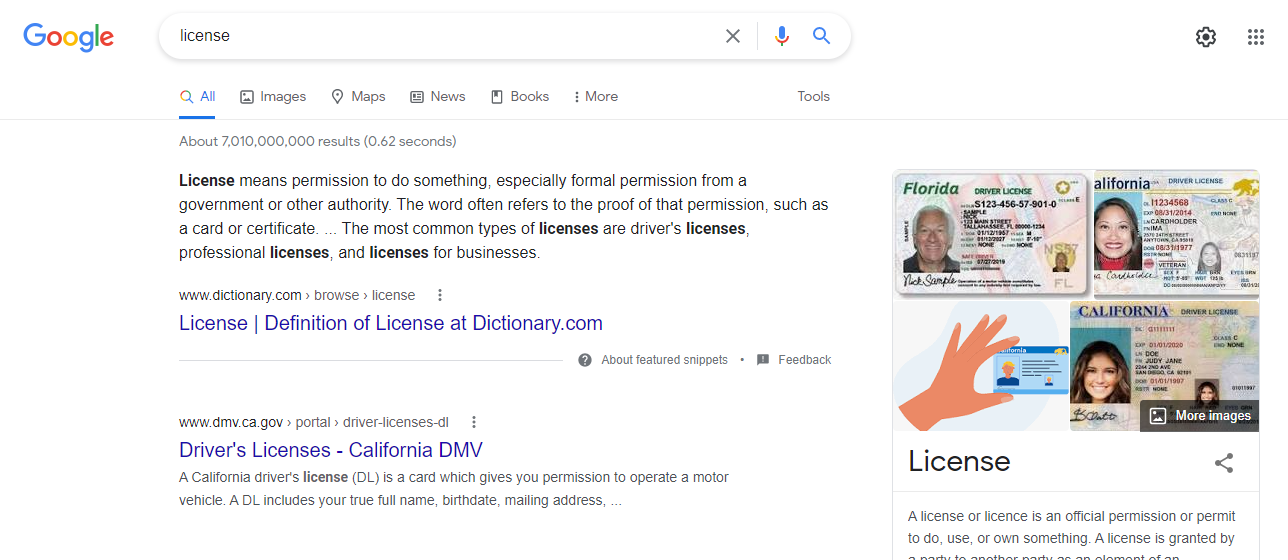 In addition, high volume keywords can often be vague and open to interpretation, never mind competitive:

If you've created your user persona, you'll have developed a greater understanding of what your target customer needs and which problems require solving. And your knowledge of your representative customer should clue you in to what he or she is intending to find when typing a keyword or keyword phrase into the search bar.
Understanding searcher intent will help you to locate the words and phrases that are relevant to the search, and when keywords match searcher intent, you'll be more likely to rank.
So, it makes sense to use the more descriptive long-tail keywords that are likely to be a great deal more relevant to the searcher's intent: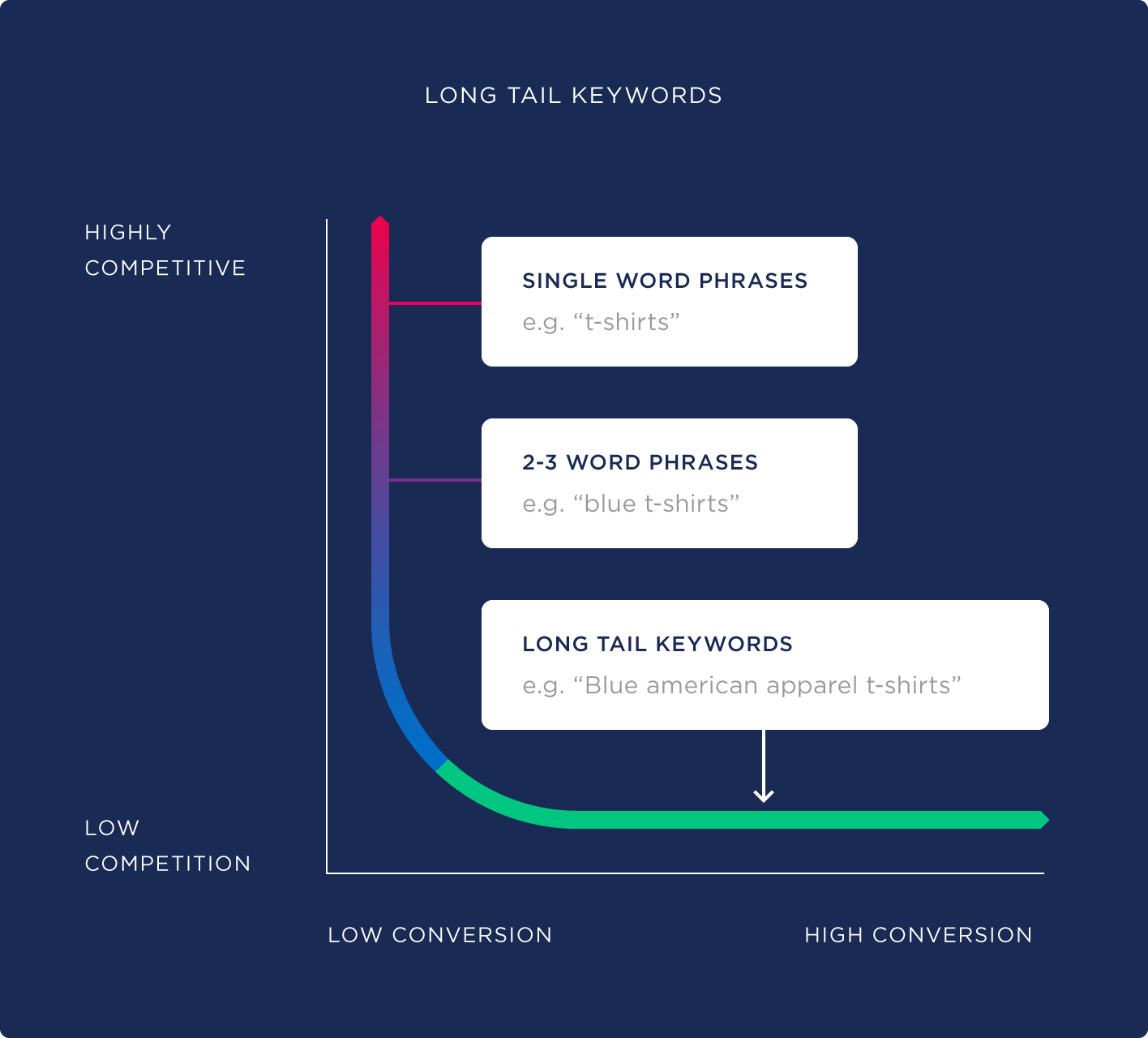 These keywords are low-volume in terms of how they rank for the number of monthly searches, but the traffic you do see will have a greater interest in your app and be more likely to convert to a user.
Dive Deeper: Why You Should Use Long-Tail Keywords in Your SEO Campaign
2) You Won't Know if a Keyword Is Valuable Until You Experiment with It
Optimization – whether it's SEO for search engines or ASO for the app stores – is a process. It's not something you can just do one time and never look back. You should be regularly monitoring your app's performance to see how well your keywords are working toward realizing your key performance indicators' (KPI) goals.
The reason you'll need to iterate different keywords on a consistent basis (some experts think you should look at results weekly or even daily) is that there are many factors that can account for a shift in ranking:
Long-term factors like consumer preference changes, competitors' actions, or seasonality of the product could influence how well your keywords perform.
In the short-term, an app's ranking position can change by day of week, time of day, or other unknowable reasons. 
If you make a point to monitor your performance regularly, you'll be able to see trends for specific keywords that factor out extraneous influences.
ASO experts have provided best practices for how you should position your keywords in your app's listing, and these practices differ according to the rules established by each of the two app stores. The rules are constantly evolving, so make sure to review their respective policies to understand what does and does not rank, what your character limits are for your app title and description, and which practices are not allowed.
Here are the most current guidelines for the Google Play and Apple iOS stores:
Google Play
Title: up to 30 characters
Short description: up to 80 characters
Description: up to 4,000 characters
Google Play indexes nearly all of the text that is included in the store listing.
Apple (iOS) App Store
Title: up to 30 characters
Subtitle: up to 30 characters
Keywords field: up to 100 characters
The iOS app store doesn't index all text fields (unlike Google), so try to get your keywords in these additional fields:

Developer name
In-app purchases (IAP)
This is our Zutobi app and you can see how we've stuck to these guidelines:

Play around with the ways to include your keywords in the title and description along with making keyword changes if you're not seeing positive results from your manipulations. It may take an average of 6-8 iterations to hit the sweet spot.
Dive Deeper: SEO Keyword Research Made Easy in 2021
3) Use A/B Testing to Find Which Elements Work Best
An even better way to find out which app store elements will work best to achieve your goals is to test different versions of the same variable (e.g. the icon, screens, videos) among a sample of representative users. A/B testing is a safe approach to optimizing your store presence before rolling it out to all users.
The Google Play Console has A/B testing built into its platform with a feature called Google Experiments. Here are their suggested best practices for running tests:
Know what you're trying to achieve by running the test. What specific goal do you want to be able to evaluate the results against?
Stick with testing only one variable at a time. If you attempt to test more than one variable, you won't be able to get a clear read on how to attribute any changes in results.
Test your icon, as it can be very influential in consumers' decision to click on your app.
Other important elements to test are your short descriptions, your feature graphic, and your screenshots (and even the order of the screenshots).
Give your experiment at least a week so that you can account for both weekday and weekend behavior.
Google recommends testing against 50% of your audience so that there will be enough members of the sample group to get reliable results.
The Apple Connect platform doesn't have its own A/B testing capability. You'll need to rely on third-party tools to perform that function. Just don't make the mistake of thinking that your results on Google Play apply to the Apple iOS app store. They're two very different platforms.
As for our experience with Google Experiments, we used A/B testing to determine the specific and detailed content to use on our DMV practice test pages in various U.S. states.
Dive Deeper:
4) Use Third-Party Data Analytics to Collect Information that Is Useful for ASO
App marketers are increasingly looking at app behavior to help them understand what's working for their app and what could use improvement. Analytical tools that track installations and post-install events can provide the kinds of insights that are extremely valuable to developers.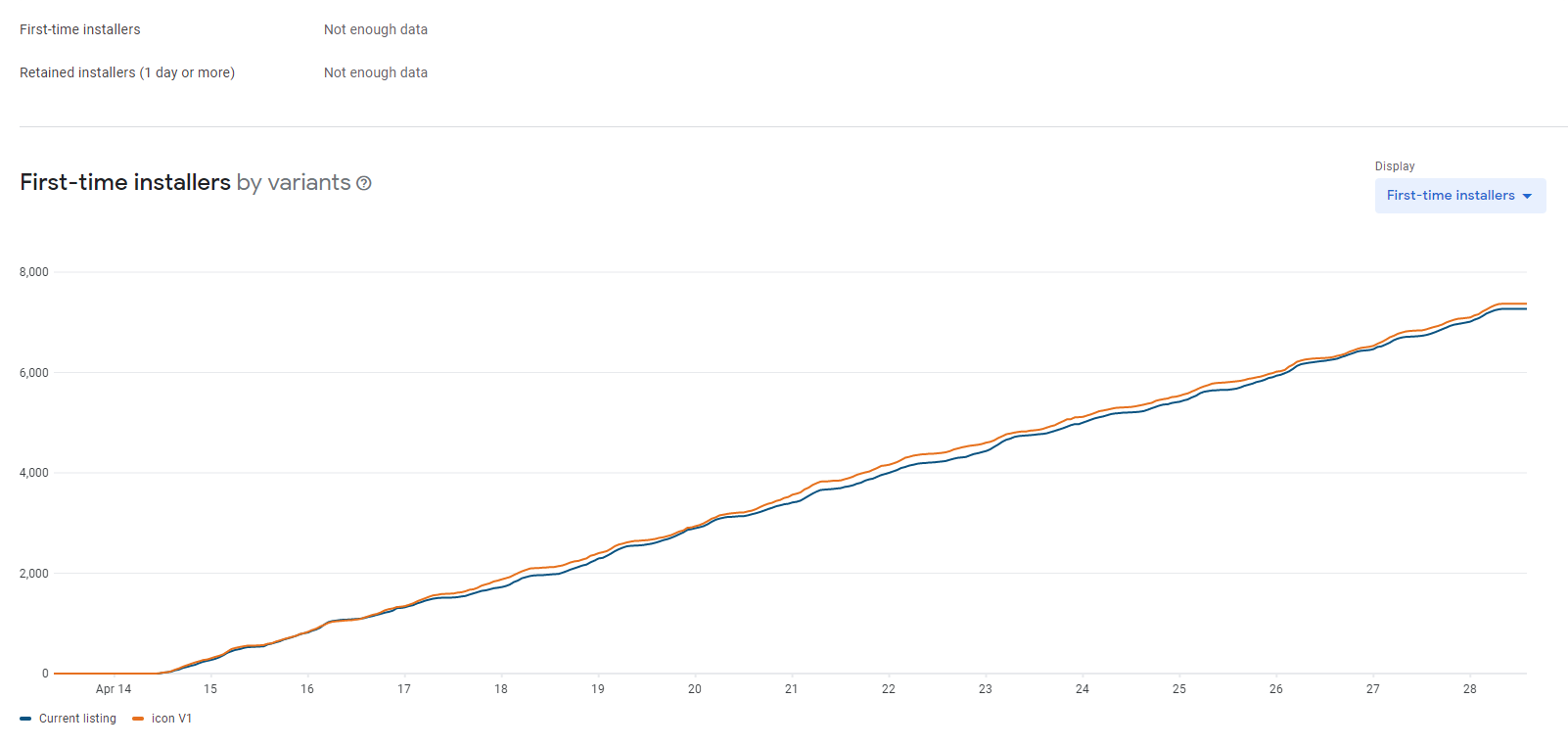 Post-install events are any kind of action taken after someone installs an app, such as viewing content, clicking on a video, filling in a registration form, putting items in a cart, and completing a purchase.
 Often, it is an ad campaign that drives someone to take action in an app, and third-party companies called Mobile Measurement Partners (MMPs) are able to associate, or attribute, these actions to specific ad campaigns.
MMPs can provide data that the developer platforms (Apple Connect and Google Play Console) cannot, such as:
The medium that drove the install (paid ad campaign vs. organic)
The source that drove the install (specific ad campaigns or keywords)
So how does this relate to app store optimization?
Knowing which keywords are associated with installations – not just downloads – is valuable information that developers can use to improve their app store listings.
Related Content: 9 Alternatives that Are Just as Good as Google Analytics
5) Ratings and Reviews Factor into ASO
Providing value for your users through your app is something you should always be striving for. But since the proof of delivering on your promises shows up in the form of star ratings or user reviews, you really have to take the missive seriously.
Your ratings score is one of the first things potential users see when they encounter your app listing, and recent research has shown that people won't even consider you if you rate below three stars.
Additionally, almost 80% of people using the app stores read at least one review before they download and install an app. We consistently see five-star reviews for our practice tests that help users pass their driver permit test on the first try, such as this one:

And it's not only users who play a role in deciding how you fare based on ratings and reviews.
Both Google and Apple use algorithms that give more weight to apps that have a large number of positive reviews and ratings.
That makes sense, of course, when you remember that their role is to recommend (in the way of search results) the apps that are of higher quality and that more users enjoy. Apps with positive feedback are also more likely to be featured in the stores, which could prove to be a boon for your downloads and conversions.
So besides developing and maintaining an app that users love, how else can you work to ensure your reviews are favorable and that a lot of people rate you positively? You can:
Ask for ratings.
Reply to user feedback quickly.
Update your app frequently.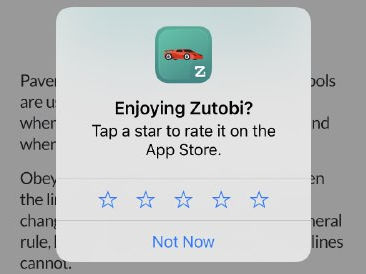 The information you get from feedback can be valuable for improving your app. You might learn that you need to add or tweak a feature, and you may even be able to discover new keywords from the reviews. Replying to users shows them that you care about delivering a quality product, and it also encourages other users to engage with you.
You can also learn a lot about what frustrates users by studying your competitors' reviews.
Those insights can be brought back to your development team so that they can improve on current features or add new ones that will give you a leg up.
6) Be Data-Informed Rather than Data-Driven
Today, we're able to discover the kinds of customer and marketing insights that would not have been possible only a few decades ago.
Data has absolutely helped marketers pursue targeted strategies based on real user behavior rather than on estimates or generalized third-party research with only a loose connection to your industry or customers.
Data has made it possible for companies to be competitive, and it's no wonder that it guides decision-making to such a great degree. However, successful developers and marketers cannot rely solely on analytics to provide the blueprint for how to move forward.
When companies get lost in the data, they may try to optimize using a piecemeal approach rather than examining whether or not the numbers reflect a broader vision of the company's strengths and weaknesses. Don't undervalue your past experiences and industry knowledge as you review reporting. Data is valuable, but it can't interpret itself. It requires context and an intuition check that only humans can provide.

For example, in the image above, the raw data for reviews would indicate that there's an issue with stability of the app that impacts user experience. This data doesn't tell the whole story, however, since the reviews stem from isolated events that caused the app to crash.
In addition, data has many dimensions that may or may not align with the business goals. For example, optimizing the number of ads for maximum revenue can quickly bombard the user and lead to a negative user experience, hurting the business in the long term.
So, while the data can provide insights, it requires interpretation to determine if it's an issue that needs to be addressed and how to incorporate those insights into existing business goals and objectives.
Don't simply let the numbers speak for themselves; gather your team to discuss the findings and brainstorm ideas for ways to improve customer experience. Your organization will benefit if team members across different departments understand how to interpret data and can bring their unique perspectives to brainstorming and strategy discussions.
Boost Your App's Discoverability
Optimizing your app for an app store involves more than simply uploading some screenshots and providing a description of the features. You must optimize your app for positive user experience, visual appeal and optimal visibility in a crowded market. Though it takes time, effort and patience, continuously optimizing your app with better in-app experiences and user-driven features will pay off in the long term. 
---
More Content about Apps:
* Top 12 Most-Downloaded Apps of all Time
* Marketer's Guide to App Store Marketing
* 10 Marketing Lessons I Learned by Building a Top 100 App
* Beginner's Guide to App Store Optimization
* How to Design the UX of a Website or App to Increase Conversions
* 4 Essential Steps to Create a Go-To-Market Plan For Your Mobile App