Best Crypto Influencer Agency: Top 5 Choices for 2023
Trying to find the best crypto influencer agency to market your cryptocurrency products is not an easy task.
Promoting crypto requires a different approach, skill set and knowledge than a traditional marketing or influencer agency has, so it's in your best interest to hire a crypto marketing agency to help you achieve the unique goals you've set for your crypto brand.
Here are our top five picks of the best crypt influencer agencies, plus how to choose the right one for you.
---
---
What Is a Crypto Influencer Agency?
A crypt influencer agency is a marketing firm that combines elements of conventional influencer marketing with content marketing and other innovative strategies to build communities around your digital currencies and NFTs. They have specialists that are made up of knowledgeable, enthusiastic investors with a genuine interest in all things crypto.
These agencies understand that the goals and targets set by crypto-based businesses are often very different from those set by traditional businesses.
Thanks to their genuine interest and passion for the industry, they also understand that the typical audience for cryptocurrencies is usually different from those targeted in other industries, even those dealing with finance and other currencies.
The best crypto influencer agencies take these distinctive insights and combine them with a proven marketing strategy for collaborating with industry thought-leaders and other influential figures to help your brand reach those one-of-a-kind audiences and generate substantial revenue.
The Benefits of Hiring a Crypto Influencer Agency
Now that you know what a crypto influencer agency is, the question is: Why hire one rather than just do all the marketing work yourself or outsource to a traditional marketing agency?
There are three good reasons why you should hire a cryptocurrency marketing agency with access to a network of crypto influencers.
1) Save Time and Money
Whether it's bitcoin, NFTs, SaaS solutions or e-commerce, effectively marketing any new product or service takes a lot of time, skill and hard work.
Unless you're already an experienced marketer or have a genuine passion for learning the ins and outs of influencer marketing, that time and work may be better spent focusing on building, improving and launching your products rather than marketing them.
After all, do you really want to spend your day writing blogs, creating social media posts, and sending pitches to influencers that you're not 100% confident are going to lead to a fruitful collaboration? Or are you better off spending your time making sure you've got the hottest crypto product around?
By hiring a specialist crypto agency, you'll save valuable time and generate a better return on your investment than if you decide to go it alone.
2) Genuine Passion and Knowledge of Crypto Products
Just because outsourcing may be the most efficient and cost-effective approach to marketing your new venture doesn't mean that any old standard marketing agency will do.
If you're in the industry, you already know that the cryptocurrency world is different from just about anything else out there, and you need an agency that understands that just as well as you do. You need an agency that truly gets it. More importantly, you need an agency that shares your unwavering enthusiasm and genuine passion for crypto (like Single Grain founder Eric Siu) to be sure that they're going to be every bit as invested in your success as you are.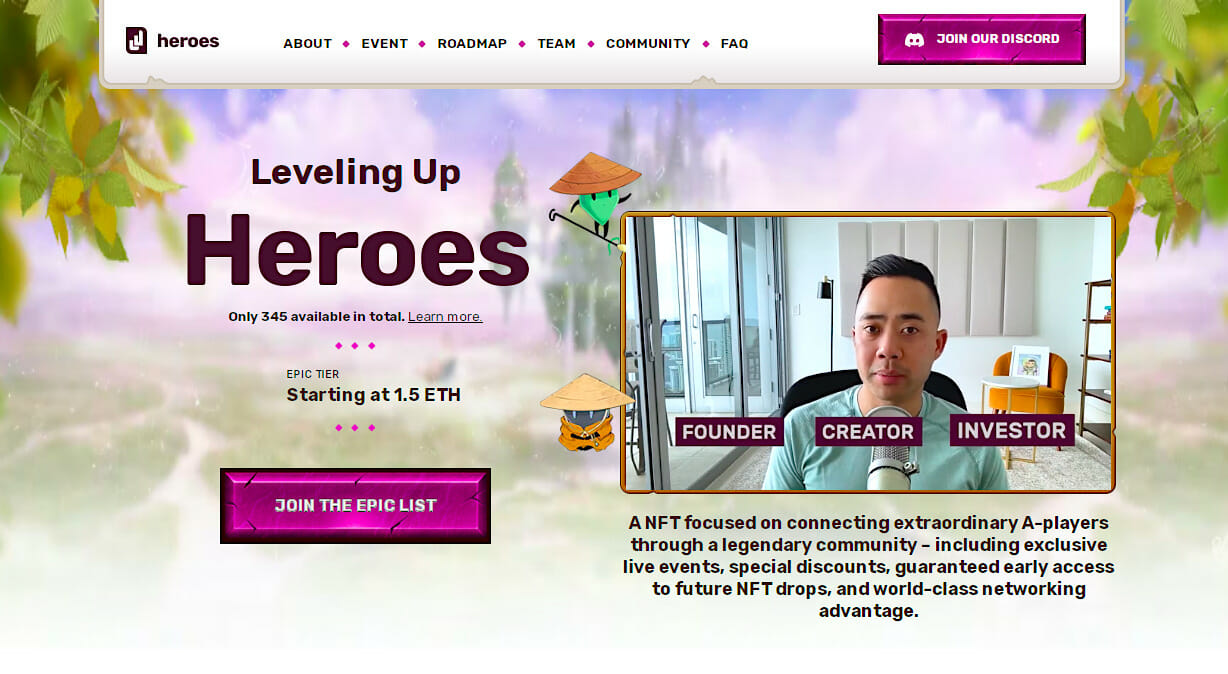 A good crypto agency combines that genuine understanding and passion for what you do and puts it to work to help you succeed.
3) Improve Your Chances of Effective Collaborations
A key tenet of effective influencer marketing is collaborating with influential figures. Working with respected names within your niche can help add a sense of legitimacy and validation to your product.
Teaming up with people outside of your core industry can help expand your reach beyond your existing audience of hardcore early adopters, like FTX's recent partnership with Tom Brady:
Although you may be aware of some famous names it would be worthwhile working with, you may not know how to properly pitch potential strategic partnerships in a way that bears fruit.
This is where the best crypto influencer agencies can prove their weight in gold.
Not only do they know exactly which figures and industry leaders are worth reaching out to, but they also have the skills and experience to put an effective collaboration together and make things happen.
Dive Deeper:
* An NFT Marketing Checklist for Your Crypto Project
* Why and How to Accept Cryptocurrency on Your Website
* The Ultimate Guide to Blockchain Digital Marketing and Cryptocurrency

How to Choose the Best Crypto Influencer Agency
So, you know that teaming up with a crypto influencer agency is the best approach to get your new venture off the ground, but with many companies all competing for your business, how do you decide which one is the best agency for you?
When you're trying to choose an agency, ask the following questions to help you to determine which company is best suited to help you achieve your goals.
How Much Do They Really Know About Crypto?
Reading through a company's website and existing case studies is a good place to start when it comes to determining whether an influencer agency really knows cryptocurrencies and crypto-collectibles. But don't stop there.
The truth is, anybody can find a way to make themselves sound good online, but how much do the people you'll be working with actually know about blockchain, NFTs and digital currencies at large?
Don't be afraid to ask for face time with your preferred agency and really talk to them to get a good idea of their level of expertise. Do they truly understand the kind of challenges you face? What strategies and solutions do they propose to help you overcome them? Can they show you their previous successful crypto marketing projects?
What Is Their Track Record Like?
Does the agency have a genuine list of crypto companies for clients? What results did they produce for those clients?
Be sure to ask these critical questions during the early feeling-out stages, as an influencer agency with a proven track record in crypto is going to be much more likely to help you thrive than one who has typically only worked with traditional B2B and B2C clients.
Which Influencers Do They Have Relationships With?
Closely related to an agency's proven track record with clients, you should determine what their history of working with reputable industry leaders and influential figures is. Has your chosen agency proven that they can successfully set up collaborations with names who boast some genuine clout?
Even if they haven't yet worked with the exact names you'd like to partner with, a proven history of being able to bring leading figures on board for previous clients may indicate that the agency does at least show that they've got the skills, experience, and connections to do the same for you.
What Is Their Reputation?
As we've already mentioned, any company can make themselves sound impressive, but what are they really like to work with?
Reading reviews and testimonials on Google, social media, and platforms such as Clutch can help you discover what a company's clients really think of them, and whether they're genuinely up to the task of delivering on the promises made in their sales pitch to you.
Dive Deeper:
* What Are NFTs and How Do They Help Business?
* NFT Strategy: Everything You Need to Know to Get Started
* What Is Web 3.0? The Future of the Internet

Top 5 Crypto Influencer Agencies
Specializes In: 360-degree crypto marketing
Top 3 Crypto Clients:
Bittrex
Polymath
Blockgeeks
Pricing: $$$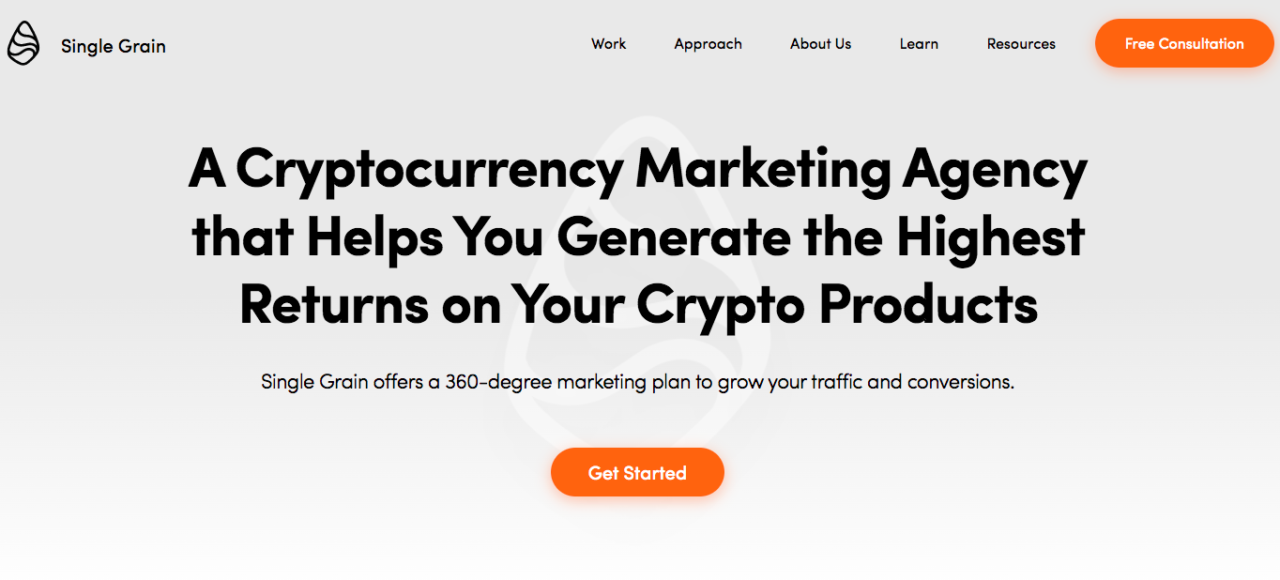 Single Grain is a full-service marketing agency that has carved out a reputation as a top crypto marketing agency, thanks in no small part to a genuine passion for all things crypto. Their world-class marketing experts bring their expertise and years of experience in SEO, PPC and CRO to their crypto influencer marketing strategies.
CEO Eric Siu has his own line of NFTs and hosts the popular Leveling Up Podcast which regularly focuses on NFTs and other crypto products.
Channeling this expertise, Eric leads a team of specialists who have previously worked with some of the biggest names in blockchain, including Blockgeeks, Bittrex and Polymath.
What sets Single Grain apart, however, isn't just Siu's status as a thought leader in the world of cryptocurrencies. Rather, it's the personalized strategies the company creates for each client, helping them leverage Discord, Reddit, YouTube and Twitter crypto influencers to full effect by collaborating with those niche influencers who are best suited to each individual brand.
To learn more about Single Grain founder Eric Siu's approach to Web3 influencers, check out this video:
Specializes In: NFT marketing
Top 3 Crypto Clients:
Pricing: $$$$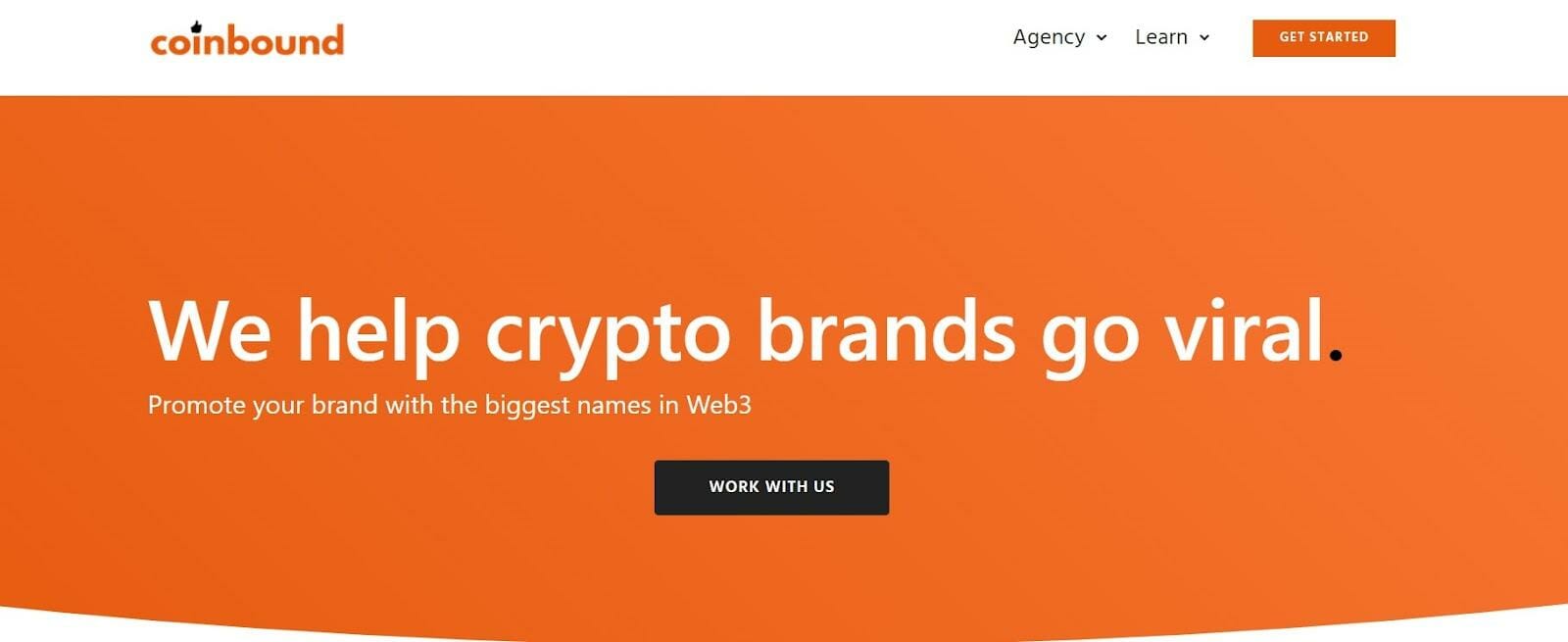 Coinbound's website boasts a simple mission statement: Making crypto brands go viral.
To date, the company has achieved that mission by working with a veritable Who's Who of the market's biggest companies, including Etoro, Metamask, CoinFlip, and countless others.
Their strategy focuses on driving traffic to crypto platforms by teaming with influential names across the entire gamut of leading social media platforms while securing high-profile, organic coverage from leading crypto-focused publications.
Specializes In: Data-driven digital marketing
Top 3 Crypto Clients:
Price: $$

Blockwiz was formed in 2019 by Canadian crypto expert Dev Sharma.
After cutting his teeth in top management roles at renowned cryptocurrency companies like OKEx and Paxful, Sharma assembled a 70-person team of crypto marketing specialists, including strategists, content creators and growth marketers.
Together, this extensive team takes a data-driven approach to crypto influencer campaigns, currently boasting over 700 successful campaigns for a broad range of international clients.
Specializes In: PR-based influencer marketing
Top 3 Crypto Clients:
Cryptopia
PrimeBit
Crypto.com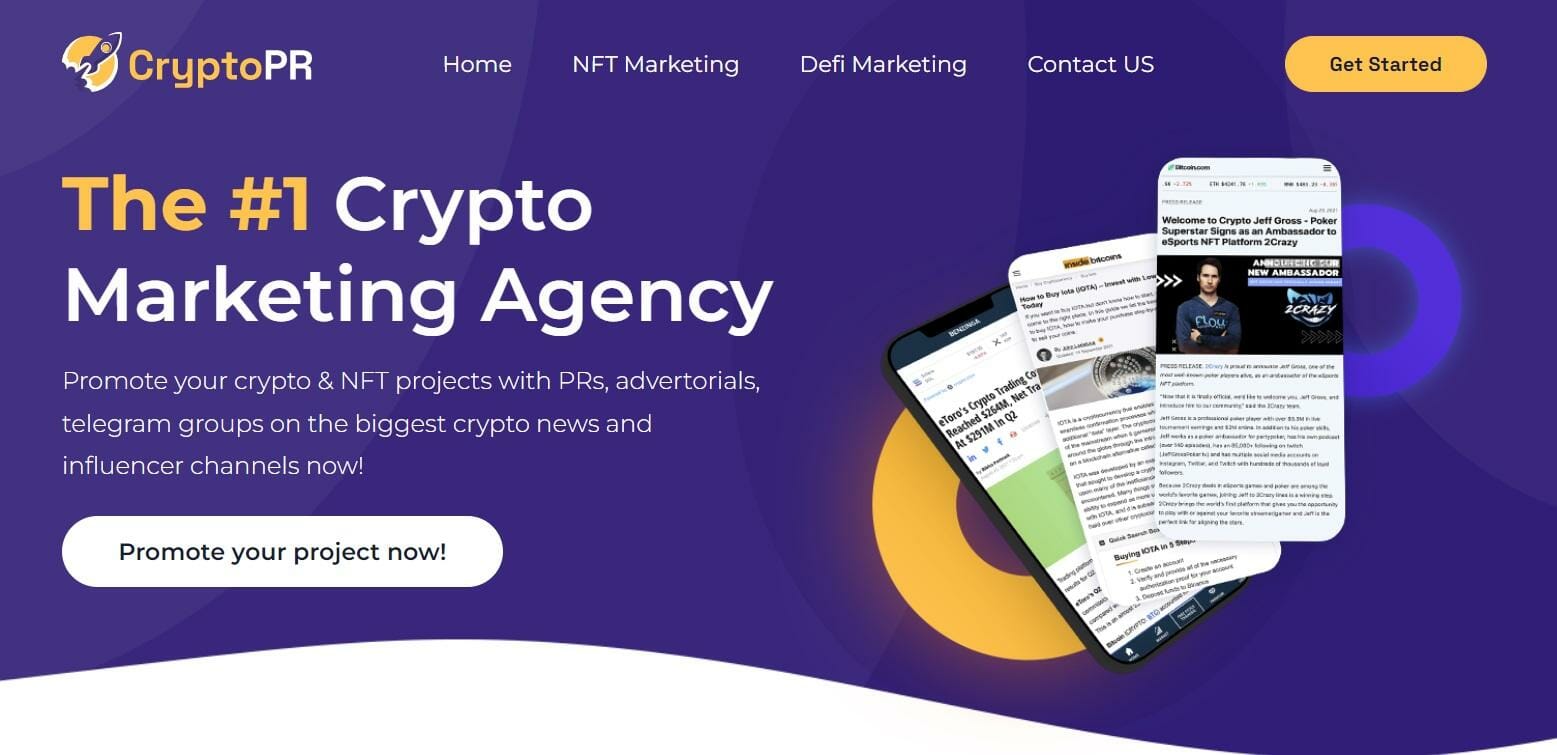 If their name didn't already give it away, CryptoPR's primary focus is getting your brand featured prominently on the biggest crypto and finance news sites, blogs and other publications on the web.
If you're a regular reader of outlets such as Bitcoin.com, Yahoo! Finance and CryptoNews, and always wondered how you could get your crypto company in front of the enormous global audience of those publications, CryptoPR insists that they have the answers you're looking for.
Outside of this traditional PR agency approach, the agency also focuses on connecting you with leading YouTube channels, podcasts, and other digital media platforms to help firmly establish your company as one to pay attention to.
Specializes In: Launching new NFTs and crypto products
Top 3 Crypto Clients:
Timecoin Protocol
DaoBet
Entheca
Pricing: $$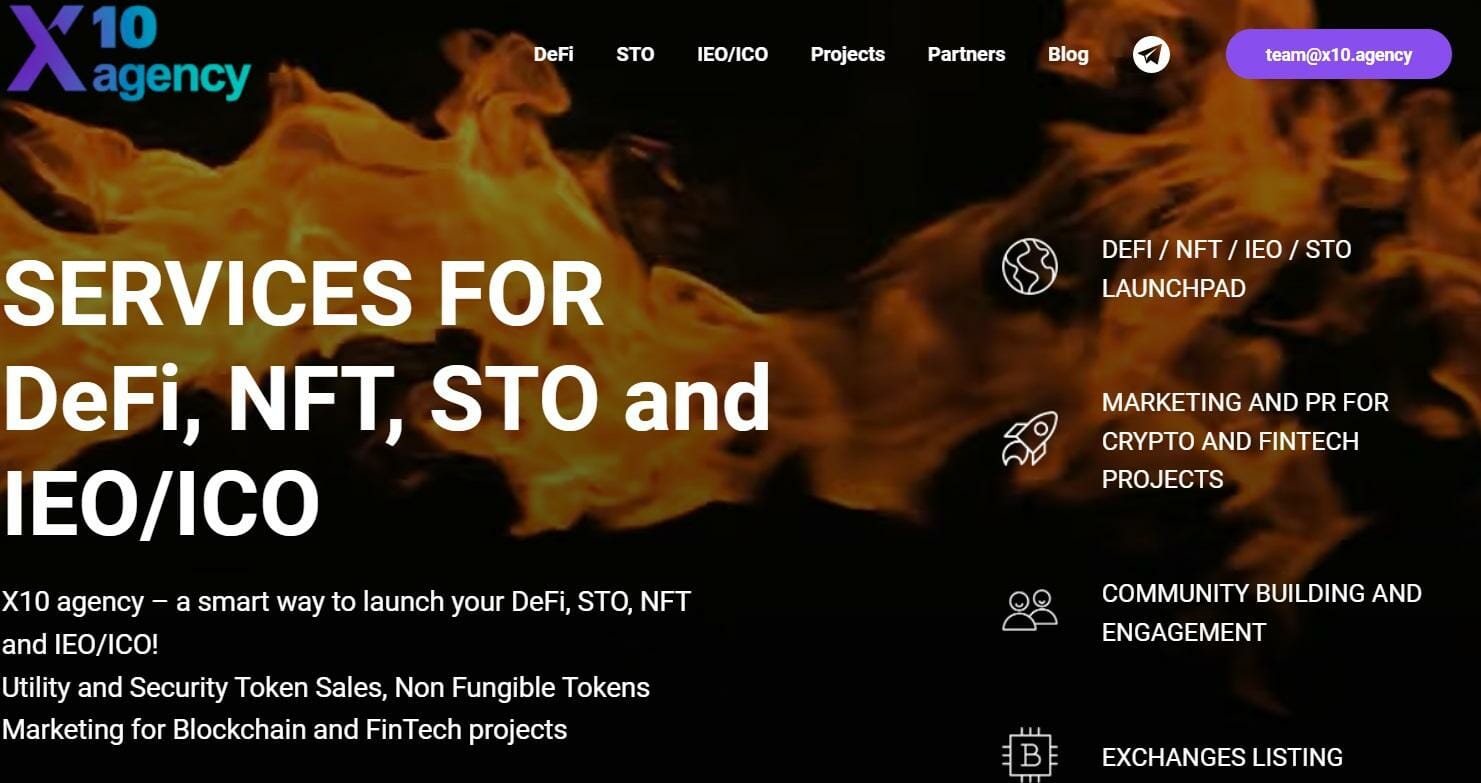 Much like Single Grain, the X10 Agency has years of experience establishing themselves as one of the most recognizable names when it comes to cryptocurrency marketing companies. Entrepreneur Magazine listed them as one of the top NFT agencies on the web, and the company also enjoys accolades and acclaim from the likes of Hacker Noon and DesignRush.
They help identify the key players that are best suited to your brand and work out beneficial partnerships, while at the same time focusing on generating tier-one media coverage via some of the web's biggest publications like Forbes, Inc., TechCrunch, and the aforementioned Entrepreneur Magazine.
However, what sets them apart is their commitment to helping companies launch new products and services, with a special focus on utility and security tokens, crypto exchanges, DeFI, and Blockchain. If you're new to crypto, their newcomer-oriented turnkey solutions may be just what you're looking for.
Related Content: How Social Tokens Will Change Marketing Forever
Ready to Hire a Crypto Influencer Agency?
All five of the companies we've listed above tick all the right boxes when it comes to the most important things to look for in a top crypto influencer agency. Not only are they knowledgeable, skilled and experienced, but they boast a proven track record of results with case studies, positive reviews and glowing testimonials to back up their claims.
So how do you choose just one to work with?
As with most big decisions you make for your brand, it all comes down to finding an agency that most closely aligns with your top priorities as a business.
If you're new to the market and looking for a company that can help you with a new product or service launch, you may want to look at X10, who specializes in that very niche. If your focus is on partnering up with leading publications, podcasters and YouTubers, then a PR agency like CryptoPR with a focus effective blockchain campaigns may appeal to you.
But if your priority is working with the absolute best all-around crypto marketing agency, look no further than Single Grain. Whether you're just getting started with your first product or you're a well-established veteran who needs to inject a new lease of life into their marketing efforts, this agency will provide you with a tailor-made strategy to help you achieve your crypto goals.
If you want to promote your crypto business by partnering with an excellent crypto influencer agency, Single Grain can take your brand to the next level. 👇
Or learn more about what we can do for you here 👉  Crypto Marketing Agency
---
Crypto Influencer Marketing FAQs
How much do crypto influencer agencies charge?
That all depends on the individual agency and the precise nature of the work carried out for you. Some charge a fixed fee per project, others work on an hourly basis, and still others may opt to charge a monthly retainer.
As a general rule, you should expect to pay either $75-$150 per hour or between $2,000-$10,000 per campaign, though any truly reputable agency will offer custom pricing dependent on the work involved.
What are some red flags to look out for before hiring a cryptocurrency influencer agency?
If a crypto agency isn't willing to answer your questions, doesn't understand your product, niche or audience, and if they can't back up their claims of success with proven results and case studies, these can all be red flags that this is an agency to avoid.
On a similar note, the unique nature of crypto means that a one-size-fits-all approach to influencer marketing rarely works, so if an agency insists on offering you the same package that they delivered for another business regardless of whether it's right for you, you'd be wise to look elsewhere for a company who tailors what they do to suit you and your goals.
What's the difference between crypto influencer marketing and cryptocurrency marketing?
Cryptocurrency marketing is a catch-all term that refers to all the different channels, strategies and approaches that can be used to promote your products. This may include things like content marketing, social media and paid advertising.
Crypto influencer marketing is a name given to just one of these approaches, which relies on partnering with industry influencers and leading publications to help get your name out to the masses and build a loyal following.