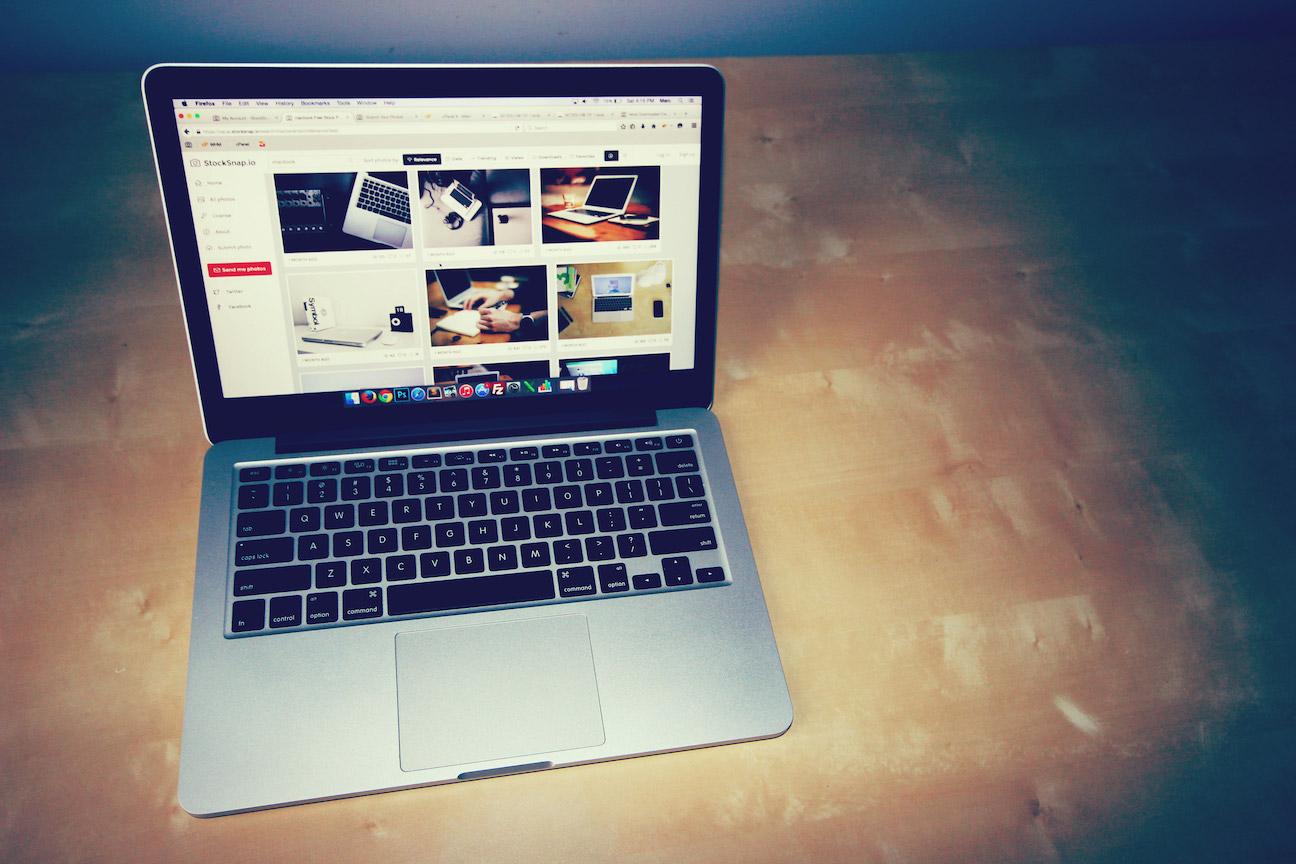 When was the last time you were on YouTube? I'm willing to bet it was recent. TechCrunch reports that the average YouTuber watches 5 hours of video a month. Assuming that isn't condensed into one day, that's about 10 minutes of video a day.
Sounds reasonable.
You probably ended up on YouTube because a friend sent you a link to a short funny video (that time adds up). An advertisement probably played before the actual video. And there were also probably ads within the video and to the right of the video in the sidebar.
Now, YouTube has over 1 billion users. If just 1% of them are online at any given time, that's 10 million people watching these videos. And that means those YouTube advertisements are reaching 10 million pairs of eyes at just that given time.
Then remember that there are thousands of videos receiving millions of views and YouTube video consumption has been increasing year after year.
It's not just the number of users growing, but people are also spending more time watching videos.
And as video consumption increases, businesses have continued to pour billions of dollars into YouTube advertising. YouTube presents these statistics:
YouTube has more than 1 billion users
Every day people watch hundreds of millions of hours on YouTube and generate billions of views
The number of hours people are watching on YouTube each month is up 50% year over year
300 hours of video are uploaded to YouTube every minute
~60% of a creator's views comes from outside their home country
YouTube is localized in 75 countries and available in 61 languages
I'm sure it goes without saying that there's a lot of opportunity to reach your market.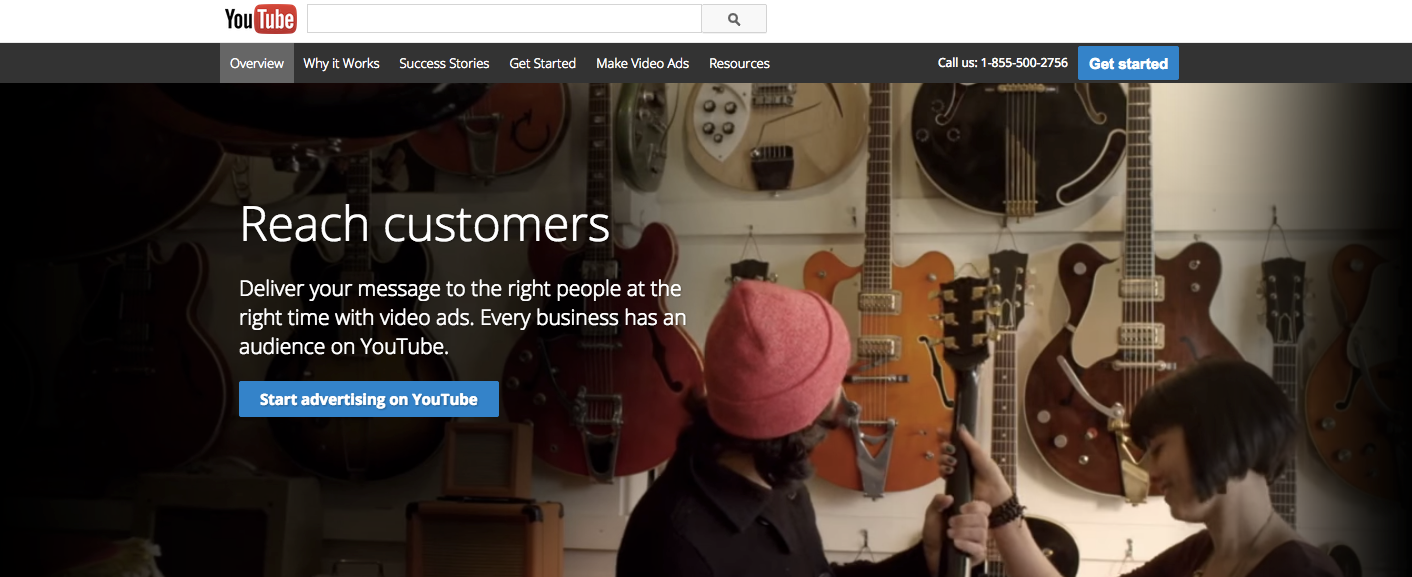 (image source: YouTube)
In 2014, YouTube's US video ad revenue accounted for nearly 20% of the US digital video ad market.
You might be thinking, "Wait billions of dollars? YouTube advertising must be for the big players. I'm a small business and my budget is nowhere near six figures. It's not for me."
But YouTube has addressed that: "more than a million advertisers are using Google ad platforms, the majority of which are small businesses."
Just like with Google Adwords, a large budget isn't necessary to get started with YouTube ads. You can start with just $50/day. When Google Adwords was first launched, advertisers were paying pennies for clicks. While you shouldn't expect to pay that little with YouTube ads, it's still possible to get cheap clicks and high ROI by advertising on YouTube.
If you haven't jumped on video advertising yet, it would be a wise idea to do so before the platform gets crowded and the cost of clicks soars. Just look at the projections.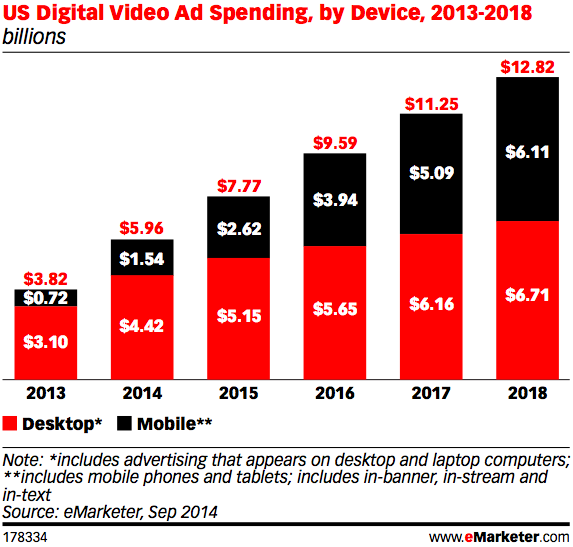 (image source: eMarketer.com)
Digital media is growing faster than ever, that means you have more and more opportunities to reach your audience.
The great thing about YouTube ads is that your audience is already primed for your advertisement.
Take for example, you expect to watch a video when you visit a YouTube page. Although an advertisement may not be the video you initially expected, you may be more open to it because:
It's a video and
It's (hopefully) an entertaining video.
The same applies to other users. They want a video, give them a video.
The big players are moving to digital media advertising because, compared to traditional TV advertising, they can target specific audiences for lower costs. Similar to how targeting works for Google Adwords and Facebook ads, you can target users based on video keywords.
It's simple to get started with YouTube ads. But if you're still not convinced, here are 14 more reasons why you should be running YouTube ads.
1. Half of all YouTube's views now come from mobile devices.
In a given moment, if you're waiting in line and see people on their phones, chances are half of them are watching a video on YouTube.
The other day, my friend pulled out his phone and said, "Dude, have you heard Bruno Mars's new song?" I hadn't. So he opened up YouTube, searched the song, scrolled past two advertisements and tapped on the music video. Guess what we got? Another advertisement.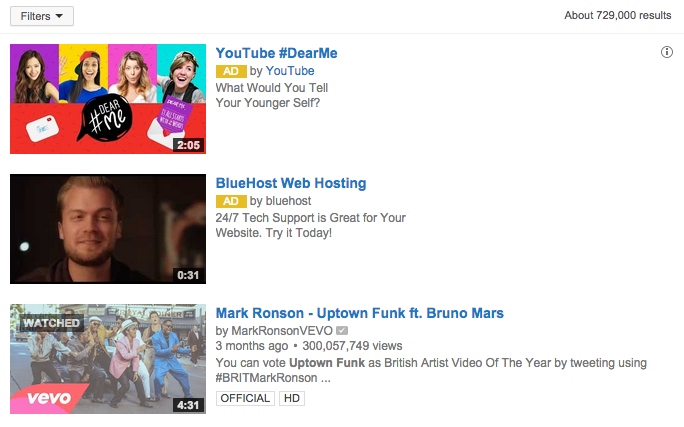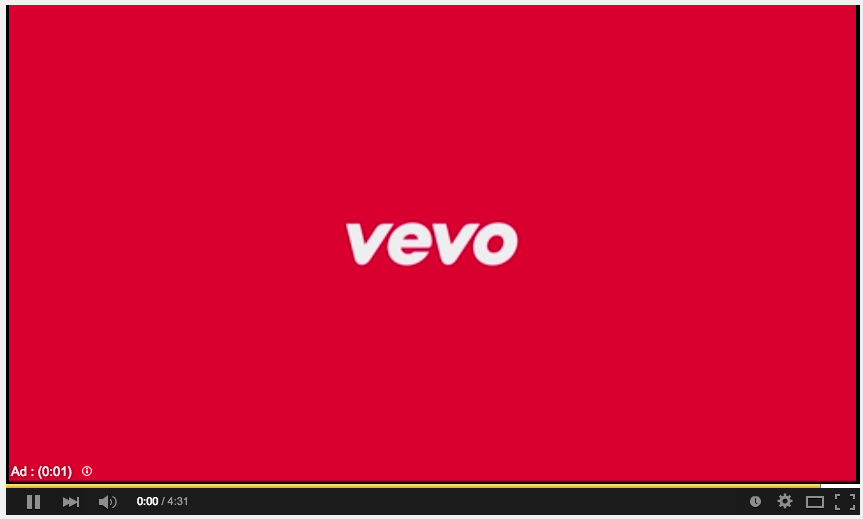 (image source: YouTube)
With mobile devices becoming more and more advanced, it's become easier for you to reach your target audience without them visiting your website.
Let me state that another way: there are more ways for people to find your product or service without visiting your website.
2. People are spending more time watching videos.
It's not just more people watching videos on mobile, they're also, on average spending more time watching videos. So it's not just more people you can reach through video advertising, but more opportunities to reach each person.
In 2014, 68% of tablet viewers spent more time watching videos longer than 10 minutes long, up from 60% in 2013. 23% of those people watch videos between 30-60 minutes long.
In 2014, 63% of PC users watched content longer than 10 minutes, up from 40% in 2013.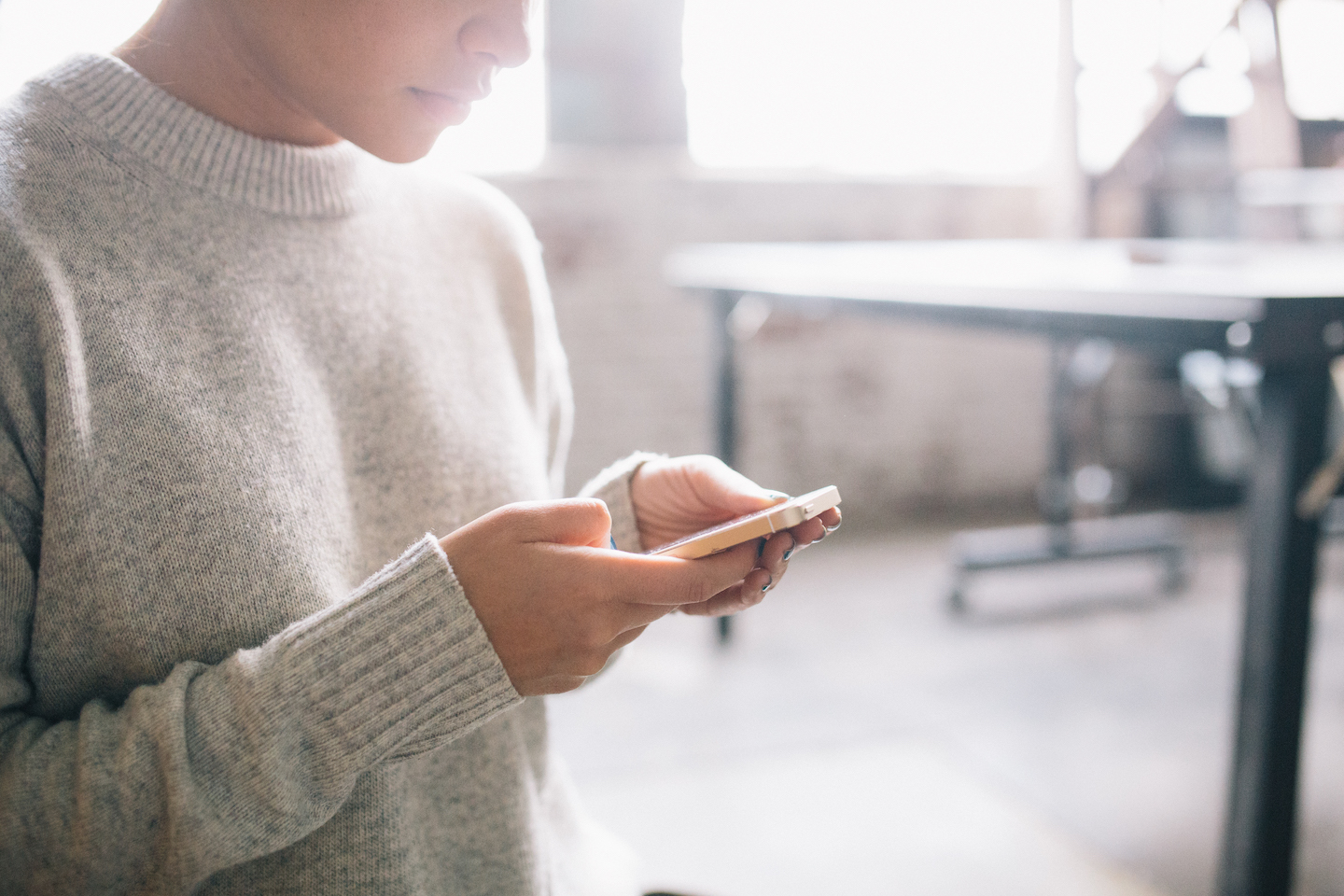 (image source: Death to the Stock Photo)
3. Video can give a positive impression of a company.
In a survey by Animoto, 71% of surveyors stated that "watching a video produced by a business leaves them with a positive impression of the company." That means if selling a product isn't your current goal and you're instead focused on branding and messaging, then video advertising still makes sense!
4. Video is useful for sharing product information.
96% of consumers believe that a video is extremely useful in learning more about products.
If you had a choice, would you rather read a product review or watch a product review? I know I would prefer to watch a video. It takes less energy. Video is much easier to consume and you can develop trust with the viewer through visuals.
If a picture says a thousand words then video is priceless.

(image source: Quick Sprout)
5. YouTube advertising will strengthen your content marketing.
With the growing important of content marketing, video presents a powerful form of marketing to supplement your articles and infographics. If you're already creating videos for your product or service, then it's time to create advertisements to further take advantage of your video production.
As stated by the Content Marketing Insitute, "Paid media is a critical part of effective video content marketing."
6. There are over 100 million people watching online videos everyday.
Of that 100 million, imagine capturing 1% of it. That's still 1 million people you could potentially reach. Of course, just like with other forms of PPC, you shouldn't try to reach everyone.
YouTube allows you to target based on three different criteria:
Target by geo, demo, language: Select audiences to show your ad to based on who they are, where they live and what language they speak.
Target by audience and interest: Show your ad to specific audiences based on their online activities and interests.
Target by content: Place your ad next to content likely to attract your target audience.
Let's say your company provides a subscription service for makeup products and you want to reach women between the ages of 20-26. If you've done anything with makeup, you've probably heard of Michelle Phan. Say you did your research and found that she has a large Asian-American following. So, using the first of the three available targeting options above, you could create an ad campaign targeting Asian women in Los Angeles who speak English. Bam. Done.
If you've plugged in the leaks of your conversion funnel, successfully set up your buyer personas and understand how you can reach them via YouTube ads, then you've found a gold mine and it's time to start digging.
7. YouTube has their audience on lock.
They provide in-depth research studies that tell you exactly who their audience is and what type of content they like to see. This gives you even less work to do.
Much of their audience is generally comprised of the millennial generation, the next generation to have the most purchasing power. They want content that "ignites their passion." So don't go for an advertisement that tries to sell them something.
Instead, create an advertisement that pulls at their heartstrings that they can relate to.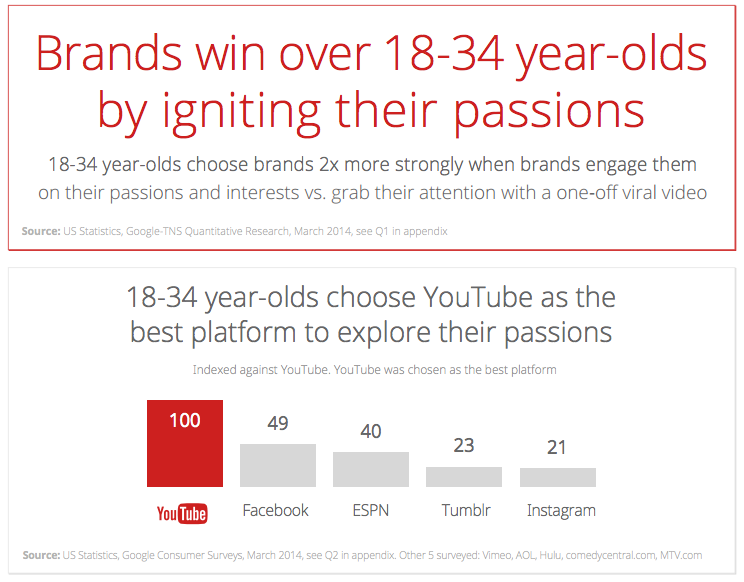 (image source: YouTube)
8. People (like me) have already made costly mistakes with YouTube ads.
We've learned the hard way to optimize YouTube ads and grew companies to millions in revenue. We're sharing our knowledge so you don't have to make the same mistakes. The risk of video advertising is already decreasing.
9. YouTube ads drive traffic.
YouTube's guide to creating video ads states that, on average, "YouTube helps businesses drive 20% more traffic to their websites." Now combine this point with the next…
10. YouTube is better at converting customers than other social advertisers.
Research from 500 million clicks and 15 million conversions has demonstrated that YouTube surpasses Facebook and Twitter and introducing new products to consumers
Compared to other social networks like Facebook and Twitter, YouTube is the best network to introduce new products to customers, that is, put customers into the first stage of the purchasing funnel. It's also the most powerful network for the last stage of the funnel, the purchase.
The image below shows the power of each social network when it comes down to funnel positions.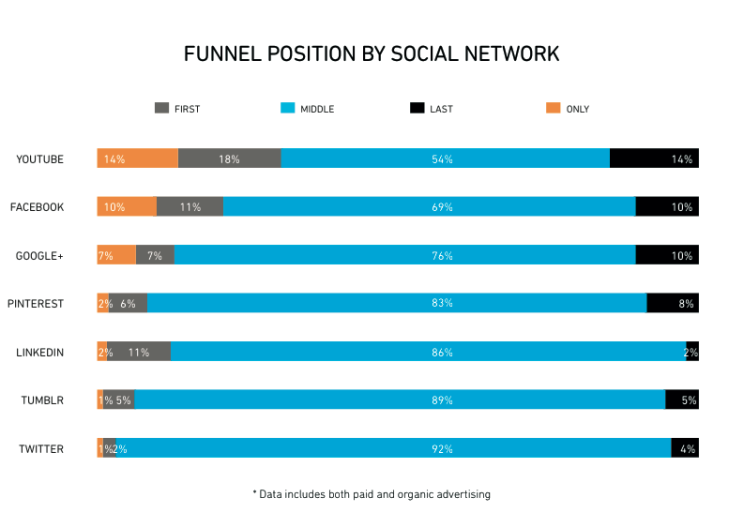 (image source: Digiday)
11. Video advertising is valuable for B2B companies as well.
Video advertising isn't only useful for reaching consumers. Though it may be counterintuitive, C-level executives are spending more time on YouTube. The reason? They're always looking to improve their companies internally so they want to learn more about products or services before purchasing them.
Take a look at how Slack, an internal communications company, uses a video to market itself to business owners.
By using video advertising, you can reach C-level suites in the middle of the marketing funnel–when they're doing research into their purchasing options.
12. You only pay if people actually watch your ad.
That means if they skip your ad, you don't pay. You only pay when the viewer watches at least 30 seconds of your ad, or your entire ad, whichever comes first. So if you can get your viewer to click through on your ad within 30 seconds, that's a free click.
Imagine you're a SaaS company and your product helps make the hiring process easier for businesses. And say I've been looking up reviews for products to help with my hiring process and I see one of your ads. If I click on your advertisement within 30 seconds and end up buying your product, your cost of acquiring me was 0.
Compared to Google Adwords or Facebook ads where you pay for every click, this is a bargain for advertisers.
Companies like REP Interactive can help you put together a quality advertisement.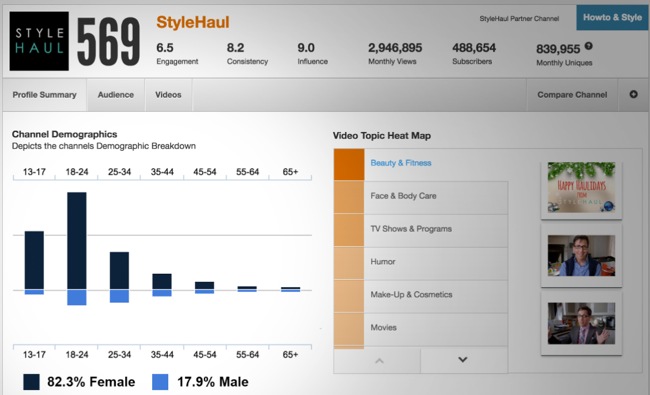 (image source: VideoNuze)
13. New tools allow for more granular targeting.
There was a recently released a new demographics tool by Outrigger Media which allows advertisers–you–to set demographic parameters and target key topics for your advertisements.
This will allow for more granular targeting to reach extremely niche audiences that YouTube channels generally reach.
14. You can manage YouTube ads in Google Adwords.
If you're already running Google Adwords campaigns, it won't be a difficult transition. You can manage your YouTube ads from the same dashboard.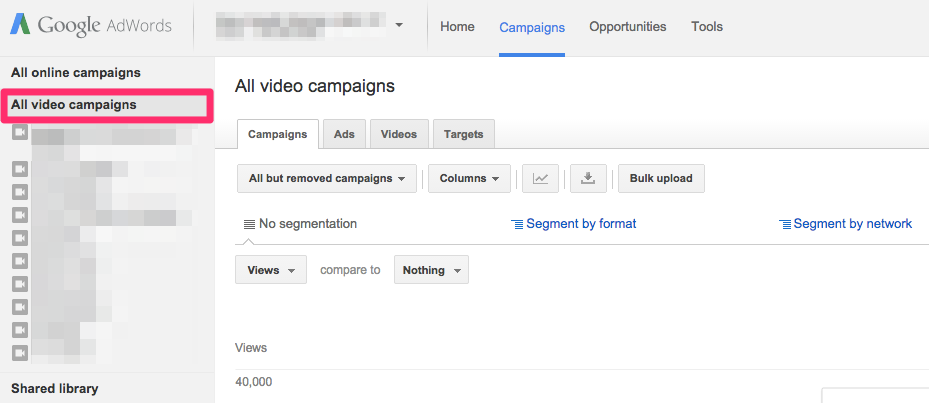 (image source: Google Adwords)
Conclusion
YouTube advertising is the next big thing to take advantage of to grow your business. With a growing video advertising sphere and more players joining the game, you're going to see video ads taking up more digital real estate on various social networks.
Now is the time to get on video advertising to make the most of it.
If you're ready to get started with YouTube advertising, I've written a step-by-step guide to setting up your first campaign.
If you'd like a more thorough explanation with me, you can also sign up for my free YouTube advertising webinar taking place today.