It's not easy balancing SEO and CRO services for your brand. Many companies have separate divisions in their marketing departments devoted to each, while others prefer to outsource them.
Although it can be tricky to navigate SEO and CRO in tandem, it's one of the most crucial things you can do for your website.
In this post, we'll go through the key differences between SEO and CRO and how you can use them together to optimize your content.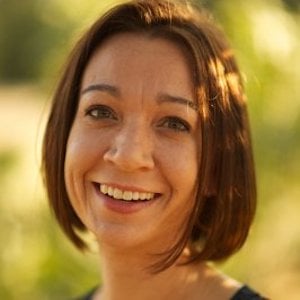 Kim Cooper
Director of Marketing, Amazon Alexa
Single Grain enables us to increase our impact without increasing our headcount
How SEO and CRO Services Differ from Each Other
The terms SEO and CRO are often interchanged with one another. Some people will describe SEO techniques and mistakenly attribute them to CRO. Others may see improvements to conversion rates as an SEO-related activity.
The short answer is that they are similar but different.
Boiled down, SEO and CRO each encompass different objectives, but the strokes that marketers make to execute them often overlap. Here's a breakdown of how each categorically varies:
Conversion Rate Optimization (CRO): The process of refining, adjusting and changing a website's visual or text contents and design to increase sales, leads or other key metrics.
Search Engine Optimization (SEO): The process of improving the on-page, off-page and technical details of a website to make it rank higher on search engines.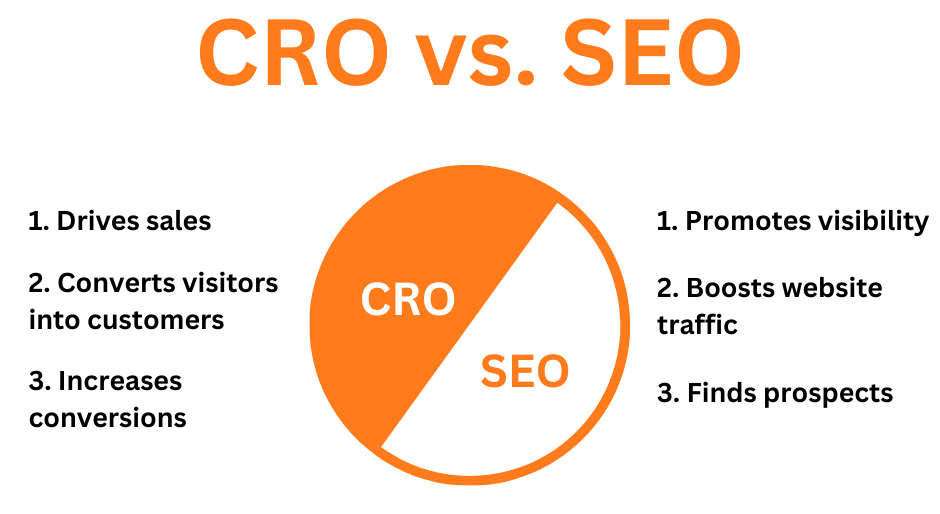 With that established, we can begin to lay a foundation as to why SEO and CRO are different but related.
On one hand, SEO focuses on boosting search engine rankability. However, a successful SEO strategy doesn't equate to more sales, it just means your site will be more visible.
On the other hand, CRO aims to improve the buying experience and lead users who land on the site to perform some meaningful action.
Related Content: 100 SEO Statistics That'll Help You Dominate Search Rankings in 2023
Why CRO and SEO Are Both Necessary
Hopefully it's more clear now why both CRO and SEO are needed for any successful digital marketing strategy to work:
SEO is more about accessing the right crowd – finding your target audience and making it easy for them to find you.
CRO is about what to do with them once they find you – making it as appealing and easy as possible for them to buy from you.
You need to strike a healthy balance of both SEO and CRO for your website to be the lead generator you need it to be. If you were to neglect either one of them, you'd be lacking a major piece of the puzzle in your sales procedure: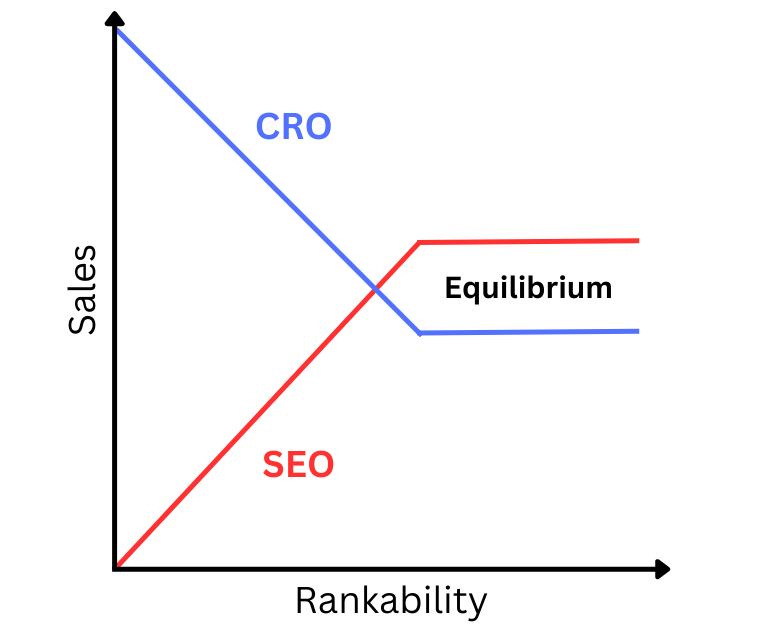 If you put all your efforts into boosting your site to the top of the SERPs and no attention to making the user experience easy, you'll suffer the loss of potential conversions. If, instead, you only tend to optimize the website for more conversions and ignore SEO, your audience will have a hard time finding you. There has to be a point of equilibrium.
How to Optimize Content with SEO and CRO Services
Now let's take a look at six ways you can use SEO and CRO together to give your website the best chance of succeeding
1) Optimize Content for Conversions and Rankability
The looming question you ought to have in mind when developing new content for your website is: How will it impact your conversion rate as well as your site's rankability?
It's true that making a change for either can potentially impact the other negatively. You should take care when making these changes that they aren't counteracting SEO efforts in favor of CRO and vice versa.
For example, an SEO-minded developer might argue that removing a floating form on a website would help speed the site up, which is good for SEO. However, that form was likely put in place solely for CRO purposes, so it would hurt the conversion rate optimization strategy if the form were removed.
These conundrums will pop up often. It's important to pare down your website to be as clean and relevant as possible while still maintaining an effective conversion funnel. A/B testing your web page or landing page is an excellent way to figure out the balance between the two: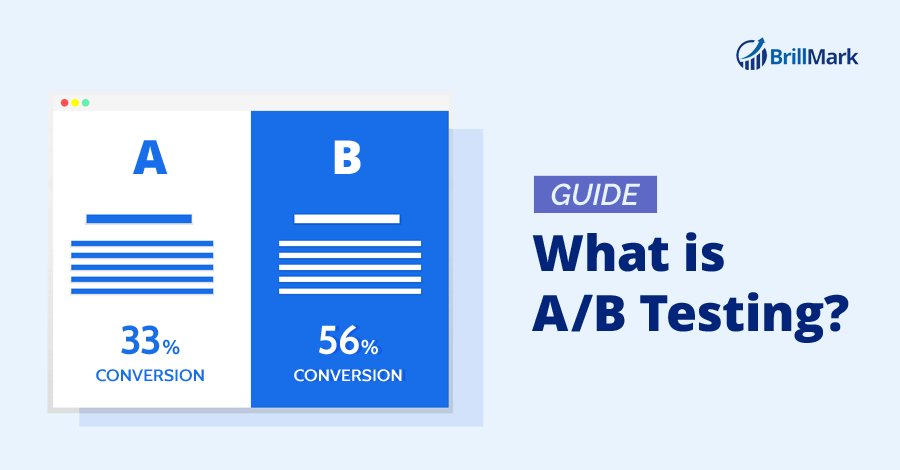 Dive Deeper: 5 Important Landing Page Elements You Should Be A/B Testing
2) Develop a Big Picture CRO and SEO Strategy with Goals
Your CRO and SEO efforts need to be aligned. From ground zero of building or redesigning your website, you should devise a clear plan driven by specific goals for what you want your site to achieve.
Here's a big-picture overview of creating a CRO and SEO strategy:
Define your business goals: Before you can develop a CRO and SEO strategy, you need to understand your business goals. What is it you want to achieve? Double your organic website traffic within six months? Increase your conversion rate by 20% by the end of the year? When you get clear on your goals, it's a lot easier to align your CRO and SEO efforts to achieve them.
Conduct a website audit: This step will help you identify areas of improvement on your website. You'll want to do an analysis of your site's content, design, user experience and technical performance. Tools like Google Analytics, Google Search Console and Semrush can make this task easier.
Conduct keyword research: Keyword research will help you optimize your website's content to better target the keywords your demographic is using in search and improve your rankings.
Optimize your website: Based on the results of your website audit and keyword research, you should optimize your website to improve its technical performance, user experience and content relevancy. This could include making changes to your website's design, navigation, site speed, etc.
Develop a content strategy: Based on your keyword research and your business goals, develop a content strategy. This should include a plan for creating and optimizing content that targets your desired keywords, as well as a plan for promoting that content.
Implement CRO strategies: Once your website is optimized for SEO, you can begin implementing CRO strategies to improve your conversion rates. This could involve your website's layout, content, calls to action and checkout process.
Monitor and analyze results: And, of course, don't forget to track and analyze the results of your CRO and SEO efforts to see if they're getting you closer to your business goals. Fix what needs fixing, and double down on what's working.
As you delegate which team members will participate in your marketing strategy, you need to make sure everyone involved is communicating their actions to each other so there are no conflicting strategies or things that undo another thing.
So whether you're outsourcing CRO and SEO services, managing it in-house or a combination of both, every action needs to be checked and balanced.
Dive Deeper: 10 Easy Product Page Design Strategies That Will Boost Your Conversions
3) Experiment with Tactical CRO Tests
There are plenty of ways to adapt and improve your site for conversion rate optimization purposes. Not all of them will carry the same amount of potency, however. Some can be quick changes that can yield a huge difference in performance, while others should be more carefully thought out.
Here are some possible examples of tests you can use to integrate CRO on your own site to increase conversions:
Try the color green: Many consumers appreciate eco-friendly and environmentally conscious brands, so experimenting with the color green for your brand can create a great first impression in the buyer's journey. It's also a fairly simple tactic to implement.
Add captions to photos: People do read photo captions, and the extra aid attached to website images can further improve user experience. It's also an opportunity to include relevant keywords for SEO purposes.
Bold page copy for relevant information: Bolding critical information can be helpful for people who skim web pages and help them understand your offer a lot better. This small change could mean the difference between someone converting versus moving on to something else.
Test different CTA language: Your vertical will dictate a lot of how your offer should read, but don't be afraid to play with the wording a bit to see what resonates with your audience. Examples might mean changing your CTA from "Get a Quote" to "Get My Quote" or from "Order Now" to "Add to Cart."
Offer a guarantee: Users love to see a guarantee attached to a product or service. It subtly implies to them that you're confident in what you'll deliver. For a lot of consumers, it lessens the risk factor for them during their decision-making process.
Create urgency with your offer: When you specify a finite number of something, the scarcity factor and FOMO tend to make the offer more desirable. An online course might limit seats to 150 people, or discounted service rate might only last through a specific calendar date. Whatever the thing being sold is, it can usually benefit from the impression of a limited quantity.
Use high-quality imagery: Try swapping out older low-resolution photos for high-quality ones. Grainy and fuzzy images are not only a distraction, but they can give the users the impression of laziness and apathy toward a brand's appearance.
Split test landing page copy: This can serve to benefit both search engine optimization and conversion rate optimization as it can create more opportunities for a page to rank better, and it allows you to see how well certain verbiage performs compared to alternatives.
Dive Deeper:
* How to Create CTAs that Actually Cause Action
* 5 Important Landing Page Elements You Should Be A/B Testing

4) Create Relevant Content for SEO that Matches Search Intent
Developing SEO content should always tie back to the search intent of your audience. You should produce a steady stream of high-quality content with the intention of boosting your visibility in the SERPs without compromising or obstructing page elements intended for CRO.
Broadly, search intent can be categorized into Informational, Navigational, Commercial and Transactional: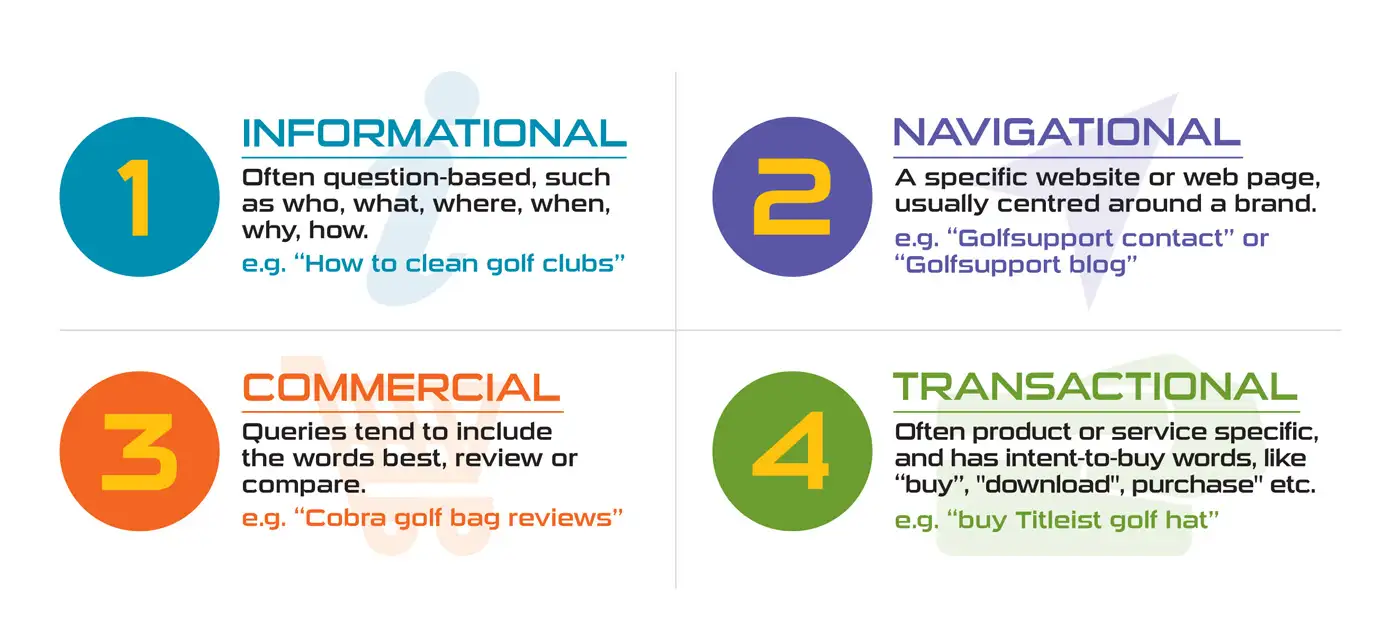 To that end, CRO techniques should be woven into rankable SEO content to capitalize on the user intent of your site visitors. Here are some ways to do this:
Optimize headlines and meta descriptions: When you capture a user's attention and entice them to click through to your site, this impacts both SEO rankings and click-through rates.
Use internal linking: Linking to related content within your site forces visitors to stay on your site longer and move them closer to a conversion.
Create clear and compelling calls to action: With an actionable CTA that aligns with the user intent, you can encourage visitors to take the next step in the buyer's journey.
Optimize content for readability: Make it as easy as possible for people to read and understand your message, which will keep them on your site longer.
Test and optimize: All successful CRO strategies continually test and improve the design and content of a website.
By focusing on these points, you can improve the user experience and get better conversion rates.
Remember that your goal when you create content for SEO is not only for ranking in search engine results, but also for building up the user's experience. SEO content can double dip into CRO. You'll want to make sure the content is useful for their query, but also ties into a CTA that you want the user to perform.
Dive Deeper:
* How to Implement Internal Linking for SEO (Step-by-Step)
* 15 Fast and Easy Ways to Improve Your Site's Conversion Rate
* How to Understand Searcher Intent and Use It to Boost SEO Rankings

5) Test SEO and CRO Content Constantly
Just like with email marketing, A/B testing is a fundamental aspect of your SEO and CRO efforts. Whenever you introduce a new element to your site pages, it is wise to configure an experiment with two variant pages.
CRO tools like Google Optimize, Optimizely or Bloomreach will allow you to adjust specific page elements and compare data of each variant, aiding refinement in the CRO process: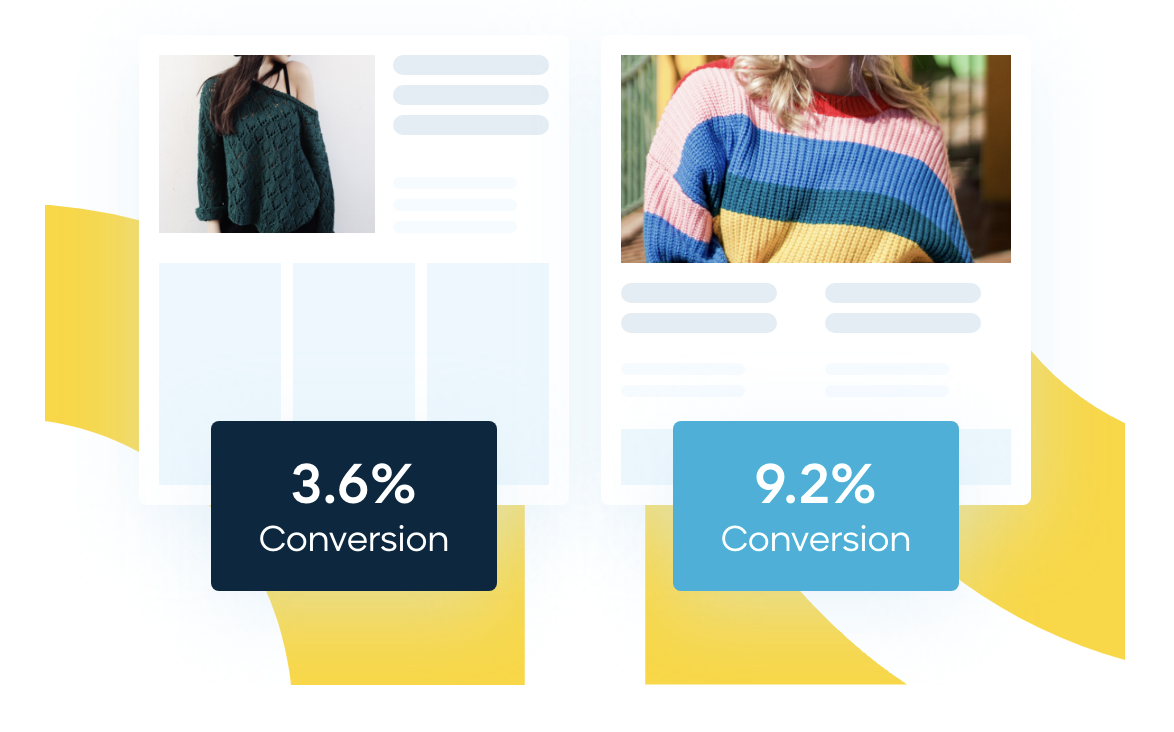 A/B testing (or split testing) is the practical application of the different CRO tactics we mentioned above. You can also A/B test SEO content to gauge what helps your pages rank better. Split testing will also help you distinguish and hone site speed to help improve rankability.
As a rule of thumb, never rely on your own intuition with page layout and design. You and your team may have a taste for what converts well, but the true litmus test to measure the CRO of your site pages should be page variant data from your split tests, such as shipping info or limited time discounts: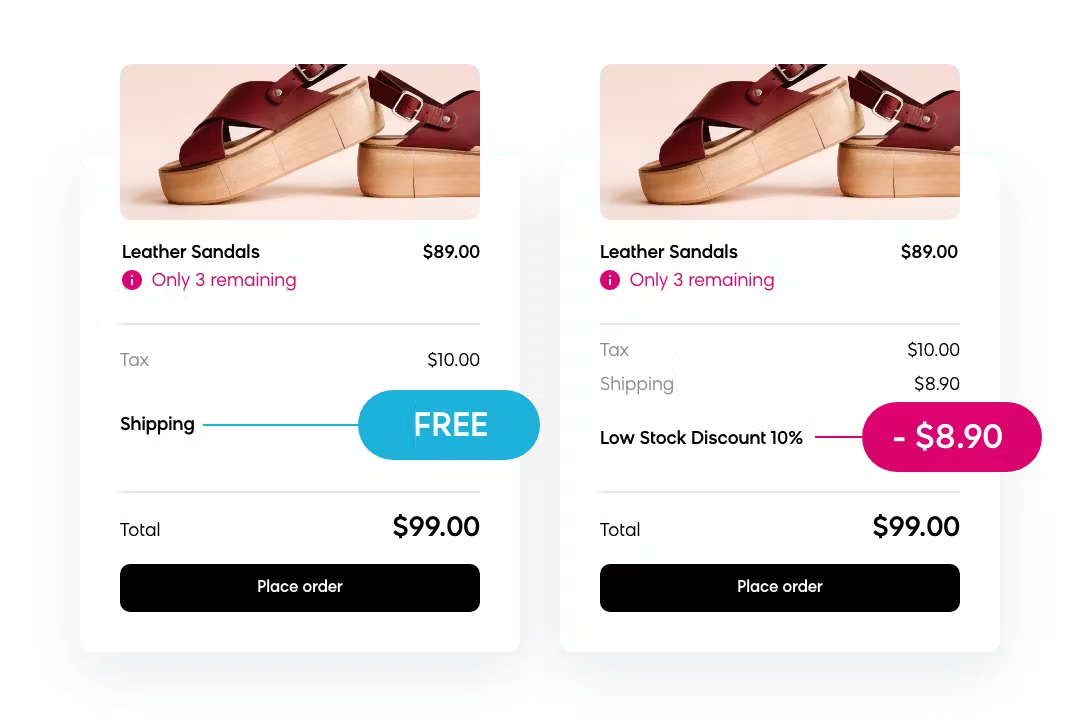 For example, you and your web developer might want to haggle over what color themes your brand's website should have. Maybe you like the color orange and your developer prefers the color purple. At the end of the day, neither of your color preferences really matters. You ought to test both and decide based on data which theme was preferred through test user behavior.
Dive Deeper: What Is A/B SEO Testing?
6) Leverage Your Data and Use It to Optimize Content
After all your site changes and content updates are made, it's paramount that you review the results of your efforts and compare the data from an SEO and CRO perspective. 
If multiple people are heading up your CRO or SEO initiatives, then it's vital that they jointly interpret the data to make sure neither strategy is overtaking the other. Here are a couple of theoretical examples to illustrate the types of situations that could arise.
Situation 1: 
You include more of the same target keywords on your landing page to achieve higher density within a three-month duration. The experiment is successful in that your page is ranking one place higher on average and generating 50% more organic traffic.
On the flip side however, the conversion rate of the page dropped by 3% on average since implementing the change, insinuating that the added keywords are hampering the user experience. You discover that the 3% CR drop defeats the 50% traffic increase, so you need to adapt the tactic.

The solution in this case is to split test a variant of the page with fewer instances of the added keyword, striving to maintain a healthy balance of increased page rank and a favorably conversion rate.
Situation 2: 
You use a UX insights tool to monitor user behavior on your site. You learn that 90% of your organic traffic travels to the bottom of your home page and spend an average of 4 seconds hovering around the footer. Your footer abbreviates your service categories, linking to only a few other internal pages and it doesn't include your CTA form. You think of two ways to capitalize on this: 
To optimize SEO, you fill out the content of the footer by breaking out the service categories, providing more internal links to each individual service.

To improve your CRO, you include your CTA alongside the footer navigation, offering another invitation for the user to take action.
You have to remind your team to break out of the silos, or else you'll lose sight of what's really going on in the grand scheme of your marketing strategy.
Data looked at from an SEO perspective and a CRO perspective should be reviewed and acted upon together, and a heat map can be useful for that purpose. Future split tests should be dual-purposeful appealing to both SEO and CRO needs.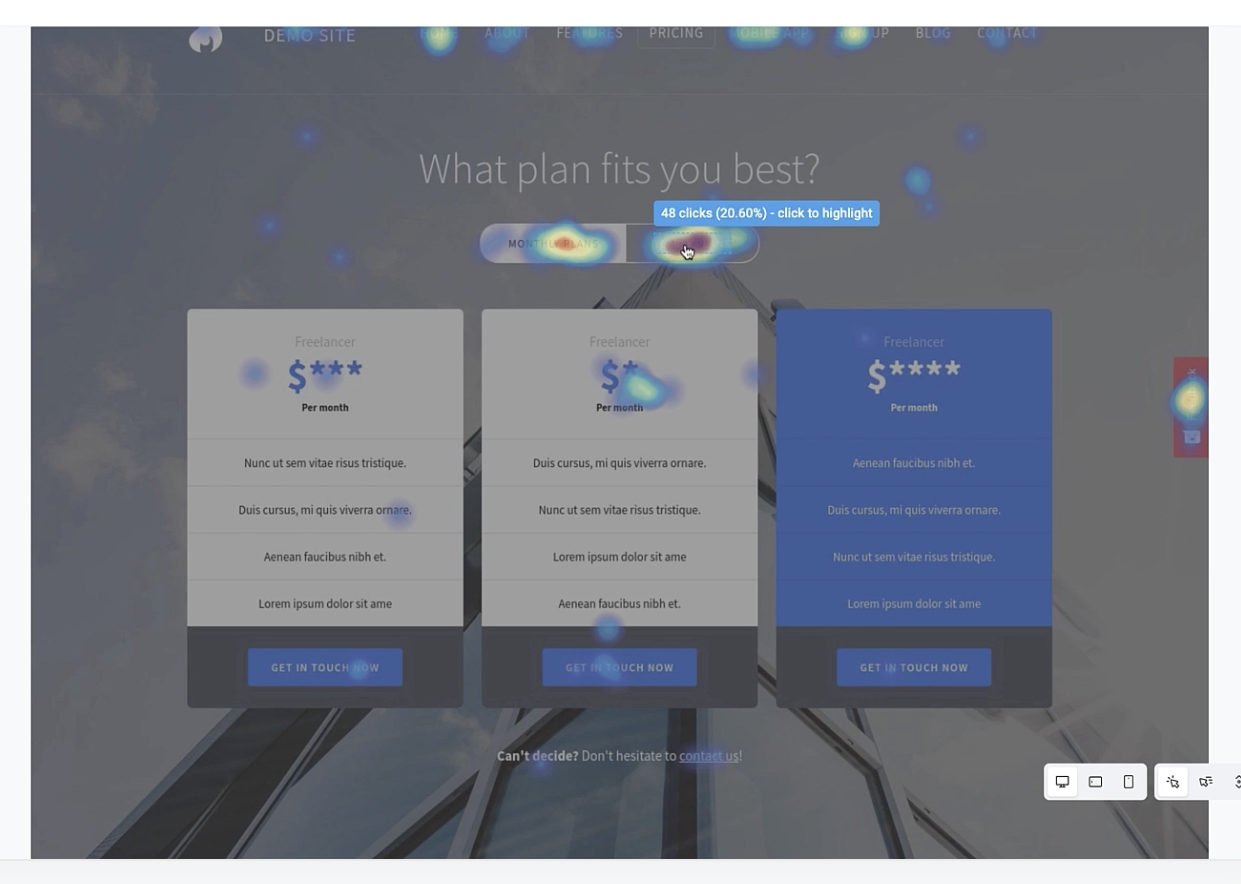 Periodic data assessments of CRO and SEO changes can help marketers catch potential hiccups that occur, informing them of what needs to change in the next round of site updates.
Dive Deeper: SEO & CRO: How Rankings and Conversions Complement Each Other
Last Word on Making the Best of Your SEO and CRO Services
While SEO and CRO may require different tactics and strategies, they both ultimately serve the same goal: to increase the effectiveness and profitability of a website. It's important that you invest in SEO and CRO services to remain competitive in your industry.
SEO is focused on increasing the quantity and quality of organic traffic to a website, while CRO is aimed at optimizing the website to increase conversion rates and improve user experience. Remember that the two go hand in hand. Traffic generated from SEO can be further optimized through CRO techniques.
By focusing on both, you'll have much better odds at not only driving traffic to your site but also converting that traffic into paying customers.
Hopefully you learned how to use SEO and CRO together for best results, but if you just want someone to do the work for you, Single Grain's SEO & CRO experts can help!👇