Updated October 2021.
Content optimization is necessary to boost your SEO and drive more qualified traffic to your website.
But as more and more businesses enter the ring and try to compete for the top spot on the Google SERPs, today's SEOs, content marketers and companies have to use cutting-edge tools to stay ahead of the competition and make sure their content gets seen by searchers.
To fill that need, several companies have developed their own suite of SEO tools specifically designed to help marketers create more effective SEO content. These tools use AI and machine learning technology to give marketing efforts a boost.
In this guide, we'll cover nine industry-leading content optimization tools, looking at how they compare so that you can make a better-informed decision about which one is right for your business.
What Is Frase?
Frase is a content optimization tool that lets you attract and convert more customers from organic search. Its claim to fame is that it helps you research faster so that you can focus on creativity.
Frase is an end-to-end SEO tool with content creation workflows that's powered by AI to provide you with the insights as to what makes content rank high in the SERPs. It helps you "from content idea to SEO results faster and easier than ever before."
However, Frase is more catered towards boosting the SEO of new pages rather than analyzing and highlighting for your existing pages that are in need of optimizing.
Keep reading to see the best Frase alternatives that help you perform different content optimization tasks, such as keyword research, content decay optimization, featured snippet optimization, landing page optimization, and voice search optimization.
Learn More: What Is Content Optimization? (And How to Ace It!)
Top Frase Alternatives to Create Better SEO Content
Based on the reasons above why you might be looking for a Frase alternative, we've compiled this list of 9 other content optimization tools that may serve your business' needs even better:
Clearscope
Topic
MarketMuse
SurferSEO
Postpace
Semrush
SEO Scout
Copywritely
Why Choose Clearscope?
With Clearscope's powerful keyword research tool, you can find great keywords or topics with search volume, competition, and CPC data.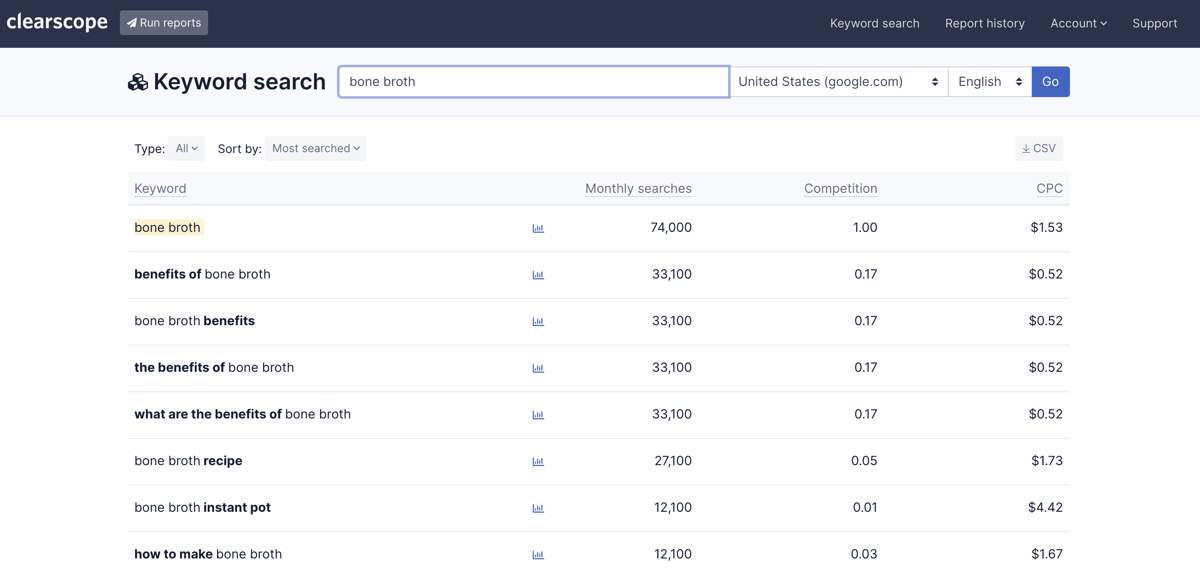 You can run reports for your topic for multiple locations. The report analyzes the top-ranking pages on the SERPs and finds opportunities to improve your content.
When you click on the report, you get redirected to the content editor. Here, you can see relevant terms to use within your content along with heading ideas to improve your content grade.

For each search term, you get examples of how other websites have used the term in the content. Apart from content grade, you can also see the word count and readability score of your content. Achieving a content score of A+ will give you the best chance of ranking well.
You can also use Clearscope with WordPress and Google Docs as a plugin and add-on. Moreover, you can share the content with your writers or clients by using an easy shareable link.
The downside is that besides its content editor/optimizer, Clearscope doesn't go beyond that in terms of offering any content strategy features whatsoever.
Clearscope Pricing
Clearscope offers two pricing plans:
Essentials: $170 per month (generate up to 20 reports)
Professional: $350 per month (generate up to 50 reports)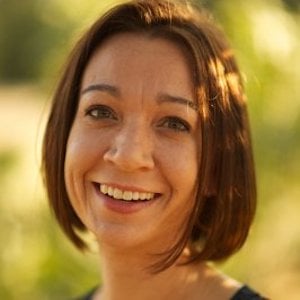 Kim Cooper
Director of Marketing, Amazon Alexa
Single Grain enables us to increase our impact without increasing our headcount
Topic is yet another popular Frase alternative to optimize your content. The tool is marketed specifically as a content editing tool and is used by content editors and SEO agencies to optimize content at scale. Topic is used by reputable brands like TrustRadius, Springboard, and Elementor.
Why Choose Topic?
Topic's Content Writing software is powered by artificial intelligence to help you prepare SEO-friendly content that can easily rank on organic search results.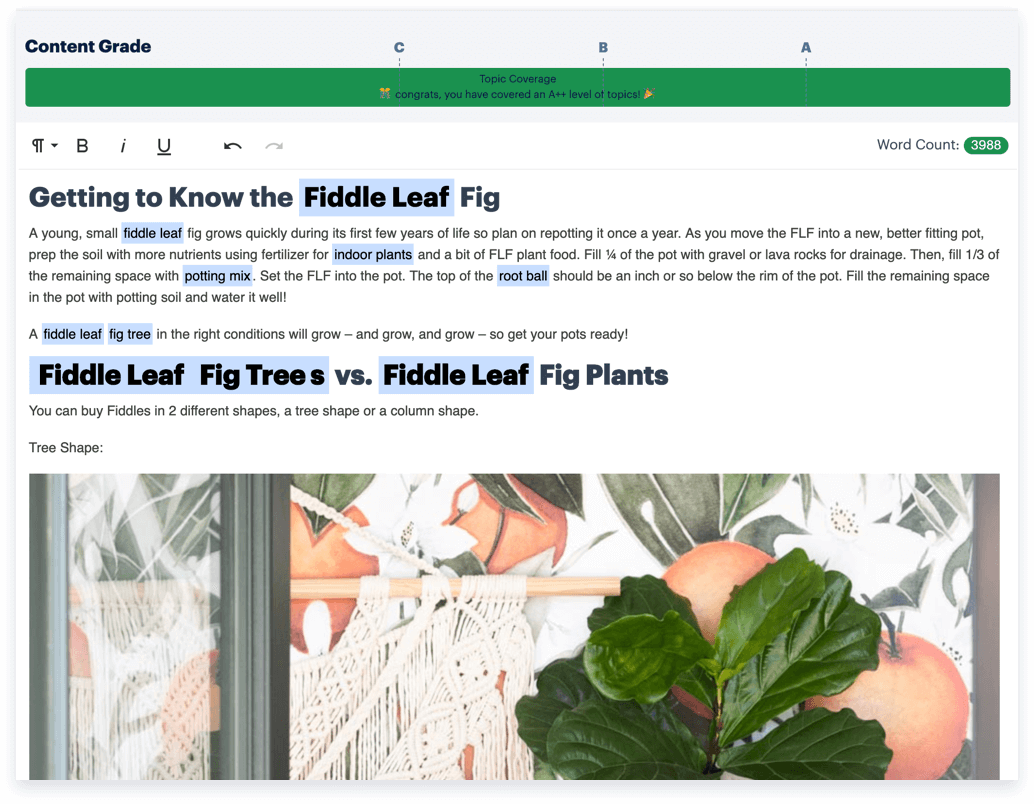 The powerful Natural Language Processing (NLP) technology scans the top competitors in the search results based on your content topic and provides you with related phrases and keywords to use in your article to increase topical authority.
Key features include:
Content Briefs: Gives you an idea of what you should cover in your content.
Outline Builder: Provides a comprehensive outline of your article.
Content Grader: Quickly analyzes your complete article.
Content Optimization: Optimizes your existing content pieces.
The Copilot is your personal writing assistant that has the ability to complete your thoughts and phrases while you are writing.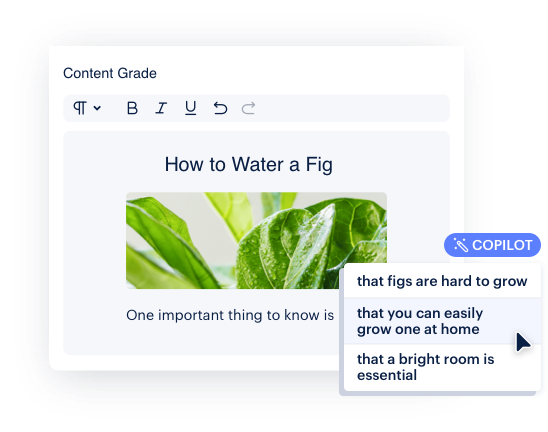 Topic also offers several other useful features:
People Also Ask: Helps you find questions related to your keyword or topic.
Blog Idea Generator: Generates hundreds of ideas for your next blog post.
Table of Contents Generator: Creates a table of contents for your article.
Word Count Calculator: Shows you how long your content should be by analyzing the top-performing content on the same subject.
Topic Pricing
Topic offers three pricing plans:
Starter: $99 per month (optimize up to 10 content pieces)
Plus: $199 per month (optimize up to 25 content pieces)
Premium: $299 per month (optimize up to 50 content pieces)
MarketMuse is an AI-powered content optimization and planning tool that is one of the biggest competitors of Frase. It is trusted by thousands of content writers and SEO professionals worldwide, and is user friendly for beginners, too.
Why Choose MarketMuse?
MarketMuse helps you find the best content opportunities by leveraging different metrics like topic difficulty, content value, and user intent. Unlike Frase and other content optimization tools, it doesn't just analyze the top 10 or 30 search results on Google – it scans hundreds or even thousands of pages on the SERPs and provides you with data-driven content suggestions.

You can add your team members and assign topics to different people, set publication dates, and add notes.
Top features include:
Content Briefs: AI-powered feature that provides a well-structured list of content, topics, and questions to cover in your content, along with relevant linking suggestions.
First Draft: allows you to create content on the go by using an AI-powered content generator. The software helps you create unique and plagiarism-free content, so you don't have to worry about copyright infringements.
Optimize: powerful content editor that tells you how well you have covered your topic. You can compare your content with the top 20 ranking pages in the SERPs.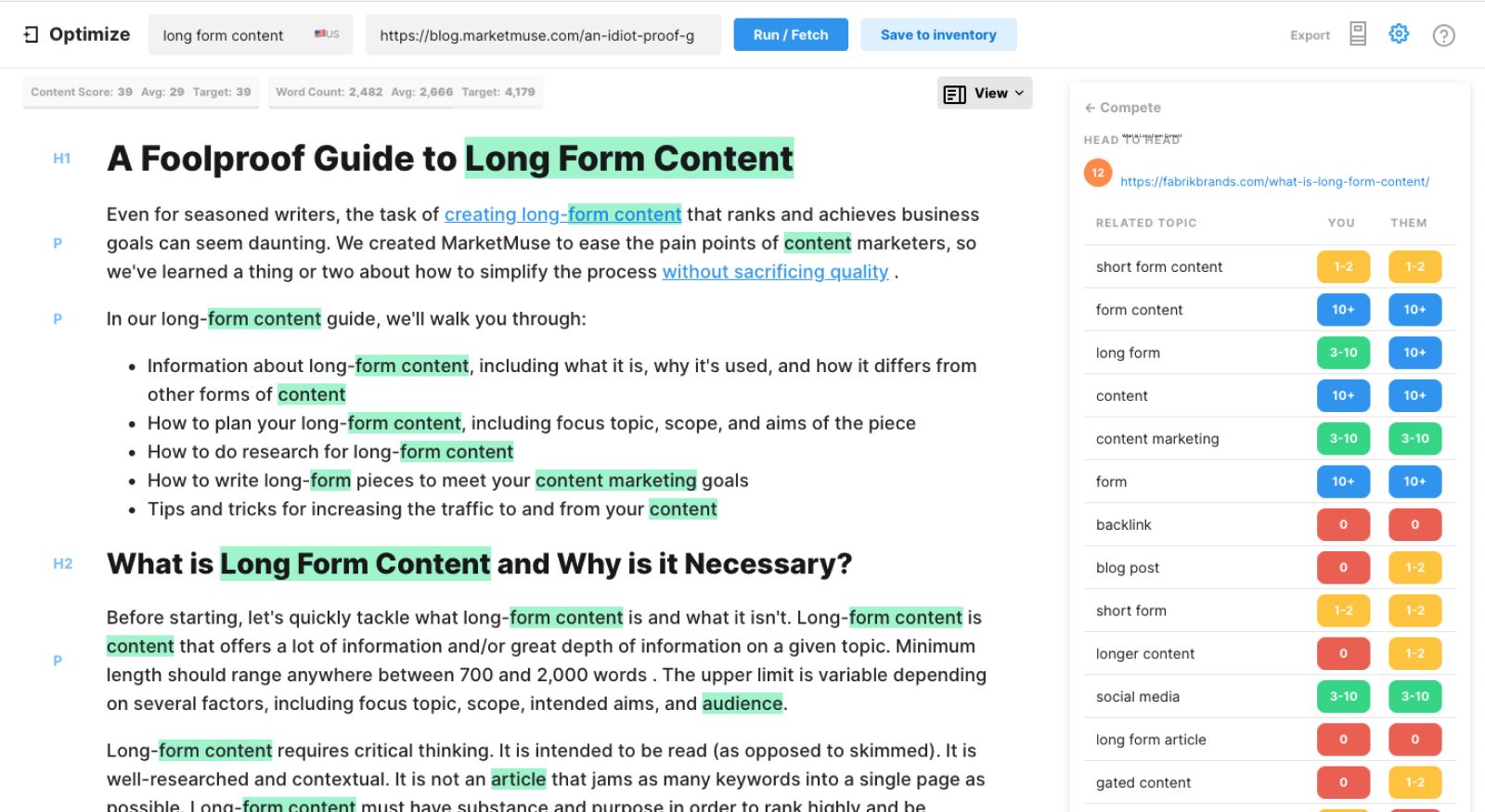 MarketMuse Pricing
MarketMuse offers three pricing plans, including a free alternative:
Free: Add up to 45 projects and up to 35 queries
Standard: $149 per month (with unlimited projects and queries)
Premium: $999 per month (with unlimited projects, queries, and users)
Learn More:
* 30 Ways to Come Up with Great Ideas for Your Blog Posts
* How to Use Google Keyword Planner for Content Creation
* SEO Keyword Research Made Easy in 2023

SurferSEO markets itself as both a SERP Analyzer and Content Editor, and offers a suite of SEO tools for content optimization. It is trusted by over 8,000 clients and lets you plan a content strategy that suits your domain.
Why Choose Surfer SEO?
The Content Editor tool is a powerful writing assistant. It lets you create perfect content for both search engines and users to drive tons of relevant organic traffic to your website by providing useful content metrics.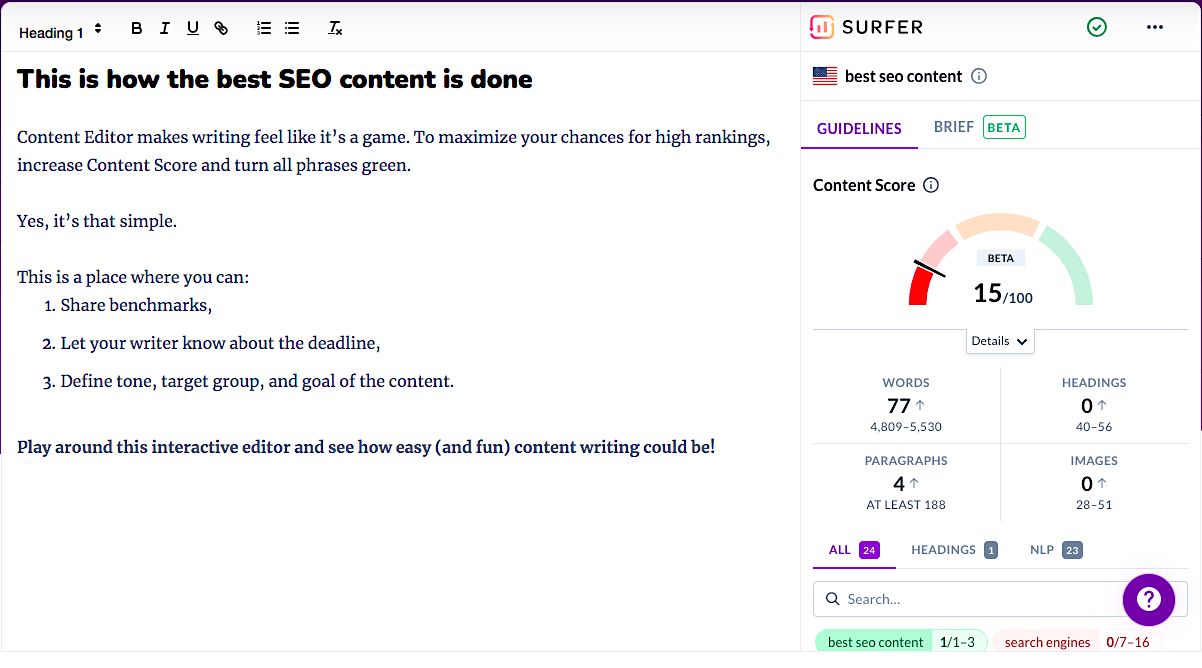 SurferSEO's Content Planner uses machine learning to discover the search intent (customer investigation, informational, local, and transactional) of any topic. You can use search intent to recognize what type of content users are seeking for your target query.
The SERP Analyzer analyzes crucial data points from top-ranking pages based on over 500 ranking factors to give you insights like the keyword density for your targeted keywords and link-building opportunities based on the link profile of ranking pages.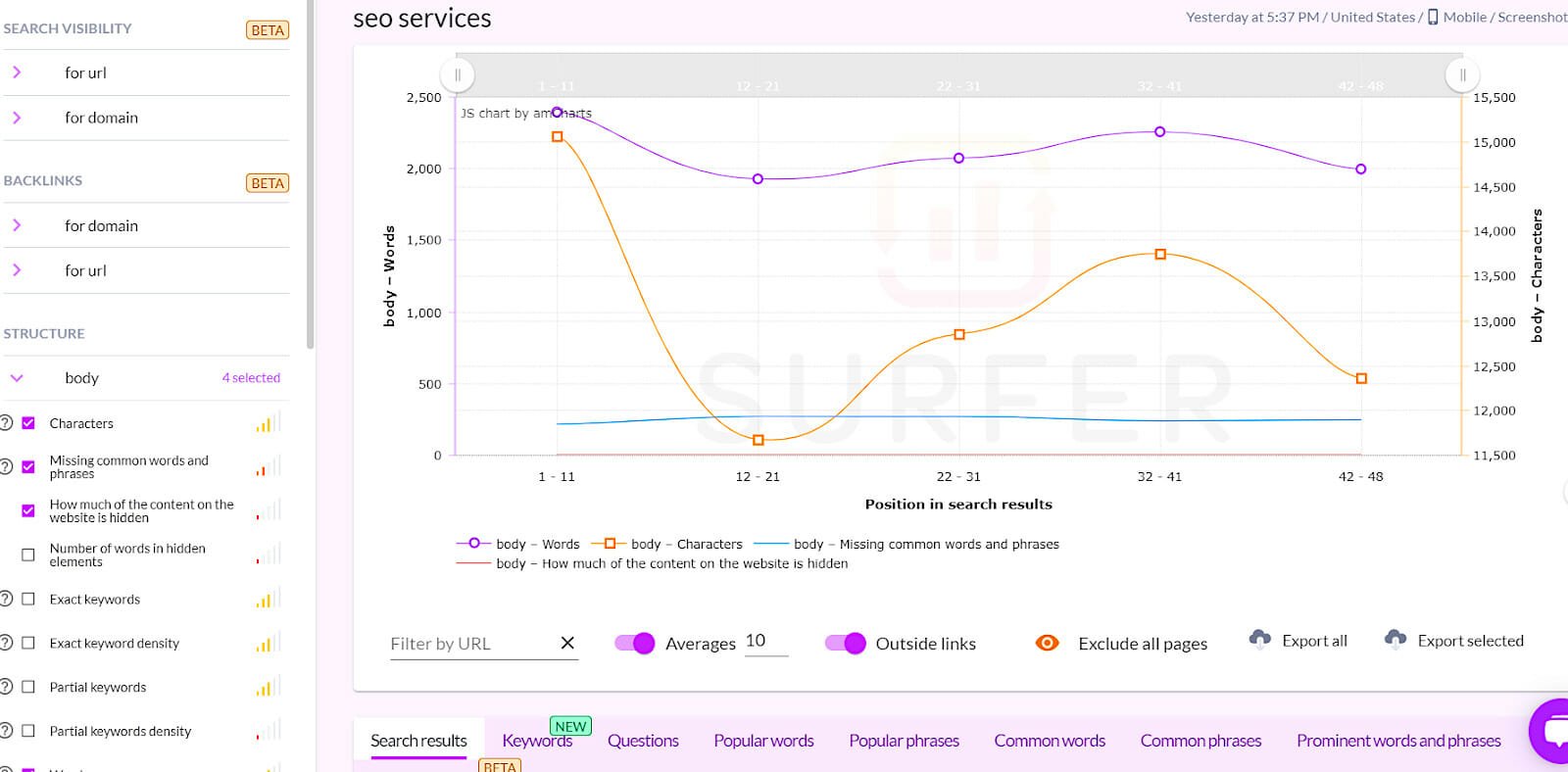 The SEO Audit tool audits your website and finds potential opportunities for improvements. It scans the top-ranking pages in the SERPs and calculates how your content is performing as compared to those pages.
SurferSEO Pricing
Surfer SEO comes with three pricing plans:
Basic: $49 per month (up to 10 content editing and 20 audits)
Pro: $99 per month (up to 30 content editing and 60 audits)
Business: $199 per month (up to 70 content editing and 140 audits)
Postpace is an advanced content writing and optimization platform that is useful for SEO experts, writers, bloggers, and content marketers. With its affordable AI-powered tools, you can save time in researching and optimizing content.
Why Choose Postpace?
The Topic Report helps you analyze top-ranking content in the SERPs. The tool offers an outline, word count, readability score, number of keywords used, number of images used, and H1 tags used in the top-ranking content pieces.
Postpace shows you all the Alt tags used in ranking content images to help you optimize your image Alt tags in your content.
The Content Brief tool offers content recommendations. You can edit and arrange the suggested content elements to make an SEO-friendly content structure. Also, you can share your content brief with anyone by using a shareable link.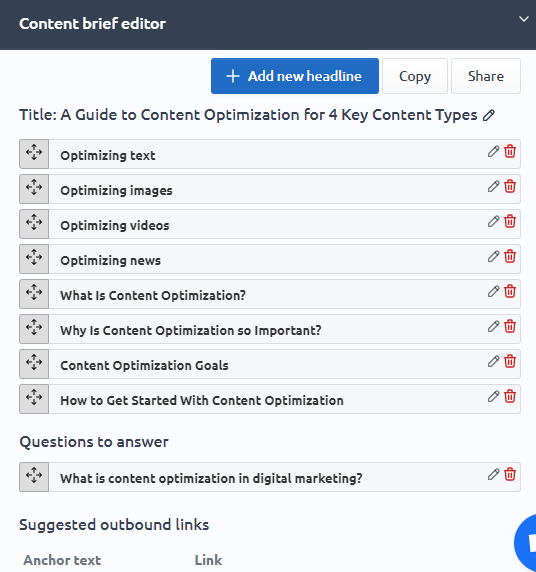 Postpace's powerful Content Optimization feature provides a content quality and readability score after analyzing over 100 parameters. It also offers a "Questions to answer" section that pulls data from sources like Quora, Reddit, and Google's People Also Ask.
The Content Planner makes it easy to plan and organize your content creation workflow. Add drafts on different dates and collaborate with your team members. You can also save post titles as an idea.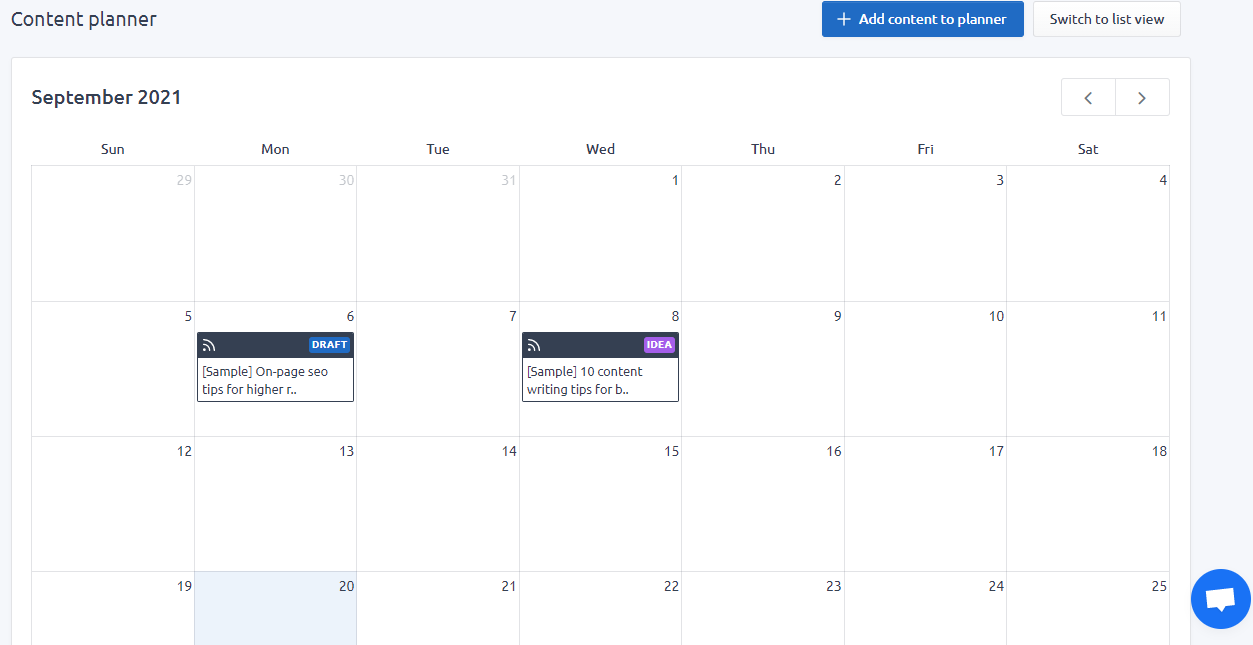 Postpace Pricing
Postpace offers three pricing plans:
Basic: $17 per month (with up to 20 topic reports, content briefs, and content projects)
Growth: $27 per month (with up to 30 topic reports, content briefs, and content projects)
Business: $57 per month (with up to 100 topic reports, content briefs, and content projects)
SEMrush is a leading all-in-one SEO platform that also offers a powerful content marketing platform. It is on the expensive side, but trusted by thousands of leading brands like Amazon, Apple, and Samsung.
Why Choose SEMrush Content Marketing?
The Topic Research tool helps you find engaging content ideas for your next blog post. Simply enter your targeted keyword, and the tool will return a huge list of topics with headlines, popular questions, and related terms.
You can also choose the targeted location to get popular topics that have been trending over the last 60 days.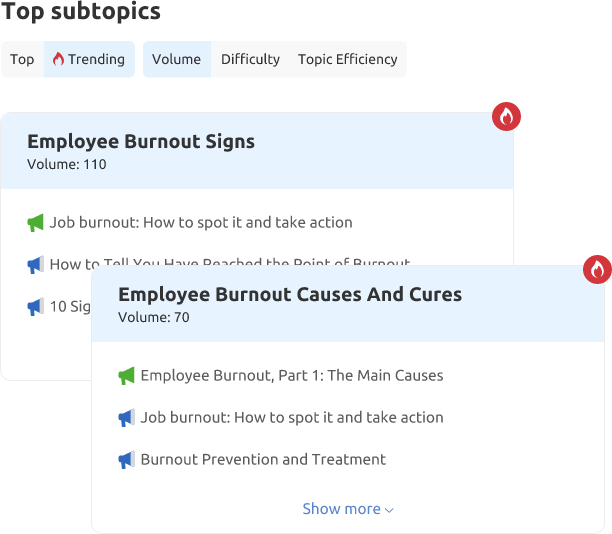 With the help of SEO Content Template, you can create a winning content brief for your targeted keyword in seconds. You get actionable recommendations based on the top ten ranking URLs in the search results.
One of the best features of SEMrush's SEO Content Template is that you can check how your competitors are using the targeted keywords in the content.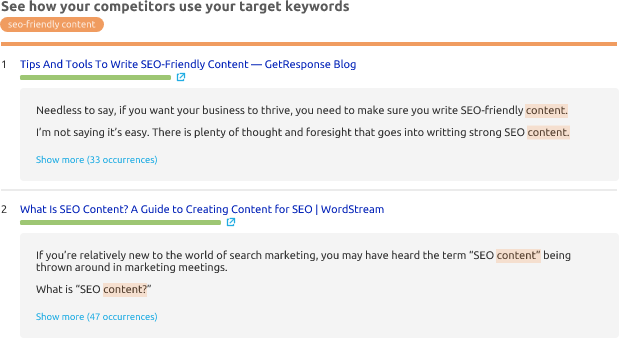 The SEO Writing Assistant lets you check whether your content is SEO friendly by analyzing metrics such as the readability score, the tone of voice, and the originality of content.
Top features include:
Tone of Voice, an AI-powered feature to ensure that your content matches your brand voice (casual, neutral, or formal).
Plagiarism Checker to check your content for any duplicates.
Post Tracking to measure the performance of your published content by tracking ranking keywords, backlinks, referral traffic, and social media engagements.
Content Audit tool to analyze your website and find areas of content improvement such as "Rewrite or remove," "Need to update," "Quick review" and "Poor content."
The Marketing Calendar feature helps you manage content campaigns seamlessly in one place. It lets you collaborate with your team members effectively and also lets you track the project performance.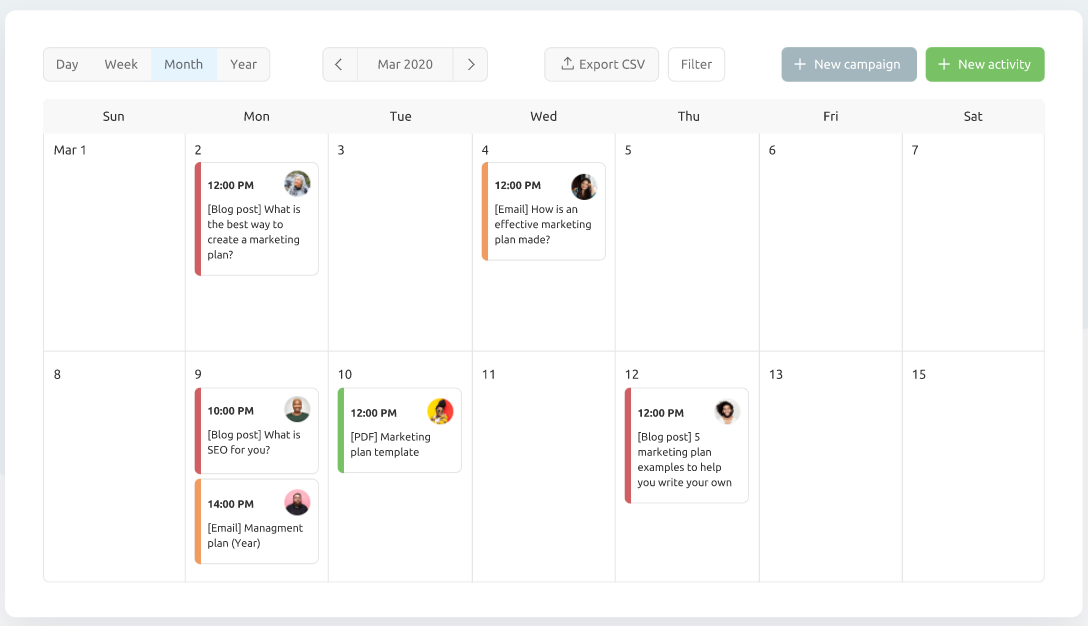 SEMrush Content Marketing Tool Pricing
SEMrush offers two pricing plans:
Guru: $229.95 per month (with unlimited topic research and 800 SEO content templates)
Business: $449.95 per month (with unlimited topic research and 2,000 SEO content templates)
SEO Scout is a lesser-known but still powerful SEO content tool. It lets you unlock your content potential by performing an in-depth content analysis.
Why Choose SEO Scout?
You can use the Deep Topic Research tool to find your competitor's best-performing content. The software uses  Natural Language Processing (NLP) technology to generate tons of related topics to include in your content.
The SEO Content Editor is a content writing assistant that uses NLP analysis of top-ranking pages for your targeted keywords to ensure that you are covering the topic comprehensively. The tool returns the keyword to use in your content along with their ideal density.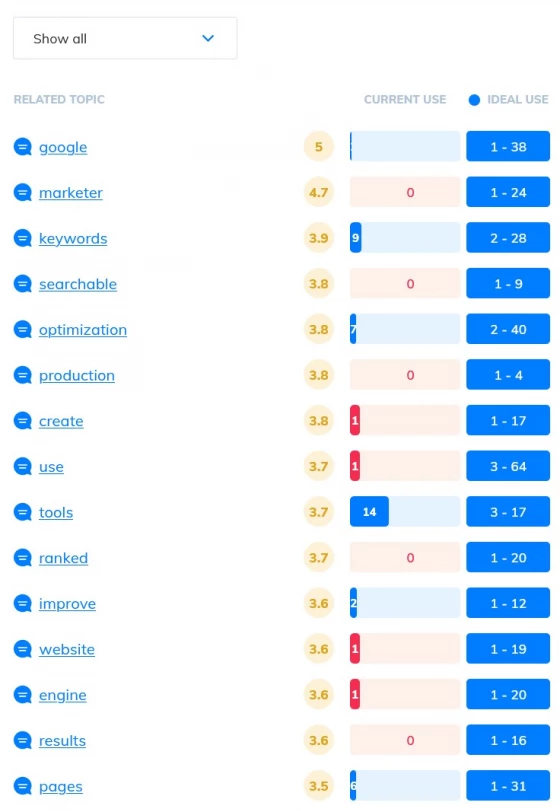 You can use the Question Keywords Tool to generate dozens of questions related to your topic from different sources like People Also Ask and Quora.
SEO Scout Pricing
SEO Scout offers three pricing plans:
Starter: $49 per month (optimize up to 10 content pieces)
Business: $99 per month (optimize up to 30 content pieces)
Agency: $199 per month (optimize up to 60 content pieces)
Related Content: Domain Authority: How to Increase Your Ranking Score from Scratch
Copywritely is a content optimization platform that lets you check SEO issues within the content, rewrite the text, and publish the updated content for higher rankings. It is a must-have tool for content writers, bloggers, and copywriters.
Why Choose Copywritely?
With the Duplicate Content Checker, you can check your content for plagiarism by pasting content or entering a URL. The tool scans your content and detects issues related to duplicate content and provides the source URL of the duplicate content.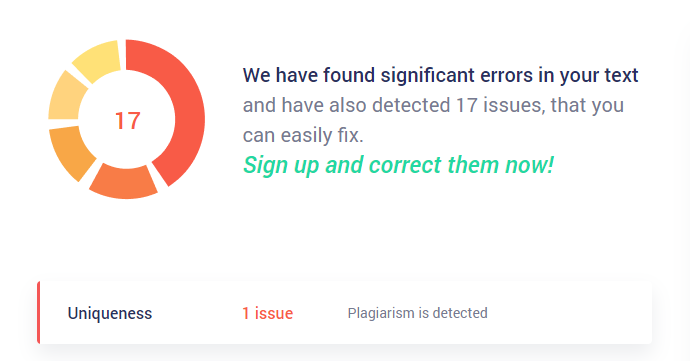 After finding any duplicate content issues, you can use the Article Rewriter tool to rewrite the content and make it unique. Simply paste in your content and the tool tells you which words should be replaced in order to fix the duplicate content issue.
Other top features:
Readability Checker to check the reading level of your content (using the Flesсh test).
Keyword Density Checker detects and fixes keyword stuffing in the content.
Grammar Checker to spot and remove any grammatical errors in your content.
SERP Checker will analyze your competitors' content. Enter up to three keywords, select the language and search engine, and run the report. You'll also get recommended words for title, description, and H1.
Copywritely Pricing
Copywritely comes with a free plan with a limit of up to 2,500 words and up to 5 SERP Analyzer reports. To extend your limits, you can purchase any of the below plans:
Personal: $18 per month (check up to 50 articles with 5,000 words per check and 50 SERP Analyzer reports of top 10 competitors)
Startup: $48 per month (check up to 200 articles with 5,000 words per check and 200 SERP Analyzer reports of top 10 competitors)
Company: $35 per month (check up to 150 articles with 10,000 words per check and 70 SERP Analyzer reports of top 15 competitors)
Enterprise: $67 per month $18 per month (check up to 300 articles with 15,000 words per check and 150 SERP Analyzer reports of top 30 competitors)
4 Reasons to Seek a Frase Alternative
Now that you know what Frase can do and why optimizing your content is so important to get to the coveted page one of Google's SERPs, let's take a quick look at the main pain points that probably made you start looking elsewhere for a similar tool.
1) You Need a Tool for More than Just Content Ideation
Frase is much more focused on content ideation and strategy rather than post-production optimization. Many of its tools are designed specifically to help come up with topic ideas (it even generates briefs that you can provide to your writers) and figure out how your brand can navigate the competitive SEO landscape.
But if you need something more than just content creation tools, something that puts more emphasis on post-published experimentation, like content, title or meta split testing, to make sure your published content stays optimized, Frase isn't the right tool.
2) The UI Is Not Very User-Friendly for Beginners
Frase isn't super user-friendly when it comes to navigating the user interface (UI). Beginners might feel like they're wasting too much time just trying to figure out the basics before really diving into the full scope of all its features. As mentioned, this tool generates briefs that you can share with your writers, but actually sharing them with another user is not very intuitive.
3) You Want to Find Relevant Long-Tail Keywords
This tool doesn't have the capabilities for identifying those long-tail keywords (key phrases with three or more words) that are the best way to power up your SEO strategy.
If your business or the topics you write about are a little more specialized or "niche", you might not get the LSI keywords (Latent Semantic Indexing, which are terms that are conceptually related to your main keyword) that are needed for creating high-quality articles.
4) You'd Like to Know Which Posts Are Losing Rankings
This software does not allow you to find the posts on your site that are losing rankings due to content decay, which is content that's been declining in traffic over time.
When you are performing content optimization, it is crucial to improve the organic presence of your existing pages along with the new pages, but since this tool does not have that capability, you'll need to toggle between this platform and another, like Google Search Console or Analytics.
Learn More:
* How to Write a Strong SEO Title Tag (with Formulas & Templates!)
* How to Create a High-Performance Content Marketing Strategy in 2023
* 10 Effective SEO Techniques to Drive Organic Traffic in 2023

All the other SEO-friendly content creation tools (including research, strategy and optimization) are also great tools. Select the best Frase alternative after carefully comparing the features and pricing of every tool listed in this article.