ClickFlow as a Frase Alternative
Want to grow your organic traffic by 20-100%? We built ClickFlow, a suite of SEO tools designed to increase your organic rankings and scale qualified traffic for your website. Click here to learn more and get started.
Google has become perhaps the most important marketing channel of the past decade. And if the past is any indication, it looks like it will remain so for the foreseeable future.
As more and more businesses enter the ring and try to compete for the top spot on the Google search engine results pages (SERPs), companies need an edge if they want to stay on top. Simply put: Common SEO methods alone just won't cut it anymore.
Today's SEOs and content marketers have to use cutting-edge tools to stay ahead of the competition and make sure their content gets seen by searchers.
To fill that need, several companies have developed tools specifically designed to help marketers create more effective SEO content. These tools use AI and machine learning technology to give marketing efforts a boost.
Here, we'll cover two industry-leading tools: ClickFlow and Frase. We'll look at how they compare and contrast so that you can make a better-informed decision about which one is right for your business.
What Are ClickFlow and Frase Made For?
ClickFlow and Frase are both made to help businesses get their content to the top of the Google SERPs. In other words, they're designed to help you get a bigger ROI on your content marketing efforts.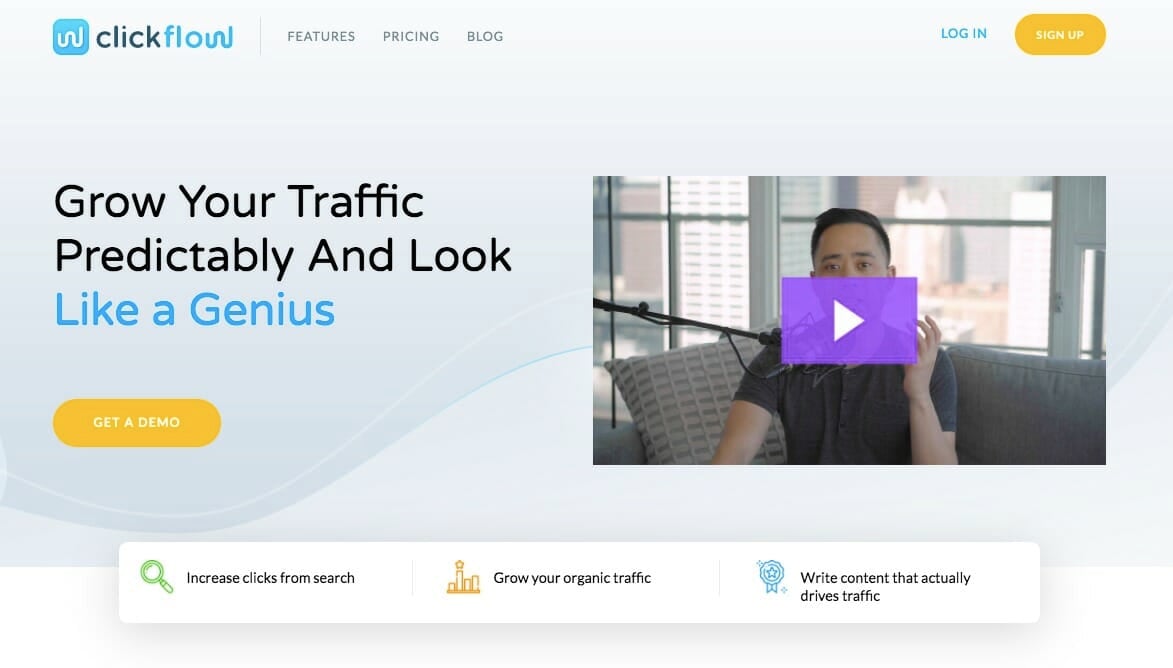 To do this, these tools use AI and data analytics to gain new insights into Google's algorithm and what makes content rank high in the SERPs. Essentially, they collect data about top-performing content and serve up actionable insights about how you can beat it.
In fact, these tools are so specific that it may be more accurate to call some of these insights fully fledged roadmaps. Not only do they provide more general overviews that you can use for your content strategy, but they also provide specific instructions on what keywords to include, what subheadings to use, and what related topics to cover.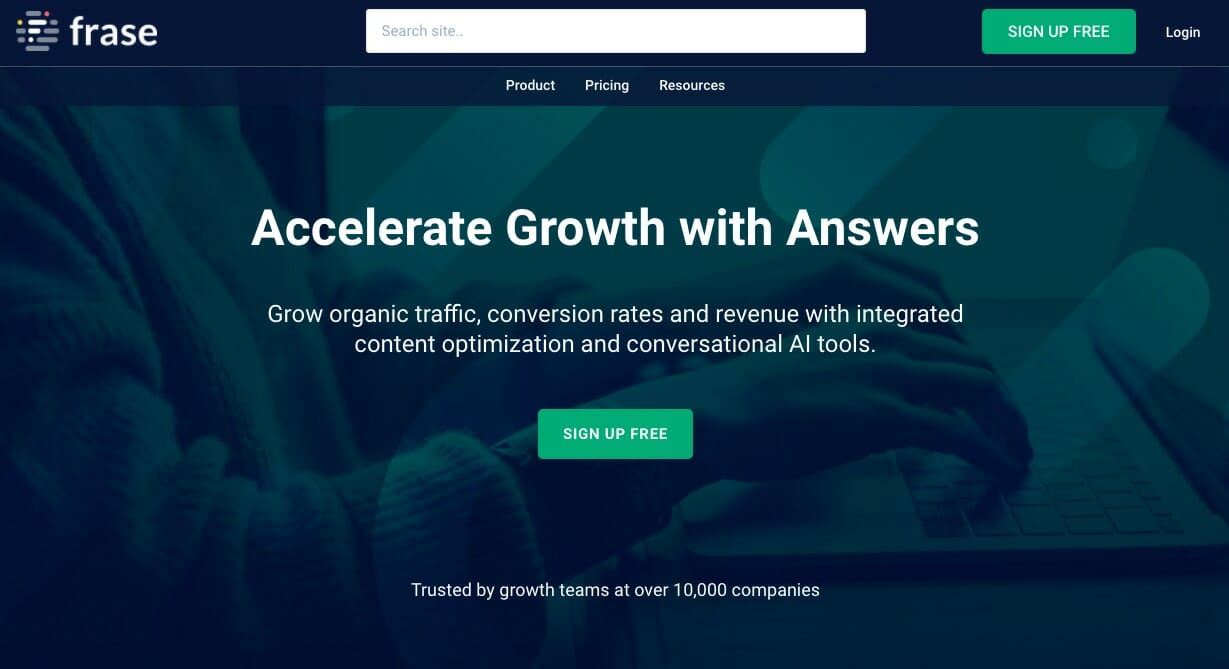 Plus, ClickFlow and Frase can help optimize your ROI by giving you some information about your content's ability to rank before you even post it. This helps ensure that you won't waste time and money posting a piece of content that has no hopes of ranking. 
What Do ClickFlow and Frase Have In Common?
Both ClickFlow and Frase provide tools to help you optimize your content. Specifically, they both include a content editor that provides insights into which keywords to use and what topics to include.
The content editor also provides information about competitor content, and it will give you a content score that you can use to gauge how your content will perform once it's posted online.
In ClickFlow, the content editor looks like this: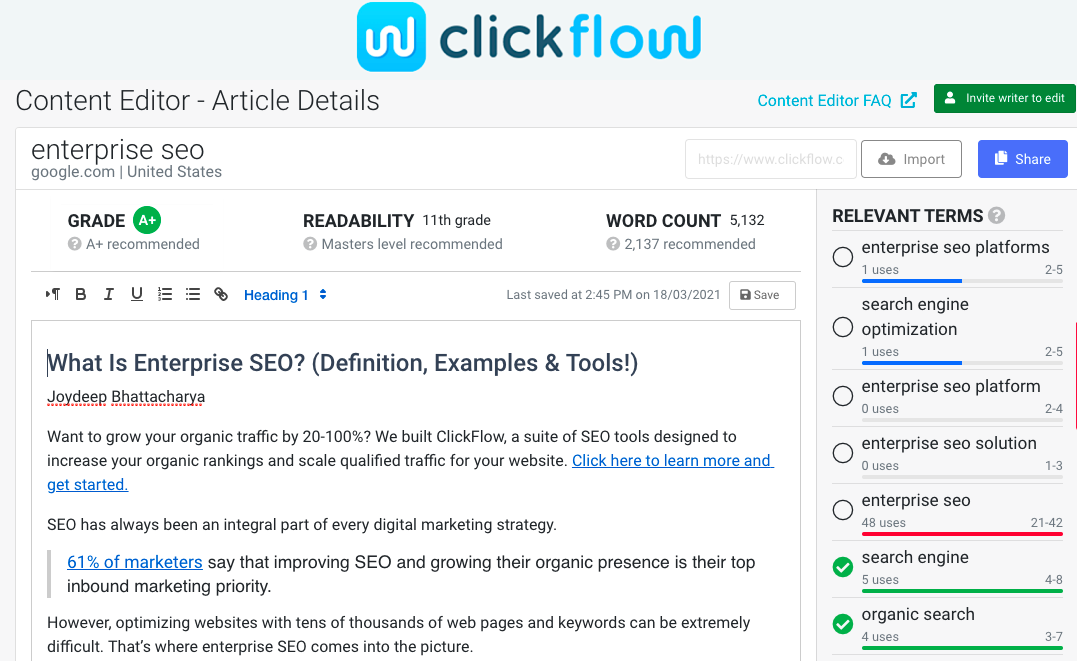 In Frase, it looks like this: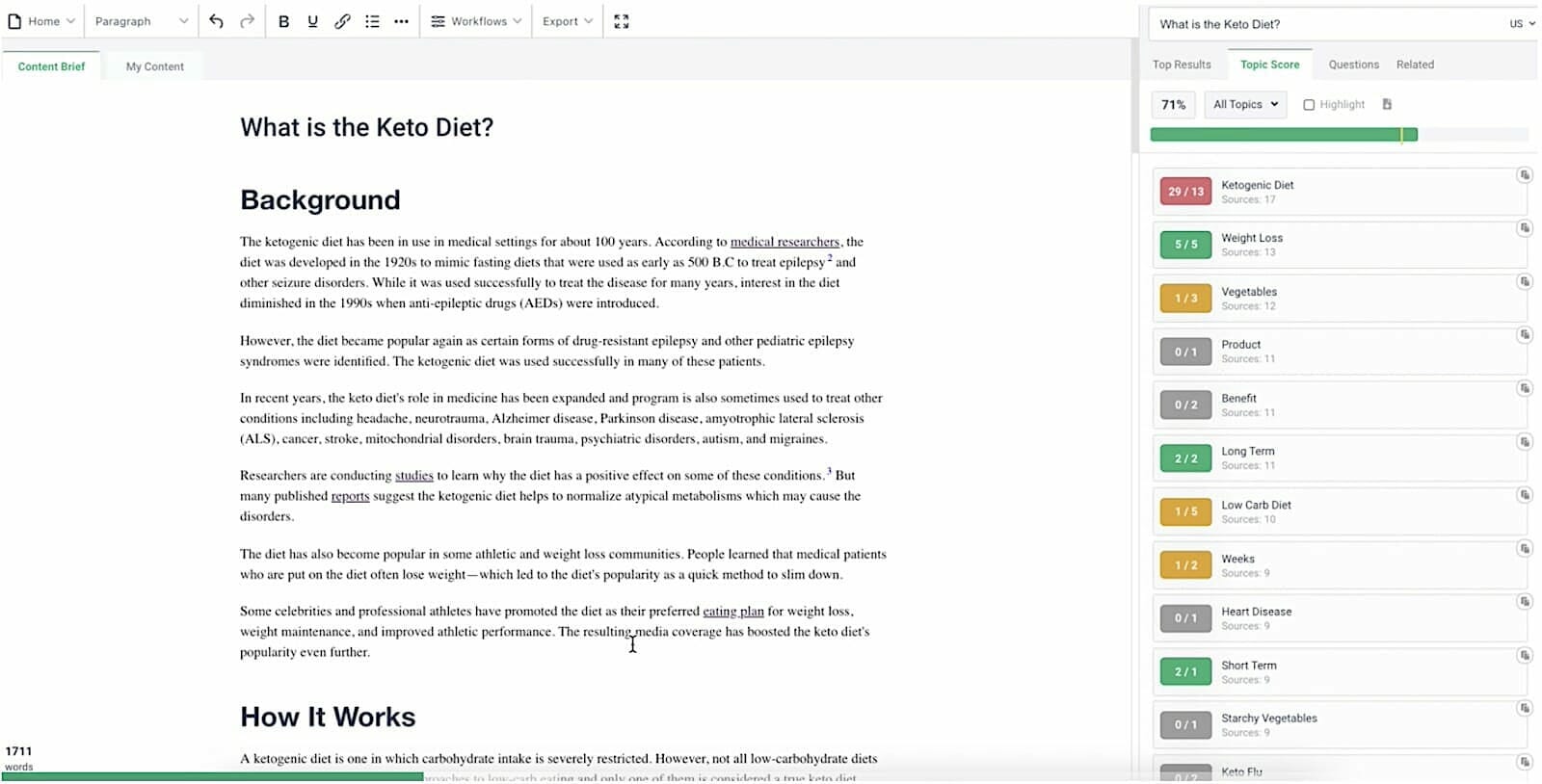 The layout is pretty similar: The content you're working on is on the left, and your data is on the right. GUI-wise (Graphical User Interface), there are only minor differences here. One of the main differences is that Frase makes more use of tabs, while ClickFlow shows most of its metrics on the same tab.
Related Content:
* ClickFlow as a Clearscope Alternative
* Why You Should Update Content – Or Risk Losing The Traffic You Have
* MarketMuse vs. Clearscope

How Do ClickFlow and Frase Differ?
Beyond the content editor, ClickFlow and Frase don't have that much in common. While they both serve the same goal of SEO content optimization, they approach it from two very different perspectives.
Frase is much more focused on content ideation and strategy. Many of its tools are designed specifically to help come up with topic ideas and figure out how your brand can navigate the competitive SEO landscape. It's much more focused on planning, and it even generates briefs that you can provide to your writers.
On the other hand, ClickFlow is a bit more focused on post production. While it still offers many of the same content optimization tools, it puts more emphasis on experimentation and making sure your published content stays optimized. It facilitates content split testing and provides tools to revitalize content that is beginning to slip in the SERPs, known as "content decay".
It doesn't, however, provide much in the way of content ideation and strategy. On the other hand, Frase doesn't offer as many features for the optimization of already published content. Because of this, Frase and ClickFlow can actually work quite well together.
Frase also divides its offerings into two different tools: Frase Content, a content optimization tool, and Frase Answers, a chatbot tool that users AI to answer questions based on the content you have on your site. This is a completely separate product from Frase Content and very different from ClickFlow.
As far as pricing is concerned, Frase offers two plans for its content tool: Individual, which starts at $45/month, and Team, which starts at $115/month.
ClickFlow, on the other hand, starts at $109/month for its Starter plan, which can accommodate teams of up to three users.
Related Content:
* What Is Content Optimization? (And How to Ace It!)
* B2B SEO: How to Rank Your Business Website Higher in Search
* 5 Tools to Create SEO-Friendly Content Step-by-Step

ClickFlow's Additional Features
ClickFlow and Frase each have several unique features that you can't find in the other tool. For example, Frase has in-depth content ideation and brief generation tools, but it doesn't have split-testing tools like ClickFlow does.
Here are some of the features that ClickFlow has that are lacking in Frase:
SEO Element Split-Testing
ClickFlow is designed as a content experimentation tool. It encourages users to run tests in the real world to determine which SEO strategies work best, and which should be dropped.
If you're involved with marketing, then you're likely familiar with split-testing (a.k.a. A/B testing). But chances are, you haven't thought of applying that to your content initiatives. ClickFlow makes that a possibility by allowing you to split test various SEO elements like titles, meta descriptions and even body text.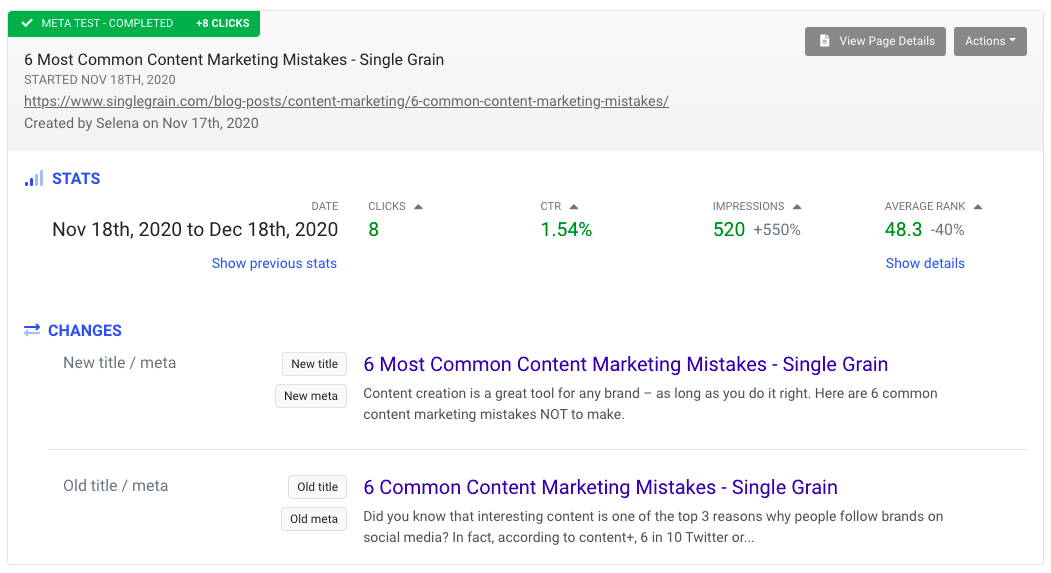 Once you've gotten your results, you can put them into practice to make expertly optimized pages that attract visitors.
Learn More: What Is Content Decay and How It Affects Your SEO
Content Decay
One of ClickFlow's most unique features is Content Decay. This tool is used to make sure that your content isn't slipping too far down the Google SERPs without your noticing.
Content Decay connects to Google Analytics to keep track of the number of visitors to your content. When it notices that your traffic is decreasing, it alerts you that it's a good time to revisit that content.The faster you improve your content, the sooner you can have it back at the top slot on Google. The longer you wait, the harder it will be to reclaim its former glory.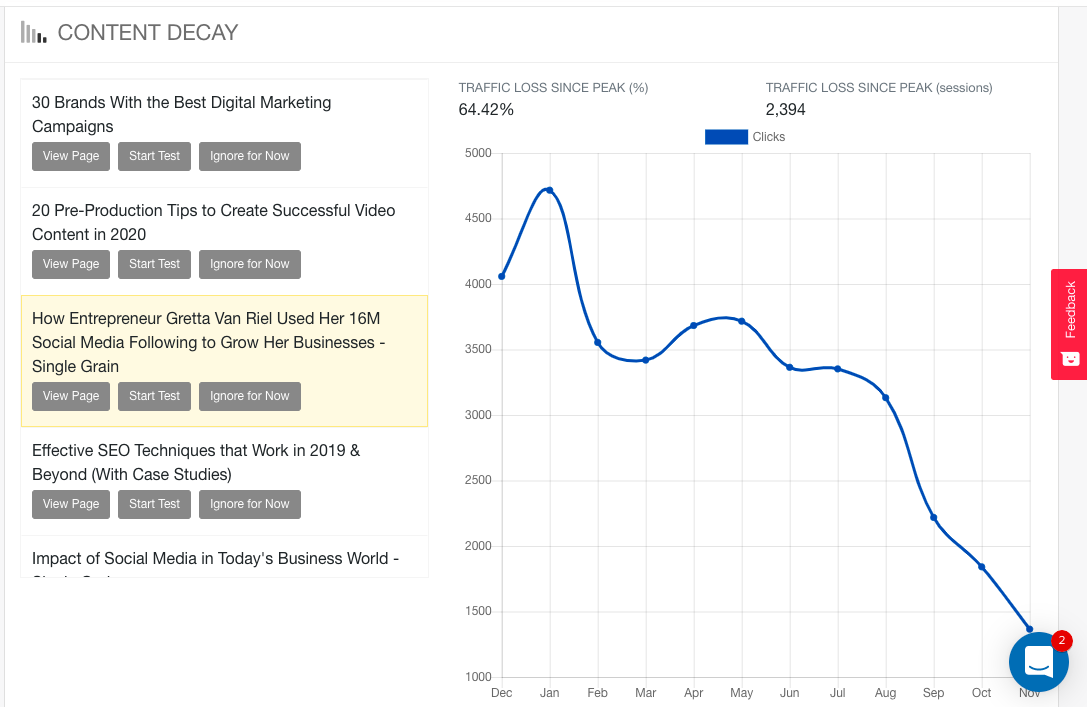 This is a very useful feature as it ensures that you're achieving your maximum ROI long after you've already released your content out in the world.
Want to grow your organic traffic by 20-100%? We built ClickFlow, a suite of SEO tools designed to increase your organic rankings and scale qualified traffic for your website. Click here to learn more and get started.
Key Takeaways: ClickFlow vs. Frase
Both ClickFlow and Frase are strong platforms that deserve attention and careful consideration from anyone working within the content marketing space. Each tool fills in the other's gaps, and they each focus on different parts of the content creation and optimization process.
As far as content creation goes, ClickFlow and Frase both offer very similar tools to help optimize your content before it's published. Their content editors provide most of the same features and function in largely the same way.
However, outside of content creation, the two platforms start to diverge.
Frase is much more focused on planning content and ideation than ClickFlow is. It provides quite a few tools to generate content briefs, come up with new topic ideas, and explore related topics for inspiration.
ClickFlow, on the other hand, concentrates more on how to keep your content performing well after it's already been published. It does this through tools like Content Decay and its split-testing features which allow you to scientifically determine which changes are the most likely to move you closer to the coveted number one Google spot.
Because of this split between pre- and post-production, ClickFlow and Frase can actually be used in tandem quite nicely.
Overall, the decision between ClickFlow and Frase will mostly come down to your own unique needs. If you need a platform that will help you come up with new content ideas, Frase may serve you well.
But if you need a tool that will help you monitor your content and optimize it to the highest level even after it's published, ClickFlow is the way to go.