When it comes to improving your website's SEO, most advice includes a call to focus on building links. There's a good reason for that — it works really well for some people (usually the people telling you that you need to do it).
But here's what they don't tell you: there are other ways to improve your rank on Google and other SERPs, and they may even work better. And in this article, we'll tell you just how to do that!
What Is Link Building?
When we talk about building links, we're talking about inbound links — getting other people to link to your content. The way most people do it is by finding dead or outdated links on high-authority websites in your niche, creating replacement content (if you don't already have it), and then pitching the website owner to use their link to fresh, new content.
Other ways to build links include:
Finding resource pages where your content fits and pitching it
Using a tool like BuzzSumo to find mentions of your brand and then pitching those sites more of your content
Running a paid influencer marketing campaign
Inbound links do still matter when it comes to SEO, but the current focus is on quality more than quantity. It's better to have five good links from medium- or high-authority sites than to have 15 from low-ranked destinations.
Link building can be an effective strategy, but it has its drawbacks. One, everyone is doing it, so there's a lot of competition. Two, you have to constantly be hustling, and the results may not be worth all the time you put into it. And three, it can be expensive in terms of billable hours, especially if you decide to go the influencer marketing route.
The good news is, you can get inbound links without spending all your time searching other sites for opportunities. Try these tactics to improve your Google ranking without spending hours creating and promoting content.
Dive Deeper:
Tactic 1: Build a Great Product
If you have a good product, you don't have to fight for links. One of the biggest misconceptions about link building is that it has to be done manually. If you build it, they will come. If they love it, they will link to it.
A while back, I noticed that Single Grain was ranking for "strikethrough text," because we had mentioned it in a blog post. So I said, "We should just make a strikethrough text tool." So we did.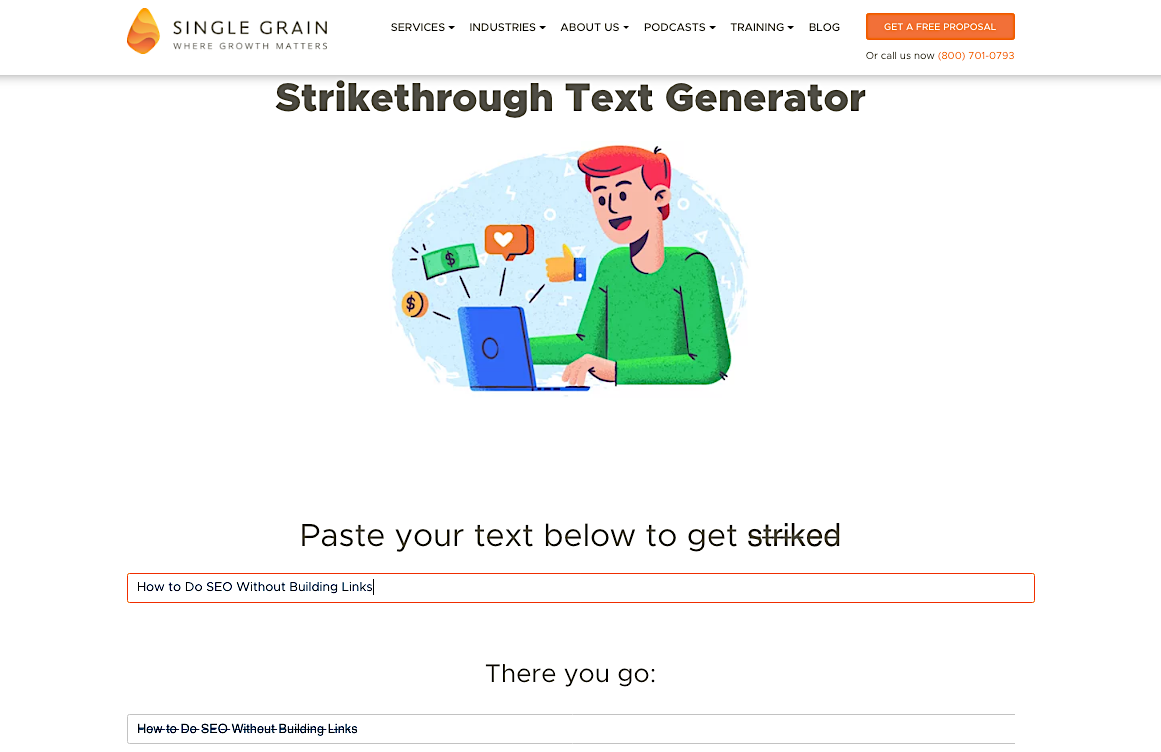 It's just a simple generator, but it actually helped move us into a higher ranking for the keyword. This is a great example of not needing to build links or do any outreach — we just made something useful that people were already searching for and it attracted more links.
This approach is called "product-led growth" (PLG), and it's a term that was coined by OpenView Venture Partners. Basically, it means building something not as a standalone product, but as a marketing channel for the other products or services that your business offers.
Dive Deeper:
Tactic 2: Embrace Freemium Products
If you already have a premium product — or are planning on building one — it may be worth giving at least some of it away for free as a tool to market the paid version. That's the freemium model.
HubSpot has a tool called Website Grader, and it does just what you think it does: it audits websites based on a variety of factors and gives them a "grade." Then it uses that grade to upsell you to the paid products that you can use to improve it.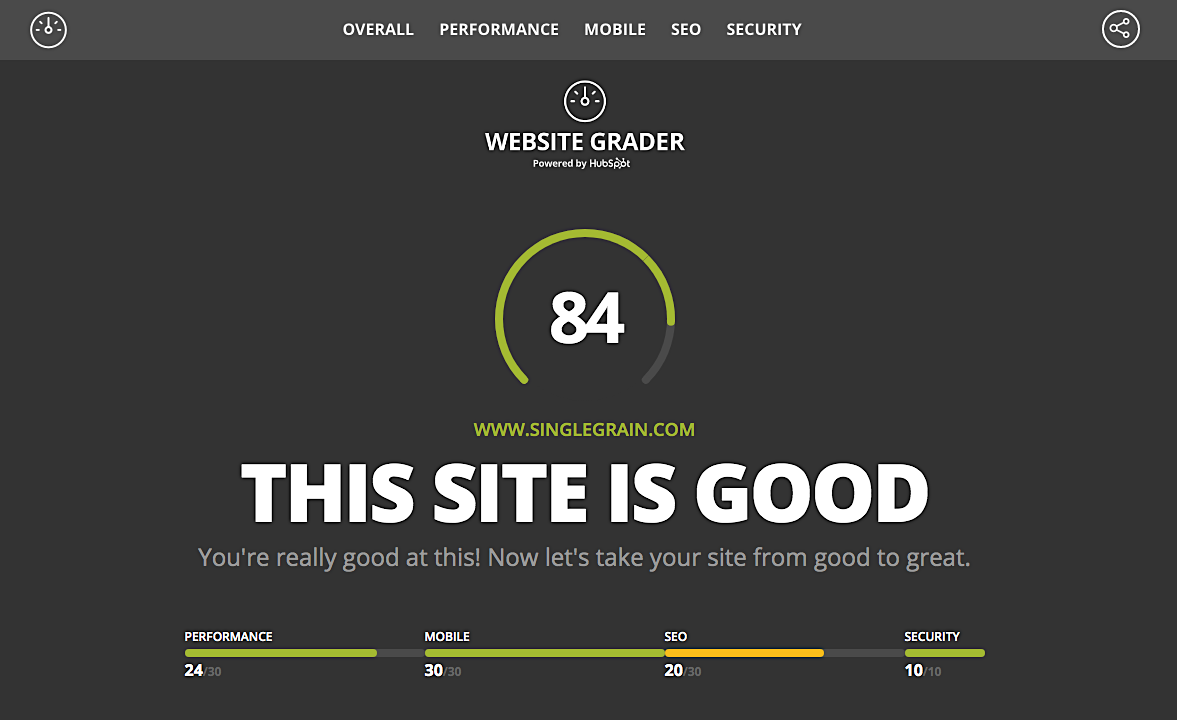 Is Website Grader the most comprehensive website auditing tool out there? No, but it's free, and if it gives you actionable advice, you're much more likely to pay for the upgraded product than than just sign up for a premium product that you know nothing about.
And, according to SEMrush, Website Grader has more than 700,000 backlinks and ranks for 1,600 keywords:

HubSpot also does this well. Not only do they offer a suite of free marketing tools, but they have effective marketing funnels to steer you into the multi-featured paid products.
The downside to freemium products is that you have to build something, and that takes time, resources and money. Before diving into this model, do your research and make sure it really makes sense for your brand.
Dive Deeper: 
Tactic 3: Or Just Give It Away
Are your competitors charging thousands of dollars for a product? Figure out how to make a similar product totally free for your customers.
A good example of this is Ubersuggest, Neil Patel's free SEO keyword tool. Now, there are a lot of keyword tools out there, but what differentiates Neil's tool from them is that it's free. Not freemium. Free. No strings attached.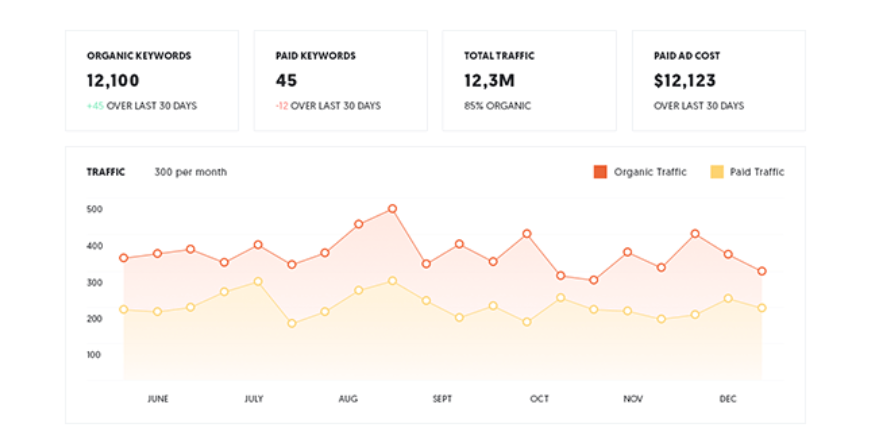 Neil doesn't really market Ubersuggest or do any outreach, but it has more than 270,000 backlinks and brings 10,000 people to his site every day. Why? Because people want free keyword tools, and he's the highest-ranked game in town.
Like HubSpot's Website Grader, Ubersuggest doesn't have a ton of bells and whistles, but it has enough information to make it useful. And when people land on his website to try it out, they may discover that he has tons of content telling them how to improve their SEO or decide to inquire about his consulting services. He's not pushing those things through the tool, but people can find them. People do find them.
Tactic 4: Create Linkable Assets
If you don't have the budget or resources to build a free or freemium product, you still have an opportunity to create linkable assets. Linkable assets are, quite simply, items that are created for the express purpose of getting people to link to them.
Here are a few examples to get you started:
Visual assets: These are your infographics, maps and diagrams. For example, let's say you're an influencer marketing agency. You can pull together an infographic with stats about your industry, a map of where the biggest influencers in a particular niche live or a flowchart about the process of vetting influencers. All those assets have a high likelihood of being shared by people in the influencer space.
Tools: This includes all the tools above. It could be as simple as the text strikethrough tool or as complicated as the website grader. Either way, it should fulfill a specific need that your clients and customers have.
Tutorials and guides: What do your customers want to know? If they want to learn how to tie a tie, for example, they'll probably land on How to Tie a Tie. What can you teach people to do? You don't have to create a standalone site for it — you could simply publish something like "The Definitive Guide to Tying Every Type of Tie." Check out our how-to guide: Step-by-Step Guide to Writing an Earth-Shattering Blog Post:
Interactive content: Quizzes, transformation apps other types of interactive content that give customers an opportunity to learn something about themselves — which you can then enhance with a paid product or service — are an effective tool for virility and inbound links. They can also be great for establishing thought leadership, as seen in the New York Times' investment in interactive content.
Research: Survey your customers and package the results into a report. Your stats are likely to start showing up in industry roundups, news articles and blog posts, improving your Google rank. Everyone who creates content regularly needs statistics, so make sure yours get the links.
Many linkable asset types are easy and affordable to create. And because there are so many different types, you can start small and scale up to something more feature-heavy as you learn what works.
Dive Deeper:
Tactic 5: Leverage Social Sites for Press
If you do decide to build a tool or linkable asset, launch it on Reddit, Product Hunt or Hacker News, or whichever sites are applicable to your industry. Reddit is applicable to most industries as there's a subreddit for just about everything.
You need to be careful about promoting products within communities, though, especially on Reddit. Read the rules before posting, and/or consider paid ads so you don't get banned for blurring the lines between helpful and spammy.
Using the more niche sites is a great way to get qualified eyeballs. Some of those people will probably end up linking to you if they like your content or product.
How We're Doing SEO without Link Building
Single Grain already has domain authority, so our SEO tactics may differ from yours. When we publish something, it's going to attract a lot more traffic and therefore more links. But I have another site, Growth Everywhere, that doesn't rank as high, so I have an opportunity there: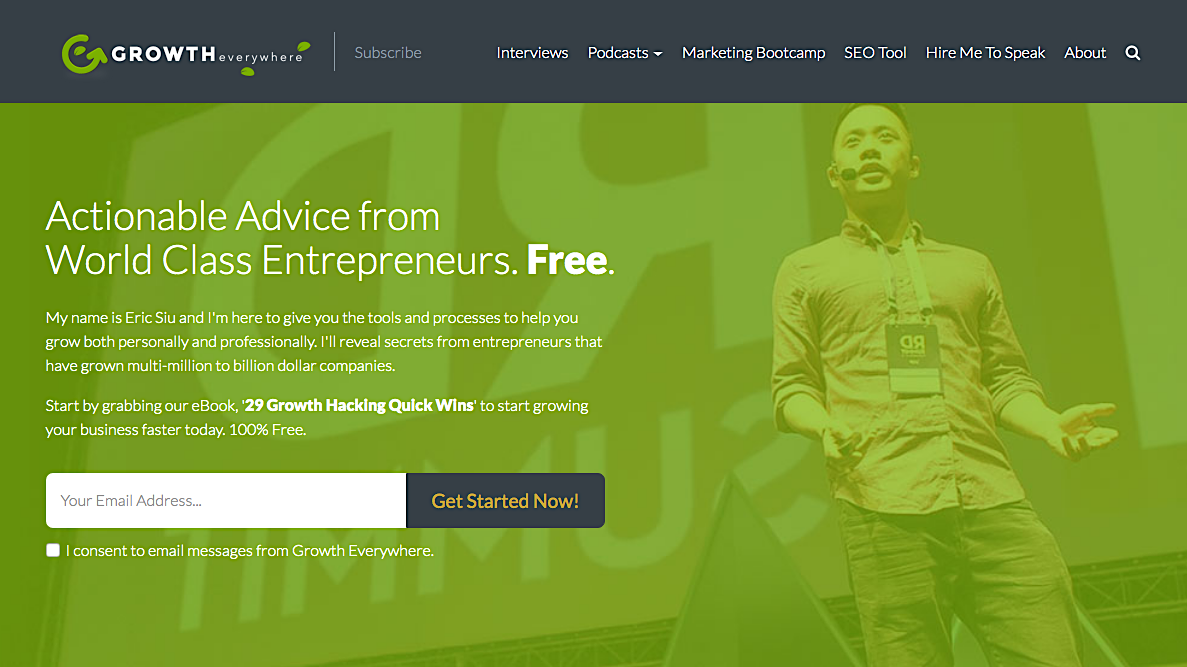 I have a book coming out called Leveling Up, and it's basically about how you play the game of life (what can I say? I like playing games). As a result, we're going to rebrand the site to be more of an extension of that idea, with tools and widgets that will help people learn marketing or how become an entrepreneur.
To go back to the "How to Tie a Tie" example, we want it to be like that — something practical that people are searching for, something that'll help them stay motivated or track an aspect of their professional life. I don't have it fully defined yet, but that's where it's going.
Basically, I want to create widgets that people will use on a daily basis. Those widgets will function as linkable assets, which will help improve the SEO of the site. That'll get more marketers and would-be entrepreneurs to the site, which will funnel them to the book or into any other content or products I create. At least, that's the plan for now.
Dive Deeper: 
You Need to Do More Than Just Create Great Content
SEO used to be about creating comprehensive, useful, up-to-date content. In some respects, it still is, but with so much competition out there, you have to do more to stand out and get ranked.
I started writing marketing guides and in-depth articles and blog posts back when it was still your ticket to Google's front page, and I was pretty successful at it. I didn't have to do much outreach to get backlinks. Now I, like everyone else, have to diversify.
It's important to think outside the box when it comes to your SEO strategy. Whether it's releasing a free or freemium tool, doing a free in-person event or even hosting a PR stunt, that's how you build links. It's not about manual outreach, and it's definitely not about buying links (don't do that!).
SEO is purely about dangling the best carrot that people will naturally want to link to. And what is that carrot? It's typically doing the opposite of what everyone else in your space is doing.
Click To Tweet
Every time Google's algorithm changes, people rush to crack the code. But no matter how much it changes, there are a few things that remain constant — the most important one being the importance of providing value.
What do your customers or clients need to be successful that's complementary to the goods or services you sell? Give it to them, in a unique way. It could be unique because it's free or because no one else has tried it yet. Either way, make sure it's the best.