5 Powerful Ways to Increase Sales by Leveraging Data Effectively
Embracing digital adoption and integrating data tools properly are two critical ingredients in the recipe of successful modern businesses. The use of AI and Big Data has become much more prevalent in companies of all shapes and sizes, and most entities these days are utilizing data tools in some form or another.
However, just because the integration of data is becoming more popular doesn't mean that businesses are using it correctly. Less than half of businesses are using big data systems successfully.
What is even more unfortunate is that the most common reason for this failure is due to a lack of understanding of how to properly use datasets as an asset. Additionally, poor alignment of current organizational strategies is a huge culprit behind most data failures.
The fact is clear that using data properly can be a total game changer. But, clearly, not all strategies are created equally. In order to see the biggest impact of data utilization on your business's sales and overall profitability, there are several key approaches that should be followed.
Let's dive in.
1) Use Traffic Analytics to Identify Unique Niches
It pays big to go small when it comes to audience segmentation and targeting. Identifying niches that make up your customer group can help you create more effective targeted ad campaigns that boost engagement. By leveraging analytical programs for deeper traffic insights within demographic information, you can identify specific niches that could be reached with certain products or marketing messages.
These days, many online retailers are opting for new business ideas that can be easily customized at a low cost, such as on-demand prints or digital products that can be personalized to the user's needs. But in order for these online businesses to really take off, their ad targeting and customer segmentation data needs to be on point. This is where the proper application of data can make all the difference.
You will first need to conduct some in-depth analysis to identify the most profitable niches that would be interested in your online product. The larger segments of your target audience may be rather obvious, such as the general age range, gender, lifestyle, interests and income level.
You can use this information as a starting point to create customer profiles that represent different aspects of your audience. Of course, be sure that all of this is still backed up with data based on your current customers – so that you aren't totally off or missing any major segments.
Then take things a step further with traffic analysis data. Take a look at the current traffic that is arriving on your website and look for emerging patterns in the data, such as:
Is there a specific geographic location that is growing?
Which keywords are driving large numbers of viewers?
Which specific product pages have the highest click rates?
This information can shed light on various niches based on demographic and behavioral data, such as groups buying overseas or audiences that are drawn to your product via a specific keyword query. From this analysis, you can start to identify various niches that already exist or could be better targeted.
If your online store is selling customizable products, this data can also be applied to the products themselves.
Pet Canva, an online print store, provides a great example of utilizing niche markets for hyper-targeted ads. Their marketing team saw an opportunity to create custom blankets with pet portraits on them, and so they targeted this niche through social media ads by matching them up with customers who had dogs and would be interested in this type of product.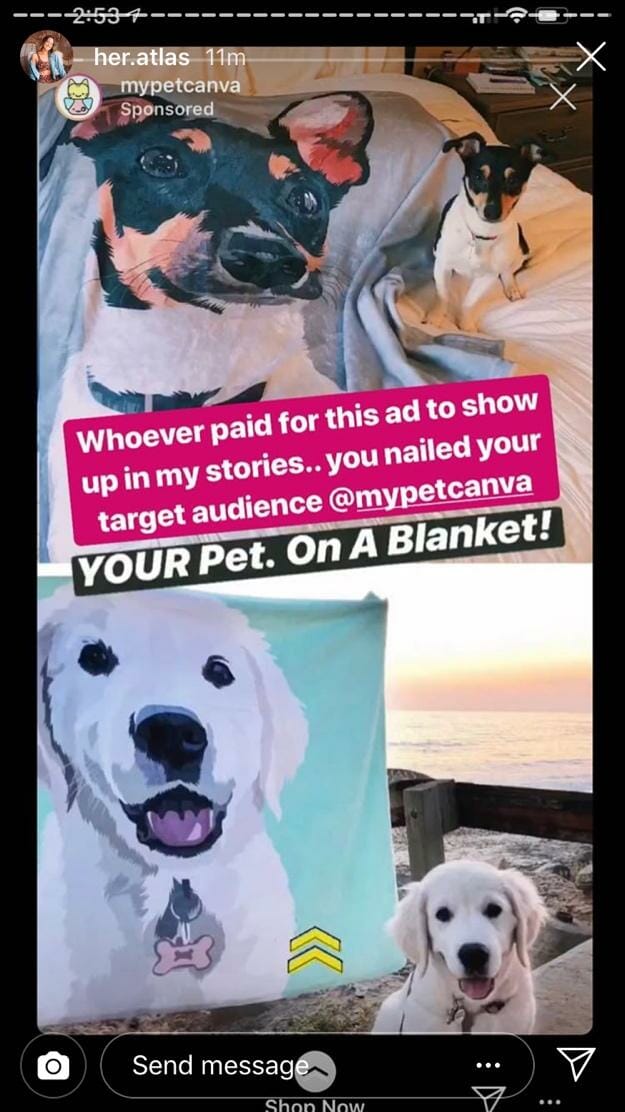 Pay attention to the way that customers are arriving to your website. By understanding the keywords and the reasoning behind them, you can start to get into the mind of the consumer and better understand the products they are looking for and how you can create offerings or content that fit their requests.
Learn More:
2) Use Natural Language Processing (NLP) for Engagement Opportunities
Brands that engage with customers at the right time can increase the likelihood of conversions, as well as overall audience sentiment. This is particularly true when it comes to social media. One study even found that when a brand interacts personally with a customer through a social media platform, they feel more positivity towards that business. And of course, this positive sentiment can lead to higher conversion rates and increased loyalty down the road.
Furthermore, public interactions on social media can increase your brand's awareness. Customers like to see that brands care enough about their customers to interact with them one-on-one, so doing this can help your company's reputation in a number of ways.
The perfect interaction can move a customer from one phase of the buyer's journey to the next: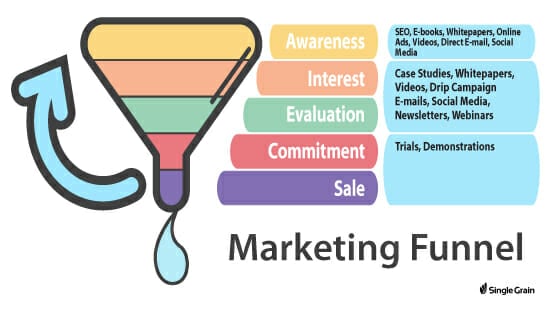 The only difficult part here is knowing when and how to reach them. One way that brands can keep track of this is by using natural language processing (NLP) tools. Through these systems, you can monitor online chatter and be notified of opportunities where engagement would be most beneficial. NLP uses machine learning and applies behavioral data to the words that customers are using to determine the sentiment and help businesses figure out how best to respond.
This is especially important for conflict resolution. More and more customers are turning to social media these days to complain about an experience or draw attention to a specific issue. Businesses should be using NLP data to keep track of these interactions so they can interject and respond accordingly. Unfortunately, many brands are failing in this regard.
According to Sprout Social's report:
89% of inquiries from customers on social platforms go ignored
73% of consumers have used social media to notify a business about a negative experience
30% of them will leave for a competitor if the problem is not resolved
Therefore, it is extremely important that businesses be alerted when these comments are posted to avoid being publicly shunned: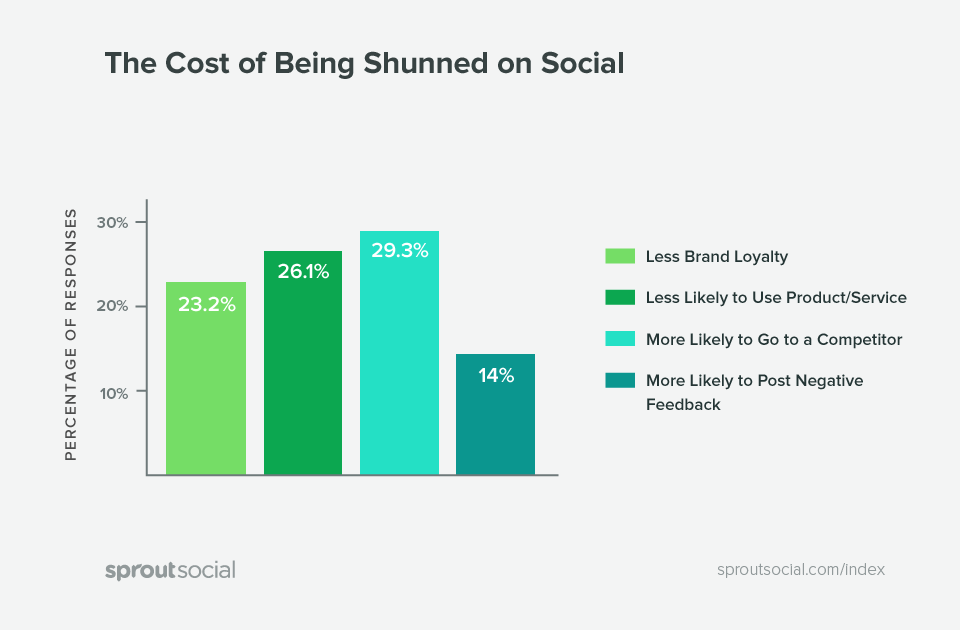 However, this same study also found that when brands interact positively with a customer through social media, it can do wonders to improve overall sentiment and revenue.
When a business properly interacts with a customer to resolve a negative experience, that customer is 70% more likely to buy from them again.
Click To Tweet
Furthermore, it reduced the likelihood of buying from a competitor and they were also 75% more likely to share their experience with others. This positive word-of-mouth (social proof) can be extremely influential on other customers and lead to higher engagement down the road.
NLP tools can also be used for moments when your brand's name is not specifically mentioned. This involves tracking keywords related to your product offerings. For example, if your business sells tough dog toys and a person tweets that their puppy has just chewed through yet another toy, it could be the perfect opportunity to interject and suggest they check out your product.
This is done by following certain keywords that are related to your business/offers. In much the same way that Google Alerts notifies you when a specific word is posted online, brand monitoring tools, like Mention and Brandwatch, will send an alert when a social media user shares a post with a relevant keyword or phrase that signals potential for engagement: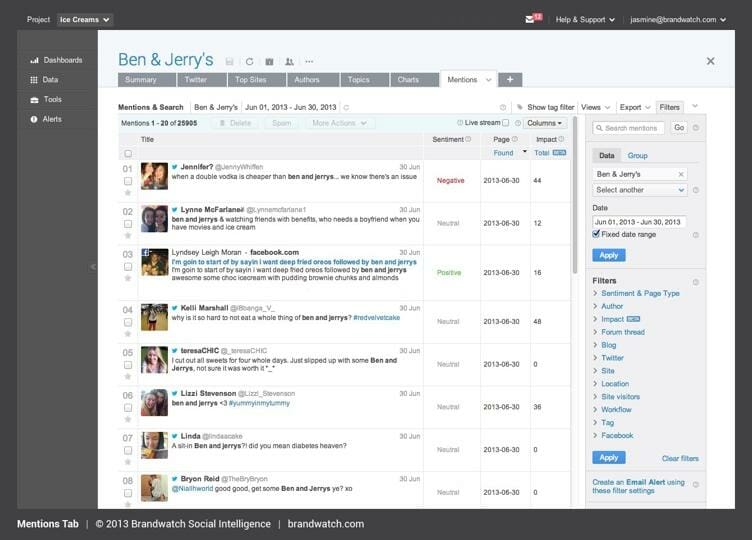 Learn More:
3) Create Smarter Customer Journey Paths
Another important way that businesses can apply data is by using past consumer behavioral information to create more accurate customer journey maps. This essentially builds a blueprint for right place/right time messages or triggered marketing content strategies.
Understanding the falling off points for re-engagement and typical content consumption patterns allows brands to offer more optimized content to impact conversions. This is best done by taking a look at the conversion rates and exit rates from your website pages.
Tools like Hotjar and Smartlook can do wonders to better gauge how people interact with your website. This behavioral data can then be used to create better trigger-based marketing strategies that send specific content to a customer at the perfect time.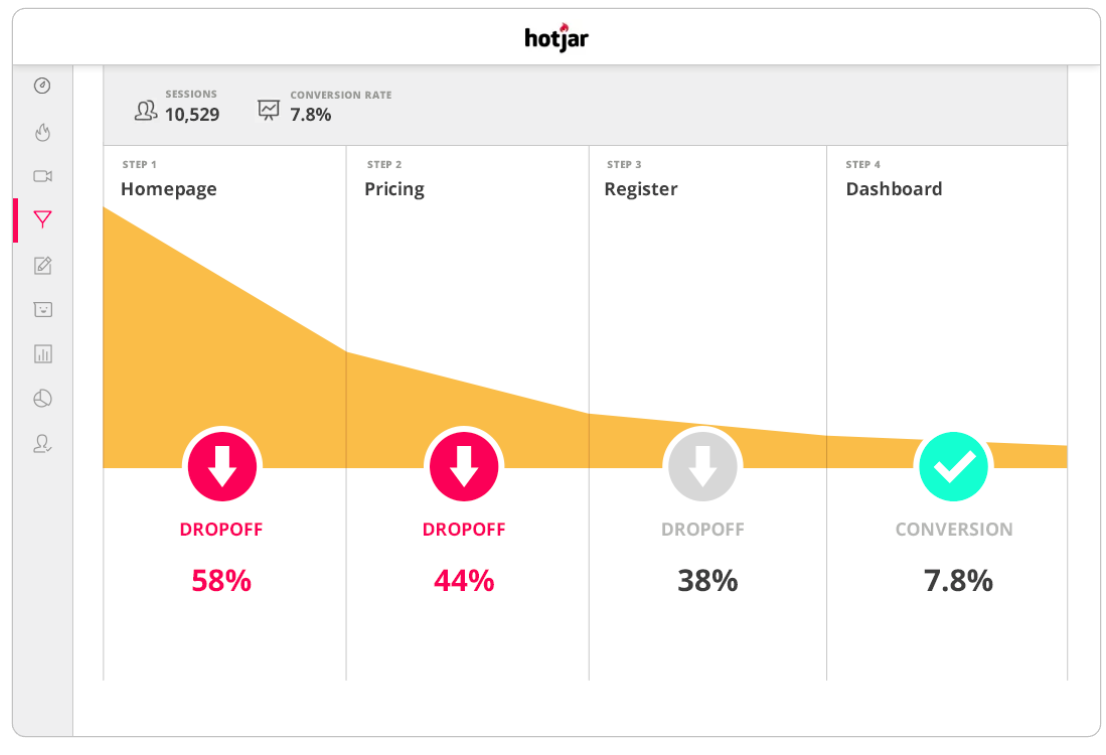 For instance, if a customer clicks on a specific product page but leaves without a purchase, a reminder email could be sent off within 24 hours notifying them that they left an item in their cart, or they could be re-targeted via a social advertisement.
4) Write More Influential and Compelling Case Studies
Don't just tell your customers how great your product is – show them.
By using data from sources like customer reviews, website conversions, and overall success rates, you can use real-life information to create compelling case studies with data to back up your claims.
This is particularly important for B2B entities, as customers will be actively looking for proven statistical data that promises measurable results. According to Demand Gen's survey report, case studies are the preferred type of content that influences purchasing decisions: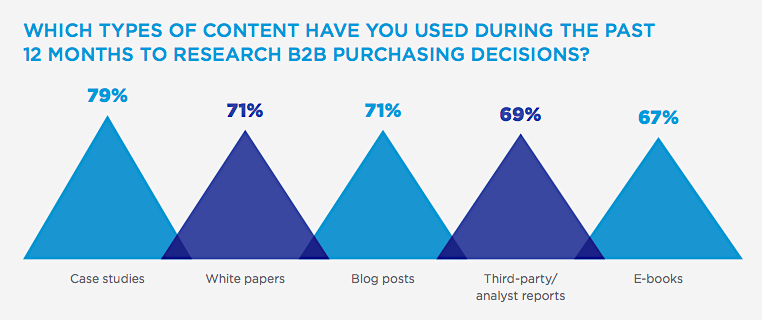 And the majority of customers looked at 3-5 pieces of content before deciding to buy: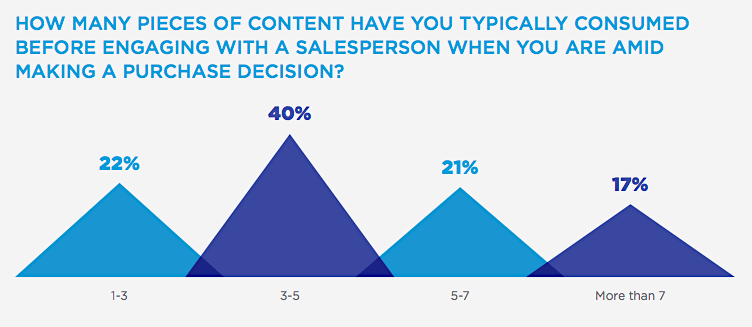 The best way to create compelling and influential case studies is by applying high-quality customer data in the content. In addition to the data-driven results of your product/service, information may need to be gathered through a survey or interview with past clients. Be sure to ask for specific information that proves measurable differences which are a direct result of your company's product or service.
For example, let's say you are selling a project management software solution. The overarching questions would likely be:
Is your business more productive?
Have sales increased?
Has or product helped to lower overhead costs?
Statistics and data-backed proof are important for B2C companies as well. Customers are certainly interested in seeing whether or not your business can fulfill its promises. This is why user-generated content (UGC) and customer reviews are important to integrate into your website. While they may not necessarily create professional case studies, it does offer new customers the information they need for a more informed purchase decision, such as overall star ratings and testimonials regarding the results of using the product.
Dive Deeper:
5) Optimize Production Based on Data-Fueled Predictions
Issues with production and inventory can put a major kink in the sales cycle and eat into profits. If businesses are not able to keep up with customer demands, it could lead to items being out of stock or massive delays for product fulfillment, which could lead to upset customers and lost sales.
This is where a mix of past market data and predictive analytics should be applied. By using predictive analytical technology, like Snapfulfil or Logiwa, you can create a more optimized inventory and order management system that orders the correct amount of stock based on forecasted sales and demand.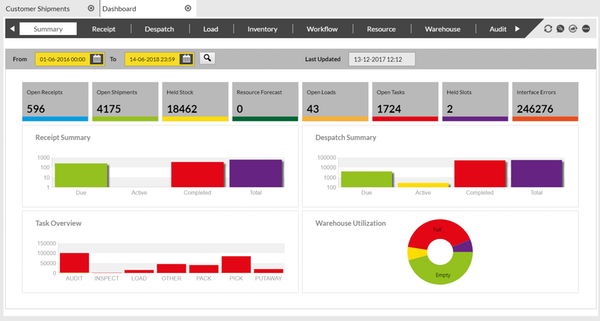 These programs use big data capabilities to track ups and downs in the market while making accurate projections for inventory planning. If a dip in demand is expected, businesses can slow down production to lower their costs. If an upward swing is predicted, businesses can order more inventory in anticipation of an increase in demand.
This can also help optimize pricing to keep your price points competitive but still profitable. Pricing for online items can fluctuate frequently depending on competitor analysis, changes in production costs and, of course, customer demand. By applying predictive technology, along with past sales data, companies can keep their pricing optimized to attract cost-sensitive customers and keep profits high – even when demand dwindles.
Dive Deeper: A Guide to the Competitive Pricing Strategy — For B2C and B2B
Conclusion
In order to use data effectively, businesses need to know which areas can be fueled best by data application.
Any good business knows that understanding your customers is critical. By using traffic analytical data, companies can identify various niches within its audience for more effective segmentation. Companies should also be utilizing data to create meaningful connections (specifically through social media) by incorporating monitoring data for engagement opportunities.
By utilizing data, companies can create accurate customer journey maps that are based on consumer behavior for better content and triggered marketing. Properly utilizing predictive analytics and past sales data can help cut costs and keep profit margins high by adjusting production and prices according to market trends.
Relevant data can be the secret ingredient to long-term success. The key here is knowing how to apply it and utilizing the information correctly so that it will have the biggest impact.