Nowadays, B2B marketers have to overcome numerous challenges in their day-to-day activities. Various technological innovations at their disposal can help them a lot in doing so, but they have also raised the bar.
And it's no wonder – being equipped with tools and data that unveil every little detail about their market, their customers and prospects, they're expected to always react quickly and turn this body of data into new leads and sales. In this context, collecting and properly applying customer intent data can be hugely beneficial for this task.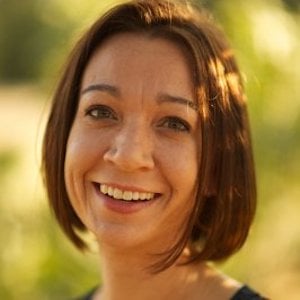 Kim Cooper
Director of Marketing, Amazon Alexa
Single Grain enables us to increase our impact without increasing our headcount
What Is Intent Data?
As the name suggests, intent data can help marketers predict the next move of their customers, prospects, leads or website visitors. Intent data is obtained in two ways.
The first way is through the company's website, using CRM software or marketing automation tools that track users' activities. Another way to do this is by buying or otherwise acquiring this sort of information from third-party vendors.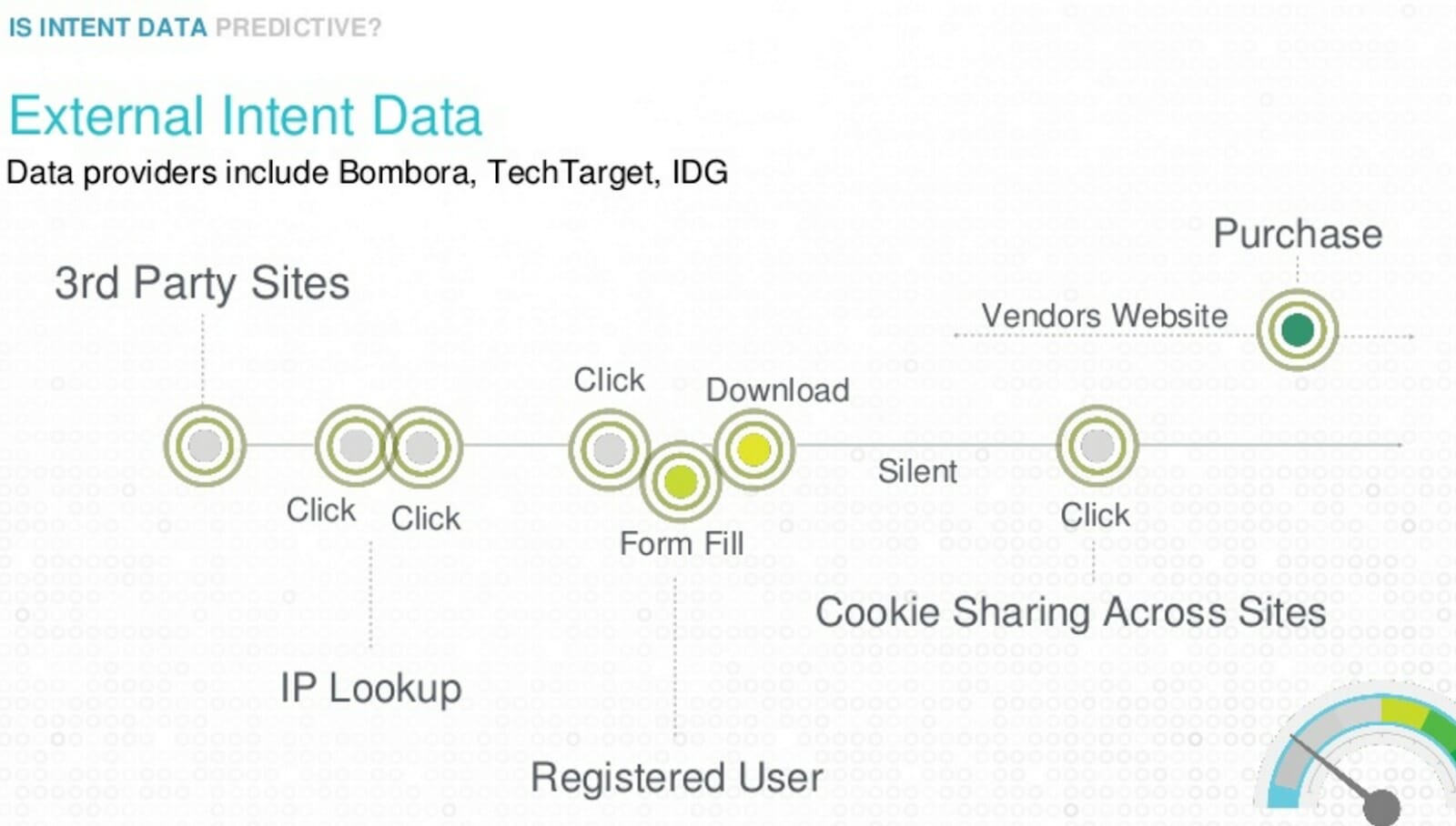 In both instances, the data can be collected anonymously, since often times IP addresses can be traced back to specific organizations. This helps marketers find out which particular companies have shown interest in their content, products or industry as a whole. Data can also be obtained voluntarily, employing forms that users willingly fill out.
Whichever method you choose, having the right intent data at hand can largely influence the success of your B2B marketing operations. Here's how.
Learn More:
Benefits of Intent Data for B2B Marketing
Usually, individuals looking to buy on behalf of their companies will do thorough research on the market and your organization before making any moves. About 62% of B2B buyers visit up to three websites prior to making any purchase decisions, while about 37% of them tend to check four or more websites in the process: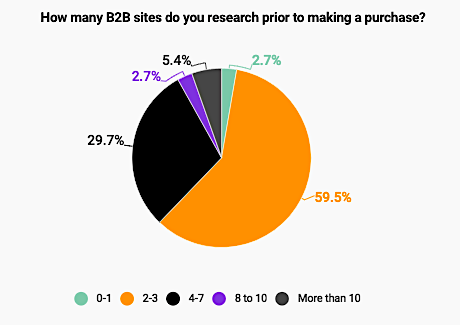 Moreover, an average B2B researcher will conduct 12 searches before engaging on a particular brand's site.
Obviously, all this research leaves a digital trace that can tell you a lot about buyers' intentions:

In general, proper analysis of these traces will improve your overall sales intelligence as well as your knowledge of specific organizations' plans and objectives regarding your business and products. This, in turn, will enable you to provide them with a personalized buyer's journey based on predicting what exactly they're looking for and how serious they are about it.
The exact intention of a specific user can be identified with varying degrees of accuracy, depending on the method you use and the reliability of your source of data. According to research, it is possible to determine which companies are in-market to buy at an early stage of the journey, and the accuracy rate can be as high as 91%. This leads to a 3-5X increase in ROI, as is showcased by some of the early adopters of the method.
However, the amount of data that needs to be filtered and analyzed until you end up with relevant and comprehensible output is colossal. Hence if you want intent data to work for you, do a bit of research and be careful when choosing – you can try some of the free CRM software or you could go for paid options.
What Gains Can You Expect by Using Intent Data?
Before doing the above options, stay with us for a minute to find out how intent data works in more detail, and which concrete gains your company can expect from utilizing it.
1) Discovering New Prospects
Getting the right intent data from a third party can show you who the potential new buyers may be.
This can be as simple as monitoring companies' social media activities to check out whether they share news or join communities related to your industry. Targeting (and retargeting) them with various ads and content before your competition does it can be crucial.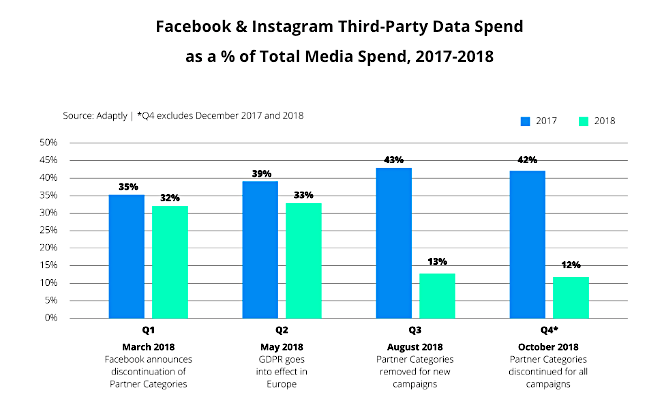 Here, it's all about the right anticipation – it can be said that sometimes you'll know an organization needs your services even before they're sure about it.
Learn More:
2) Creating Personalized Content
Naturally, you'll need to personalize your content for those who express more concrete interest in your product – more particularly, for those who have found a way to your website.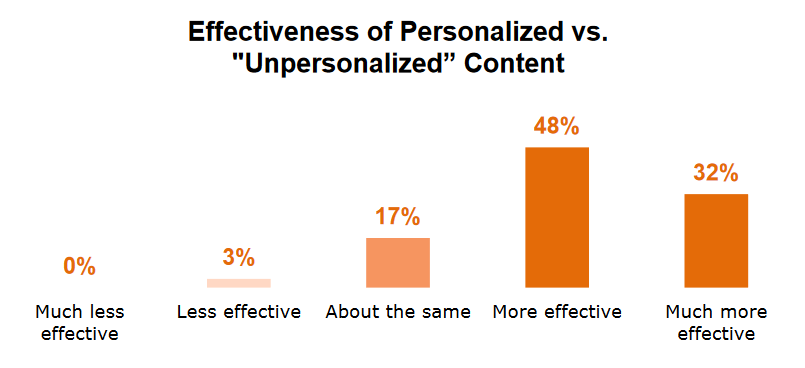 Personalization has become an integral aspect of all sorts of digital marketing strategies. Marketers who make use of personalization tactics claim they have benefited from them in many different areas, from customer relationships to conversion rates, with 10% of them even reporting a 30% lift in overall business results.
It's not difficult to see how intent data can help B2B marketers in this respect. Personalization should be based on content that your customers have already consumed, products they've looked into and, of course, some contextual info. Decent intent data software can provide you with all these.
Predicting your customers' intentions is about being familiar with their online activities and topics they're interested in. But it's not just that. Knowing which organization they come from and their position in the company can make all the difference when it comes to choosing the content you want to serve them and the general on-site experience you wish to provide.
3) Delivering High-Quality Leads to Your Sales Team
With appropriate intent data at your disposal, it's quite simple to determine how far particular visitors have come in their buyer's journey. It's not the same whether they're reading blogs on the general state of your industry or comparing prices of products on your website. Moreover, learning whether your website is being browsed by a CEO or an intern makes all the difference between a quality lead and a random visitor.
Obviously, this info can help you with account and lead scoring and can be very valuable to your sales team in general: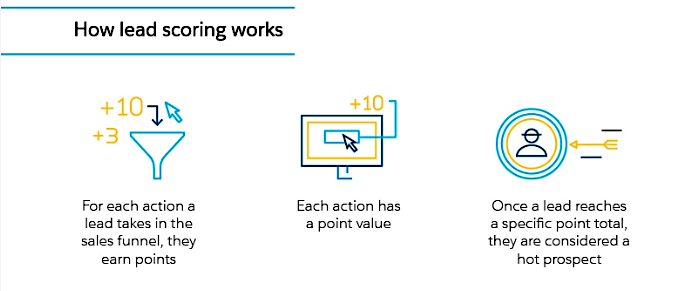 Identifying topics that are of interest to your leads is also beneficial for them once they decide to approach a potential buyer.
This can also give marketers a much-needed hint on how to reach some specific prospects – which channels to use, which offers to serve and what sort of content to employ. It'll be easier to nurture leads as well, as you'll be able to determine the perfect timing for specific actions in this process.
In addition, intent data has the power to make your sales and marketing efforts much more efficient: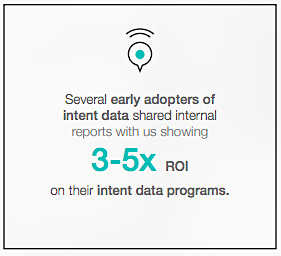 It enables you to narrow down the scope of potential targets dramatically. Instead of wasting precious time and resources, you'll have a very good idea about which exact accounts you should be focusing on.
Finally, through the process of monitoring user behavior, your company will gain some very valuable feedback about which actions suggest the possibility of a purchase and which don't. This can further reinforce your ability to recognize true quality leads and possibly affect some of your company's more general marketing and sales strategies.
4) Automation of Marketing Operations
As you could expect, the process of sifting through an enormous amount of data and determining the most desirable next step is highly automatized. Based on initially set parameters and thresholds, it's up to the software to make recommendations and decisions about what to do next.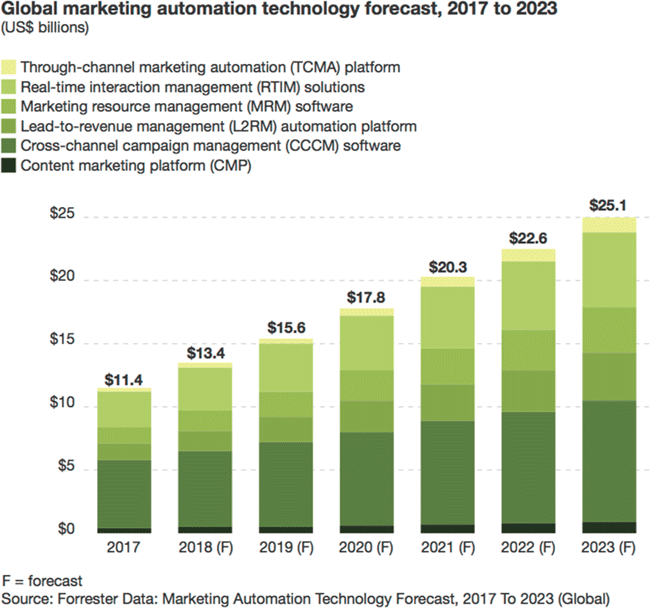 This makes the segmentation process much quicker and more accurate. And, of course, it gives marketing teams more time to deal with the creative part of the job, as well as focus on the bigger picture.
Learn More:
5) Customer Retention
Some studies suggest that it's five times more expensive to attract a new customer than to keep one who has already bought from you. Also, repeat customers are 9 times more likely to convert and tend to buy 30% more items per single order than new customers. Thus, customer retention can be vital for the success of your organization.
A high-quality intent data analysis can highlight irregularities in buying cycles of your customers or spikes in their activity related to your industry or your competitors. Once you realize that a customer may be about to look for alternatives, it's time to try to talk them out of it. Moreover, you can use these data to identify the reasons why they're considering a change and offer solutions that will make them happy.
Learn More:
Final Thoughts
Collecting and making use of intent data can improve your organization on multiple levels. It helps not just your marketing team by automating tiresome processes and making them more accurate and data-driven, but it also makes the job of your sales team easier. Intent data analysis has a positive influence on a number of factors that affect the success of the marketing-sales loop.
It can give you a serious competitive edge, and given that it's a technology that's becoming more and more common and accessible, some of your rivals might be already using it. As a matter of fact, around a quarter of B2B companies used intent data and monitoring tools in 2018, with this number set to grow in the following years.
Consequently, having access to the right intent data and using the right software for this purpose will become increasingly important for all kinds of B2B businesses. Thus, it's definitely an idea worthy of putting some serious thought into.