How to Take Your AdWords Campaign to the Next Level
[Free Consultation] Are you spending money on advertising but not getting the results you want? Are you looking for more sales and leads but have no idea where or how to start? Get help from our world-class marketing experts in a free consultation call.
Click Here To Schedule Your Free Consultation Now
The marketing space has evolved dramatically and Google AdWords is one of the platforms that has played a crucial part in initiating this evolution.
In fact, AdWords is one of the best and most promising platforms for online advertising because it offers assured and immediate traffic by reaching out to your potential customers. And not only does it get the most qualified visitors to your website, but it also makes sure that you get the most conversions.
There are a lot of existing articles that will tell you all about the features of AdWords, tips and tricks to improve CTR and Quality Score, how to increase conversions, how to avoid common AdWords mistakes, etc. But to take your AdWords campaigns to the next level, you need the expertise and skills to optimize it to such an extent that a perfect performance benchmark is set.
Optimizing your AdWords campaigns is not just something that you can do; it is something that you should do to make your campaign more profitable than ever.
Here are seven of the most important things you can do to help take your AdWords campaign to the next level.
1. Use the Broad Match Modifier
Keywords are the building blocks of any AdWords campaign and they have the potential to either make or break your campaign. By choosing and targeting the keywords that are most relevant to your business, you can easily reach the right audience.
While setting up keywords for your campaigns, you should think from the perspective of the customer. This is because keeping the intent of the customer in mind will let you choose and target the most relevant keywords – i.e. the words that they use.
Broad Match Modifier Keywords
Being too broad or too specific when targeting keywords can harm your AdWords campaign. By being too broad, you'll drive unqualified traffic and irrelevant search queries that can waste your ad spend.
On the other hand, if your keywords are too specific, your ads may fail to reach the potential customers who would have otherwise converted.
Therefore, you should choose keywords that are neither too broad nor too specific. Using broad match modifiers will allow you to select keywords that lie between broad and specific. Broad match modifiers give you more control than the broad match type keywords and they provide more flexibility than the phrase match type keywords.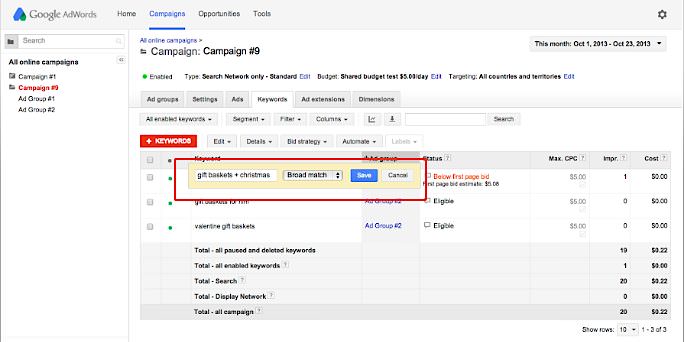 As the name suggests, it is a modified version of the broad match type keywords. It prevents your ads from being displayed for irrelevant search queries by putting more control over them.
The broad match modifier keywords work by adding a "+" sign in front of the keyword.
Generally, there are a lot of advertisers out there who just use broad match type keywords. They forget that broad match type keywords can be life threatening for your AdWords account if not handled properly as they can exhaust your ad spend by attracting irrelevant search queries and unwanted clicks. So the broad match modifier keywords come to your rescue by giving you, rather than Google, control of your ads.
Let's say that you sell formal shirts for women and your broad match keywords are "formal women shirts". These keywords could display your ads for some irrelevant search queries as well, like "casual women shirts", "women dresses", "formal women shoes", etc. This is definitely going to cost you more and will also attract unwanted clicks.
But if you start using the broad match modifier keywords:
+formal +women +shirts
As you see, all three of the keywords have a "+" sign in front of them which means that all three keywords must be present in the search query in order to trigger your ads. The keywords can be in any order but all of them have to be used. By doing this, your ads will get displayed for the following kinds of search queries:
formal shirts for women
women shirts formal
buy formal shirts for women
Don't Forget to Use Negative Keywords

Negative keywords are a blessing to online advertisers and marketers. By filtering unwanted keywords and searches, they prevent your ads from being triggered by irrelevant clicks and save your ad spend.
Once again, let's use the example of an online retailer selling "formal women shirts". Since the broad match type keywords are set as the default, your ads will show up for searches like "shirts for women," "women shirts," and "casual shirts for women". Sometimes your ads may also be featured for men's and kids' shirts, in which case the searchers may accidentally click on your ads, wasting your ad spend without having any intention of purchasing formal women's shirts.
Hence, negative keywords are used here to save your budget from getting exhausted uselessly. From the example given above, you know that you do not want your ads to get displayed for casual, men's or kids' shirts, so you can simply put the terms "casual", "men" and "kids" as the negative keywords which will prevent your ads from being triggered by these words.
Learn More: How to Set Up Call Tracking in Google AdWords
2. Implementation of Single Keyword Ad Groups (SKAGs)
Single keyword ad groups, a.k.a. SKAG, is one of the best practices of AdWords as each ad group is assigned just one keyword. This allows you to have better control between the keyword and the ad text because only one keyword will trigger that specific ad. Not only do you get more control over your AdWords account, but this lets you achieve a higher performance from the ad group.
SKAG makes your ads better (i.e. more relevant) because the keyword that you're bidding on is present in the ad itself, thus making it a perfect message match. Single keyword ad groups also have the potential to improve your click-through rate (CTR) because when you create SKAGs, the relevancy between the keyword and the ads increases.
Having multiple keywords in your ad groups has certain disadvantages. First, it becomes very difficult for you to write ads that are highly relevant to all the keywords in the ad group. Secondly, multiple keywords harm the performance of your ads because it disturbs the relevancy, which brings down the CTR and Quality Score even further.
The main objective of the SKAG is to make your keywords and ads so strong in terms of relevance that metrics like CTR, Quality Score and Cost Per Click (CPC) automatically improve.
Look into your Search Term Reports and check which of the keywords has initiated most of the conversions. You can then add all the top-performing keywords into their own single keyword ad group.
Learn More: How to Set Up Google AdWords Ads in Google Maps
3. AdWords Scripts
Google AdWords scripts are powerful tools that are used for paid search. Scripts are pieces of standard JavaScript code that help you automate your AdWords tasks.
If you're an advertiser who does not have any coding background, don't be scared by this! The AdWords Scripts are basically used for reporting purposes, creating account alerts, and making changes in bulk. Google AdWords provides you with some awesome AdWords scripts that are free and the best part is, you can easily use them in your account right away, even if you do not have any coding experience.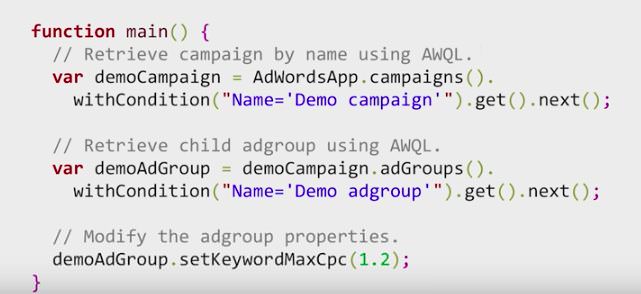 There are a few ready-to-use AdWords scripts that will not only save you time, but are a lifesaver in helping you automate complex tasks. You can get AdWords scripts for tracking the Quality Score, conducting competitor analysis, pausing keywords that have zero impressions or checking for any broken URLs.
Also note that there are AdWords scripts that have been specifically coded for Google Display Network, Shopping Campaigns, Bidding and Budget, Reporting, Tracking, and a lot more.
While using the AdWords scripts, there are a few things that you should take into consideration. Always preview your script before running and scheduling, and always double check all the functions, numbers and formulas that you have placed in it. You can get access to free AdWords scripts from Google Developers (and also watch an intro video about using them) and Free AdWords Scripts.
4. Apply Ad Extensions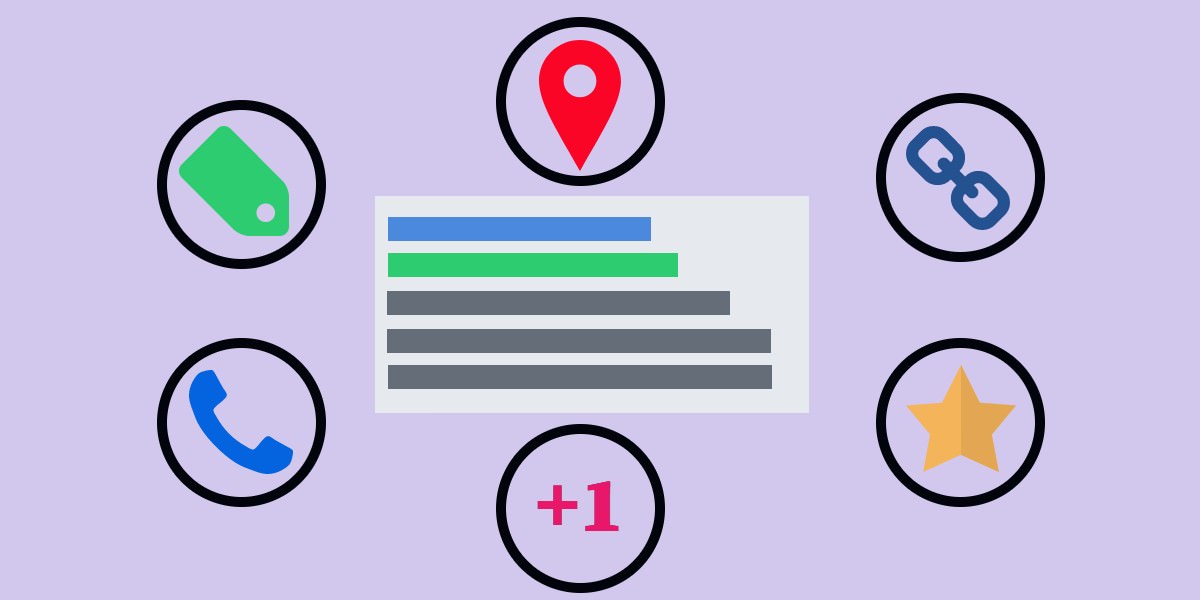 Ad extensions are those extra bits of relevant information about your business, such as phone number, call button, address or a link to a particular web page, and can increase click-throughs by making it easier for people to learn about your business.
Mostly, advertisers know that ad extensions allow you to show extra information in your AdWords ads, but very few know how to use them to their fullest potential. Ad Extensions are powerful enough to increase your CTR, boost your conversion rate, and reduce the Cost Per Acquisition (CPA).
Apart from the above-mentioned advantages, ad extensions also highlight the benefits, features and other specifications of your product.
Here are the various types of ad extensions:
(I) Location Extension
This shows your address, phone number and a map showing your location to your customers which makes it easier for them to reach you.

(II) Call Extension
This type of extension shows your business phone number in the ad to make it easier for searchers to contact you.

(III) Sitelink Extension
The sitelink extension shows additional links to your website below the ad copy. By generating meaningful clicks, they can take people to specific pages on your website thereby generating new business for you.

(IV) Review Extension
This allows a third party to review your ads (such as customer ratings), making them more reliable and trustworthy.

(V) Callout Extension
You can add more text/info to your ads to make them stand out in the crowd.

(VI) App Extension
App extensions promote your apps across various devices like desktop, tablet and smartphones.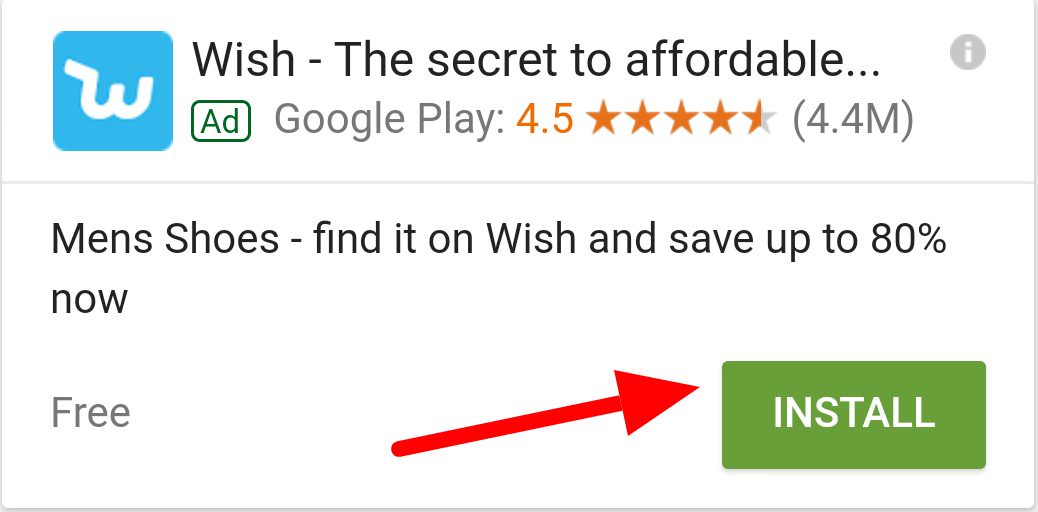 Learn More: 5 New Features Exclusive to the New AdWords Interface
5. Change Bid Adjustments
Bidding is another important element of Google AdWords that plays a crucial role in determining the success of your campaigns. Bid adjustment is a feature that helps you to stay active in the competition.
Although Google AdWords gives you a variety of bidding options, it totally depends on you to choose the ones that suit your needs and requirements. The two main types of bidding are manual and automated.
With manual bidding, you can manually make bid adjustments, whereas with automated bidding, Google AdWords provides you with a wide range of options. Out of these two bidding options, manual is highly recommended because it gives you maximum control and also allows you to make quick changes when required.
With bid adjustments, you can show your ads more or less frequently on the basis of when, where and how people are searching for your product or service.
Let's discuss the two types of bid adjustments:
(I) Device Bid Adjustment
This type of adjustment is used to show your ads more or less frequently for searches that occur on specific devices like computers, tablets or mobile phones.
You should get into the habit of adjusting bids based on whichever device is converting better. Analyze the previous month's data to monitor the performance of each device before doing a bid adjustment. For example, with the advancement in technology, mobile phones have taken a large share of conversions so you'll want to make sure that you keep up with any technological changes.
To change the device bid adjustment, click on the "Settings" tab and then click on "Devices."

(II) Location Bid Adjustment
This type of adjustment is used to show your ads more or less frequently for searches that occur in specific countries, cities and geographical areas. If one location is performing well, you should allocate more funds to dominate that particular geographical area.
To change the location bid adjustment, click on the "Settings" tab and then click on "Locations."

6. Apply Demographic Targeting
In Google AdWords, you can target your audience according to specific demographics, which allows you to target people according to gender and age. For example, if you run an online store for women's clothing, you can use demographic targeting to avoid showing your ads to men.
Keep in mind that demographic targeting for AdWords Search, Display or Video Campaigns include age and gender categories, whereas AdWords Display and Video Campaigns also include parental status, and AdWords Video Campaigns also include parental status and household income.
This feature has become very useful for advertisers whose products or services are actually targeted to specific customers on the basis of gender and age, be it Search, Display or Video Campaigns. As demographic targeting is an option that narrows your target audience, it prevents people who are outside of your chosen demographics from seeing your ads and wasting your ad spend with irrelevant clicks.
Learn More: Google Marketing Next: AI Will Be a Major Feature of AdWords in 2017
7. Use the Search Term Reports

A search term report is a report that gives you a list of search terms that people may have used before seeing and clicking on your ad. This report shows each and every query for which your ads were clicked. However, the search terms can be quite different from your keywords list.
The benefits of search term report are that it identifies the new search terms with relatively high potential and adds them to your existing keyword list. It also sorts the search terms that are not relevant to your business, which you can add as negative keywords.
With the help of search term reports, you can create separate ad groups for the best search terms. You can further enhance the efficiency of your ads by putting the best search terms in the headline of your ads or include as many keywords from the search terms into the body of your ads.
Final Thoughts
To stand out from the competition, you need to be better every single day, and no matter how well your AdWords campaign is performing, there is always room for improvement.
But before attempting to take your AdWords campaign to the next level, remember that there is no point in getting there without optimizing the current level first.
Optimizing your AdWords campaigns, level by level, is a habit you should get into in order to make your campaign more and more successful. Hopefully these tips will help you do that!