Twitter's New Ad Program Will Promote 10 Tweets for You Every Day
Twitter has a new ad program. For $99 a month, the social platform is willing to "do the heavy lifting" for you.
The ad program (which is still being tested) is a subscription-style service that businesses will have to pay $99 per month to access. The program automatically promotes their tweets every day.
According to Twitter, the service "automatically amplifies your tweets and profile" for 30 days and includes analytics to help you evaluate the reach, engagement, and followers brought in by the campaign.

All you have to do is continue to "tweet as you normally do and some of those Tweets will automatically be promoted." And then on a biweekly basis, you will receive a report "that details the consistent follower and engagement growth you earn by being in the program."
Recent News: 5 New Features Exclusive to the New AdWords Interface
Twitter's Invite-only Beta
The program is currently still invite-only. And since it's still in beta, Twitter is offering the first 30 days free.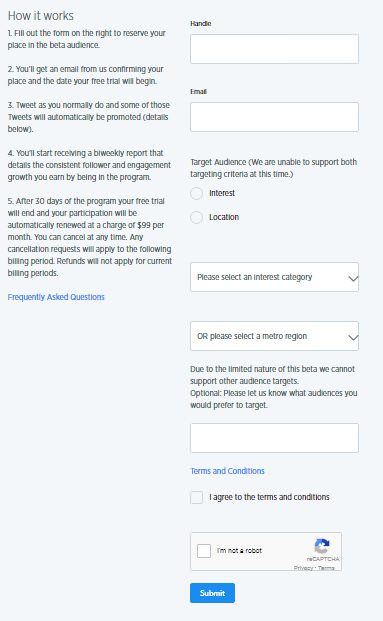 Twitter will run Promoted Account ads for up to 10 of the participant's tweets every day. The program automatically picks the first 10 tweets of the account, excluding retweets, quote tweets, and replies.
Twitter expects that the ad program's competitive pricing and low friction (you're not required to create any dedicated ads) will prove popular with users. Subscribers are free to cancel anytime, according to the company.
Recent News: Facebook Video Re-sharers Lose Access to Certain Metrics
Too Good to Be True?
The ad program doesn't come without trade offs. For instance, Twitter says, "not every Tweet that is added to your Promoted Tweet campaign will serve an impression, and the extent each Tweet is promoted may vary based on performance."
So one caveat to advertisers is that you don't get to pick which tweets will be promoted and your control over the audience is limited.
In the testing phase, Twitter is offering only two targeting criteria:
Interest-based – in which participants can pick from categories such as sports and parenting
Metro area-based – in which users can target their audience based on a U.S. metro area such as New York, Los Angeles, and Atlanta
Keep in mind that participants can only pick one of the two types of targeting.
Twitter asks you to give up the normal ad platform in order to participate in the beta for the new ad platform. "In order to participate in this private beta program your previous ads account will no longer be accessible."
What do you think? Would you pay the $99 to try it out?