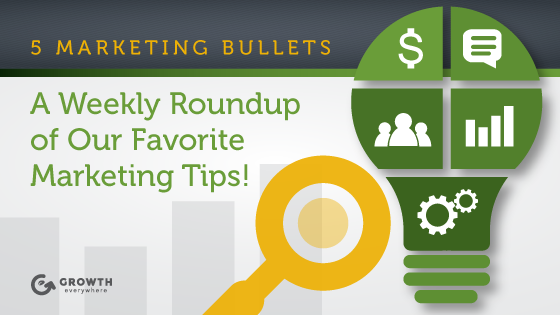 This post originally appeared on Growth Everywhere, a marketing and business growth blog.
Happy Friday, everyone! Before you head off into your weekend, check out this list of the latest in marketing news.
These are my top five favorite marketing pieces from this week:
Facebook Rolls Out Instant Articles To All Publishers – As of April 12, any publisher will be able to host content directly on Facebook. What does this mean? We all know that a slow-loading page not only drives everyone crazy, but also drives traffic AWAY from your site. So Facebook decided to solve this pain point of redirecting users to read content off-site by offering "Instant Articles." Seems like a win-win-win (for publishers, users, and FB) to me!
Boost Email Signups by 785% with 10-Minute Content Upgrades – If you're not including a content upgrade (a free download, such as a checklist, a cheat sheet, a podcast transcript, a quick-start guide, etc.) in every post, you're missing out on a valuable opportunity to convert readers into customers. Why do these work so well? Because the minute you give people something for free, you've created a relationship. This SumoMe article shows you how to create a quality content upgrade in just 10 minutes.
We Analyzed the HTTPS Settings of 10,000 Domains and How It Affects Their SEO – Here's What We Learned – The folks at ahrefs.com analyzed 10,000 domains to answer the question "How well do they use HTTPS to improve their SERP rankings?" and discovered that only 10% of them have a flawless HTTPS ("HTTP over SSL" or "HyperText Transfer Protocol Secure") setup. Why should you care? Because according to Google, HTTPS is now a ranking factor—something Brian Dean also discovered with his own research.
The Remarketing Grid: The Science of Ad Retargeting Audience Segmentation – This epic post from Digital Marketer takes all the guesswork out of ad retargeting audience segmentation and teaches you how to set up a remarketing grid. This applies to most platforms, including AdWords and Facebook, and really allows you to picture your various target audiences. P.S. Notice the content upgrades in this post?  🙂
Turn Your AMP Up To 11: Everything You Need To Know About Google's Accelerated Mobile Pages – First came Facebook Instant Articles, then Apple News (basically "fancy news aggregators with custom renderers built on top of proprietary syndication formats"), and now Google Accelerated Mobile Pages (AMP)—a modern new way to consume news on mobile devices with open-source, web-based technology. This article details what AMP has in common with the other two, how it's different, and why we should all get ready for this inevitable implementation.
In case you missed it:
Latest blogs from Single Grain:
Latest blogs from Growth Everywhere: