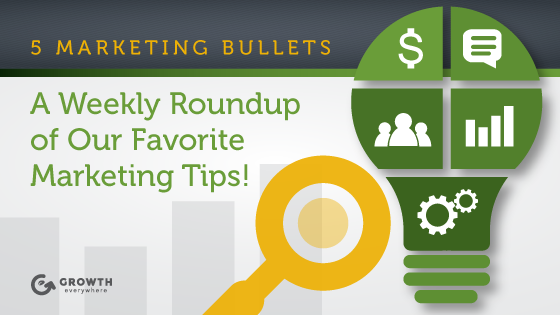 This post originally appeared on Growth Everywhere, a marketing and business growth blog.
Hey everyone, happy Friday! Before you head off into your weekend, I hope you'll enjoy the latest marketing news.
Here are my top five favorite marketing pieces from this week:
Great Content ≠ Long-Form Content – Everyone "knows" that long-form content tends to get more engagement, shares, and higher rankings than short posts, right? But, as Rand Fishkin says in this article, long-form content is not the same as great content. So rather than write only super long posts, you should be trying to write content that your audience wants and needs.
The Buzzfeed Approach to Social Media Strategy – When starting to write a post about how BuzzFeed tailors its content to different social networks, the author discovered that they aren't doing anything all that special. "It's easy to treat social media as just another traffic-generating channel. Posts are mostly promotional or product-oriented, with the occasional and reluctant "engagement"-related post sprinkled in." For BuzzFeed, "it's just old-fashioned branding: associate your brand with the right emotion and put it in front of as many relevant people as possible."
The Ultimate Pagination Guide – This epic post is all about pagination, which is a system to organize content on websites. Typically pagination is shown with arrows or "previous" and "next" buttons, and this guide goes into great detail about the effect pagination has on the structure of your site, usability, and SEO.
How to Reach 5 Million People Per Month (Without Any Writing Skills) – This post by Tim Ferriss is all about his first "public exploration" of the business and art of podcasting. Even though there's still a lot of room for improvement, he writes about the lessons he's learned so far. In this post, he shares the first bunch of lessons, which is a must-read for any aspiring podcaster. As Ferriss says, "Borrow, be ridiculous on occasion, and be yourself. This is one medium where it can pay 100-fold to simply be you: warts, weirdness, and all."
The Scientific Marketing Strategy Behind Exponential Growth – For anyone who's ever read an article about marketing, got excited, but then didn't see the same success as the author, this post is for you! The difference between those who succeed and those who fail is that the former are haphazardly implementing the marketing tactics they read about, while the latter are using a systematic and scientific marketing strategy.
In case you missed it:
Latest blogs from Growth Everywhere:
Latest blogs from Single Grain:
What Is Inbound Marketing? – The short answer? Inbound marketing is any marketing activity that brings leads and customers to you through SEO, social media, PPC, content, etc. Read on for the detailed answer:
What Is Facebook Canvas: A Complete Guide –Facebook Canvas is a new and effective marketing tool that can inform, entertain, and encourage sales among users. Here's what you need to know: