As a far more aggressive form of marketing than options like SEO and content marketing, direct response marketing can be an excellent way to generate leads quickly when your company needs to ensure rapid growth.
However, the wrong direct response campaign can also lead to frustration among your audience and harm your brand reputation.
That's why working with a direct response agency is a good idea: You leverage all the benefits of direct response marketing without the potential downsides.
---
---
Top 5 Direct Response Marketing Agencies
Now that you have a good understanding of the direct response marketing landscape and how this environment works, you're almost ready to start choosing the agency you want to work with.
The agency that's best for you will depend heavily on what you want to accomplish with your direct response campaigns, but here are some of the top options to consider.
Specializes In: Paid advertising, direct response, inbound marketing
Top Clients: Salesforce, Uber, Amazon
Pricing: Custom based on your requirements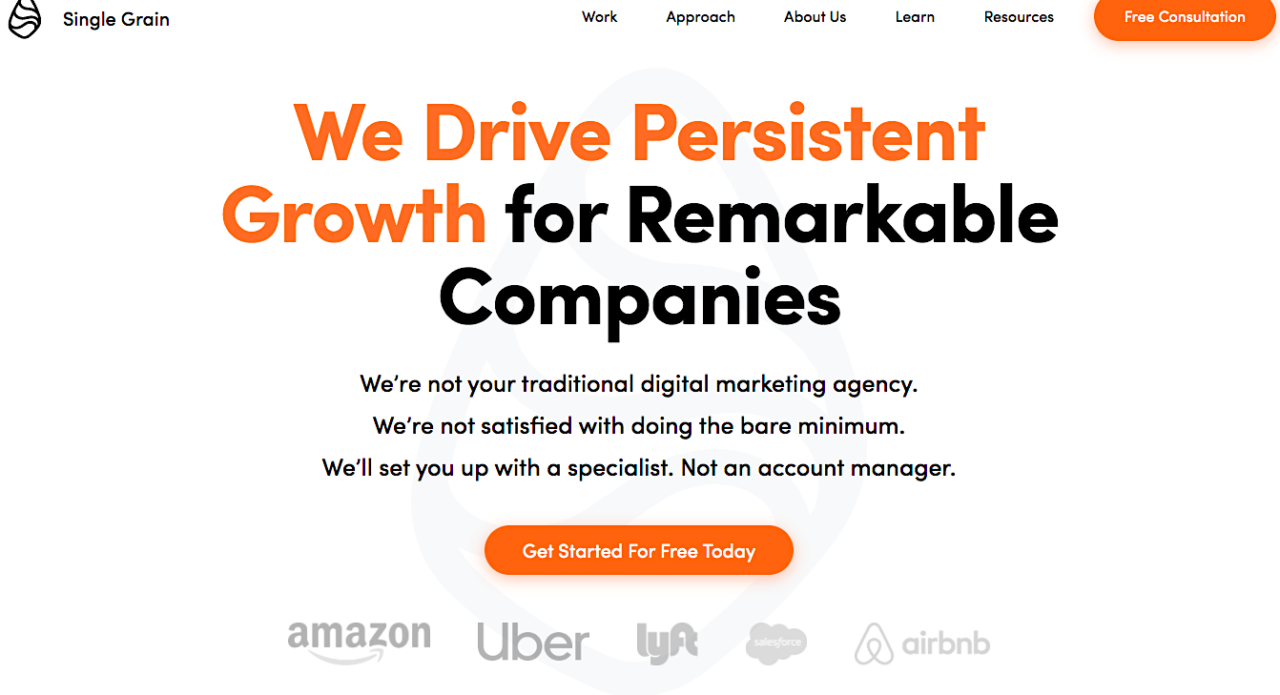 Why settle for a standard outbound marketing agency when you can get all the benefits of inbound and outbound marketing in one package? Single Grain is a full-service digital marketing agency capable of helping with every aspect of your online and offline marketing strategy. With a focus on high ROI and rapid growth, and a custom strategy for each client, Single Grain has helped countless companies scale and thrive over the years.
This is an excellent choice for companies making a start on the advertising strategy, who want to be able to access all kinds of powerful tools for growth and demand generation. The Single Grain team has a record of success working in virtually all marketing environments, including social media, e-commerce and NFT/crypto marketing. They are skilled in PPC, SEO, email and even audio marketing that's helped their clients address every touchpoint throughout the customer journey.
What's more, with the experts at this agency, you can rest assured you're going to get a highly transparent and reliable service, with regular reporting and analytics to highlight your growth. They'll set you up with a specialist, not an account manager. You can start with a direct response campaign and then collaborate with Single Grain on SEO, content marketing and so much more.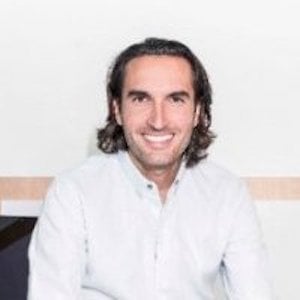 Yaniv Masjedi
CMO, Nextiva
Their expertise has helped Nextiva grow its brand and overall business
2) Taktical
Specializes In: Paid advertising, social media
Top Clients: Ellen, Elite Daily, Chase
Pricing: Custom based on your requirements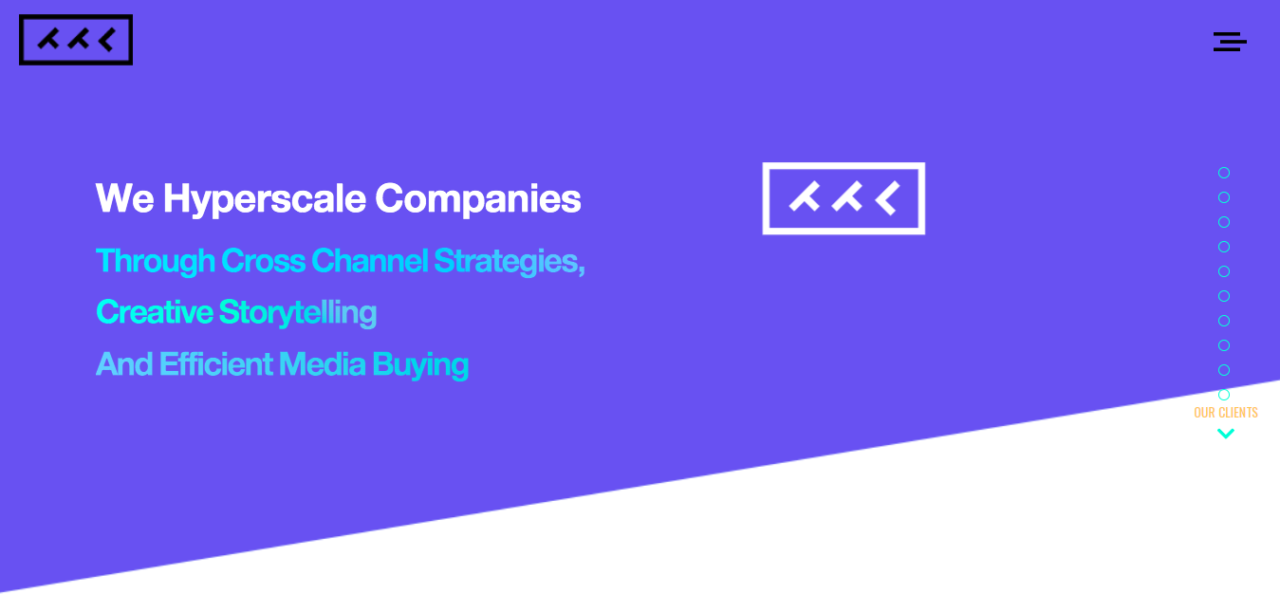 Taktical is another agency that offers a wide range of advertising and marketing options for companies hoping to achieve rapid growth. If you need help making sure you stand out on a range of social media channels and paid advertising avenues, Taktical has you covered.
With extensive experience working with a wide range of top brands, this agency knows what it takes to achieve fast growth and generate demand for your brand. They work extensively with every client to design a bespoke marketing strategy based on your unique goals, your target audience, and a range of other important factors.
Like other leading direct response agencies, Taktical doesn't just focus on outbound campaigns; they can also help you with all kinds of other content creations strategies. The award-winning company is particularly effective at social media marketing.
Related Content: How to Use Social Media for B2B Lead Generation
3) Mynt Agency
Specializes In: Direct response marketing, brand building
Top Clients: Blue Apron, Honeybee, Injured.com
Pricing: Custom based on your requirements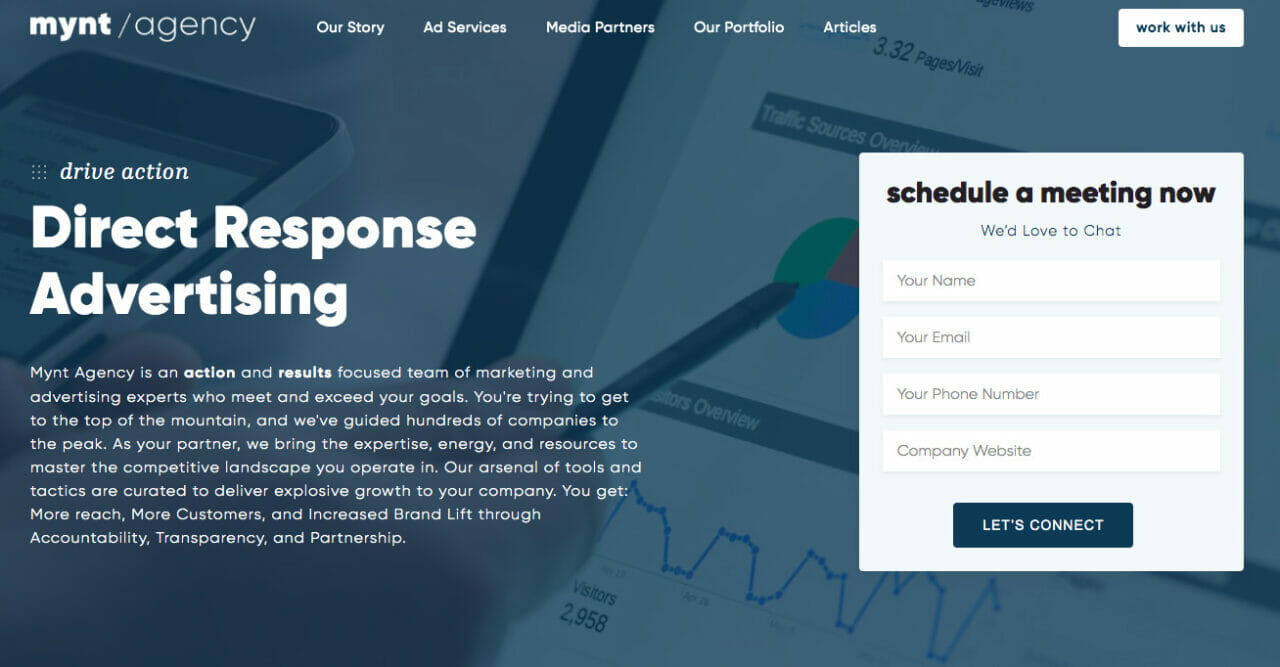 One of the few companies focused on just direct response marketing, Mynt is a leading agency that offers rapid results when you need to attract attention to your brand fast. The team of advertising experts can work with you to build intelligent marketing campaigns designed to generate increased brand lift, reach and customer loyalty.
With customized campaigns to suit every industry, Mynt Agency dedicates significant time and effort to getting to know your company before they start any advertising campaign. This ensures that the company can deliver the kind of personalized and rapid responses today's market-leading brands are looking for in a competitive environment.
The team can work with you on the design and development of landing pages, web pages and comprehensive ad campaigns. The team also offers extensive reporting and analytics services so you can track the results of your campaigns across every channel. According to the company, some of their customers have achieved a 300% increase in high-intent lead volume within three months.
Related Content: SaaS Lead Generation: How We Improved Axure's Lead Quality Overnight
4) ProMedia
Specializes In: Direct response, content creation
Top Clients: MSBC, HGTV, Food Network
Pricing: Custom based on your requirements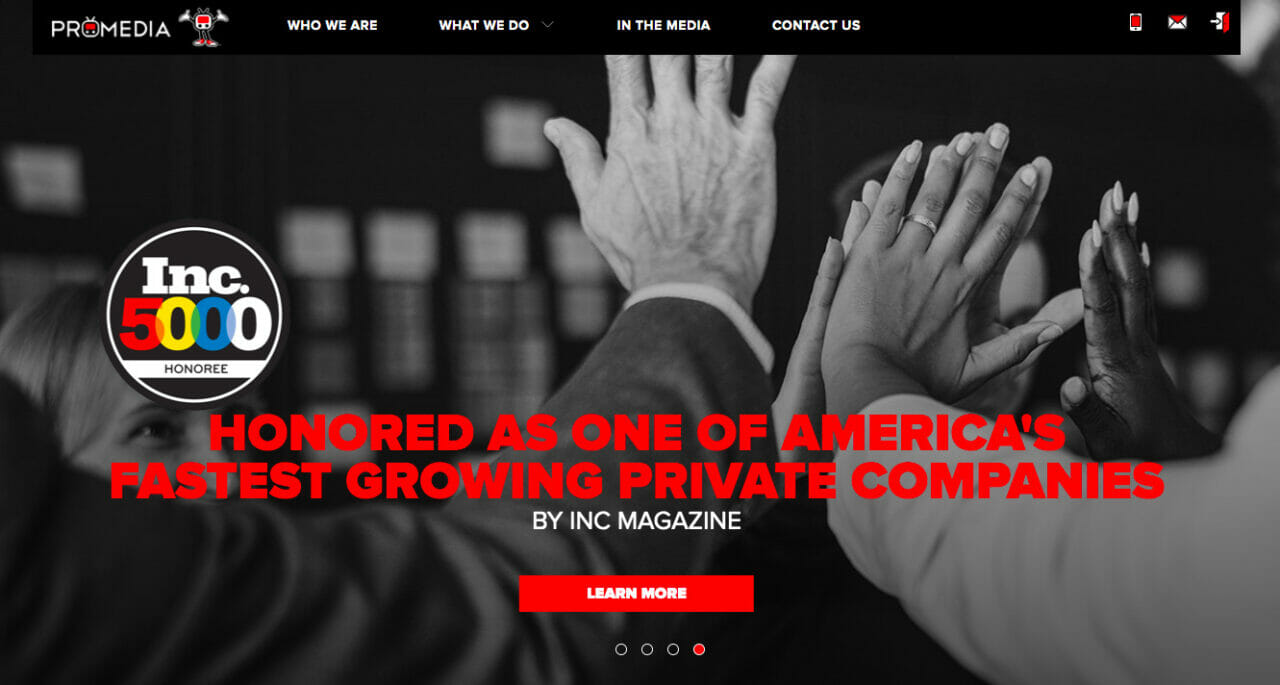 Known for working with a wide range of high-end brands like CBS and ESPN, ProMedia is a company dedicated to generating rapid attention for their clients. The agency can help with all kinds of content production for your ad campaigns so you don't need to pay extra for services to design your radio, TV and print assets.
With ProMedia, you'll get a bespoke strategy built for your needs and focused on generating as many leads for your company as possible in a short amount of time. With this company, you can attract your audience across a range of channels, both online and offline, and you'll be able to track the results of your campaigns every step of the way with in-depth analytics.
ProMedia has earned an excellent reputation for its customer service and it's been named one of the top advertising agencies and fastest-growing small businesses in America.
Related Content: Hulu Advertising 101: A Guide to Running Streaming TV Ads
5) Voy Media
Specializes In: Direct response, social media
Top Clients: Trinity Hills, Lacoste, Paw.com
Pricing: Custom based on your requirements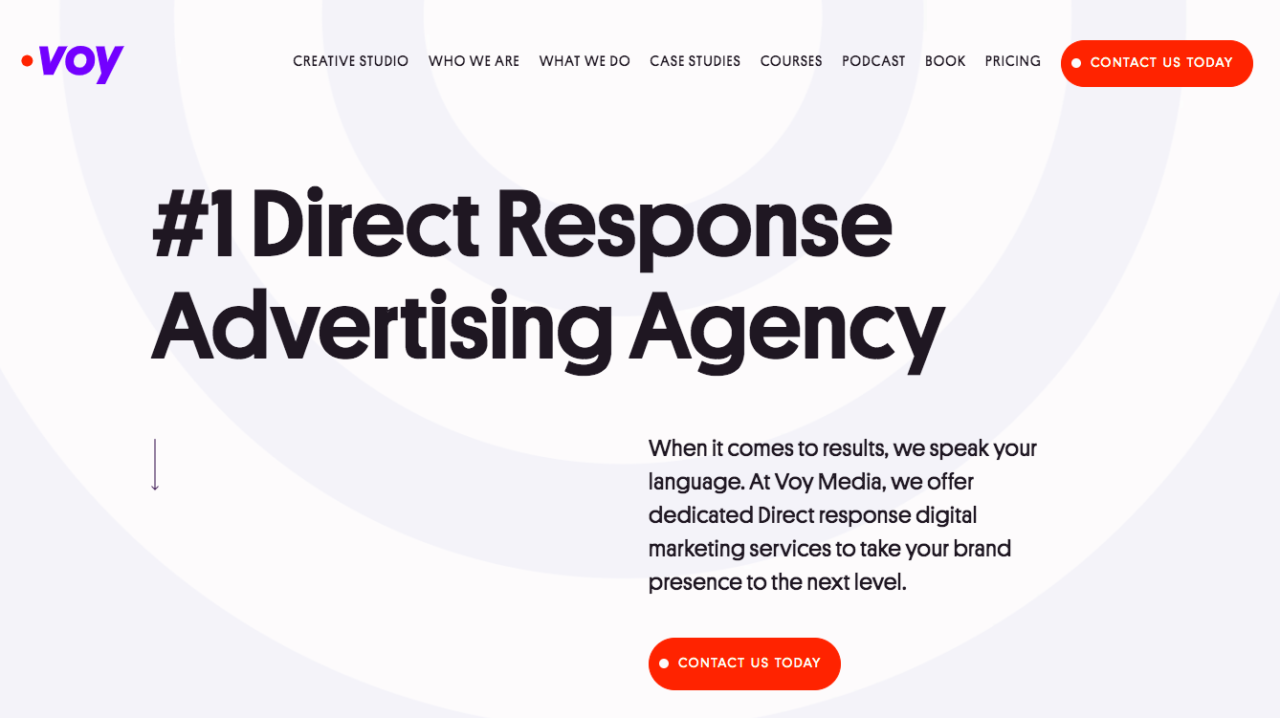 A leading innovator in the direct response marketing world, Voy Media promises exceptional service to every client, delivered through custom-made marketing packages. They offer a host of different inbound and outbound marketing strategies, with access to a full creative studio where you can build all your brand assets.
This full-service advertising agency can support you with strengthening your sales and marketing strategy, while working with you on brand development and rapid audience engagement. Custom direct response marketing campaigns are built by the internal experts to generate the best possible results for each individual company.
You'll also get extensive market reports and insights to help you track the performance of your campaigns.
Related Content: 9 Mission-Critical Lead Generation Metrics You Need To Track
What Is a Direct Response Agency?
Sometimes called "push marketing," direct response advertising is a form of promotion which involves presenting a target customer with an offer to convince them to buy something fast. The idea is to generate an immediate "response" from your customer with a sales pitch they can't ignore.
If you've ever bought something based entirely on an ad you saw online, you've been exposed to direct response marketing.
Direct response marketing agencies are experts in building "outbound" marketing campaigns. These companies use ads on YouTube, social media and Google, as well as a host of other tools like email marketing and direct mail marketing, to encourage immediate action from their target audience.
If your company needs to generate results quickly for a time-sensitive campaign, a direct response marketing firm can ensure that you reach the right audience fast. Direct response advertising also makes it easier to track a range of measurable metrics so you can learn more about your target audience and where you're most likely to make the most sales.
Direct response agencies will work with your company to generate immediate ROI and responses from your ad campaigns, assisting with things like:
Social media ads: Social media advertisements can be an excellent part of direct response marketing campaigns, due to the excellent targeting capabilities of most platforms. Your direct response agency can help you build ads and CTAs to drive immediate responses.
Referral programs: A direct response agency can help you connect with your customers through loyalty programs and other campaigns intended to help drive referrals to your business. Referral marketing campaigns can be ideal if you want to generate new leads quickly, while still creating significant trust among your customers.
Email and direct mail: Both email and traditional advertising campaigns run by your agency can immediately make users aware of upcoming events, flash sales and more. This improves your chances of a conversion, even if a customer has visited your store and abandoned their cart in the past.
Display ads and PPC: Agencies offering direct response marketing can help you to build pay-per-click advertisements for Google and similar search engines. This improves your chances of immediately capturing your customer's attention, wherever they are.
Audience and market research: As experts in advertising, your direct response marketing agency can often work with you on a consultant basis, giving guidance and advice. These professionals may make it easier for you to track down information about your target client, and the competitors in your industry.
The Benefits of Hiring a Direct Response Agency
A direct response agency can be an excellent investment for companies considering an outbound "push" marketing strategy for their business. While inbound marketing strategies do have a lot of benefits, they can also be time-consuming to produce and take a while to deliver the results business leaders need.
If you're running a campaign to generate attention for an upcoming sale, launch, webinar or other time-bound event, working with a direct response agency could be incredibly useful. Some of the benefits of hiring such an agency include:
Reputation protection: An agency specializing in direct response marketing will be able to generate quick results from your ad campaigns without putting your brand reputation, image or identity at risk. This is important as sometimes direct marketing campaigns can seem a little aggressive and overwhelming when used incorrectly.
Improved ROI: A direct marketing agency will be able to get the best ROI from your promotional investments by ensuring that you only spend your money on strategies that are going to generate results. They'll assess the full range of direct marketing strategies you can use and suggest the options most suitable for your goals.
Better insights: A direct response agency can help you better understand your target audience, your competitors, and the market you're working in. Most of these firms will offer insights into your campaigns with extensive reporting and analytics. Outbound marketing campaigns can offer much clearer metrics than inbound alternatives.
Ad creation support: These agencies can help you design the best possible ads for your audience in a range of different environments. Most of these professionals will be experts in developing content for social media, as well as designing email templates and comprehensive display campaigns, so you don't have to hire designers and content creators in-house for your business.
Access to new ideas: A direct response firm can give you new ideas on how to advertise your company and generate new attention for your brand. They can show you how to use QR codes and different kinds of promotional techniques, as well as how to examine the success of your campaigns using UTM codes and other tools.
Related Content: 8 Key Demand Generation Strategies to Capture & Convert High-Quality Leads
How to Choose a Direct Response Marketing Agency
Direct response marketing is still one of the most effective ways to capture the attention of your audience as quickly as possible in a time-sensitive situation: You can quickly generate attention for sales and upcoming promotions, or just attract interest in your new product launch or webinar.
However, because direct response marketing is such a common and effective tool in the digital landscape, there are also a huge number of agencies to choose from. While the perfect direct response marketing agency will depend heavily on your needs, there are a few things you can look for to improve your chances of finding the right one.
Industry Knowledge
A company with an existing knowledge of your industry and the kind of customers you serve will always be able to deliver better marketing support. For instance, if your direct response agency has worked with DeFi or NFT companies before, they'll know exactly what it takes to make your brand stand out among your target audience, and how generate better results for your brand.
A marketing agency with an understanding of your industry will also have a better grasp of the regulations around how you can reach out to your clients and what sort of marketing strategies you should use. After all, it's important to ensure that your ads remain compliant.
Marketing Services
The exact marketing services offered by your direct response agency will differ depending on who you choose to work with. If you specifically need to work with a company with a good understanding of how to use paid Facebook and Instagram ads, it's important that your chosen agency offer these options ahead of schedule.
Direct response marketing can include everything from direct mail ads, to email promotion, to advertising across a range of social media and search platforms. Finding out exactly what kind of services the agency you're thinking of hiring offers is crucial for your success.
Service Transparency
Aside from simply ensuring that your marketing agency can offer all the kinds of advertising you want to take advantage of, it's also important to make sure that they're capable of offering you full transparency and insights into their efforts every step of the way.
You should be able to log into a system and track the kind of results your email marketing campaigns are getting and see why your agency has chosen certain social media channels for your brand. Look for a company that can guide you through the direct response experience and offer extensive reporting and analytics every step of the way.
Access to Valuable Tools
A good marketing agency should have all the tools required to get the best outcomes from your marketing campaigns. This will include access to graphic design tools so you can stand out on channels like Instagram and Facebook, as well as content creation tools and reporting systems, so you can track the results of your campaigns.
Find out what kind of technology your direct response agency relies on in advance, so you can get a good insight into how this software works before you start working together. Checking out the tools your agency uses will also help you determine what kind of ads they can create for you.
Related Content: 17 Best Paid Media Tools for Marketers
🚩 Red Flags to Watch Out For 🚩
When choosing your direct response agency, it's important to look for a company you feel comfortable working with to build your brand reputation and attract new customers. Even if you're only hiring this agency for a single campaign, the work they do could have a lasting impact on the impression that your company makes.
Watch out for a brand with limited access to different content creation experts, as this will make it harder to create the wide range of assets you need to advertise your product or service.
It's also important to ensure that any brand you work with has a strong ethical policy and guidelines in place to make sure you don't fall afoul of any issues with regulations. For instance, you should never work with a company that buys email lists to improve your reach.
Related Content: Best Lead Generation Tactics for Content, Email & Social Media Marketing
Ready to Hire the Right Direct Response Agency?
Direct Response marketing is still one of the best ways to generate rapid attention for your company among customers you most want to target. If you're looking for a quick way to create attention for a time-sensitive campaign, a direct response agency can help you achieve the right results.
Just make sure you learn as much as you can about the agency you choose in advance, so you know you can trust the company to protect your brand image and deliver as many new opportunities as possible.
Ready to get started with direct response marketing? Contact the Single Grain team today to start building your custom campaign.
Schedule your FREE consultation with Single Grain's direct response marketing experts to discuss your needs.  👇