8 Actionable Steps for Conducting an Ecommerce CRO Audit
Your ads are on point, your SEO is firing on all cylinders, and your traffic is on the rise – but your online store isn't generating the kind of sales you were expecting.
If that sounds familiar, it's time to conduct a Conversion Rate Optimization (CRO) audit for your e-commerce website to identify what's preventing you from turning more visitors into high-paying customers.
In this guide, we'll talk you through the simple step-by-step process of conducting an effective e-commerce CRO audit that could be a game-changer for your business.
What Is a Conversion Rate Optimization Audit?
A CRO audit is a comprehensive analysis of a website to determine opportunities for improving its conversion rates. The audit typically involves analyzing the website's design, user experience, content and other elements that impact user behavior and engagement.
The main goal of a CRO audit is to identify the strengths and weaknesses of the website, such as:
User Experience (UX) – How easy and intuitive is it for users to navigate the website and complete desired actions?
Design – Does the design of the website align with the brand's aesthetic and appeal to the target audience?
Content – Is the content on the website clear, engaging and persuasive? Is it optimized for search engines?
Calls-to-Action (CTAs) – Are the CTAs prominent, clear and compelling?
Analytics – Are there any issues with tracking and analytics that may be impacting the website's ability to measure and optimize conversions?
After conducting a CRO audit, businesses can better understand how to improve their website's conversion rates and ultimately drive more sales.
Dive Deeper: 75+ CRO Statistics That'll Help You Increase Sales in 2023
What Does a Conversion Audit Include?
Carrying out your own CRO audit means considering every single factor that has the potential to affect your conversions.
The most comprehensive audits should cover all of the following:
1) Technical SEO and Website Performance
This part involves analyzing various technical aspects of the website that can impact its visibility in search engines and user experience. Here are some key areas that may be examined:
Website speed and performance – If pages take too long to load, or if they don't function correctly and consistently across all devices and screen sizes, this could lead to high bounce rates.
Mobile responsiveness – With more and more users browsing websites on their mobile devices, it's essential to ensure that your website is mobile-friendly and responsive.
Site architecture – A well-structured website can make it easier for users to navigate and find what they're looking for.
Technical SEO – The technical SEO part of the audit may involve analyzing various technical aspects of the website, such as meta tags, URLs, redirects, and XML sitemaps, to ensure that they're optimized for search engines.
Website security – Keeping your website secure and protected from malware and other security threats is essential for building trust with users.
Dive Deeper: 10 SEO Audit Tools to Maximize Performance (Free & Paid)
2) Product Details
Production details need to demonstrate value and tie features to tangible benefits, while clear pricing, shipping information, and other vital information (such as size, weight, material etc.), should be visible and accessible.
Here are some key areas that may be examined:
Product descriptions – The product description should be informative (such as size, weight, material etc.), persuasive and optimized for search engines.
Product images and videos – High-quality product images and videos are essential to showcase the product and provide users with a better sense of what they're buying since they are unable to touch the product or try it on.
Product pricing & shipping – The pricing of the product can impact its perceived value and influence users' purchase decisions, and an audit can review whether it's competitive, clear and prominently displayed. Providing extremely clear shipping fees (or offering free shipping at a certain price level) can also persuade customers to purchase from you.
Product reviews and ratings – Positive reviews and ratings can help build trust with users and increase the likelihood of a purchase.
Cross-selling and upselling opportunities – Adding "you may also be interested in" or "other customers also bought…" can help increase the average order value and drive more sales: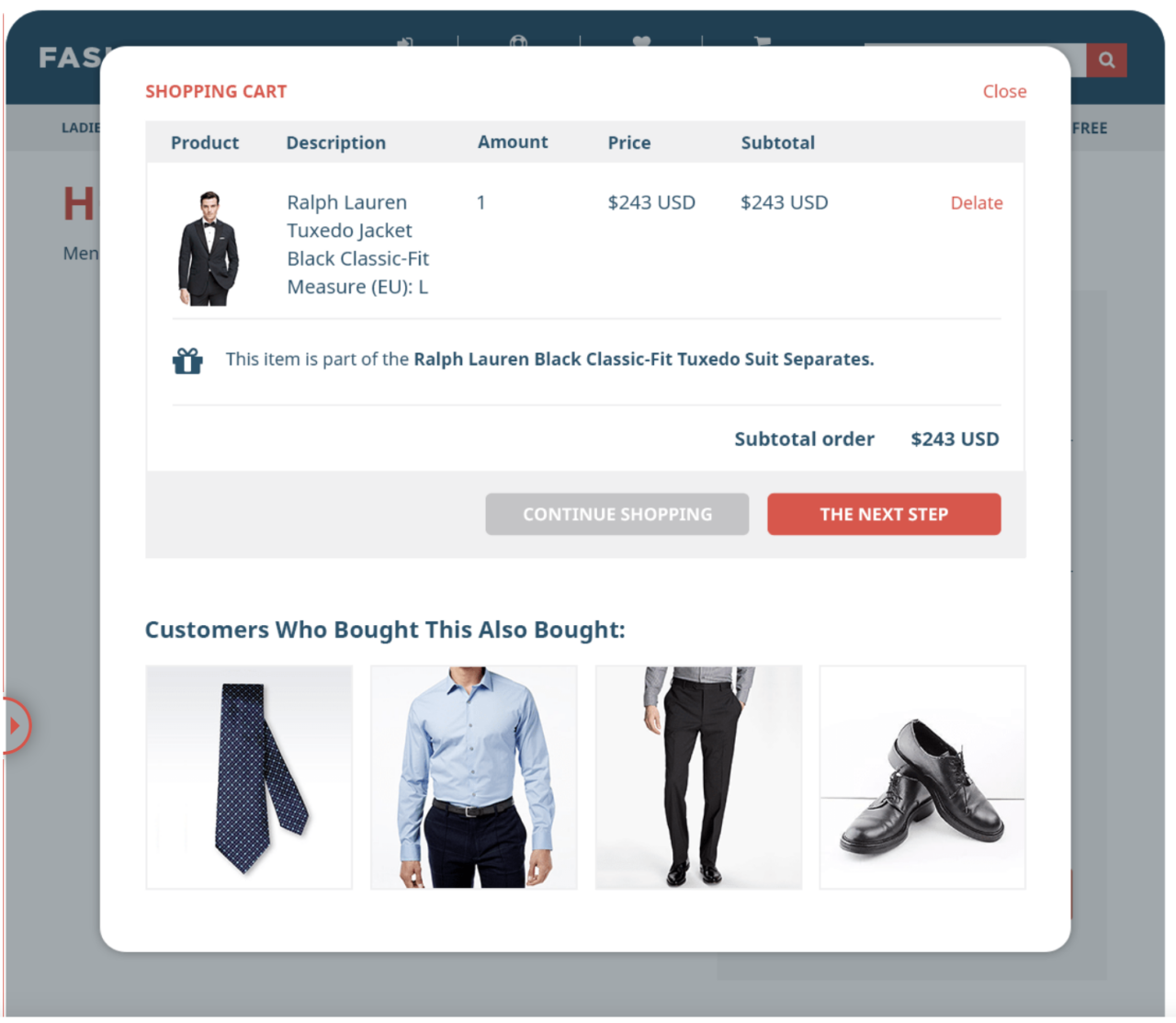 Dive Deeper: How to Set Up Your E-commerce Product Page for Maximum Conversions
3) Product Images
Few people are likely to buy your products if they're displayed in poor-quality photos.
Your product images should show your items in the best possible light and displayed in high quality throughout your site. Ensuring that customers can zoom in and out and explore different parts of the product image will also enhance the user experience of your page to the point that it improves your site conversions: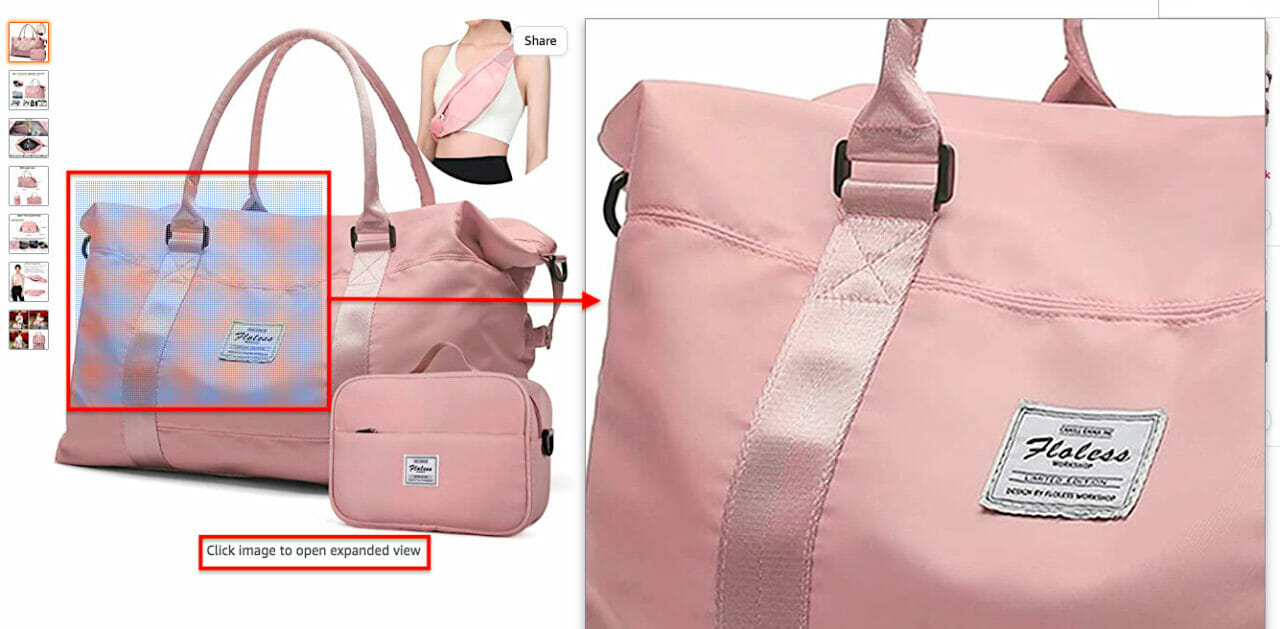 4) Design and Layout
Optimizing your content elements is a great place to start the optimization process, but if those elements aren't structured in an intuitive way for users to navigate, the difference it makes will be negligible at best.
This is why it's so important to include the layout of your pages in your conversion audits. Here are some key areas that should be examined:
Website branding – Branding should be consistent and align with the company's messaging and values. The audit may involve analyzing the logo, color scheme, typography, font size and imagery, to ensure that they're consistent.
Calls-to-action (CTAs) – The CTAs should be prominent, clear and compelling, encouraging users to take action.
White space and visual hierarchy – The use of white space and visual hierarchy can help to make the website more appealing and improve user experience.
Website layout – The layout should be intuitive and easy to navigate, with a clear hierarchy of information, such as this example from Max Daniel: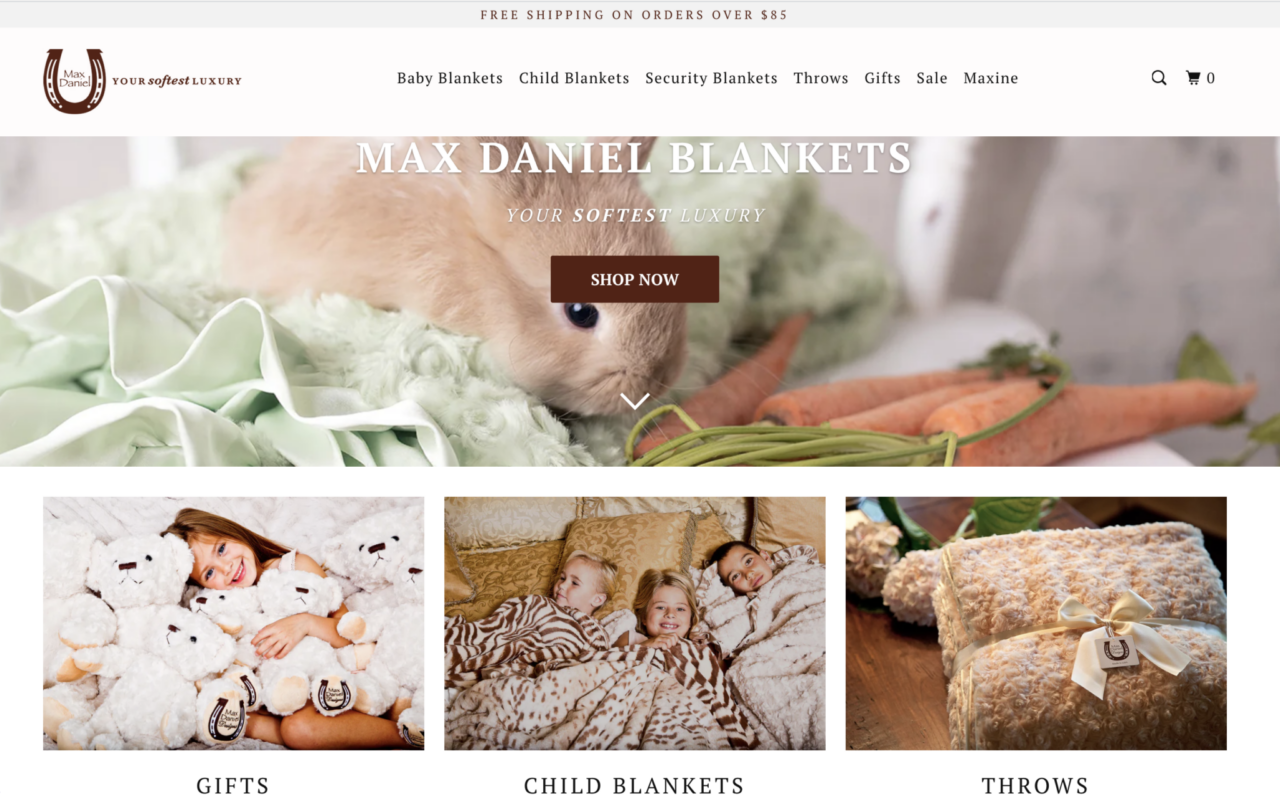 Dive Deeper: 10 Easy Product Page Design Strategies That Will Boost Your Conversions
5) Checkout Process
Lengthy or complicated checkout processes are a major hindrance to the conversion rate of your store, frustrating users to the point that they give up and leave.
Use your audit to assess whether you can make the process easier for your website users, and examine these key areas:
Cart abandonment rate – The audit will involve analyzing the reasons for cart abandonment and identifying any issues in the checkout process that may be contributing to it.
Simplifying the checkout process – The checkout process should be simple, mobile friendly, streamlined and easy to use.
Guest checkout – Not all users want to create an account before making a purchase and you may lose potential customers if you don't provide a guest checkout option.
Payment options – The checkout process should offer a variety of payment options to cater to different user preferences.
Security and trust – Users want to be confident that their personal and financial information is secure during the checkout process, so your audit will check the website's security measures, such as SSL certificates and secure payment gateways:
Dive Deeper: How Poor Website Security Negatively Impacts SEO Rankings
Why It Pays to Conduct an Audit
The process of an audit may be in-depth, but it's certainly one worth undertaking as even the smallest increase in your conversion rates can make a big difference.
For example, say you're a small online business making $5,000 per month with a conversion rate of 1%. Increasing that rate by only half a percent would bring in $7,500. That's an additional $2,500 or (to look it another way) a 25% revenue increase from a .5% conversion rate increase.
Dive Deeper: SEO and CRO Services: How to Use Both to Optimize Your Content
When Is the Best Time to Do a Conversion Rate Audit?
The best time to do a conversion rate audit is when you notice a decline in your website's conversion rate.
You should also conduct an audit when your site first launches or undergoes significant changes to the design, functionality or content.
Once that's done, you'll also benefit from scheduling a CRO audit at various intervals, such as once a year, either as part of a broader e-commerce audit or after you reach a specific number of purchases or sales targets.
Doing so will ensure that you're fully concentrating on the growth of your business and always on the lookout for opportunities to make more money from every click-through.
How to Do an E-commerce CRO Audit: Step-by-Step
1) Identify Which Conversions to Audit
As an e-commerce business, the conversions that make the most significant difference to your bottom line are obviously going to be customer purchases. So if this is your first time looking into conversion rate optimization, it pays to start there.
However, you may later decide to address other conversion goals, such as sign-ups to your members-only subscriptions or email marketing list.
Tackling these secondary conversions will undoubtedly ensure that you've got all the bases covered, but for the rest of this guide, we'll focus on optimizing those purchase conversions.
2) Identify Which Pages to Audit First
In an ideal world, you'd have the time to go through every single page, category and product on your website to make sure they're all set up for success.
You'll produce better results faster by prioritizing pages that get the most traffic but need the most help converting website visitors to customers.
The easiest way to discover your low-converting pages and categories is to gather data in Google Analytics. Assuming you've set up an event to measure conversions, you can analyze which pages are underperforming from a conversion standpoint.
With that done, cross-reference those pages with your web traffic reports to discover the ones likely to benefit from your conversion optimization efforts.
3) Analyze User Behavior
This next step is also made much easier with Google Analytics or other popular website analytics tools.
By taking a closer look at all the data for your page views, bounce rates and session durations, you should start to spot those pages where something isn't right.
For example, if your product pages have high volumes of traffic but also high bounce rates, there's clearly an issue arising the moment users land on the page, such as slow page load speeds or a poorly optimized product title.
On the other hand, if you're experiencing lengthy session durations but users still aren't purchasing, there could be any number of different factors at play, such as an ineffective CTA at the end of the page or an unnecessarily complicated checkout process.
From there, you can use top heat mapping tools such as Hotjar to explore how users move around your site and engage with it: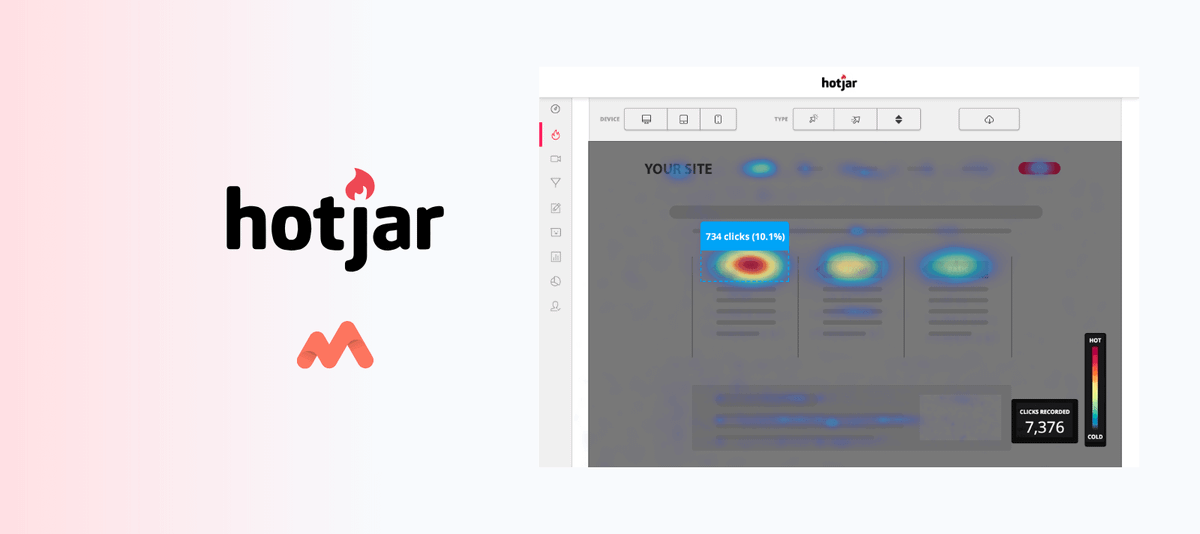 Such tools show you which parts of your site attract the most attention, where they click the most, where they scroll, and other valuable data.
Leading heat mapping tools also include recording features to capture real-time user experiences and watch them later. This alone may be enough to identify where non-converting visitors get frustrated or decide not to purchase.
If it isn't immediately obvious, comparing recordings of non-converting users to those who did convert may reveal glaring insights into problems with your site's usability.
4) Talk to Your Customers
The best way to discover why users aren't converting is to ask them.
As part of your conversion audit, you may consider adding pop-up surveys triggered when a user leaves your site or including a quick questionnaire in your abandoned-cart recovery emails to learn why customers didn't buy from you and what you can do to change that.
Dive Deeper: 15 Fast and Easy Ways to Improve Your Site's Conversion Rate
5) Tackle Your Low-Hanging Fruit First
By now, you'll have all the data you need to optimize your e-commerce website.
At this stage of the game, you'll benefit from taking care of any "low-hanging fruit," those quick and easy wins that can turn things around without too much effort.
Here, you'll be focusing your optimization efforts on tasks such as:
Addressing performance and other technical SEO issues
Simplifying your checkout process
Adding a one-click "Buy Now" option
Optimizing your product titles, descriptions and CTAs
Adding social proof (reviews, testimonials, etc.)
Providing accessible contact options for users who want to buy from you but need help
6) Develop Your Conversion Optimization Hypothesis
Once all the simple stuff has been taken care of, it's time to do more data analysis and create a hypothesis you can test to see which conversion optimization strategies may provide the most considerable boost to your site. There could be any number of opportunities to be taken advantage of.
For example, suppose your heatmap recordings show that users spend much time scrolling and moving their cursor around your navigation or product details but never make a purchase. That may be a tell-tale sign that some vital element like shipping information or even your "Add to Cart" button is difficult to find.
You would therefore reach the hypothesis that redesigning the page to make everything crystal clear would improve your conversions.
Or it may be that your exit intent surveys reveal that users don't understand how the product benefits them. In this case, you'd probably hypothesize that working on your value proposition, revamping your product description, or even adding a handy explainer video may be the secret to getting more conversions.
7) Conduct A/B Tests
Once you've reached a definitive conversion hypothesis, it's time to test it. And the most effective way to do that is with A/B split testing.
A widely-used technique in digital marketing, A/B testing involves launching two versions of the same page with one notable difference. That difference could be related to the content, design, functionality or any other factor you think is essential.
For example, suppose you concluded that your product descriptions might be the problem. In that case, you'd run two versions of the same product page, one featuring the original product description (Description A) and a second featuring a newly revised one (Description B).
The goal is to see which of these two product pages produces the most conversions.
If it's Description B, you can be confident that it was your descriptions after all and can take steps to optimize them where necessary. However, if Description A generates more conversions, it's back to the drawing board to develop a new hypothesis.
As another example, say your user feedback reveals that shipping costs are responsible for your high abandoned cart rates. In that scenario, you may hypothesize that a free shipping option triggered by certain conditions, such as cart total, would result in more customers breaking out their credit cards.
You could test this by running two pages, the original page with no free shipping and a second page with a clear message promoting the complimentary shipping offer. Again, if the second page produces the best results, you've clearly identified and fixed the problem.
Dive Deeper: How to Run A/B Tests that Actually Increase Conversions
8) Put Your Discoveries into Practice
Having conducted a comprehensive conversion audit, you should now be armed with a wealth of insights into what works and what doesn't when maximizing conversions for your online store.
Still, while you may have overcome all the obstacles and seized all the new opportunities presented by your CRO audit, that doesn't mean you can forget everything you've learned and fall back on old habits.
Going forward, your job is to apply what you've learned, putting the results of your A/B testing into practice and using conversion-optimization techniques you've found most effective on every product, landing page or collection page you create.
Dive Deeper: Best CRO Agency: Our Top 5 Choices in 2023
Key Takeaways: Conversion Rate Optimization Audit for Your Online Store
If you've learned anything from this guide, it should be that carrying out a successful CRO audit is nowhere near as daunting nor as tricky as it may first appear.
After gathering relevant data from tools such as Google Analytics and heat mapping software Hotjar, you can identify the quick wins and easy solutions that will start to increase conversions to your store in no time.
From there, you can dive deeper into your analytics data, creating and testing various hypotheses to discover new opportunities to boost sales and achieve your business goals.
Hopefully you learned how to do a CRO audit for your e-commerce store, but if you just want someone to do the work for you, Single Grain's CRO experts can help!👇
---
E-commerce CRO Audits FAQs
What are the benefits of a CRO audit?
Apart from the noticeable boost to your revenue, the main benefits of conducting a conversion rate optimization audit are that it can help you generate more customers and sales without upping your ad spend and gain deep customer insights that can prove invaluable across your business.
What tools do you recommend for CRO?
Google Analytics is the most valuable tool for carrying out your conversion audit.
Optimizely and Google Optimize are ideal for A/B split testing.
Hotjar is great for heat mapping.
OmniSend is a good choice for automated abandoned cart emails with surveying capabilities.
What are the most important elements of CRO to consider for eCommerce?
Your checkout process, site usability and product information should be among the top factors you keep in mind while auditing your online store for better conversions.