Digital marketers tend to focus on attracting new customers to a business because they measure success by the number of new clicks they managed to drive to a site.
Yet, returning customers are much more important to a business than first-time visitors. In fact, it costs 5x more to acquire new customers than it does to retain current ones and improving customer retention rates by just 5% can increase profits by 25-95%.
In another study, Barilliance found that returning visitors:
But there's more to it:
In most cases, driving people back to your site is either cheaper than generating new clicks or even free.
Returning visitors are more likely to buy from you: Those who return to your site feel more confident navigating around and they may even know what they came back for.
Returning customers may drive more sales by recommending your business to their friends.
In other words, returning customers buy more and yet require much lower marketing budgets: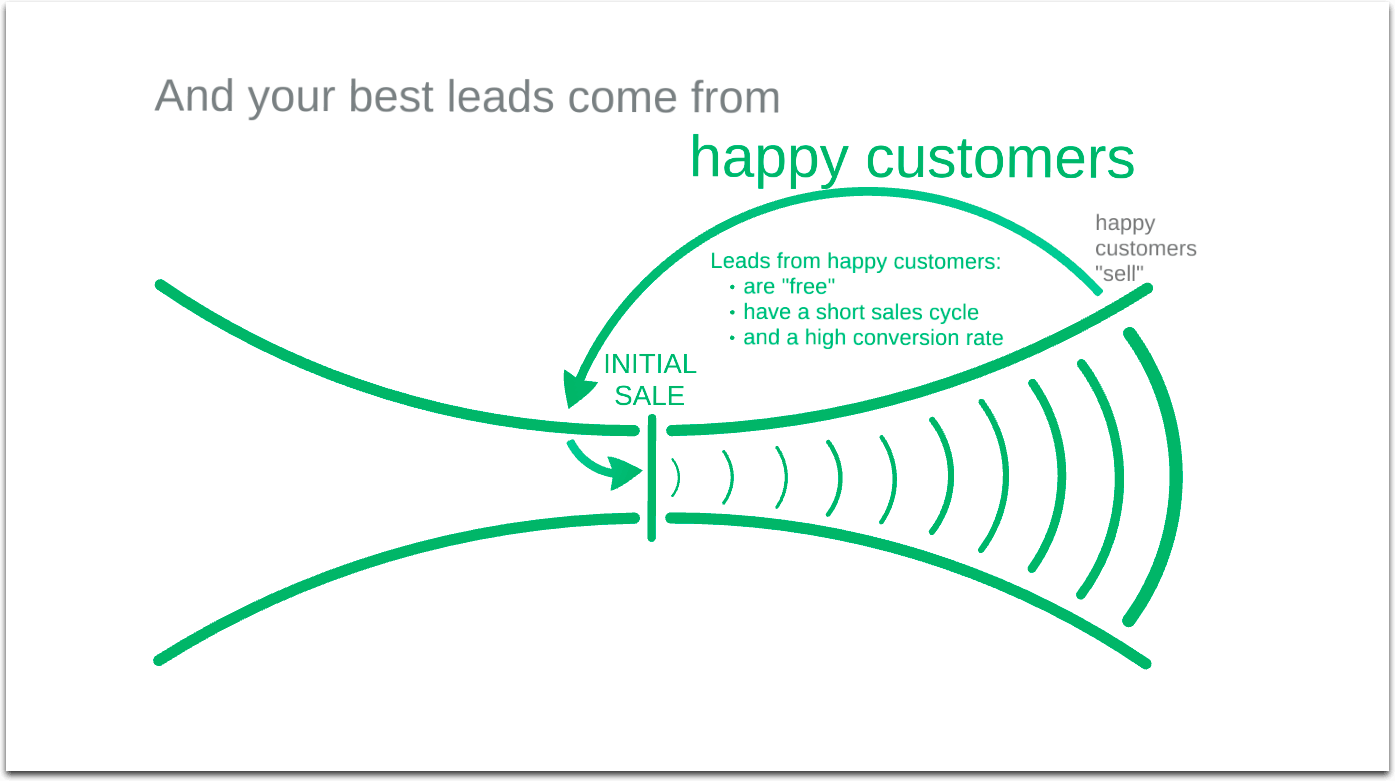 There are a few well-covered ways to grow your returning website traffic, which you are likely doing already, such as:
Remarketing campaigns on Facebook and Instagram, i.e. reaching out to your site's previous visitors on social media with a custom advertising campaign by using Facebook's tracking pixel
Email marketing automation (also referred to as drip campaigns), i.e. using advanced email marketing platforms to set up workflows that automatically send email messages based on your site users' actions, like subscribing to a newsletter, clicking a link, abandoning a cart, etc.
Here are 3 easy ways to grow your site returning traffic.
1) Measure and Research Your Return Customers in Google Analytics
Shirish Agarwal, founder of Flow20, says that your return visitors are the ones who are most likely to convert:
"This is the group most likely to buy from you. Once you know what your average number for this group is, you should monitor it each month to make sure that any of your other marketing efforts do not have a negative impact on this."
Generally, before trying to get them back to your site, it is wiser to start by learning a little bit more about your current returning visitors, such as their behavioral patterns and what drove them back.
Web analytics can give you lots of answers to what you are doing right or wrong, including:
With Google Analytics, there are a few ways to learn more about your site's returning visitors.
Dive Deeper: Google Analytics for Content Marketing: How to Track and Improve Your ROI
A) Learn How Visitors Are Flowing Through Your Site
Navigate: Audience > Users Flow
Click "New segment"
Choose "Returning users"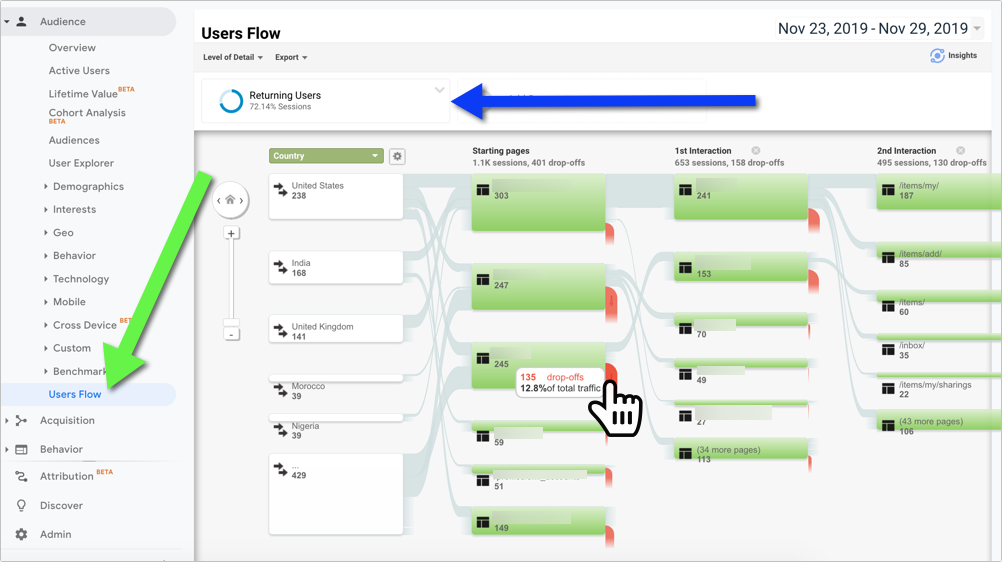 Here you can see which pages of your site lose most of your returning visitors. This likely signals usability problems that need fixing.
B) Identify Visitors' Favorite Landing Pages
Which pages drive the most return visitors? These are likely links that your customers are bookmarking in order to easily go back to your site. It is quite possible that you need to optimize these pages to serve your return visitors better, especially if you are seeing an alarming signal, like higher-than-usual bounce rate:
Navigate Audience > Behavior > New vs Returning
Select "Landing page" using the secondary dimension option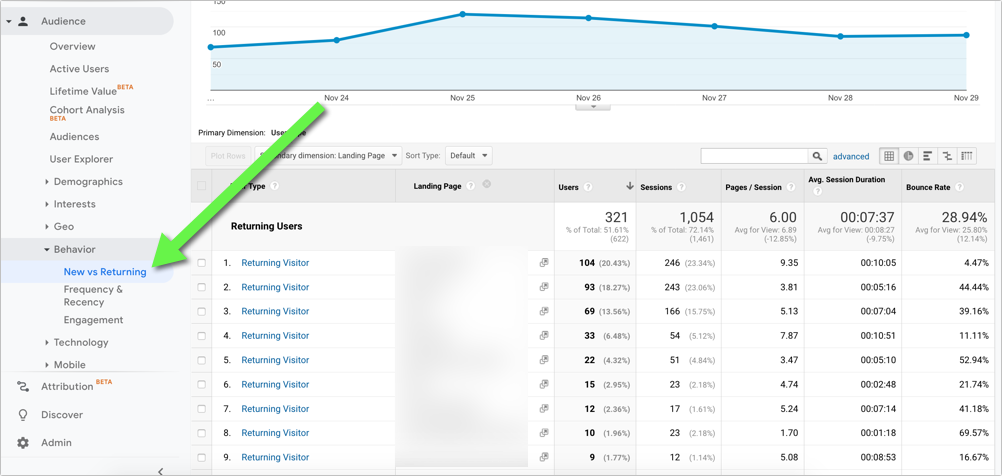 Dive Deeper: The Ultimate Guide to Creating a High-Converting Landing Page
C) Monitor the Overall Trend of Returning Visitors
Finally, if you start paying more attention to your returning visitors, you will hopefully see their numbers growing. But how do you measure that?
Google Analytics is here to help:
Navigate Audience > Behavior > New vs Returning
Save this report to easily access it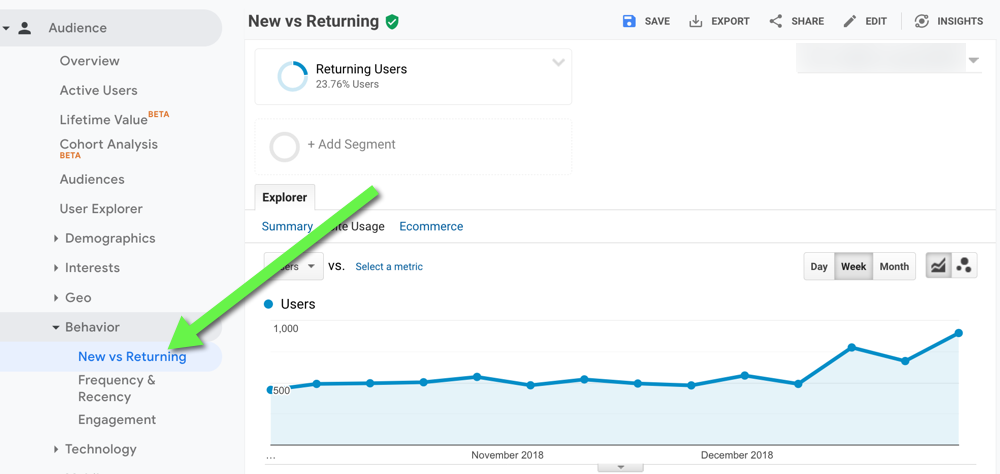 You can also use one of these plugins to pull your saved reports directly into your WordPress dashboard.
2) Nurture a Community Around Your Brand
Nurturing a community is one of the most effective ways to increase return visits. This simple tactic involves building brand familiarity and engaging your past customers on a regular basis, both of which drive eager buyers back to your site. Community building has other benefits too, such as boosting brand loyalty and inspiring word-of-mouth marketing.
Content marketing is one of the most important ways to build your own micro-community around your brand. How? Easy.
You can turn your one-time customers into loyal community members by educating them.
Click To Tweet
And one of the best ways to build a loyal community by educating your customers is to create a video course. In a nutshell:
A video course consolidates all your content marketing efforts around one ongoing project. It unites your team around one goal and keep all your marketing tactics better organized.
An educational video course can be both a top- and middle-of-the-funnel asset because it can attract new clicks and engage current traffic.
By creating a video course, you can drive brand loyalty and sales, especially if you pick a topic that complements the products or services you are selling.
And putting together a video course doesn't require any huge marketing budgets. You can use Kajabi to handle all the course management steps, from video hosting to building landing pages and sending drip emails: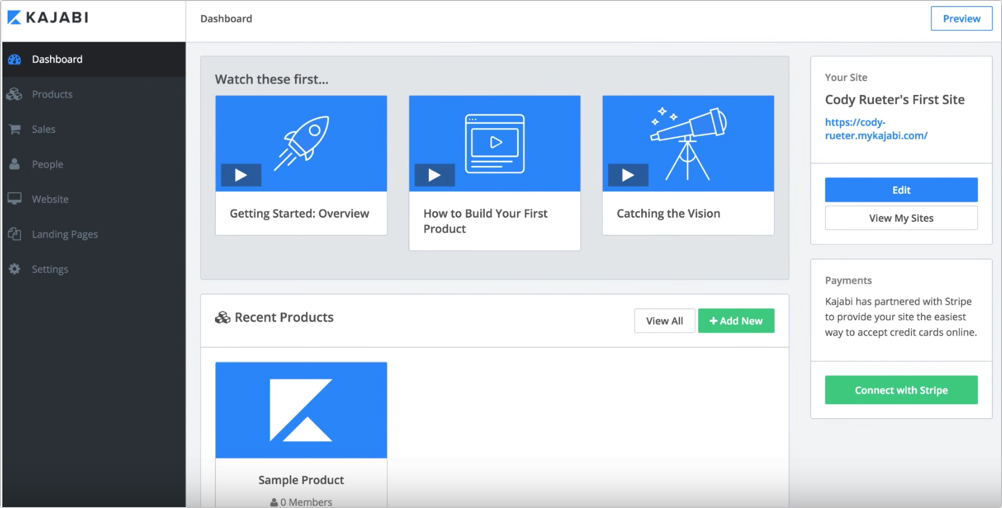 Kajabi will drive your customers back to your site by sending them personalized email updates and broadcasts. It also lets you segment your lists and learn more about your students from advanced analytics.
Dive Deeper:
3) Personalize Return Visitors' Experiences
Give your returning visitors even more reasons to buy from you by personalizing your on-page CTAs based on their past interactions with your site. You can easily do that with Finteza, an advanced comprehensive analytics tool that lets you create remarketing campaigns and set conversion goals to better target your past visitors.
For example, you can set up a custom advertising campaign that promotes your premium content to your customers who have previously read at least half of your free guide: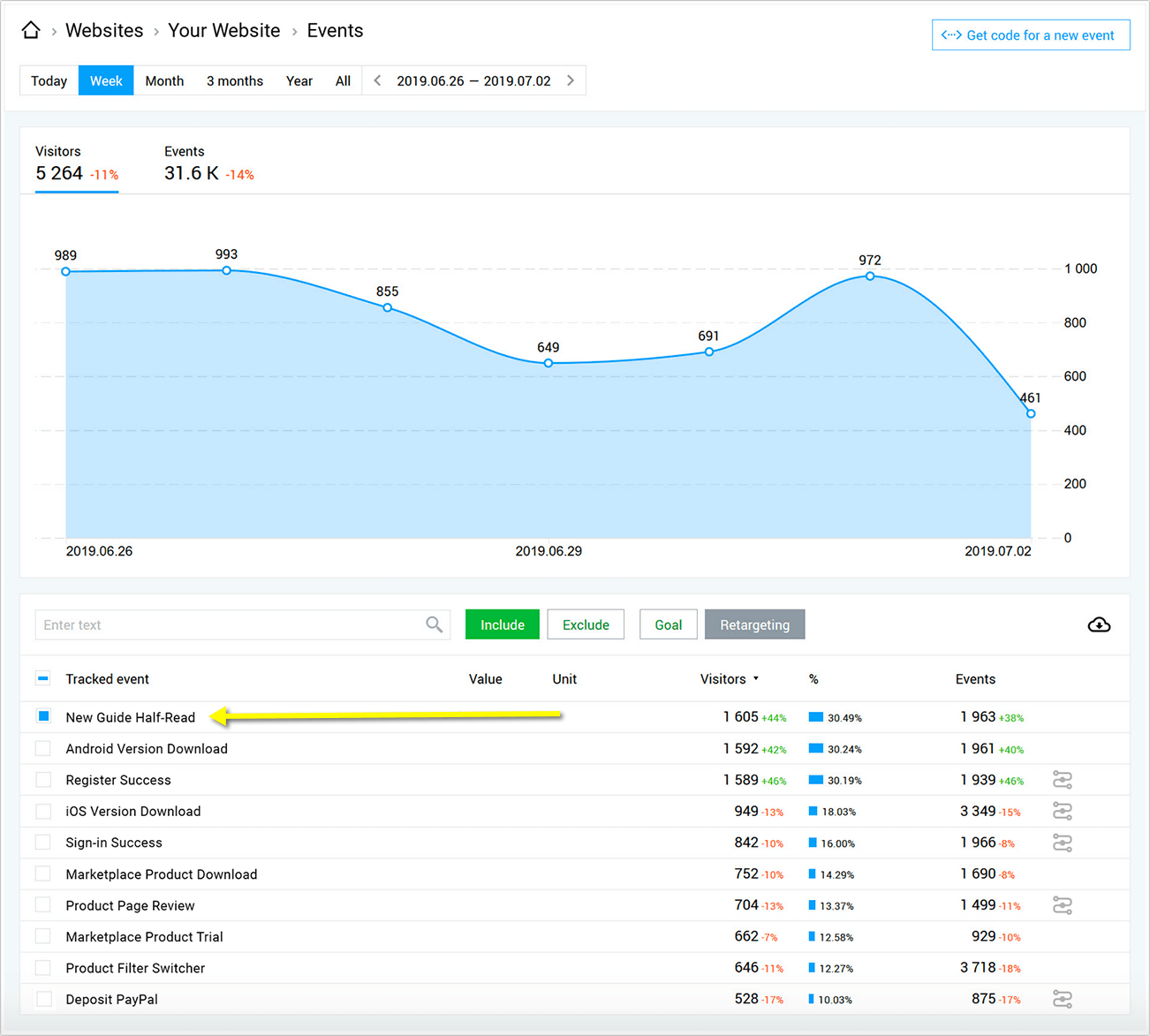 These are people who previously expressed interest in your content by reading at least half of an article. You can now convert more of them by serving them personalized ads that promote your book on the same topic.
Another great way to personalize your past visitors' experience on scale is to use AI-driven solutions that will research your customers' behavior and create personalized conversion funnels dynamically for each of them.
Alter is probably the best example here: It engages your site visitors by showing personalized content recommendations: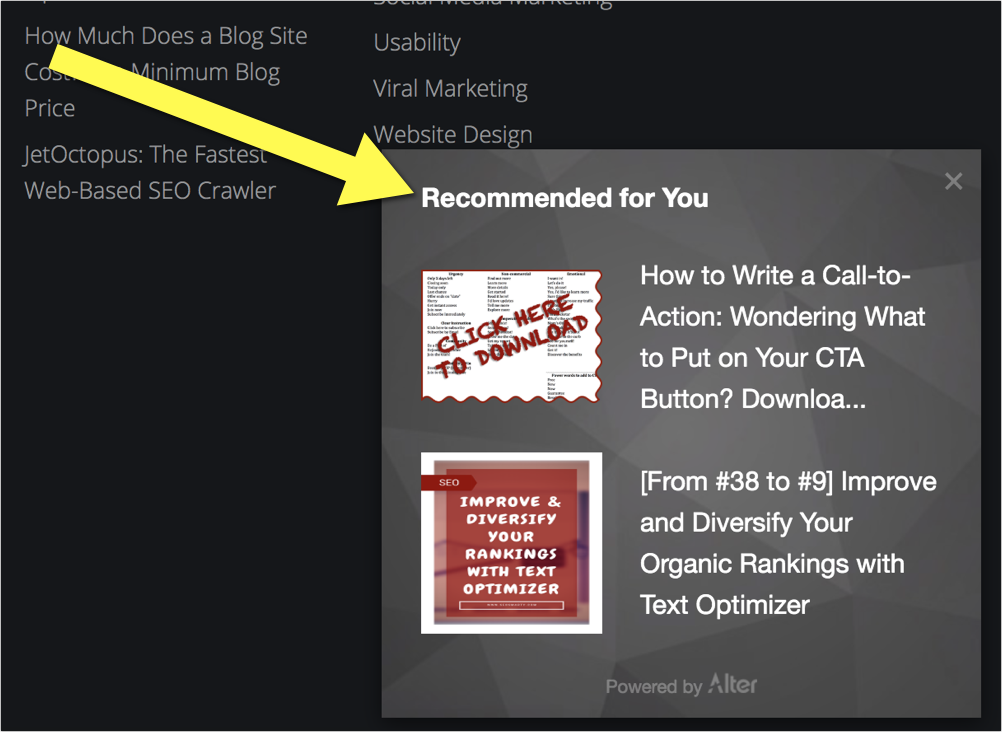 Dive Deeper:
Takeaways
Building relationships with your returning customers has lots of benefits, including more sales and increased brand loyalty. Here's a quick sum up of the tips from this post:
Set up Google Analytics to monitor your returning traffic, its growth and on-site interactions. Keep an eye on alarming signals to quickly fix possible usability issues which may hinder your further efforts.
Create a community-building content marketing strategy to nurture your relationships with your returning visitors and turn them into brand advocates.
Increase your conversions by personalizing your past visitors' experiences by creating custom conversion funnels based on their previous interactions with your site.
In many cases, driving those past visitors back to your site is free, so there's no reason for neglecting this idea!
Check out our 5-minute video How to Get More Customers (and find tons more marketing videos on our YouTube channel!):