There are millions of apps out there on the major app stores — 2 million on Apple's App Store and 2.2 million on Google Play, to be precise — and most of them never even get the chance to be seen by a large audience. In fact, less than 0.01% of consumer mobile apps will be considered a financial success.
The truth is, many of these "failed" apps are actually quite good! If you search for a genre like "productivity" and scroll down to see the apps that don't rank well, you'll find that many of them solve the problem in an interesting way.
Yet somehow a handful of new app developers are able to "break through the noise," get their mobile application to the top of the app store rankings, and rake in the cash. For example, Boom Beach (a gaming app) made upwards of $2 million in a single month.

Clearly, getting discovered is a huge key to make your app go viral, while others get buried in the search results, but how do you do this? Well, one of the most important strategies for getting your app to rank high is app store optimization (ASO).
According to Apptentive, more apps are discovered through the app store than any other channel: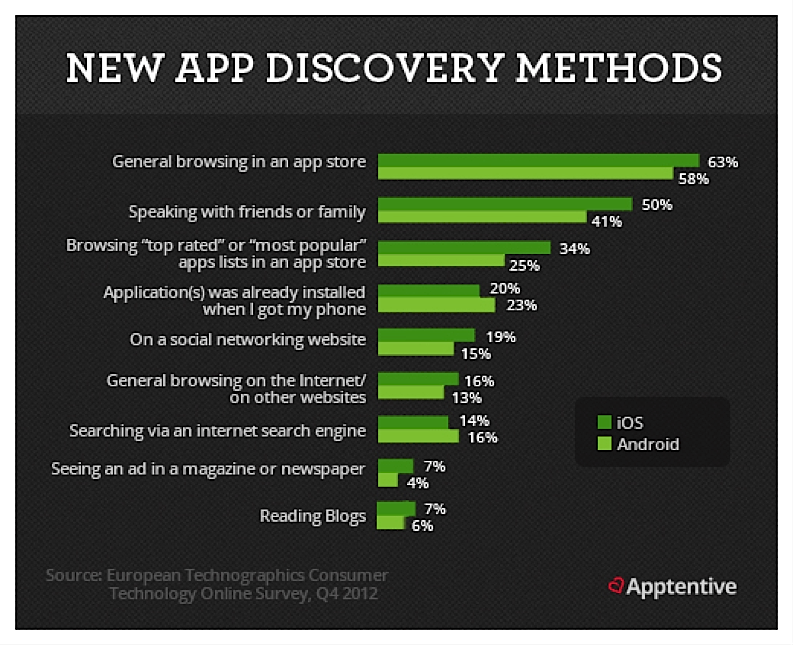 App store optimization is almost like SEO for apps. Just as search engine optimization allows your site to get more visitors and reach more potential customers by ranking higher in the SERPs, app store optimization helps you reach more potential users by ranking higher in the app store.
Ultimately, the goal of ASO is to boost app downloads.
Optimizing your app store requires a deep understanding of your target market. By understanding which keywords they are using, you can start optimizing your app for those specific keyword search results. This is the most important mobile app element you can pursue because discovery through app store search is what results in the majority of installs.
But most app store publishers aren't investing in ASO, which makes the opportunity even greater for those who are. It's an easy, low-cost way to compete with brands and developers who have large advertising budgets.
In this post, I'll show you how exactly ASO works, and how you can leverage it to your advantage.
How App Store Optimization Works
When it comes to SEO, you've got a variety of factors that contribute to how well your page ranks, like how many backlinks you have or how well your tags are optimized. Similarly, there are a set of factors that influence how well your app ranks in the app store. Here are some of them:
1) Keywords
Keywords are the words that your target audience uses to search for apps and products similar to the one(s) you offer.
According to Trademob, you should first use tools like Google Keyword Planner and Google trends to get a good sense of the general idea of the keyword and related searches. Then you can move on to app data and insights tools like SensorTower or App Annie, which provide information and a more comprehensive understanding about keyword search suggestions for apps, as well as the keywords that your competitors are using.
For example, App Annie is used by 94% of the top 100 app publishers. When it comes to ASO, they have a specific section dedicated to keyword discovery where you can see any app's top ranking keywords.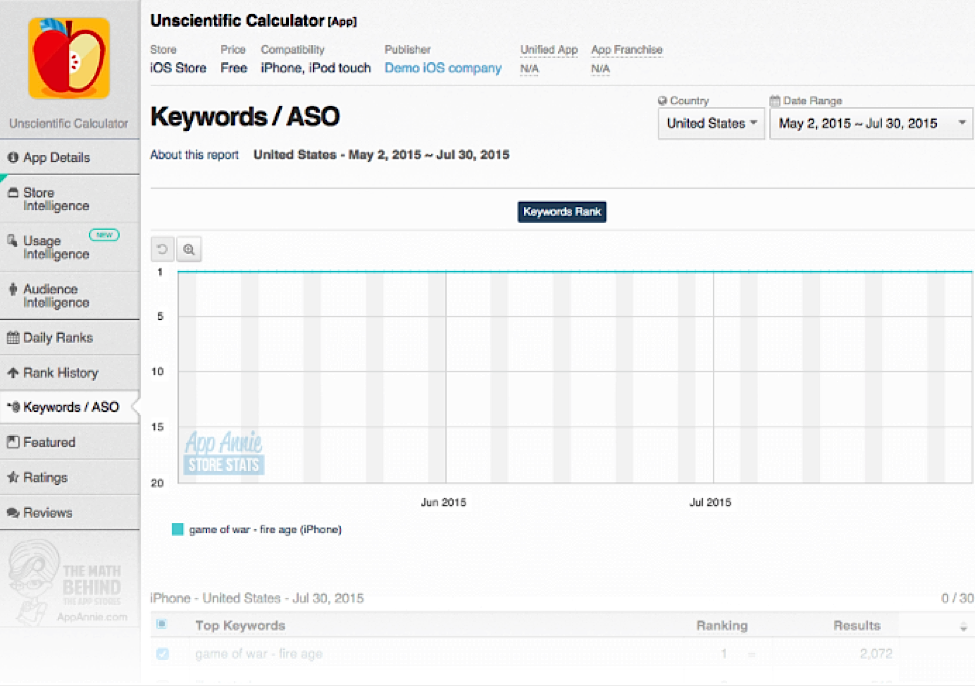 Source: BuildFire
As with Google, for app store optimization it's best to look for high search volume keywords with minimal competition.
You'll get 100 characters to list your keywords when submitting your app to the app store and there are some general tips you should keep in mind when coming up with your keywords:

Use commas instead of spaces to separate your keywords

Don't repeat keywords — it has no effect

If you are using numbers in your keywords, enter the numerical form instead of typing out the number as a word

Don't use

stop words (such as "the," "at," "on")

Remember that users tend to search for short keywords

Use all 100 characters
You should also use your keywords in your app title.
MobileDevHQ analyzed the top 25 ranking positions in the App Store for a specific sample of keywords, and looked at how many had the keyword in the title versus how many didn't.
They found that apps with the keyword in the title ranked 10.3% higher than those without a keyword in the title.
Here are some other things to keep in mind regarding keywords and ASO:

It's important to focus on the first 25 characters of your title, since that's what's displayed when scrolling through the search results.

Keywords that match the title of an existing app may be flagged for duplication.

It's best not to include category names in your keywords. For example, using keywords like "free entertainment" wouldn't be a good idea because "free" and "entertainment" are both existing categories of apps.

Don't overuse keywords or you might be flagged for spam.
The Google Play store takes a slightly different approach with keywords because Google doesn't have specific tags like Apple does. Instead, they use your app's description to extract relevant keywords.
Google Play gives you 4,000 characters to write your description. According to a SensorTower study, the appropriate number of times to repeat a keyword in your app store product page is five. At that point, you would have maximized your likelihood of ranking high for that specific keyword. Excessively repeating your keyword for ranking purposes might get you flagged by Google Play.
Like all good SEO, you should write for the customer first and then sprinkle in relevant keywords where necessary. Your product description should be written like a call-to-action for your target users to download your app.
Learn More: How To Create CTAs that Actually Cause Action
Here are some things to keep in mind:

Describe what your app does in simple and concise language.

List the unique benefits that it offers.

Ask users to download it.
According to Moz, the bulk of your energy should be focused on the first three lines of your product description. This is what grabs the attention of your potential users and could be the difference between them downloading your app or hitting the "back" button.
In the "What's New" section of the Apple App Store description, you should include press releases and latest updates.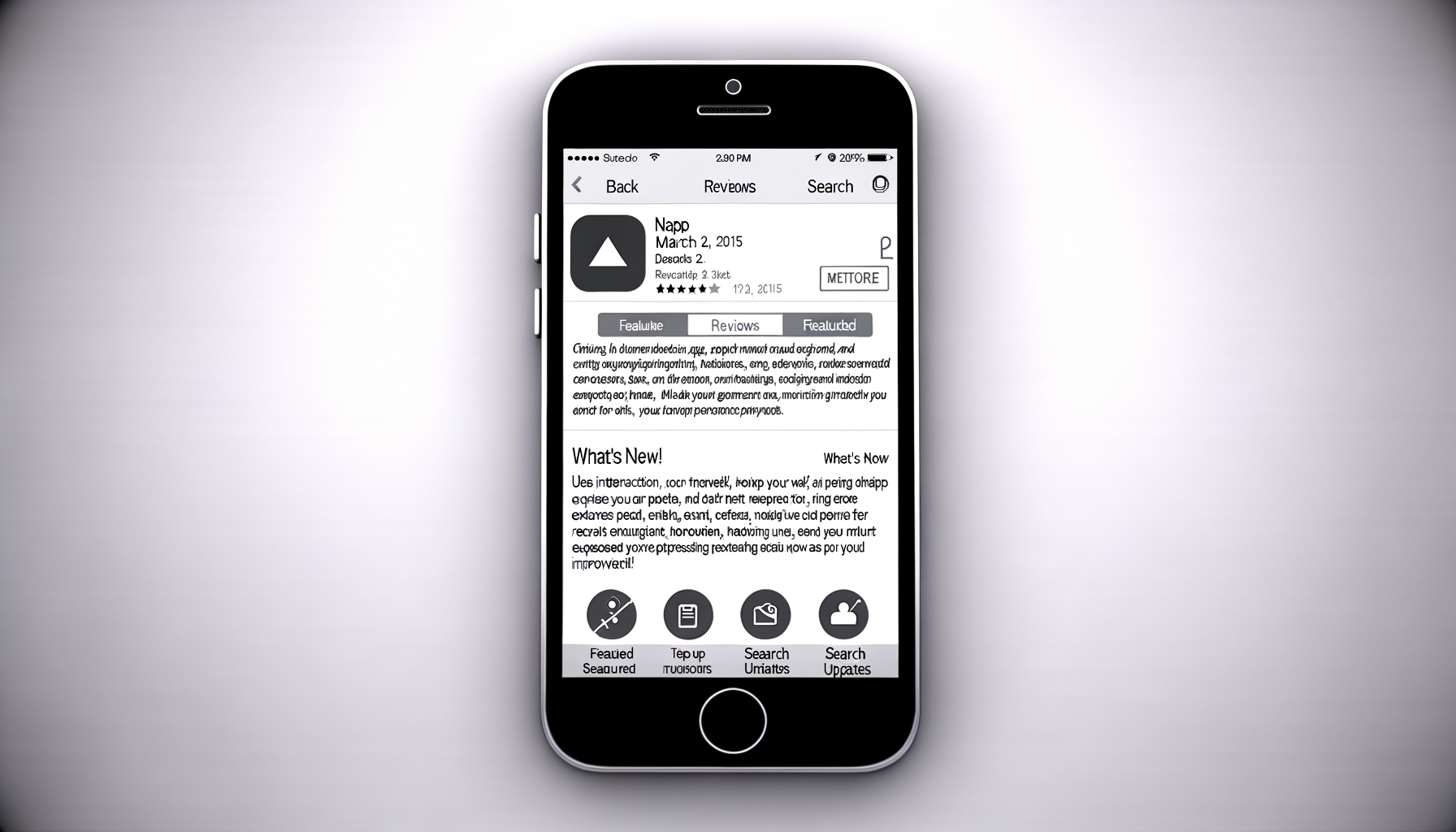 Source: Trademob
Your description and your keywords are the most important part of getting your app discovered by potential new users. Other names such as category, publisher, and in-app purchase display names don't have a significant impact on rankings. Keep in mind that it's not a good idea to have a publisher name that matches a keyword and in-app purchase names can only be used to discover your app if it is an exact match with the keyword that the user searches.
Another important but highly overlooked element in App Store optimization is local ASO. Just like local SEO, localizing your keywords and description can make your app feel like it's a "tailored fit" for the country that you're targeting. In fact, you could get up to 767% more downloads this way.
For example, here's AliExpress's product page for their American app: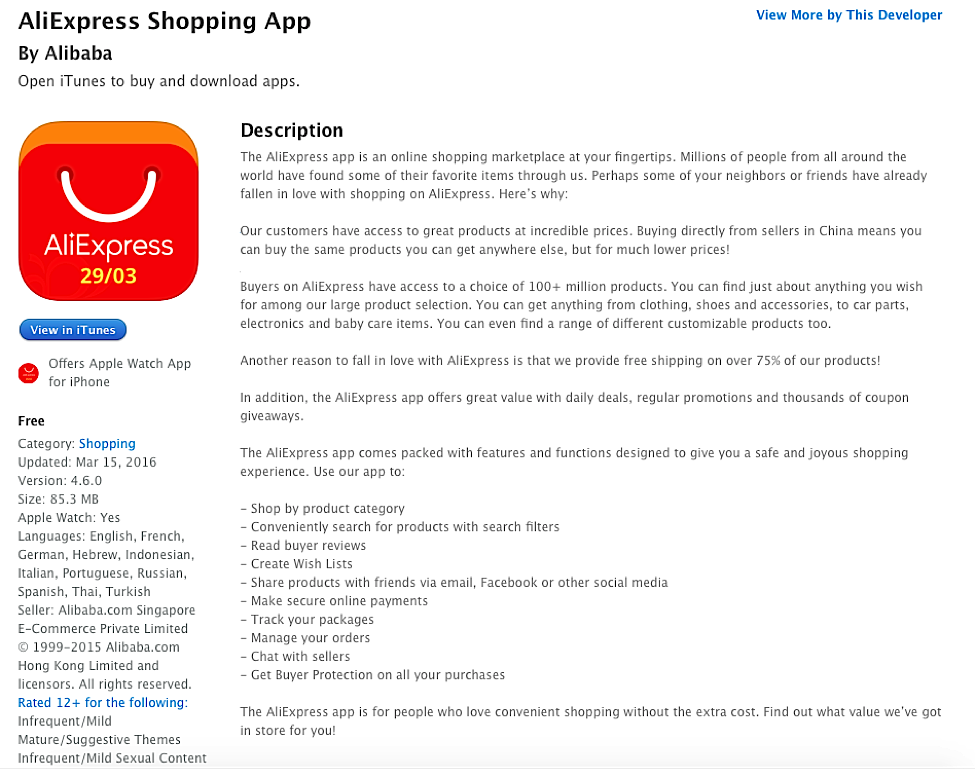 And this is the product page for their Brazilian app: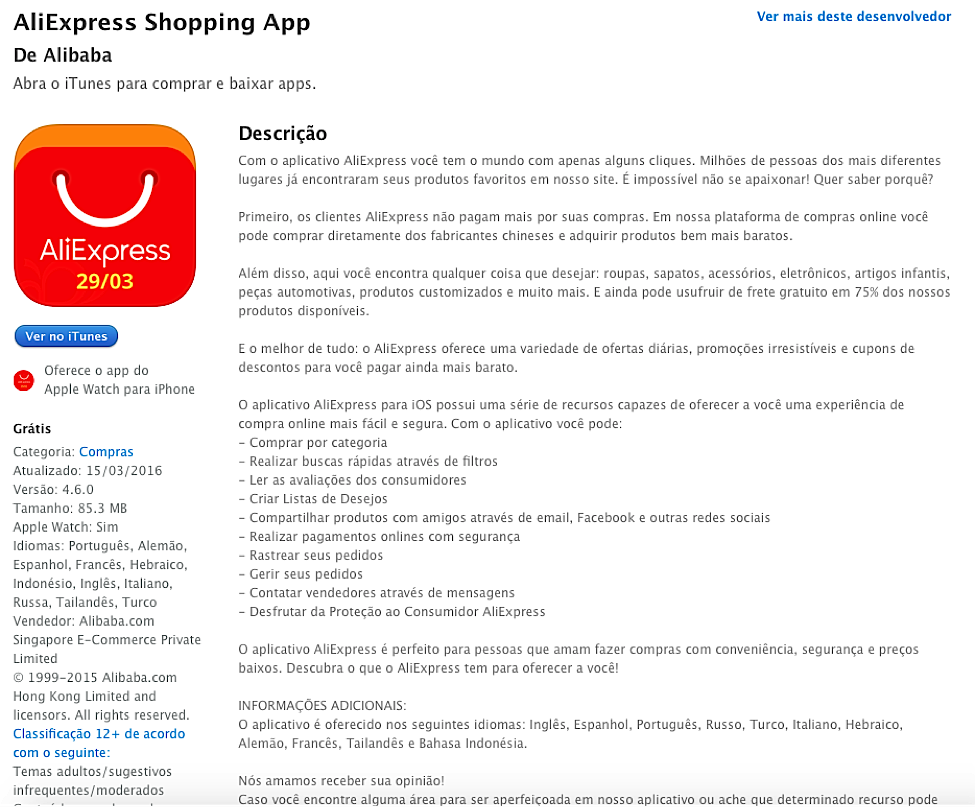 Notice how the description and keywords are translated into the language of the specific user. Publishers can boost their relevancy in each country and increase downloads by tailoring the language and phrasing. Keep in mind, however, that it's not always a direct translation.
Crafting the right keywords is just one part of ASO. Next, we'll talk about crafting the right visuals.
2) Visuals
Your product's visuals and images don't directly impact your rank, but they do play a huge factor in giving people an idea of what your app does and what they can expect to see after downloading it. It's important to have something that captures their attention.
The icon is the first thing that potential users see, so it should stand out and clearly represent your app. For example, notice how Instagram's icon resembles an old polaroid camera. Just by looking at the logo, you can get a sense of what the app does.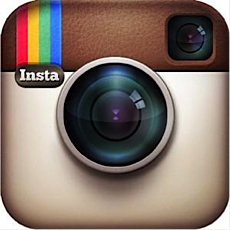 According to BuildFire, you shouldn't try to cram words into your app icon. It's best to save that for your description.  
Apart from the icon, the first two screenshots of your product are also important since they're displayed within the search results of the app store. You should treat these screenshots as advertisements for your product to show how the key functionalities will be displayed within the app.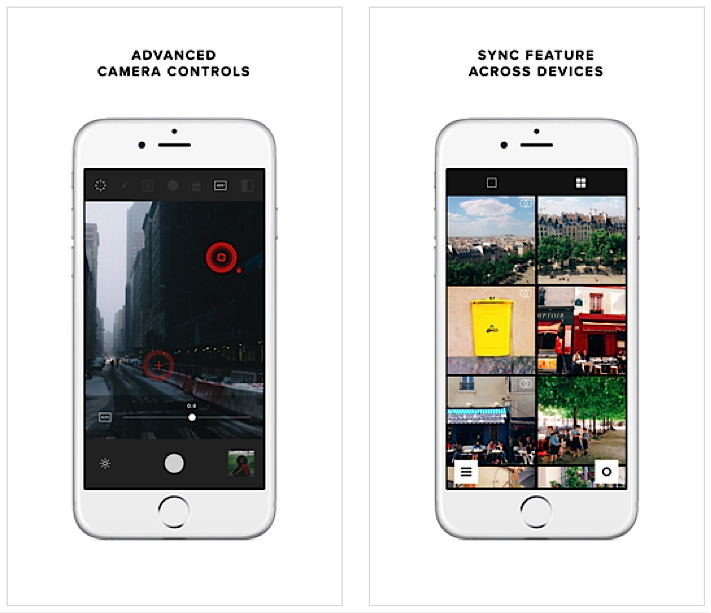 Source: Trademob
Your images don't have to consist solely of direct screenshots of your product. You should think of these images as marketing materials that incorporate your screenshots to convey a particular message.
For example, check out Duolingo's description on their app page. Instead of providing exact screenshots from their app, they only show screenshots that help them promote how easy it is to learn new languages. Above the screenshots they include descriptive text that explains what the screenshot displays.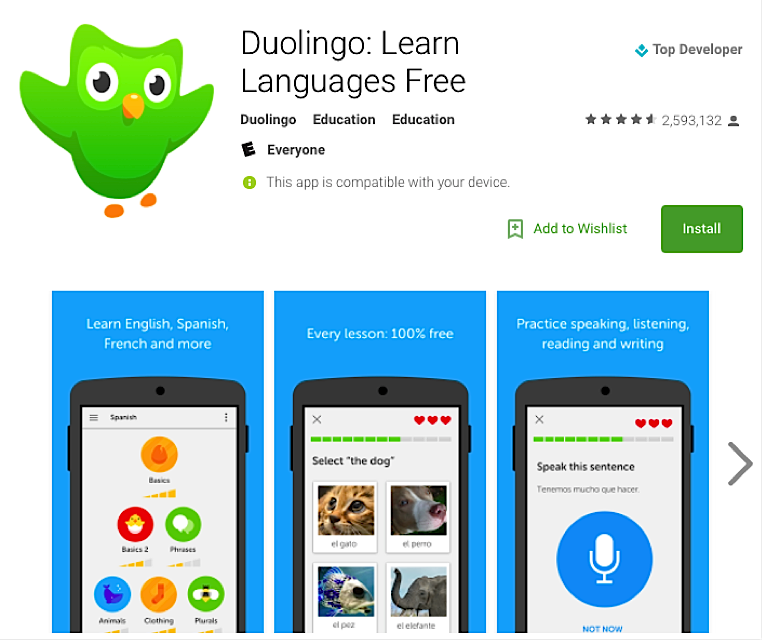 3) Off-site Factors
There are other factors that can increase the rank of your mobile app in app stores, but they can't be directly controlled. These are called "off-site" factors.
The first off-site factors are your ratings and reviews. If you have lots of high ratings and good reviews for your app, they can help you boost your download numbers. On the other hand, if you have poor ratings, they can damage your conversions.
The best way to get high ratings is by guiding happy users to leave you a review, while allowing unhappy users to connect directly with your support team and express their frustration in a place that's not a public forum.
Here are a few things to keep in mind when trying to gather positive reviews for your app:
Don't ask for reviews when users are in the middle of completing an important action, or this will lower the quality of their experience and leave them feeling frustrated. For example, check out the one-star ratings users left for an app that kept pestering them for reviews.



Ask happy users to rate you on the app store but ask unhappy users to submit feedback to you directly. Check out how

Circa News

does this:






Time your feedback request to appear right after a positive experience on your app to improve the likelihood that users will leave good reviews on the app store for you. For example,

Tinder

asks users for feedback right after they get a match.



Another thing to keep in mind is that the top 100 apps in both the Apple App Store and the Google Play Store have at least 10,000 ratings. So the more ratings you can get, the better.
Another off-site factor that determines rankings but isn't directly in your control is backlinks — but is only applicable for Google Play (the Google Play store is similar to SEO in this way).
Learn More: 10 Marketing Lessons I Learned by Building a Top 100 App
Just as you would get backlinks from high-quality sites to a blog post in order to boost your SEO rankings, you can boost your app store rankings by getting backlinks from high-quality sites to your Google Play store URL.
The ranking system for both Google Play and the Apple Store is largely the same. For instance, you can use similar descriptions and screenshots for both. Check out Target's Cartwheel app product page for the Apple Store: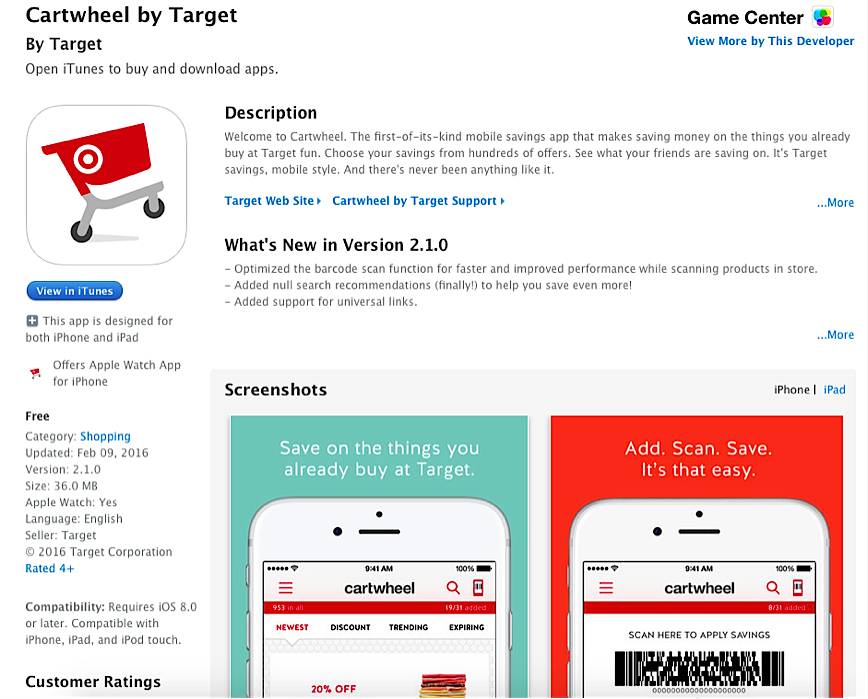 And here's the product page for the same app on the Google Play store: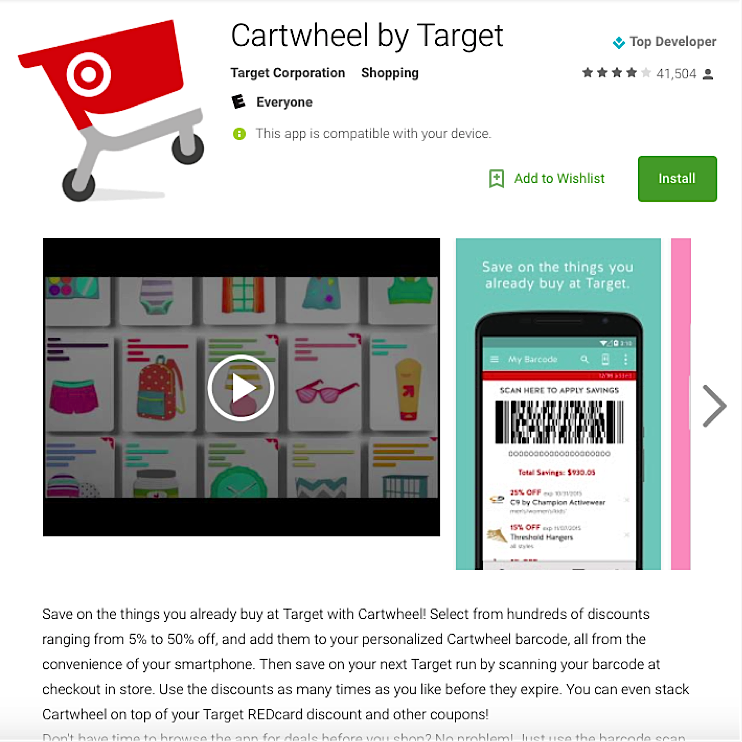 The biggest difference between Google Play and the Apple Store is the 100-character keyword field that Apple allows, and the fact that backlinks boost your rankings on Google Play.
Playing the Long Game
Just like SEO, app store optimization requires patience. It's a constant process of tweaking and testing to see which keywords get results and which ones don't, what keywords are getting your competitors results, and more.
Here's a quote from the CEO of MobileDevHQ:
"ASO is having a dramatic effect on our client apps. For those who put the time in to understand, iterate, and test, we've seen many apps that increase their downloads by a factor of 2x-10x, and an increase of revenue by a similar, or bigger, rate due to the increase in engagement of users earned by ASO. ASO is not a simple process, but if you're willing to invest in it, the outcomes can be incredibly worthwhile."  
Now that we have a good sense of the various factors that impact ASO, let's check out a few case studies of companies that have had success with it.
Case Studies
1) Guidecentral
Guidecentral is an app that allows users to discover DIY project ideas and learn new skills, and they used ASO to boost downloads for their app by 700%. Check out the video How App Store Optimization Increased Downloads by 700% to see how they did it.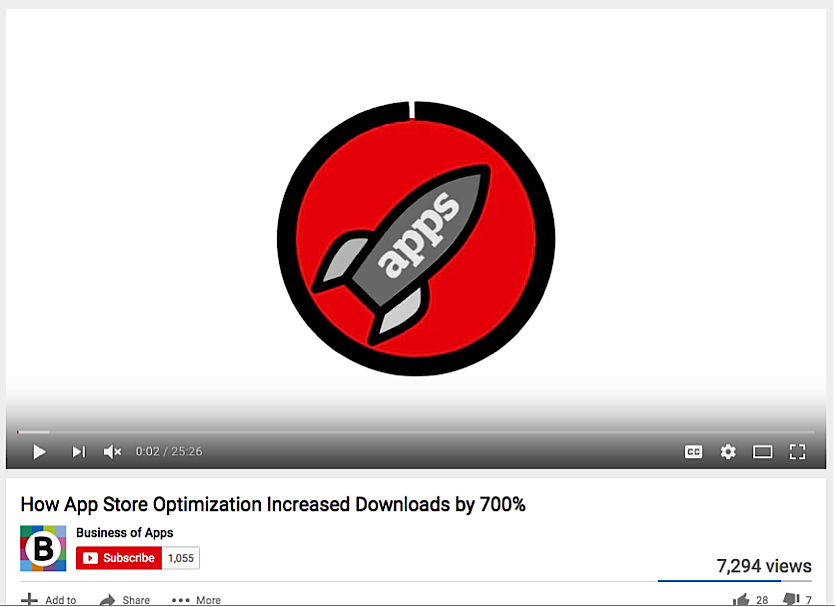 According to the video, the biggest impact was made by redesigning their app icon. In the beginning, they had a basic icon that they designed themselves. But then they decided to get the icon professionally designed, which helped their app get the visibility it needed.
Guidecentral credits the icon redesign as the key factor that helped them compete with top Silicon Valley startups, and boost their downloads by 700%.
2) MailWise
MailWise is an e-mail client app that provides users with a more efficient way of reading e-mail on their phone: it removes clutter from conversation threads and helps users focus on the parts of the message that are actually important.
MailWise was on a tight budget, so ASO was a great low-cost, high-return investment for them to pursue in order to help them compete with their giant competitors who had more financial resources.
They started off by researching keywords: they compared the app's keywords to competitors' keywords and viewed the top apps for the keywords they planned to use.
Next, they focused on optimizing the app's visuals, which play a big role in boosting number of downloads, and decided to redesign the logo to include a picture of an envelope to give a better sense of what the app does.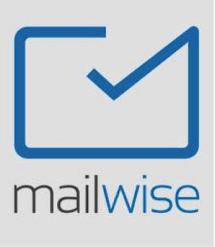 Then they captured relevant screenshots from the app, added in captions, and put them through a series of A/B tests to see which ones boosted downloads the most. Here are some examples of screenshots that were used:

Apart from the keywords and screenshots, they also realized that language is an important factor in determining the number of downloads. Each country has its own terminology, keywords, and slang, so it's important to customize the description for each country instead of just running a direct translation.
MailWise has more than 500,000 users who use their product, with an average rating of 4.5 on Google Play. After implementing these changes, they boosted their total downloads from tens to thousands of downloads per day while lowering their Cost Per Install by 70%.
Conclusion
App store optimization is a highly overlooked strategy to boost visibility for your app. Most publishers focus on things like paid advertising and SEO to drive traffic to their mobile app page on an app store.
And that's a fine strategy to focus on, but considering that 63% of downloads come from users who discover your app in the app store, it's crucial to test out different ways of optimizing it to boost your rankings.
Here is a summary about a few different ways to boost your app store rankings:

Keyword research

. By using tools like

Google Keyword Planner

or app-specific tools like

App Annie

, you can find really useful insights on popular keywords in your niche. You can discover which keywords your target audience is searching for, related long-tail keywords with low competition and high traffic, and keywords that your competitors are ranking for.



Ratings, reviews, and backlinks. There are a few factors that influence your app store download rate that you may not directly be able to control, such as your ratings, reviews, and the number of backlinks you get (for the Google Play store).

The 

top 100 apps on both app stores had upwards of 10,000 ratings, so you should be asking for reviews from satisfied users at appropriate times.

Just like in SEO, backlinks also play a role in your app store ranking within the Google Play store and you can use the same SEO backlink strategies to get backlinks for your app.

The main difference between Google Play and the App Store is the fact that Google Play incorporates backlinks into its search ranking algorithm, while Apple incorporates a 100-character keyword tool. 
Now, I want to hear from you. What's one app store optimization tactic you'll try to boost visibility for your app? Leave your answer in the comments below.