Ah, email marketing. The age-old question: Is it dead or is it thriving? We're here to tell you that email marketing and, more specifically, newsletter subscriptions, are very much alive.
In this blog post, we will explore why newsletters matter, share valuable insights from our own experience at Single Grain, and provide expert tips to help you grow your newsletter subscription base this year.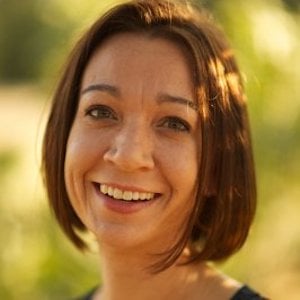 Kim Cooper
Director of Marketing, Amazon Alexa
Single Grain enables us to increase our impact without increasing our headcount
Why Newsletters Matter
Newsletters remain a powerful tool for businesses to connect with their audience and drive valuable engagement.
Despite some claims that email is losing relevance, the continued success of newsletter companies like MailChimp (which was just recently sold for $12 billion) and the substantial returns on investment achieved through email marketing tell a different story.
Email newsletters have proven to be a highly effective channel for:
building relationships
generating revenue
sharing valuable content
Your email list is like an ATM, capable of delivering significant returns when utilized effectively. Considering the success stories of notable newsletter-driven businesses, such as Axios, Morning Brew, and The Hustle, it becomes evident that newsletters remain a trusted source of knowledge and valuable insights for many individuals, including marketers: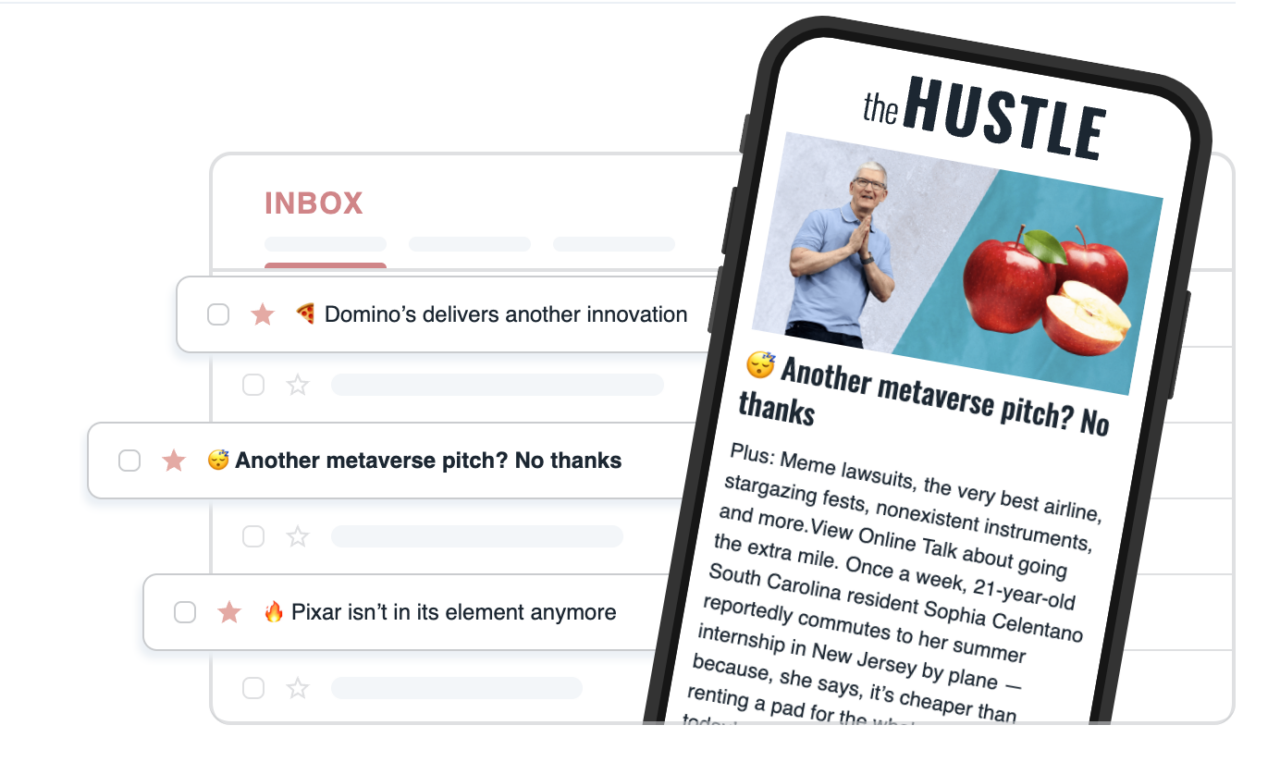 When it comes to revenue, the top 27 highest-earning Substack newsletters generate over $22 million annually: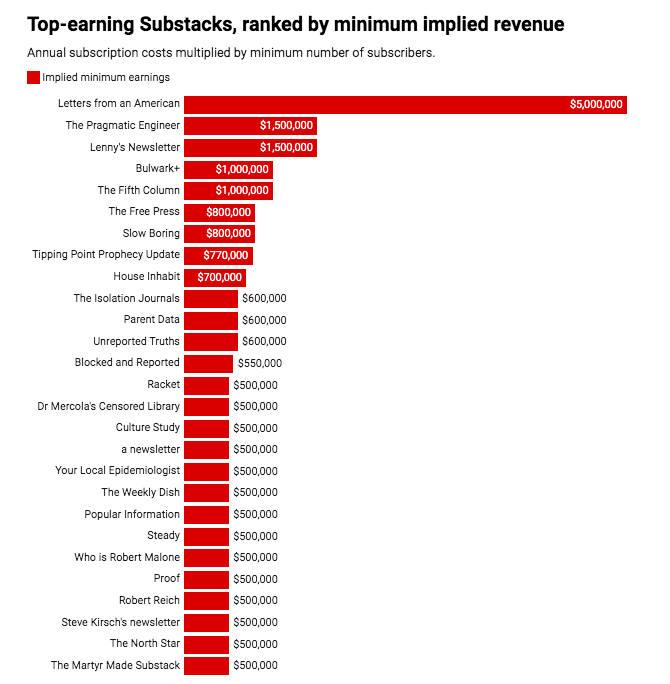 This shows that writers and other creators are building significant businesses through their newsletters, and they are mainly monetizing through subscribers who pay (on average $5-10 per month) for the service.
Create a Substack and Leverage Discoverability
Creating a Substack newsletter is an excellent choice for those who are starting from scratch.
Substack offers a user-friendly platform that streamlines the process of creating and managing newsletters, making it accessible to both beginners and experienced writers: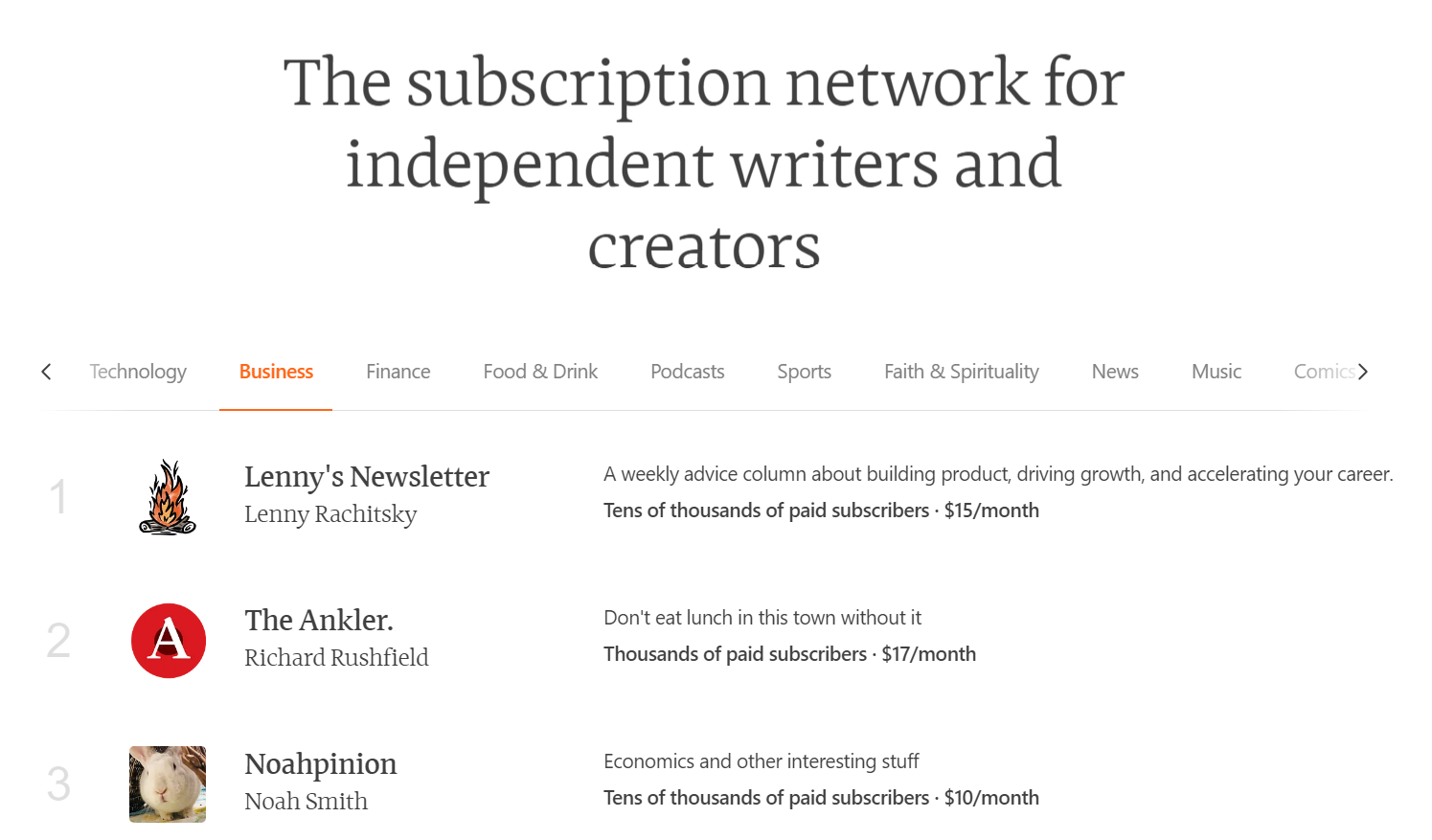 One of the key advantages of Substack is its discoverability features. When subscribers sign up for one newsletter on the platform, Substack intelligently recommends other newsletters that align with their interests. This recommendation system opens up opportunities for exposure and growth, as your newsletter can reach a wider audience beyond your existing network.
By leveraging Substack's discoverability features, you can tap into a pool of potential subscribers who are actively seeking content in your niche.
While Substack offers an excellent starting point, as your subscriber base expands and your newsletter gains traction, you may consider migrating to another email service provider like Beehiiv: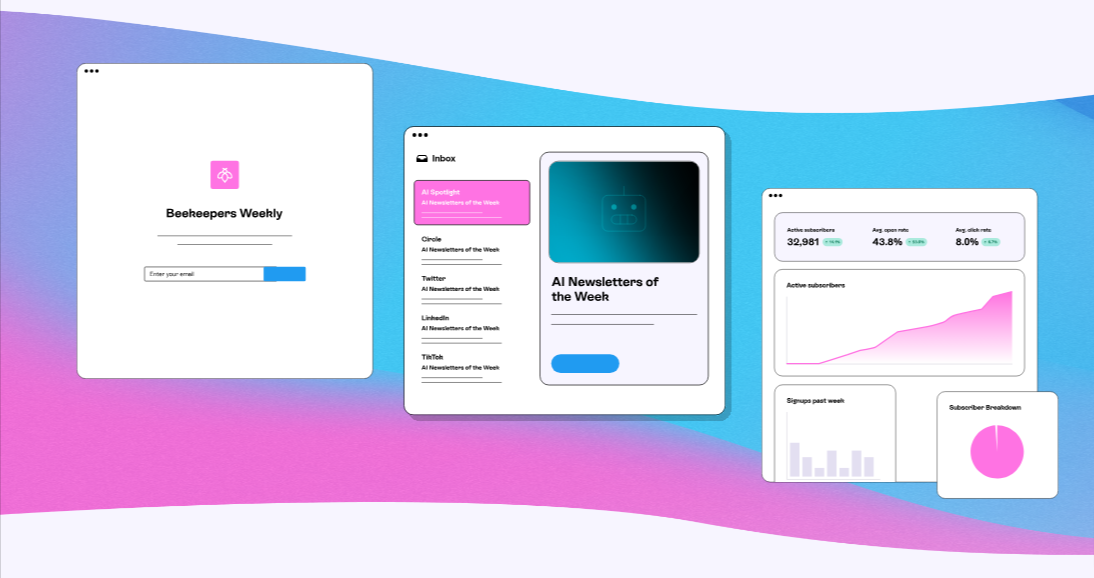 Or ConvertKit: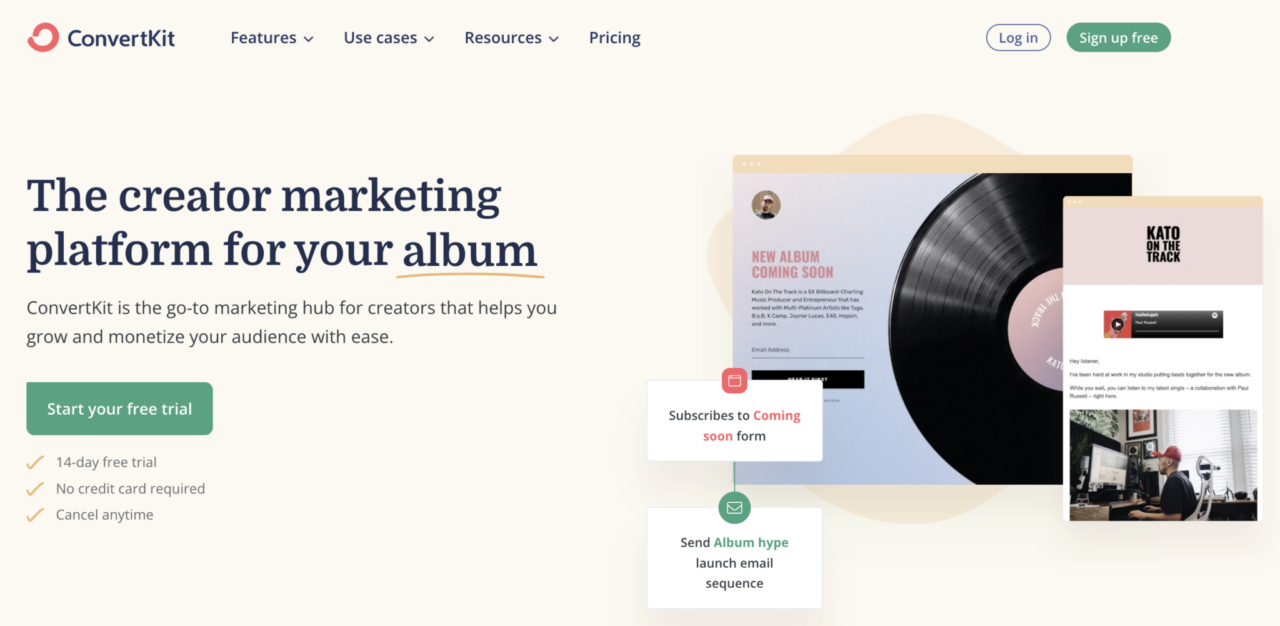 These platforms provide more advanced features and customization options to enhance your newsletter's functionality and cater to the evolving needs of your growing audience. However, it's important to evaluate your specific requirements and goals before making the transition to ensure a smooth and seamless migration process.
Dive Deeper: Beyond the Newsletter: You've Got Their Email, Now What?
4 Ways to Get More Newsletter Subscription Sign-Ups
Starting a newsletter is one thing, but getting people to sign up for it is another. Here are a few tips to make signing up for your newsletter attractive and easy for new subs.
1) Offer Premium Content and Content Upgrades
When it comes to attracting newsletter subscribers, premium content can be a game-changer. Rather than just offering a generic e-book or PDF, consider providing exclusive access to high-quality blog posts, in-depth guides or valuable resources that are not readily available to the general public.
By offering premium content, you create a sense of exclusivity and make subscribers feel privileged to be part of your community.
This approach not only adds value to their subscription, but also establishes you as an authority in your field.
Another effective technique is to create content upgrades. Content upgrades are bonus materials or supplementary resources that enhance the value of a particular piece of content.
For example, if you have a blog post titled "10 Strategies to Boost Your SEO Ranking," you can offer a downloadable infographic summarizing those strategies in a visually appealing format. By providing this high-quality, bonus resource, you give subscribers an extra incentive to join your newsletter and engage with your content.
Content upgrades, aka lead magnets, can take various forms, such as:
Cheat sheets and checklists
Reports and white papers
Case studies
Templates
Demos or free trials
Video tutorials
Email courses
Tools
The key is to offer something that complements the main content and provides additional value to your subscribers. This strategy not only increases the perceived value of your newsletter but also encourages readers to take action and provide their email addresses in exchange for exclusive content upgrades.
Remember to strategically place calls-to-action within your content, inviting readers to subscribe in order to access the premium content or content upgrades. You can create opt-in forms or subscription boxes within the blog post itself, making it convenient for readers to sign up and receive the bonus materials.
Dive Deeper: How to Create a High-Value Lead Magnet to Quickly Grow Your Email List
2) Create Irresistible Offers
Creating irresistible offers is a powerful way to capture the attention and interest of potential newsletter subscribers. These offers should be unique, valuable and difficult for your target audience to resist. By crafting compelling incentives, you can entice visitors to take the leap and subscribe to your newsletter.
Here are some strategies to help you create irresistible offers:
Free Software or Tools: Offering free software or tools related to your industry can be an excellent way to attract subscribers. By providing access to valuable tools, you showcase your expertise and demonstrate the tangible benefits subscribers can expect from your newsletter. This can be a unique software solution that solves a common problem or limited version of a premium tool — like this example of an auto loan calculator: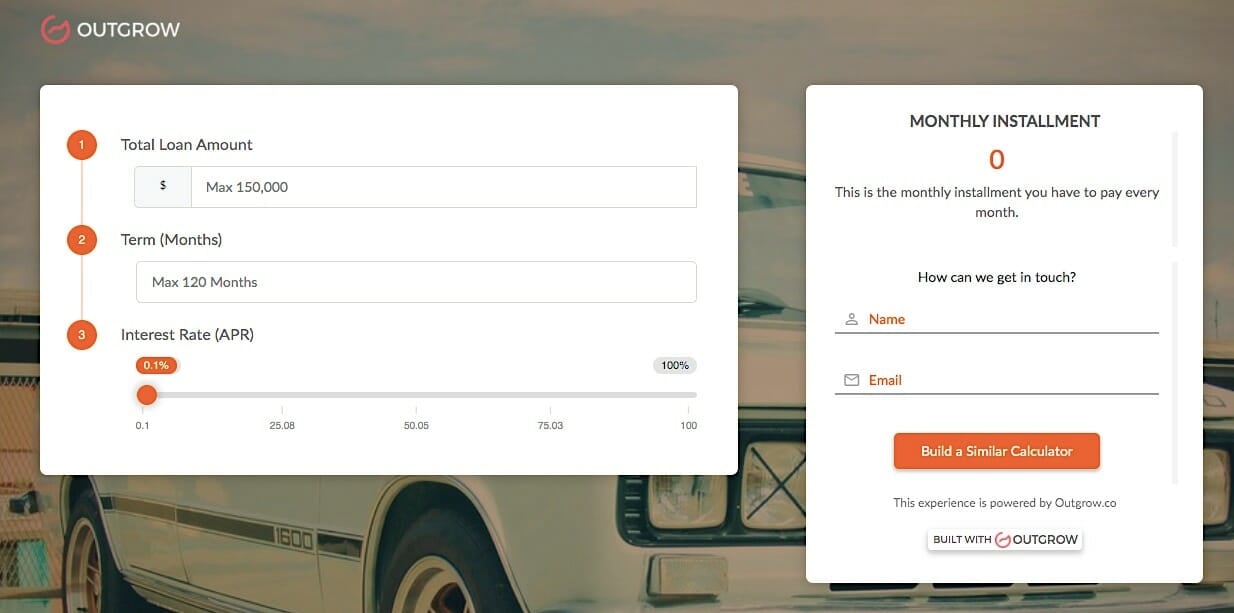 Exclusive Event Access: Granting access to exclusive events, whether in-person or virtual, can be a highly enticing offer. This could be a webinar, workshop, conference or masterclass that provides valuable insights and actionable strategies. Exclusive events create a sense of exclusivity and allow subscribers to connect with you and other industry experts in a more intimate setting.
Insider Knowledge or Reports: Providing exclusive insider knowledge or industry reports can be a compelling offer for subscribers. This could involve sharing proprietary research, market trends or case studies that are not readily available elsewhere. By offering unique and valuable information, you position yourself as a trusted source of expertise and attract subscribers who seek actionable insights.
Discounts or Special Offers: Offering exclusive discounts or special offers on your products, services or affiliated products can be a powerful incentive for subscribers. Everyone loves a good deal, and providing a limited-time discount or access to a special promotion can create a sense of urgency and encourage sign-ups.
Personalized Consultations or Coaching: Extending the opportunity of personalized consultations, coaching sessions, or Q&A sessions can be an attractive offer for subscribers who are seeking one-on-one guidance. This allows you to connect with your audience on a deeper level and provide tailored advice or solutions to their specific challenges.
When brainstorming ideas for your irresistible offer, consider what sets you apart from your competitors and what truly matters to your target audience. Focus on addressing their pain points and providing solutions that align with their needs and desires.
3) Use Exit Pop-ups and Quizzes
Using pop-ups and quizzes can significantly enhance your ability to convert website visitors into loyal newsletter subscribers.
Exit pop-ups serve as a powerful tool to grab visitors' attention just before they leave your website: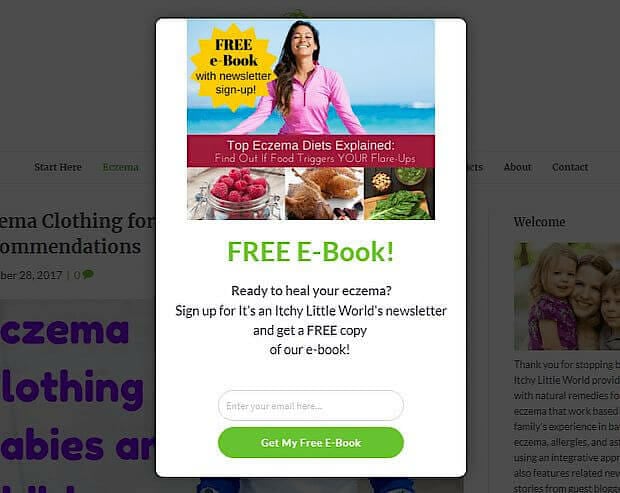 These pop-ups are triggered when a user's cursor moves towards the browser's close button or navigates away from the page. By displaying an enticing offer or a call to action, these pop-ups can to persuade visitors to reconsider their decision to leave and encourage them to stay on the website or take a desired action.
Here are a few reasons why exit pop-ups can be considered a powerful tool:
Visitor Engagement: Exit pop-ups provide a last-ditch effort to engage with visitors who might otherwise leave the site without taking any action. By displaying relevant and compelling content, such as discounts, limited-time offers, free resources or subscription incentives, website owners have a chance to re-engage visitors and keep them interested in their offerings.
Lead Generation: Exit pop-ups can be highly effective for lead generation. By presenting visitors with an opt-in form or a newsletter subscription box, website owners can capture email addresses or other contact information. This allows them to nurture leads, send targeted marketing messages, and build relationships with potential customers.
Reduction in Bounce Rate: A high bounce rate, which refers to the percentage of visitors who leave a website without exploring further, can be detrimental to the overall success of a website. Exit pop-ups can help reduce the bounce rate by up to 60% by providing visitors with a reason to stay longer or explore additional content.
Abandoned Cart Recovery: For e-commerce websites, exit pop-ups can be particularly effective in recovering abandoned shopping carts. By offering a discount or a limited-time promotion, these pop-ups can entice visitors to reconsider their purchase decision and complete the checkout process.
Improved User Experience (when used thoughtfully): While pop-ups can sometimes be seen as intrusive or annoying, exit pop-ups can be less disruptive when used thoughtfully. By providing value through relevant offers or helpful information, website owners can enhance the user experience and leave a positive impression on visitors, even if they ultimately choose to leave.
Quizzes can be a highly engaging and effective form of exit pop-up that not only captures email addresses but also provides valuable insights about your audience. By offering a compelling quiz, you can entice users to stay a little longer and interact with your brand.
Quizzes also allow you to segment your audience based on their responses. This type of segmentation will let you personalize your email marketing campaigns and send targeted messages that resonate with each subscriber.
4) Collaborate and Trade Newsletter Recommendations
Collaborating with other marketing newsletters and engaging in newsletter recommendation trades can be a highly effective approach to expanding your subscriber base and reaching a wider audience.
Here's how you can make the most out of collaboration and trading newsletter recommendations:
Identify potential partners: Look for newsletters that share a similar target audience but offer complementary content. Seek out newsletters with a solid subscriber base and a reputable presence in your industry. Engage in research and networking to discover potential collaboration opportunities.
Reach out to newsletter creators: Once you've identified potential partners, initiate a conversation by reaching out to the creators of those newsletters. Introduce yourself, express your admiration for their work, and propose a collaboration opportunity. Highlight the mutual benefits of trading newsletter recommendations, such as expanding both parties' reach and providing valuable content to each other's subscribers.
Develop a mutually beneficial arrangement: Collaborate with your partners to establish the terms of the recommendation trade. Determine how often you'll promote each other's newsletters and what form the promotion will take. This could involve a dedicated section in your newsletters, sponsored mentions, or even guest contributions. Ensure that the arrangement is equitable and provides value to both parties involved.
Last Word on Newsletter Subscriptions
Newsletters continue to play a vital role in digital marketing, serving as an effective means of engaging with your audience, generating revenue, and sharing valuable insights.
As you implement these strategies, keep in mind that delivering high-quality content consistently is key to retaining your subscribers and nurturing long-term relationships. Focus on providing value, addressing their pain points, and staying relevant to their interests.
Remember, building a strong subscriber base takes time and consistent effort. Focus on providing valuable content, personalizing your messaging, and nurturing relationships with your subscribers. With the right strategies and a commitment to delivering exceptional newsletters, you can position yourself for success in the ever-evolving digital landscape.
If you're ready to grow your business through newsletters, Single Grain's email marketing experts can help!👇
Repurposed from our Marketing School podcast.