If you're asking yourself how to increase podcast listeners and reach the desired milestone of 5 million monthly downloads, this post is for you.
The ascent to podcasting fame is an exciting one, requiring deft planning, inventive strategies and commitment to the interests of your listeners.
In this post, we'll explore tried-and-true strategies that will put your podcast on a trajectory toward unheard-of success as we dig into ways you can promote and expose your content to your audience.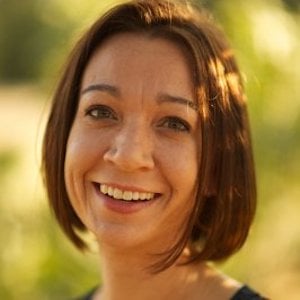 Kim Cooper
Director of Marketing, Amazon Alexa
Single Grain enables us to increase our impact without increasing our headcount
1) Advertise Your Podcast
The practice of podcast advertising is one of the most effective drivers of exponential development.
One way of building awareness of your content is by positioning your podcast on other well-known shows by following in the footsteps of Jordan Harbinger: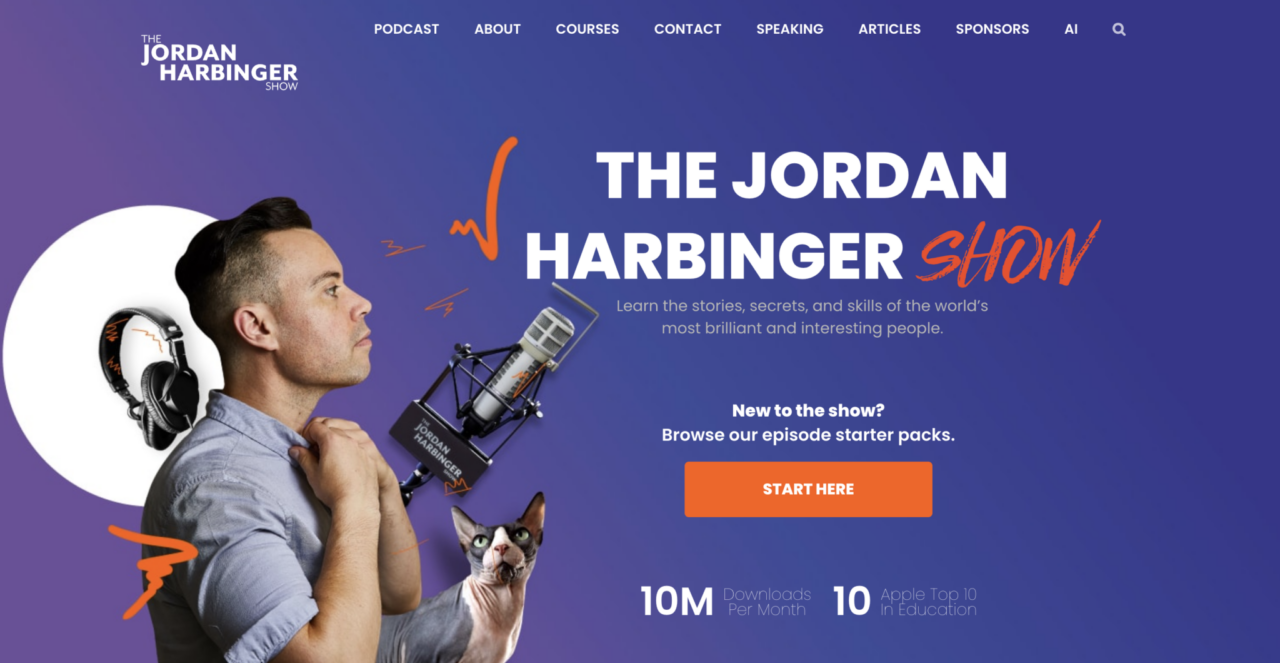 He realized that the potential of podcast advertisements could be vast. For instance, he did ad swaps with other podcast shows, which no one else was doing, even though it's simple and free. He also puts a trailer for another related episode at the end of each episode, which is an excellent way to keep people listening.
The audience feedback he gets is positive and goes something like: "Man, I listened to your episode with so-and-so because they promoted it, then at the end I heard a trailer for another episode from another guy who I like, and then I heard the trailer after that one…" and people just go down this rabbit hole where they're like, "Then I listened to 20 episodes and I was like, 'This is my favorite podcast. Oh my god, how did I not know about this before?"
Create captivating commercials that persuade people to sign up for your material, converting their interest into loyal listenership. This approach can create a cascading effect of listeners originally interested in other material eventually seeking out your content.
2) Harness Guest Power for Elevated Influence
Podcast guesting is an underrated tactic that can boost your rankings in search.
When you cooperate with people and other podcasters who have big fan bases, it can be a doorway to extending your audience by leaps and bounds with listener groups from related content creators. Having guests with a large fan following on your podcast is the key to increasing listenership.
By using their reach, you may reach an audience that is already interested in finding fresh information. Organize email blitzes, push alerts, and social media mentions with your visitors to promote growth. Prepare materials that facilitate sharing, including interesting video clips and podcast excerpts, to increase the impact of each cooperation.
3) Diversify Content and Broaden Horizons
Think about expanding the scope of your podcast beyond its existing specialization to engage a larger audience. Be careful, though, as you don't want to deviate so dramatically from your core focus that you deter current listeners from continuing to listen. It is definitely a slippery slope in that regard.
While specializing in your area of expertise is crucial, expanding your horizons by talking about more general topics can help you hedge into the next stage of listener growth.
Think of ways to complement your regular content with podcast segments that tackle industry-adjacent subject matter. For instance:
If your podcast covers video games, try venturing into related written media or tabletop games that resemble the type of content your audience is used to hearing.
If your primary podcast theme is sustainable living, you could do some episodes that dive into sustainable fashion or "green" architecture (i.e. sustainable building design).
If you have a digital marketing podcast that mainly discusses actionable tips for marketers, you might try discussing the neuroscience of consumer behavior.
Additionally, using famous guest interviews gives your material a distinctive charm that attracts attention and increases interaction.
4) Collaborative Networks: Amplify Exposure
A potent weapon in your arsenal when trying to attract more podcast listeners is collaborative networks. You may reach audiences that are already interested in your material by collaborating with podcasts that share your viewpoints.
This is where cross-promotion within your podcast can be a handy tool. Not only will you be supporting other content creators that you believe in, but they'll be doing the same about your podcast. It's a win-win.
Furthermore, by offering assistance, knowledge and friendship, these networks let podcasters feel like a part of a community.
As you support the network's overall expansion, you're also influencing the podcasting industry as a whole, which is known for collaboration, shared success, and an unyielding dedication to feeding a thirsty audience with quality material.
5) Unleash the Potential of Email Ads
While podcast advertisements are effective, don't discount the potency of email marketing for your podcast. If you have an email list for your audience, it's worth crafting a series of emails that demonstrate what your podcast has to offer. It can be yet another way of cueing people in on the diverse suite of industry-related content that you produce.
You ought to carefully position your podcast to draw in new listeners who are actively looking for good material.
Sites like Morning Brew or The Hustle are great examples to model after for their ability to deliver concise, packaged content related to a certain topic. You can do the same for your own content, highlighting your podcast as an alternate source for the type of information your audience craves.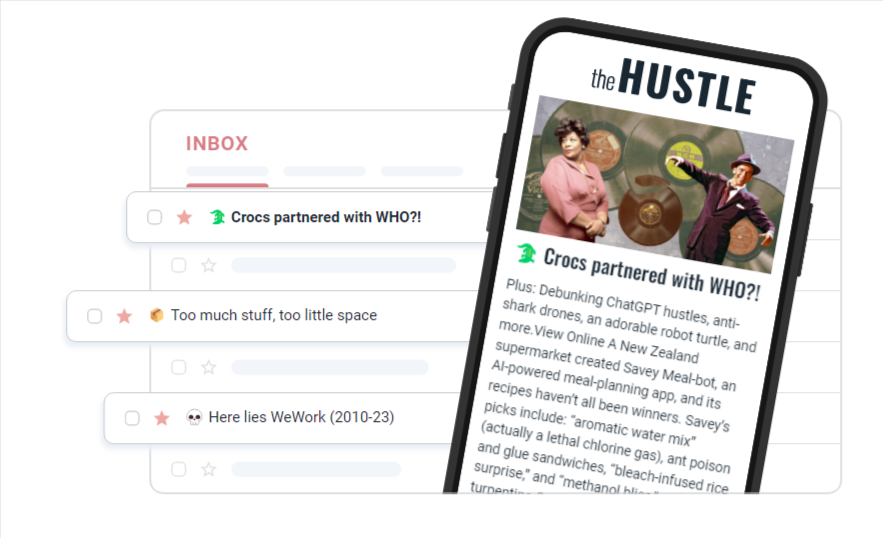 6) Elevate Your Influence Through Guest Appearances on Other Podcasts
This strategy looks for possibilities to get included on other podcasts that have a comparable audience or focus.
In scenarios like guesting on someone else's podcast, you can take the opportunity to promote your own content as a supplement to the material being covered in the host podcast.
Guest appearances give you the chance to present your knowledge, perceptions, and distinctive perspective that can pique the interest of your host podcaster's audience, inclining them to check out more of what you have to offer.
Enough guest appearances will begin to establish yourself (and your co-hosts, if you have any) as an authority in your industry and attracts listeners who are interested in what you have to say.
It's crucial to subtly promote your own podcast throughout these appearances as guests. In the course of the conversation, look for opportunities to bring up your show and its special selling point. You're giving interested listeners an easy way to find and subscribe to your material by seamlessly integrating mentions of your podcast.
7) Ignite Engagement Through Social Media
You can really raise the bar on your podcast engagement when you weave your brand into social media placements. You can accomplish this simply by promoting your podcast organically on your own company page or, once again, by collaborating with partner brands that sympathize with your message.
Something as simple as working together with a relevant social media influencer in your industry space can be a great avenue toward positioning your podcast in front of a greater audience.
There's really no limit to the types of content that can reflect the value of subscribing to your podcast. It could be in through short-form videos, long-form social posts, engagement on influencer posts, and so on. The key is identifying what formats can gain a lot of traction and determining how you can present that your podcast exists through those formats.
8) Develop Short-Form Content
Short-form video content can be a great way of promoting your podcast.
It's important to approach websites like YouTube and TikTok with a specific plan in mind when experimenting with content repurposing. These platforms favor short-form content, so it's crucial to quickly grab your audience's attention. Consider creating brief, powerful bits that quickly and effectively share insightful information with visitors wanting instant benefit.
It's crucial to keep your core message front and center when tailoring your podcast material for various channels. Users of these platforms browse through the material quickly in an atmosphere that is attention-driven and fast-paced. As a consequence, your video must quickly capture their interest and provide a valuable piece of information.
One successful strategy is to take a stand-alone clip of your podcast episode's highlight or main takeaway. This clip ought to stand on its own, conveying its intended meaning even in the absence of the rest of the episode's background.
And, because podcasts are typically just an audible medium, you should explore ways to layer accenting visuals to the dialogue content.
Last Word on How to Increase Podcast Listeners
A complex ballet of strategy, innovation, and persistence is required to increase podcast listenership.
You're laying the groundwork for extraordinary development by pursuing a comprehensive strategy that includes podcast advertising, guest collaborations, a variety of material, and clever social media use.
Every new subscription offers a chance to inspire, inform, and connect. Even if you follow just one of the seven steps we've laid out, you'll be way further ahead in elevating the listener base of your podcast. It just takes some concentrated targeting combined with knowing where you audience hangs out.
Keep at it! It can take months to see your podcast take off, but no one got there overnight. There's definitely no shortcut to this. If you remain diligent, clever, and focused on community, you'll grow your podcast audience larger than you ever thought was possible.
We have two successful podcasts of our own.
So if you're ready to level up your podcast content, you can count on Single Grain's

podcast experts

to help!👇
Repurposed from our Marketing School podcast.