Updated September 2023.
Blockchain and crypto startups have exploded, and distributed ledger technology remains one of the hottest trends in e-commerce, business, finance and other industries. Thus, the crypto marketing agency, has also exploded.
With an increasing number of coins and ICOs entering the cryptocurrency world, it has become difficult for new and existing crypto coins to stand out. So, a solid crypto marketing strategy is vital to create project awareness, gain credibility in the cryptocurrency community and help generate demand for your cryptocurrency.
This guide explains what you should consider before choosing a reputable crypto marketing agency.
We'll also share the top five cryptocurrency marketing agencies and provide additional information to help you select the right blockchain marketing company that fits your business needs.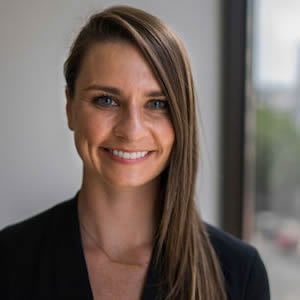 Jacqueline Foster
Demand Generation Marketing, Lever.co
We can count on them to bring new ideas to the table consistently
How to Choose a Cryptocurrency Marketing Agency in 2024
A crypto marketing agency is a digital marketing company that specializes in blockchain promotion, token sales, community management and brand awareness to assist crypto startups gain buyer attention.
You can find hundreds of cryptocurrency marketing agencies online, but not all offer the same level of crypto marketing expertise.
To help you choose the best crypto marketing services, here are the most important factors to consider before hiring a crypto and blockchain marketing service provider for your project promotion.
Check Out Their Portfolio: Take a look at the company's portfolio to see if they have successfully promoted crypto brands or products in the past. Having a client list of blockchain companies is a good hint that the cryptocurrency agency is well suited for your crypto advertising campaign.
Analyze Their Marketing Expertise: Look for case studies in the crypto and blockchain marketing niche. Read them to discover the problem they solved in the marketing campaign and the NFT marketing strategies they used to solve it.
Check Their Media Coverage: Top crypto marketing agencies should have multiple press and media coverage on top-tier platforms. Getting your business listed on crypto media publications helps you connect with new business partners, build a solid customer base and get the required brand coverage.
Analyze Their Market Reputation: Top crypto agencies should have a positive reputation in the market. To check the company's market reputation, you can visit review websites like Google and Clutch. You can also check the company's Facebook page for customer reviews and feedback.
Ask the Right Questions: Before selecting a full-service marketing agency as your advertising partner, connect with them via phone or email to ask questions to test their expertise. You can ask questions like:
✔️ Do you have working relationships with crypto influencers?
✔️ Which crypto clients are you working with currently?
✔️ What are the top three strategies you use to market crypto projects?
✔️ What is your most significant achievement so far as a crypto marketing agency?
✔️ What are the KPIs you use?
✔️ Do you also offer crypto exchanges listing services?
✔️ How do you measure success?
Asking the right questions is the key to selecting the best crypto PR firm for your crypto project.
Red Flags to Look for Before Hiring a Cryptocurrency Marketing Agency
If you've never hired a crypto agency before, you might not be savvy about any potential warning signs that indicate a non-professional agency. Here's what to watch out for to help you choose a cryptocurrency marketing agency with a proven track record:
Lack of Communication
Top crypto marketing agencies should be excellent at communication. The best way to judge the communication of any crypto advertising agency is to schedule a call and observe whether they are listening to you or just talking about their company and their success.
A good blockchain marketing company should understand your business model, listen to your problems and needs, ask questions to understand your target audience, and offer you a custom marketing plan depending on your marketing budget. If the agency is not engaging in active communication right from the start of the project, then it is a red flag that they won't listen to your concerns at any later stages of the marketing campaign.
Empty Promises
No cryptocurrency marketing company can guarantee the success of a marketing campaign, so anyone who says they can is making empty promises. Instead, crypto marketing agencies should provide details of the strategy they plan to use to promote your project.
Good research is key in cryptocurrency marketing, and an agency should be aware of the latest trends in the crypto industry. The crypto marketing agency should present data when devising a strategy and set proper KPIs and project timelines rather than simply spewing lofty goals and empty promises.
Unwillingness to Offer Customized Service
Most crypto marketing agencies have built-in pricing plans where they mention what services they will deliver. But every business is different, so there can't be a one-size-fits-all marketing package. It's a red flag if the agency is offering you the same package they provide to every other business without understanding your specific goals.
Check out this detailed list of agencies: The Absolute 20 Best Marketing Agencies in 2023
Top 5 Crypto Marketing Agencies
Wondering which is the best crypto marketing firms to promote your blockchain projects? Here's a list of the top five crypto firms to consider in 2024.
As a reputable full-service digital marketing agency with a proven track record, we would be remiss if we didn't mention our company! Single Grain is one of the best crypto marketing agencies: From search engine optimization to social media and paid ads, we have a team of qualified digital marketing experts to promote your crypto and NFT projects.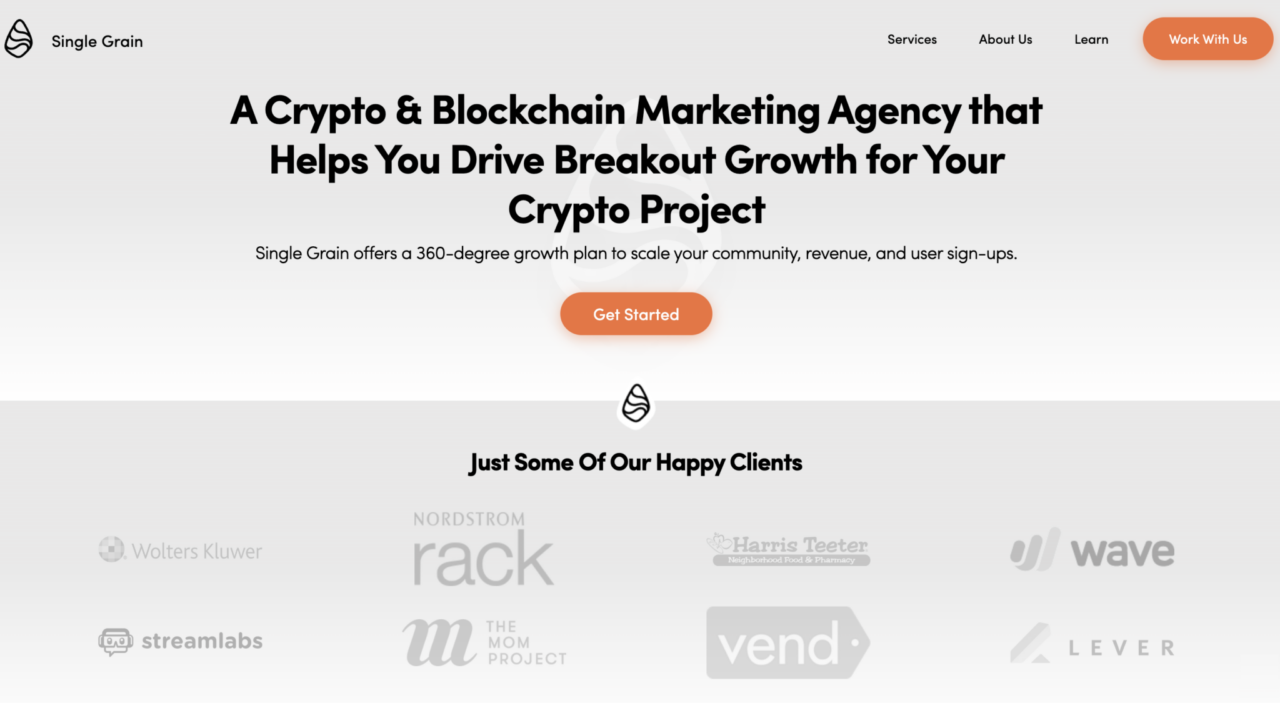 Single Grain offers a 360-degree marketing plan to deliver the highest returns on your crypto products. That means we have experts in SEO, lead generation, PPC, social media management and content marketing, all of which will help you generate the highest ROI on your crypto products.
Our agency is also well versed in the blockchain industry: We retain a robust blog with plenty of articles on NFTs, blockchain and crypto, we've worked with leading blockchain companies like Bittrex, Immutable and ENS Domains, and CEO Eric Siu has his own NFTs: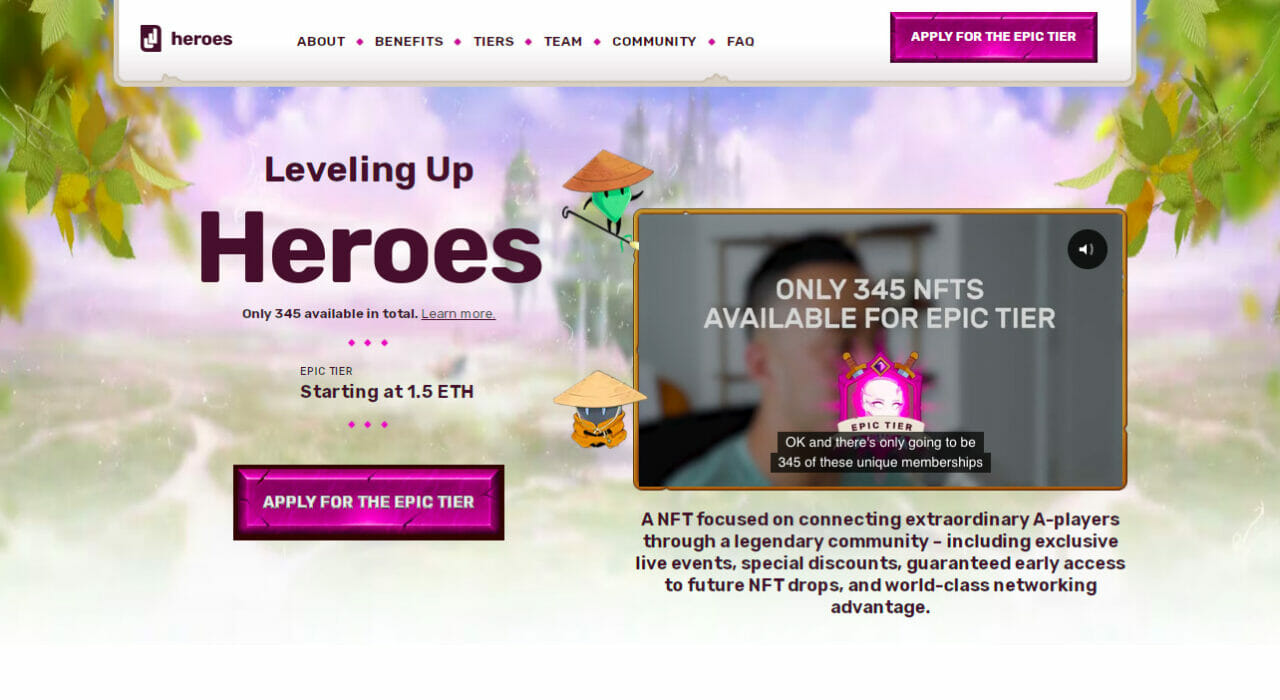 We design a tailor-made marketing campaign for every client that walks through our doors.
Single Grain's specialties include the following:
There are thousands of cryptocurrencies in the market, and to beat the competition, your crypto products need to be on top of organic search results. To help you achieve this, we offer crypto SEO strategies to generate quality traffic to your website.
Single Grain understands how to make the most of your crypto marketing budget, and we use cutting-edge marketing strategies to drive profits from your crypto ad and marketing campaigns.
Social media has the power to make or break your brand. We have expert social media marketers to promote your coins on popular social media and instant messaging channels like Reddit, Telegram, Discord and Twitter.
With the help of effective crypto influencer marketing and industry connections, Single Grain identifies niche influencers and collaborates with them to build your brand's reputation and generate a high demand for tokens.
Our company specializes in crypto pay-per-click marketing. We have a team of professional crypto PPC experts who use advanced strategies to beat your closest rivals with intelligently written ad copy.
Your crypto project is successful only when accepted by the crypto community. Single Grain helps your coins build a good reputation with your target audience on leading crypto community platforms like Viber, Telegram and Discord.
They help you acquire guaranteed press releases to build a network of cryptocurrency users.
Top clients:
Bittrex
Immutable
ENS Domains
Address: Los Angeles, CA, United States
Pricing: Single Grain offers custom pricing plans based on your crypto business goals and needs.
2) ICODA
ICODA is a full-service blockchain marketing agency that offers DeFi, NFT, PR and influencer marketing services.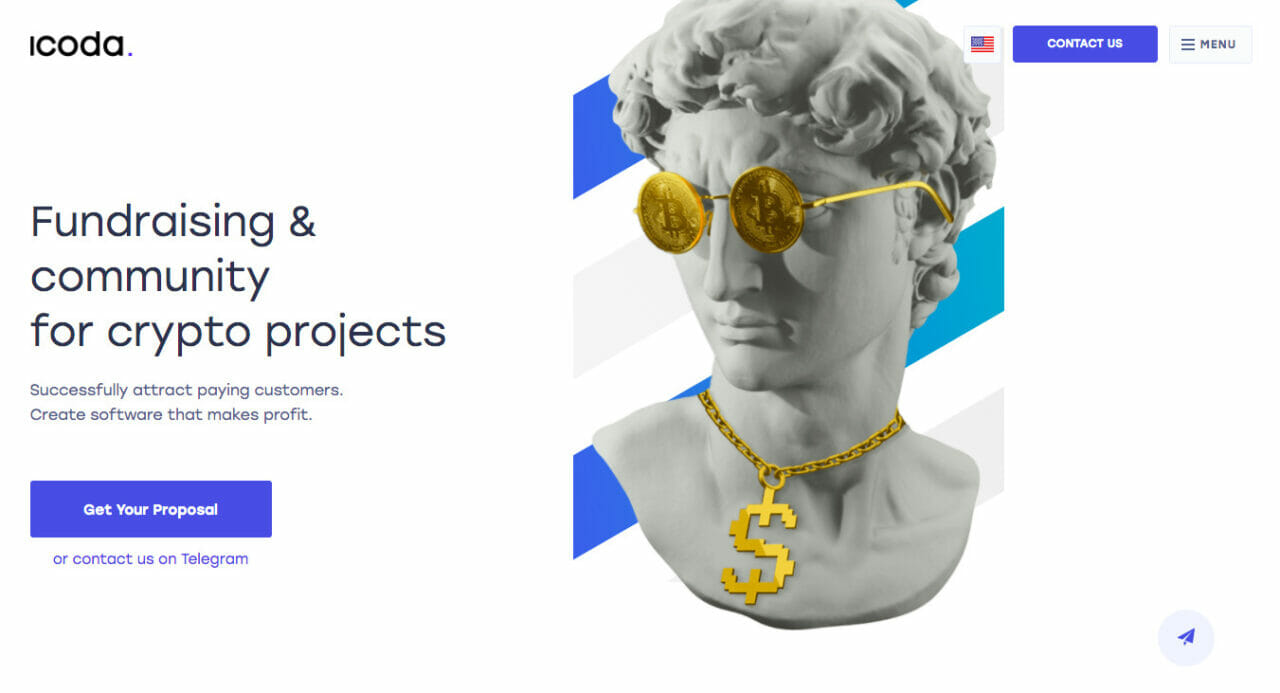 They are featured in Investing, Hackernoon, Benzinga, BTC Peers and other leading crypto media publications. They have a team of crypto experts who are well versed in the latest blockchain technology and trends in the fintech industry, such as smart contracts and Ethereum 2.0.
ICODA's specialties include the following:
ICODA has collaborations with industry-leading crypto magazines, including CoinMarketCap, CoinGecko, Forbes, Bloomberg, Bitcoin.com and 300 others.
They help crypto ventures reach thousands of crypto enthusiasts through crypto PR services.
They use a combination of crypto PR tactics like promo video creation, media outreach and crypto press release distribution to spread the word about your blockchain projects. You can even pick the airdrops and YouTube influencers of your choice.
They are one of the best ICO marketing firms to help attract qualified leads for your ICO projects, crypto wallets, crypto startups, AMM, yield farming and DeFi projects.
Top clients:
SwissBorg
Saferrmoon
Paycent
Address: Miami, FL, United States
Contact: Via the Contact Us page
Pricing: ICODA offers custom pricing plans based on your crypto business goals and needs.
Learn More: The Ultimate ICO Marketing Checklist
3) Coinbound
Coinbound is one of the top crypto marketing agencies offering fintech, blockchain and NFT marketing services trusted by hundreds of crypto brands worldwide.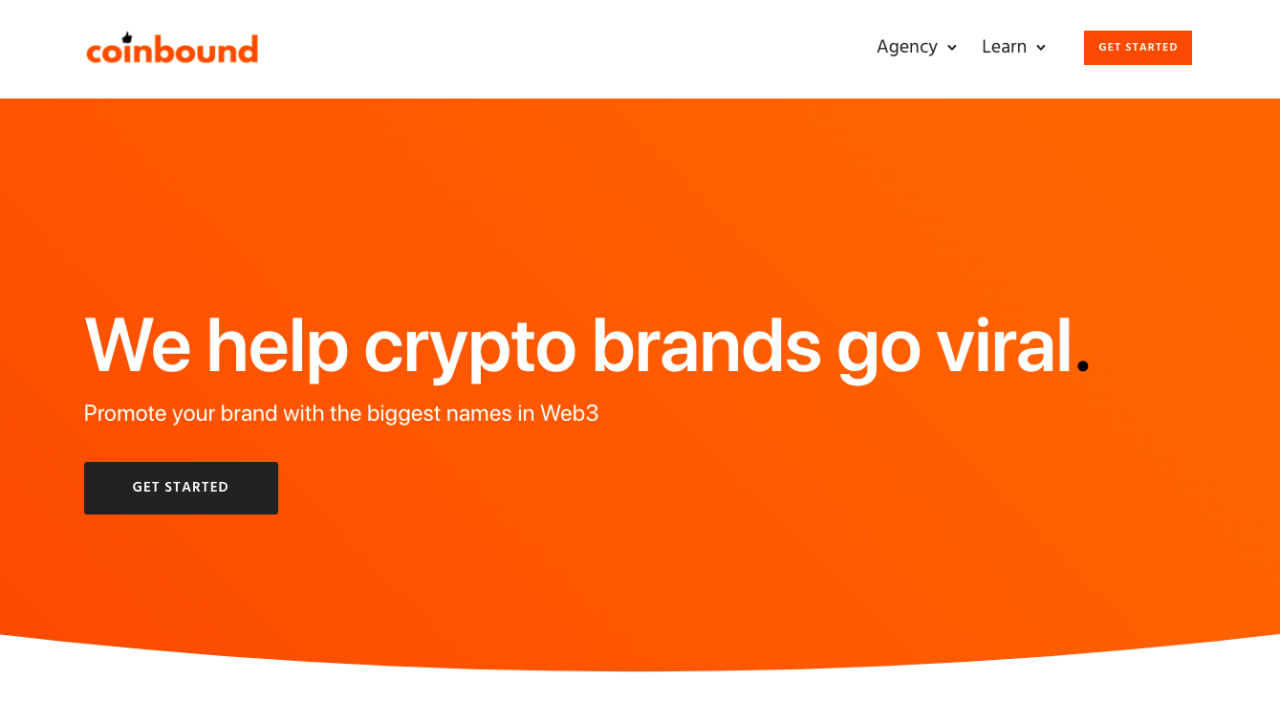 The Coinbound Web3 marketing agency has a team of crypto influencer marketing specialists who claim to manage the world's largest network of cryptocurrency and NFT influencers.
Coinbound's specialties include the following:
Coinbound helps you secure insane brand coverage through their crypto PR services. They have contacts with the largest crypto media channels to help you get the organic brand coverage your business deserves.
They help crypto websites get 60x more organic traffic by optimizing content. You can run your blog on autopilot, and their team will create and publish engaging content to acquire relevant visitors to your site.
Coinbound has a team of expert social media ads marketers who ensure higher visibility for your crypto company over various social media platforms like Twitter, YouTube, Reddit, TikTok and Instagram.
They help you generate new customers for your crypto products or services through paid advertising campaigns on Google, Bing, LinkedIn, Twitter and YouTube.
Coinbound offers a dedicated crypto marketing podcast (Web3 Marketing with Ty Smith) to learn proven marketing tips from industry-leading marketers.
Top clients:
Address: Riverside, CA, United States
Contact: Via Telegram
Pricing: They offer custom pricing plans based on your crypto business goals and needs.
Learn More: The Secret to YouTube Success: 2 Key Strategies
4) Blockwiz
Blockwiz is a full-service crypto marketing agency founded in 2019. They have a team of more than 70 crypto experts who have worked on 150+ successful crypto projects.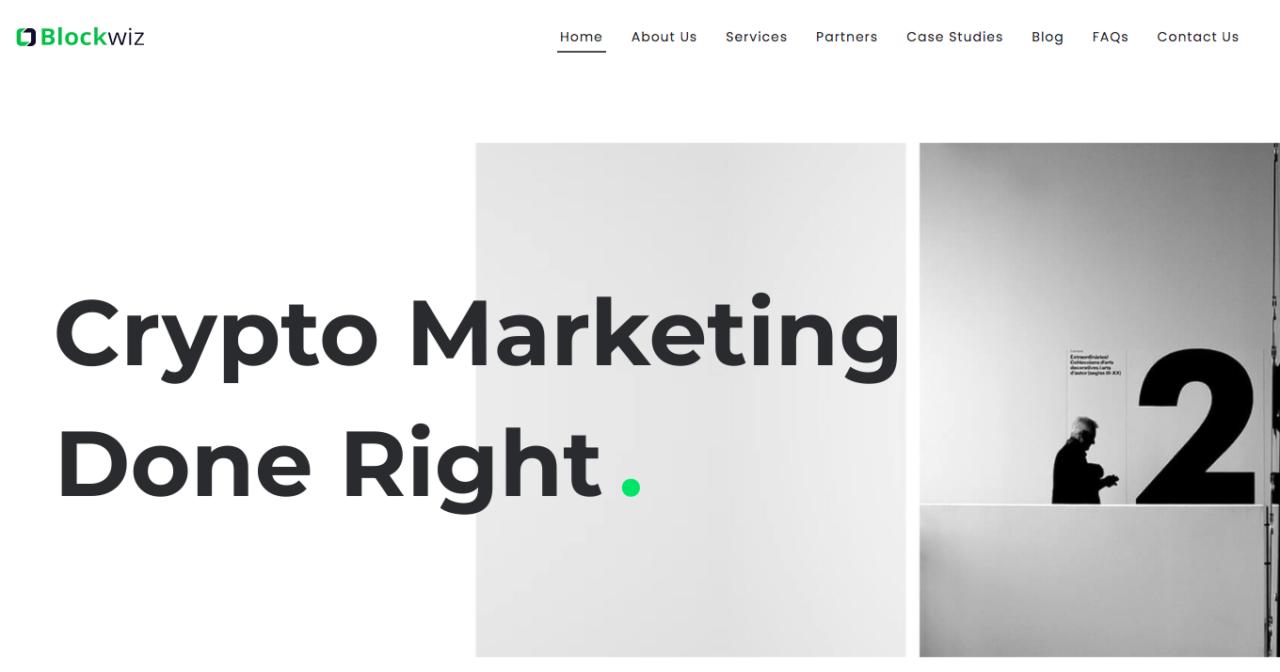 They offer data-driven crypto marketing solutions to get the best value for your crypto marketing budget. Their award-winning community moderation team helps you manage your crypto communities on Discord and Telegram with ease.
Blockwiz's specialties include the following:
Their video creation team helps you create high-quality cryptocurrency and blockchain explainer videos to increase engagement on leading social platforms.
The Blockwiz social media marketing team plans different forms of content like contests, quizzes and giveaways. They post regular updates on selected social media marketing platforms to keep your audience engaged.
Their cryptocurrency content writing team helps you create SEO-friendly content copy, newsletters, e-books and white papers to improve your business visibility online.
The PR campaigns and sponsored content services help you publish your content on the world's biggest crypto media houses.
Their influencer marketing team has mastered the art of creating viral cryptocurrency campaigns on platforms like Twitter, YouTube, Facebook, Instagram and Telegram. You can handpick the best crypto influencer for your project from a list of 300+ industry-renowned influencers.
Top clients:
Address: Toronto, ON, Canada
Contact Details: [email protected]
Pricing: Blockwiz offers custom pricing plans based on your crypto business goals and needs.
Learn More: 18 Engaging Video Content Types that People Love to Watch
5) Bitcoin Marketing Team
Bitcoin Marketing Team is a full-service fintech marketing agency founded in 2014 by a team of crypto experts to help cryptocurrency startups. They are Europe's oldest cryptocurrency marketing firm and Google agency partner offering crypto strategic marketing and advertising services.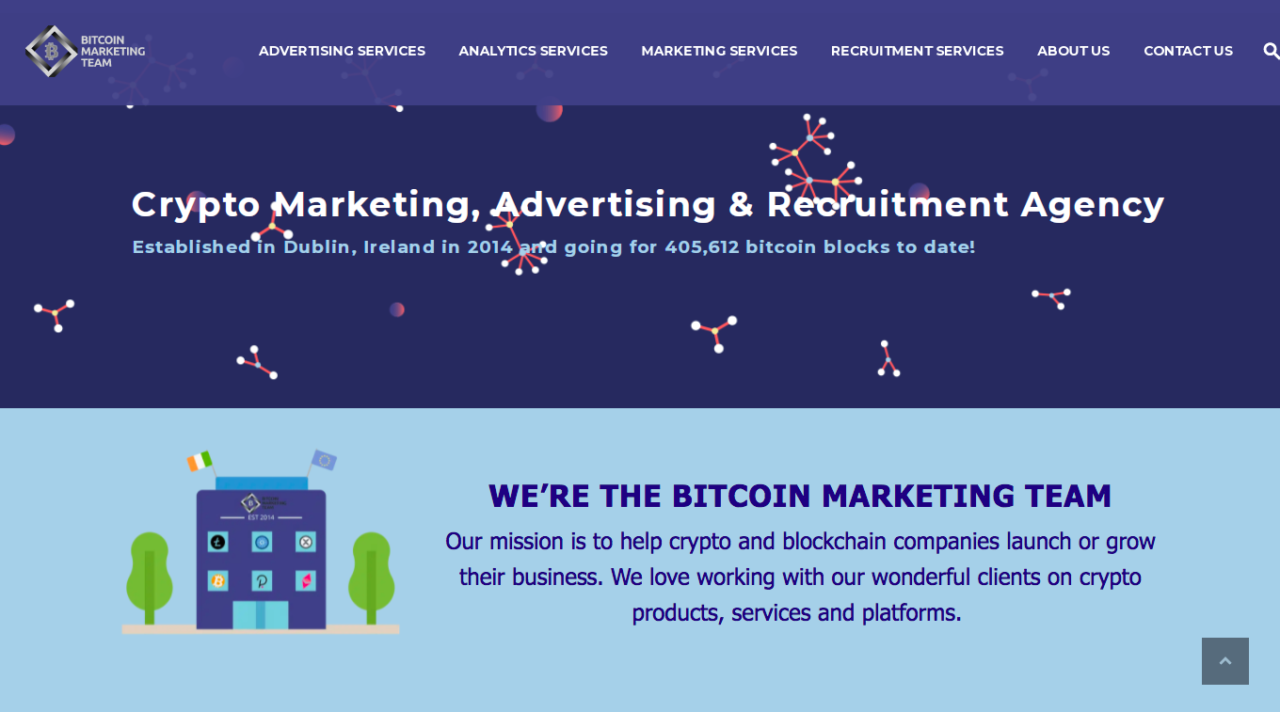 Bitcoin Marketing Team's specialties include the following:
They offer high-quality search engine optimization services to generate more traffic to your website using a mix of organic keywords.
Their PR team helps acquire PR in industry-leading media platforms like Forbes, CNN and Bloomberg.
They offer content marketing services that include various options such as blog posts, social media posts, email marketing copy, ad copy, website content, press releases, etc.
The team also offers customizable web design services to offer an exceptional user experience to drive maximum user engagement.
The expert crypto advertising team assists in ad campaign setup and ad management for crypto businesses on leading ad platforms like Google and Bing.
Top clients:
BlockDaemon
CoinGaming.io
LocalCoinSwap
Address: Dublin, Ireland
Contact Details: [email protected]
Pricing: Bitcoin Marketing Team offers custom pricing plans based on your crypto business goals and needs.
Learn More: Maximizing Your Ad Spend: 8 Reasons Why Google Ad Management Is Essential
Benefits of Hiring a Cryptocurrency Marketing Agency
Here are the top advantages of hiring a cryptocurrency marketing agency rather than doing it yourself.
Save Time and Money
The average salary of a marketing manager is $133,380 per year.
Most crypto marketing agencies offer services at an average cost of $1,200 to $2,000 per month or more, which is significantly less than hiring a full-time marketing manager for your cryptocurrency business marketing.
Not only that, but a good crypto PR firm has an entire team of professionals specializing in blockchain marketing activities and has experience working with several crypto companies. So, cost-wise, hiring a crypto marketing agency is always a better option than hiring an in-house team.
Reach Your Desired Buyer Group(s) With Niche Specialization
Hiring a fintech marketing agency that understands your industry and customer base can take your marketing efforts to the next level.
Crypto advertising companies have experience in successfully promoting crypto businesses, and they understand the kind of efforts it takes to reach your desired buyer group.
Secure Brand Coverage in Top Crypto Publications
Getting featured in top crypto publications is essential for cryptocurrency businesses. Most cryptocurrency marketing agencies offer PR services and collaborate with top crypto media publications and blockchain reporters.
With effective thought leader marketing, they can help you secure your brand coverage in leading crypto and NFT media platforms, including Entrepreneur, Forbes, Coindesk and Seeking Alpha. With improved branding, a bitcoin marketing agency helps your crypto brand reach new heights.
Work With Subject-Matter Experts
Working with a blockchain marketing company will allow you to team up with experienced subject-matter experts who have years of relevant industry expertise. Having a team of experienced crypto marketers on board will help your brand reach new heights in no time.
Hiring a full-service crypto marketing agency can also save you money because you don't have to pay for all the marketing tools that advertising agencies have access to.
Keep Up to Date With Emerging Cryptocurrency Industry Trends
As an aspiring blockchain startup, it's crucial to remain aware of the top marketing trends because that helps to gain an edge over your competitors: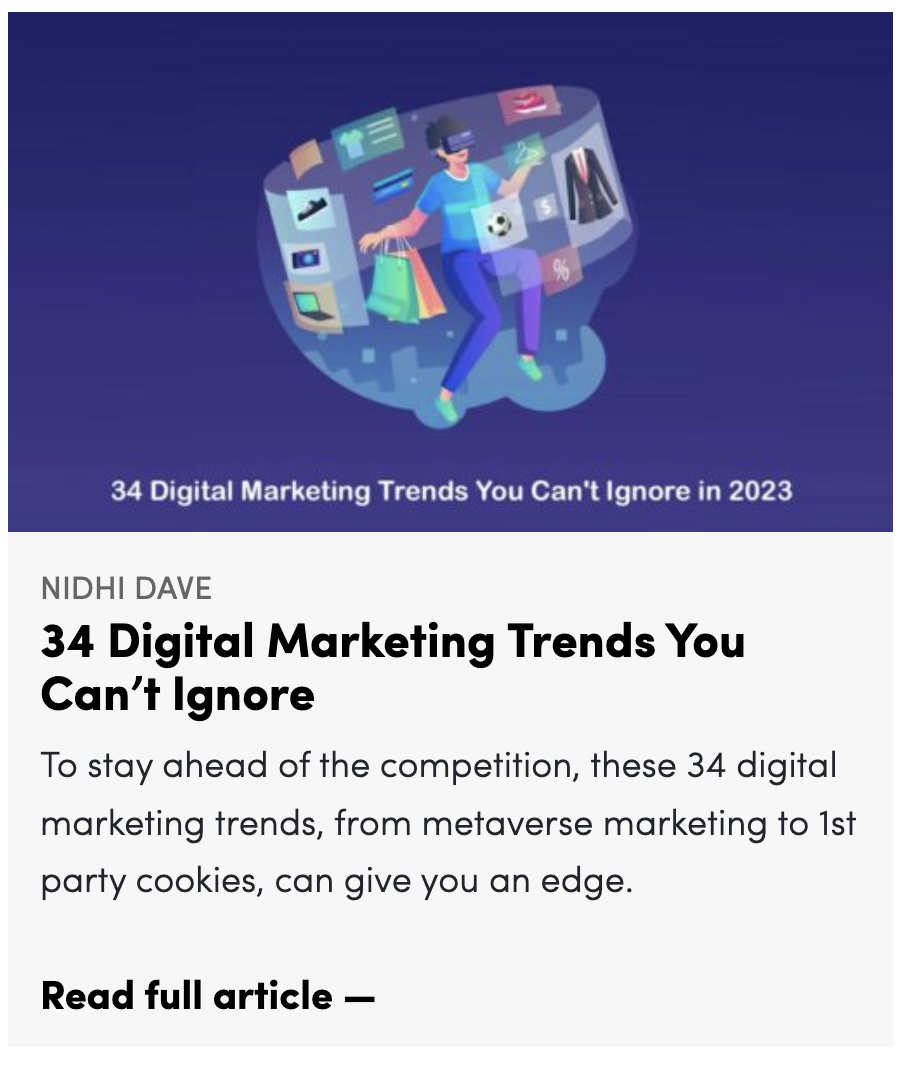 Working with a top crypto marketing agency will help you stay updated on the latest cryptocurrency, blockchain and ICO marketing trends.
You'll be able to make quick changes to your SEO optimization, PPC and advertising strategies to keep up with the upcoming crypto market trends and changing buyer behavior.
Learn More: The Ultimate Guide to Blockchain Digital Marketing and Cryptocurrency
Ready to Start Working With a Crypto Marketing Agency?
An exceptional cryptocurrency marketing strategy involves:
Great branding
High-converting organic traffic
UX-friendly website design
Crypto community building
Successful media outreach
Result-oriented advertising campaigns
Therefore, you should work with a top ICO and crypto marketing agency that offers a team of experts in different areas of digital marketing like Google ads, SEO, content marketing, influencer marketing, social media marketing, video marketing, press release marketing, etc.
If you're ready to scale your community, revenue and user sign-ups, Single Grain's

crypto & blockchain experts

 can help!👇
Cryptocurrency Advertising Agency FAQs
What are the top services offered by blockchain marketing agencies?

Top services provided by blockchain marketing services are strategic ICO/STO consulting, community management, social media promotion, content creation, influencer partnerships and analytics-driven strategies to amplify visibility and engagement for blockchain projectsWhat characteristics should an effective crypto marketing agency have?

An effective crypto promotion agency should have a comprehensive understanding of the crypto landscape, relevant industry expertise and creative marketing skills. They should deliver tailored strategies, showcase adaptability to evolving trends and prioritize transparent communication to establish trust with clients.

How long does it take to get results from crypto marketing?

The timeline for seeing results in crypto marketing varies based on campaign scope, target audiences, blockchain agency experience and project stage. Generally, initial traction might be visible within a few weeks, while more measurable outcomes are received after several months of sustained effort.

How does one measure the success of cryptocurrency marketing?

A crypto advertising company uses diverse metrics like website traffic, social media engagement, community growth, conversion rates, token adoption and overall brand recognition to measure the effectiveness of blockchain marketing campaigns.
If you were unable to find the answer you've been looking for, do not hesitate to get in touch and ask us directly.