Chapter 9: The Ultimate ICO Marketing Checklist
In Chapter 9 of the Ultimate Guide to Blockchain Marketing and Cryptocurrency, we'll share our step-by-step ICO marketing checklist — from whitepaper examples to where the crypto community meets online to a full email funnel.
So now that you've decided to ICO, what should you do to market it?
First, Neil and Eric offer their expertise, then we'll go straight into the Ultimate ICO Marketing Checklist.
1. Build Trust Through a Whitepaper
A whitepaper is the cornerstone of a successful ICO.
Investors would want to see a thorough explanation of the project, the team that's involved, legal aspects, and more. Essentially, the whitepaper's job is to convince an investor why the token is will be worth a lot of money one day.
Here are some things to keep in mind when crafting an ICO whitepaper:
ICO Project Outline: How Is Your ICO Solution Different?
In the project outline, you should give a quick summary of the problem you're looking to solve, and how your company will solve that problem in an innovative way.
How is your solution to the problem you're solving different from your competitors? How are you leveraging the blockchain to disrupt your industry? Why is it better than what's already available in the market?
Startup Team: How Reputable Is Your Company?
One of the most important parts of a whitepaper is the area where you describe your team and whoever else is involved in your project. Because many of these projects are so early (many of them don't even have a product or a working prototype yet), the best way for investors to gauge whether the company will be successful or not is getting to know the team behind the project.
If you have prominent investors or advisors backing your project already, this can make it easier to get people to believe in your product.
Logistics: How Are Your Tokens Distributed?
It's important to outline the process of how tokens will be distributed. Things like date of listing on the exchange, how the tokens will be sold, the redemption process, any guarantees, etc. should be listed here.
Legalities: The Biggest Challenge in the Cryptocurrency Space
One of the biggest challenges in the cryptocurrency space right now is dealing with legal issues that surround token purchases.
In some cases, there may be federal regulations to think about or guidelines on what investors can or can't do with their investment. Things like legal jurisdiction and regulatory issues are important to outline in the whitepaper as well.
For example, check out Iconomi's whitepaper.
They immediately begin with a section called "Why Invest in Iconomi?" which is a detailed description of the product, their mission, and how they're leveraging the blockchain to create a way for the public to invest in major startups (like Uber, Facebook, Android, etc.) in the early stages.
Other sections include how the product works, technical details about the platform, and details about token distribution.
You can also check out Quoine's whitepaper – a company that provides liquidity to the non-liquid crypto economy. Their table of contents is structured almost like an investor pitch, which covers a summary of the platform, token sale, who benefits, Quoine's competitive advantage, and their product roadmap.
2. Build a Cryptocurrency Community on Social Media
One of the most unique, unexpected aspects of the cryptocurrency world is the strength of the community around particular coins or exchanges. A strong community will set the foundation for a successful launch. Some of the biggest crypto coins out there started out by building large communities.
For example, check out the Reddit subgroup for Tron, one of the most popular utility tokens that's being traded today.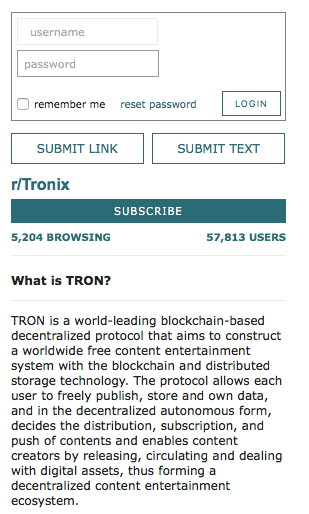 They've got over 50,000 users in their subgroup.
Forums like Reddit also provide a platform for followers of a token to ask questions and get answers from other readers.
This Reddit user asked a clarifying question about Tron's strategy in the Reddit subgroup:

3. More Cryptocurrency Communities: Telegram, Medium, and Influencer Marketing
Telegram is another popular platform where blockchain companies can build community.
Telegram is a mobile messaging platform, similar to Whatsapp. The main difference here is security — Telegram allows users to create "secret" chats that have a self-destruct timer. This way, users can choose how long they want their messages to last. After the timer expires, the message disappears. The encryption that Telegram provides makes it popular within the blockchain and bitcoin community.
You can start a group within Telegram to start building your community. You can check out examples here of popular blockchain telegram channels to see how they grow and manage popular communities.
Medium has also quite popular among the blockchain community. For example, Polymath started their own "collection" on Medium where they publish blog posts and updates for their community.
They publish updates to get people excited about Polymath, technical information about their platform, and more.
Publishing posts about your project on various popular groups on social media platforms can also help build buzz for your ICO, and build your own audience as well. This strategy is also a good way to gauge whether your messaging resonates or not. For example, you could post updates on blockchain groups on LinkedIn (like this one, that has nearly 25,000 members).  You could also post on Quora discussion threads.
Influencer marketing has also been quite popular in the crypto world. There are tons of bloggers, YouTubers, and other influencers creating content for cryptocurrency enthusiasts who may be interested in ICOs. You could offer them free tokens, or give them a % of the funds raised in the ICO.
Building a large community can also generate buzz that attracts media attention — and bring added approval to your project. This is extremely important for any project, since in the early days, there's not an established product being sold yet. Investors need to know that the team behind the project and a community around it.  
Publish Announcements in Popular ICO Calendars
A quick way to generate buzz for an ICO is to place announcements about the token release on various calendar sites. People looking to take part in an ICO will often visit these calendars to get a list of upcoming ICOs being offered.
For example, you could list your coin on (just to name a few):
These websites are similar to GoFundMe or Kickstarter for funding crypto projects. They have a database of token sales and users can participate in whichever one they choose. Getting listed on these sites can also help your chances of getting your project featured in the press – in many cases, journalists at top blogs will check ICO calendar websites to get a list of ICOs to feature in an article.
4. Promote Your ICO With Paid Advertising
Paid advertising is usually the quickest way to get users following your Telegram group, subreddit, Medium blog, or on your email list. Getting media buzz around your project is essential for any ICO and would be well worth your investment.
One of the challenges that come with paid ads is the rules and regulations that marketers need to follow. Because the crypto space is quickly growing, there are a huge number of scams and fraudulent companies out there trying to make a quick profit. For that reason, advertising platforms are starting to place stricter restrictions on the type of content that can be promoted.
For example, Facebook banned advertisements related to cryptocurrency, Bitcoin, and ICOs.  According to Facebook's product management director Rob Leathern:
"We want people to continue to discover and learn about new products and services through Facebook ads without fear of scams or deception. That said, there are many companies who are advertising binary options, ICOs, and cryptocurrencies that are not currently operating in good faith. This policy is intentionally broad while we work to better detect deceptive and misleading advertising practices, and enforcement will begin to ramp up across Facebook, Instagram, and its off-platform Audience Network."
If you decide to run paid ads for an ICO, you'll need to pay close attention to the wording of your ad copy to ensure that it doesn't violate any rules of the ad platform.
Facebook released a few examples of ad copy that would result in the ad being banned:
"Click here to learn more about our no-risk cryptocurrency that enables payments to anyone in the world."

"New ICO! Buy tokens at a 15% discount NOW!"
High pressure ads that try to sell people on a particular cryptocurrency or advertise an ICO will likely be banned, but you can work around this by promoting a piece of free content, a webinar, or your social media group.
5. Prioritize Email Marketing
With all the technical jargon that crypto companies are throwing around, good copywriting and email marketing is extremely valuable.
Smart marketers know to prioritize email marketing and keep it at the core of their strategy. Although social media marketing, influencer marketing, building a community online, etc. are all powerful ways to spread your message, at the end of the day, email is the only platform that you truly "own."
Because you have access to people's email addresses, you can send your message directly to their inbox without being vulnerable to the rules of any one platform.
Here are a few things to keep in mind as you craft an email marketing campaign:
Offer a Proper Opt-in Incentive
In exchange for their email address, readers expect to receive something in return. You could offer some sort of guide (i.e. "How to choose the right cryptocurrency to invest in") or give them access to something exclusive that they wouldn't be able to access otherwise.
For example, Polymath's CTA on their homepage plays on exclusivity by tempting readers to "Join the largest Telegram group in crypto before it's too late."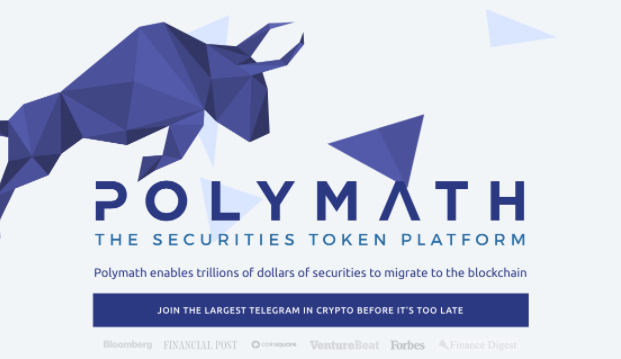 Clicking on the link takes readers to a survey that they have to complete before given access to the group.
Craft a Compelling Autoresponder Sequence
An autoresponder sequence is a series of emails that readers receive once they give you their email address. Ideally, an autoresponder sequence would be somewhere between 5-7 emails, followed up by a series of broadcast emails to keep readers engaged over time. Here's a sample of how an autoresponder might flow:
Email 1: Appetite Whetting.

The first email of the autoresponder is meant to get readers excited to read the rest of the sequence, and build solid rapport with them up front. An easy way to do this is by 1) delivering the opt-in incentive they were promised when they entered their email address, and 2) asking them to send you any questions.





Check out this example welcome email script from a company we'll call "QuickTest":





Hi [name],





Thank you for registering for QuickTest. You'll find that it's a great way to increase your conversions and boost your profits without any significant legwork.





Here are a few resources from our getting started section that might help you out.





– Step-by-Step Guide to Your First QuickTest Campaign





– FAQS: What is statistically significant? Can I run multiple tests at the same time?





– 101 Conversion-Boosting Tactics To Try Right Now





Again I want to welcome you to our community. I can't wait to hear about your experience with QuickTest.





Jason



P.S. I'm your customer support hero in charge of keeping you happy. If you have ANY questions… problems… or concerns… please feel free to reach out to ask me before getting frustrated (Skype: JasonTheHero, Email: [email protected])



Notice how they send over some of their most popular pieces of content and follow it up with a personalized invitation to ask questions?
Email 2: Keystone Content. Every company should have one key piece of content that they share with all their readers. That piece of content should describe their business, their point of view, what they stand for, and why people should stay tuned to their updates.

Ideally, this piece of content should be shared early on in the customer relationship so that your readers have a way to remember you.

In the P.S. line of these emails, you can also ask your readers to drag your email over to their "primary" inbox (so that they see your updates more consistently). Here's an example of how Farnam Street Blog asks for this


Email 3: Introduce the Offer. What sort of action do you want readers to take? Do you want them to help you raise money for an ICO? Do you want them to invite their friends to the Telegram group?

Around emails 3 or 4, you'll want to introduce the "offer" you're looking to make, and drive people towards that.
Email 4: FAQs. Once you introduce the offer, you'll want to address objections and barriers that surround that offer. An effective way to do this is by sending an FAQ email where you address commonly asked questions one by one.

By addressing questions, concerns, and mental barriers around taking the action you want them to take, you can increase your conversion rate from your autoresponder sequence.
Email 5: The "Hard Sell." After you've done the hard work of building rapport with your readers, sending them free content, introducing the offer and sending your FAQ email, it's time to drive them a bit more aggressively towards the action you want them to take.

In the last email of the funnel, you can push them harder to take the action by introducing elements like scarcity or expiring bonuses.
What's the Best ICO Marketing Strategy?
The crypto space is still very early, and consumer behavior hasn't been fully established yet. It's still unclear how people will use cryptocurrencies in their day-to-day lives, and how companies leveraging the blockchain will add value to their users.
But despite all that, getting in early on the action can be pretty lucrative – especially given all the multimillion dollar ICOs that have taken place without needing to go through the process of pitching venture capitalists.
With a good product, a well-thought-out message, and good copy, you'll be able to separate yourself from the other companies trying to cash in on the ICO craze, and raise a significant amount of cash.