UltraVPN Review: Is This 2023's Best VPN?
UltraVPN has been earning rave reviews as of late for its connection speeds, simplicity and affordable pricing, but is it really as good as its biggest fans claim it to be?
Honestly, I think it is.
Running my e-commerce business, I find myself on the move a lot, and it's not uncommon to discover that the only WiFi I can access is a public network.
Sure, that's better than nothing, but it doesn't exactly make me feel confident about keeping my data safe and secure when hooked up to one of those open, free-for-all networks.
That's where a good VPN (Virtual Private Network) really comes in handy: It provides maximum privacy without slowing down the performance of my computer. 
In this complete UltraVPN review, I'll tell you exactly why I choose this platform over other top VPNs, what I wish the platform would improve on, and whether I'd recommend it for you.
What Is UltraVPN? 
UltraVPN is a Virtual Private Network that masks your online activity so that it can't be seen or accessed by hackers. It also provides greater data encryption than your standard browser and even unlocks country-restricted content that you otherwise wouldn't have access to (non-US Netflix shows, anyone?).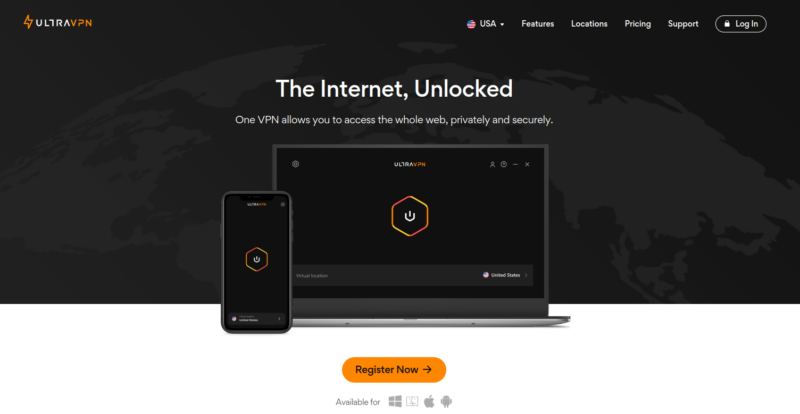 This is the main purpose of any good VPN, but having tried several different options in the past, I find that UltraVPN does a better job than most for three key reasons: 
1) It Doesn't Buffer
Whether you're streaming video content, connecting with colleagues in another country, or simply trying to take care of business, the last thing you need is a sluggish Internet connection.
Accessing the web through some less-than-stellar VPNs can cause lagging and buffering that gets in the way of whatever you're trying to do, but not so with UltraVPN.
This platform offers a lightning-fast connection to multiple servers with zero bandwidth caps and several configurations so that you can optimize performance for the task at hand:

All this ensures that you get Internet access in seconds and maintain a solid, stable connection that allows you to work without interruption for as long as you need to. 
2) It Provides Maximum Data Protection
When you work remotely as much as I do, keeping your data safe from cyber attacks is always a top priority. 
What I like about UltraVPN is that it goes above and beyond the standard data privacy processes used by other VPNs, packing in a wealth of features to keep prying eyes away from your valuable data and prevent cyber attacks.
And if you think that you are not rich enough, famous enough, important enough or big enough (if you're a company) to have your data hacked, think again:
"Gaining access to the systems of an e-commerce [or any] site can provide criminals with a range of valuable data. And not just money, but also [your or] your customers' personal and financial details, which can be lucrative to criminals by committing identify fraud or selling the data on the dark web."
The UltraVPN tool uses of military-grade, 256-bit strength encryption which makes it practically impossible for even the most sophisticated of cyber criminals to snoop, track or hack your data.
3) It's Easy to Use 
Having made a success of my digital marketing and e-commerce businesses, I feel fairly confident in saying that I'm a pretty tech-savvy guy, but using a Virtual Private Network was a whole new experience for me.
That's why, when I was searching for the best VPN to use, I made simplicity and ease-of-use a top priority. After all, the more time I had to spend learning how to set up, configure, and run my VPN, the less time I'd have to work on my business.
Besides, the more complicated an app like this is to use, the more likely it is that I could miss some vitally important step and thus fail to ensure the kind of protection I need.
Fortunately, there's no such problem here. 
I've used UltraVPN across multiple devices and operating systems (including Mac, Windows and an UltraVPN app for Android), and each time found a simple set-up process and an extremely user-friendly interface that means it takes minimum effort to enjoy maximum benefits from my VPN.
See the section below for How to Get Started with UltraVPN: A Step-by-Step Tutorial 
Dive Deeper:
* How to Keep Your E-commerce Site Secure Against Cyber Threats in 2023
* 6 Tips for Securing Your Data from Cyber Attacks as a Remote Worker
* How Poor Website Security Negatively Impacts SEO Rankings

Who Is UltraVPN For?
Ultimately, UltraVPN is for anyone who takes their online privacy seriously. By offering the ability to surf the web and access online services with absolute anonymity, you can be sure that all your personal data, browsing history, and even your IP address are kept safe from snoopers and cyber criminals.
A recent study shows that:
"A cybersecurity attack happens on an Internet-connected device every 39 seconds, and that by the end of the year, cyber attacks on SMBs will occur every 14 seconds."
If your only reason for wanting a VPN is to be able to access shows and movies that are otherwise restricted in your country, then UltraVPN will do a great job of that since it can bypass the kind of VPN-blockers employed by the likes of Netflix and Amazon Prime Video.
That said, its main benefit is to provide added layers of protection when working on public networks. And that means that UltraVPN is for everyone.
What Data Does UltraVPN Store?
As a tool that's all about protecting your privacy, you'll be pleased to know that UltraVPN stores very little information about you and your Internet usage.
When you first sign up, the platform will save your name, email address and payment information as any service usually would.
Then, once you start using it, the only data it collects are:
The version of UltraVPN you're using
Which location you're logged into
Whether or not you're connected (and if not, what the problem may be)
Your country and ISP
All this information is anonymized so that it can't be traced back to you. The only reason that it is kept is to ensure that the VPN runs effectively and to troubleshoot any problems that may arise.
When you first sign up, the platform will also collect your real IP address so that payment goes through correctly, but this is immediately encrypted and deleted.
Furthermore, none of your actual online activities are logged or recorded so you can enjoy the peace of mind that comes from knowing all your online activity is completely anonymous.
UltraVPN Pricing: How Much Does This Popular VPN Cost?
Another thing that really appeals to me about UltraVPN is the pricing.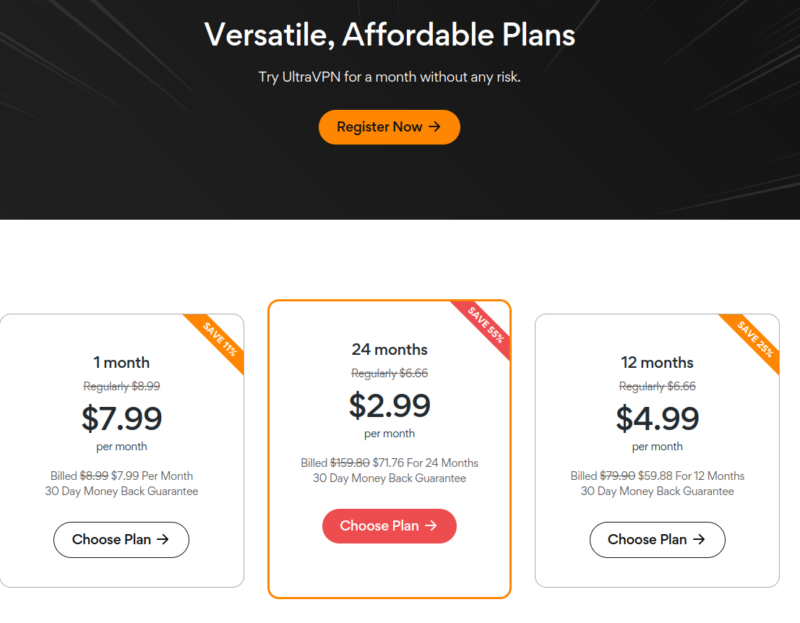 On a month-by-month basis, the platform works out to be more affordable than other top VPN products. Compared to other VPN providers, such as NordVPN, ExpressVPN, Surfshark and CyberGhost, UltraVPN is competitively priced yet offers more features and greater protection than those other services.
The amount you pay depends on the length of your subscription, with the following options available: 
1-month plan:

$7.99/month (billed monthly)

12-month plan:

$4.99/month (billed annually)

24-month plan:

$2.99/month (billed every two years)
All plans come with a 30-day money-back guarantee and all of the following benefits:
No caps or limits (download, stream and access as much online content as you need without restrictions)
Access to 800+ bare metal servers
Anonymous browsing (with no tracking involved)
Military-grade encryption

Plus all the features mentioned elsewhere in this guide
They accept credit cards and PayPal (but no cryptocurrencies).
How to Get Started with UltraVPN: A Step-by-Step Tutorial 
Follow these steps to sign up for, set up, activate and start using your new UltraVPN account.
1) Choose Your Subscription Plan 
To begin your journey to greater privacy and protection, point your browser to UltraVPN.com and click "Register Now." Then choose either the 1-month, 1-year or 2-year plan.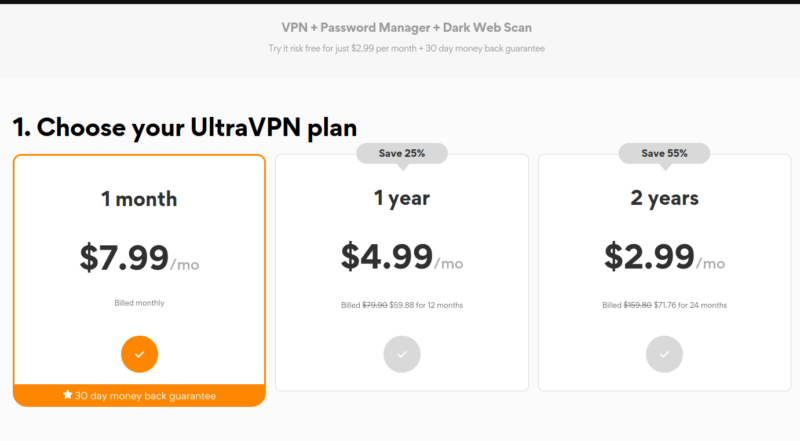 2) Pay for the Subscription 
After choosing your plan, all you need to do is scroll down and enter an email address and pay for your subscription using either PayPal or a credit or debit card.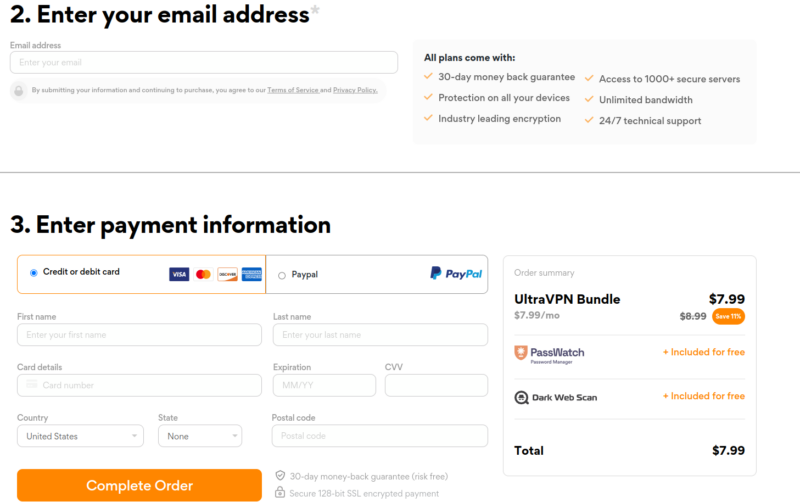 3) Activate Your Account
Once your payment has been accepted, you'll be asked to activate your account by creating a secure password.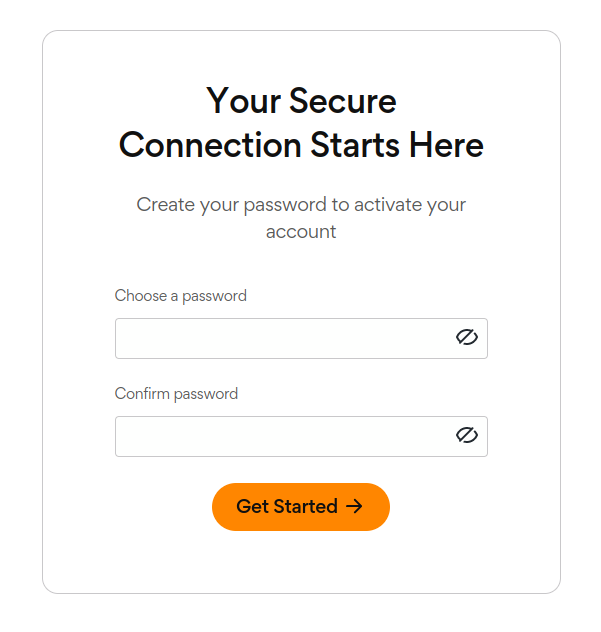 4) Download and Install UltraVPN
On the next screen, you'll be able to download UltraVPN and activate it on your computer. 
Click the green "Download" button and run the activation wizard.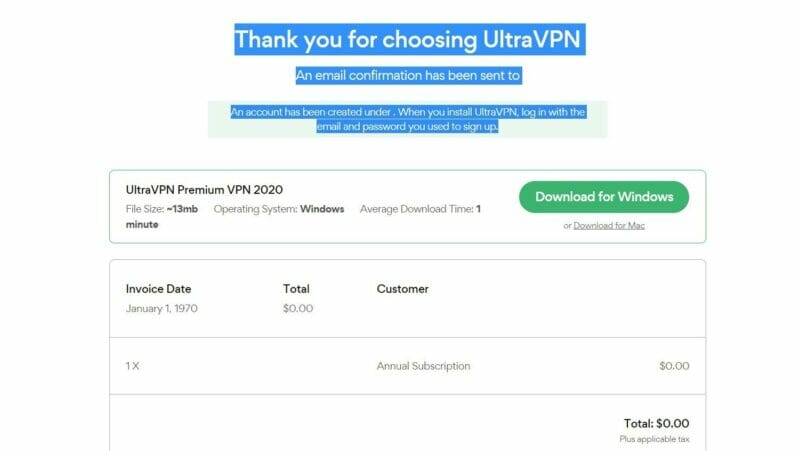 When the set-up process is finished, click the "Done" button to launch the service.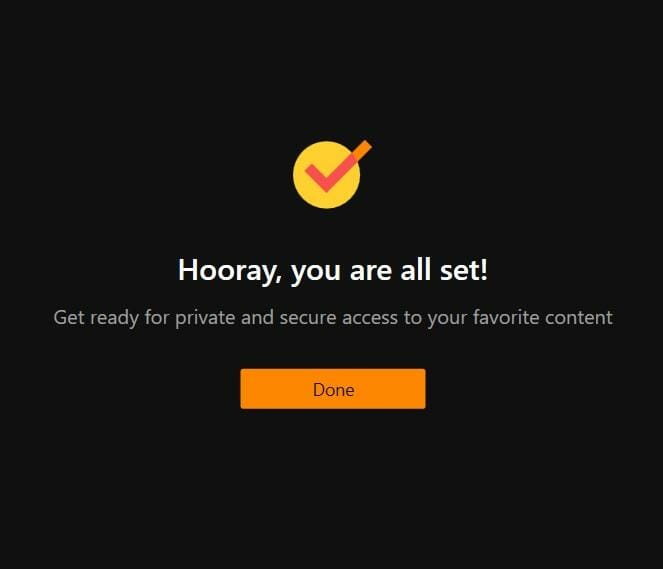 5) Log In and Configure Your Location
On the next screen, you'll be able to log in using the credentials you created earlier.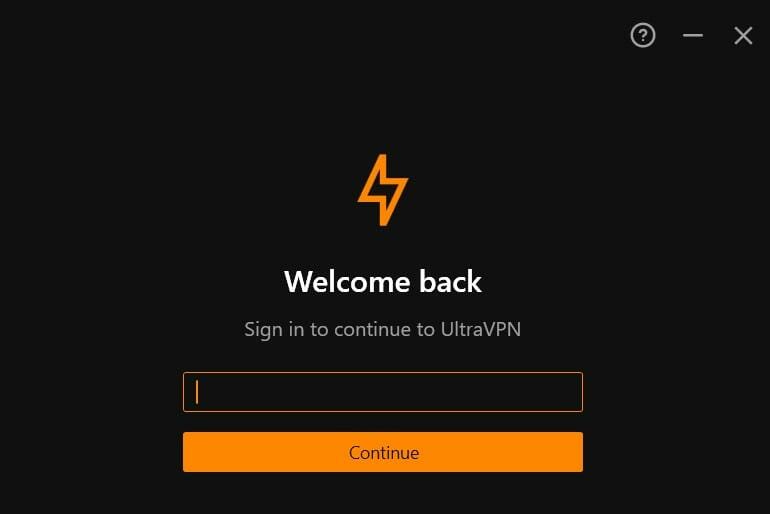 From there, you'll be able to choose one of hundreds of global servers to connect to.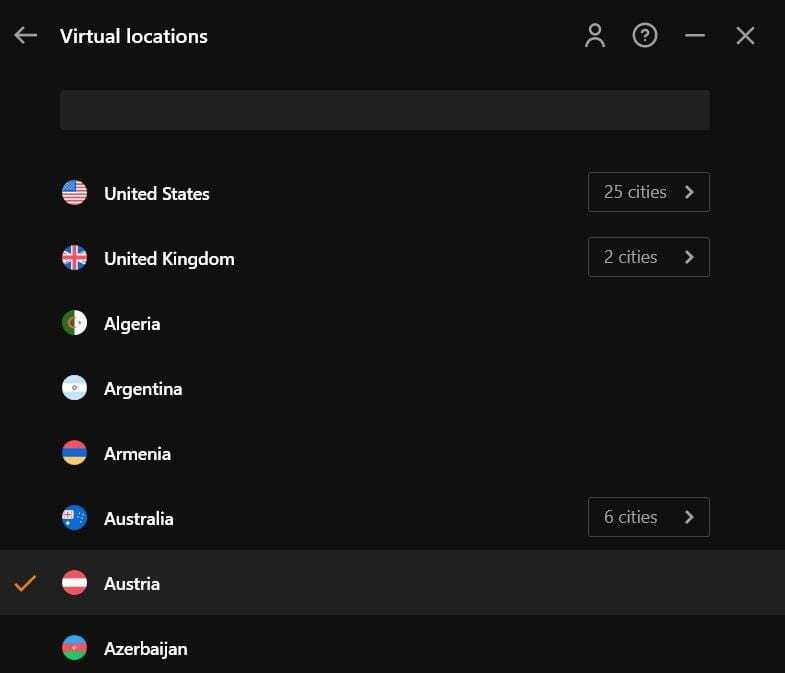 Then click the "Connect" button to join that server.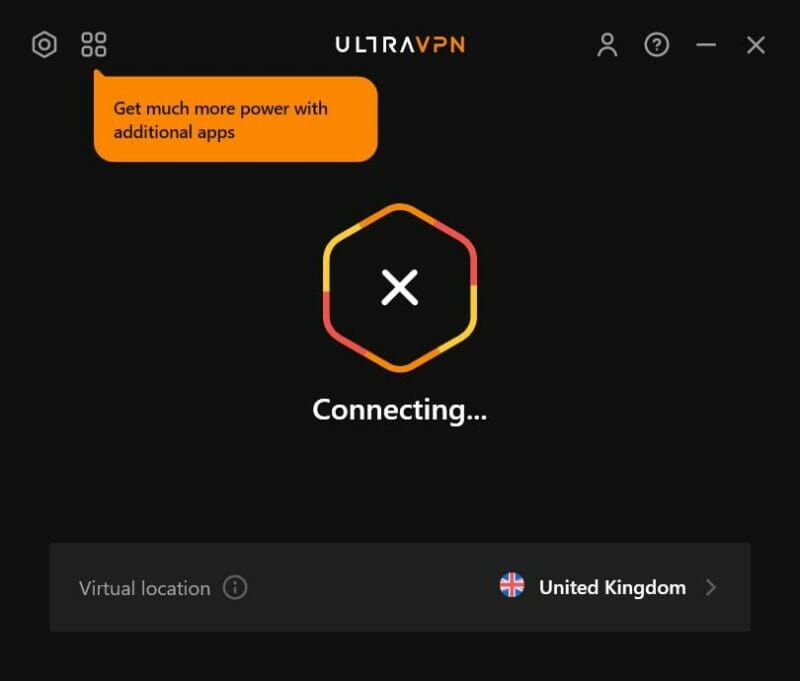 Doing this will bring up a wealth of valuable data about the server you're connected to, including not only the duration of your connection, but also:
Your virtual IP address (the Internet Provider address shown to websites and other services which is different from your actual IP)
The server type and VPN protocol you're using
How much data that platform has secured (including uploaded and downloaded data)
Configure UltraVPN for Your Needs
Once you're logged in with your VPN connection, you can configure the platform's options to best suit your needs. 
Along with choosing which country you want to connect to from the server list (like Spain, Japan, France, UK servers, or anywhere in the USA, of course) so that you can prevent your real IP address from being identified, you can also:
Use a "kill switch" feature to immediately cease all Internet traffic should your VPN unexpectedly disconnect (this feature is disabled by default but is worth turning on when working in public areas)

Provide feedback to UltraVPN's developers on its connectivity

Select VPN protocols that are best suited for a network

Set VPN routing for specific domains
This last option in particular is important because it's here where you'll enter any domains that you don't want to access via the VPN. 
For example, if you want to use your usual IP to visit websites that are exclusively available in your country, you can add those here and still use them without having to turn your VPN off.
UltraVPN Key Features
All plans also include these security features.
Dark Web Scan
UltraVPN prides itself on being the ultimate tool for protecting your privacy while on the web and, to that end, one of its most useful features is a Dark Web Scanner that crawls the Internet looking for any instances where your username and passwords may have been compromised and sold on the dark web.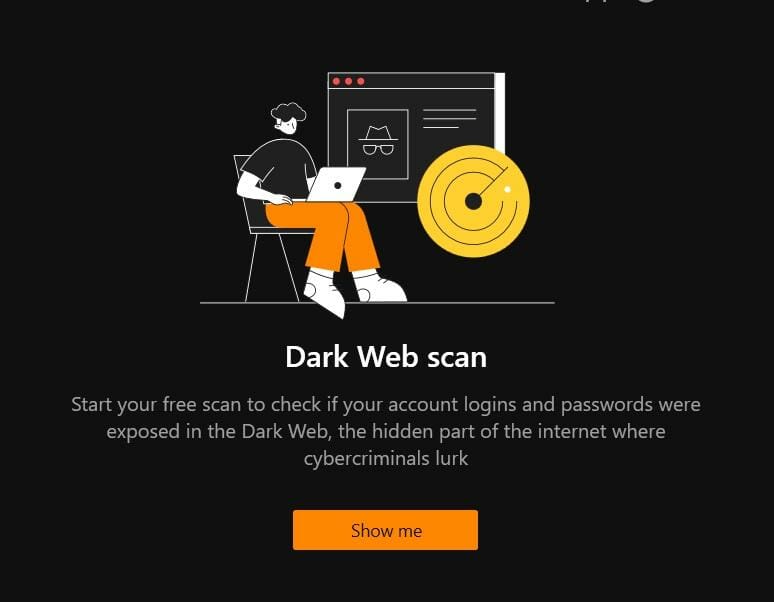 If you're lucky, the scanner won't find any of your login email address details. This was the case when I tried it with my own email address.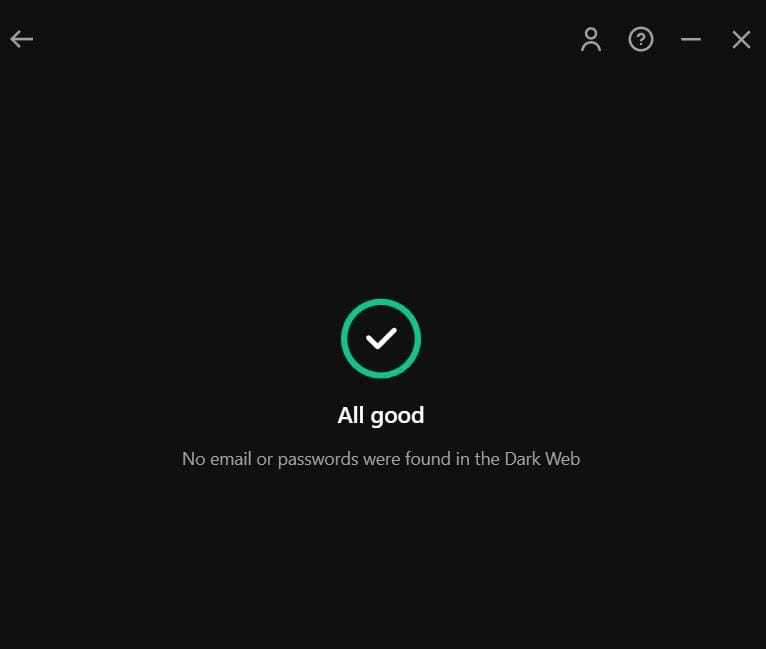 However, should the tool reveal any compromised emails of yours, that's a good sign that it's time to tighten up your security and change all the email addresses you use with your important accounts.
Password Management
Similar to the email scanner, UltraVPN also offers a password protection management tool.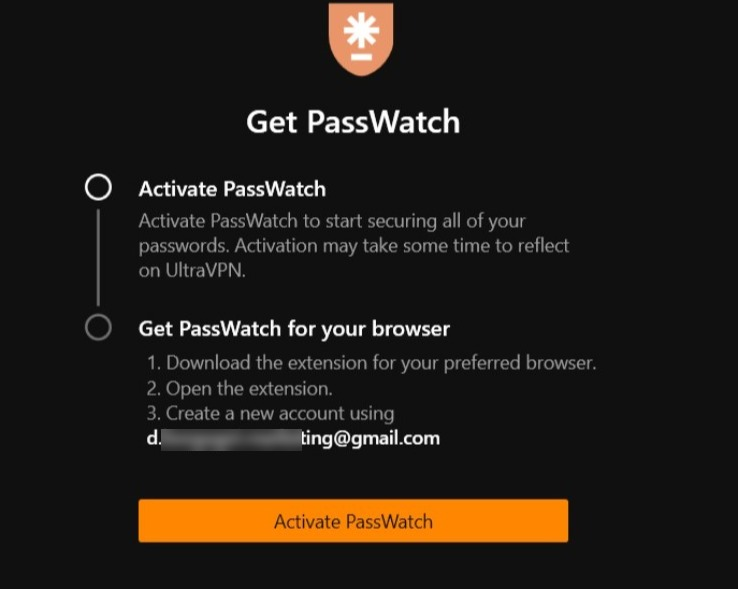 Installed as a browser extension, the password manager saves all your passwords for you, keeps them fully encrypted, and can automatically generate secure passwords for you to protect you when logging in to your most used accounts.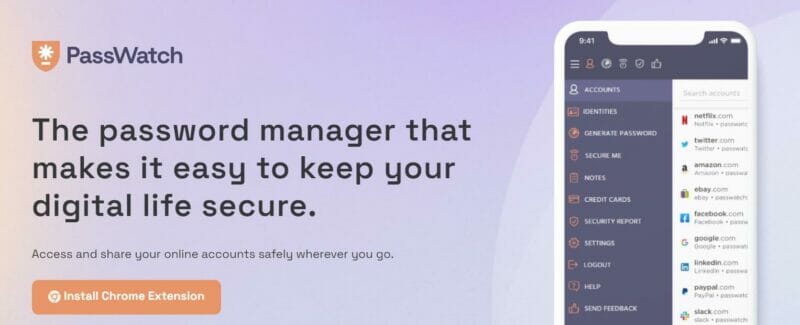 Access Unrestricted Content
It's no secret that one of the main reasons people use a VPN is to access streaming content that is otherwise off-limits to them due to country or government restrictions.
But here's the catch: Services like Netflix, Amazon Prime and others are starting to wise up to this tactic. They can recognize when certain VPN services are being used and still block access.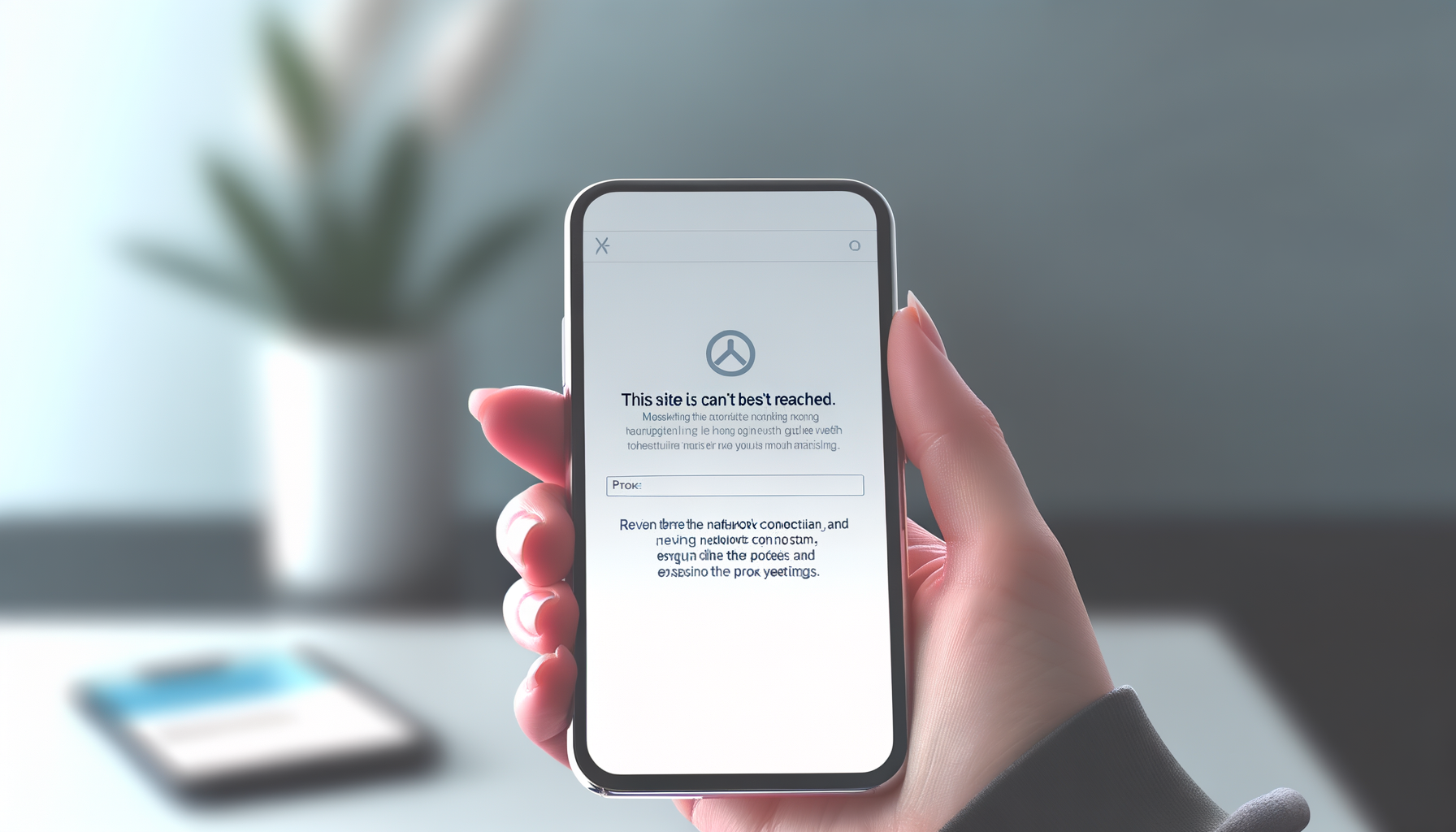 With UltraVPN, that's never a problem. Even when I'm home in Australia I can still unblock access to my favorite shows and movies on services like Hulu.
What's more, when I travel abroad, all I have to do is switch up the UltraVPN server location and I can still get all the content I want as UltraVPN is one of the few tools powerful and sophisticated enough to bypass the kind of VPN blockers that more and more services are starting to put into place. 
The best part is that no matter what streaming services you connect to and no matter which location you access it from, the streaming quality is as smooth and lag free as you could possibly hope for.
Complete Data Encryption
Of course, being able to catch my favorite shows during those rare moments of downtime is always a nice touch, but it's not really why I chose to use a VPN.
When I'm on the road and need to work from a public WIFi network — in an airport, a coffee shop, a hotel, even a friend's house — my main concern is that my data is fully available, fully encrypted and kept away from prying eyes.
This is an example hacking scenario:
"You head to the local coffee shop and log in to their WiFi to work. If a criminal hacker is nearby, they essentially position themselves between you and the network point. You think you are getting a connection straight to the Internet when, in fact, the criminal hacker is seeing your info first, then sending it on to the WiFi provider."
To protect yourself, you should:
Avoid using public WiFi when possible
Keep WiFi off if you aren't using it
Turn off sharing in the Control Panel or click "public"
Avoid showing passwords when on public WiFi
Make sure to visit HTTPS versions of websites when possible (look for the green padlock icon in the upper left corner of the search bar)
And the most important way to protect yourself is…use a VPN!
This is what UltraVPN does best. The 256-bit encryption is military strength and combines with a state-of-the-art firewall to ensure that all your data is kept secure and that it won't be tracked, not even by the VPN itself.
Protocols
To further anonymize your online data and keep it free from snoops and attacks, there is a selection of protocols that mask your online activity to look like it's coming from any standard encrypted network.
VPN security protocols determine exactly how data is routed through a connection. There are five common VPN protocols:
PPTP
L2TP/IPSec
OpenVPN
SSTP
IKEv2
The IKEv2 protocol (Internet Key Exchange version 2, a tunneling protocol based on IPsec that allows for secure VPN communication between VPN devices) proves to be the most effective at providing a stable connection and top-level security for mobile app users. UltraVPN's own Hydra protocol offers the strongest all-round performance.
The good news is that if you're not sure which protocol is going to best suit your needs at any given moment, UltraVPN can automatically select the best one for you, saving you the trouble.
Split Tunneling 
VPN split tunneling "lets you route some of your device or app traffic through the encrypted VPN tunnel while other devices or apps access the internet directly."
One of the most useful features of UltraVPN is the split tunneling option which allows you to maintain simultaneous connections: still accessing certain websites via your usual IP address while using a different IP for those you want to keep hidden.
If you need to access your online banking, for example, it's easier to do this through your normal IP address, but that doesn't mean you have to disconnect from the VPN. Simply add the URL to the split tunneling feature and you can access that address outside of the VPN itself. 
IP Leak Protection
IP or DNS leaks (Domain Name System) is one of the biggest threats to your data security. 
UltraVPN prevents this from happening by directing your Internet usage through an encryption tunnel so that it remains completely anonymized and protected while you work:
Malware and Phishing Protection 
Going above and beyond to keep you safe online, this platform comes with its own built-in malware and phishing protection tools to keep your devices free from viruses.
Though this can run in the background, it can also be triggered manually when installing new apps and services on your machine to ensure that they're safe and legitimate.

How Is UltraVPN's Customer Service?
To be honest, I have mixed feelings about UltraVPN's customer service.
They provide email and live chat support, and though the chat operators are quick to respond, a thirty-minute conversation I had via the live chat failed to resolve my issue.
I was promised that my issue would be escalated and I'd receive a response "right away," but that response didn't materialize until two days later when I'd already solved the problem myself.
Still, I'm the first to admit that this could have been an anomaly and not the kind of service UltraVPN users should expect as other reviews of this platform generally have high praise for the customer support on offer.
UltraVPN Pros and Cons
Pros: 
Available across all devices and major operating systems, including Mac, iOS, Windows and Android

Affordable pricing compared to other VPN platforms

Comes with unlimited bandwidth and no caps so that you can use it as much as you like

Features password manager to keep your online accounts safe

Use on up to six different devices at any one time

Has a decent knowledge base (in the footer)
Cons: 
Doesn't offer a free trial whereas many other similar VPNs do

Customer service could be improved based on my personal experience

Doesn't work as well on Android devices as it does on other operating systems
Is UltraVPN the Best VPN to Use in 2023? My Final Verdict 
On the whole, there's an awful lot to like about UltraVPN. In my book, this makes it one of the best all-round VPNs to maintain privacy and anonymity online while also unlocking country-restricted content.
Despite being packed with powerful features and the kind of top-grade encryption usually reserved for the military and financial institutions, it's also one of the easiest VPNs to set up and configure. 
This last point alone makes it well worth the affordable pricing as it proves that you don't have to spend a ton of money or be a technical genius to maintain your privacy online.
The addition of email and password managers to keep your accounts safe is also a nice touch, taking this one step beyond most other VPNs and ensuring that it really is the ultimate privacy tool for anyone working on the go.
By the way, if you're looking for a full-service digital marketing agency to help with any SEO, PPC,  CRO or content needs, click the orange button below! 👇