Consumers lost $56 billion in combined fraud losses in 2020, as per the Identity Fraud Study from Javelin Strategy & Research, and most of these incidents could have been prevented with identity theft protection.
However, choosing an identity theft protection solution can be challenging. For example, which features should you look for? What kind of credit monitoring should be included? How can you identify a quality plan from an average plan?
Here are the answers to all those questions, along with a detailed look at one of the best identity theft protection services available on the market — Aura.
What Is Identity Theft?
According to the U.S. Federal Trade Commission, in one year alone (2020), the number of identity theft cases increased from 3.24 million to 4.72 million — that's a 45% increase! — which resulted in over $3.3 billion in losses. But what exactly is identity theft?
Identity theft is when someone uses your personal information, like your name, address, bank account number, etc., without your permission in order to perform criminal activities.
There are many types of identity theft, such as credit card fraud, medical fraud, driver's license fraud, and so on. It's very possible that you or someone you know has been a victim of this kind of fraud or, at the very least, you've heard about these stories in the news. 
Recent examples of data and identity theft cases:
The answer to why there has been a steadily rising increase in identity theft in the last decade or so is summed up by Bethmara Kessler from The Association of Certified Fraud Examiners (ACFE):
"Technology has exponentially increased fraud risk around the globe." 
What Are Identity Theft Protection Services?
Identity theft protection services are companies that you pay a small monthly fee (usually $10-30 per month, depending on which add-ons you require) to monitor your personally identifiable information and financial accounts, alert you to suspicious activity, and help you recover any stolen money and fix your credit. 
Because technology is so embedded in our lives, our personal data is everywhere. What we used to do physically is now done digitally more than ever before: shopping, banking, working and social connections are performed through a number of devices, apps and sites. These days, we have more devices, more accounts and spend more time on the Internet:

Cybercrime has grown with the proliferation of online users and data, which has accelerated identity theft and fraud:
Every 7 seconds someone is a victim of identity theft or fraud.

The number of identity theft cases reported doubled in 2020. 

46K n

ew phishing and scam sites were detected every week in 2020.
Related Content: 6 Tips for Securing Your Data from Cyber Attacks as a Remote Worker
Is It Worth Paying for Identity Theft Protection?
In a word: yes. If you shop or bank online without protection, it's safe to assume that your identity could be at risk. Remember, everything that you do on the Internet leaves a digital footprint, which means that it's possible for a criminal to easily access your personal information. 
Left unprotected, your digital footprint puts you at risk of identity theft:

Identity theft protection is worth paying for if you aren't constantly checking your own credit and financial reports. Credit monitoring is exactly what it sounds like: monitoring your credit file via the three major credit bureaus in order to detect possible identity and financial fraud. When you set this up, you will be alerted about any potential fraudulent activity in your financial accounts. 
But even if you do regularly check your credit and financial reports, as well as transactions in your bank and credit card accounts, it is still worth investing in identity theft protection, as AI and machine learning can notify you faster and scan the dark web and other sources you may not know how to navigate.
Note: The dark web "is a whole other world on the web that is mostly hidden from view [which] you can't find through a conventional search engine. Dark web sites use encryption software to provide anonymity for their users and to hide their locations. It's why the dark web is home to so much illegal activity."
This is also a great idea for elderly folks and college students, since they are prime targets for fraudsters. But don't be lulled into a false sense of security if you aren't in these age brackets — anyone can be susceptible to criminal scam tactics: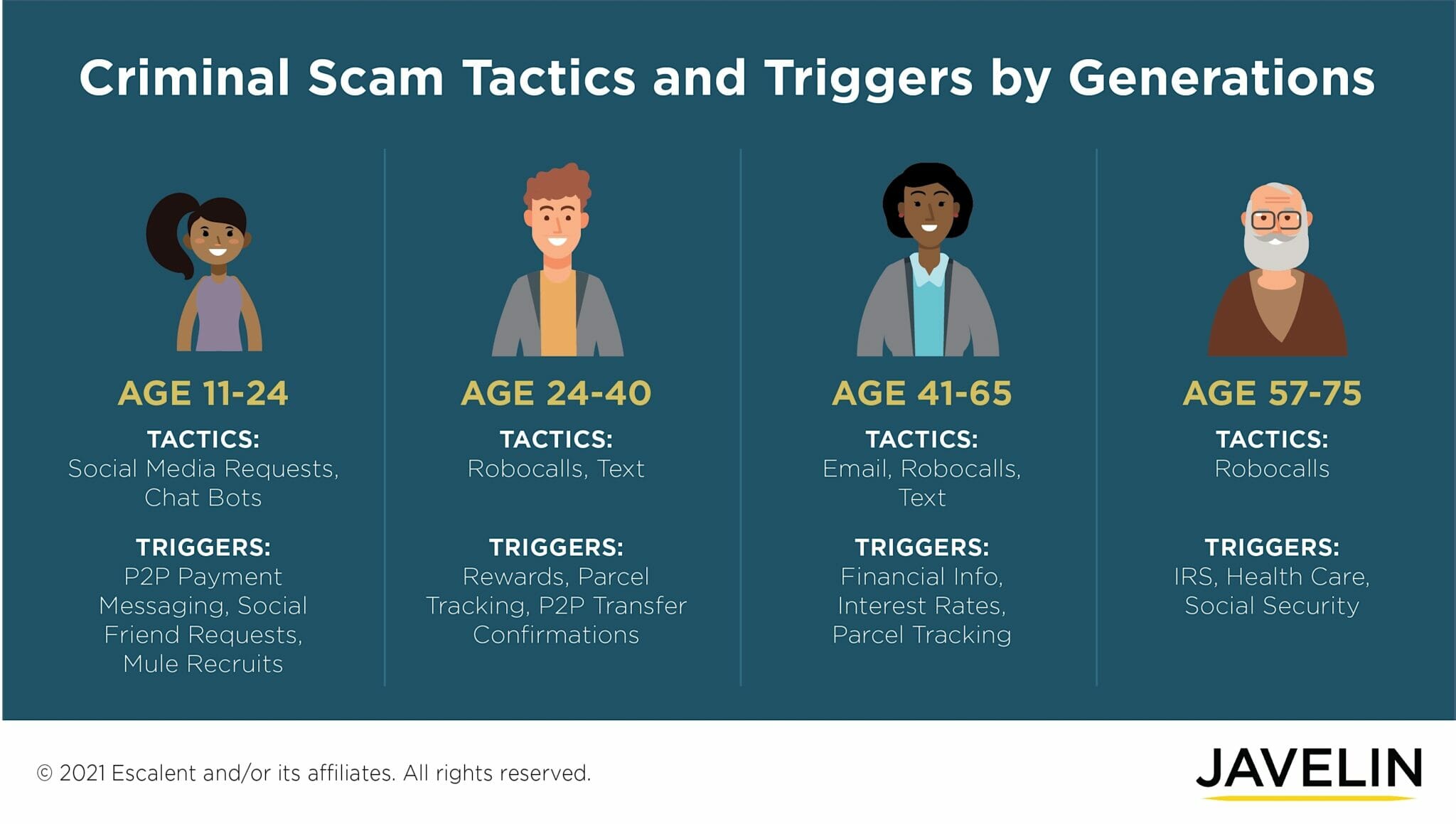 What to Look for in Identity Theft Protection Plans
If someone steals your identity, they can file tax returns in your name (and get your refund!), open credit accounts in your name, obtain a mobile phone in your name, take out a loan in your name, and so on.
Therefore, an identity theft protection plan will alert you to any suspicious activity so that you can freeze your accounts and take other appropriate actions. While they don't prevent identity theft entirely, they are excellent tools to guard yourself against fraudsters — and can often help you recover your money and fix your credit rating.
As you compare different identity theft protection plans, there are a few main characteristics that you should make sure your plan offers. These plans also work for organizations, since business identity theft is a major issue (if someone takes out a business loan in your company's name or even a personal loan, etc.).
Monitor
The identity theft protection plan you select should offer robust monitoring services. Different companies and plans will have different features, but it should at least provide:
Credit monitoring – such as new accounts in your name, unusual transactions, drastic changes to your credit score, name changes, new addresses, and unexpected inquiries on your credit report.
Personal information monitoring – such as activity concerning your social security number,

 ID authentications

, property title, home or business address, public court or criminal records (like traffic violations or bankruptcies).

Financial monitoring – such as bank account transactions,

new bank accounts being opened in your name, new account holders, and if you have been exposed to any data breaches.
The plan you choose should monitor all three credit reporting agencies (Equifax, Experian and TransUnion) for any suspicious activity.
Alert
If your identity theft protection service sees something suspicious, it should send you an alert right away:
Unfortunately, these companies cannot freeze the accounts for you, so you will have to do so yourself. However, this notification is essential as many people don't even realize that they are a victim of fraud until their credit is ruined or they have a mountain of debt they didn't incur.
Recover
If you are a victim of identity theft, your theft protection service provider should offer you support through every step of the process to recover and fix your losses. If they simply point you to their website FAQ section or other resources, you might as well not be paying for an identity theft protection service.
Not only should they provide 24/7 customer support via phone and email, but they should also provide a case manager or similar to help you navigate the challenge of fully recovering your identity. A major blow to your finances and personal information is more than just about data loss: it is a frightening and emotional situation and you will need support to get through it.
A recovery manager will methodically take you through all the necessary steps, such as:
Getting all pertinent info from you
Advising you specifically whom to call at your financial institutions to close accounts
Which forms to fill out at the Social Security Association (SSA)
How to report your identity theft to the FTC (Federal Trade Commission, the federal consumer protection agency)
When to file a police report
Insure
In addition to helping you navigate the recovery process, a great identity theft protection service provider will also offer identity theft insurance. For most plans, they offer up to $1 million in identity theft insurance to pay for legal fees and other eligible losses. With some plans, you may even be eligible for personal expense compensation (though this is less common).
Related Content: How Poor Website Security Negatively Impacts SEO Rankings
Who Has the Best Identity Theft Protection?
There are a lot of identity theft protection plans available, but we'll focus on one of the best and go over the key pros and cons.
Aura
One of the best identity theft protection companies is Aura: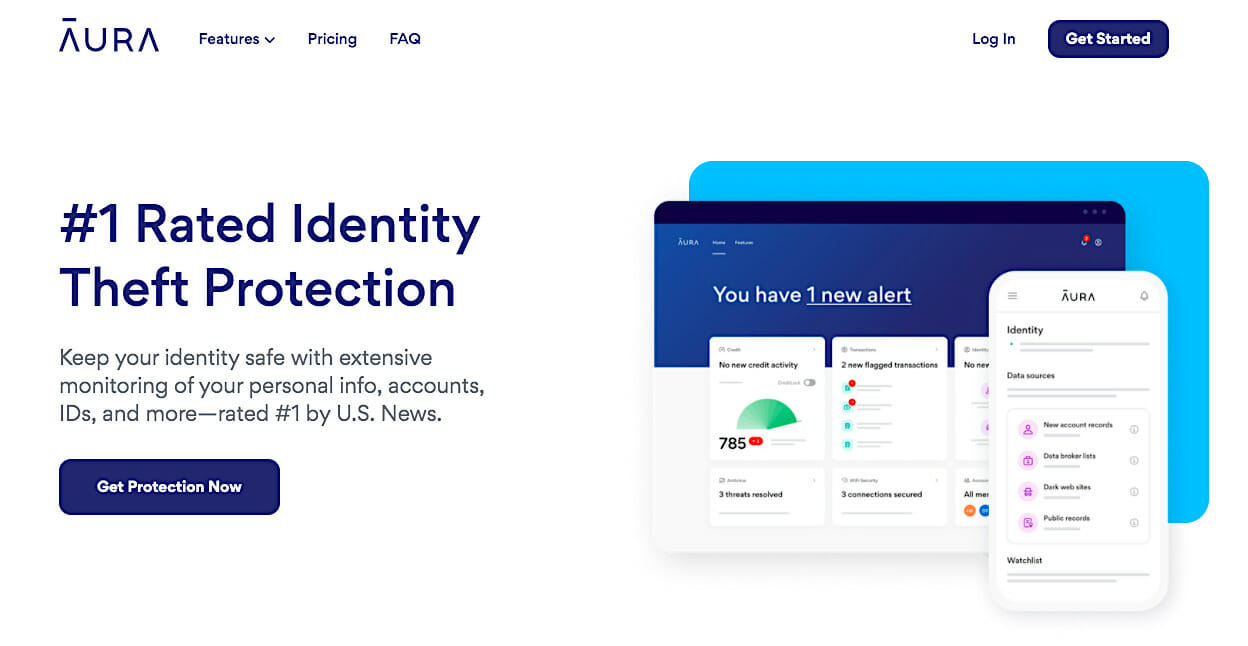 In addition to offering all of the basic features you need in an identity theft protection service, here are a few reasons why it's the top-rated theft protection service provider:
It has the most advanced monitoring with near real-time fraud alerts (4x faster than the competition)

Rated #1 by U.S. News

Trusted by over 1 million customers

Vetted by experts including U.S. News, Forbes Advisor, Business Insider, Security.org

Easy to understand and simple to set up

Wi-Fi security to keep you safe while online shopping and banking

Antivirus software to block viruses and malware 

Monthly credit score and annual 3-bureau credit reports

Multi-device protection

24/7/365 U.S.-based customer support via phone and email

Experienced identity theft case managers

60-day money-back guarantee (with annual plans)
Now, let's take a look at how Aura stacks up in the four key categories on a more granular level.
Monitoring and Protection
Aura offers advanced protection for your identity, finances and devices. Therefore, it covers all basic credit monitoring and is constantly scanning:
Dark web activity for your email address, social security number, address and other personal information

New accounts opened in your name or when the account holder name is changed

All three major credit reporting agencies for inquiries or changes to your credit (they also offer instant Experian Credit Lock to secure your credit from unwanted inquiries)

Suspicious spending activity (excessive spending or spending in different states or countries)

Criminal and court records for your identity (misdemeanors, traffic violations, felonies, etc.)

Home title and address changes through USPS monitoring
Their protection works on multiple devices, including Windows, iOS and Android.
In addition to monitoring all of the above, they also provide various browsing tools to ensure that you enjoy secure credit card shopping, banking and online bill payment. Their powerful antivirus and anti-malware software blocks viruses, ransomware and trojans, and their WiFi security VPN (Virtual Private Network) secures your Internet connection with military-grade encryption to keep your activity hidden from cyber criminals.
Worth noting: you might only be interested in a VPN—without all of the identity theft protection features and ongoing monitoring mentioned above. In that case, you can look into a standalone VPN like UltraVPN, which includes a fast VPN, password manager, and Dark Web monitoring.
With Aura identity theft protection, on other hand, you'll receive a monthly credit score from the major credit reporting agencies to both help you keep track of your credit score and monitor it for any suspicious activity.
This feature is particularly critical for remote employees, freelancers and small business owners who use much of their personal information and computers for work purposes.
Here's why:
If you fit any of the above and your personal device gets compromised, all of your business's information will also be exposed.
Notifications
While Aura is constantly scanning for suspicious activity, you can also expect near real-time alerts. In fact, one of the major benefits of Aura is that their alerts are up to four times faster than the competition. 
Their mobile app is also included in their plans and available in both the Apple App Store and Google Play with an easy-to-read dashboard. Within the app, you can take advantage of features like Credit Lock, which instantly locks your Experian credit files. And Lost Wallet Remediation (which is outside of the app) enables you to cancel your credit cards with a quick call to the customer support team.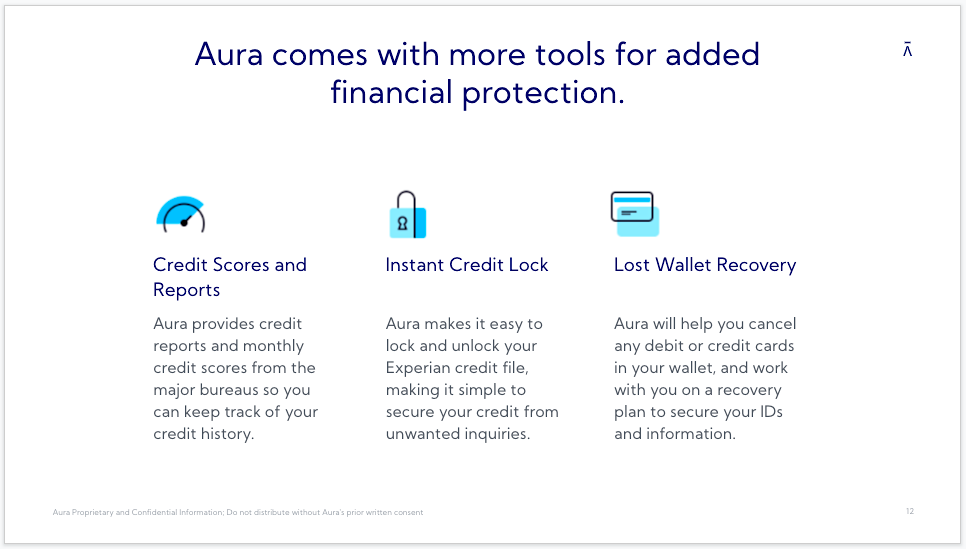 Recovery
If something happens and your identity is compromised, Aura offers plenty of support options to help you recover.
First, you will have a dedicated case manager to help you navigate the best solution and minimize damage. Your case manager can also connect you with the best resources to navigate these challenges as you continue to work with them.
Plus, they offer 24/7/365 U.S.-based phone and email support to ensure that you can always talk to someone any time of day or night.
Note: Aura does not pretend that they are protection gods (and anyone who does ought to merit a red flag warning for you) and clearly states on their website: "Unfortunately, no identity theft protection service is able to prevent all risk of identity theft and fraud. But with the combination of multiple advanced tools under one service, we are able to closely monitor and alert you to credit and financial threats up to 4X faster than competitors. Our agents have an average of 7+ years of experience, and have resolved over 150,000 identity theft cases."
Insurance
Finally, Aura offers up to $1 million in identity theft insurance on all their plans. This insurance covers eligible losses and fees due to identity theft and fraud.

Pricing
Aura offers three pricing plans: Basic, Total and Ultimate. All plans come with $1M identity theft insurance and 24/7 customer support, and annual plans come with a 60-day money-back guarantee.
Prices are between $10 per month and $40 per month, depending on which plan you choose and whether you pay monthly or annually. Which one you choose will be determined by the features you or your business needs.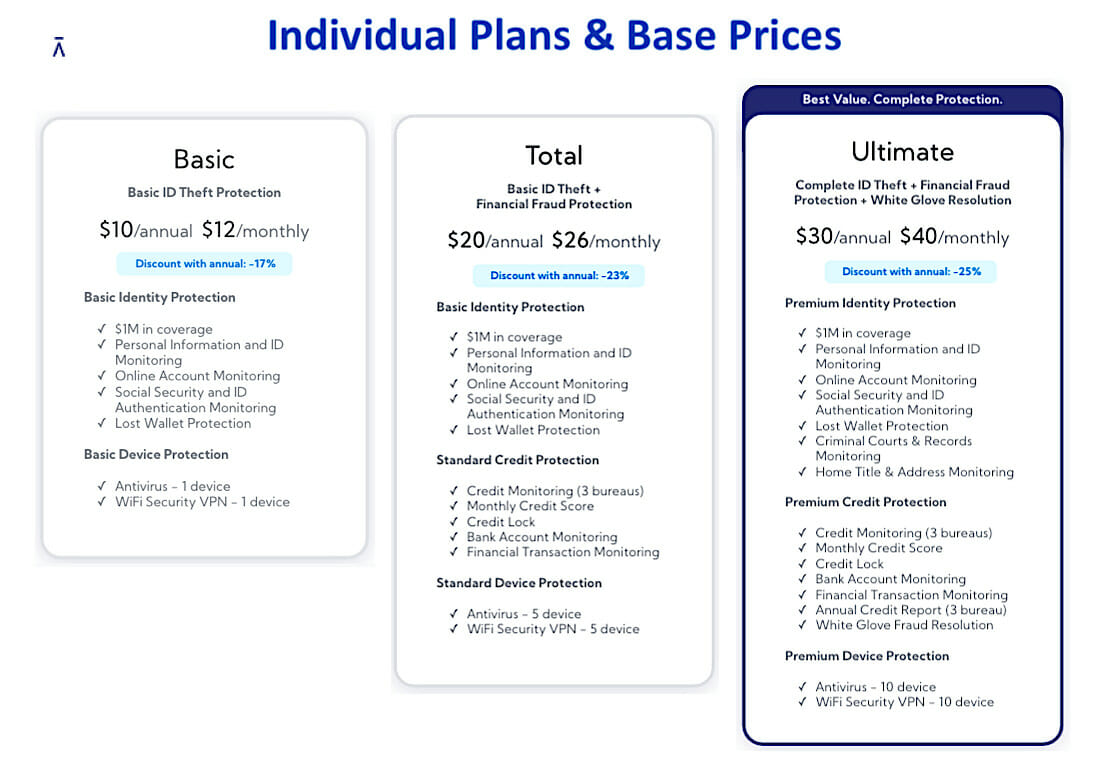 Related Content: IdentityForce vs. LifeLock: Which Is Better?
Other Identity Protection Service Providers
When comparing features, accuracy and customer service, Aura has the best identity theft protection. In addition to offering all the basic identity theft protection services and 4X faster fraud alerts, the dedicated case manager and 24/7 customer support is unparalleled.
For comparison purposes, here are some other notable service providers:
WatchDog ID: 
They offer all the basic identity protection services, such as monitoring public records, address changes (through the U.S. Postal Service National Change of Address Registry), the dark web, loans, and high-risk transactions. They offer credit monitoring services on all three credit bureaus, but only on their platinum plans.
They offer credit monitoring services on all three credit bureaus, but only on their platinum plans. Therefore, if you only have the basic plan and suspicious activity occurs on Experian or TransUnion, you won't be alerted.
Unfortunately, they do not offer any safe browsing security tools. So if you frequently enter credit cards online (especially if they are linked to business accounts), it might not be the best fit.
They also don't offer a free trial or a money-back guarantee. 
NortonLifeLock:
Previously called LifeLock, this company was recently acquired by Symantec and rebranded as NortonLifeLock. Along with the rebranding, they also adopted artificial intelligence and cybersecurity from Symantec's software company, Javelin Networks.
Their AI monitors basics like the dark web, ID verification, address changes, data breach notifications and credit monitoring (though only one bureau). You can also view their mobile app for things like alerts, credit reports, and more.
They also offer stolen funds reimbursement and personal expense compensation up to $100,000, in addition to the $1 million identity theft insurance guarantee to cover the costs of lawyers and other experts.
The downside of NortonLifeLock is that they are the most expensive of their competitors. (See this detailed Lifelock vs. Experian comparison for a look at how Norton increases prices after the first year.)
They offer a 60-day, money-back guarantee only on their annual plans.
Identity IQ:
Identity IQ offers basic plans that cover general protection, including dark web monitoring, daily credit monitoring (though only one bureau), social security number alerts and file-sharing network searches.
They offer up to $1 million in identity theft insurance.
They do not offer social media monitoring (which is responsible for many identity breaches) or antivirus and anti-malware protection for your devices. As most security breaches occur due to software breaches, this is a major drawback.
They have a 7-day $1 trial, unlike the typical 60-day free trials offered by most competitors.
They also don't offer a mobile app to see a comprehensive overview of your status or 24/7 customer service. Therefore, it isn't as user-friendly as some of its competitors.
ID Shield:
ID Shield is known for its great customer service. You can access unlimited consultation and restoration services with full-time licensed private investigators. You can also chat with them directly in the app.
They offer mobile app alerts, credit score tracking and monitoring of all three credit bureaus.
This service lacks some of the basic identity theft protection features, such as USPS address changes, medical ID theft and social media monitoring. You also won't have access to computer features such as antivirus and anti-malware protection

—

which means that much of the monitoring is up to you.
They also don't offer a credit simulation tool, as many of the competitors do, which estimates how certain actions would affect your credit to help you make better financial decisions.
They offer a 30-day free trial period and easy onboarding.
Get Protected
Identity theft protection will help you achieve peace of mind and protect you against some of the worst financial situations possible. While vigilance is still the best way to prevent identity theft, an identity theft protection service can help immensely.
For just a few dollars per month, you can rest assured that you have a trusted security company watching your credit score, bank and credit card accounts, public records, the dark web, social media, USPS, and more for suspicious activity that could ruin you financially — not to mention emotionally.
A service like this is particularly useful for business owners with remote employees, as it will dramatically reduce the risk of inadvertently compromising the company's sensitive information.
While there are plenty of identity theft protection services available, Aura comes out on top in our opinion. Ready to get protection? Check out Aura.com.