As Seth Godin says:
"Personalization wasn't supposed to be a cleverly veiled way to chase prospects around the web, showing them the same spammy ad for the same lame stuff as everyone else sees. No, it is a chance to differentiate at a human scale, to use behavior as the most important clue about what people want and, more important, what they need."
Customers today are increasingly empowered by modern technologies, easily accessible information resources and a wide range of options. As a result, there has been a greater demand for speed, brand relationship and personalization.
This demand for personalized services has modified the direction of trust in many ways. Today customers tend to trust other customers (social proof) more than they trust the brands themselves. It wouldn't be a misplaced idea to assume that modern brands are built by customers more than advertisers.
Thanks to the emergence of the digital landscape, consumers today have the power to carry out their own research and often prefer self-service. But occasionally, even the most savvy of online customers will need an answer. What happens then?
Therein lies a window of opportunity for smart businesses who do not mind going the extra mile for their customers. Enter the world of real-time customer conversations, thanks to live chat software.
Where connectivity has empowered the consumer to shop in many different ways, it has also allowed retailers to interact with them with more purpose and personalization.
Click To Tweet
There is a lot of chatter happening around the live chat software – prospects, as well as customers, can connect with a business representative and pose their questions with relative ease, make their purchase (or resolve a query) and happily go about their day.
Sounds like a no-brainer, right? But is live chat really worth all the hype?
Here are 5 reasons why we think the answer is a solid, resounding "Yes!"
1) Fast (Often Immediate) Responses that Reduce Frustration
The biggest advantage of live chat software over traditional client support tools like phone and email is response time.
Using a phone to call support is often a frustrating experience for users because thanks to unusually long wait times, you are generally placed in a queue while support agents tend to other callers. In fact, check out these numbers on customer support phone lines:
67% of customers hang up out of frustration when they can't reach a real person.
75% of customers think that it takes too long to reach a human being.
72% of callers who reach an automated/recorded phone line will hang up.
Emails, another popular support channel, are known to cause delays in receiving an appropriate response, often taking up to 24 hours. Add to it the fact that not all problems are resolved in a single email and there can be further delays due to several back and forth emails as customers try to get a suitable response. 

Live chat, on the other hand, mimics modern instant messaging applications, so a customer is able to quickly connect to a chat operator, describe a problem briefly, and get a real-time response. Most live chat software allows chat operators to handle multiple customers at the same time, effectively getting rid of any wait times.
Modern chat applications like ProProfs Chat, Chatfuel and ManyChat let users to get a preview of what a recipient is typing as they describe their problems. This is a very handy feature as it allows operators to provide replies even before the question is asked! An amazing way to make your customers feel cared for.
Further Reading:
2) Improved Insights into Online Visitor Behavior
Understanding why customers are buying, or more importantly, not buying, is a challenge for most businesses today.
We know for sure that customers' buying patterns are continuing to evolve. Businesses can no longer remain in the trenches, watch these changes from the sidelines, or else they run the risk of becoming obsolete and left entirely out of the new digital arena that customers are gleefully engaging in. They need to gain critical customer insights as fast as possible.
And what better way than to get it directly from the horse's mouth?
Chat is undoubtedly the best option when compared to writing emails or making phone calls. Why? Well, with emails, customers miss getting immediate responses from the operators handling the long incoming email queue. One cannot do away with the amount of back-and-forth communication threads. 
Telephones, which are the foundation of call centers, are also less preferred these days. Complicated IVRs, unreliable phone lines, too much time spent waiting in line for call operators and frequently being put on hold or explaining the issue several times to different customer service reps lead to frustrated customers.
Do you want to frustrate your customers?
Live chat checks all these issues by offering smaller queues, a proactive response, less waiting time, sales support, multitasking and more. Routing is a great feature in live chat software where the customer's details are stored right from their first login session. And whenever your customers need to chat again, this feature allows them to connect with the same agent so that they don't have to explain their issues more than once.
With phone or email, this is not possible or certainly not streamlined.
Live chat's inherent ability to allow businesses to engage in real human conversation and gather relevant information gets a whole lot easier.You simply ask them the right questions in order to understand their true pain points and gain invaluable insights that are critical to improving your products, services and marketing strategy.
3) Improve Customer Service and Loyalty
As a business, it's hard to survive without a loyal customer base. To quote Howard Schultz:
"If people believe they share values with a company, they will stay loyal to the brand."
Making a big deal out of creating lifetime relationships with customers and going the distance to service them above and beyond their expectations acts like rocket fuel for the development of any business. And with your competitors positioning themselves aggressively in the pursuit of "your" customers, it would be suicidal for you to take customer loyalty for granted.
As a result, customer-centric organizations and business leaders are even more open to live chat, which makes this easier. The trick is to engage with customers and offer assistance before a trivial issue becomes a big headache for them or your brand. This is why live chat is also referred to as "proactive chat" – but in essence we are probably better off calling it a "proactive support" or even better, "preventative support".
To get a better understanding of how much customers appreciate access to live chat, consider the fact that consumers rated live chat support the highest compared to any other customer service touch point, as per an eDigital Customer Service Benchmark survey of 2,000 consumers:

Furthermore, the survey found that:
almost a third (31%) were currently using live chat
73% of which rated their satisfaction with the channel high
and 67% said that they found live chat easy to use
The survey numbers make it abundantly clear as to why customers love coming back to businesses that provide live assistance. They feel more confident engaging with business that are easy to reach out to and make the support process hassle free and in real time.
Additionally, 90% of customers believe that a "Live Chat" button gives them confidence that they will be able to get the help they need when they need it. Live chat allows support agents to provide quick answers to questions about products and services, resolve issues faster (often in real time), and assure their customers that they are around when needed. Without this option, building trust with your website visitors is a whole lot harder.
Further Reading:
4) Improve Website Experience
Live chat is convenient. Your customers do not have to stop what they are doing and pick up the phone or type a long email when they have a question about your product or service. Instead, without leaving your site, they can have their issues sorted out in real time by a real person.
Take a look at this review on Trustpilot for example: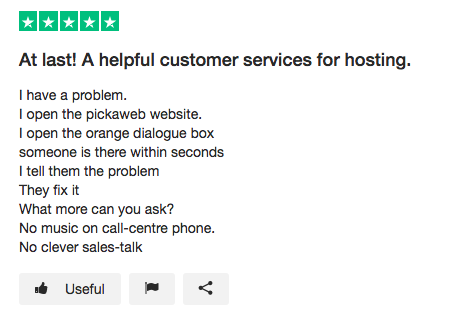 How cool is that!
And if that doesn't convince you, consider this report from Forrester Research: 57% of customers abandon their purchase if they can't get their question answered fast.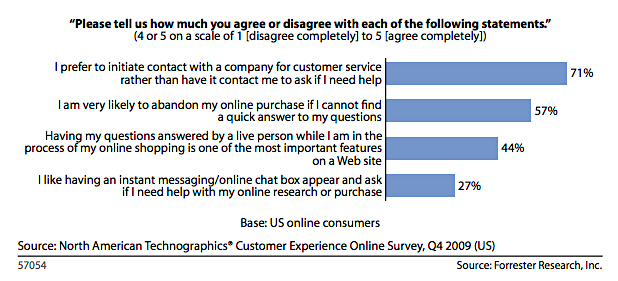 The same study shows that 44% of online customers rate having their questions answered by a live person, while trying to make a purchase, as one of the most important features that a website can offer!
Click To Tweet
Improving the overall website experience has dual benefits – not only does it help customers, but it also helps businesses since customers who use live assistance on a website are 3x more likely to complete the purchase.
Tip: Live chat is typically present on the home page, product pages, and the pricing pages of a website. But by placing it on some other unusual locations on your website, such as 404 (page not found) pages, it can help the prospect from abandoning the page. A live chat agent can proactively chime in and can help them find what they are looking for!
Further Reading:
5) Create Customer Heroes out of Support Agents by Empowering Them
Everyone loves heroes, especially those in need of help. Enabling live chat support is an excellent opportunity to turn your support agents into customer support heroes.
An important rule for any support-based organization is that your support agents must be nice to customers without ever sounding offensive. But you also want your support team to take control when required in order to please a customer.
So how do you give your live chat operators the freedom to do something special for your customers without them going too far or wasting too much time with one customer? Well, there are a few ways to achieve this:
Good training. Make sure that your chat operators are keenly aware of what they are trying to achieve with live chat. Sounds like a fairly basic idea, but they should be aware of different situations, like whether they are supposed to simply point the customer to the right FAQ document (a knowledge base) or guide them through a complete solution all the way to the end (this is what we recommend ourselves).
Natural conversation. Make sure that the operators are aware of a recommended conversation flow. No, not a script, but the important aspects of troubleshooting that the operator needs to follow in order to deliver a complete support experience.
Brand guidelines. Another thing to look at is providing a basic checklist of dos and don'ts to make sure that conversations with customers don't become too informal or get off-track and that your operators still stick to the brand guidelines.
Measure metrics. Use a reporting and quality assurance metric to motivate and praise operators when they do go that extra mile for the customer. Analyze different factors, like tone of voice, accuracy of the solution provided, speed of resolution, knowledge and empathy, to ensure that agents are delighting the customers.
Conclusion
Your customers want – no, they demand! – fast and immediate access to support as they go through purchase decision-making. For companies that believe in going the extra distance for their customers, live chat software is a great way to make them stand out from the competition.
Armed with live chat, businesses can now communicate with their customers on a platform they prefer themselves and use it to provide a delightful experience. Not only does it decrease support costs and increase average order value, but it's also the only tool that gives you an ROI that is measured in minutes rather than weeks or months.
So if you want your business to succeed in the competitive landscape today, you can no longer ignore live chat software.