Google Is Rolling Out Questions and Answers for Android
Want to grow your organic traffic by 20-100%? We built ClickFlow, a suite of SEO tools designed to increase your organic rankings and scale qualified traffic for your website. Click here to learn more and get started.
Google has announced that it will start rolling out Questions and Answers for local businesses directly into the Google listings, a feature that will allow customers to ask questions related to the business and owners to give answers.
What's Questions and Answers?
Questions and Answers is a feature within Google My Business that provides a platform on which business owners can answer direct customer questions right from the listing. In anticipation of these questions, businesses are also allowed to add commonly asked questions and their answers.
Similarly, merchants and other users can boost the content's performance as well as flag incorrect information or spam.
Recent News: Facebook Tests an Offline-to-Online Retargeting Feature
More Location-Specific Answers
Google feels that consumers have many location-based questions that go unanswered or inappropriately answered. Examples of such questions are:
Where can I park?
Can I use my credit/debit card?
Do you serve breakfast?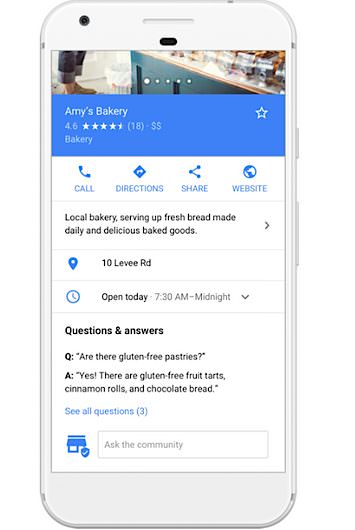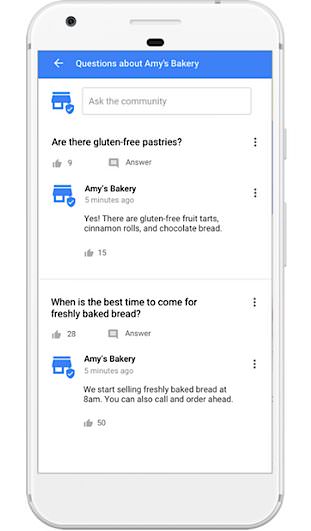 By linking them directly to business owners and other consumers, Google aims to help them make quicker and sounder decisions about the business.
Rolling Out to Android
To monitor the quality of the content posted, Google plans to roll out Questions and Answers in stages. At the moment, the feature is only available on Google Maps for Android.
Businesses with a Google My Business listing can now add FAQs to their listing for Android.
Click To Tweet
Business owners can also answer any questions from potential customers and Google will send a push notification whenever someone asks a question about your business.
Learn More: Marketer's Guide to Web Push Notifications
You'll also be able to bring attention to helpful content by giving a thumbs up to questions and answers. Again, Google will notify you when there are new questions and answers posted to your listing.
Note: Because it's run through Google Maps and not the business listing's dashboard, you'll be required to have the Maps app enabled – and you can sign in using your connected account.
Moderating the Q&As
According to Google, moderation of this content will be a lot like reviews – mostly automated with a little human curation. Google will take down content that's flagged as incorrect.
The manner in which Google hopes to moderate does pose some concerns. For instance, what if an antagonistic competitor figures out the moderation rules (which they will) and subtly posts negative information about your business? How will this affect your business and content you have already posted?
For now, we can only wait to see how Google addresses such issues.