Facebook Tests an Offline-to-Online Retargeting Feature
Want to grow your organic traffic by 20-100%? We built ClickFlow, a suite of SEO tools designed to increase your organic rankings and scale qualified traffic for your website. Click here to learn more and get started.
Facebook is testing a way for advertisers to target people who have visited their brick-and-mortar stores with Facebook, Instagram, and Audience Network ads.
According to a screenshot shared by Moshe Isaacian, the new feature will appear with Custom Audiences: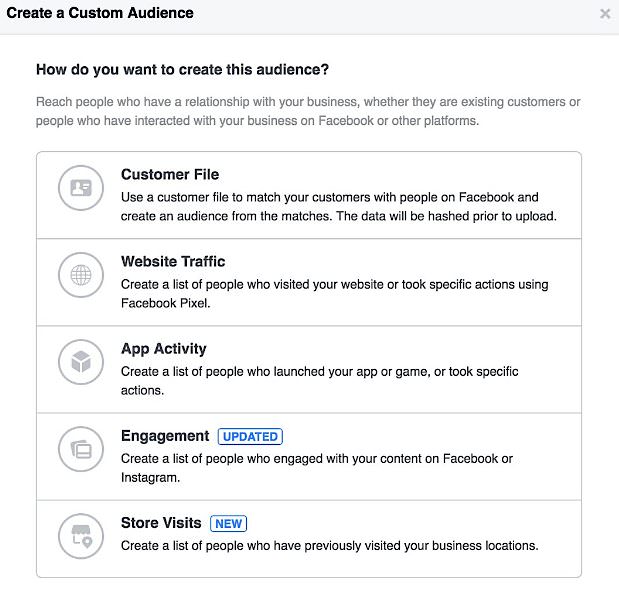 To create a Custom Audience of store visitors, brands are required to have enabled multiple locations. Also, the audience can only include people who visited the physical location of the store within the past 30 days.
As Marketing Land reports, this retargeting option could help companies make the most of retailers' ad budgets during busy seasons such as back-to-school and holidays.
Apart from retargeting store visitors, brands could also use the lists of these visitors to target their ads to others with similar characteristics and who are likely to visit the offline store. They can also use visitor lists as criteria for excluding them from certain campaigns.
Will Snapchat Follow Suit?
The offline-to-online retargeting feature could exert more pressure on Snapchat to follow suit, seeing that it's been launching counter attacks on Facebook. Early this year, it launched its Snap to Store Measurement Tool and acquired Placed, a location analytics company that "quantifies the impact of omnichannel ads on in-store visits."
Its deal with PlaceIQ also lets Snapchat target ads to people who have visited specific physical locations. This method appears similar to the one used by Facebook to target ads to people within or near the location chosen by an advertiser and when estimating the number of store visits driven by a particular Facebook campaign.
In both cases, Facebook uses the permission granted by its users to track their location and cross-references the information with background signals such as Wi-Fi and Bluetooth to determine the user's proximity to a business' physical location.