Bing Adds "Popular Content" to Its Search Results
[LIMITED SPOTS] Want To Uncover Your True Potential and Achieve Financial Freedom? We invite you to join a FREE Masterclass with award-winning business leader, Eric Siu, where he shares his 5-Step Blueprint to Starting Your Dream Online Business That Gives You Freedom & Fulfillment.
Click Here To Reserve Your Spot Now.
Microsoft has updated the Bing search results page with a new section called "Popular Content." This is a box that appears in the search results and showcases the most popular content from the brand's site, such as Dropbox and Shutterstock, that you're searching for.
"Popular Content" Is Visual
While it's not clear when Microsoft rolled out the feature, it does appear similar to the list of hyperlinks that already shows up when you search popular websites like Facebook, Twitter or Google. It just looks like a more visual version of the site links.
To see more content about the website, you just scroll right through the "Popular Content" carousel-like list and click through.
Below is a screenshot shared by David Iwanow: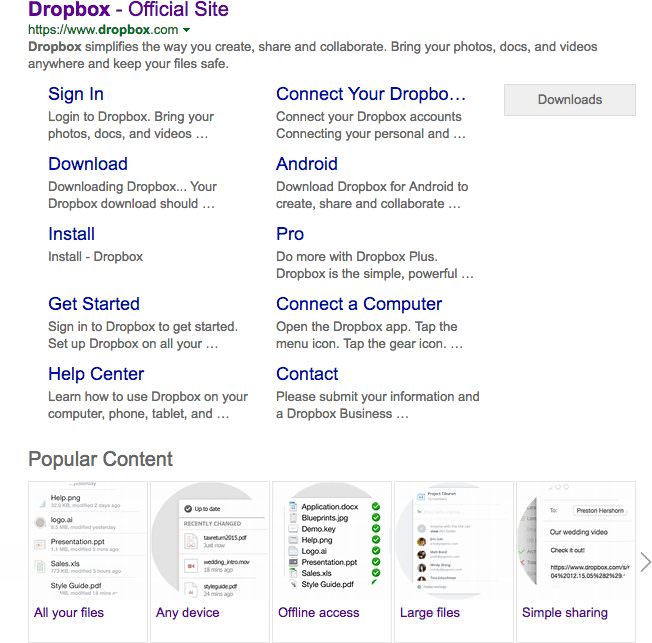 In the above examples, when you click the links you end up on the home page of the site. It's not clear if all search results will have this carousel-like feature, but for now it seems to be available only in select search queries.
Recent News: Bing Ads Marketers Can Now Add Competitive Metrics
"Popular Content" Is a Little Confusing
There's no official communication from Microsoft regarding the update, but seeing that site links still appear in the search results, the update doesn't seem to be of much significance, leading some to wonder if it's a little too much for a single search.
Also, with a name like "Popular Content" it would make sense to actually link to popular content. Having so many boxes all leading to the home page doesn't make much sense.
Traditionally, Bing search results pages have always had a certain visual appeal that's better than Google. Thus, this might be Bing's first step in replacing hyperlinks to provide more visual appeal to users and nudge them into clicking on different pages from the searched-for website.
Recent News: Google Posts Now Available for All Google My Business Users
What do you think of "Popular Content"? Is it a useful feature or does it seem pointless when there are already site links, which perform a better job?