Bing Ads Marketers Can Now Add Competitive Metrics
Want To Uncover Your True Potential and Achieve Financial Freedom? We invite you to join a free Masterclass with award-winning business leader, Eric Siu, where he shares his 5-Step Blueprint to Starting Your Dream Online Business That Gives You Freedom & Fulfillment. Click Here To Reserve Your Spot Now.
As a marketer, you can't help but wonder how your competition is doing. Are they languishing? Are they making all the wrong moves and potentially losing their customers to you? You want to know how you stack up.
Bing has been working very hard to bring that information to you. The recent reporting updates and enhancements suggest that Bing intends to give marketers all the information they need to make decisions quickly across different campaigns.
The latest update in Bing Ads includes the ability for marketers to see Competitive Metrics, also known as Share of Voice Metrics, at all levels: campaign, ad group and keywords.
This update brings in six metrics which include:
Impression Share (IS)
IS lost to rank
IS lost to budget
IS lost to expected Click-Through Rate (CTR)
IS lost to bid
IS lost to ad relevance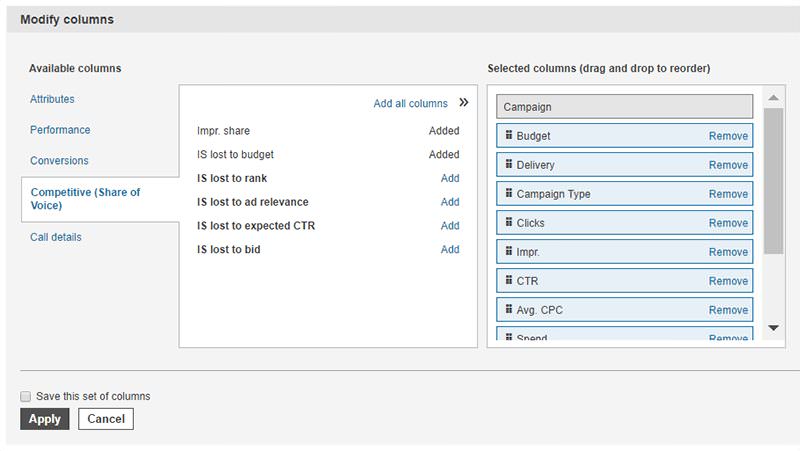 These metrics can be viewed from the main UI and Reports tab. You can also access them through the Bing Ads API.
Bing Ads program manager Claire Lee says that there are more reporting updates on the way: "One of our goals for reporting on Bing Ads is to surface the information you want, in the context you want it, so you can make quick and informed decisions across your ad campaigns."
Recent News: Bing Ads Now Lets You Advertise by Device
Why Do Competitive Metrics Matter?
After you decide on your marketing objectives across different channels, you have to assume that your competitor has made similar moves. But it's important to know for sure if they have, how far they've gone and how successful they are.
That's where Competitive Metrics or Share of Voice Metrics comes in. It shows you how much of the market a competitor owns and helps you assess the effectiveness of your marketing strategy.
Tracking Share of Voice over time may help you identify not only what the competition has been up to but also (more importantly) how you're doing by comparison. Who has gained ground against you? Who has lost their customers and why? What portion of the conversation are you getting on social media compared to your competitors? And can you correct their mistakes or shortcomings and outperform them by giving your/their customers what they want?
Measuring Share of Voice Metrics gives you an eagle's eye view into your marketing strategies and helps you better target your audience for increased engagement.
Learn More: The Ultimate Guide to Using Bing Ads