Facebook isn't the only platform that allows marketers to target lookalike audiences anymore. 
"A Lookalike Audience is a way to reach new people who are likely to be interested in your business because they're similar to people who already are. When you create a Lookalike Audience, you choose a source audience…and…[t]hen we find people who are similar to (or "look like") them in the country/countries you choose."
In April, LinkedIn rolled out Matched Audiences for advertisers.
And on May 1st, Google announced that they'd be rolling out their "Similar Audiences" tool for Search and Shopping – their own version of lookalike audiences.
According to Google: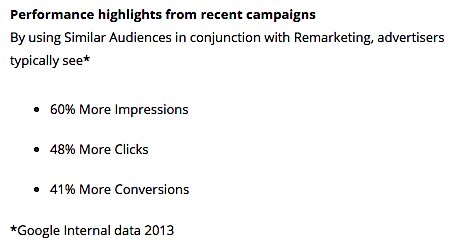 It's pretty well known that marketers can target customers at different stages of the decision-making process through AdWords. Depending on their search terms, you can filter your ads based on where potential customers are at in their buyer's journey, and this lets marketers get much more value out of Google advertising.
For example, you could present one piece of content to people who are at the "awareness" stage, and a different piece of content to those at the "evaluation" stage.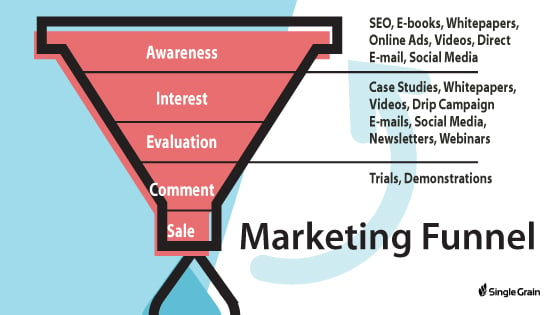 But until now, marketers have had to largely guess which keywords their audience is searching for in order to effectively target through an AdWords campaign.
With Similar Audiences, you can target people who are similar to previous site visitors, and market your content to them.
How Does Similar Audiences Work?
Let's say you're a marketer working for an airline company that wants to get more bookings from business travelers. Google will look at your recent visitors and find patterns in their search behavior (i.e. searching for things like "planes with the best wifi," "airlines with business perks," etc.). This way, you can find new potential customers who are searching for the same type of content that your existing customers are.
According to Google, these features open up new opportunities for marketers to find new targeting frameworks to grow their business. You might find out that layering on a generic search term in your niche works better for you when combined with Similar Audiences.  
Related Content: How to Lower the Cost of Google Ads and Get Better Conversions
Introducing Customer Match for Google Shopping
Google also rolled out a Customer Match feature for the Shopping platform. This feature allows you to upload your own email lists so you can focus advertising campaigns on high-value leads.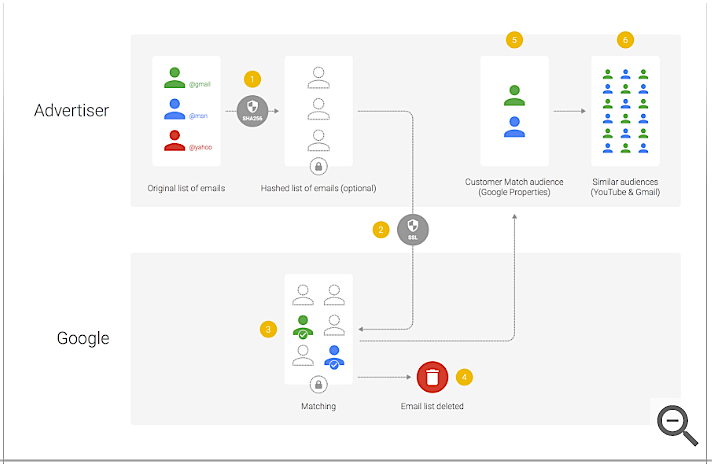 (Source)
For example, you could take a segment of your list that already purchased something from you, or take a segment of people who have interacted most with your brand, separate your best customers from the rest of your leads, and then advertise specifically to those people through Google Shopping.
Early Success Stories
Google has listed a few early success stories from major brands like GameStop, John Deere Tractors, and Fiat Chrysler Automobiles.
GameStop used Google Similar Audiences to find new gamers who matched the demographics of their best users – and increased their conversion rate by 30%.

John Deere noticed a click-through rate boost of 300% after putting their ads in front of similar customers, and a 31% conversion rate boost.
Related Content: How to Set Up Google AdWords Ads in Google Maps
Google is rolling out their Similar Audiences feature as more and more ad networks are building capabilities for marketers to re-market to their existing customers, as well as find new customers with similar demographics as their best buyers.