If you're a creator of any kind, chances are you feel creatively stuck every once in a while. You might struggle with coming up with fresh ideas or you might feel like your work isn't as inspired as it could be. These moments of "creator's block" – similar to "writer's block" – can be frustrating.
Fortunately, there are plenty of ways to overcome this!
In this post, I'll share some tips for how I've dealt with creator's block. Doesn't matter whether you're a blogger, a YouTuber or a social media influencer, these ideas can help you get over that obstacle and keep creating great content.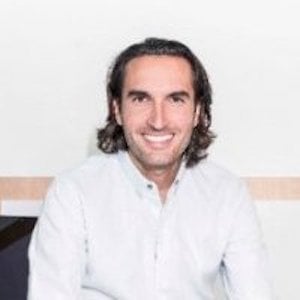 Yaniv Masjedi
CMO, Nextiva
Their expertise has helped Nextiva grow its brand and overall business
5 Tips to Overcome Creator's Block (or Writer's Block)
Here are five simple ways to help you overcome any kind of writing block or creative block.
Tip #1: Look to Similar (or Even Different!) Industries
When you're feeling stuck, it can be helpful to look to similar industries for fresh ideas and perspectives. This can help you break out of your own industry bubble and explore new approaches to problems or opportunities within your creative process.
For example:
If you're a marketer, check out what some popular creative agencies are doing on social media to get ideas for your own content.
Or, if you work in the healthcare industry, you might look at what marketers in the retail industry are doing. Even though these industries are vastly different, you might find some ideas that you can adapt to your own industry, thereby making it more innovative.
Similarly:
If you're a fashion blogger, you could look at what influencers in the beauty space are doing to get inspired.
Or, if you're a fashion designer, branch out even further and look to the automotive industry for a new way of looking at things. You might find inspiration in the way cars are designed, from their sleek lines and bold colors to the way they're marketed to different audiences.
The key is to look beyond your immediate competition and find inspiration in unexpected places. You might discover new trends, techniques or even technologies that you hadn't considered before.
This can also help you differentiate yourself from others in your industry. If you're all looking to the same sources for inspiration, you're likely to come up with similar ideas. By exploring different industries, you can stand out with unique and innovative ideas that others may not have considered.
Dive Deeper: Never Run Out of Ideas: 7 Content Creation Strategies for Your Blog
Tip #2: Brainstorm with Others
Brainstorming with others can be a very effective method for overcoming writer's block because it allows you to tap into the collective creativity of a group.
When you work alone a lot, it's easy to get stuck in your own thoughts and not be able to think outside of your own creative box. But when you work with others, you're exposed to diverse experiences, viewpoints and ideas that can spark your own creative juices.
Ask your team members, friends or family to help you come up with new ideas. You might even turn it into a game for your employees, offering prizes (like our World "Wrestling" Champion belt below, or something more useful!) for the best ideas: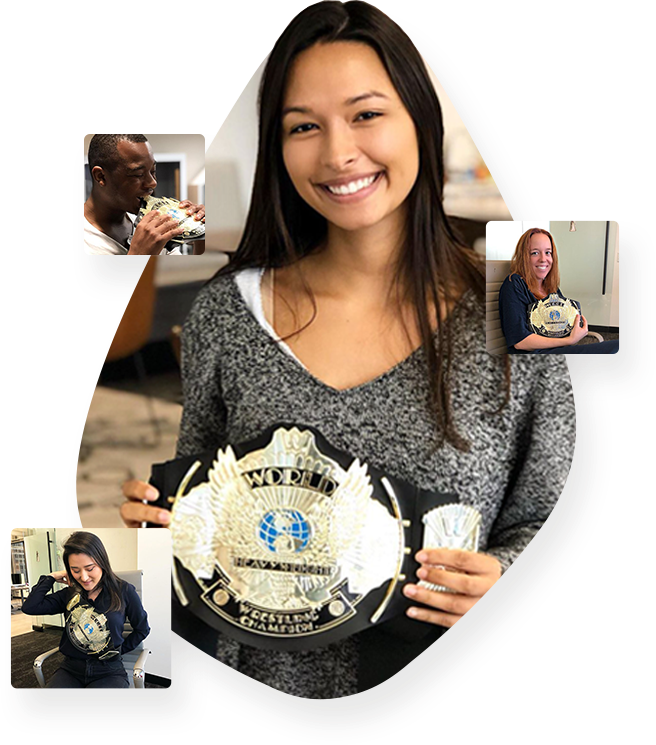 One approach that I've done in the past is to have a weekly meeting where everyone on the team contributes ideas:
They write their ideas on post-it notes
We stick them all up on the wall, without knowing which idea is whose
The team votes on which ones to pursue
Keeping the post-its anonymous can be particularly helpful in a work setting where some people may be hesitant to speak up or share their ideas. This is a great way to generate lots of ideas and get the whole content department invested in the content creation process.
And don't forget: Brainstorming with others can just be a lot of fun. You build camaraderie as you come up with good (and bad – there's no judgement in the brainstorming process!) ideas and encourage collaboration within your team or group. By turning it into a game or competition, you can create a sense of excitement and motivation that can help ramp up the creative work.
Tip #3: Use Tools for Inspiration
There are a bunch of tools that you can use to help you come up with fresh ideas for your content. For example, there is a tool called Hypefury, which suggests topics based on your past performance and your niche.
With Hypefury, you can "invent big ideas on the fly and write authoritative tweets in seconds":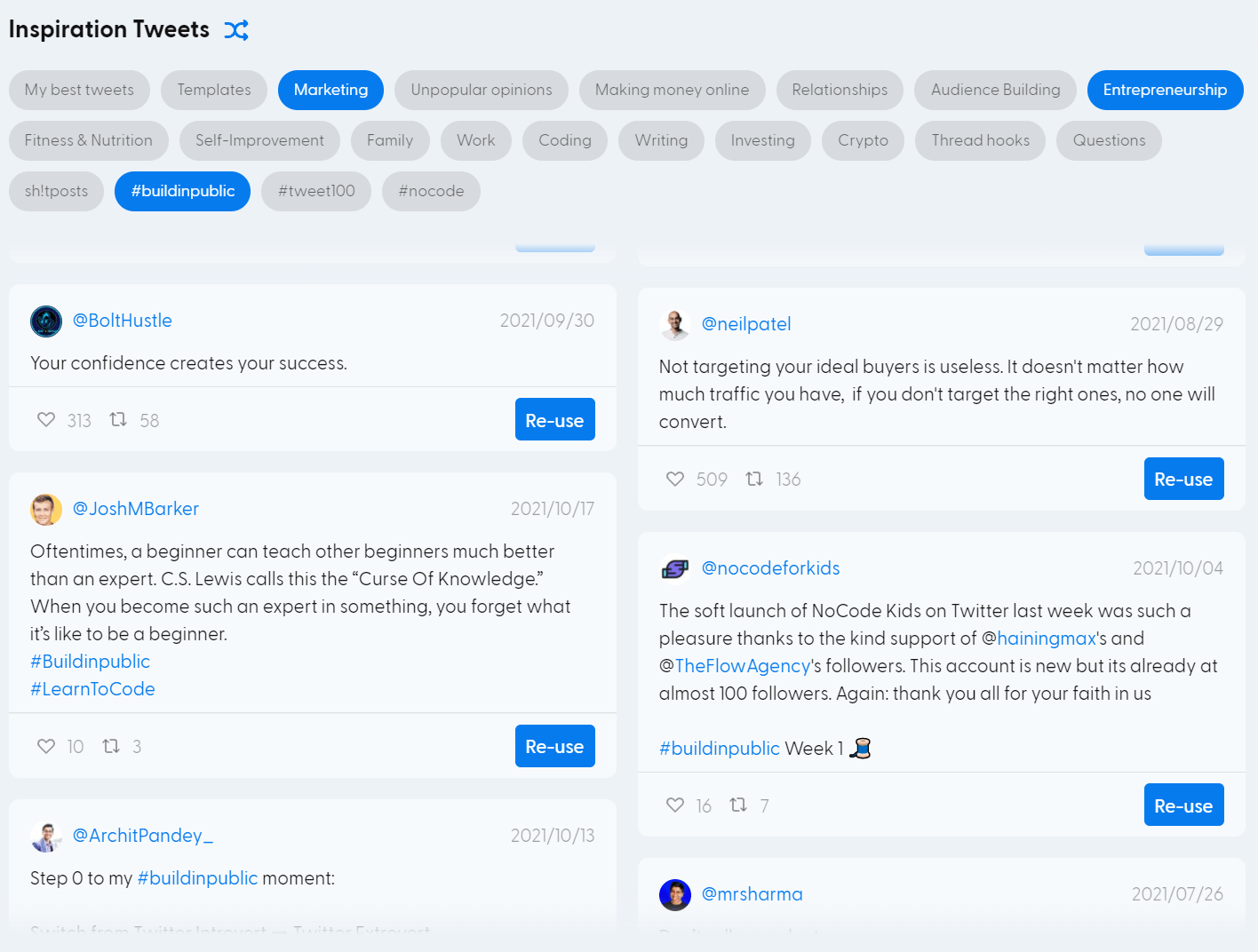 Another tool that can be helpful is ChatGPT, a language model that can generate ideas for you based on your input: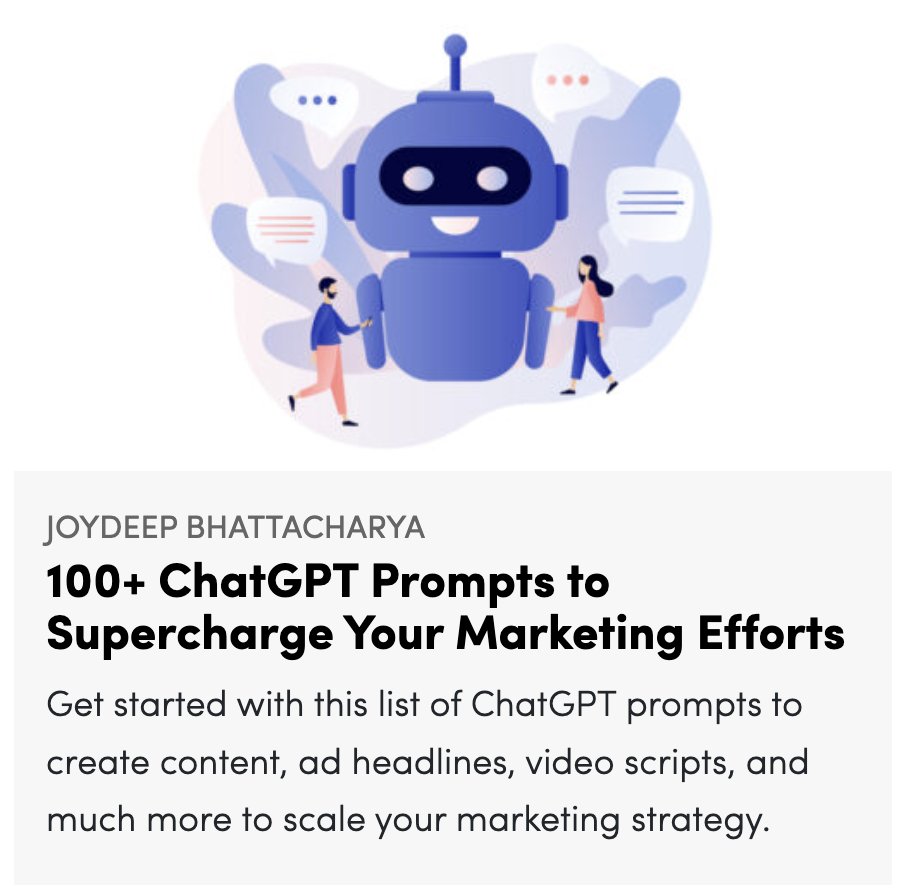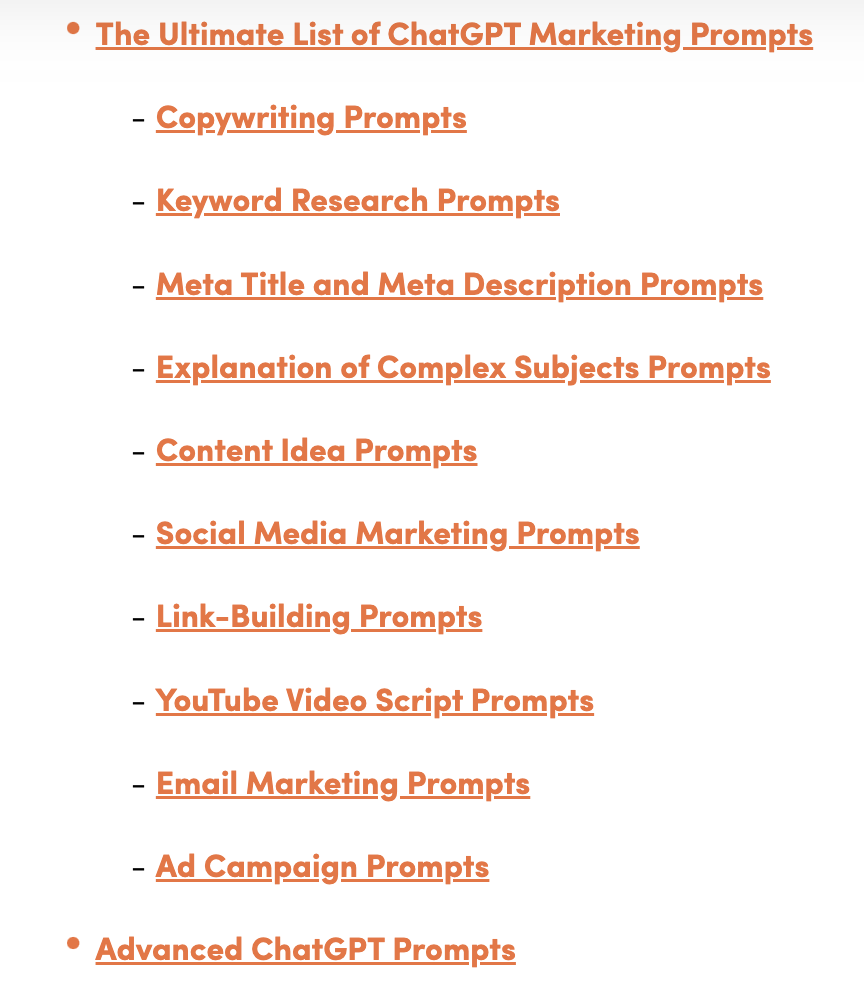 Keep in mind, though, that this approach may not always yield the most original or inspired ideas, so it's important to use ChatGPT in conjunction with other strategies.
And you can always use these popular tools to help you come up with new content ideas:
BuzzSumo: A tool that allows you to see what content is popular and trending in your industry. You can enter a keyword or topic and see the most shared content related to that topic.
Google Trends: A tool that shows you the popularity of a keyword over time. You can use this to see if there are any spikes in interest around a particular topic, which could be a great opportunity for creating content.
Quora: A platform where users can ask and answer questions. You can search for topics related to your industry and see what questions people are asking. This can help you come up with content ideas that address those questions.
Portent's Content Idea Generator: A tool that generates creative content ideas based on a keyword or topic. The ideas can be a bit quirky and unexpected, but they can be a great starting point for brainstorming.
Social Media Listening Tools: Tools like Hootsuite Insights, Brandwatch, and Sprout Social allow you to monitor social media conversations related to your industry. This can help you identify trends and topics that are of interest to your audience.
And don't forget to read blog posts like 👇
Dive Deeper: 30 Ways to Come Up with Great Ideas for Your Blog Posts
Tip #4: Seek Out Critical Thinkers
If you're struggling to ideate, it can be helpful to seek out critical thinkers in your industry or niche. These individuals are often thought leaders who have a deep understanding of the industry, and they are able to provide valuable insights and perspectives that you may not have considered before.
One way to find critical thinkers is through social media. Many thought leaders in various fields share their ideas and insights on Twitter, LinkedIn and other social platforms. You can search for people who are active in your industry or niche and follow them to see what they are talking about.
Some social media platforms, like Twitter, allow you to create lists of accounts to follow, which can be helpful for organizing your sources of inspiration.
For example, I have a Twitter list of critical thinkers that I follow for inspiration: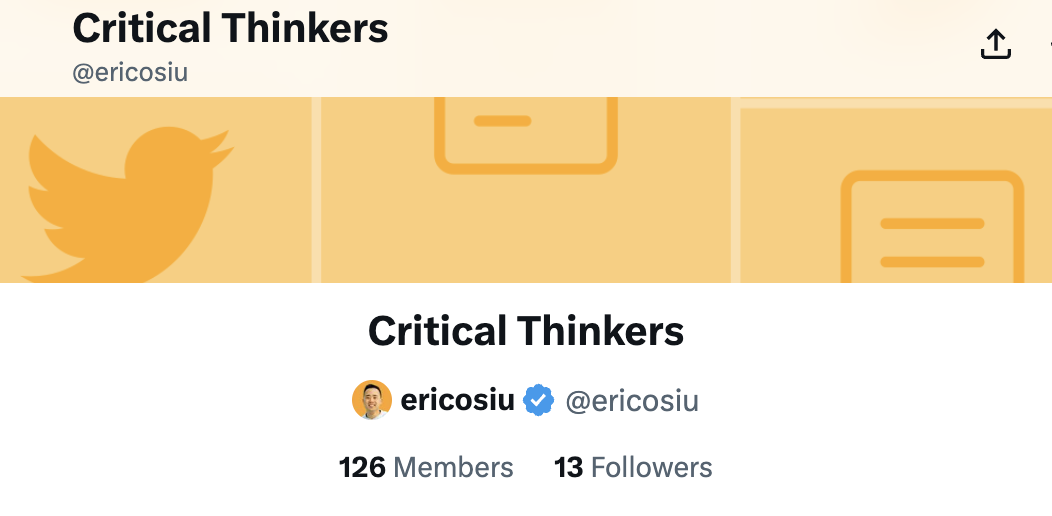 In addition to social media, you can also look for blogs, podcasts, videos and other content created by critical thinkers in your industry. Just go to your favorite content site – Spotify for podcasts, for instance – and type in a keyword: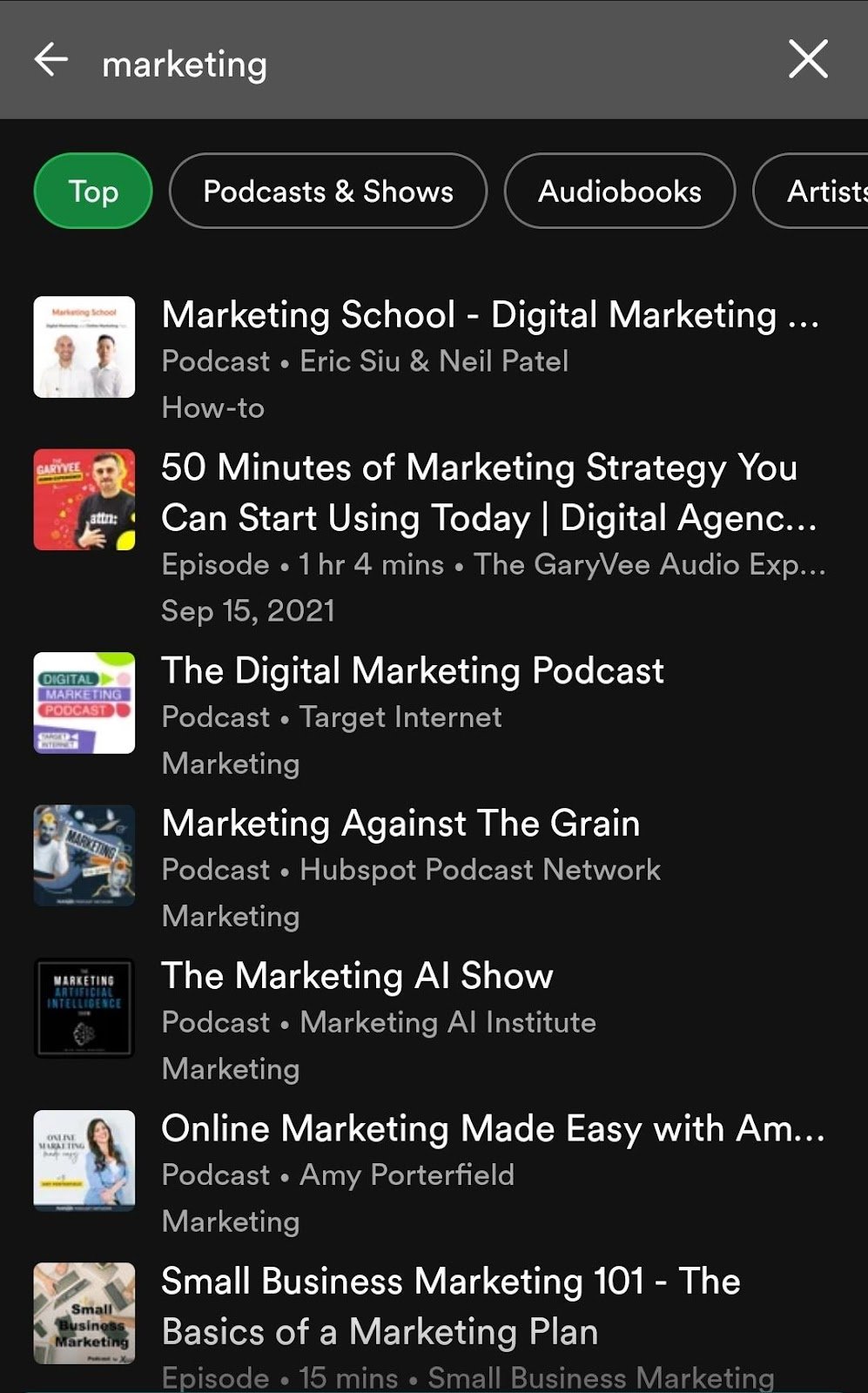 By seeking out critical thinkers, you can expand your own knowledge and understanding of your industry or niche, and use their ideas to inspire your own content creation.
Dive Deeper: Out of Ideas? 10 Ways Thought Leaders Create Content
Tip #5: Take a Break
As counterintuitive as it might seem, sometimes the best way to overcome creator's block is simply to take a break.
When you're feeling burnt out, uninspired or suffering from decision fatigue, it's okay to step away from the computer screen for a little while. Constantly seeking perfectionism can lead to workaholism, which creates fertile ground for mental health problems.
Taking a break is important because it gives your brain a chance to rest and allows you to clear your mind and recharge your batteries. While you're taking a rest, do something that you find enjoyable or relaxing. This could be anything, such as:
going for a walk or hike in nature
practicing meditation
listening to music
reading a novel
hanging out with your friends or family
The key is to do something that takes your mind off your work. Taking a break may be exactly what you need to overcome creator's block and and come up with even more creative ideas.
Final Thoughts on Creator's Block
Creator's block is a common challenge for anyone who creates content. But there are definitely ways you can overcome it. Whether you seek out inspiration from similar industries, brainstorm with others, use tools for inspiration, seek out critical thinkers, or take a break, there's a solution that can work for you.