Newsletters have become a huge driver of valuable content and generating substantial revenue for businesses. Whether it's Morning Brew, The Motley Fool, Axios, or E-Marketer, newsletters are popping up all around us. 
But what makes a newsletter business truly exceptional to the point where it can operate independently as its own product? 
In this article, we'll dive deep into what top-performing marketers can learn from a newsletter business model.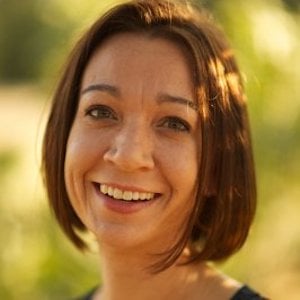 Kim Cooper
Director of Marketing, Amazon Alexa
Single Grain enables us to increase our impact without increasing our headcount
The Secret Behind Each Newsletter Business
Newsletters have evolved from simple email updates to full-fledged digital publications that cater to specific niches. They keep subscribers informed and engaged with fresh content, making them an attractive marketing tool. 
Take a look at these businesses and the value they provide through their newsletters:
Newsletter businesses come in all shapes and sizes, but what sets them apart is their ability to create a dedicated audience and monetize it effectively.
So, what can marketers learn from the best in the newsletter business?
Agora: A Billion-Dollar Newsletter Business
Agora is a financial powerhouse, specializing in stock trading, hedge funds and economics. With various divisions, including Agora Financial and Stansberry Research, this billion-dollar revenue company has mastered the art of generating substantial profits:
Agora's approach stands out because it's not primarily reliant on advertising revenue. Instead, they focus on monetizing their own products. Here's a glimpse of the types of service categories they drive revenue from: 
High-Value Subscriptions: Agora offers subscriptions that provide subscribers with invaluable insights and information. These subscriptions cater to a niche audience, individuals who are willing to pay for exclusive, in-depth content that goes beyond what's freely available on the internet.
Proprietary Research:

Agora's commitment to proprietary research is another key element of its success. In an online space where information is abundant but often superficial, first-party research adds significant value. It's the kind of content that serious investors and financial enthusiasts are willing to pay a premium for.

Premium Events:

Agora goes even further by organizing premium events. These events are not merely about disseminating information; they are immersive experiences where like-minded individuals come together to learn, network and grow. These events have a price tag that reflects their exclusivity and the value they provide.
Remember, diversifying your revenue streams can lead to significant financial success in any brand's periodically scheduled email marketing campaign.
The Marketing Funnel and Tripwires Through Newsletters
Every newsletter business has to understand how their marketing funnel works together with the content they provide to spur action from their subscribers. 
We cover how a marketing funnel works and how to create one, but in the barest terms, it is a clear-cut, guided path that takes potential customers from being casual visitors to dedicated subscribers and, eventually, loyal buyers.
As malignant as they might sound, "tripwires" are vital throughout the buyer's journey and in marketing funnels.
A tripwire is a low-cost or free offer designed to bring people into your marketing funnel. 
Whether it's a discounted product or a low-priced subscription, the goal is to obtain their contact information, usually their email address, or even another small purchase.
Now, you might be thinking that sounds an awful lot like a lead magnet, but the key difference is that lead magnets are usually a free giveaway while tripwires are a low-priced incentive. A seemingly nominal difference, perhaps, but they each carry different psychological implications for audience members in terms of the action we expect them to take. 
In a lot of cases, a lead magnet will transition into a tripwire transaction, which is then followed by a larger purchase commitment: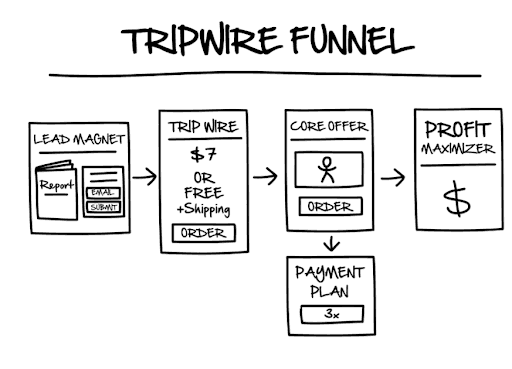 Once you have these customers in your funnel, you can gradually upsell them to more valuable products or subscriptions. This approach mirrors Agora's strategy of getting people in the door and then offering them progressively more valuable services. It's easier to sell to someone who has already made a small commitment to your brand.
The most effective email newsletters always tie back to some tangible action connected to revenue.
Businesses that release regular newsletters can do so solely for the purpose of building audience trust and nothing more, but there's an argument to be made that it's a waste of opportunity.
Shared Data Advantage
Perhaps the most notable aspect of Agora's success is how it fosters competitiveness within its different business units. 
While these units may technically compete with each other, they also share data and strategies. This open sharing inspires each unit to outperform the others and contributes to the company's overall success.
This is especially relevant when we talk about work silos. When teams work to distantly from each other, there can be disunity in the way resources and data are applied to the maximum potential. 
Your job as a business leader and marketer is to help teams correlate their strengths, and that includes first-party data: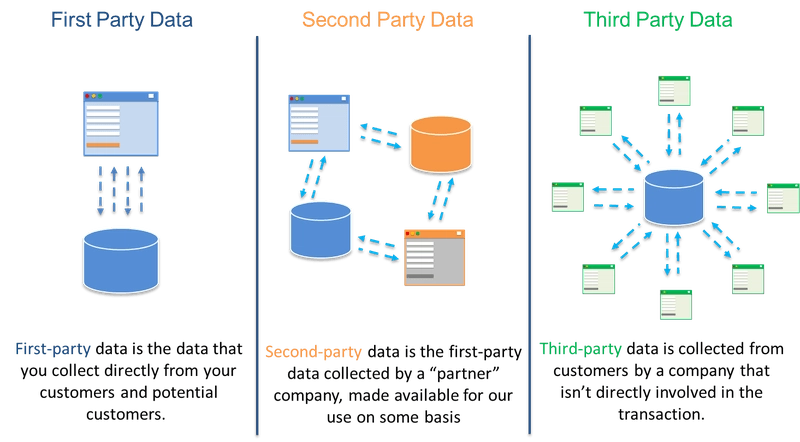 The Agora does this by letting its different brands share information with each other to give each section a new perspective they might not have realized on their own. The same truth applies to the departments within any organization.
Product development teams, engineers, project managers, marketers and any other type of collaborative roles ought to be sharing data from their own lens to help guide the actions of their teammates. 
The Hedgehog Concept
Jim Collins' Hedgehog Concept, derived from his book Good to Great: Why Some Companies Make the Leap and Others Don't, emphasizes the importance of finding the intersection of three critical factors for sustainable success: 
Passion:

Agora is deeply passionate about financial knowledge and information. They are driven by a genuine commitment to providing valuable insights to their audience.

Excellence: Agora strives to be the best in the world at delivering these insights within the financial sector. They invest in research, expertise and quality content to maintain their position of excellence.
Economic Engine:

Agora's economic engine thrives through a diversified monetization strategy. This includes high-value subscriptions, proprietary research and premium events, ensuring their financial sustainability.
The Agora applies this business philosophy in their own channels. They are deeply passionate about financial knowledge and information. They have strived to be the best in the world at delivering valuable insights in the financial sector. Their economic engine thrives by monetizing their products and services in various ways, from high-value subscriptions to proprietary research. 
This alignment with the Hedgehog Concept has enabled Agora to excel in their niche so that they remain at the forefront of the financial newsletter business while also continuously innovating and expanding their reach.
Last Word on Newsletter Business Marketing  
The newsletter business is a thriving industry with a lot to offer to marketers. By learning from the likes of Agora and understanding the power of marketing funnels and tripwires, you can create a successful newsletter business that engages subscribers and drives revenue. 
Whether you're targeting a massive addressable market or building your marketing funnel, focus on being an authority in your niche that people can't get enough of.
If you're ready to level up your newsletters or any other type of content, Single Grain's

content marketing experts

 can help!👇
For more insights and lessons about marketing, check out our Marketing School podcast on YouTube.