Email marketing is a cornerstone for businesses looking to build customer relationships, foster brand loyalty and drive conversions.
But the heart of email marketing is more than just clicking "send" and crossing your fingers. It takes finesse to know what will grab people's attention, give them a reason to recall your brand and, eventually, take action.
In this post, we'll go through some of the most relevant and effective email marketing tips that you can apply to your next campaign.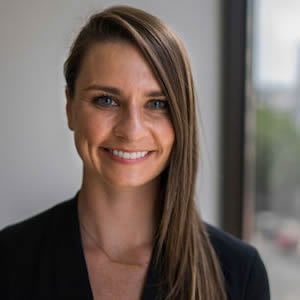 Jacqueline Foster
Demand Generation Marketing, Lever.co
We can count on them to bring new ideas to the table consistently
The State of Email Marketing Today
The landscape of email marketing has evolved remarkably, especially in an era characterized by overflowing information and dwindling attention spans. Companies and marketers are going beyond traditional boundaries, not just in terms of technological platforms, but also in content strategies.
Modern consumers demand personalized, valuable content that respects their time and intelligence. And it's not just about getting people to open the email anymore; it's about keeping them engaged.
To that end, the challenge is to nurture a dialogue that is both enriching and actionable, leveraging analytics to fine-tune strategy and maximize return on investment.
Simply put, email marketing isn't just alive – it's thriving (but only for those who can adapt and deliver!).
Acquiring Subscribers: The Social Media Secret
When it comes to subscriber acquisition for your emails, Facebook and Twitter reign supreme. Why? They offer Cost Per Acquisitions (CPAs) as low as $2-$3 — especially for English-speaking audiences in the United States. Now, that's a bang for your buck!
Running engagement ads aimed at low-cost, third-world countries will initially boost the engagement metrics. Later, you can switch the audience targeting to the U.S., making the ad more tempting to click, thanks to its already high engagement.
Let's break this down a bit more to see how this strategy works:
Engagement Ads in Low-Cost Countries: First, you run your engagement ads (i.e. ads designed to get likes, shares, comments, etc.) in low-cost, third-world countries. The reason for this is that advertising costs in these countries are typically much lower than in countries like the U.S. As a result, for the same advertising budget, you can reach a larger audience and get more engagements (likes, shares, comments) in these low-cost countries than you would in more expensive markets.
Boosting Engagement Metrics: By targeting these low-cost countries first, the ad accumulates a high number of engagements. This makes the ad appear popular and well-received, which can be attractive to other users.
Switching Audience Targeting to the U.S.: Then, after the ad has received a significant amount of engagement from the low-cost countries, you can then switch your targeting to focus on the U.S. audience.
Perceived Popularity: When the U.S. audience sees the ad, they notice that it already has a high number of likes, shares and comments. This gives the impression that the ad (or the offer in the ad) is popular and trustworthy. As a result, U.S. users may be more inclined to click on the ad and potentially subscribe, thinking they're joining a popular and credible offer.
It's a pretty neat trick we've been seeing email marketers use to stimulate their subscriber base.
SEO Is Not Dead (You're Just Doing It Wrong)
Now, we just covered how you can leverage paid ads for subscriber acquisition, but let's not forget about SEO. Far from being outdated, search engine optimization can be a goldmine for email marketers if done correctly. If you're operating in a niche that's not oversaturated, solid SEO techniques could channel a flood of organic traffic your way.
Why is this important? Well, more organic (unpaid) traffic to your website often equates to more email sign-ups in the long run. In other words, the more people that visit your website, the higher the chances of them signing up for your email list. This is especially true if your website content is engaging and offers value to the visitors.
So make sure you support your email marketing campaign by giving your site visitors something worthwhile. Maybe that means featuring your subscription request prominently as a CTA in your written content or highlighting it on your home page.
In an environment where every marketer is vying for the consumer's attention, having a strategy that does the hard work for you is a game-changer. At the end of the day, you want to look for every possible vessel in which you can gather emails.
Engage, Don't Just Broadcast
It's relatively easy to build an email list. The challenge lies in engagement: making subscribers actually read, click and take action.
Think of your emails as a networking event. You wouldn't waltz in and start selling $100,000 products, right? You build relationships first, then make the pitch second.
Emails that offer value, like a welcome discount for a future purchase, before asking for anything in return tend to get higher engagement rates: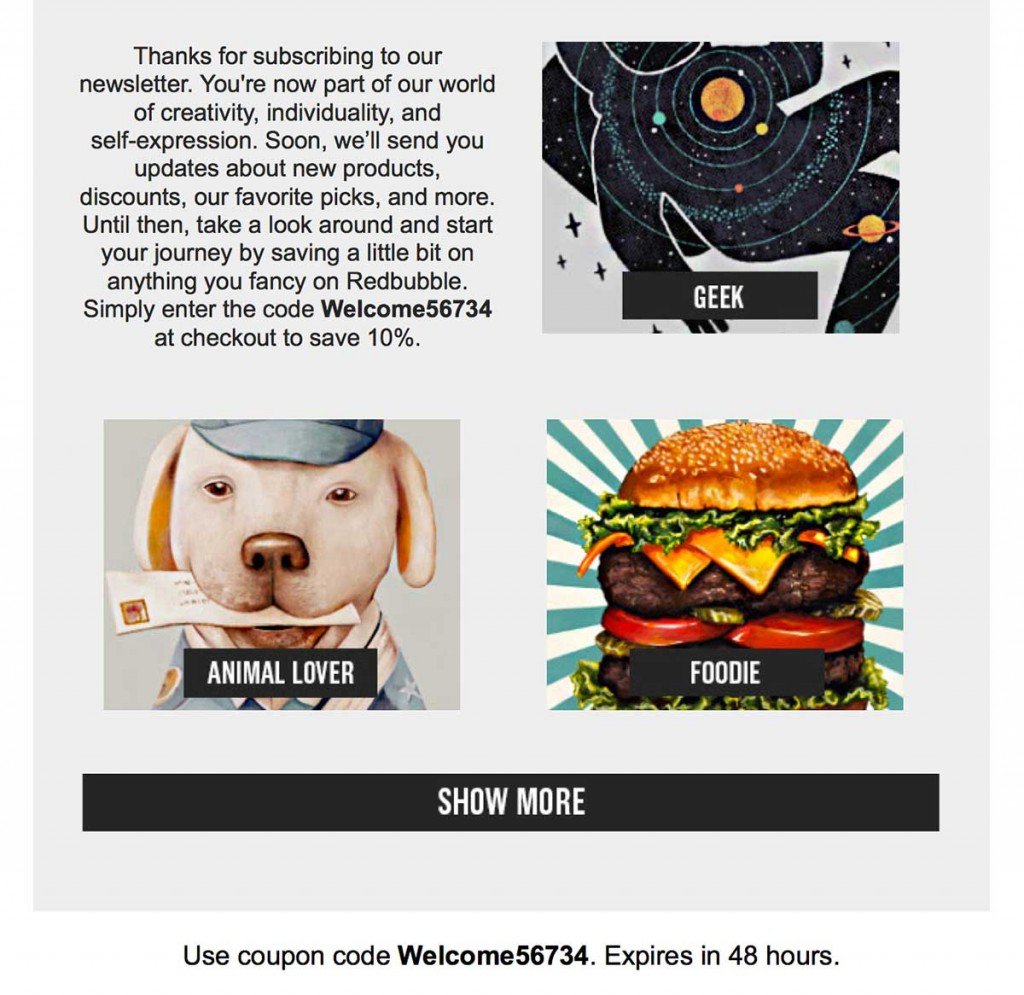 It's all about the give and take.
Keep the List Clean
Here's a wake-up call: If you're not scrubbing your email list, you're potentially hurting your reach. Even if a mere 100 out of 1,000 subscribers are disengaged, email providers like Gmail and Outlook could mark your content as less relevant, pushing it into spam or promotional folders. This has a snowball effect, causing a once-robust engagement rate to wither away.
For the Brave and the Bold
When it comes to email marketing, playing it safe won't always yield the exponential results you may be aiming for. This is where other, less-used tactics might be worth exploring, such as:
Co-registrations: Co-registrations — recommending multiple email lists during a sign-up — may seem like an attractive way to grow your subscriber base quickly. But here's the catch: they're often not quality leads. So, tread carefully when considering co-registration strategies.
Monetization through Ads: Most email marketers, particularly those in the early stages of their newsletter business, aim to monetize through ads. But let's face it, the ultimate form of monetization is selling your own products or services. It might be a tough nut to crack, but the payoffs are often higher and more sustainable in the long run. However, well-placed, topically relevant ads in your emails could be a productive supplementary revenue stream as part of your email marketing campaign.
The Agora Principle: If you're on the hunt for a high-caliber copywriter, look for those trained by companies known for their email marketing prowess, such as Agora Financial. They're the Harvard of email copywriting, producing industry pros capable of crafting compelling narratives.
Sparkloop: Finally, there's Sparkloop, an app that enables newsletter recommendations among subscribers. While it may cost you up to $3 CPAs, for example, it only counts as a registration if the user is an active subscriber. Food for thought for those aiming to keep their lists lean and engaged.
Play around with how your strategy might be impacted by implementing one or more of the above tactics. They could make a noticeable change in the success of your campaign.
Last Thoughts on Our Email Marketing Tips
Mastering the art of email marketing is a journey filled with constant learning, testing and adapting. Even seasoned veterans have something to gain from industry meet-ups and mastermind sessions.
Whether it's clever hacks to optimize subscriber acquisition or new perspectives on long-standing best practices, these are the kinds of insider insights that can set you ahead in the game.
If you're ready to maximize email campaign performance and boost customer retention, Single Grain's

email marketing experts

 can help!👇
For more insights and lessons about marketing, check out our Marketing School podcast on YouTube.